This Potatoes Au Gratin Recipe is the ultimate comfort dish
Potatoes Au Gratin with tender layers of buttery potatoes, bacon and onions cocooned in melty Gruyere cheese drowned in cream that has been simmered with fresh herbs and then topped with bubbly golden Gruyere cheese. A MUST side dish for Easter! Need I say more?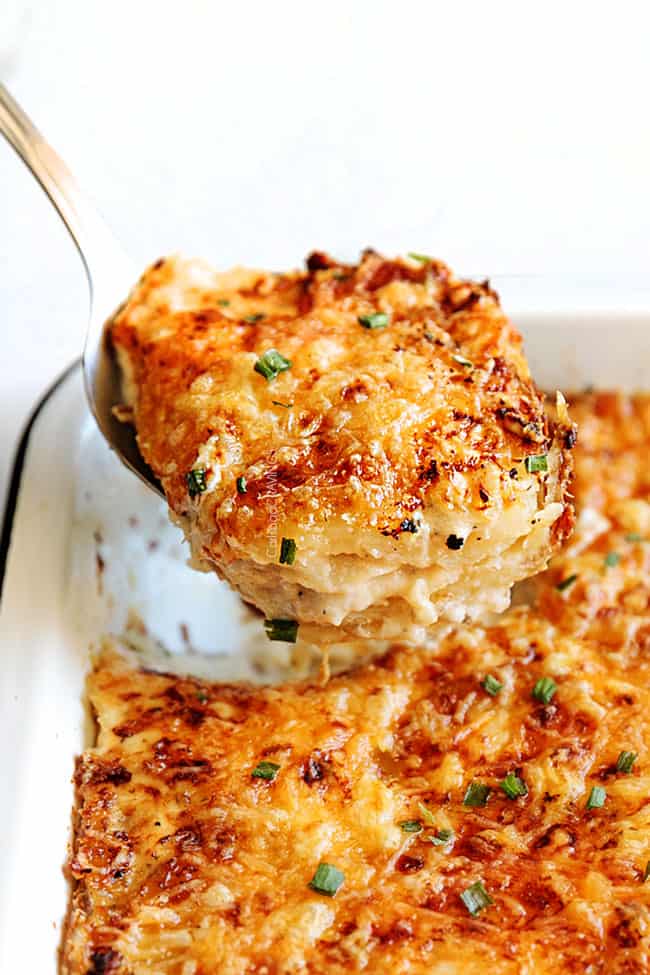 With Easter less than one month away (can you believe it?!) I thought it was time my Potatoes Au Gratin recipe got a makeover. These cheesy gratin potatoes are always huge hit and pair fabulously with ham, pork, chicken, roast etc. Or just give me the pan and a fork.
This Gratin Potatoes recipe may look and more importantly TASTE gourmet but it is super simple to make – the only thing you need to know how to do is slice potatoes and layer! I also do a few things differently than other recipes to make these the best Potatoes Au Gratin of your life (which I'll detail below) – or so says Patrick.
According to my very honest critic, Patrick, these Potatoes Au Gratin with Bacon are not "good."
The are not "so good," "really good" or "way good."
They are not "amazing."
Rather, they are "INSANE!"
And in case you are wondering, when Patrick dubs a recipe, "Insane!" – its a very, very good thing.
A few more readers comments about THIS Potatoes Au Gratin recipe:
"I made this yesterday as a side dish for Thanksgiving and it was amazing!!! The whole pan was gone. I also made your mini peanut butter pies. I think they are now my favorite dessert!!"
"I tried this recipe 3 nights ago…..AMAZING….the flavors were awesome together. Thanks…Great Job 😉"
"I made this for Easter dinner and everyone raved about it and wanted the recipe."
So in other words, you will want to devour these Au Gratin Potatoes for Easter and all year round! They are a must side for all your holidays, special occasions and company.
The cheesy thin layers of tender potatoes and bacon cocooned with bubbly golden Gruyere cheese. The whole thing – it just gets me. These Gratin Potatoes are so good in fact, I've even made a Scalloped Sweet Potato version which is basically identical but with sweet potatoes, also with rave reviews – because I couldn't get enough.
Potatoes Au Gratin vs Scalloped
When I first posted this Potatoes Au Gratin recipe, I didn't quite understand the difference between Scalloped Potatoes and Au Gratin Potatoes but there are a few distinct differences.
Potatoes Au Gratin are generally thinner than the Scalloped Potatoes.
Potatoes Au Gratin are made with cream instead of milk or condensed soup.
Potatoes Au Gratin always include cheese, typically Gruyere cheese. Scalloped Potatoes sometimes include cheese.
Potatoes Au Gratin by definition boast a "Gratin" which by definition means "covered with breadcrumbs or cheese and then baked until a golden," whereas Scalloped Potatoes, by definition, do not need a Gratin.
So both Potatoes Au Gratin and Scalloped Potatoes consist of sliced potatoes baked in a creamy sauce so the main difference is the Gruyere cheese. And of course, cheeeese makes everything better so we are always going Potatoes Gratin at Carlsbad Cravings.
Substitutions for Potatoes Au Gratin
I absolutely love Potatoes Au Gratin but none of the recipes I ever tried lived up to my expectations – until I created this Au Gratin Potatoes recipe. As you might have noticed, I usually don't cook with heavy cream (unless necessary to create the best New England Clam Chowder or special occasion Lemon Garlic Shrimp Fettuccine) and I usually don't cook with slightly more expensive cheeses, but when you are trying to perfect INSANE Potatoes Au Gratin for special occasions, it's a time to indulge.
If you are tempted to substitute a different cheese for Gruyere – it just won't be the same! Gruyere cheese is sweet, slightly salty, creamy, nutty – in short, it belongs in these Au Gratin Potatoes. The Gruyere combined with the simmered herbs are what elevates this Potatoes Gratin recipe from "ordinary" to "insane."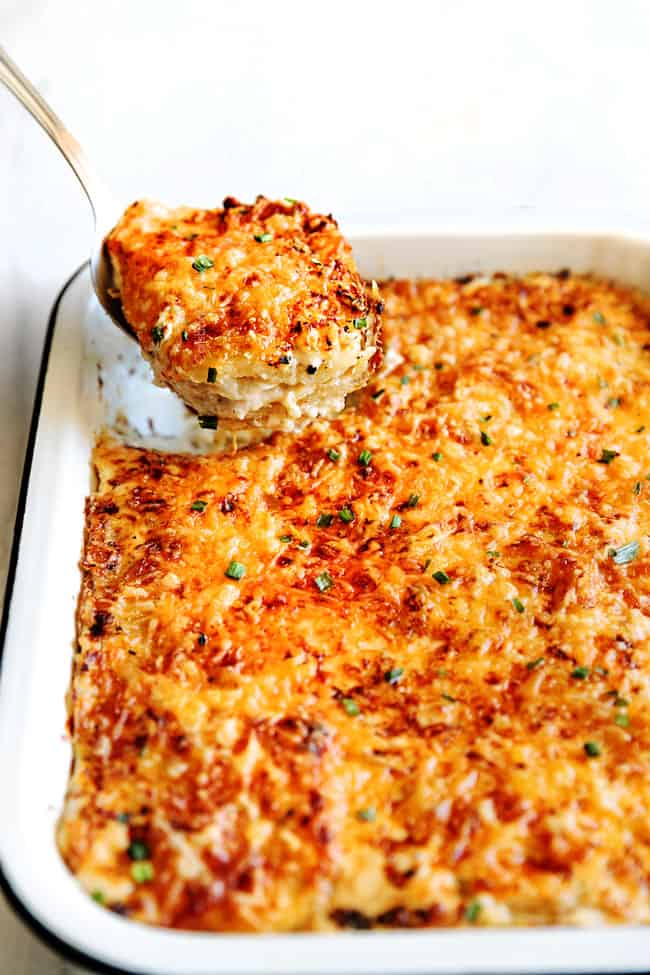 How to make this delicious Au Gratin Potatoes Recipe
Step 1: Simmer cream. Simmering takes no effort!  Simply toss all of the herbs and spices in with the cream and let them simmer while you peel and slice your potatoes.  The aromatic onion, garlic and herbs infuse the cream with flavor which in turn will envelop all of our potatoes with flavor in every single mouthful.
Step 2: Layer potatoes and cream. Layer your cream, potatoes, onions, bacon and cheese a few times.
Step 3: Add cubed butter. Dot the potatoes with cubed butter that will melt into every nook and cranny for ultimate decadence.
Step 4: Bake. Bake for one hour, then you'll be sinking your teeth into the most most gourmet tasting, insane homemade Au Gratin Potatoes you have ever sunk your teeth into – in your entire life! And remember "insane" is a very creamy, cheesy, bacony, good thing.
How do I slice potatoes uniformly?
There are many great tools to help with a large batch of slicing potatoes for a scalloped or au gratin dish. Namely the mandolin is one of the most popular tools out there. For Au gratin dishes, which use thinner slices, you can use a food slicer.
Or work on your knife cutting skills. It is always hard to cut a moving object, and since potatoes are not flat, they will move. So first, cut a base to make the potatoes lay flat. Then, working from one end of the potato to the other, slice disks the desired width – super thin or thicker
Use a marked chopping mat as a guide.
If slicing by hand, just try to create uniform slices as far as thickness goes – about 1/8." If they are bigger or smaller than 1/8" it doesn't matter as long as you try and keep them relatively similar in size so they bake in the same amount of time then adjust time accordingly whether they're thinner or thicker.
Making this Potatoes Au Gratin Recipe in advance
Yes, you can make Au Gratin Potatoes in advance; you have several options. You can prepare a few steps ahead of time, or all. If you are using this dish around the holidays or regular dinner, nighttime is always a precious commodity. One great aspect of this dish is it is so versatile in when and how it is prepared.
Pre- slice potatoes: Clean, peel and slice potatoes then cover the sliced, raw potatoes completely with cold water and refrigerate use the cut potatoes within 24 hours. Be sure to keep slices covered in water to prevent slices from turning gray or brown. Other helpful tips for keeping cut potatoes from browning are to add a tablespoon of white wine vinegar or concentrated lemon juice to a gallon of water. Drain and layer. Use a mesh colander to help removes excess water. I have also used a salad spinner to drain the water.
Make and do not bake yet: After assembling up to step 5 in the recipe, I cover the dish really well with foil or saran wrap. I bag the bacon and remaining cheese in a ziplock and tape to the top of the dish. Refrigerate until ready to bake. Let warm up for 30 minutes before baking. Bake within 24 to 48 hours of preparation.
Make and bake: Make recipe as normal and bake the scalloped potatoes make sure to not overcook and do not forget the foil on top. Let them cool completely to room temperature. Then cover and make sure to get a good seal. Then you can refrigerate for up to 3 days.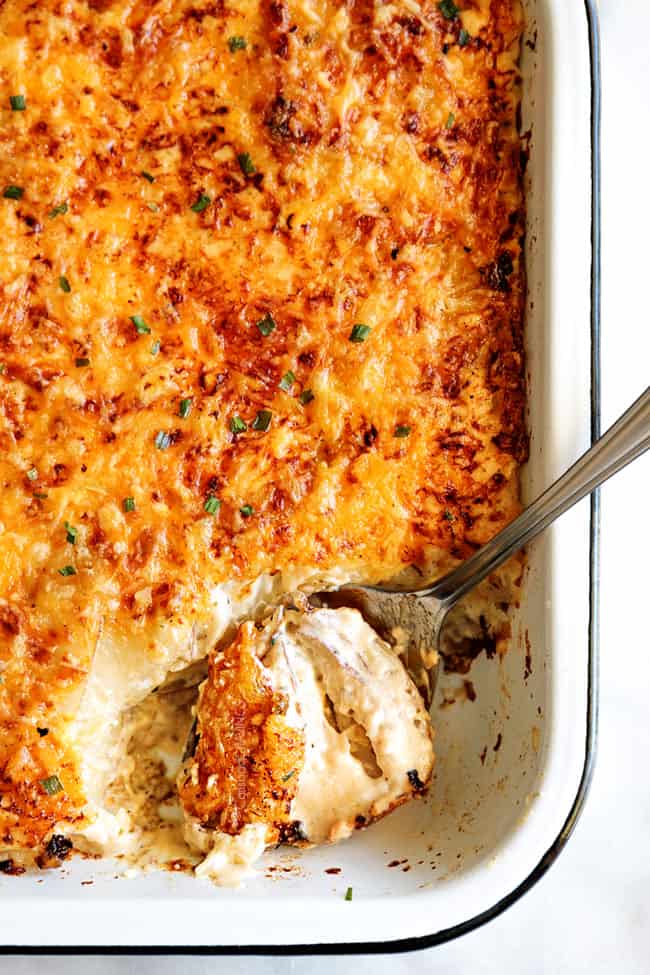 Potato Au Gratin Tips for success
Simmer your "Spiced Cream" while you slice your potatoes for maximum efficiency.
For this particular recipe, I actually prefer dried herbs in the Spiced Cream as I think they hold up better to the heat but fresh is till good.
I like to use large russet potatoes because this requires less slicing and creates a prettier dish.
Use a slotted spoon when scooping out the potatoes/onions that have been coated in cream. The slotted spoon will allow you to leave most of the cream in the bowl so you can pour it over the potatoes later.
You are welcome to substitute ham for the bacon to make a hearty meal-in-one.
We wait to cover our potatoes with cheese until the last 10 minutes or else it will brown to quickly. For ultimate decadence, add more cheese. This crowning layer of Gruyere puts the Gratin in Potatoes Au Gratin.
Test the potatoes in the CENTER to make sure they are tender. Cooking times will vary depending on multiple factors (specifically the thickness of your potatoes) so if your potatoes aren't tender then just keep cooking.
When potatoes are done, broil until golden brown to develop that gorgeous crusty cheese layer.
These Potatoes Au Gratin can be assembled the day before and covered and refrigerated but are best baked and served the same day.
I do not recommend freezing these Gratin Potatoes because the texture will become funky.
Storing this Au Gratin Potatoes Recipe
How to reheat Potato Au Gratin
Remove your Au Gratin Potatoes from the refrigerator 30-60 minutes before baking. This will help them reheat more evenly.
Cover your room temperature potatoes with a layer of foil or an oven-safe lid.
Preheat your oven to 350 F
Place the dish on the middle rack and cook for 25 to 30 minutes or until the internal temperature reads 165 F with a quick-read thermometer.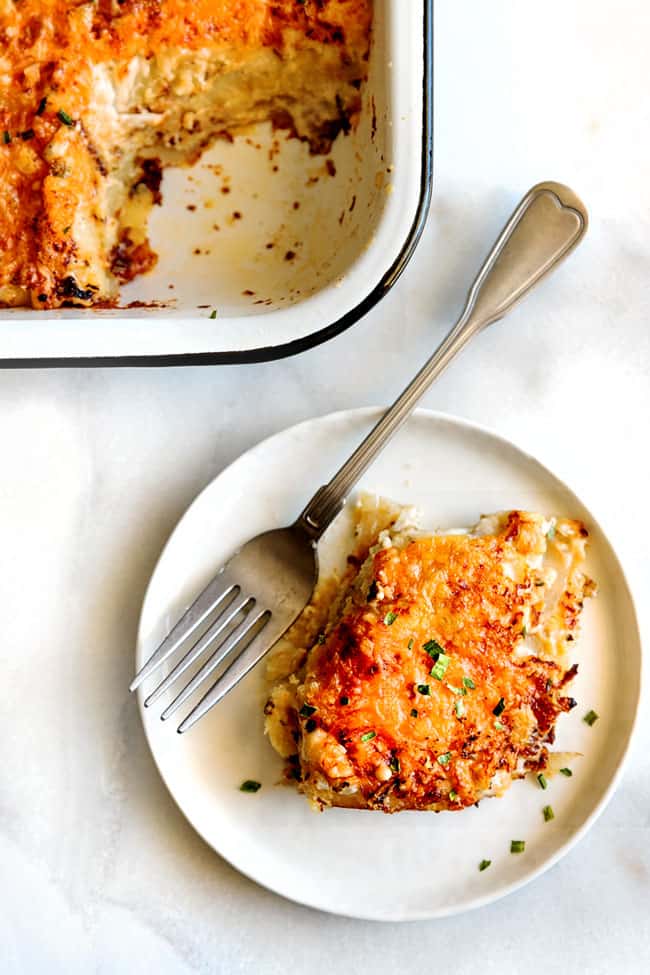 LOOKING FOR MORE POTATO RECIPES?
LOOKING FOR MORE holiday recipes?
WANT TO TRY THIS POTATOES & AU GRATIN RECIPE?
Pin it to your SIDES, POTATO, HOLIDAY or DINNER BOARD to SAVE for later!
Find me on

Pinterest

for more great recipes! I am always pinning :)!
©Carlsbad Cravings by CarlsbadCravings.com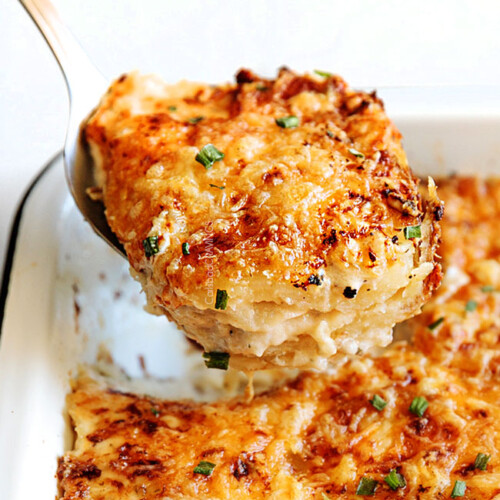 Au Gratin Potato Recipe with bacon
Looking for the BEST scalloped Potatoes Au Gratin EVER?! These are critiqued as "insanely good!" Tender layers of buttery potatoes, bacon and onions cocooned in melty Gruyere cheese enveloped by creamy herb cream then topped with bubbly golden Gruyere cheese.  
Total Time:
1

hour
25

minutes
Cook Time:
1

hour
10

minutes
Save This Recipe To Your Recipe Box
You can now create an account on our site and save your favorite recipes all in one place!
Ingredients
2

pounds

russet potatoes

(about 4 medium potatoes)

6-8

slices

thick cut bacon cooked and chopped

2 1/2

cups

grated Gruyere cheese

(about 8 ounces)

1

tablespoon

butter, cut into 8 cubes
Spiced Cream
3

cups

heavy cream

1

large onion, thinly sliced

1

tablespoon

fresh parsley, chopped

(or 2 tsp dried)

1

tablespoon

chopped fresh chives

or 1 tsp dried

1 1/2

teaspoons

fresh thyme

or ½ tsp. dried

1/4

teaspoons

cayenne pepper

1/4

teaspoons

ground nutmeg

1/2

teaspoons

salt

1/2

teaspoons

pepper
Instructions
Preheat oven to 400 degrees F.

Add the "Spiced Cream" ingredients to a saucepan and bring to a gentle simmer. Simmer for 5-10 minutes while you grease a 9×13 casserole dish and peel and slice potatoes into ⅛ inch slices. Transfer potatoes to a large bowl.

Spoon just enough of the herbed cream that has been simmering to cover the bottom of the casserole dish. Pour the remaining herbed cream over the potatoes and gently toss to coat.

Using a slotted spoon, layer the bottom of the casserole dish with ⅓ of the potato/onion slices (the slotted spoon will allow you to leave most of the cream in the bowl). Lightly season the layer of potatoes with freshly cracked salt and pepper (in addition to salt and pepper listed in ingredients). Layer 1 cup of the cheese, ½ of the bacon then top with ⅓ of remaining cream. Repeat layers.

Top the casserole with remaining potato/onion slices and pour over remaining cream. Dot the potatoes with cubed butter.

Cover the casserole with aluminum foil and bake for one hour. Remove from the oven, sprinkle with remaining cheese then continue to bake, uncovered for an additional 10 minutes. Test the potatoes in the center to make sure they are tender. Continue to cook if necessary (will depend on how thin you cut your potatoes). When potatoes are done, broil until golden brown.
Did You Make This Recipe?
Tag @CarlsbadCravings and Use #CarlsbadCravngs
Leave a Review, I Always Love Hearing From You!
Carlsbad Cravings© Original