Balsamic Asparagus with Balsamic Brown Butter will BLOW YOUR MIND, and it's on your table in 15 minutes!
This Balsamic Asparagus is hands down the BEST way to eat best way to eat asparagus! It's a back pocket "ace" when you need a restaurant-worthy side. The oven roasted asparagus is quick and easy, crisp tender perfection, made from pantry staples but tastes gourmet enough for any company or special occasions!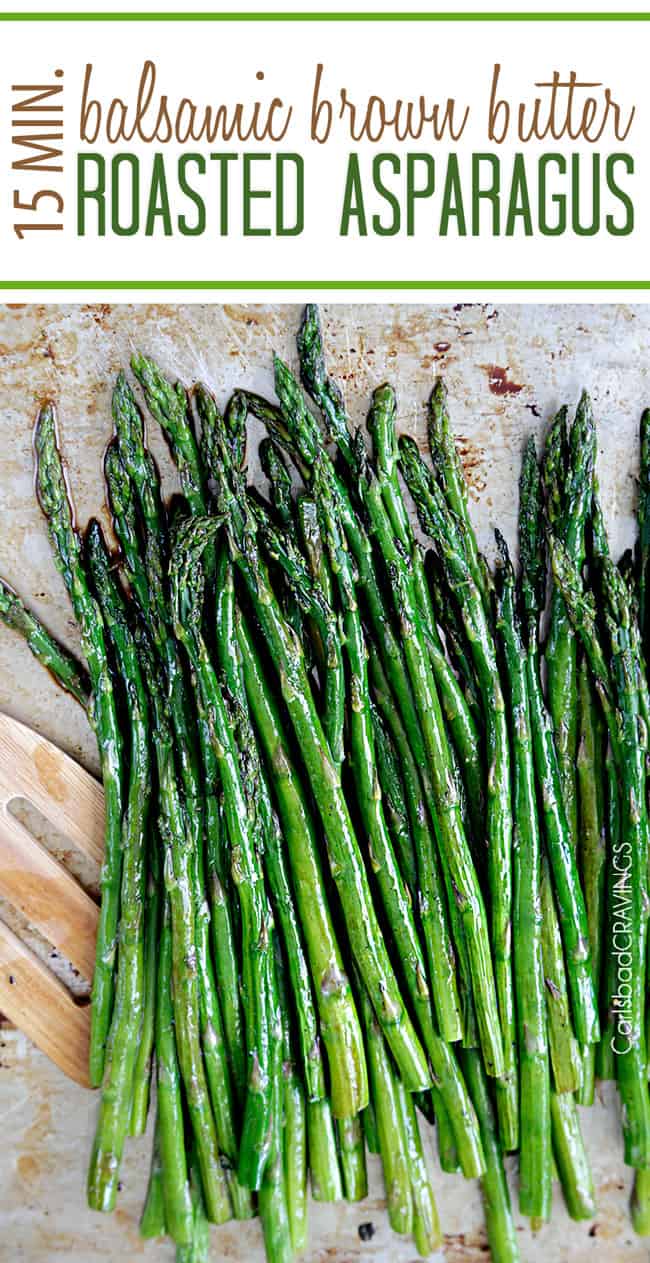 Balsamic Asparagus Recipe
I love asparagus. They are just so happy. Tall, and gangly but bursting with bright green "welcome spring" confidence. They are perfectly crisp and require nothing but roasting in a little olive oil, salt and pepper to taste delicious.
But if you add some nutty, brown butter, tangy balsamic vinegar and soy sauce, you quite possibly have the best oven baked asparagus ever. AND it doesn't take any extra time than roasting regular asparagus because you make the 3 minute sauce while the asparagus is roasting with pantry staples you probably have on hand right now.
vWhen I first saw this Balsamic Asparagus recipe on Cooking Light, the reviews were really positive, but I still expected to change it a bit as I always try to make the best possible version I can of anything and everything. But to my surprise, I found this roasted asparagus perfect in its simplicity.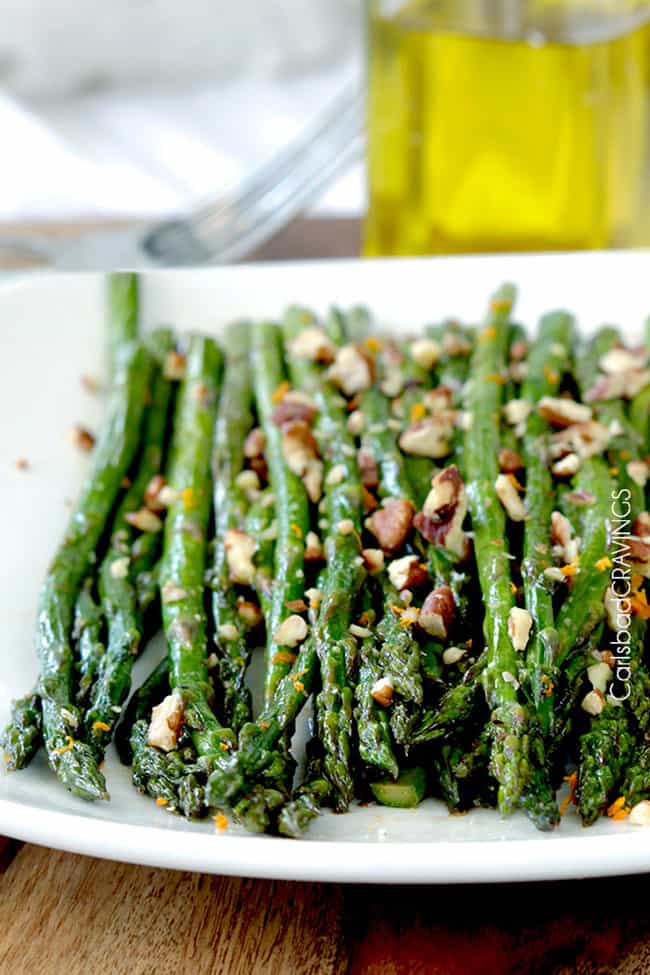 Balsamic Asparagus Ingredients
I think you'll be pleasantly surprised at how few ingredients you need to make this restaurant quality oven roasted asparagus recipe!
Asparagus: This balsamic asparagus recipe calls for 1 bunch of asparagus, which is roughly one pound. You can easily double the recipe and use a larger jelly roll pan.
Olive oil: Use extra virgin olive oil for more flavor or any of your favorite baking oils such as avocado oil or grape seed oil.
Butter: The combination of butter and olive oil is unbeatable!
Soy sauce: Use reduced sodium soy sauce so you can control the amount of salt in this recipe.
Balsamic vinegar: Not to be confused with balsamic reduction.
Salt and pepper: Use freshly cracked salt and pepper for the best flavor.
Ingredient Variations 
Make it gluten-free: If you can't have gluten, feel free to use tamari or a gluten-free soy sauce in place of the low-sodium soy sauce.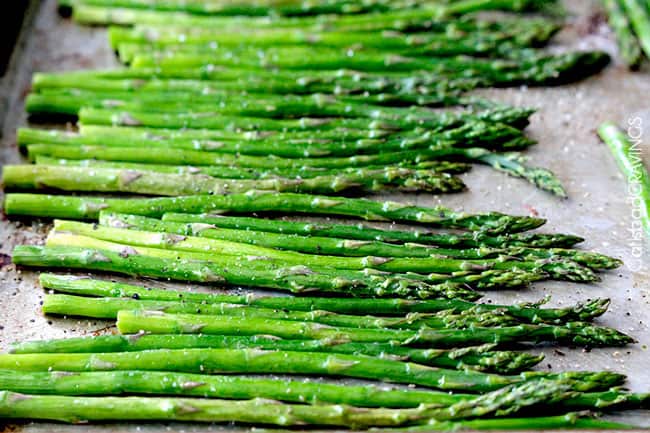 How to Make Balsamic Asparagus
First, start by snapping off the woody ends of the asparagus. The easiest way to do this is to hold the asparagus in one hand and bend it in the other near the base of the asparagus until it snaps. The asparagus will naturally snap where the unpalatable toughness ends begins leaving you with nothing but fresh asparagus.
Next, we add our asparagus to a large baking sheet and drizzle with olive oil and toss until evenly coated. Next, arrange the asparagus in a single layer so it will roast and not steam. Season with freshly cracked salt and pepper.
We bake our asparagus at 400 degrees F for 8-10 minutes. The time can vary depending on a few factors – how thick your asparagus is, how fresh your asparagus is, and if your oven is calibrated correctly. I like my asparagus tender but still crisp, so I always bake closer to thee 8 minute mark but there is no right or wrong here – just bake to desired doneness,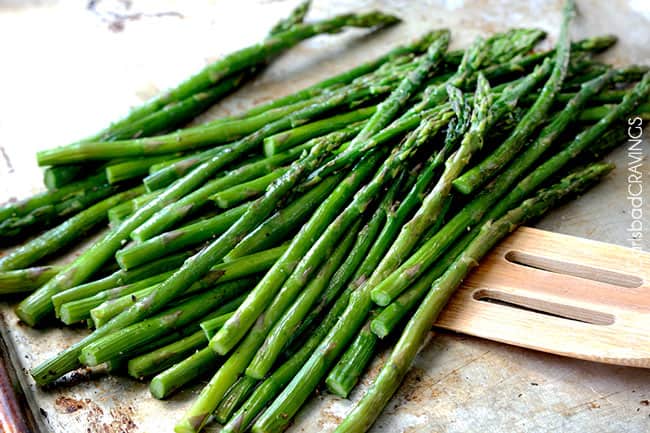 While our asparagus is roasting in the oven, we make our easy Balsamic Brown Butter. It might sounds exotic and intimidating but it's super easy! Simply melt butter in a small skillet over medium heat. Once melted, cook approximately 3 minutes or until lightly browned, stirring constantly. It will bubble and foam, turn a dark golden hue and start to give off a nutty aroma. At this point, remove your pan from the heat immediately or the butter will burn if you continue to cook it.
Next, off heat, stir in a splash of soy sauce and balsamic vinegar.
Drizzle over your oven roasted asparagus, more or less to taste – you might not use all of all of the Balsamic Brown Butter.
And eat! You really you won't be able to stop eating this oven roasted Asparagus! I really do love it as much as candy – I was eating stalk after stalk with my fingers just like candy – for quality control purposes, of course.
15-Minute Balsamic Brown Butter Roasted Asparagus. Turning your asparagus gourmet with pantry staples. It can be our secret.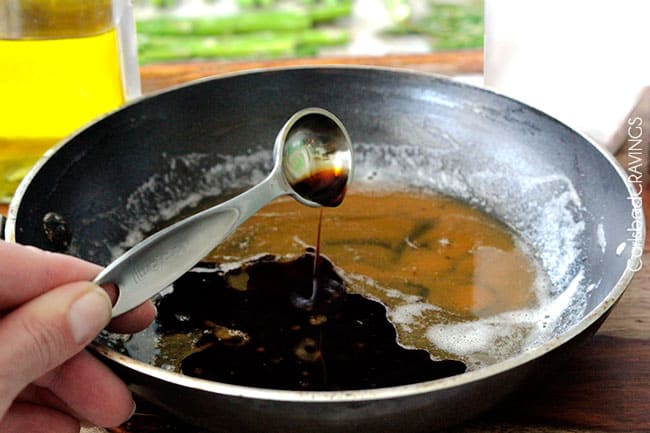 Tips for the Best Roasted Asparagus
Should I use thin or thick asparagus spears? You can use either! While thinner asparagus tend to be more flavorful when eaten plain, both thick and thin asparagus produce equally satisfying results when baked.
What pan should I use? A traditional baking sheet works well for this balsamic asparagus but you will want to separate your asparagus into two pans if doubling the recipe.
How long to cook asparagus at 400F? The balsamic roasted asparagus is done when it is crisp tender – you still want it to have a little bite. If you test a piece and it is difficult to chew, then bake on. If it is mushy, then sadly it is overcooked. Check your asparagus right at 8 minutes so this never happens to you.
Recipe Variations to Try
For extra special occasions, you can top this balsamic roasted asparagus recipe with 5-Minute Perfect Caramelized Nuts (which I like to keep on hand for such occasions), and you you might as well triple the batch.
You can also garnish this balsamic roasted asparagus with orange zest.
Grate a little Parmesan cheese over the balsamic roasted asparagus in the last minute or so of roasting.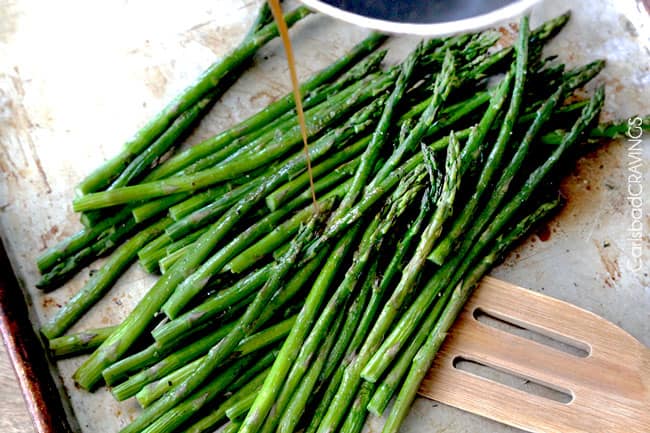 Can I Prep Balsamic Asparagus in Advance? 
This balsamic roasted asparagus is the perfect dinner side to assemble in advance. Simply toss the asparagus with olive oil and seasonings and either store in an aright container in the refrigerator or spread into an even layer on a baking sheet, cover with foil, and refrigerate.
You can also prep the browned butter balsamic drizzle ahead of time and store it in a Ziploc bag or airtight container. When you are ready to eat, roast the asparagus according to recipe instructions.
How Long Does Balsamic Asparagus Last? 
Balsamic roasted asparagus should be stored in an airtight container in the refrigerator for 3 to 4 days.
How to Reheat Roasted Asparagus 
You can reheat balsamic asparagus in the microwave at 30-second intervals.
For best results — AKA crisp tender asparagus — spread asparagus in an even layer on a baking sheet and bake at 400 degrees F for approximately 4 minutes until warmed through.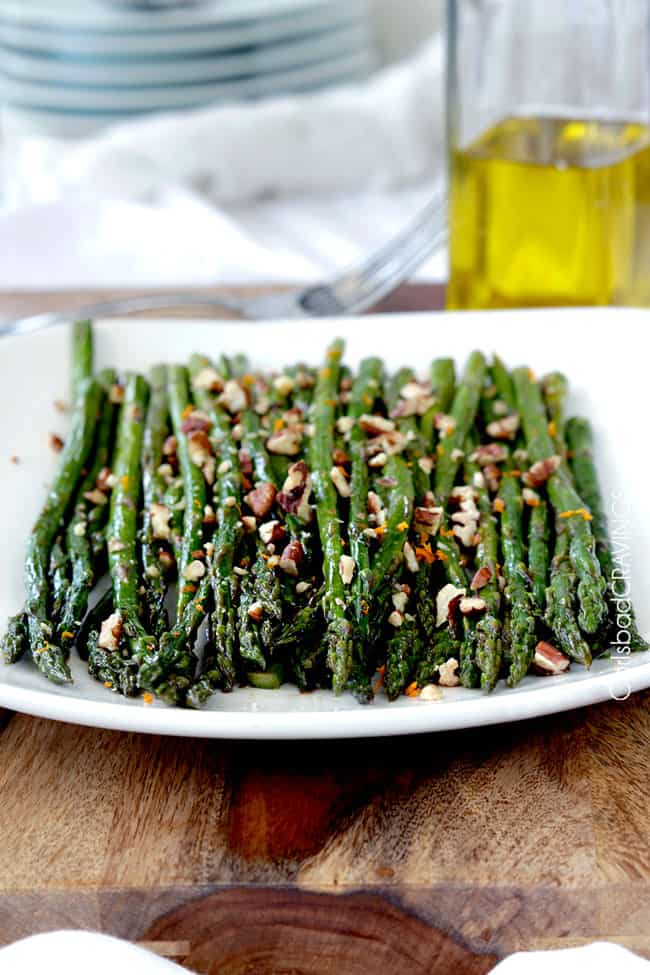 What to Serve with Balsamic Asparagus 
This oven roasted asparagus recipe pairs well with just about everything! Here are a few entrees to serve alongside this asparagus: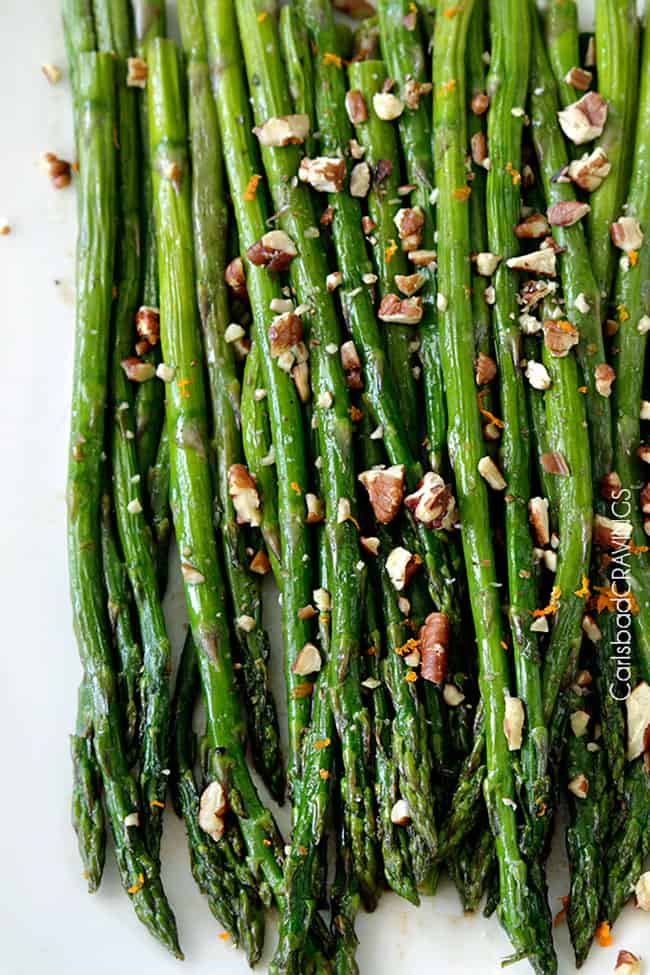 Looking for More Roasted Vegetable Recipes?
Want to try this Balsamic Asparagus Recipe?
Pin itto your HEALTHY, SIDES or DINNER BOARD to SAVE for later!
Find me on Pinterest for more great recipes!  I am always pinning :)!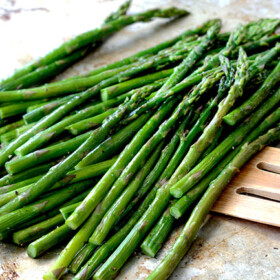 Balsamic Asparagus
Roasted Asparagus with Balsamic Brown Butter will BLOW YOUR MIND! – and it's on your table in 15 minutes! This Roasted Asparagus Recipe is hands down the BEST way to eat best way to eat asparagus!  It's a back pocket "ace" when you need a restaurant worthy side. 
Save This Recipe To Your Recipe Box
You can now create an account on our site and save your favorite recipes all in one place!
Instructions
Preheat oven to 400F degrees.

Add asparagus to a large baking sheet and lightly drizzle with olive oil. Toss to evenly coat and arrange asparagus in a single layer. Season with freshly cracked salt and pepper. Bake at 400F degrees for 8-10 minutes or until tender but still crisp.

The last few minutes of cooking, melt butter in a small skillet over medium heat. Once melted, cook approximately 3 minutes or until lightly browned, stirring constantly. Remove from heat and stir in

soy sauce

and balsamic vinegar. Drizzle over asparagus to taste, tossing well to coat. You may not use all of the Balsamic Brown Butter.

Garnish with orange zest (optional) and caramelized almonds, pecans or walnuts (optional).
Notes
*Does not need to be exactly 50 asparagus because you can drizzle the Balsamic Brown Butter to taste.
Did You Make This Recipe?
Tag @CarlsbadCravings and Use #CarlsbadCravngs
Leave a Review, I Always Love Hearing From You!
Barely adapted from Cooking Light