This Maple Glazed Ham is dripping with flavor, wonderfully moist and beautifully caramelized with the BEST glaze! 
This Maple Glazed Ham recipe only takes minutes of hands on prep and feeds a crowd making it the perfect impressive, hassle free main dish for Christmas and Easter! I've also included detailed instructions on How to Bake a Ham so you are guaranteed a perfectly deliciously, perfectly beautifully baked ham every time!

Maple Glazed Ham Recipe
Christmas is NEXT WEEK! Can you believe it?! Although my parents will be in Europe (serving for our Church), my older brother from NY is coming to stay with me and my sister and her family just got back from 4 ½ months in Europe so it will be a fun family filled holiday!
And just like Christmas is a time for family and to celebrate our Savior, to me, it also is a time for a Christmas feast. Whether you celebrate with Brown Sugar Glazed Ham, Oven Roasted Turkey, Baked Pot Roast, Pork Tenderloin, Beef Tips and Gravy or Christmas ham, the centerpiece should be spectacular.
As early as I can remember, our family Christmas dinner centerpiece has always been a big juicy glazed ham. I looked forward to it for weeks in advance along with funeral potatoes (now replaced with Sweet Potato or Original Scalloped Potatoes Au Grain with Bacon and Gruyere!). So in anticipation of the upcoming Christmas feast, I've been experimenting with Glazes, because, what really sets a ham apart (aside from cooking it correctly so it remains juicy), is the Glaze. It's all about the Glaze. It's all about this Maple Glazed Ham.
Maple Glazed Ham Ingredients
This baked ham recipe is so easy to make! Here's what you'll need for the ham and the maple glaze:
Ham: You want to get a smoked, spiral-cut ham.
Butter: I prefer using unsalted butter so I can control the amount of salt in the dish.
Apple cider: You want to buy non-alcoholic apple cider without any spices added to it.
Maple syrup: Use pure maple syrup, not imitation pancake syrup.
Light brown sugar: Pack the brown sugar when measuring it.
Apple cider vinegar: Adds some tanginess to the homemade ham glaze.
Mustard: I used a blend of Dijon and yellow mustards.
Cornstarch: Helps thicken the maple glaze quickly.
Spices: I flavored the maple syrup ham glaze with cinnamon, nutmeg, cloves, thyme, pepper, and chili powder.

WHAT KIND OF HAM SHOULD I BUY?
For the best maple glazed ham, you want to purchase a fully cooked, bone-in, spiral cut ham. It is easy to find fully cooked hams at the grocery store, just look for "Fully Cooked" and not, "Cook before eating" on the label.
Fully cooked hams have been soaked in brine (tender!) and either smoked, baked or boiled before packaging. This means they are completely cooked and therefore completely safe to eat without even warming up!
How Much Ham Per Person?
Assuming you are going to serve your baked ham with a few sides, I would estimate about ¾ pound of bone-in ham per person. So, a 10-pound bone-in honey glazed ham will serve 13 people.
HOW TO BAKE A Maple Glazed HAM
Set the ham out on the counter. But before we get to the delectable Apple Cider Maple Glaze, let's talk ham. Not only is a baked ham one of the easiest dinners to prep for the holidays, it serves loads of people and is extremely economical. To achieve the juiciest ham, it is important to use a bone-in ham and to not overcook it, because after all, the spiral smoked ham is already cooked, we are just warming it through. A helpful trick to cook the ham evenly and not overcook the outside while trying to heat the inside, is to remove the ham from the refrigerator at least 2 hours before cooking and let it come close to room temperature.
Make the maple syrup ham glaze. Meanwhile, you make your heavenly Apple Cider Maple Glaze. It's sweet with just a slight tang and is just plain lick the pan DE-licious. The Glaze is a concoction of apple cider, pure maple syrup (please, no imitation Aunt Jemima here), Dijon mustard, yellow mustard apple cider vinegar and a pinch of aromatic cinnamon, ground nutmeg, ground cloves, dried thyme, pepper, chili powder. HEAVEN. I've also added 2 teaspoons cornstarch to help the Glaze thicken so you only have to simmer and reduce the Glaze for about 20 minutes instead of an hour. And believe me, 20 minutes is much more conducive to not only weak knees but weak will power as the smell of this Glaze is incredible.
Slather the ham with glaze. After your Apple Cider Maple Glaze has thickened, you slather about ⅓ of it all over your ham, in between the slices and every nook and cranny. Next, tightly wrap your ham in foil so it doesn't dry out while roasting.
Add water to the roasting pan. Next, if you have a roasting rack, I suggest placing 2 cups water in the bottom of your roasting pan then placing your rack on top. This creates an even moister ham, but if you don't have a rack, you can just skip this step and your ham will still be delish.
Bake the spiral ham. Bake your maple glazed ham for about 2 hours, or until the internal temperature reaches about 110 degrees F, because remember, we are just heating the ham, not cooking it. Remove the ham from the oven, envelop in Apple Cider Maple Glaze again, then continue to cook at 400 degrees F, with the ham exposed for 20 more minutes as the edges brown and the Glaze caramelizes. If you want even deeper caramelization, you can broil your ham for a few minutes, but I didn't find this necessary as the sugary Glaze caramelizes quickly just from baking at the high heat.
Add more glaze, then serve! Then all that's left is to remove the ham from the oven, Glaze once more and spoon the flavorful juices from the bottom of the pan all over the ham. Cover the ham loosely with aluminum foil and let sit for 15 minutes to reabsorb the juices then carve away your gorgeous, caramelized Maple Glazed Ham to the oohs and ahs of your family as they drool at your gorgeous, masterfully cooked ham. As everyone sinks their teeth into the wonderfully moist ham, the oohs and ahs will transform into mmmmmm…..mmmmmm…..mmmmmm…..
That's a Christmas ham!

WHAT TEMPERATURE SHOULD I BAKE MY HAM?
This Honey Baked Ham recipe starts with a fully cooked, ready-to-eat ham. Remember, we are not cooking the ham, we are reheating the ham so we want to cook it at the lower temperature of 325 degrees F. This warms our ham without drying it out. We will then increase the temperature to 400 degrees F just for 20 minutes or so to caramelize the outside.
How Long to Cook a Spiral Ham
This maple glazed ham needs to cook at 325 degrees F for 2 hours, and then another 20 minutes at 400 degrees F.
HOW to CHECK THE TEMPERATURE OF BAKED HAM
To check the temperature of baked spiral ham, insert the thermometer into the thickest part of the ham without touching the bone, as the bone conducts heat and will be a much higher temperature than the meat. Also, only check the ham after 90 minutes and limit the amount of times you check the temperature to prevent the ham from drying out.

Tips for Making Maple Glazed Ham
Let it rest. You can let your ham with maple glaze rest just for 15 minutes to reabsorb the juices and serve warm, or rest closer to an hour if that fits your schedule better and serve it at room temperature.
To decorate. Your gorgeous caramelized baked spiral ham deserves a gorgeous presentation. Want to know my EASY secret? Purchase a bouquet of flowers or use flowers from your garden and place them around your ham on platter – that's it for a stunning presentation!
Roasting pan. If you don't own a roasting pan, you can purchase a disposable aluminum foil pan at the grocery store for just a few dollars – they even sell them at the dollar store – for only a dollar! Disposable pans are quire flimsy, so always transfer with two hands firmly gripping each side.
Recipe Variations to Try
Change the glaze. Another delicious way to make this baked spiral ham recipe is to use a honey glaze.
Serve cold or warm. You can certainly serve your maple ham cold, but I find this temperature more enjoyable and appropriate when using cold ham for sandwiches and not with hot sides.
Use other mustards. I love the blend of Dijon and yellow mustard in this baked spiral ham recipe, but you can experiment with other kinds of mustard, if desired.
Can I Prep Maple Glazed Ham in Advance?
Yes! You can cook the entire ham ahead of time and serve it cold. You can also whisk together the maple syrup glaze for the ham ahead of time, but it comes together so quickly I don't think it's necessary!
HOW LONG IS LEFTOVER HAM GOOD FOR?
Leftover baked ham should be stored in an airtight container in the refrigerator. When properly stored, ham is good up to 5 days. Beyond, that, freeze any uneaten ham.
CAN I FREEZE HAM?
Yes! I love having leftover baked ham just so I can freeze it for a rainy day! You can freeze ham in slices for sandwiches or chop it up for future eggs, omelettes, casseroles, soups, enchiladas, etc. Frozen ham should be used within 3-4 months.

HOW TO USE LEFTOVER HAM
This maple glazed ham is the gift that keeps on giving! It reheats well for leftovers or can be transformed entirely into something new! Try it in:
sandwiches (Cubano) or ham and cheese sliders
breakfast croissants
Cubano quesadillas
grilled cheese
pasta
pasta casseroles like macaroni and cheese
ham and rice casserole
rice (like Hawaiian fried rice)
scrambled eggs
omelettes
frittata, quiche or stratta
potato hash
hashbrowns
scalloped potatoes
Hawaiian pizza or stromboli
substitute ham for ANY RECIPE with chicken!
What to Serve with Baked Ham
This maple glazed ham recipe pairs beautiful with all your favorite sides! It goes with:

Looking for More Holiday Entrees?
Looking for more holiday Side recipes?
Want to try this Maple Glazed Ham?
Pin it to your HOLIDAY, MEAT or DINNER Board to SAVE for later!
Find me on Pinterest for more great recipes!  I am always pinning :)!
©Carlsbad Cravings by CarlsbadCravings.com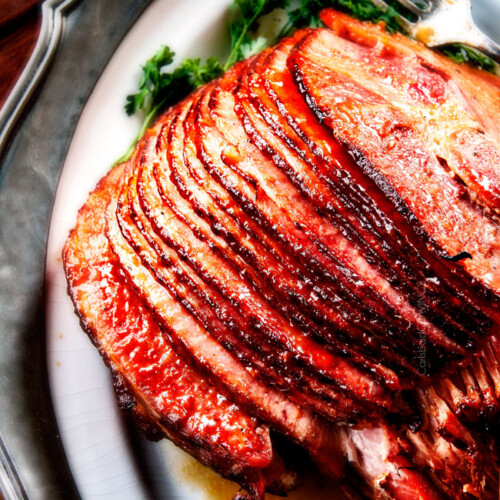 Maple Glazed Ham
This Maple Glazed Ham is dripping with flavor, wonderfully moist and beautifully caramelized with the BEST glaze!  It only takes minutes of hands on prep and feeds a crowd making it the perfect impressive, hassle free main dish for Christmas and Easter!  
Total Time:
3

hours
10

minutes
Save This Recipe To Your Recipe Box
You can now create an account on our site and save your favorite recipes all in one place!
Ingredients
1

bone-in smoked spiral-sliced ham

(8-11 pounds)

Aluminum foil

2

tablespoons

unsalted butter, cubed
Apple Cider Glaze
1 1/2

cups

apple cider

1/2

cup

pure maple syrup

NOT imitation

1/2

cup

packed light brown sugar

3

tablespoons

apple cider vinegar

3

tablespoons

Dijon mustard

2

tablespoons

yellow mustard

2

teaspoons

cornstarch

1/2

teaspoon

ground cinnamon

1/4

tsp EACH

ground nutmeg, ground cloves, dried thyme, pepper, chili pwder
Instructions
Remove ham from refrigerator and let sit at room temperature 2-3 hours.

Whisk together all of the Apple Cider Maple Glaze ingredients in a medium saucepan. Bring to a boil. Reduce to a simmer over medium heat, stirring often, until thickened and reduced, approximately 15-20 minutes. Stir in butter until melted. Glaze will thicken more as it stands.

Preheat oven to 325 degrees F. Adjust oven rack to lowest position. Pour 2 cups water into bottom of roasting pan IF you have a roasting rack. Place roasting rack inside pan. (Skip step if you don't have a roasting rack.)

Roll out 2 large pieces of foil to wrap your ham in. Place ham on foil and brush all over with some of the Glaze, including in between slices. Tightly wrap ham with foil and place on its side on the roasting rack (or bottom of pan). Bake ham until the center registers 100-110 degrees F, about 2 hours (about 12 minutes per pound).

Remove ham from oven and increase oven temperature to 400 degrees F.

Carefully unfold foil to expose ham and brush ham all over with Glaze (if Glaze has become to thick to brush, return to heat to loosen). Leave ham exposed and bake for 20-30 minutes or until edges are golden brown and caramelized.

Remove ham from oven and brush again all over with Glaze. Spoon juices from bottom of pan all over ham. Loosely cover with foil. Let rest for 15 minutes then spoon more juices over ham and serve with any remaining Glaze.
Did You Make This Recipe?
Tag @CarlsbadCravings and Use #CarlsbadCravngs
Leave a Review, I Always Love Hearing From You!
Carlsbad Cravings© Original