Apple Salad is irresistibly crunchy, fresh, and vibrant and belongs on your table this Thanksgiving and all Autumn long!
This Apple Salad is bursting with apples, cranberries, candied walnuts, bacon, and feta all drizzled with sweet and tangy Apple Poppy Seed Vinaigrette. It's a refreshing balance of sweet and savory and gorgeous for special occasions but easy enough for everyday – and you are going to want to this Apple Walnut Salad every day. It's the perfect addition to your Thanksgiving feast because not only is it scrumptious and deceptively sophisticated, but it can be made ahead of time for a ZERO STRESS side win!
(Apple Salad recipe from 2014 with updated recipe post and VIDEO)
Apple Walnut Salad Video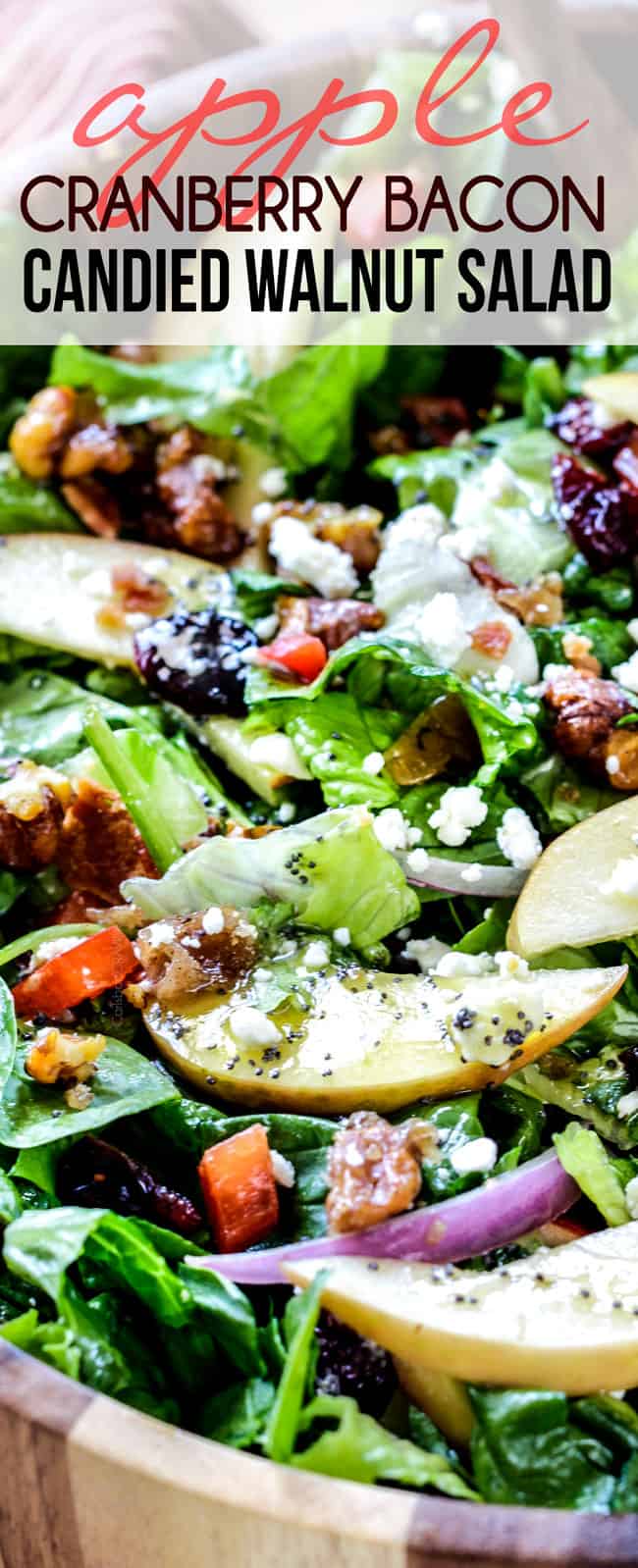 What readers are saying about this Apple Salad recipe:
This Apple Salad recipe has been a reader favorite ever since I posted it back in 2014, so I thought it was time to make a recipe video and update the post with tips and tricks, recipe variations and make ahead instructions in hopes to entice everyone to jump on this delicious train!
The Apple Candied Walnut Salad with Poppy Seed Vinaigrette is a go to fall salad for me. It is always a hit. I made it just today, had a group in for a fall lunch. Everyone loved it. Thanks again for always delivering with wonderful, tasty recipes. – Debby
Wow! I made this salad for my family and my son's girlfriend said it was the best thing that I have ever made for her. With that vote of confidence I took it to my sonority weekend, AGD sisters for 40 plus years. Another set of raves!… – Lori
As usual, your salad was the hit of the T-day celebration! With all the heavy carbs, this delicious and refreshing salad was the perfect addition to our meal. – Karen
Apple Salad Recipe
Do you say Autumn or Fall? I've always said Fall because that's how I grew up; I think it must be a location thing. By saying "Autumn," however, I somehow feel more sophisticated – the power of one word. So I'm pretending for this post that I say Autumn just for make believe sophistication kicks – because look how sophisticated this Apple Salad recipe looks?!
But it's also pretending. This Apple Walnut Salad recipe requires no sophisticated skills to prepare but tastes like a salad from the finest restaurant. The salad is bursting with sweet and crunchy apples, juicy dried cranberries, salty, crispy bacon, crunchy red bell peppers, creamy feta and candied walnuts. Just imagine all that – in one bite!
APPLE SALAD INGREDIENTS:
The ingredients for this Apple Salad are pretty straightforward. Just the caramelized walnuts and bacon require an extra step to make this the Best Apple Salad ever!
Romaine lettuce: I love the crunch of Romaine lettuce but you can substitute it with additional spring mix or your favorite greens.
spring salad mix: I like to use a spring salad mix for variety but you can also use all spinach. I'll often add some baby arugula as well.
apples: you will want to choose a sweet apple (Fuji are my fav) to complement the salty bacon and tangy red onions. You can slice your apples or chop them into chunks – totally personal preference.
dried cranberries: dried cranberries just scream autumn to me! You can substitute them for other dried fruit such as dried cherries or apricots if you prefer.
bacon: I like thick cut bacon for its extra flavor and because it is hearty enough to stand up to the dressing without immediate becoming soggy.
red bell pepper: you can substitute or add in your favorite veggies or whatever you have on hand such as cucumbers or broccoli.
red onion: I think red onion is a must in this Apple Salad recipe or else the salad is too sweet. You can chop your red onion if you prefer – thinly slicing is strictly for presentation because they look beautiful with thinly sliced apples.
pepitas. If you aren't familiar with pepitas, they are pumpkin seeds! You can also substitute with sunflower seeds. Whichever you use, make sure they are roasted and salted which translates to FLAVOR! I purchase my seeds in the bulk bins at Sprouts.
feta cheese: you can use your favorite crumbled cheese such as goat cheese or Gorgonzola.
caramelized walnuts: the caramelized walnuts add a sweet addicting crunch that will be your favorite part of the salad! I use my 5 Minute Caramelized Nuts in this Apple Salad because it literally lakes 5 minutes and the nuts emerge beautifully caramelized, sweet and crunchy every time. I chose to caramelize walnuts but you could swap them for pecans.
Best Dressing for Apple Salad
The Dressing for this Apple Salad is everything. It's a tantalizing Apple Poppy Seed Vinaigrette that takes minutes to whip up! It's a quick whisking of apple cider vinegar, honey, sugar, dry minced onion and olive oil and tastes like gloriously refreshing sweet and tangy apples and poppy seeds.
And just a note – I was wondering why my dressing was looking kind of green – but then I remembered from kindergarten that yellow honey/apple cider vinegar + blue poppy seeds = somewhat green AH-mazing dressing.
Toss all the deliciousness together and you have a harmony of flavor and texture that is so drool worthy, you won't be able to stop crunching its heavenly goodness. When's the last time you could say that about a salad?!

HOW DO YOU MAKE APPLE SALAD?
Make Dressing: Whisk all the Apple Dressing ingredients together in a bowl or shake in a jar. We want to make the dressing first so it has time to chill and the flavors to meld.
Cook Bacon: Low and slow is the best way to cook bacon so the fat has time to render. Transfer cooked bacon to paper towels to drain excess grease.
Caramelize Nuts: Add butter, sugar, and walnuts to a saucepan and let the magic happen. I like to roughly chop my nuts once cooled.
Assemble: Toss all of the Apple Salad ingredients together in a large bowl. You can either drizzle with desired amount of dressing and toss to combine (ONLY if you are eating right away and don't expect leftovers) OR if you expect leftovers, serve the dressing on the side.
EAT!
TIPS AND TRICKS FOR APPLE WALNUT SALAD
Make dressing first. Make the Apple Dressing first so it has time to chill and the flavors develop – no one likes warm salad dressing! If you are making the Apple Salad and serving immediately, place the dressing in the freezer for 30 minutes then transfer to the refrigerator so it is sufficiently chilled.
Customize dressing. Some people like tangier dressing, some people prefer sweeter dressing so I recommend starting with one tablespoon sugar than adding additional sugar a teaspoon at a time if desired. For a tangier dressing, add additional apple cider vinegar.
Prep ahead: I've detailed how you can make the Apple Salad ahead of time below, but get giddy because you can prepare all or some of the ingredients ahead of time. You can make the the dressing, bacon, caramelized walnuts, red bell peppers and red onions the day before so all that's left to do is chop 2 apples – that's it for for an easy side that doesn't require the oven!
Tame Red onion: I recommend soaking the red onion in water first to remove some of the bite if you tend to find red onions too strong. To do this, place red onion in a fine mesh sieve, submerge the sieve in a large bowl of water for 10 minutes. After 10 minutes, remove sieve and thoroughly dry onions with a paper towel.
Scale Apple Salad recipe up or down. This Apple Salad is easy to double for a crowd or cut it in half for lunches or a small group.
Apple Salad Recipe Variations
Can I use different nuts? You can swap the walnuts for caramelized pecans or almonds if you prefer. If you don't want to caramelize your own nuts, then you can buy them at stores such as Trader Joes. If you're not sure your grocery store carries caramelized/candied nuts, be sure go ask!
Can I add different seeds? Absolutely! Just make sure they're roasted and salted. Sunflower seeds, pine nuts, pistachios are all tasty.
Can I add other vegetables? Yes! Cucumbers, shredded carrots, broccoli, etc. would all be delicious. Roasted butternut squash, or roasted beets would also be fab!
Can I add other fruit to Apple Salad? Creamy avocados would be a welcome addition if they are your thing. Pears, Mandarin oranges, mangos, pineapple, raspberries, blueberries, are all welcome additions; just take care that you don't make your Apple Salad too sweet with sweet fruit. You may want to consider offsetting the sweetness of additional fruit with tart apples such as Granny Smith apples.
Can I add grains? I think this Apple Salad would be superb with the addition of cooked quinoa, wild rice, brown rice, farro or couscous.
Can I use a different cheese? You can any soft crumbly cheese such as goat cheese, blue blue cheese or Gorgonzola.
Can I add protein? Absolutely ! Make this Apple Salad a main dish by adding shredded chicken, shrimp or tofu.
Can I make Apple Salad Ahead of Time?
This Apple Walnut Salad can be made 100% ahead of time then just tossed together when ready to serve!
Apples. The Apples can be sliced up to 24 hours ahead of time and soaked in a mixture of apple juice and lemon juice. I've detailed several options below to prevent oxidation which begins as soon as you slice the apples.
Vegetables: You can chop your Romaine lettuce, bell peppers, and red onions up to 24 hours ahead of time. Store veggies in separate airtight containers or in sealable bags with a paper towel so they stay fresh and crisp. I do not recommend storing your pre-cut veggies longer than a day because the beauty of this salad is its freshness.
Nuts. The caramelized walnuts can be made up to one week ahead of time and stored in a sealed plastic bag or airtight container at room temperature. I often like to double the nuts for future use.
Bacon. The bacon can be made up to 24 hours ahead of time but it will become increasingly soft the longer it sits in the refrigerator. For the crispiest bacon, make it as close to assembling as possible.
Dressing: You can make the Apple Salad dressing up to 5 days ahead of time and store it in an airtight container in the refrigerator. I actually recommend making the dressing ahead of time because it allows time for the flavors to build and meld. Dressing also tastes 1000X better chilled.
HOW DO I KEEP APPLES FROM TURNING BROWN IN SALAD?
My favorite way to keep apples from oxidizing and turning brown after slicing is to put them in a bowl of apple juice with a splash of lemon juice. This way they retain their apple flavor and don't become bitter like soaking in lemon juice can do.
Alternatively, you can toss them in some of the dressing because the apple cider vinegar will help keep them fresh.
Thirdly, If you only have lemon juice on hand, then mix 1/2 cup water and 2 tablespoons lemon and then toss your apples in the mixture.
All of these methods will prolong the oxidation process, but you still want to slice your apples as close to serving as possible.
HOW DO I SERVE Apple Salad SALAD?
There are three ways to serve Apple Salad:
If you don't expect or want leftovers: add all of the salad ingredients to a large bowl and toss with desired amount of dressing.
If you expect leftovers: add all of the salad ingredients to a large bowl except bacon and dressing. Let individuals top dress their own servings with dressings and bacon.
Create a Salad Bar: line up all of the salad ingredients in separate serving bowls and let guests assemble their own Apple Salad. This works particularly well if you are making Apple Salad a main dish salad with shredded chicken or shrimp and are including more of the veggie, fruit, grain or cheese variation options.
HOW LONG DOES APPLE SALAD LAST IN THE FRIDGE?
The Apple Salad is best served within an hour when tossed with the dressing because it will become soggy. If you hold the dressing, the salad can last up to two days stored in an airtight container in the refrigerator.
What do I serve with Apple Salad?
This Apple Salad makes a superb addition to all your holiday festivities! Serve it with Herb Butter Turkey, Brown Sugar Glazed Ham, Honey Baked Ham,Garlic Herb Butter Pork Tenderloin,Pot Roast, Beef Tips and Gravy, and Slow Cooker Honey Balsamic Roast Beef.
It also is wonderful with practically EVERYTHING else that graces your table from Garlic Butter Salmon, to Chicken Divan, to Bolognese, to Crockpot Chili to Million Dollar Mac & Cheese to Oven Fried Chicken. I think the more appropriate question is – What doesn't this Apple Walnut Salad recipe go with?!
LOOKING FOR MORE HOLIDAY SALAD RECIPES?
Want to try this Apple Salad Recipe?
Pin it to your SALAD, SIDE, THANKSGIVING or HOLIDAY Board to SAVE for later!
Find me on Pinterest for more great recipes! I am always pinning :)!
©Carlsbad Cravings by CarlsbadCravings.com
Carlsbad Cravings Original
NEVER MISS A CARLSBAD CRAVINGS CREATION: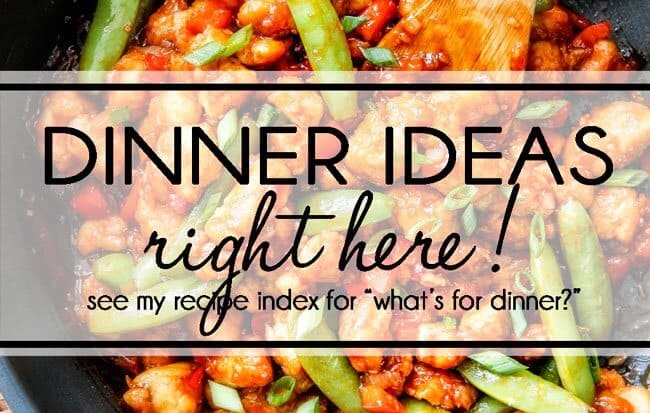 You might also like these holiday recipes:
Cranberry Apple Pecan Wild Rice Pilaf
Maple Dijon Green Beans with Caramelized Pecans, Bacon & Feta