BEST EVER CREAMY GARLIC MASHED POTATOES INFUSED WITH BUTTER, HEAVY CREAM, SOUR CREAM, GARLIC, CHIVES AND PARMESAN!
I could eat these Homemade Garlic Mashed Potatoes all day, every day just with a spoon. These wonderfully velvety, flavorful mashed potatoes can be made ahead of time and stored in your slow cooker for an incredibly easy side worthy of any occasion – or just your spoon.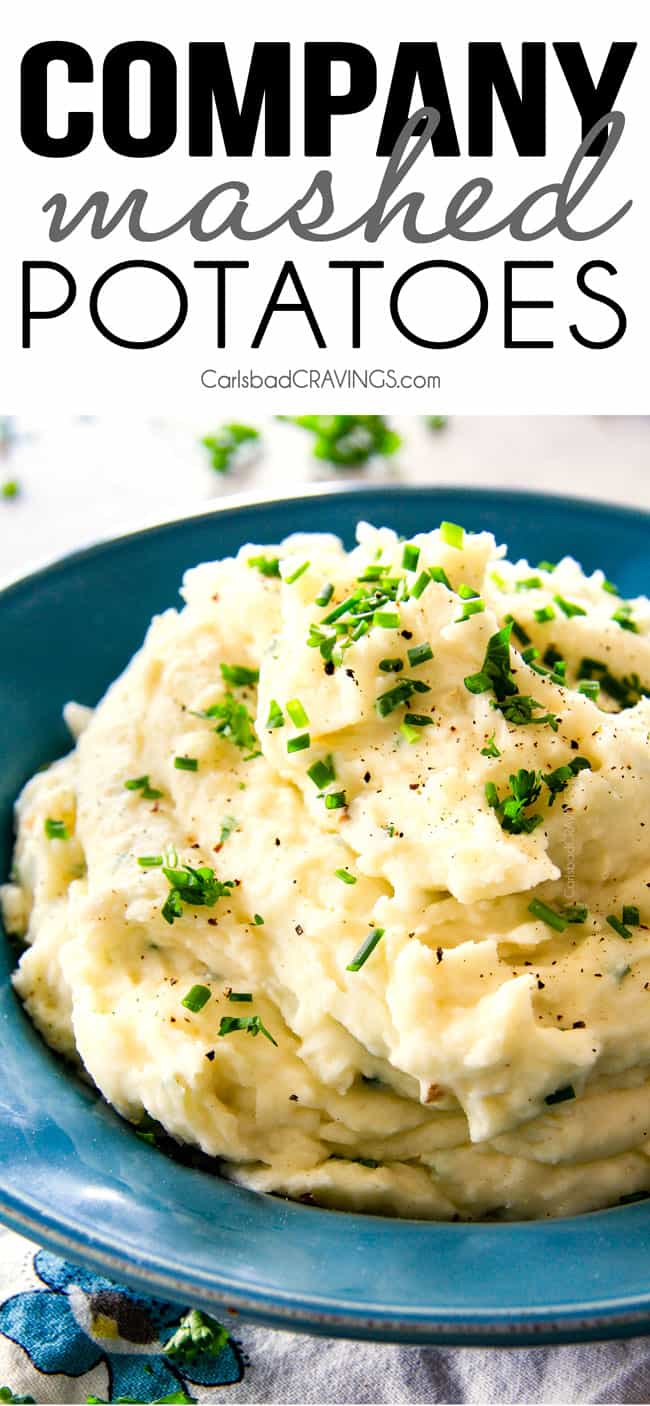 I love potatoes in all forms from my Twice Baked Potatoes, Parmesan Fingerling Fries and Potatoes Au Gratin to my Slow Cooker Mashed Potatoes and Roasted Potatoes with Bacon and Parmesan to my Roasted Hasselback Sweet Potatoes, Sweet Potato Casserole. and Potato Soup. I could eat potatoes for every meal but my ultimate favorite form of potatoes are these fluffy, buttery, creamy Garlic Mashed Potatoes!
My Garlic Mashed Potatoes obsession started when I was just a young thing and I practically lived off of "whipped potatoes" as we adoringly called them. "Whipped Potatoes with Sauce" was one of my favorite meals and one of my mom's go-to dinners. Saute some bite size chicken, toss it in a creamy sauce with veggies and serve it over potatoes. My fav.
WHAT INGREDIENTS ARE IN GARLIC MASHED POTATOES?
Nowadays we know Mac and Cheese and potatoes aren't the healthiest main dish or side, so at our house we usually only consume them on special occasions or with company, so with that in mind, I decided to make this Mashed Potato Recipe the Best Mashed Potato Recipe ever – we aren't going guilt free mashed potatoes here, we are going for company praising, recipe demanding, bowl licking, wish no-no-one-else-was-at-dinner-so-you-could-eat-them-ALL Mashed Potatoes. We are going for the Best Company Garlic Mashed Potatoes. And I think we've succeeded.
After all, these Best Mashed Potatoes are infused with butter, heavy cream, sour cream, Parmesan cheese, fresh chives, garlic powder, salt, and pepper! The are infused with DELICIOUSNESS. They are so good, I was shoving bite after embarrassingly large bite into my mouth while transferring the potatoes from the mixing bowl into the serving bowl.
In addition to being lick-the-bowl-worthy, these Garlic Mashed Potatoes are one of the simplest sides for any weeknight meal but also SO fabulously decadent and satisfying, they are the perfect special occasion side (think Thanksgiving, Valentines Day),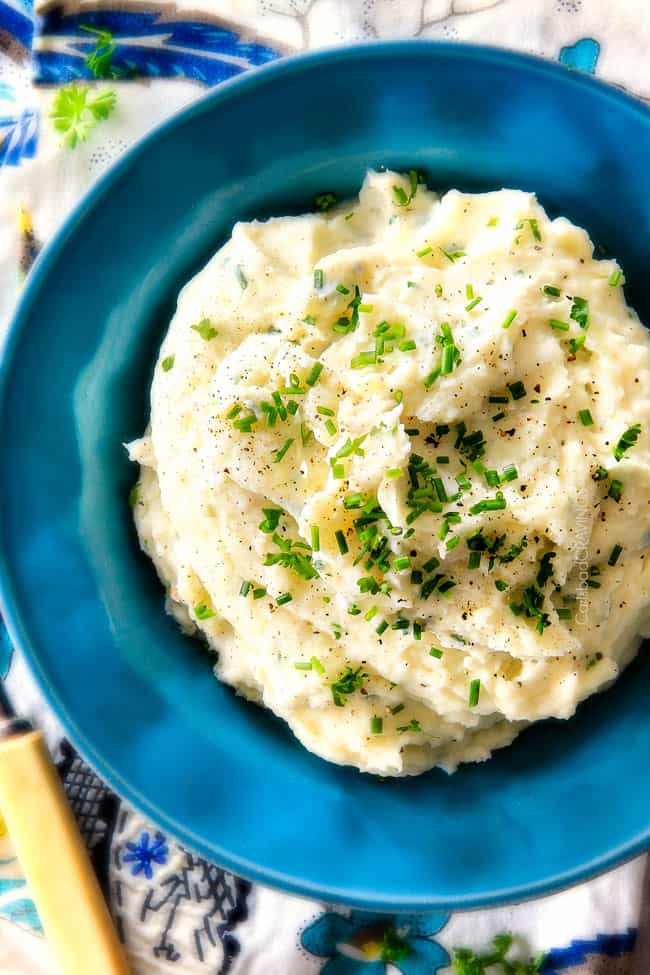 WHAT POTATOES ARE BEST FOR MASHED?
Russet and Yukon potatoes are the best for creamy mashed potatoes, my personal favorite being Russets. They render the fluffiest, smoothest mashed potatoes with less chance of becoming gummy or turning into "potato paste" which can occur from over mashing.
Waxy potatoes such as red potatoes have a low starch content and require more elbow grease to mash which means they are more likely to result in overworked, pasty, potatoes. Waxy potatoes also will never become as fluffy or creamy as Russet potatoes because they don't absorb dairy well.
For this Garlic Mashed Potato Recipe, I highly recommend Russet potatoes. I have NEVER had a problem with them becoming gummy, only fluffy, creamy perfection.
HOW MANY POTATOES SHOULD YOU MAKE PER PERSON FOR MASHED POTATOES?
When mashed potatoes are served as a side dish, you can safely plan on ½ pound of potatoes per person. That means this recipe for Garlic Mashed Potatoes which calls for 3 pounds will safely serve 6 people. You can scale the recipe up from there to meet your serving needs.
HOW DO YOU MAKE CREAMY GARLIC MASHED POTATOES?
These breathtakingly delectable, Garlic Mashed Potatoes are super easy to whip up.
Step 1 – Prep Potatoes: Start by first peeling your russet potatoes. I like to pick the largest potatoes because this means less surface area to peel. After you peel your potatoes, chop them into 1 1/2″ cubes. Don't worry about being exact here, just cut them so they are generally the same size so they will cook evenly. Typically, I cut my potatoes in half, then slice each half in thirds lengthwise, then cut 1 1/2″ slices in the opposite direction.
MAKE AHEAD TIP! You can do all of your potato peeling a day ahead of time as long as you keep them in a bowl/pot filled with water in the refrigerator to keep them from browning. This makes whipping these babies up extra fast!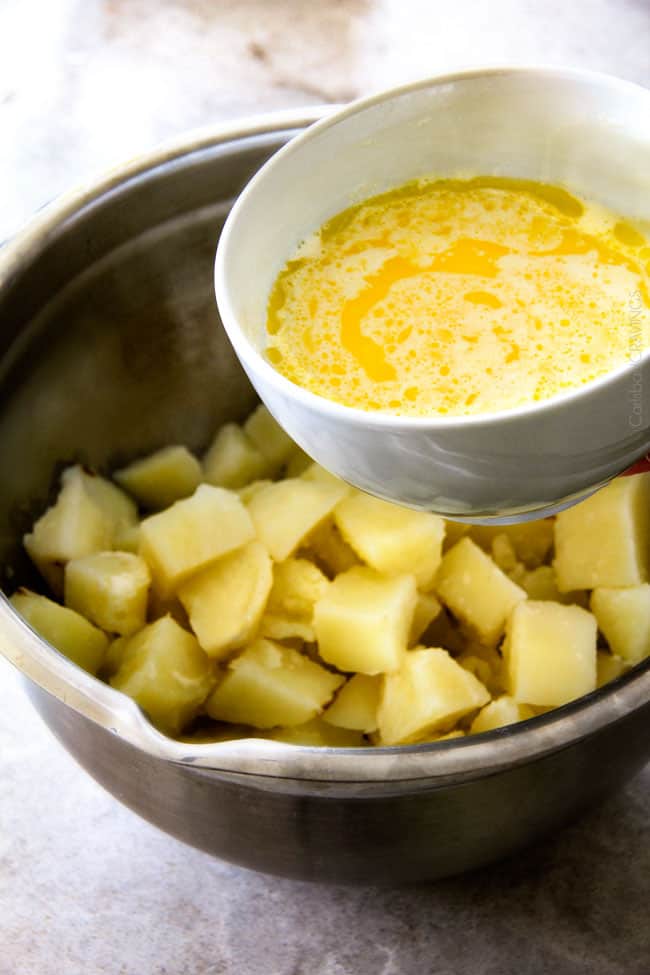 Step 2 – Boil Potatoes: Next, you add your potatoes to cold water in a large skillet and add salt (NEVER start with hot water). By bringing the potatoes to a boil with the water, they cook more evenly and you aren't left with overcooked mushy outsides and under cooked insides, but instead achieve the perfect melt in your mouth consistency.
By adding salt to the boiling water, you are instantly infusing your potatoes with flavor from the inside out that simply isn't achievable any other way. You can also add garlic cloves and any other aromatics to the water, just another way to add flavor. Simmer your potatoes for about 10-15 minutes, being aware that it's better to overcook the potatoes than undercook them so they will mix easily without hard pockets.
Step 3 – Drain Potatoes: Drain your potatoes thoroughly otherwise you will end up with watery Garlic Mashed Potatoes instead of ideal maximum fluffiness.
Step 4 – Mash Potatoes: Next its mashing time! I am all about mixing my mashed potatoes with a hand held electric mixer. It creates fluffier, smoother potatoes that can't be achieved any other way – and its effortless. Instead of just adding heavy cream or milk to our potatoes, we heat butter, heavy cream and milk together in the microwave for 1 ½ minutes. Next, slowly stream the butter/cream mixture into potatoes while beating on LOW until combined. The hot mixture will keep the potatoes warm and the melted butter will envelop every cranny of the mashed potatoes from the inside out.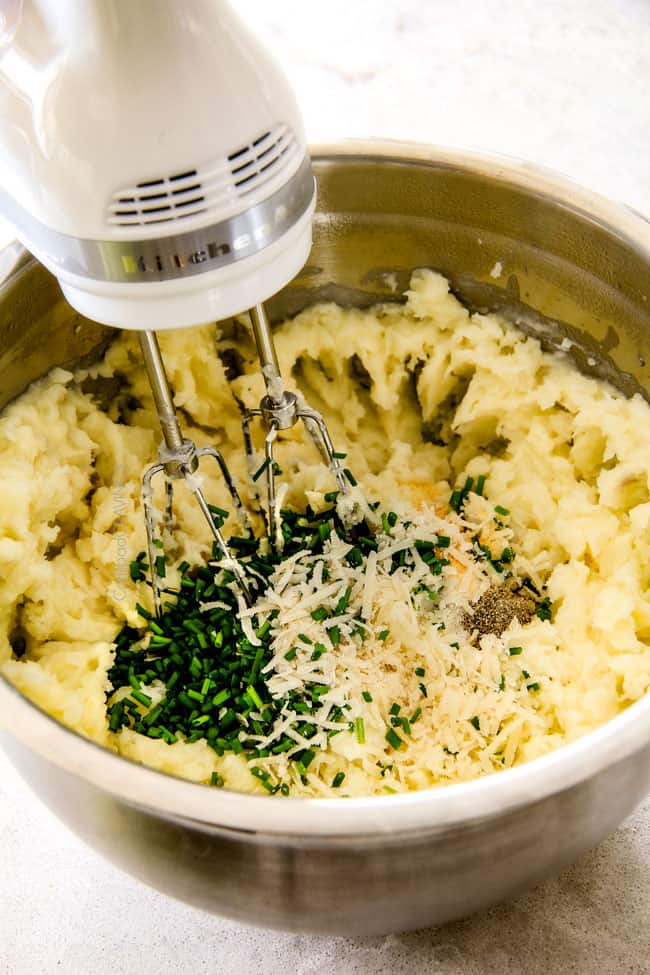 Step 5 – Parmesan: Next we beat in Parmesan, sour cream, chives, salt, pepper and garlic powder just until combined. That's right, Garlic Mashed Potatoes with butter, heavy cream, sour cream and Parmesan! I can't get tired of saying those ingredients together. Because, Homemade Mashed Potato heaven!
The Parmesan is subtle but adds a depth of YUM while the chives, garlic powder, salt and pepper add enough flavor you will be licking the bowl clean but keep the potatoes neutral enough that you can still top with gravy or serve alongside any of your favorite dishes.
If you are feeling extra foodie flirty, feel free to mix up the flavor profile and add more cheese or different cheese to create cheesy mashed potatoes or experiment with with the endless variations of herbs. But for classic Company Garlic Mashed Potatoes, this recipe is it. You will be left with the most addicting, flavorful, indulgent creamy and simply the Best Mashed Potatoes EVER in my humble, whipped potato loving opinion. Where's my spoon?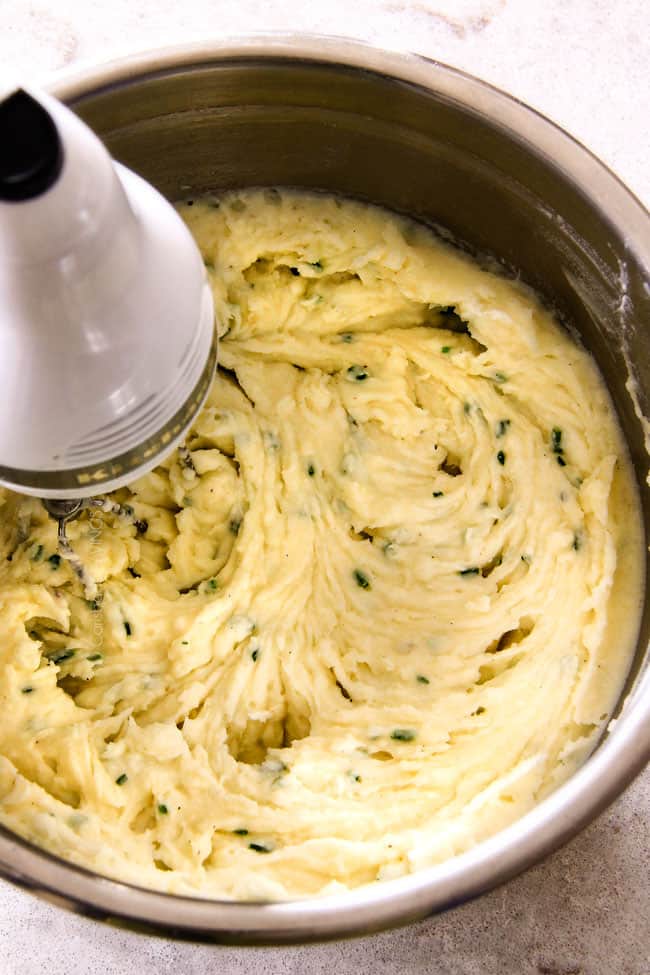 WHY ARE MASHED POTATOES GUMMY?
By following my Garlic Mashed Potato recipe, you shouldn't run into any problems, but here are some troubleshooting tips. To prevent gummy mashed potatoes:
use Russet potatoes and not waxy potatoes
drain potatoes extremely well after cooking
always mash the potatoes while they're still hot
don't overmix potatoes
Overmixing potatoes is usually the culprit for gummy, gluey or sticky potatoes. The science behind this is simple: when the potatoes are boiled, they develop swollen starch cells. When the potatoes are mixed, the cells are ruptured and release starch. The more cells that are broken, the starchier and more gummy the potatoes will become. For the fluffiest potatoes, you are going to want to mix as little as possible, for creamier more dense potatoes, beat a little longer but be aware not to overbeat.
WHY ARE MASHED POTATOES LUMPY?
If you end up with lumpy Garlic Mashed Potatoes, it means your potatoes were undercooked before mashing. Next time, make sure you check your potatoes with a fork before removing them from the heat. A fork should easily slip into the potatoes AKA the potatoes should be "fork tender."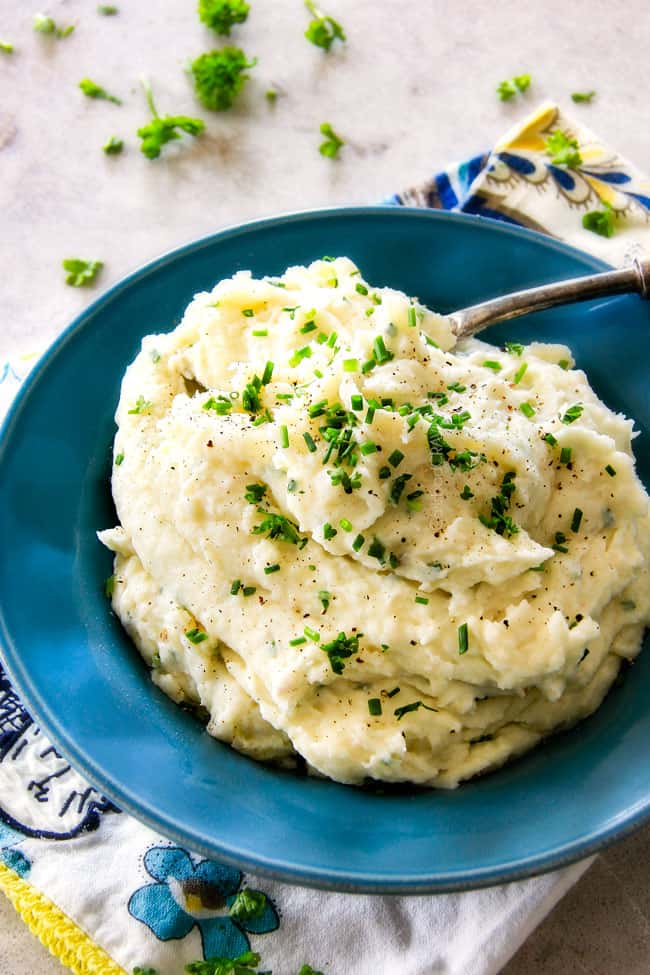 Can Mashed Potatoes be Made Ahead of Time?
Yes! You can prepare your Garlic Mashed Potatoes ahead of time and either cover and place in a warm oven or transfer to your slow cooker on the warm setting until ready to serve. Another reason to love mashed potatoes.
Can I freeze Mashed Potatoes?
Yes and no. I personally am a mashed potato critic so I do not like frozen mashed potatoes because the texture changes when thawed. The potatoes can be doctored with additional butter, etc., but this doesn't cut it for me. If you are not a texture critic, or the mashed potatoes are going to be blanketed in gravy or sauce, then feel free to freeze them.
If freezing potatoes, make sure you don't skimp on any of the butter or cream in my Garlic Mashed Potato recipe, because the extra fat will make them more freezer friendly. You can even add additional butter for a better thawed result.
To Freeze Mashed Potatoes:
Prepare Garlic Mashed Potatoes according to directions taking care you don't have any chunks because the chunks will become mealy when frozen.
Refrigerate mashed potatoes in a shallow pan in the refrigerator until completely cool.
TO FREEZE INDIVIDUAL MASHED POTATO SERVINGS:
Scoop potato onto a parchment lined baking sheet using a cookie scoop so they are not touching (you may use more than one scoop per serving).
Freeze until solid, about 1-2 hours.
Transfer individual servings to separate plastic bags, press out excess air and seal.
Thaw frozen potatoes overnight in the refrigerator, remove from plastic and microwave until warmed through.
Thawed, reheated potatoes will likely be watery. Stir in some sour cream to make them creamy again.
TO FREEZE BATCH MASHED POTATOES:
Add the desired amount of cooled mashed potatoes to a freezer size bag.
Flatten potatoes in bag and press out excess air.
Label and freeze for up to 6 months.
Thaw in the refrigerator overnight.
Remove from plastic, place in a baking dish and bake uncovered, at 350° for 30-35 minutes or until heated through.
Thawed, reheated potatoes will likely be watery. Stir in some sour cream to make them creamy again.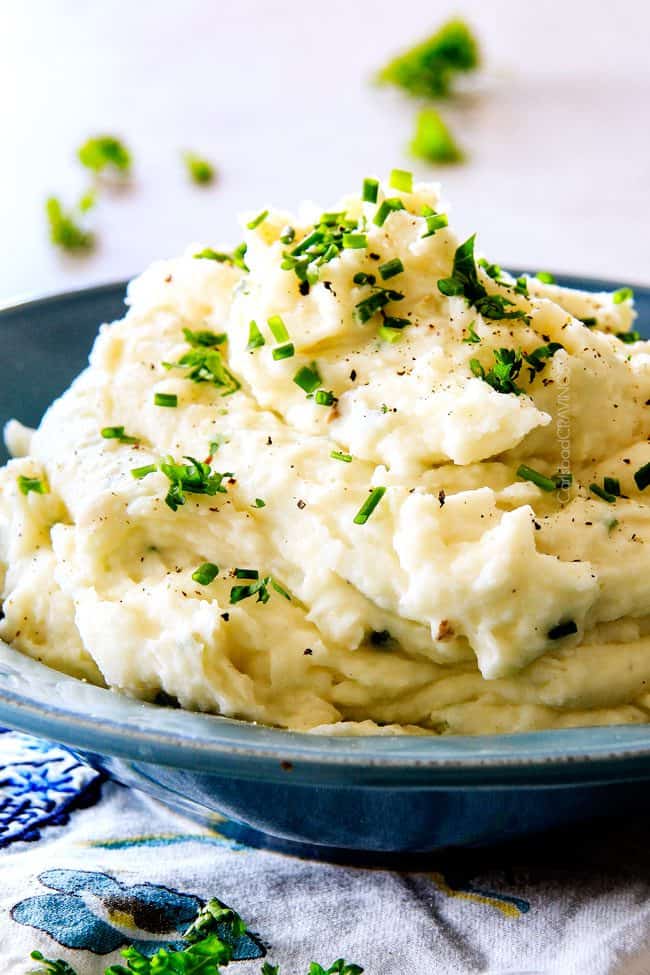 What Should I serve with Garlic Mashed Potatoes?
Want to try this mashed potato recipe?
PIN IT TO YOUR SIDES, HOLIDAY OR SPECIAL OCCASIONS BOARD TO SAVE FOR LATER!
FIND ME ON PINTEREST FOR MORE GREAT RECIPES! I AM ALWAYS PINNING :)!
©Carlsbad Cravings by CarlsbadCravings.com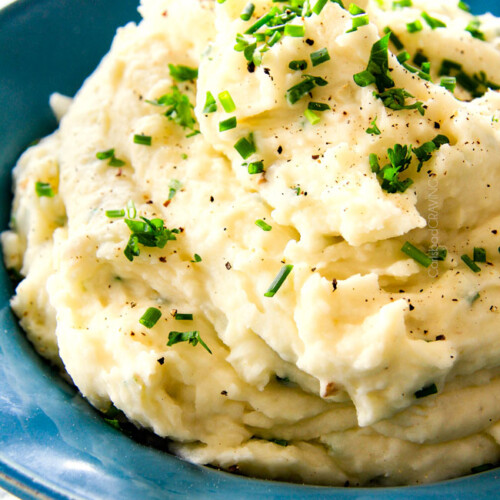 Company Mashed Potatoes
BEST Garlic Mashed Potatoes infused with butter, heavy cream, sour cream, garlic, chives and Parmesan!  These wonderfully velvety, flavorful mashed potatoes can be made ahead of time and stored in your slow cooker for an incredibly easy side worthy of any occasion – or just your spoon.  
Save This Recipe To Your Recipe Box
You can now create an account on our site and save your favorite recipes all in one place!
Ingredients
3

lbs.

russet potatoes

peeled and cut into 1 1/2-inch chunks

1/2

cup

heavy cream

1/4

cup

milk

4

tablespoons

butter, cubed

½

cup

finely grated fresh Parmesan cheese

(2 oz.) (optional)

1/2

cup

sour cream

1/4

cup

freshly chopped chives

3/4

teaspoon

salt

1/4

teaspoon

garlic powder

1/8

teaspoon

pepper
Instructions
Add potatoes to a 5 quart (or larger) Dutch oven and add water until it reaches about 1-inch past the top of the potatoes. Season with ½ teaspoon salt. Cover and bring to a boil then reduce heat to low. Simmer for 10-15 minutes or until very tender when pierced with a fork; drain VERY WELL. Add potatoes to bowl of electric or hand held mixer.

Heat butter, heavy cream and milk for 1 ½ minutes. Slowly stream heated butter/cream mixture into potatoes while beating on LOW until combined. Beat in Parmesan, sour cream, chives, salt, pepper and garlic powder on MEDIUM just until combined. Stop beating at this point for fluffy potatoes. For creamier, more dense potatoes, continue to beat just a little longer but be aware not to overbeat. Taste and season with additional salt and pepper if desired.
Notes
*Try mixing up the cheese, seasonings, etc. to create different potato flavor profiles.
Prep Ahead
You can prepare the mashed potatoes ahead of time and transfer them to the slow cooker on the warm setting until ready to serve.  If you only need to keep them warm for an hour or so, you can set your bowl of potatoes over a pot of simmering water, just like a double boiler. Cover the top of the bowl with plastic wrap or a dish towel. Give it a stir every 15 minutes or so to keep the potatoes well-heated.
Did You Make This Recipe?
Tag @CarlsbadCravings and Use #CarlsbadCravngs
Leave a Review, I Always Love Hearing From You!
©Carlsbad Cravings Original