---
Dinner Roll Recipe with no hand kneading!  Soft and fluffy, double brushed with butter and topped with garlic salt for the best Dinner Rolls ever!
---
This Dinner Roll Recipe will be the only dinner rolls you will ever want to make.  or eat.  Out of everything I could be making for Thanksgiving, I am making these perfect, soft and fluffy pillows of deliciousness. And soon you'll taste why!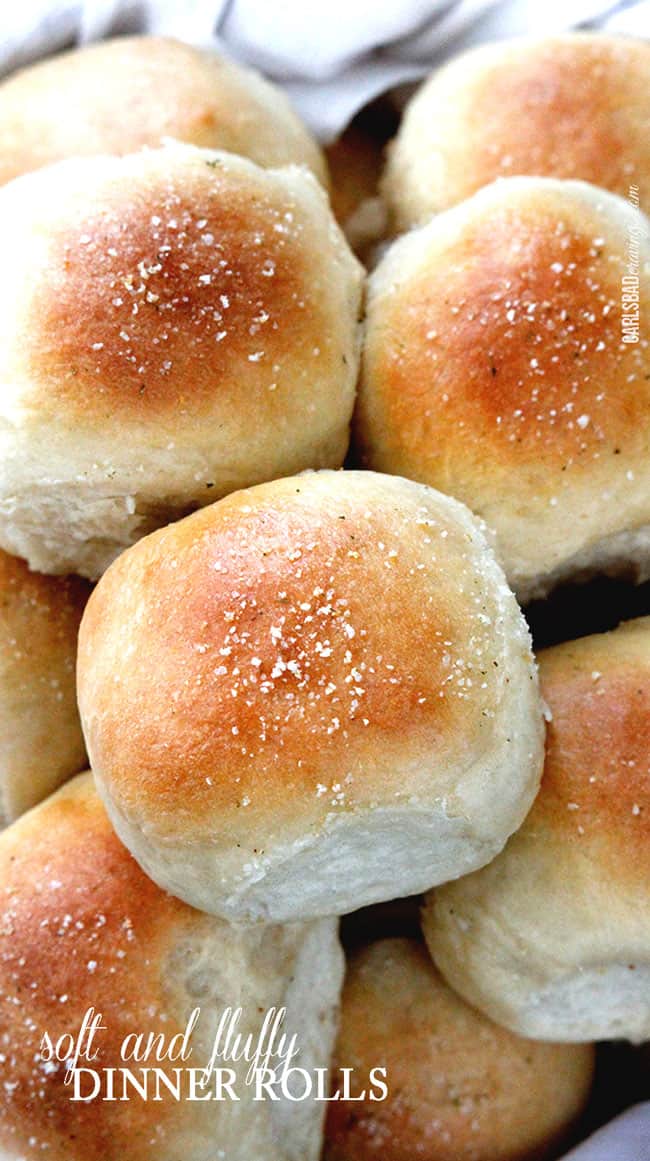 When I made these buttery balls of bliss last week, I knew Patrick was going to be excited.  As soon as the door opened and he was met with their buttery homemade roll aroma, I heard an enthusiastic,  "Yes!" as he hurried up the stairs and dove right in. "You have to make these for Thanksgiving!" he exclaimed.  He has since conjured up plans to open a food truck with a menu solely based on these rolls because they make "everything taste amazing!"  I love the enthusiasm.
And I love how just a waft of these dinner rolls brought a smile to his face as he was reminded of happy times – with these rolls in his belly.
Isn't it amazing how memories coincide with smells and food?    Just like a waft of pumpkin pie or roasted turkey transports us to happy times of family and friends;  times surrounded by the people we love the most –  The very reasons for Thanksgiving.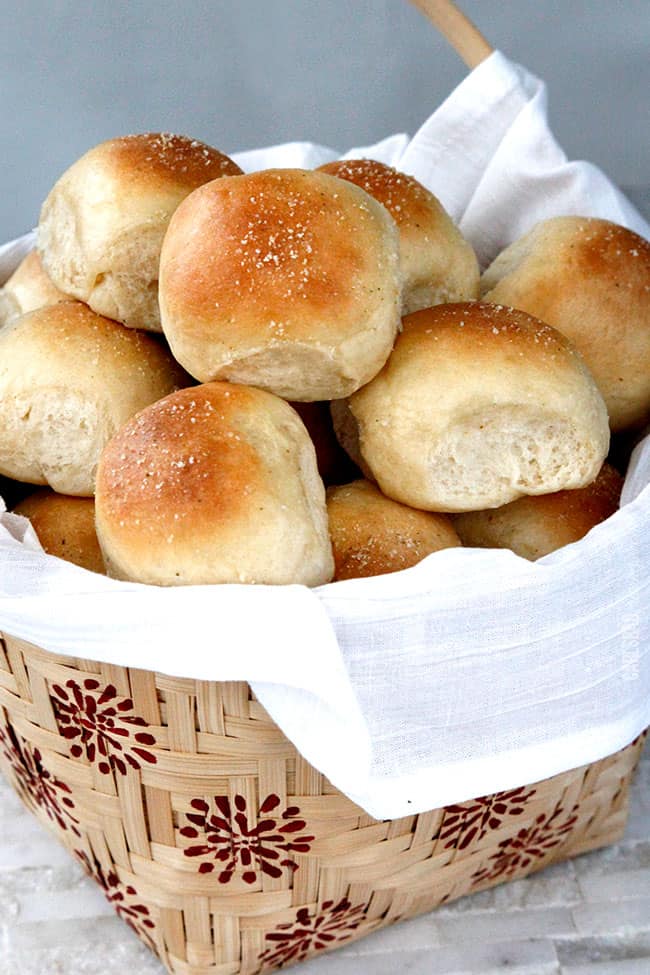 I have a lot to be Thankful for this year – and every year  – but especially this year as I celebrate my 15 year double lung transplant anniversary on November 29th and just celebrated my 1 year kidney anniversary on October 9th.  I'm going to share a special post on that later, but I can't not think of Thanksgiving without being thankful to be alive and overcome with gratitude to my sister, my kidney donor, and my two living lung donors who have made my very life  possible (my lungs were taken out completely at age 16 due to cystic fibrosis and they each donated 1 of their lobes to form a new set of lungs for me – so I have 2 lobes instead of the normal 5).  Everyday is Thanksgiving in my life!
But still, official Thanksgiving demands special foodie treatment.  That's where these Perfect Soft and Fluffy Rolls come in.  Seriously, I will never make another dinner roll recipe again.  These rolls are super uber soft and fluffy, smothered in butter before they bake then smothered in butter again after they bake because, after all, you are taking the time to make homemade dinner rolls – they better be buttery!   Just as they better be melt in your mouth delicious.  Done and done.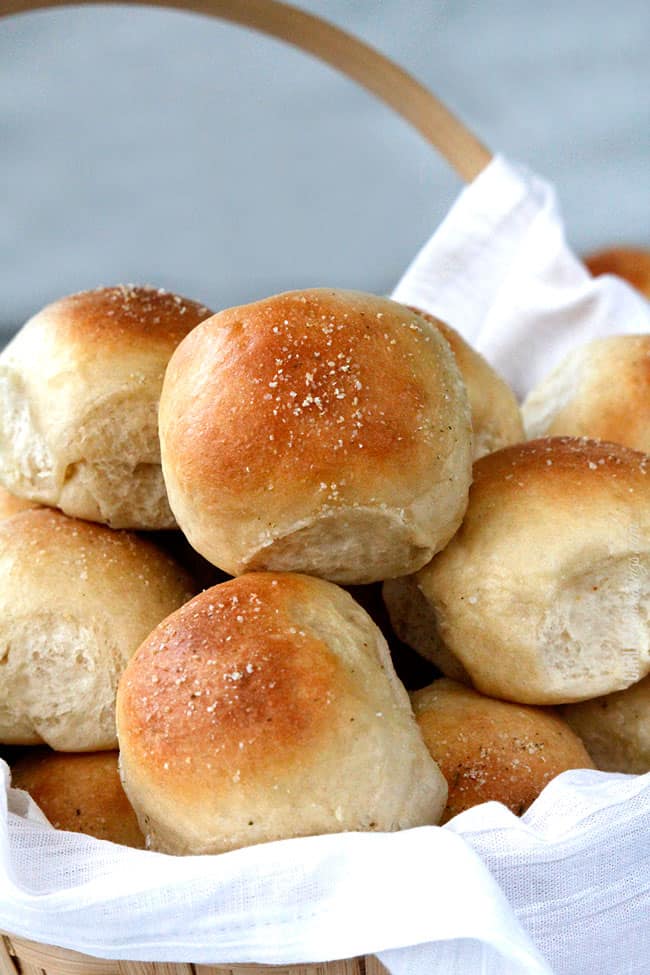 The last extra  "something special" that pushes this already perfect Dinner Roll Recipe into a whole new realm of unspeakable deliciousness (as in you can't speak because your mouth is stuffed with roll after roll after roll), they are gifted with a sprinkling of garlic salt.  It enhances all that's right in the world  these dinner rolls.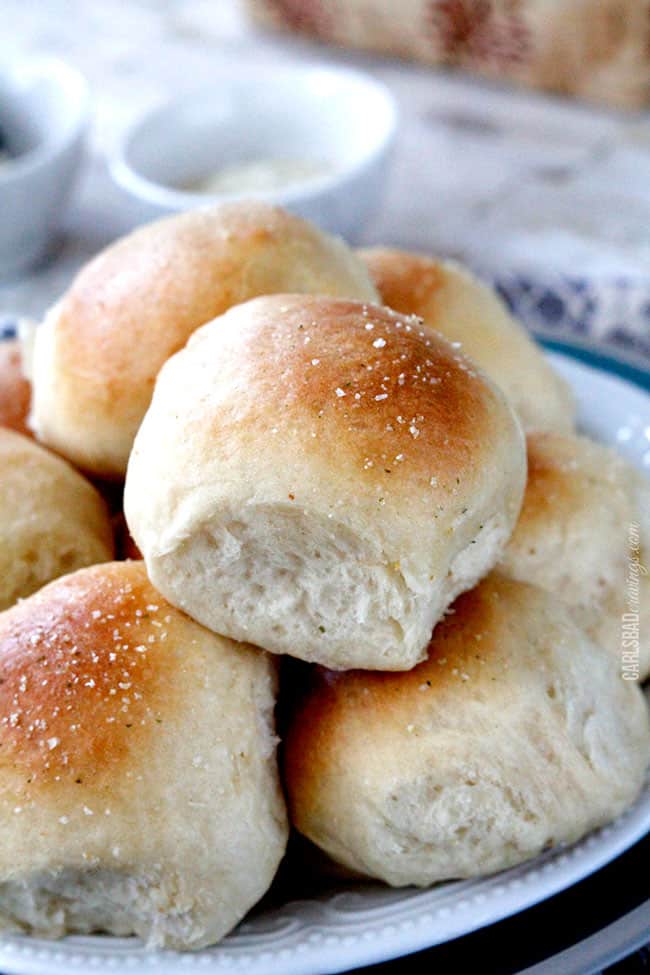 I hope this Dinner Roll Recipe joins you this Thanksgiving and for many Thanksgivings to come and that their freshly baked bread aroma fills your soul with reminiscent foodie and family memories and present thanksgiving!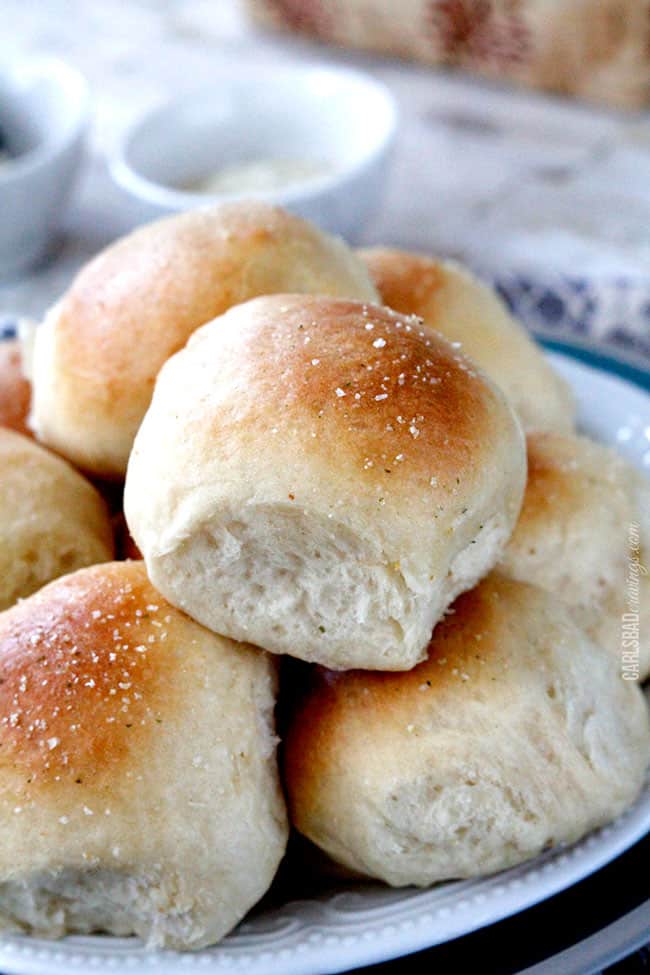 1 1/2

cups

milk

1/2 cup

(1 stick)

salted butter, cut into pieces

1/2

cup

sugar

1

package active dry yeast

(2 1/4 teaspoons)

1/2

cup

warm water

3

large eggs, lightly beaten

1 1/2

teaspoons

salt

7

cups

all-purpose flour

3

tablespoons

butter, melted

Garlic salt
1 1/2

cups

milk

1/2 cup

(1 stick)

salted butter, cut into pieces

1/2

cup

sugar

1

package active dry yeast

(2 1/4 teaspoons)

1/2

cup

warm water

3

large eggs, lightly beaten

1 1/2

teaspoons

salt

7

cups

all-purpose flour

3

tablespoons

butter, melted

Garlic salt
Add milk to a small saucepan and bring to a simmer. Remove from heat and stir in 1/2 cup butter and sugar until melted. Place in the refrigerator to cool.

Meanwhile, in the bowl of your standard mixer, dissolve yeast in warm water and let sit 5-10 minutes or until foamy. (If it doesn't foam, start again)

Fix mixer with dough hook and generously spray hook with nonstick cooking spray.

Add milk mixture, eggs, salt and 5 cups flour to the mixer and mix until combined. With the mixer running on low, gradually mix in 2 more cups of flour until dough starts to pull away from the sides of the bowl. Once dough has pulled away from the bowl, knead on medium-low speed (dial 4) for approximately 5 minutes (or by hand for 10) until dough is smooth and barely sticks to your fingers.*

Shape the dough into a ball and place back into your mixing bowl that has been coated lightly with olive oil or nonstick cooking spray. Cover tightly with plastic wrap that has been sprayed with nonstick cooking spray and allow to rise at room temperature until doubled in size, about 1 1/2 -2 hours.

After dough has doubled, remove to a floured surface (or nonstick mat) and punch down then lightly shape into rectangle of uniform thickness (overall dimensions don't matter) using your hands. Cut the rectangle into 28 roughly even pieces then shape into balls by folding the corners under. Place balls about 1 inch apart on a baking sheet lined with a nonstick mat or parchment paper. Cover with a towel and let rise until doubled, 45-60 minutes.

Preheat oven 350 degrees F. Brush rolls with approximately 1 1/2 tablespoons melted butter. Bake for approximately 20 minutes or until golden. Remove from oven and brush with remaining butter and sprinkle with garlic salt.
*If your dough is too wet, add 1 more tablespoon of flour at a time until dough barely sticks to your fingers.
Adapted from Food Network


Want to try this Dinner Roll Recipe?
Pin it to your BREAD, DINNER, or HOLIDAY Board to save for later!
Find me on Pinterest for more great recipes!  I am always pinning :)!
©Carlsbad Cravings by CarlsbadCravings.com


Never miss a Carlsbad Craving Creation:
Facebook /  Google+ / Instagram /  Pinterest / Twitter 
You might also like: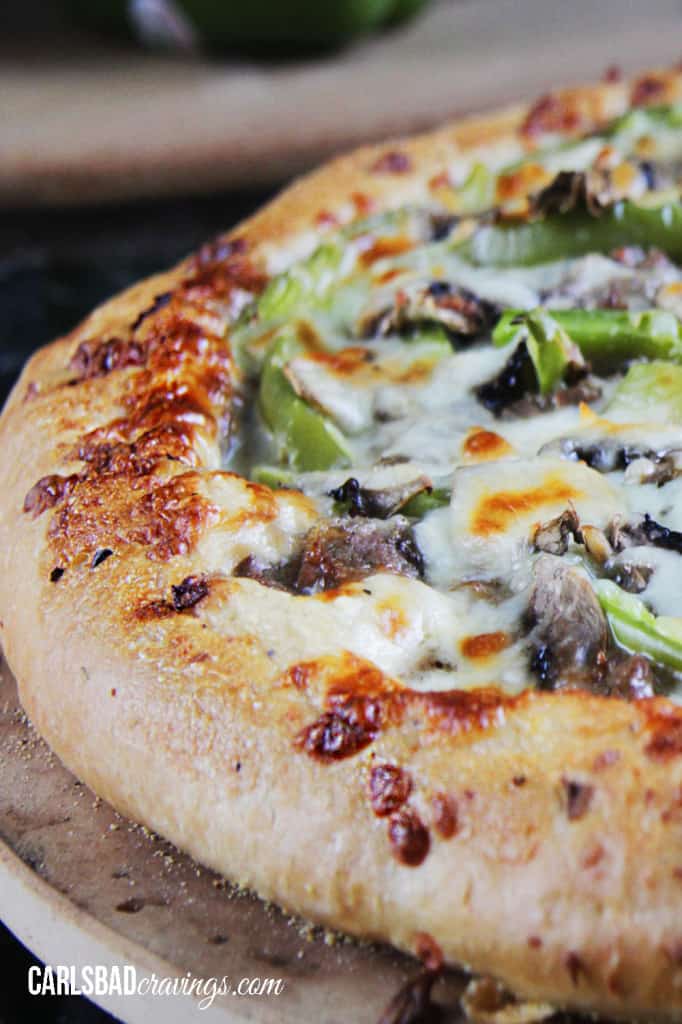 Easy Garlic Parmesan Butter Breadsticks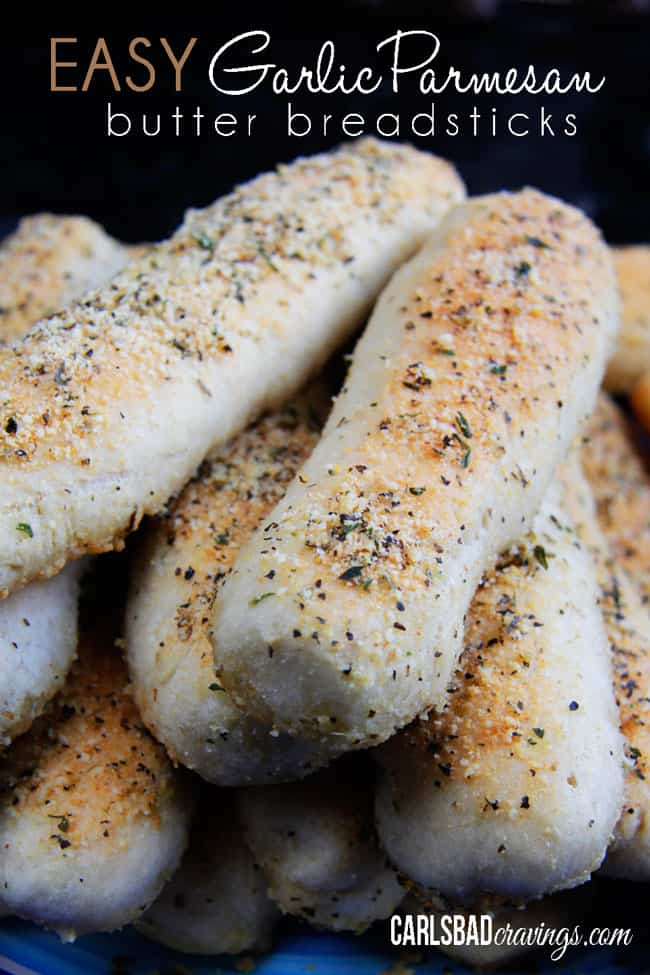 Slow Cooker Secret Ingredient Mashed Potatoes
Cranberry Apple Pecan Wild Rice Pilaf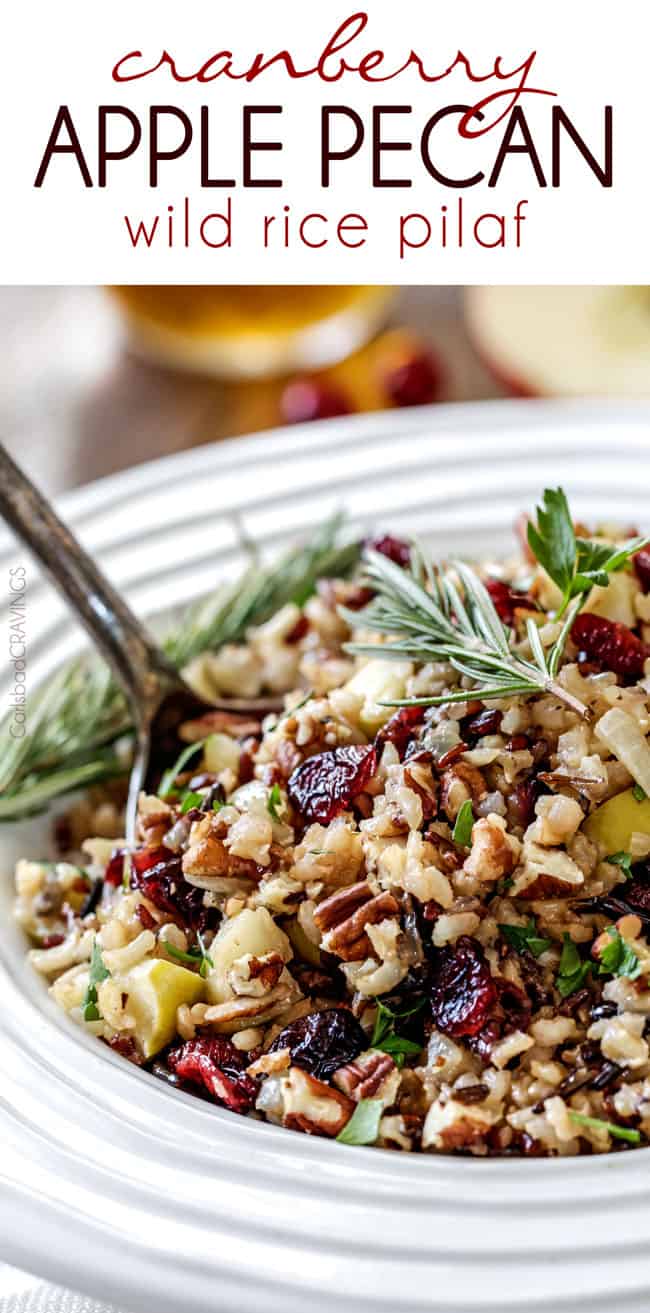 Cream Cheese Stuffed Carrot Cake
Berry Feta Spinach Salad with Strawberry Poppy Seed Dressing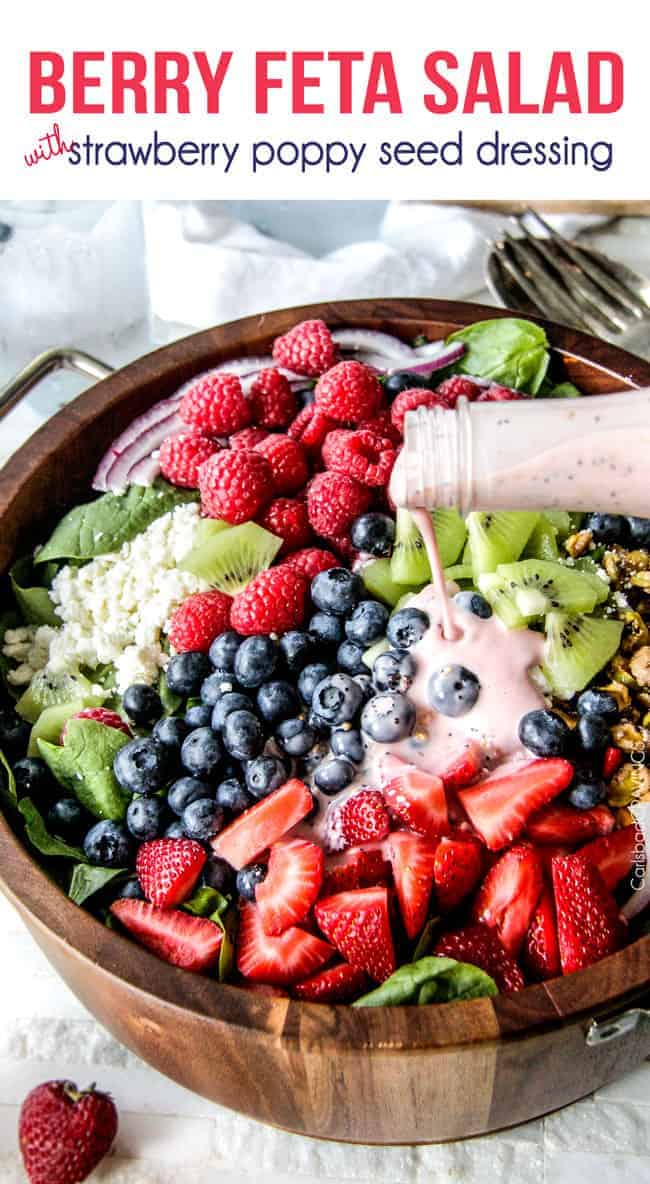 Never miss a Carlsbad Cravings Creation: