Shrimp Fettuccine is wonderfully creamy, bursting with lemon garlic flavor and on your table in 20 minutes!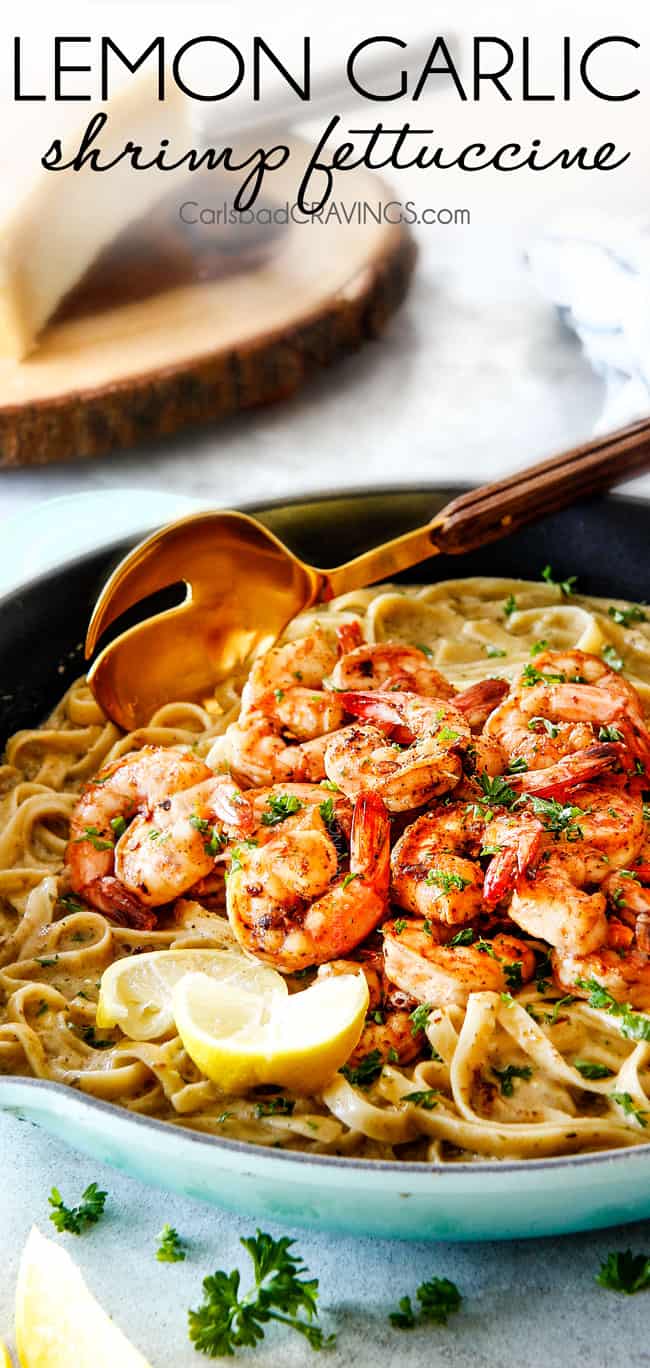 This 20 minute Lemon Shrimp Pasta is the quick dinner you need!
One of my favorite things to whip up when I'm lazy is pasta.  It's not only comfortingly cravilicious, but it's also uber quick to prepare and requires hardly any effort.  The exact same goes for shrimp — especially when you use shrimp that is already devined.  Pair pasta and shrimp together and have a luxurious tasting meal that comes together at a moment's notice – now that is my kind of dinner! 
Be warned, you are going to want to stock up on fettuccine and frozen shrimp because we are about to make one of the best tasting pastas of. your. life.   
For this pasta and shrimp combo, I've gone with lemon garlic shrimp because shrimp looooves a garlic butter bath. It's reminiscent of my most popular recipe of 2017, my Sheet Pan Garlic Lemon Butter Shrimp and Asparagus, but it is even more delicious (if you can even imagine!) because the shrimp and pasta get enveloped in decadently creamy sauce. gahhhh! so good!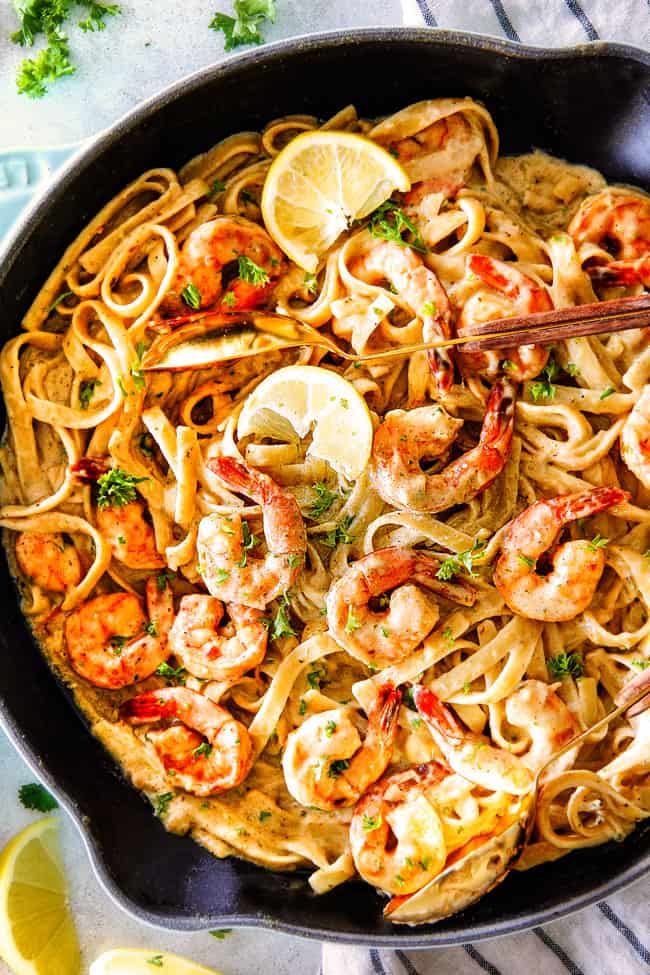 Lemon Garlic Shrimp Pasta Ingredients
The beauty of this garlic butter shrimp pasta is that it comes together so quickly and uses so few ingredients.
Fettuccine: You can use classic fettuccine, whole-wheat fettuccine or gluten free fettuccine. I haven't tried it with zoodles or spaghetti squash, but I imagine it would work well.
Raw shrimp: I suggest uncooked shrimp that have already been peeled and deveined. Buying prepared shrimp makes your job a snap because all you have to do is defrost the shrimp.
Olive oil: A mixture of olive oil and butter makes for a truly luxorious sauce.
Butter: Use unsalted butter so we can control the level of salt.
Garlic cloves: Fresh garlic is ideal for flavoring the garlic butter sauce.
Red pepper flakes: Adds the tiniest kick of heat without making the dish spicy.
Lemon juice and zest: Don't skip the zest! The lemon zest is actually what packs in the most lemon flavor.
Flour: I use all-purpose flour but I'm sure gluten free flour would work as well.
Chicken broth: Is more flavorful than just milk or heavy cream. Make sure you use low sodium broth so the garlic butter shrimp fettuccine isn't too salty.
Heavy cream: Is also called "heavy whipping cream." Just ½ cup adds that something-something luxurious that elevates the entire dish.
Prepared pesto: I used classic basil pesto, but another variety of pesto may work in this recipe.
Parmesan cheese: For best results and the BEST garlic lemon shrimp pasta recipe, use ONLY freshly grated Parmesan cheese. It is much more flavorful and melts into silky oblivion unlike powdered or pre-shredded cheese.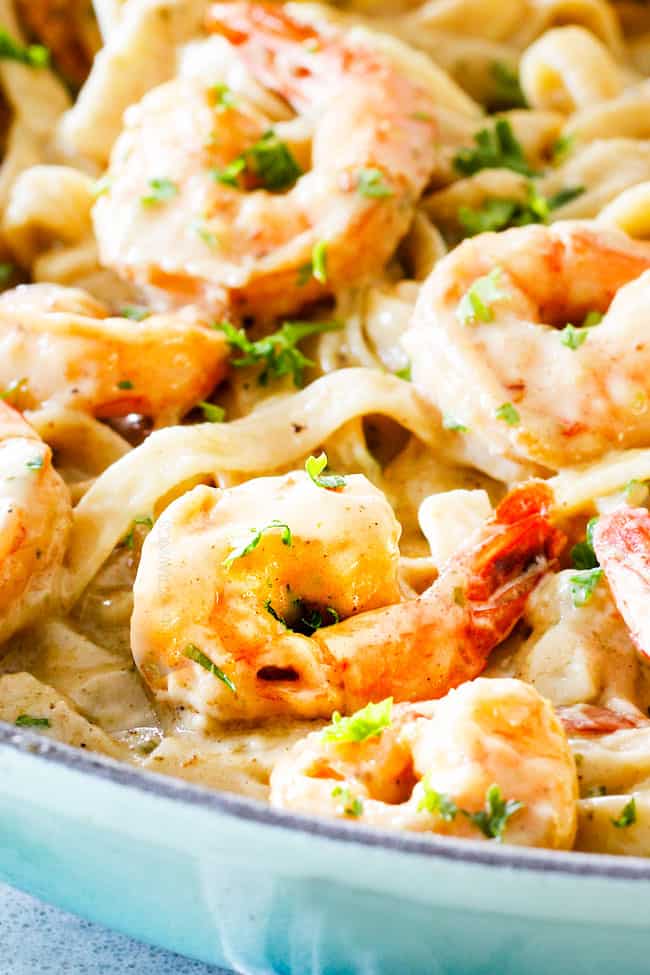 Shrimp Fettuccine Recipe Substitutions
You may also use short pastas such as penne or fusilli if that's all you have on hand but they don't deliverer the same luxurious experience. Go fettuccine if you can.
If you're trying to save some calories and don't want to use heavy cream, you can use half a cup of half and half or milk whisked with 1 teaspoon cornstarch. If you use the latter two options, make sure to simmer the sauce for a minute or so to thicken.
You may also substitute the butter with additional olive oil.
How to Make Shrimp Fettuccine
First, we start by melting butter with some olive oil then sauteing minced garlic, red pepper flakes, lemon zest for 30 seconds.  Next, we add our shrimp and cook approximately 4 minutes then remove to a plate. The lemon garlic butter infused shrimp is so juicy and flavor exploding you'll have to slap your own hand from eating it into oblivion!
Now for our luxuriously creamy Parmesan infused lemon, garlic sauce – I'm drooling already. First, we sauté some more garlic in butter then sprinkle in some flour and cook for one minute to get rid of the raw flour smell.  We then whisk in our chicken broth, heavy cream and pesto and bring to a simmer until thickened.  The pesto adds richness and dimensional flavor without overpowering the sauce.
Finally, we stir in additional lemon juice and Parmesan cheese until silky, followed by our shrimp and pasta.  I just add one tablespoon lemon juice because we've already sautéed our shrimp with lemon zest but feel free to add as much (or even as little) lemon juice as your heart desires, just be sure to taste the pasta first.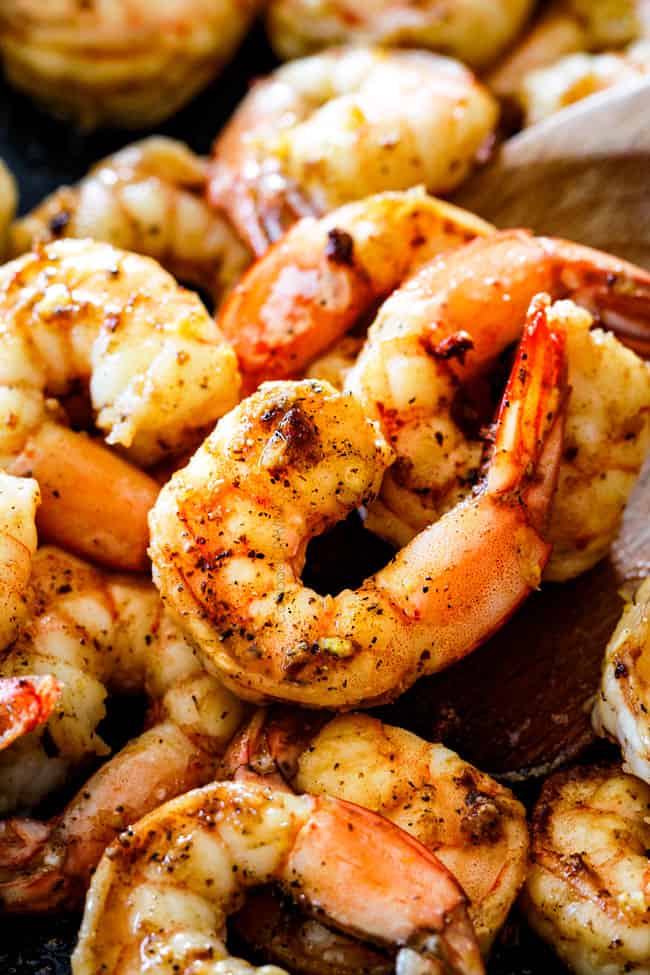 Tips for making Fettuccine with Shrimp
Shrimp size. I like to use medium shrimp, 31-40 count shrimp (which means there are 31-40 shrimp in a pound), so you get shrimp in every bite without having to pause to cut up the shrimp. If you only have larger shrimp on hand, that will work as well, you will just have to cut as you go.
Don't over-cook shrimp. Cook shrimp just until opaque for the juiciest shrimp.
Cook shrimp with tails on. I recommend cooking your shrimp with the tails on because the tail shells contain flavor that seeps out and we get more robust shrimp flavor. Once your shrimp is cooked and resting you can remove the tails if you desire.
Salt pasta water. You should always salt your pasta water – it is the one chance you have for the flavor to penetrate the pasta and enhance the subtle pasta flavor – you can taste the difference. Use 1 tablespoon salt for 6 quarts of water.
Don't overcook pasta. I recommend testing your pasta 2 or 3 minutes before the box recommends – pasta should be al dente– meaning it should still be a little firm in the center/ have a "bite" to it.
Shrimp Fettuccine Recipe variations
No matter if you customize your pasta or leave it as written, this Lemon Garlic Shrimp Fettuccine is guaranteed to taste every bit as decadently delicious as the finest restaurant. And it only took you 20 minutes.
add more or less garlic
add more or less lemon juice or leave it out completely
add bell peppers, tomatoes broccoli or other veggies
add spinach
substitute the shrimp for chicken, sausage or beef
add more heavy cream – seriously so indulgently delicious
add more Parmesan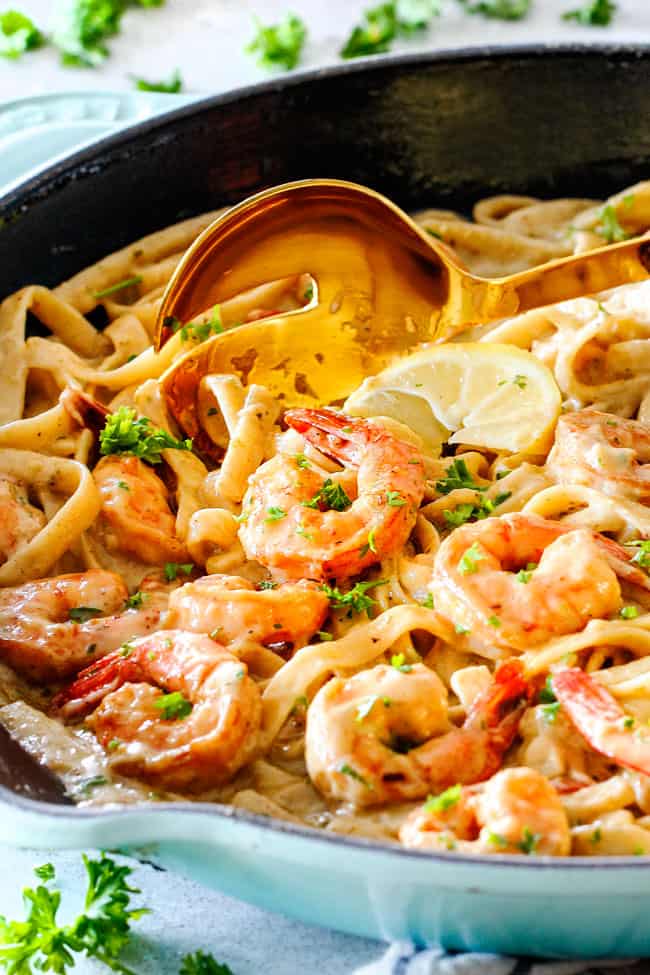 Fettuccine with Shrimp serving suggestions
We love this easy shrimp pasta with a big salad, crusty bread and/or any of the following: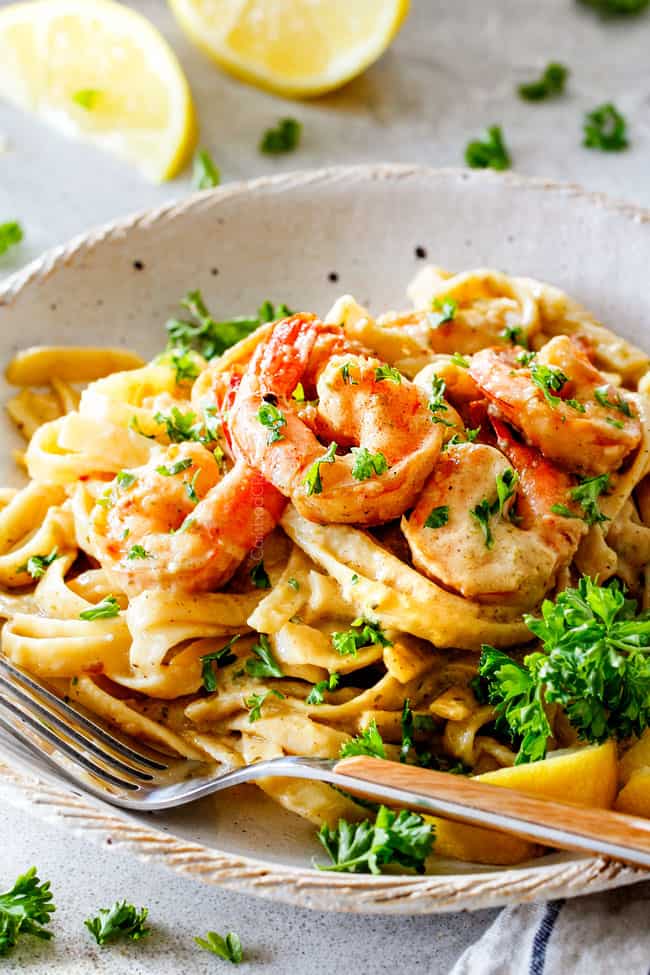 How to store Lemon Shrimp Pasta
Lemon garlic shrimp fettuccine should be stored in an airtight container in the refrigerator. When properly stored, it is good for up to 3 days.
How to reheat this Lemon Shrimp Pasta Recipe
This shrimp fettuccine recipe reheats well so you can enjoy leftovers for days! Just be aware you always want to make sure your pasta is cooked al dente, especially if you are going to be reheating.
Microwave: Add a splash of chicken broth, water or milk to your individual serving; no need to stir it in, yet. Microwave for 1 minute, stir, then continue to heat at 30-second intervals until warmed through.
Stove: For larger portions, reheat pasta on the stove. You will need to add a splash of chicken broth or milk to thin the sauce as it will have thickened in the refrigerator.
Can Lemon Garlic Shrimp Pasta be frozen?
I do not recommend freezing lemon garlic butter shrimp pasta because the creamy sauce can break and become a funny texture. Also, if your shrimp has been frozen, you definitely don't want to freeze because previously frozen seafood should not be re-frozen.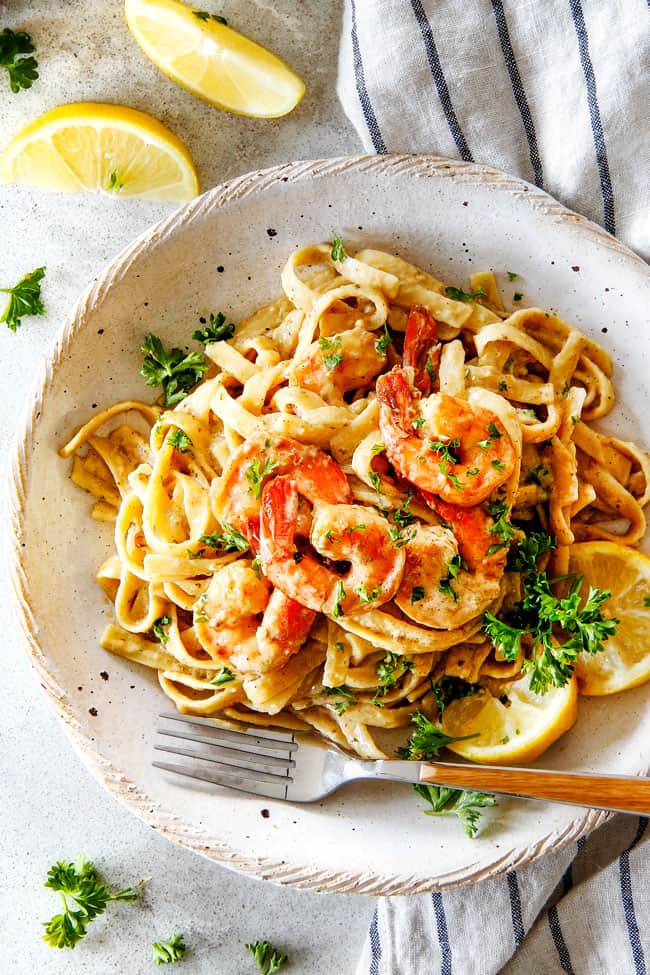 Looking for More Shrimp Pasta Dishes?
WANT TO TRY THIS LEMON GARLIC SHRIMP FETTUCCINE RECIPE?
Pin it to your PASTA, SEAFOOD, DINNER or 30 Minute Meals Board to save for later!
Find me on Pinterest for more great recipes! I am always pinning :)!
©Carlsbad Cravings by CarlsbadCravings.com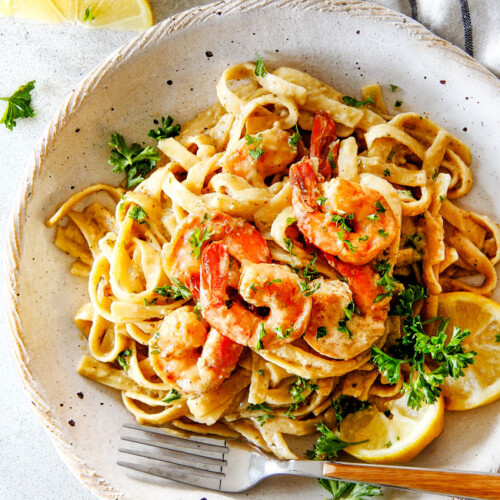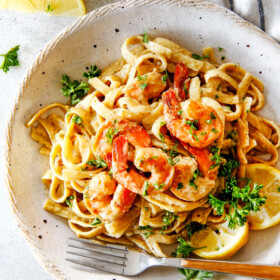 Lemon Garlic Fettuccine with Shrimp
Lemon Garlic Shrimp Fettuccine is wonderfully creamy, bursting with flavor and on your table in 20 minutes!    This wonderfully indulgent Lemon Garlic  Shrimp Pasta is the easiest, most satisfying meal that tastes totally gourmet! 
Save This Recipe To Your Recipe Box
You can now create an account on our site and save your favorite recipes all in one place!
Ingredients
8

oz.

fettuccine

1

pound

medium raw shrimp

peeled and deveined (thawed)

2

tablespoon

olive oil

divided

3

tablespoon

butter

divided

6

garlic cloves, minced

divided

1/2

teaspoon

red pepper flakes

(more or less to taste)

1

teaspoon

lemon zest

1/4

tsp EACH

salt, pepper

2

tablespoons

flour

1 1/2

cups

low sodium chicken broth

1/2

cup

heavy cream

1/4

cup

prepared pesto

1

tablespoon

lemon juice

1/2

cup

freshly grated Parmesan cheese
Optional Garnishes
freshly grated Parmesan cheese

fresh parsley
Instructions
Cook pasta in salted water according to package directions until al dente. Reserve ½ cup pasta water before rinsing and draining pasta. Toss drained pasta with a drizzle of olive oil to keep it from sticking. Set aside.

Melt 1 tablespoon butter with 1 tablespoon olive oil in a large skillet over medium-high heat. Add shrimp, 4 minced garlic cloves, red pepper flakes, lemon zest, salt and pepper. Cook and stir for approximately 4 minutes or just until shrimp are opaque and cooked through. Scrape shrimp and garlic/juices to a plate. Once cool enough to handle, you can chop off shrimp tails if desired. Set aside.

To the same skillet (don't wipe out), melt 2 tablespoons butter over medium heat. Add remaining 2 minced garlic cloves and statue 30 seconds. Sprinkle in flour and cook while stirring for 1 minute, then turn heat to low. Slowly whisk in chicken broth, heavy cream and pesto, stirring constantly until smooth.

Turn heat to medium high and bring the sauce to a simmer. Simmer until slightly thickened, stirring occasionally, approximately 3-5 minutes.

Reduce heat to Low and stir in lemon juice followed by Parmesan cheese until melted. Stir in shrimp (and juices) and pasta until well coated in sauce, adding additional reserved pasta water or heavy cream if needed to reach desired consistency. Taste and season with additional salt, pepper and/or red pepper flakes to taste.

Garnish with freshly grated Parmesan Cheese, fresh parsley and lemon juice (optional).
Notes
How to Customize this Lemon Garlic Shrimp Fettuccine
add more or less garlic
add more or less lemon juice or leave it out completely
add bell peppers, tomatoes broccoli or other veggies
add spinach
substitute the shrimp for chicken, sausage or beef
add more heavy cream - seriously so indulgently delicious
add more Parmesan
Did You Make This Recipe?
Tag @CarlsbadCravings and Use #CarlsbadCravngs
Leave a Review, I Always Love Hearing From You!
Carlsbad Cravings Original I first posted on Spend with Pennies