Crockpot Mashed Potatoes are SO easy made right in your slow cooker!
Crockpot Mashed Potatoes without any peeling or boiling – even the mashing is done with a mixer! The resulting potatoes are mega creamy, mega flavorful, mega easy, and the perfect side to any meal. You can make the slow cooker mashed potatoes completely ahead of time and keep them warm in the crockpot until servings for a stress free side.
Slow Cooker Mashed Potatoes
Are you ready for these make-ahead Crockpot Mashed Potatoes to become your favorite go-to potatoes? You will never need to peel or boil potatoes again!
I have always been obsessed with potatoes. From my Potatoes Au Gratin with Bacon to my Twice Baked Potatoes to my Roasted Potatoes with Bacon and Parmesan, I could eat potatoes for every meal.
And my absolute favorite? Company Mashed Potatoes! Although in our home, our version of mashed potatoes were what we called "whipped" potatoes – potatoes whipped in my mom's mixer to light and airy, fluffy perfection so each creamy spoonful melted in your mouth. In fact, I never knew people actually "mashed" their potatoes until I was in my twenties. And frankly, I never thought they were as good my mom's "whipped" version.
Until now.
When I first saw the idea of slow cooker mashed potato recipes last year flooding Pinterest, I was intrigued but skeptical. It just was too easy – no boiling, no peeling and wouldn't the mixer scrape the slow cooker? So, I finally decided to answer my own skepticism with the most palate pleasing potatoes yet. These potatoes are so good, I was craving them up until they were gone – and after, which was probably like 3 sittings because I just couldn't stop eating them! sooooooooooo creamy….
Crockpot Mashed Potatoes Recipe
Not only are these Crockpot Mashed Potatoes potatoes crazy delicious, they are life changing! As in they seriously changed my whole outlook, process, and frequency of making mashed potatoes. Although I loved mashed potatoes as a kid, I hardly ever made them as an adult because I hated the tediousness of peeling the potatoes. Peel no more.
To make these potatoes, you simply add all your potatoes – skin on – to your slow cooker along with some water, butter, garlic, spices, cook until tender, then mash with butter and sour cream. How easy is that?
Now mashed potatoes don't have to be just for special occasions like Thanksgiving, Valentines Day, but can be the easiest side to any weeknight dinner.
What Ingredients are in Crockpot Mashed Potatoes?
These Crockpot Mashed Potatoes are fabulously flavorful but still subtle enough you can douse them with your favorite gravy.
They are made with red potatoes, butter, milk, sour cream, water, garlic, salt, pepper, paprika, onion powder and my secret ingredient – pesto!
The red potatoes have pleasant edible skin, but you can also use russet potatoes, but you will have to peel them first.
The pesto infuses the potatoes with flavor without overwhelming them so once you mix them with some sour cream and milk, you not only have potatoes with the creamiest, most addicting texture but the flavor to go with it!
These mashed potatoes are so good, you will be shoveling bite after bite into your mouth while no one is looking – and then you won't be able stop so you won't care who is looking!
How to Make Crockpot Mashed Potatoes
Use a crockpot liner: You will want to grease your slow cooker so the potatoes don't stick to it, especially after they are mashed. If want zero cleanup, then use a slow cooker liner.
Wash potatoes: We are leaving the skin on the potatoes, so make sure they are washed and scrubbed or else you will end up with gritty potatoes!
Cut potatoes uniform size: Chop the potatoes into 1 1/2″ pieces. Try and chop them roughly the the same size so they cook evenly. Be aware that the smaller the potatoes, the faster they will cook.
Add butter and seasonings: add butter, pesto, water, garlic and spices to slow cooker. You can customize the seasonings to suit your personal preference.
Cook: Cook on HIGH for 3-4 hours, or on LOW for 7-8 hours OR until potatoes are very tender. You want the potatoes to be very tender so they mash easily. Your Slow Cooker Mashed Potatoes might require longer cooking time if you have an older crockpot or if you cut your potatoes into a larger size.
Add milk: Add milk and sour cream. Make sure you warm your milk first so it incorporates easily into the potatoes which means less beating and less chance of gummy potatoes. It also helps keep your potatoes warm while beating, which is also critical for fluffy potatoes.
Mash potatoes: mash potatoes with a potato masher or beat with an electric mixer. I highly recommend an electric mixer to make the process more efficient – its quicker, easier and creates much smoother potatoes. If you prefer chunky potatoes, then you can certainly mash by hand, but an electric mixer eliminates the elbow grease. No matter which method you use, don't overwork potatoes or they might become gummy.
Season to taste: Finally, taste your potatoes and add additional salt, pepper or other seasonings to taste.
Can I Add Parmesan?
Yes! You can completely customize these Slow Cooker Mashed Potatoes. After your potatoes are mashed, you can stir in about ½ cup freshly grated Parmesan. You can also add different cheeses such as cheddar, blue cheese, etc.
Can I Add fresh herbs?
Absolutely! The pesto already adds a wonderful depth of flavor, so you will want to taste the Crockpot Mashed Potatoes before adding any additional herbs or spices. I personally also love freshly chopped chives and bacon!
Can I Use Greek Yogurt instead of Sour Cream?  
Yes! Both sour cream and Greek yogurt and wonderfully creamy so I think it comes down to personal preference.
How Do I make Creamy Crockpot Mashed Potatoes?
These Slow Cooker Mashed Potatoes emerge wonderfully creamy, but for even creamier mashed potatoes, you can stir in additional sour cream or swap the milk for heavy cream. Also, mashing the potatoes more will make them creamier – just take care not to overmix.
WHAT SHOULD YOU SERVE MASHED POTATOES WITH?
I love to serve Slow Cooker Mashed Potatoes with:
Can I make Crockpot Mashed Potatoes in Advance?
Yes! You can prepare your Crockpot Mashed potatoes completely ahead of time then keep warm on the WARM setting of your slow cooker for up to 4 hours, stirring occasionally and replacing the lid.
How Do I reheat Crockpot Mashed Potatoes?
You can reheat mashed potatoes gently in the microwave, stovetop, oven or slow cooker. over the stove, stirring occasionally or reheat the directly in your crockpot for about 2 hours on low.
Microwave: Add mashed potatoes to a microwave safe dish. Cover and microwave for 2 minutes, then stir and continue to microwave stirring every 30 seconds until warmed through.
Stovetop: Add mashed potatoes to a large pot and heat over medium heat, stirring occasionally.
Oven: Add potatoes to an oven proof baking dish. Cover with foil and bake at 350°F for 30-40 minutes stirring occasionally and replacing foil. Add additional
Slow cooker: Add potatoes to the slow cooker and cook on low for approximately 2-3 hours, stirring occasionally. Right before serving, add a generous dollop of sour cream and stir.
Can I freeze Crockpot Mashed Potatoes?
Yes and no. I personally am a mashed potato critic so I do not like frozen mashed potatoes. Their texture changes when thawed and reheated and they become grainier. If you are not a texture critic, or the mashed potatoes are going to be blanketed in gravy or sauce, then feel free to freeze them.
If freezing mashed potatoes, don't skimp on any of the butter and consider replacing the milk with heavy cream. The extra fat will make the potatoes more freezer friendly. You can even add additional butter than the recipe calls for for a better thawed result.
To Freeze Mashed Potatoes:
Prepare Crockpot Mashed Potatoes according to directions taking care you don't have any chunks because the chunks will become mealy when frozen.
Refrigerate mashed potatoes in a shallow pan in the refrigerator until completely cool.
TO FREEZE INDIVIDUAL MASHED POTATO SERVINGS:
Scoop potato onto a parchment lined baking sheet using a cookie scoop so they are not touching (you may use more than one scoop per serving).
Freeze until solid, about 1-2 hours.
Transfer individual servings to separate plastic bags, press out excess air and seal.
Thaw frozen potatoes overnight in the refrigerator, remove from plastic and microwave until warmed through.
Thawed, reheated potatoes will likely be watery. Stir in some sour cream to make them creamy again.
TO FREEZE BATCH MASHED POTATOES:
Add the desired amount of cooled mashed potatoes to a freezer size bag.
Flatten potatoes in bag and press out excess air.
Label and freeze for up to 6 months.
Thaw in the refrigerator overnight.
Remove from plastic, place in a baking dish and bake uncovered, at 350° for 30-35 minutes or until heated through.
Thawed, reheated potatoes will likely be watery. Stir in some sour cream to make them creamy again.
Slow Cooker Mashed Potatoes. To good to be true just came true. Promise.
Looking for More Potato Recipes?
WANT TO TRY THIS Crockpot Mashed Potato RECIPE?
PIN IT TO YOUR CROCKPOT, SIDES or HOLIDAY BOARD TO SAVE FOR LATER!
FIND ME ON PINTEREST FOR MORE GREAT RECIPES!  I AM ALWAYS PINNING :)!
©Carlsbad Cravings by CarlsbadCravings.com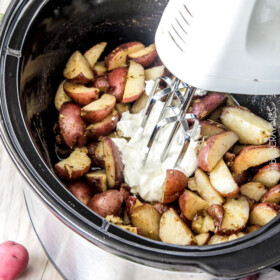 Slow Cooker Mashed Potatoes
Total Time:
4

hours
10

minutes
Save This Recipe To Your Recipe Box
You can now create an account on our site and save your favorite recipes all in one place!
Ingredients
3

pounds

red potatoes

sliced into 1-1/2" slices, skin on

1/4

cup

unsalted butter, cubed

2

tablespoons

prepared pesto

1/4

cup

water

1

teaspoon

salt

1/4

teaspoon

pepper

1/4

teaspoon

paprika

1/4

teaspoon

onion powder

1/2

cup

milk, more or less as desired

warmed

1/2

cup

sour cream
Instructions
Spray slow cooker with nonstick cooking spray.

Add potatoes, butter, pesto, water, garlic and spices to slow cooker. Cook on HIGH for 3-4 hours, or on LOW for 7-8 hours OR until potatoes are very tender.*

Add milk and sour cream, and mash with a potato masher or beat with an electric mixer (recommended) just until blended – don't overwork potatoes or they might become gummy.

Add additional milk as needed to reach desired consistency. Taste and season with additional salt and pepper if desired.
Notes
*Potatoes will require longer cooking time if you have an older slower cooker. *Cooking time will vary depending on potato size.
Did You Make This Recipe?
Tag @CarlsbadCravings and Use #CarlsbadCravngs
Leave a Review, I Always Love Hearing From You!
Carlsbad Cravings Original