This Best Baked Pork Tenderloin recipe is outrageously juicy, bursting with flavor and so easy!
This Baked Pork Tenderloin recipe is melt-in-your-mouth-tender and dripping with buttery garlic herb flavor. It is company pleasing and holiday worthy but family friendly and everyday easy! It takes less than 60 minutes from start to finish and MOST of that time is hand's off! As much as you love this baked pork tenderloin the day off, it makes fantastic leftovers as well! I've included detailed instructions, tips, tricks and everything you need to know to make the BEST Pork Tenderloin recipe!
Pork tenderloin is a lean, delicious, easy alternative to chicken and a chameleon when it comes to flavorings. Don't miss our favorite pork tenderloin recipes: Roasted Balsamic Pork Tenderloin, Roasted Hoisin Blackberry Pork Tenderloin and Chili Dijon Pork Tenderloin. If you're looking for a slow cooker option my honey pork loin recipe is also fantastic (note that recipe is for loin and not tenderloin).
Pork tenderloin recipe video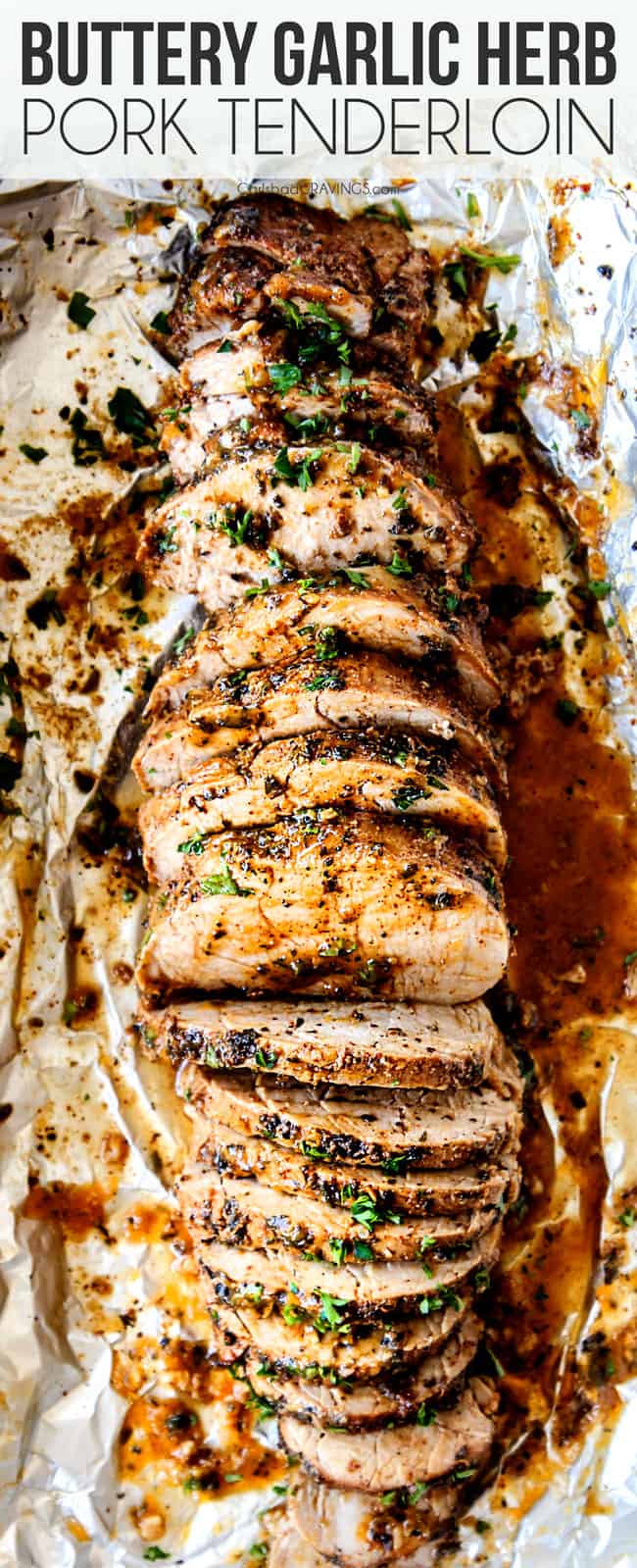 Pork Tenderloin
With Easter Upon us, I thought it was time for one more spectacular alternative to ham – the Best Baked Pork Tenderloin recipe!
Are you a pork tenderloin fan? I have to admit I make chicken far more than pork tenderloin – but I love pork tenderloin far more than chicken! I even crave THIS Baked Pork Tenderloin and sneak cold leftovers from the fridge. I have used leftovers in countless ways – in pasta, pasta salad, green salad, sandwiches, eggs, etc. – I just can't get enough of its tantalizing juicy deliciousness.
Pork Tenderloin is one of the most tender proteins and it boasts fabulous flavor as well. And did you know pork tenderloin is extremely low in fat – about as lean as skinless chicken breasts?! It is also extremely easy to cook, relatively quick to cook and the leftovers don't dry out! There are just SO many reasons to love succulent pork tenderloin.
Pork tenderloin can be baked whole like we are in this recipe, cut into slices and pounded into cutlets, cut into cubes for kebabs or stir fries or cut into slices for satay. There are so many ways to enjoy pork tenderloin – by my favorite? THIS Best Baked Pork Tenderloin recipe.
In this recipe, the pork is rubbed with seasonings, seared until golden, then showered with herbs, lemon juice and butter, then baked enclosed in foil while the butter creates a self-basting butter sauce. The emerging Baked Pork Tenderloin is fabulously flavorful and buttery tender. I CANNOT wait for you to try it!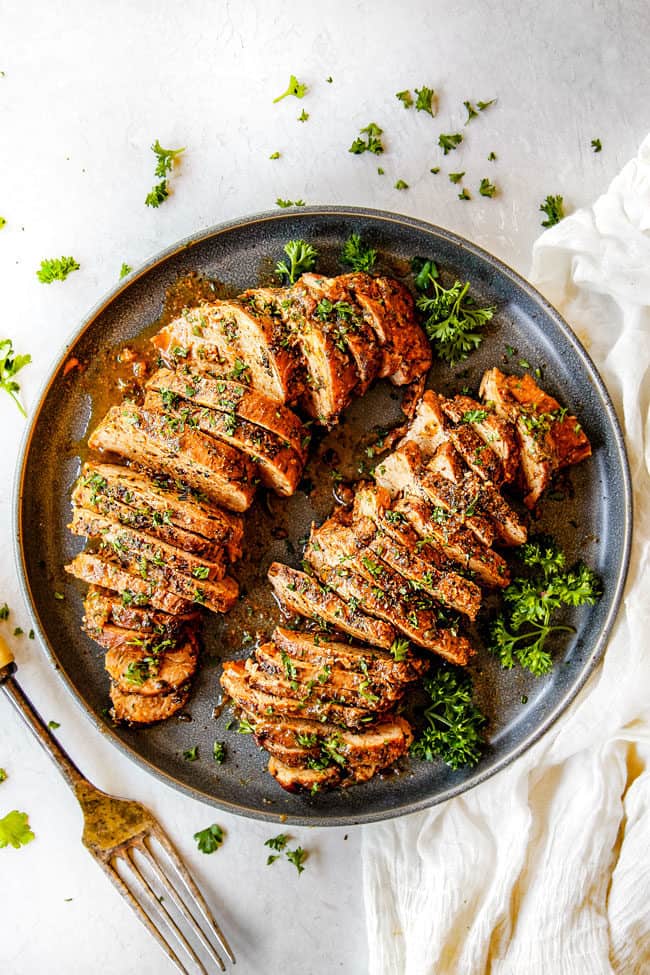 What is the difference between a pork loin and pork tenderloin?
Before you make this Baked Pork Tenderloin recipe, it's important you purchase pork tenderloin and NOT pork loin – they are not the same. If you use pork loin, your pork won't be done cooking in the allotted time or emerge nearly as juicy.
Cut of Meat:

Pork tenderloin comes from the loin of the pig, which runs from the hip to the shoulder.
Pork loin, however, comes from the back of a pig and is much wider and longer.

Size:

Pork tenderloin is thin and small, usually 1-2 pounds.
Pork loin can be cut to order anywhere from 3 to 5 pounds.

Texture and flavor:

Pork tenderloin gets its name for a reason – it is one of the most tender cuts of pork because it comes from a muscle that doesn't receives much, if any, exercise.
Pork loin, however, must be cooked much longer in order to become tender, as it is not naturally so.

Cooking Method:

Pork tenderloin cooks quite quickly at higher temperatures, anywhere from 350 degrees to 425 degrees F.
Pork loin, however should be slow slow-roasting or grilled in order to become tender.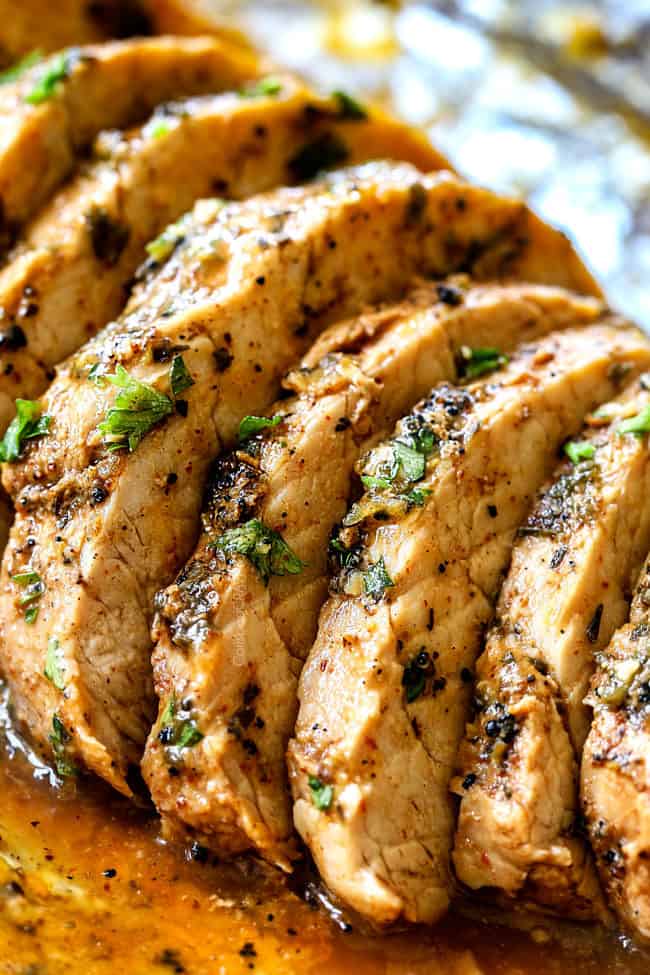 What to Look for in a Pork Tenderloin?
You can purchase pork tenderloin in the meat section of your grocery store. I usually purchase mine at Costco which costs about $15 per package. It is pricier than chicken, but still a fabulous price to feed the entire family a restaurant worthy dinner.
Pork Tenderloin is almost always sold in individual packages with two tenderloins per package. Each tenderloin weighs roughly 1-1 ½ pounds. I can eat half of one pork tenderloin in one sitting – when it's this baked pork tenderloin recipe, so my pork tenderloin recipes always use both the pork tenderloins in one package.
If you are lucky enough to have leftovers, they reheat beautifully for leftovers. Alternatively, you can half the recipe and freeze the other pork tenderloin for another time.
You will want to look for pork tenderloin that is NOT packaged in a rub or marinade, as we are going to brine and season the meat ourselves. This way, you not only control the flavor, but you can control the amount of salt and eliminate the oil in the marinade.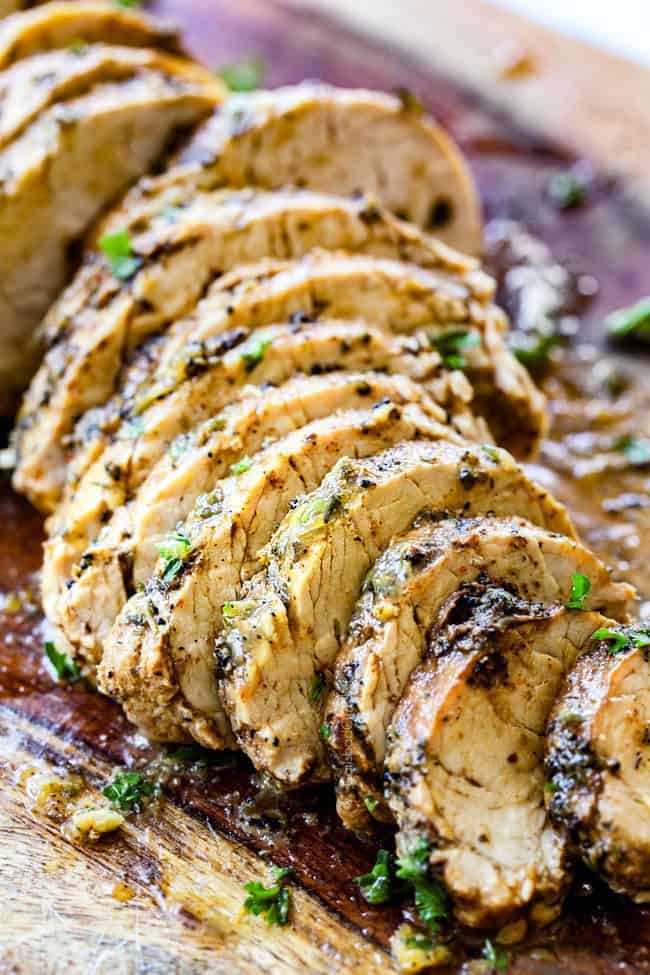 Do I need to remove the silverskin before cooking?
If your pork comes with the silverskin intact, you will need to remove it before cooking. Many packages of pork tenderloin, however, will come pre-trimmed and ready to go.
The silverskin is part of a sinew on one side of the pork and looks like thin, silvery fat. You will want to remove it because it can become tough and chewy when cooked. To remove the silverskin, slip a sharp knife in between the silver skin and the meat then cut it away until free. Take care to just remove the silverskin and not a big chunk of meat!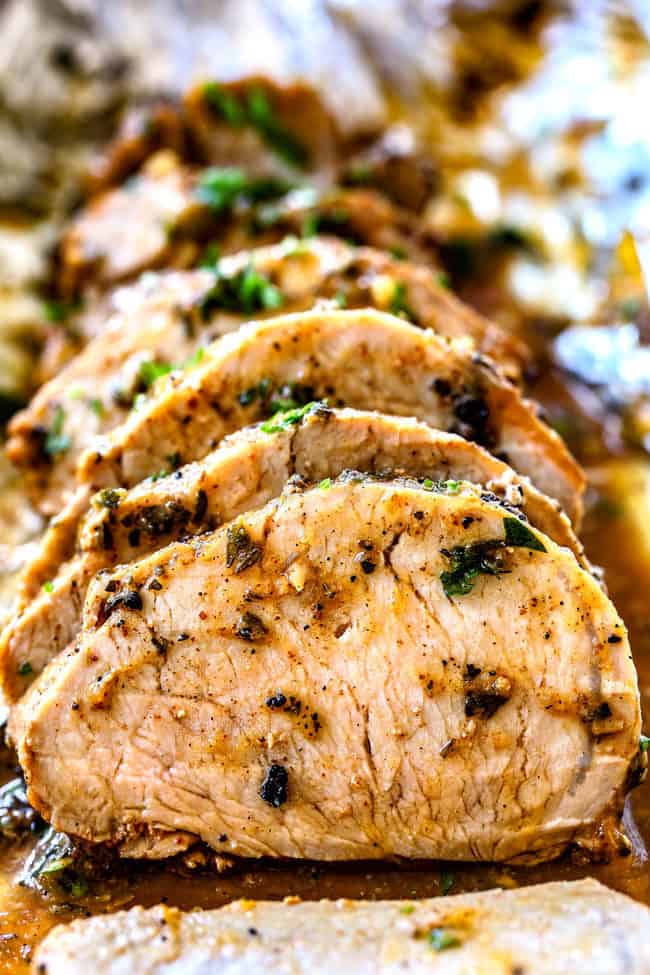 The Secret to the Juiciest Pork Tenderloin

The best Baked Pork Tenderloin recipe has to be the JUICIEST and you will be BLOWN AWAY at how juicy this pork is! The secret? Brining the pork. You are probably familiar with brining a turkey, but brining pork will change your life.
It produces tender, juicy pork every single time because it actually changes the molecular structure of the pork without having to prep and plan ahead with an overnight marinade.
If you've never brined any protein before, don't be intimidated – it literally takes 20 minutes! You actually can't marinate it longer than that or the pork will become mealy – so literally 20 minutes! To brine pork, you will combine:
kosher salt
warm water
apple cider vinegar
brown sugar
ice cubes
pork
Just a quick note about brining – Do NOT evenly swap table salt in your brining solution for kosher salt or your pork will be too salty. You will need half as much table salt as kosher salt. Also make sure to rinse your pork thoroughly after brining to remove excess salt.
How does it work? The salt does 2 things: 1) hydrates the cells of the muscle tissues via osmosis; 2) allows the cells to hold on to the water while they are cooked by breaking down the proteins so they can no longer contract when cooking. This means less water will be squeezed out and lost, resulting in juicier pork.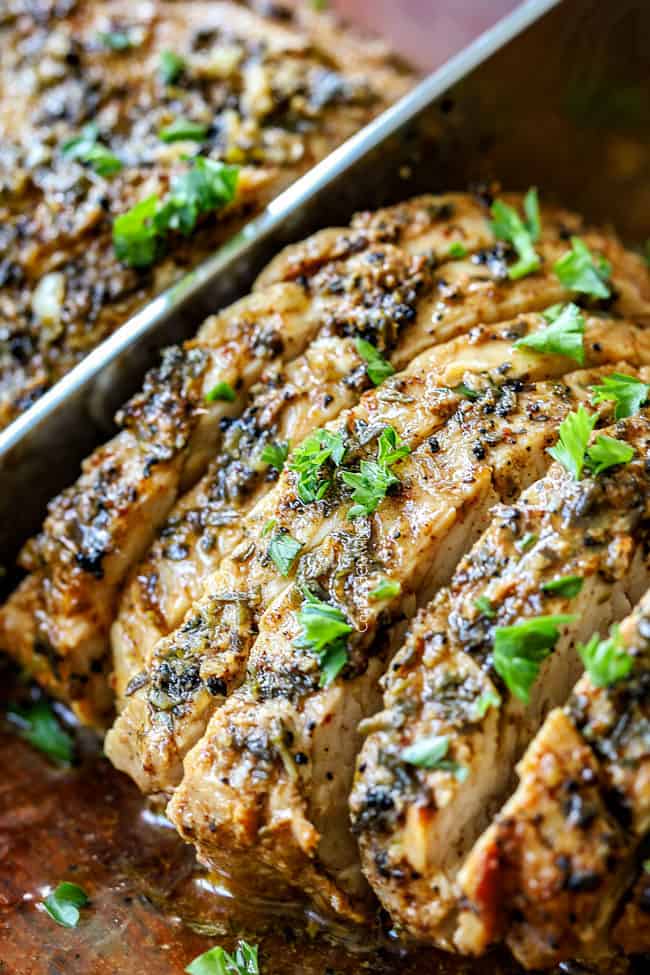 Tips for the BEST PORK TENDERLOIN RECIPE

Brining pork tenderloin is the first step to achieve the best pork but it also gets help from some other key steps. Here is how you make the juiciest oven baked pork tenderloin:
Sear before baking: searing the pork creates the Maillard reaction resulting in rich, deep, complex flavor and locks in the juices which prevents the surface of the tenderloin from becoming dehydrated when cooked at high heat or for an extended period of time.
Drizzle with lemon juice: in this oven baked pork tenderloin recipe, we drizzle each tenderloin with 1 tablespoon lemon juice. The lemon juice brightens the flavors without tasting too lemony. You can also swap the lemon juice for orange juice or lime juice – any citrus will do. The acid from the lemon juice (or other citrus) breaks down the meat while it roasts, yielding a more tender result.
Bake in foil: before we pop the pork tenderloin into the oven, we wrap it tightly in foil. This creates a hot steaming environment that locks in all the juices so the surface doesn't dry out.
Butter: the three pads of butter on top of the pork melt as the pork bakes, essentially self-basting the pork in buttery moisture. The foil also traps the butter so it seeps back into the pork as it sits in the buttery pool.
Don't overcook: I've gone into greater detail below, but because pork is so lean, it can dry out very easily if overcooked. Use your meat thermometer and check your pork right at 15 minutes then every few minutes as needed to achieve the correct temperature.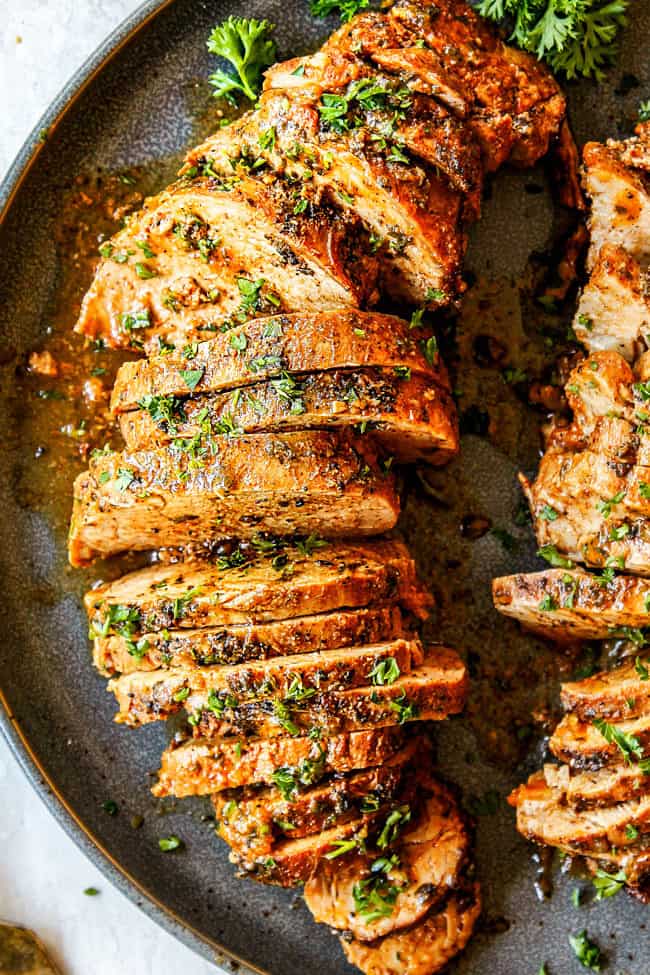 WHAT TEMPERATURE SHOULD I BAKE PORK TENDERLOIN?
Pork Tenderloin is a very lean cut of meat so it requires a relatively high oven baking temperature, about 400 degrees F. Lower temperatures require longer cooking times (up to an hour) which dry out the pork. By cooking at a higher temperature, the meat is cooked through before it has time to dry out.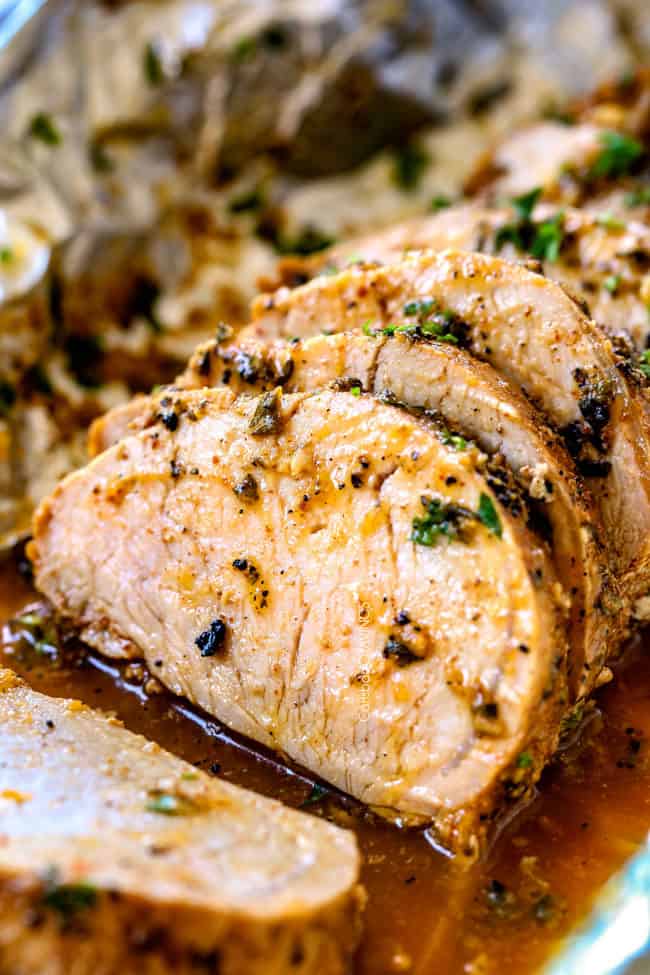 How Long to Cook Pork Tenderloin?
Pork tenderloin is a lean cut of meat, so it is important not overcook it. The USDA guidelines state that pork can be safely consumed when cooked to an internal temperature of 145 degrees F with a resting time of three minutes, however, anywhere from 145-160 degrees is considered acceptable.
Your pork will increase anywhere from 5-10 degrees in temperature as it rests, so I like to take mine out as soon as it hits 145 degrees for the juiciest pork. If you overcook your pork tenderloin, it will transform from fork tender to dry and chewy.
How long to cook pork tenderloin in oven at 400? Baking pork tenderloin at 400 degrees F can take anywhere from 15-25 minutes depending on the desired temperature, exact size and thickness of your pork tenderloin.
Last time I baked this pork tenderloin recipe, one of my tenderloins was done a full 5 minutes before the other. So, the best way is to know if your pork tenderloin is done, is to use an instant read thermometer.
To check the temperature of your baked pork tenderloin, insert the thermometer into the thickest part of the meat.
I HIGHLY recommend an instant-read meat thermometer if you don't own one. They are a small investment and come in handy ALL the time and eliminate all of the guess-work. You simply cannot make perfect baked pork tenderloin without one.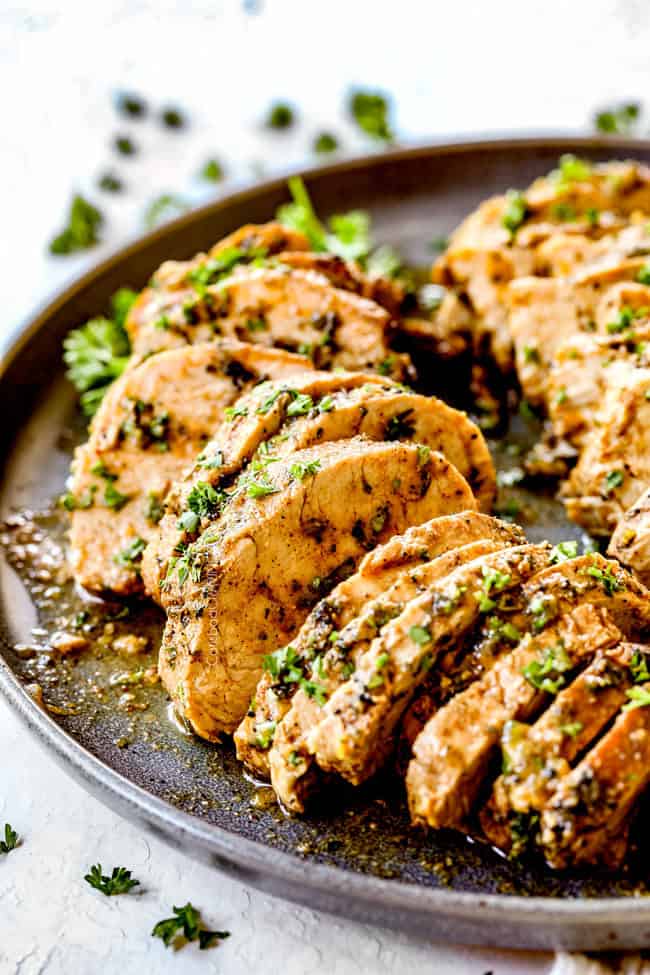 What should Pork Tenderloin look like when done?
Your oven baked pork tenderloin is safe to consume when a thermometer inserted into the thickest part of the meat registers 145 degrees F. This means it will be slightly pink inside which is OKAY.
This 145-degrees temperature is 15 degrees less than the old standards of 160 degrees F which would mean the pork would be completely cooked through without any pink. The research shows, however, that 145 degrees F is the same safety-wise as cooking pork to 160 degrees F AND yields much more tender pork.
This is what your pork will look like with the allotted 5-minute resting time:
take pork out at 145 F, will rise to 150 F – slices will be somewhat pink and moist
take pork out at 150 F, will rise to 155 F – slices will be a little pink and moist
take pork out at 160 F, will rise to 165 F – slices will not be pink but still should be relatively moist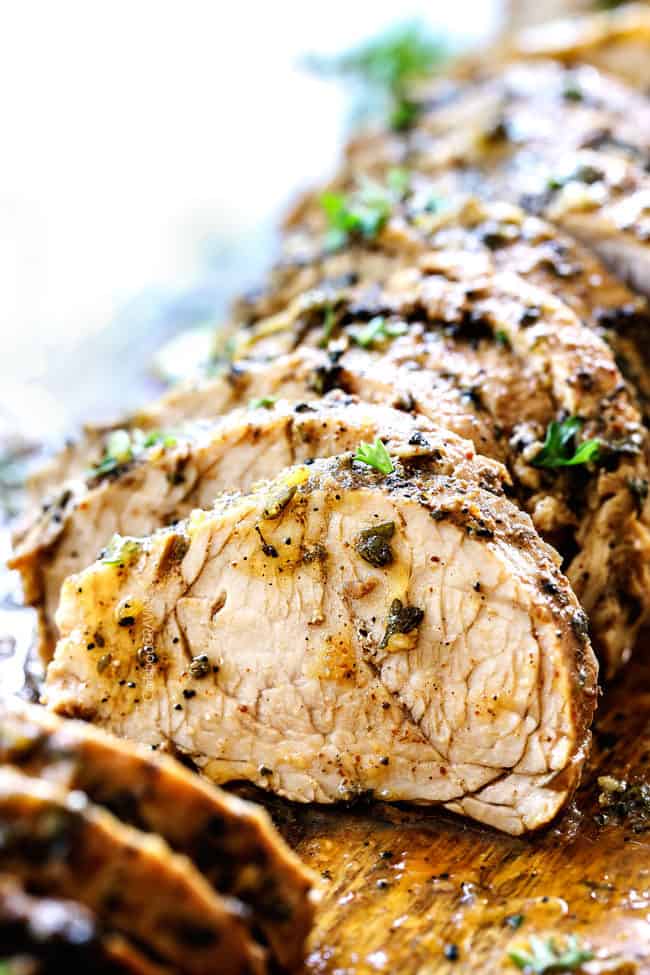 How to cook pork tenderloin
Cooking pork tenderloin is very simple to do. Here are some tips and tricks for the best oven baked pork tenderloin every time:
Brine for juiciness: Mix the kosher salt with warm water in order to dissolve the salt, then mix in the cider vinegar, brown sugar and ice cubes. Add the pork and brine for 20 minutes. Make sure both of the pork tenderloin pieces are completely emerged in the brine. The brining not only increases the moisture capacity of the pork, but also brings the pork to room temperature so it cooks more evenly instead of drying out the outside while waiting for the inside to cook.
Dry before seasoning: When your pork is done brining, rinse in cool water and pat dry with paper towels. If you don't rinse your pork, it will be too salty – so don't forget this step! It is important the pork is quite dry after brining so the rub will stick to the pork.
Season generously: Mix chili powder, garlic powder, salt, onion powder, smoked paprika and pepper together then rub onto all sides of the pork. These spices great a wonderful flavor base for any flavor direction you want to go or you can swap them out for your favorite blends such as curry powder, Cajun seasoning, Chinese 5 spice, etc. We are going to hold the herbs until later because we don't want them to burn when we sear the pork.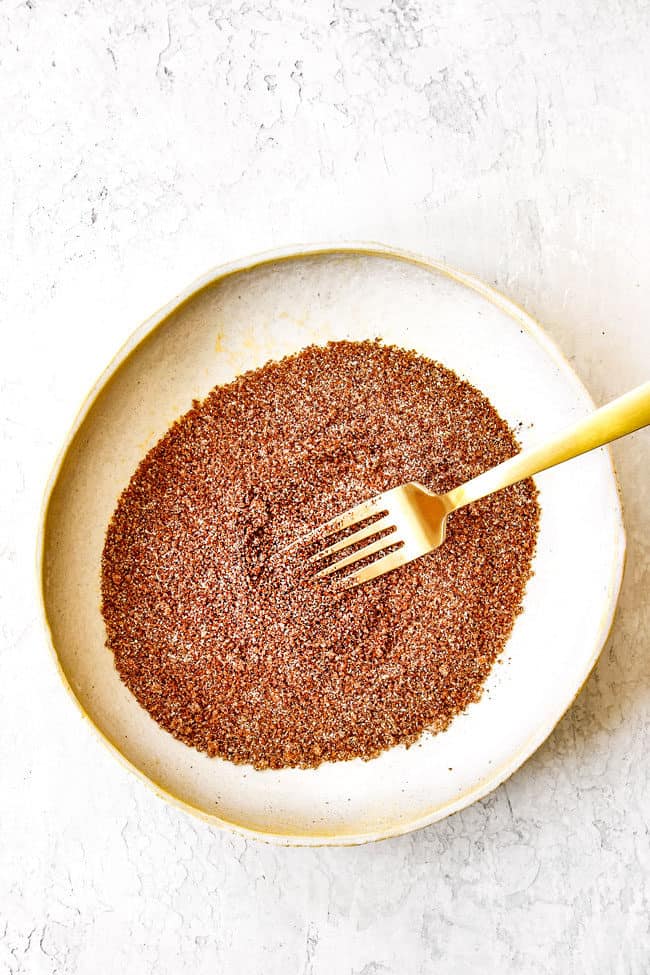 Sear for flavor and moisture: Heat vegetable oil over medium-high heat and swirl the pan to evenly coat the bottom of oil. Don't substitute olive oil for vegetable oil because we need an oil with a high smoking point. You can use either a large cast iron skillet or a nonstick skillet. If you cannot sear both tenderloins without them touching, then you will want to sear in two batches. I clean out my pan in between searing each tenderloin so the second doesn't get any residual brown bits that can burn. Sear the tenderloin until golden on all sides.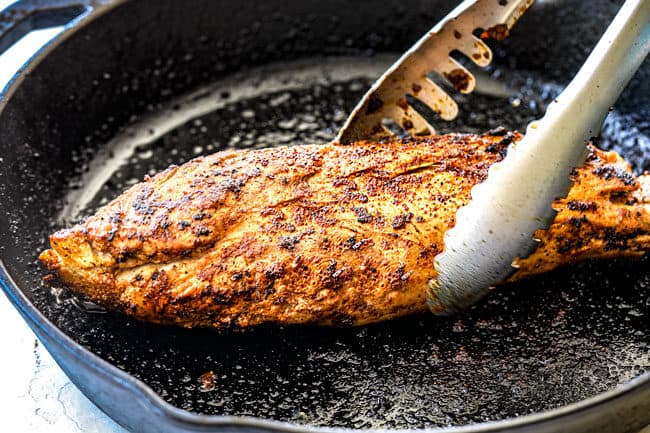 Butter and wrap for juiciness: Evenly sprinkle tops of pork tenderloins with dried parsley, basil, oregano, thyme then rub them into the pork. To do this, I measure ¼ teaspoon of each spice and sprinkle it over one pork tenderloin then repeat on the other pork tenderloin for a total of ½ teaspoon of each herb. Next, drizzle each pork tenderloin with lemon juice then top with butter. Bring up the sides of the foil to completely enclose each tenderloin.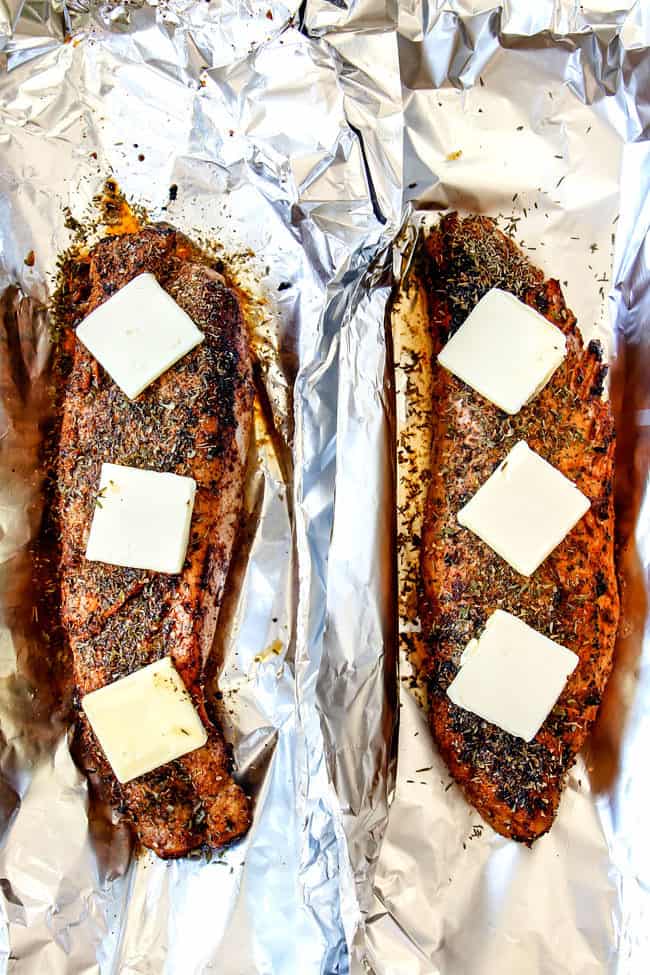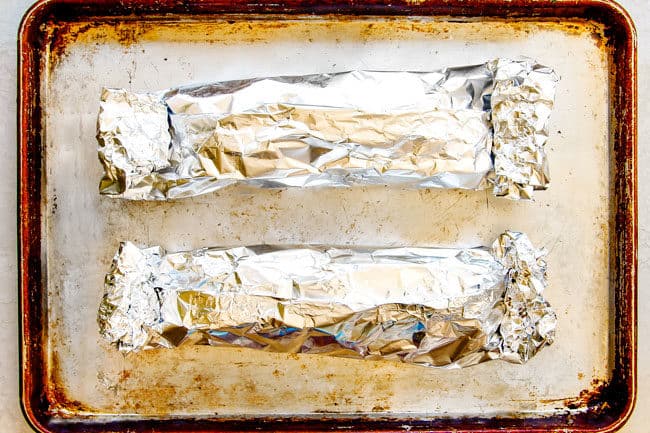 Don't overbake: Bake until pork until it registers between 145- and 150-degrees F (63 and 65 degrees C) at the thickest part of the tenderloin, 15-25 minutes depending on size. This means the pork will be juicy and slightly pink in the middle. Do NOT overbake or your pork will not be as moist.
Rest for 10 minutes: Loosen foil around the pork and let it rest for 5-10 minutes. This allows time for the redistribution and reabsorption of the juices throughout the pork tenderloin.
Slice across the grain: Slice the pork across the grain. You can either slice in ½" slices or my husband loves super thin slices.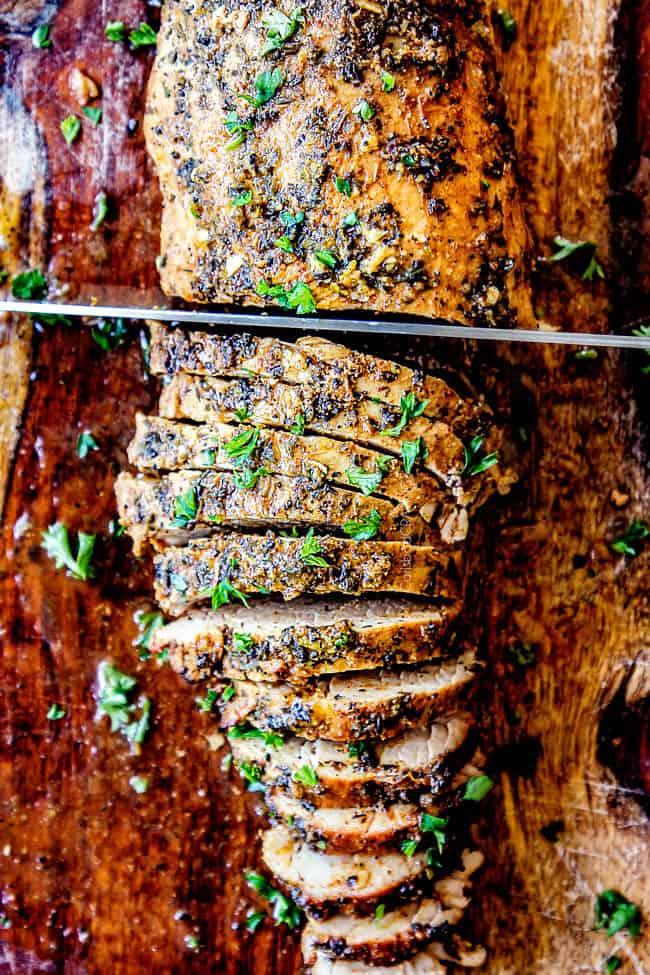 WHAT SIDES ARE BEST WITH BAKED PORK TENDERLOIN?
This Baked Pork Tenderloin recipe pairs beautifully with practically everything! A few of my favorite sides to serve it with are my Million Dollar Macaroni and Cheese, and Brown Butter Asparagus along with any of the following: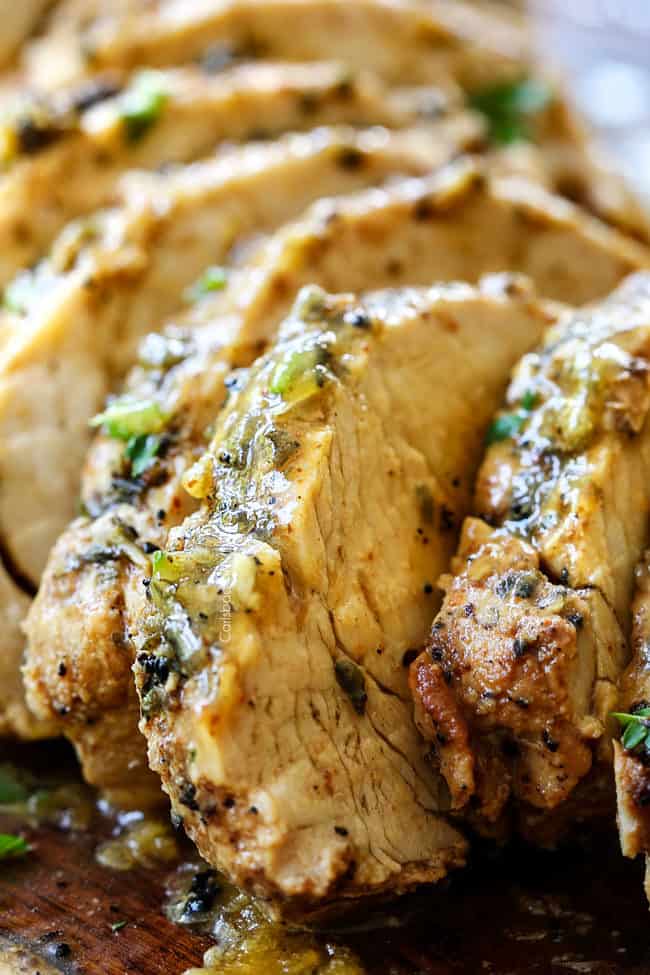 HOW TO USE LEFTOVER PORK TENDERLOIN
If you are fortunate to have leftover pork tenderloin, it will taste just as delicious for days after baking! I love leftovers on sandwiches, wraps in eggs, omelets, hash browns, breakfast enchiladas, breakfast casseroles, salads, pastas or pasta salads, rice, soups (amazing in ramen!) or plain!
HOW LONG IS LEFTOVER PORK GOOD FOR?
Leftover baked pork tenderloin should be stored in an airtight container in the refrigerator. When properly stored, pork is good up to 5 days.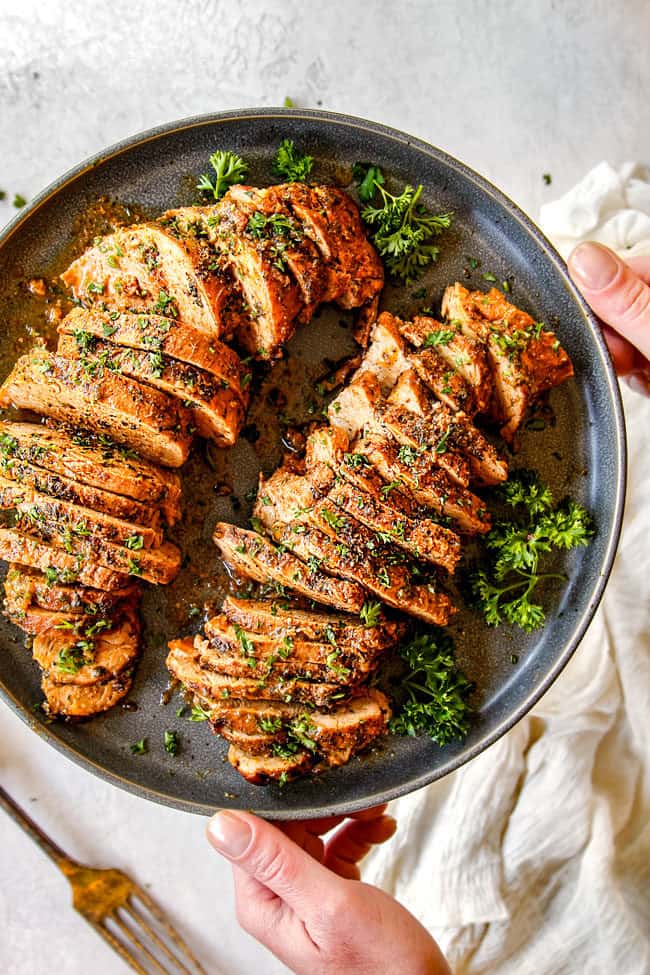 CAN I FREEZE LEFTOVER Pork tenderloin?
Yes! We unfortunately never have any leftover oven baked pork tenderloin, but it would come in handy! You can freeze pork tenderloin whole, chopped or in slices. Frozen tenderloin should be used within 3-4 months.
Looking for more Pork Recipes?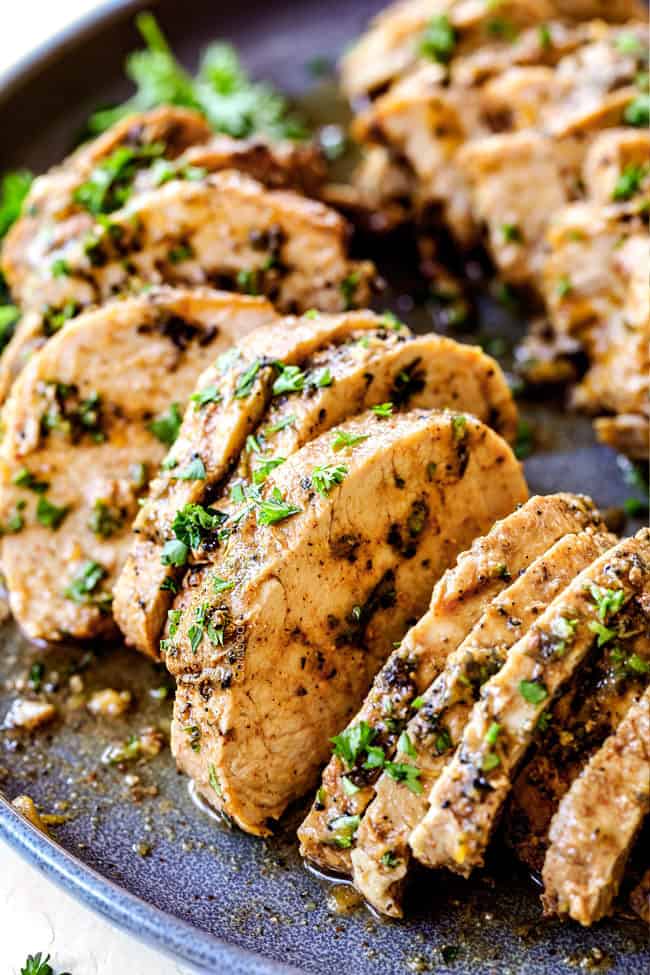 Want to try this BEST Pork Tenderloin Recipe?
Pin it to your EASTER, HOLIDAY, MEAT or DINNER Board to SAVE for later!
Find me on Pinterest for more great recipes! I am always pinning :)!
©Carlsbad Cravings by CarlsbadCravings.com
MOre Favorites from Carlsbad Cravings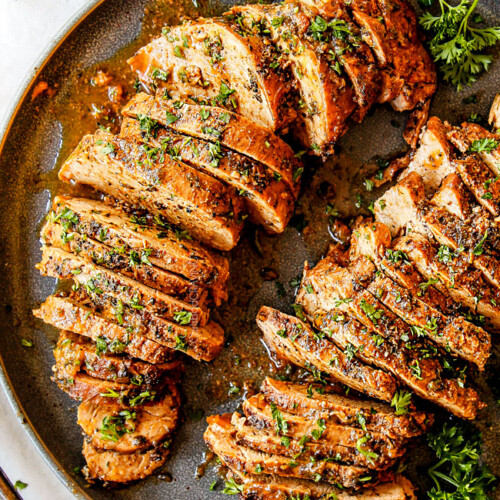 Best Baked Pork Tenderloin
This Best Baked Pork Tenderloin recipe is outrageously juicy, bursting with flavor and so easy! It is melt-in-your-mouth-tender and dripping with tantalizing self-basting herb butter. It is company pleasing and holiday worthy but family friendly and everyday easy! This Baked Pork Tenderloin takes less than 60 minutes from start to finish and MOST of that time is hand's off! See post for detailed instructions, step by step photos, tips and tricks!
Save This Recipe To Your Recipe Box
You can now create an account on our site and save your favorite recipes all in one place!
Ingredients
1

pkg.

pork tenderloins, trimmed

(comes with 2 pieces, 2 – 2 ½ lbs. total)

1/4

cup

kosher salt

4

cups

warm water

2

tablespoons

apple cider vinegar

2

tablespoons

brown sugar

1

cup

ice cubes

2

tablespoons

lemon juice

3

tablespoons

butter

sliced into 6 pads
HERBS TO ADD LATER:
1/2

tsp EACH

dried parsley, dried basil, dried oregano, dried thyme
Instructions
Preheat oven to 400 degrees F. Lay two long pieces of foil on a baking sheet – these will be used to fold up each tenderloin separately.

In a gallon-size freezer bag, mix salt with warm water until dissolved. Whisk in apple cider vinegar, brown sugar and ice, followed by pork. Brine for exactly 20 minutes then remove pork from brine, RINSE and pat very dry. The pork becomes mealy if left in the brine any longer.

Whisk together all of the Spice Mix ingredients (not the "Add Later Herbs") in a small bowl. Evenly rub pork all over with spice mix.

Heat 2 tablespoons vegetable oil in a large skillet over medium high heat. When oil is very hot and just smoking, add pork tenderloins, you may need to work in batches. Sear each side of pork until golden, then transfer to foil.

Evenly sprinkle tops of pork tenderloins with remaining herbs (parsley, basil, oregano, thyme) then rub into pork. Evenly drizzle each pork tenderloin with one tablespoon of lemon juice (2 tablespoons total), then top each tenderloin with 3 pads of butter. Bring up the sides of the foil to completely enclose each tenderloin (see photos in post).

Bake at 400 degrees F until pork registers between 145- and 150-degrees F (63 and 65 degrees C) at the thickest part of the tenderloin, 15-25 minutes depending on thickness. This means the pork will be juicy and slightly pink in the middle. To check the temperature, carefully unwrap the foil, then wrap it back up if it need to continue baking.

When pork is done, loosen foil (so steam can escape) and let stand 5-10 minutes before slicing. Season with additional salt and pepper to taste (I like additional salt) and serve with accumulated butter sauce in the bottom of the foil.
Notes
Don't miss the "how to make" recipe video at the top of the post!
Did You Make This Recipe?
Tag @CarlsbadCravings and Use #CarlsbadCravngs
Leave a Review, I Always Love Hearing From You!
©Carlsbad Cravings Original