SCALLOPED SWEET POTATOES WITH BACON AND GRUYERE ARE THE BEST SWEET POTATO ANYTHING!
These Scalloped Sweet Potatoes with Bacon and Gruyere are about to become your new favorite sweet potato casserole. They're made with herbs simmered in cream poured over layers of sweet potatoes, bacon, onions and Gruyere cheese then baked to tender, golden, bubbly perfection. These Scalloped Sweet Potatoes are perfect for Thanksgiving, company or every day!
Do you say po-a-to or po-tah-to? Well, all that really matters is what you love to eat the with them. Am I right? Scalloped potatoes are a favorite dish. Cheese and potatoes are a timeless couple. Using sliced sweet potatoes, perfectly adorning herbs and bacon take this wining combo to the next level in this Scalloped Sweet Potato recipe.
Creamy Gruyere cheese and the gratin crispy topping are what every potato dreams are made of. They might even be more dreamy than my Company Mashed Potatoes, Roasted Hasselback Sweet Potatoes or Roasted Potatoes with Bacon and Parmesan. At least my friend Melanie thought so (update – and now all her family thinks so! These Scalloped Sweet Potatoes are a new Thanksgiving MUST that all the siblings and in-laws make on repeat).
I took these Herb Scalloped Sweet Potatoes with Bacon and Gruyere to my friend, Melanie's house for a Thanksgiving shoot complete with a spread of Carlsbad Cravings recipes and her amazing Thanksgiving Chalkboard Prints.
The cheesy, bacon, herb aroma was torturous as we exercised all our self control to not dive face first into the Scalloped Sweet Potatoes before the photo shoot was done.
The second the last photo was snapped, we all grabbed our forks and both Melanie and her husband emphatically agreed these were the "best potatoes [they've] ever eaten." I agree Melanie and Dan, I agree.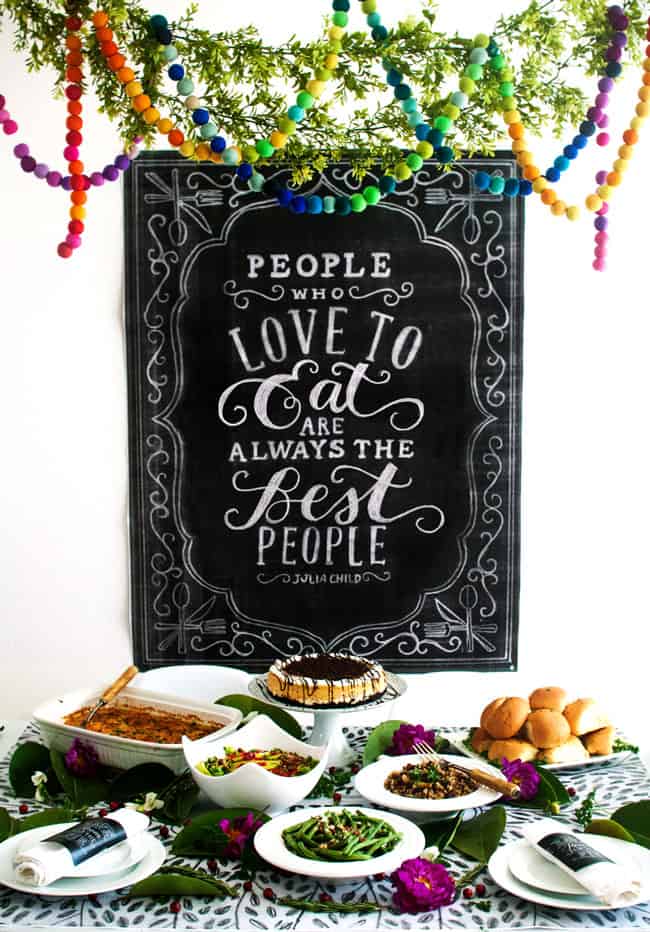 Scalloped Sweet Potatoes vs Sweet Potato Casserole
Before we jump right into Scalloped Sweet Potatoes, let' talk about potatoes first. I found it interesting that when speaking of a singular potato you do not use an 'e'. When talking of them in the plural you use the 'e'. As in there are over 1,000 types of potatoes. The vast majority are derived from varieties found in south central Chile.
My favorite potato is still the sweet potato. More than not, sweet potatoes are served with pecans and marshmallows or brown sugar, maple syrup in Sweet Potato Casserole.
While I love all of those sweet recipes, I also love a step in the opposite direction like in this savory Scalloped Sweet Potato Casserole. Using the natural sweetness in these potatoes with the savory Gruyere, bacon and herb ingredients brings full Gustatory satisfaction.
This Scalloped Sweet Potato Casserole is not a "vegetable dessert dish" in which sweet potatoes get wedged into. This is a flavorful potato dish exploding with scrumptious details. Sweet potatoes can do dessert and they can also do cheese to make this incredible scalloped savory dish.
What are scalloped potatoes?
In North America, there is a general agreement that Scalloped Potatoes should include sliced potatoes with a milk sauce – which is either milk or cream or a white-sauce poured over the potatoes. You may or may not get grated cheese and/or breadcrumbs happening beyond that. So going from this basis let us see how it might have developed to one of Americas favorite potato dishes.
When I hear 'scalloped' usually, think of scalloped hearts for valentine's Day and not potatoes. No wait, I am always thinking about cheesy, yummy potatoes when I hear scalloped. This dish was a staple in my home growing up so my question is where did they come from, besides Grandma.
Scalloped potatoes have no definitive origin or story that we know of. With so many ideas, and possibilities let me briefly outline my favorites.
An old English word, "collops", one meaning is, slices of meat. It's very closely related to the French word, escalope. In Yorkshire, a dish called "collops" which is thick slices of potato, fried until brown. So here we get the thin slices, of cooked potatoes.
Could be from the French word, escalope, which is thin meat, either beaten by a mallet
There are Irish recipes for "Potato Collops" which are identical to the North American notion of scalloped potatoes, except that the Irish recipes add diced bacon for flavor. See this dish is just supporting the Irish side of me. I knew to add BACON to an already great combination of cheesy potatoes.
My favorite comes from a transference of ideas from "scalloped oysters." Scalloped oysters were first cooked in scallop shells, sprinkled with bread crumbs. Scallop shells clean up very presentably, far more suitable for putting on someone's plate to impress. So they would shull the oysters from rough and uncomely oyster shells and serve in scalloped shells. The connection is these were breaded, or had that gratin crispy layer on top. So breaded and in scallop shells became a term for other dishes served breaded.
Some folk lore dates back to A navy lieutenant named Vanderbilt was visiting New York City in spring. He complained to his cook that the potato chips were too thick. As a joke to the lieutenant, he cut the potatoes into thin slices, then he fried the chips in oil and subsequently he added some flavoring. Unbelievably, the lieutenant thought it tasted so good.
What is the Difference Between Scalloped and Au Gratin Potatoes?
These Scalloped Sweet Potatoes combine the best of both scalloped potatoes and au gratin potatoes.
The differences in the two are the topping and the sauce. Scalloped potatoes traditionally are made with a cream and herbs and not necessarily a crunchy browned topping.
While Au Gratin dishes use cheese and have a breaded topping or crust. This topping can range from Ritz crackers, to crunchy cheese or bread crumbs. Some Au gratin dishes only have the cheese on top and not thru out the potatoes.
Both dishes use the potato rounds. As you can see from this Scalloped Sweet Potato recipe, it is the the best of both worlds. It is decadent and flavorful from top to bottom. I take the best from both dishes and make them into one. Cream, cheese and a gratin topping of cheese and bacon.
Which Potato is best for scalloped Potato dishes?
With so many types of potatoes, which one should we use? What are the differences? There is no best potato. With so many differing qualities that are great for differing dishes you should be using a variety of potatoes regularly. As you will learn more about the different varieties, you will know what ones to use. A lot of the decision-making will be what is available.
Of the 1,000 potatoes' varieties, only 200 are sold in the United States. From those 200 they can be categorized into 1 of 7 types: russet, red, white, yellow, blue/purple, fingerling and petite. Each potato has its own health and nutrient benefits. A generic report would be to label them as a starchy vegetable and a healthy carb. They are high in fiber, include vitamins and minerals, and low in calories.
Traditional Scalloped potato recipes use Russet potatoes or Yukon Golds. Yukons tend to hold their shape a little better and are less mushy (although your sauce will be slightly milkier). Russets have the most starch and make the creamiest sauce. Since sweet potatoes are my favorite, I knew I had to try them out as well.
I first perfected my version of scalloped potatoes with my Potatoes and Bacon Au Gratin. "Insane" as in insanely delicious is how Patrick refers to them. So with Thanksgiving coming up, I wanted to create a version with sweet potatoes, but the more I thought about it, the more I knew I could not improve upon my already "insane" and perfectly delicious Potatoes and Bacon Au Gratin.So these new Herb Scalloped Sweet Potatoes with Bacon and Gruyere are basically the same recipe using sweet potatoes instead of russet potatoes and a little different cooking time.
Sweet Potato Nutrition
While white potatoes, like Russet and Yukon, are lower in fat and sugar, sweet potatoes have fewer carbs and calories – did this Sweet Potato Casserole just get more delicious? Sweet Potatoes are also packed with nutrients such as beta-carotene, potassium and have more vitamin A and vitamin C. I love the variety of color sweet potatoes give any recipe. The sweetness is perfectly paired with the chives, thyme and nutmeg.
The Difference Between Sweet Potatoes and Yams
Sweet potatoes come in 4 colors: purple, orange, yellow and white. They are often called "yams" at your grocery store but are in fact, are sweet potatoes. Most people, in fact, have probably never tasted a true "yam."
Sweet potatoes are lower in calories and higher in beta-carotene and vitamin C than yams. Yams have slightly more potassium and manganese. They both contain decent amounts of B vitamins. Both have great health benefits.
Sweet Potatoes are a clear winner to use in this Scalloped Sweet Potato recipe. They are available, healthy and they are so yummy!
How to Choose Sweet Potatoes?
When selecting your sweet potatoes for this Scalloped Sweet Potato Casserole, look for garnet yams – these are red sweet potatoes masquerading as yams! You may also use Jewel or Beauregard, which are also sweet potatoes. These three varieties are the orange fleshed, reddish-brownish-orangish skinned sweet potatoes that are often confused as yams.
When selecting your sweet potatoes, look for ones that are firm, free of blemishes and have unwrinkled flesh. Also, try and select sweet potatoes that are uniform in size so your scalloped potatoes will be more uniform and cook evenly.
How do I store Sweet Potatoes?
Another reason I love cooking with potatoes, is they keep for a very long time when stored correctly, which means you can make this Scalloped Sweet Potato recipe at a moments notice!
You may store your sweet potatoes in a dark, cool closet away from the heat of the kitchen or the bottom of your pantry shaded from the light by a shelf. You may also store sweet potatoes in covered bins on the cool ground.
After purchasing sweet potatoes, remove them from any plastics bags, If you want to have them in a bag use a breathable cotton sack. Make sure they are completely dry before storing long-term. Damp potatoes will rot or sprout faster. Potatoes last about 3-5 weeks in the pantry. I do not store my potatoes in the refrigerator as it can make them sweeter and they can become dark when cooked. If you do refrigerate, they will last 3-4 months.
While rotting potatoes are obviously bad here are a few more signs to look for:
Avoid potatoes that are green, wrinkled, soft, mushy, moldy, with scars or bruising and if they have a bitter taste. Sprouts need to be discarded before cooking the potatoes. Potatoes that have sprouted can be eaten.
Potato Options
With 4 color varieties of sweet potatoes you can mix and match colors! I have also prepared this Scalloped Sweet Potato recipe with half sweet potato and half Yukon. You can always make in a few smaller dishes with different potatoes. Reference my Potatoes and Bacon Au Gratin recipe for white potato options.
Can I use a different Cheese?
The Gruyere MAKES these Scalloped Sweet Potatoes, so please don't substitute a different cheese – it just wont' be the same. Gruyere cheese is mega creamy, sweet, slightly salty, nutty and when smothering the thinly sliced, herb cream enveloped sweet potatoes and crispy bacon – magic happens.
How to Make Scalloped Sweet Potatoes
To make Scalloped Sweet Potatoes, start by simmering your herbs, onions and cream together to create luscious, flavor infused cream while you peel and slice your potatoes.
You then bathe your sliced sweet potatoes in the herbed cream then simply layer some cream, sweet potatoes and onions, bacon and Gruyere a few times and then bake until tender. Once tender, smother with the last of the cheese and broil to golden delicious bubbly perfection.
And in less than 60 minutes you have the best sweet potatoes or scalloped potatoes you have ever tasted!
Tips to make Scalloped Sweet Potatoes 
Simmer your "Spiced Cream" while you slice your sweet potatoes for maximum efficiency.
For this particular recipe, I actually prefer dried herbs in the Spiced Cream as I think they hold up better to the heat but fresh is till good.
Use a slotted spoon when scooping out the potatoes/onions that have been coated in cream. The slotted spoon will allow you to leave most of the cream in the bowl so you can pour it over the potatoes later.
You are welcome to substitute ham for the bacon to make a hearty meal-in-one.
We wait to cover our potatoes with cheese until the last 10 minutes or else it will brown to quickly. For ultimate decadence, add more cheese.
Test the potatoes in the CENTER to make sure they are tender. Cooking times will vary depending on multiple factors (specifically the thickness of your potatoes) so if your potatoes aren't tender then just keep cooking.
When potatoes are done, broil until golden brown to develop that gorgeous crusty cheese layer.
How do I slice potatoes uniformly?
There are many great tools to help with a large batch of slicing potatoes for a scalloped or au gratin dish. Namely the mandolin is one of the most popular tools out there. For Au gratin dishes, which use thinner slices, you can use a food slicer.
Or work on your knife cutting skills. It is always hard to cut a moving object, and since potatoes are not flat, they will move. So first, cut a base to make the potatoes lay flat. Then, working from one end of the potato to the other, slice disks the desired width – super thin or thicker
Use a marked chopping mat as a guide.
Can I make Scalloped Potatoes in advance?
Yes, you can make Scalloped Sweet Potatoes in advance; you have several options. You can prepare a few steps ahead of time, or all. If you are using this dish around the holidays or regular dinner, nighttime is always a precious commodity. One great aspect of this dish is it is so versatile in when and how it is prepared.
Pre- slice potatoes: Clean, peel and slice potatoes then cover the sliced, raw potatoes completely with cold water and refrigerate use the cut potatoes within 24 hours. Be sure to keep slices covered in water to prevent slices from turning gray or brown. Other helpful tips for keeping cut potatoes from browning are to add a tablespoon of white wine vinegar or concentrated lemon juice to a gallon of water. Drain and layer. Use a mesh colander to help removes excess water. I have also used a salad spinner to drain the water.
Make and do not bake yet: After assembling up to step 5 in the recipe, I cover the dish really well with foil or saran wrap. I bag the bacon and remaining cheese in a ziplock and tape to the top of the dish. Refrigerate until ready to bake. Let warm up for 30 minutes before baking. Bake within 24 to 48 hours of preparation.
Make and bake: Make recipe as normal and bake the scalloped potatoes make sure to not overcook and do not forget the foil on top. Let them cool completely to room temperature. Then cover and make sure to get a good seal. Then you can refrigerate for up to 3 days.
How do I Reheat Scalloped Sweet Potatoes?
Remove your Scalloped Sweet Potato Casserole from the refrigerator 30-60 minutes before baking. This will help them reheat more evenly.
Cover your room temperature potatoes with a layer of foil or an oven-safe lid.
Preheat your oven to 350 F
Place the dish on the middle rack and cook for 25 to 30 minutes or until the internal temperature reads 165 F with a quick-read thermometer.
Can I freeze Scalloped Sweet Potatoes?
No, I don't recommend it. Neither the potatoes nor cream sauce freeze well and you will be disappointed in the funny texture.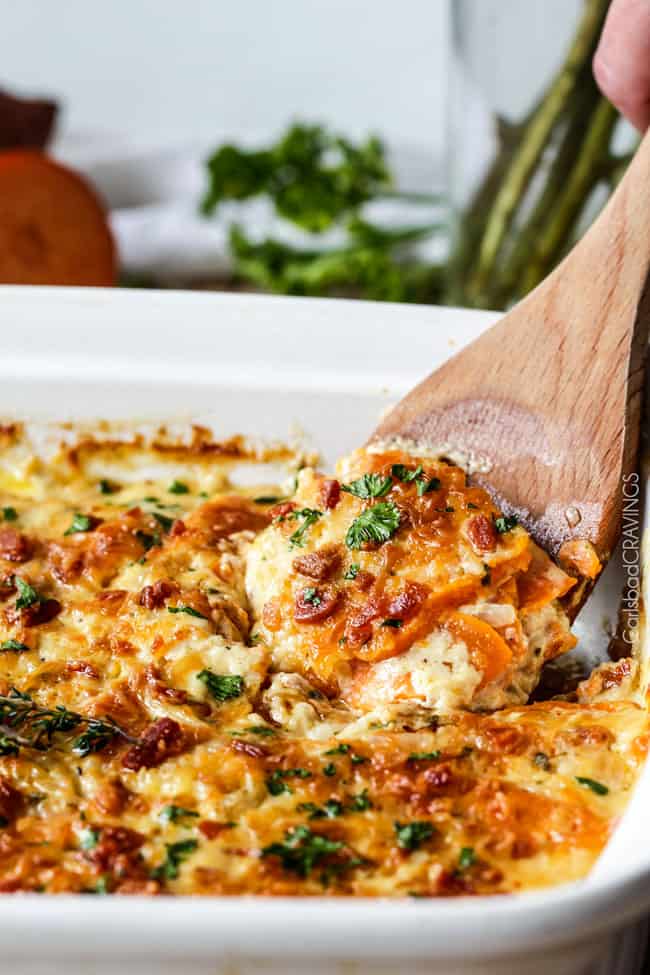 Herb Scalloped Sweet Potatoes with Bacon and Gruyere. Taste the magic.

Looking for More Potato Recipes?
Herb Scalloped Sweet Potatoes and Bacon Au Gratin
Save This Recipe To Your Recipe Box
You can now create an account on our site and save your favorite recipes all in one place!
Ingredients
2

pounds

sweet potatoes

(about 3-4 medium potatoes)

8

slices

bacon, cooked and chopped

2 1/2

cups

grated Gruyere cheese

(about 8 ounces)

1

tablespoon

butter, cut into 8 cubes
Herb Cream
3

cups

heavy cream

1

large onion, thinly sliced

1

tablespoon

fresh parsley, chopped

or 1 tsp. dried)

1

tablespoon

chopped fresh chives

(or 1 tsp. dried)

1 1/2

teaspoons

fresh thyme

(or ½ tsp. dried)

1/8

teaspoon

cayenne pepper

(optional)

1/4

teaspoon

ground nutmeg

1/2

teaspoon

salt

1/2

teaspoon

pepper
Instructions
Preheat oven to 400 degrees F.

Add the "Herb Cream" ingredients to a medium saucepan and bring to a gentle simmer. Simmer for 5-10 minutes while you grease a 9×13 casserole dish and peel and slice potatoes into ⅛ inch slices. Transfer potatoes to a large bowl. Discard bay leaves.

Spoon just enough of the herb cream that has been simmering to cover the bottom of the casserole dish. Pour the remaining cream over the potatoes and gently toss to coat.

Using a slotted spoon, layer the bottom of the casserole dish with ⅓ of the potato/onion slices (the slotted spoon will allow you to leave most of the cream in the bowl). Layer 1 cup of the cheese, ⅓ of the bacon then top with ⅓ of remaining cream. Repeat layers.

Top the casserole with remaining potato/onion slices and pour over remaining cream. Dot the potatoes with cubed butter (reserving remaining cheese and bacon for the end).

Cover the casserole with aluminum foil and bake for 30-40 minutes or until fork tender (will depend on how thin your potato slices are). Remove from the oven, sprinkle with remaining cheese then broil until cheese is golden. Remove and sprinkle with remaining bacon. Let potatoes rest for 10 minutes before serving.
Did You Make This Recipe?
Tag @CarlsbadCravings and Use #CarlsbadCravngs
Leave a Review, I Always Love Hearing From You!
Carlsbad Cravings Original