These are the BEST Pork Carnitas (Slow Cooker Mexican Pulled Pork) you will ever try! Or so say all the reviews!
Your search for the Best Pork Carnitas Recipe stops here. These Slow Cooker Pork Carnitas are super juicy, easy and so much more flavorful than other versions complete with glorious caramelized crispy burnt ends! They are great for large crowds or make ahead meals and makes the best tacos, burritos, nachos, salads, etc.
Pork Carnitas Recipe Video
Pork Carnitas Recipe
Pork Carnitas!!! Whenever Patrick and I frequent Mexican restaurants here in San Diego (or more accurately hole in the wall joints – the best), one of us usually ends up with Pork Carnitas Street Tacos. The crazy tender juicy pork shoulder with addictively crispy edges is hard to beat. And now we can all devour them at home!
Carnitas are more mild in flavor than my intensely flavored Slow Cooker Barbacoa Beef, which make them incredibly versatile for anything and everything you want to make with them and pair fabulously with my Homemade Salsa Recipe, Salsa Verde and Pico de Gallo!
They also make a fabulous base if you want to "get saucy" and stir in some enchilada sauce, salsa and a touch of brown sugar at the end of cooking. But more than likely, you are going to want to devour these Crockpot Carnitas just. the. way. they. are.
HERE'S WHY YOU'LL LOVE THIS RECIPE:
FLAVOR. Onions, garlic, jalapenos, oregano, orange juice, lime juice, liquid smoke slow cook together to create layers complex flavor that envelop every nook and cranny of your tender, juicy shredded pork.
EASY. The slow cooker does most of the work! Sear the pork, apply the wet rub then let the pork cook low and slow until fall apart tender. And the you get to employ my EASY, hands-off method of roasting the carnitas in the oven!
PANTRY FRIENDLY. If you're craving some authentic-tasting carnitas, this recipe is just the ticket. The ingredients are easy to find at most grocery stores so you an keep them stocked and ready to go.
PREP AHEAD FRIENDLY. This carnitas recipe reheats beautifully so you can make some on Sunday and be grateful for leftovers all week long.
VERSATILE. Remember those leftovers? You can reinvent pork carnitas every time you serve them for the perfect impromptu meal loaded with flavor. Carnitas are fabulous just with rice, beans and lettuce or wrapped in tortillas, burritos, tacos, flautas or piled on tostadas, tortas or nachos. It's seriously delicious every way you serve it!
FREEZER FRIENDLY. Whether you want to prep ahead or stash leftovers, carnitas freezes beautifully. Now, just grab some from the freezer for quick and easy lunches or dinners throughout the week.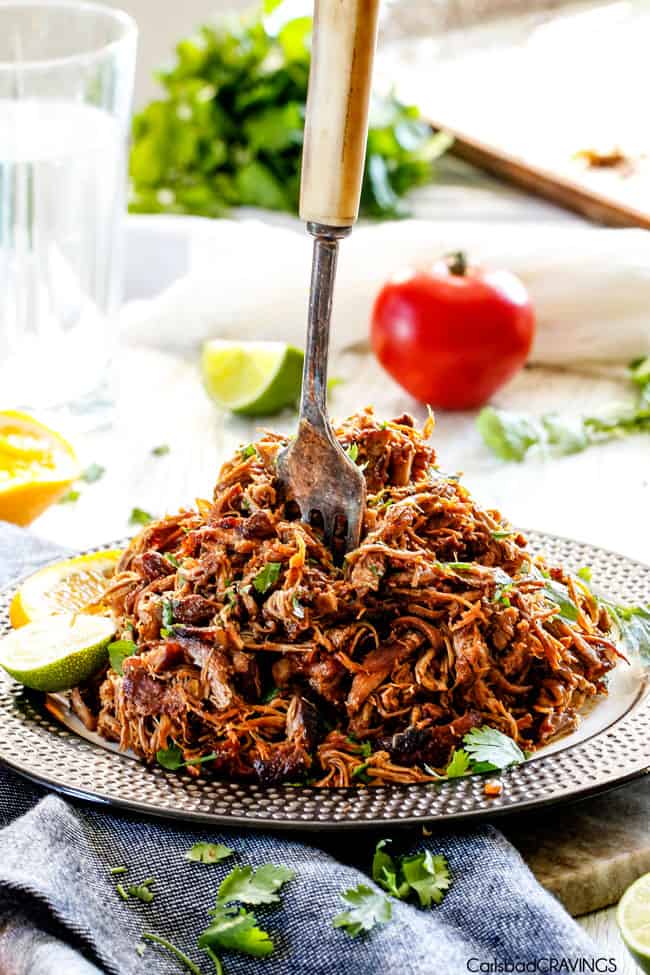 What Are Carnitas?
While Carnitas are traditionally made by simmering large chunks of seasoned pork in hot lard on the stove top, then coarsely chopping to achieve the name Carnitas (translated as "little meats"), virtually the same result can be achieved in the slow cooker then baking and broiling the meat once shredded to achieve the crunchy bits.
Some might call this method blasphemy, but I call it easy, smart, healthier, and absolutely scrumdiddlyumptious. Your family and friends will thank you for making this slow cooker pork carnitas recipe again and again – think easy taco bar!
Pork Carnitas Ingredients
The ingredients list in the recipe card below may look lengthy, but that's just because there are so many flavorful spices in this dish! In reality, you don't need much to make Crockpot pork carnitas.
Pork butt/shoulder: You'll want to use 4-5 pounds pork butt or pork shoulder. Both come from the front of the pig (not the rear). If you have a choice between pork butt and pork shoulder, use pork butt, often called Boston butt. It is named after the barrels (butts) pork used to be stored in around the time of the Revolutionary War. Pork butt has more fat marbling throughout the meat so it emerges more fall-apart-tender. Be sure to trim off any excess fat.
Vegetable oil: You need a drizzle of high smoking point oil in the hot skillet to properly sear the meat.
Orange juice: Use freshly squeezed orange juice if possible. Otherwise, buy a good quality bottled brand.
Lime juice: Adds flavor and helps tenderize the meat. Freshly squeezed is best.
Liquid smoke: Liquid Smoke can be found next to the barbecue sauces in your grocery store and adds a wonderfully smoky flavor.
Bay leaves: Adds a lovely depth of flavor to the pork.
Onion: Any variety will work here.
Jalapeño: Remove the veins and seeds so the Mexican pulled pork doesn't end up being super spicy.
Tomato paste: This is the backbone of the wet spice rub.
Soy sauce: I recommend buying reduced sodium soy sauce so you can control the amount of salt in this dish.
Brown sugar: You need a little sugar to balance out the spicy, smoky flavors in the wet spice rub.
Dried herbs and spices: This slow cooker carnitas recipe is packed with spices. Use good-quality spices, and give them a sniff first to make sure they're fragrant (this means they're fresh and still good for cooking).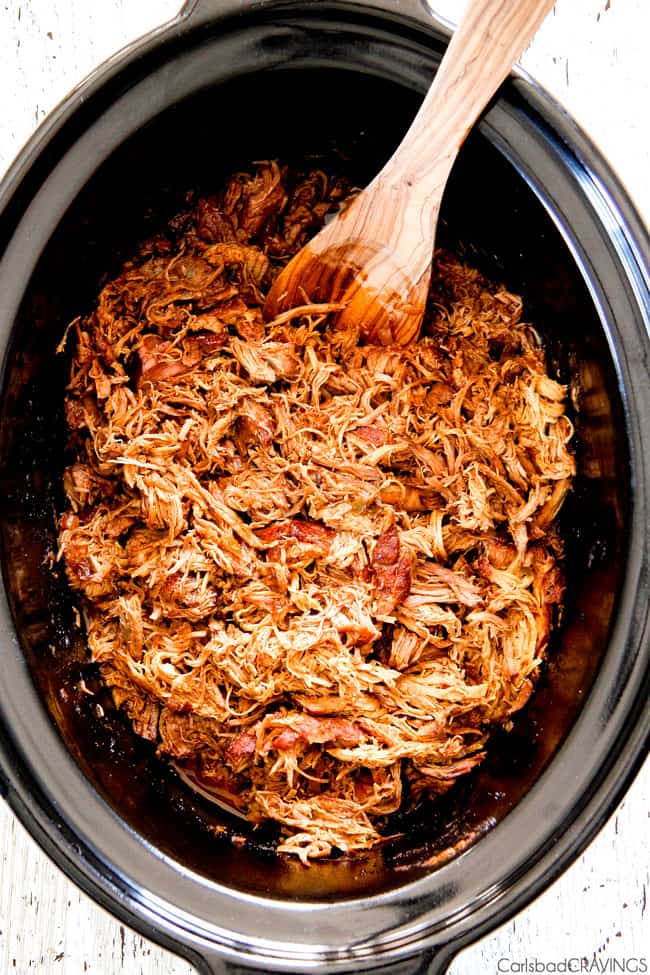 How to Make Carnitas
To make these restaurant-quality Mexican pulled pork carnitas, you first sear the pork to seal in the juices, and caramelize the sugars in the meat. I also like to leave my pork in one large piece instead of chopping it smaller because the inside of the meat stays extra moist — not to mention it's much easier to sear!
Next, (once cool enough to handle), massage it with a wet spice rub of hand picked Mexican spices as well as tomato paste, soy sauce and brown sugar. This wet spice rub really sets this carnitas recipe apart from other versions as it infuses the meat with flavor (but not too much flavor), so it is eat-plain-delectable.
Now it might seem a little counter intuitive to rub the meat with the Spice Rub after you sear it, but because this rub contains brown sugar, it can easily burn and blacken when seared. The spices will still penetrate the meat, as it simmers in the bath of orange juice, lime juice, onions, garlic, jalapeños and liquid smoke for truly glorious slow cooker pork carnitas. The aforementioned liquid smoke also adds an undeniably smoky flavor that makes these Carnitas taste truly authentic.
After your meat has cooked on LOW for 8-10 hours or on HIGH for 5-6 hours, it's time get those edges nice and crispy! Please don't skip this step otherwise you just have slow cooker Mexican pork, but NOT pork carnitas!
How to Get Crispy Carnitas the Easy Way
There are a few schools of thought when it comes to getting the edges crispy. Some people fry up their shredded pork on the stove, which, while delicious, is more labor intensive and takes way too many batches for so much pork.
I prefer the oven method. Simply line 2 baking sheets with foil, spread out your shredded pork, drizzle with some of the leftover seasoned slow cooking juices that are bursting with flavor and bake for 20 minutes.
At this point, your pork will start to crisp up in a few places but to finish it off, broil it to desired crispiness for an extra 5-10 minutes then drizzle with more scrumptious juices so it's crispy AND juicy.
Pile your slow cooker carnitas high…
And either wrap in a warm tortilla smothered with your favorite toppings or pack on a plate with or stuff in ridiculously delicious Cheesy BBQ Pork Taquitos and savor the beauty of Carnitas without standing in front of a stove all day. It's a beautiful thing.
Tips for Making the Best Carnitas
Cook until tender, but not fall apart tender. When your pork is tender enough to shred into chunks but not fall apart tender, shred it into larger sections in the slow cooker and continue to cook on LOW for 20 minutes until it is practically fall apart fork tender. This allows the flavorful slow cooker contents to seep into every pork crevice without it becoming overcooked.
Add some spice. This Crockpot carnitas recipe is flavorful but not spicy when you use ½ teaspoon chipotle chili powder. If you know you like a kick, then use 1 teaspoon chipotle chili powder.
Sear the meat. When searing, the pork will naturally release from the pan once it's properly seared. If it's sticking to the bottom of the pan, it is most likely needs more time. It will take 2-5 minutes per side (longer if using a nonstick pan).
Carnitas Variations to Try
Add chipotle peppers in adobo sauce. Instead of a jalapeño, add a canned chipotle pepper for some added spice and extra smokiness. Be careful, chipotle peppers are much more potent than jalapeños!
Make it saucy. For a saucy version, instead of broiling the pork, drain off excess juices then add: ½ cup enchilada sauce, ¼ cup salsa, 4 oz. green chilies, and brown sugar and hot sauce to taste.
Add toppings. Pork carnitas can be piled high with any number of toppings. My favorites are Restaurant-Style Salsa, Salsa Verde, and Guacamole!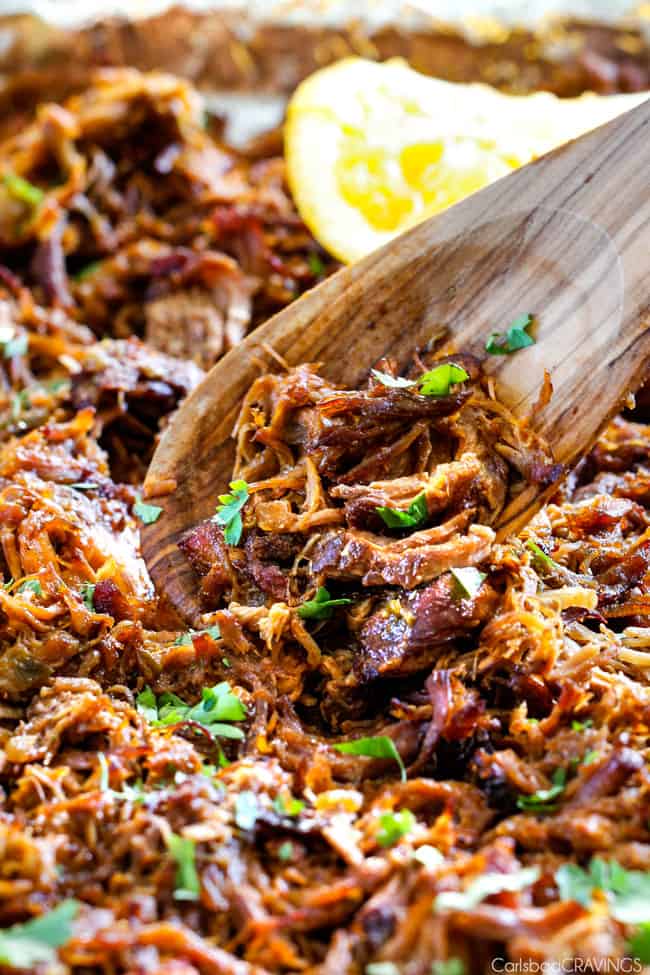 HOW DO YOU SERVE Carnitas?
The ways to serve carnitas are endless from serving with rice and beans, to piled in tacos or in salads or even on pizza! Here are just a few ideas – but don't let this limit your imagination:
Mexican Favorites:
Carnitas Tacos: warm tortillas then layer with carnitas, black or pinto beans, and desired toppings such as lettuce, onions, cilantro, homemade guacamole, cotija cheese, and sour cream.
Baked Carnitas Tacos: line a 9×13 baking dish with hard taco shells and fill each shell with 2 tablespoons refried beans (optional), followed by pork carnitas and cheese (like this recipe). Bake at 350 degrees F for 15 minutes or until cheese is completely melted. Top carnitas tacos with lettuce, tomatoes, sour cream, etc.
Carnitas Taco Salad: pile carnitas over a bed of chopped Romaine lettuce. Add bell peppers, black beans, cucumbers, pepitas, olives, etc. and top with crushed tortilla chips or tortilla strips. Serve with Tomatillo Avocado Ranch or Cilantro Lime Dressing.
Carnitas Burritos: layer a burrito size tortilla with cilantro lime rice or Mexican Rice, black or pinto beans, cheese, carnitas, guacamole, sour cream and lettuce. Serve with additional sour cream and either pico de gallo or salsa. You can also add French fries like in this California Burrito recipe.
Smothered/Wet Carnitas Burritos: preheat oven to 400 degrees F. Line a baking sheet with foil and spray with cooking spray. Prepare burritos by layering each burrito size tortilla down the center with ¼ cup rice, ¼ cup black beans (if using refried beans, layer first), 1 tablespoon sour cream, ⅓ cup carnitas, and desired amount of cheese then roll up burrito style. Place burritos on prepared foil and lightly brush tops and sides with olive oil (or spray with nonstick cooking spray). Bake for 15 minutes or until lightly golden then remove from oven. Fold sides of foil up around burritos (to keep sauce from escaping) and evenly pour red or green enchilada sauce over burritos then evenly top with one cup cheese. Bake an additional 5 minutes or until cheese is melted.
Carnitas Burrito Bowls: layer cilantro lime rice with cheese, black beans or pinto beans, carnitas, chopped lettuce, crushed tortilla chips and serve with your favorite salsa (homemade salsa. salsa verde, corn salsa, avocado corn salsa, mango salsa, pineapple salsa, pico de gallo), sour cream and guacamole. I also love adding pineapple or mango – yum!
Carnitas Enchiladas: take minutes to assemble once the carnitas are made! Simply swap the beef in this enchilada recipe and make sure to use my homemade enchilada sauce for the best enchiladas of your life!
Carnitas Quesadillas: layer a burrito size tortilla with Mexican cheese and pork carnitas and grill until golden, cheesy perfection. Serve with your favs of sour cream, salsa, chopped lettuce, guacamole, etc.
Carnitas Nachos: pile thick restaurant style tortilla chips with cheese and beans and bake. Top with carnitas and toppings such as jalapenos, salsa, sour cream, guacamole, etc.
Carnitas Flautas/taquitos: go as simple as filling tortillas with carnitas, cheese and beans or make my BBQ Carnitas Taquitos recipe that mixes carnitas with barbecue sauce, cream cheese and cheese – SO good! Brush taquitos with olive oil and bake on a greased rack over a baking sheet at 425 degrees F for 15-20 minutes.
Carnitas Sopes: slather sopes with refried beans, top with carnitas then pile with lettuce, sour cream, radishes, tomatoes, avocados etc.
Carnitas Tostadas: are extremely similar to sopes, just with a different base. Layer a tostada with refried beans or avocado mash, top with carnitas, lettuce, red onions, cilantro, avocados, sour cream, cotija cheese or queso fresco etc.
Carnitas Tortas: slice French-style bread in half horizontally, spread refried beans on each side, top with carnitas, cheese, avocado slices or guacamole, tomatoes slices, pickled red onions, pickled jalapenos, etc.
Carnitas chilaquilles: the perfect way to use up leftovers! Use this recipe as a guide along with your favorite salsa.
Mexican Soups: swap the shredded chicken in any of your favorite Mexican soup recipes with pork carnitas! Simply add the shredded pork at the end to warm through. Carnitas would be excellent in Tortilla Soup, Caldo de Pollo, Enchilada Soup, Fajita Soup, Taco Soup, Chipotle Black Bean Chili and even this BBQ Chili!
Non Traditional – great for leftovers!
Carnitas Pizza: Use this pulled pork pizza recipe as a guide and swap in carnitas for the meat.
Carnitas pasta: this might sound odd, but adding carnitas to pasta is so good! Add it to salsa verde mac and cheese, cacio e pepe, ramen, etc.
Carnitas Baked Potatoes: poke holes in washed, dried potatoes. Place on a foil lined baking sheet and lightly brush with oil and sprinkle with kosher salt. Bake for 1 hour or until potatoes are tender and the skin is crispy. Slice open the potatoes, top with carnitas and cheese then place back in the oven for 5 minutes or until the cheese melts. Top with sour cream, green onions, etc.
Carnitas Scrambled Eggs or Omelettes: add to scrambled eggs along with pepper Jack cheese or Monterrey Jack when the eggs are almost set.
Carnitas Frittata: add carnitas to this scrumptious frittata recipe.
How to Prep Pork Carnitas in Advance
You can make this Mexican pulled pork mostly the day before if that's easier and then you don't have to worry about cooking times later on.
If making ahead, cook the slow cooker carnitas until it is tender enough to shred, then shred the pork into large sections. After you do this, let your slow cooker sit at room temperature for a bit so the ceramic insert can cool down. Then, cover and place ceramic insert into fridge (including both the pork and the liquid it's sitting in).
The next day, skim off the hardened fat from the top and heat on LOW for about 1- 1 ½ hours to heat through, then continue with the rest of the recipe as written. You can't crisp up the carnitas in advance, as the meat loses its crispy edges over time.
How to Store Pork Carnitas
The slow cooker carnitas should be stored in an airtight container in the fridge. It should last up to 4 days.
How to Reheat Pork Carnitas
I recommend reheating any leftover Mexican pulled pork in a lightly oiled skillet over medium heat. This way, you don't lose the crispness of the meat.
How to Freeze Pork Carnitas
Slow cooker carnitas makes for a great freezer meal! To freeze:
Prepare the pork according to directions.
Cool to room temperature.
Add the meat to a large freezer bag OR portion into smaller size sandwich bags.
Press bag(s) flat and squeeze out excess air to prevent freezer burn.
Seal, label, and freeze for up to 3 months.
To thaw, place in your fridge overnight.
What to Serve with Carnitas
Choose your favorite toppings and sides to transform these already fabulous carnitas into an epic meal!
Toppings:
Sides:
Black beans (or any beans!)
Fruit:
Dessert
Looking for More Pork Recipes?

WANT TO TRY THESE SLOW COOKER PORK CARNITAS?
Pin it to your MEXICAN, SLOW COOKER, or DINNER Board to SAVE for later!
Find me on Pinterest for more great recipes! I am always pinning :)!
©Carlsbad Cravings by CarlsbadCravings.com
Pork Carnitas Recipe (Video!)
These are the BEST Pork Carnitas (Slow Cooker Mexican Pulled Pork) you will ever try!  Or so say all the reviews!  These Slow Cooker Carnitas are super juicy, easy and so much more flavorful than other versions complete with glorious caramelized crispy burnt ends!  They are great for large crowds or make ahead meals and makes the best tacos, burritos, nachos, salads, etc!
Total Time:
6
hrs
15
mins
Save This Recipe To Your Recipe Box
You can now create an account on our site and save your favorite recipes all in one place!
Ingredients
4-5

lbs

pork butt/Boston butt

trimmed of excess fat

1

tablespoon

vegetable oil

1/4

cup

orange juice

2

tablespoons

lime juice

1

teaspoons

liquid smoke

**

1

jalapeno

, deveined, deseeded, chopped
Instructions
Heat 1 tablespoon vegetable oil over high heat in a large skillet. Using tongs or 2 forks, sear pork on all sides until lightly browned. Transfer pork to cutting board until cool enough to handle.

Meanwhile, whisk together all of the Wet Spice Rub ingredients in a medium bowl. When pork is cool enough, massage Wet Spice Rub evenly all over then transfer pork to slow cooker. Add orange juice, lime juice, liquid smoke, and 2 bay leaves to slow cooker. Top pork with onions and jalapeno. Cook on LOW for 8 to 10 hours or on high for 5-6 hours OR until pork is fall apart tender and easily shreds with a fork.

Remove pork from slow cooker to cutting board, shred, and add back to slow cooker and toss with juices. Cook on low for 20 minutes. Meanwhile, preheat oven to 450 degrees F. Line 2 baking sheets with foil.

After 20 minutes, remove pork (do NOT discard juices in slow cooker) and add shredded pork to both baking sheets in an even layer. Drizzle with some of the remaining juices (about ¼ cup) and bake for 15 minutes then broil to desired crispiness, watching closely so meat doesn't burn (about 5-10 minutes). Drizzle with additional juices and toss.

Serve warm in tortillas, on rice, salad, etc. with favorite toppings.
Variation
This pork is a great springboard for several variations. For a saucy version, instead of broiling the pork, drain off excess juices then add (more or less to taste): ½ cup

enchilada sauce

, ¼ cup salsa, 4 oz.

green chilies

and brown sugar and hot sauce to taste.
Notes
Don't miss the "how to make" recipe video at the top of the post!
**Liquid Smoke can be found next to the barbecue sauces in your grocery store and adds a wonderfully smokey flavor.
Did You Make This Recipe?
Tag @CarlsbadCravings and Use #CarlsbadCravngs
Leave a Review, I Always Love Hearing From You!
Carlsbad Cravings Original
*Try using leftovers in these amazing Cheesy BBQ Pork Taquitos!