Chicken Corn Chowder that is lightened up, infused with Mexican seasonings, all made in one pot and on your table in less than 30 minutes!  
This Chicken Corn Chowder is loaded with juicy chicken, corn, tomatoes, red bell peppers, cheese and the options of potatoes, rice and/or bacon! Its cheesy, creamy (without any heavy cream!), comforting and the layers of flavors are out of this world. It is mostly "dump and run" but tastes like it's been simmering for hours! I've also included tricks for lightening up this Chicken Corn Chowder which you will love – almost as much as you will love the creamy, fiestalicious slurpfuls. Almost.
Chicken Corn Chowder
I have a lot of soup recipes because I LOVE Soup, many of which I have lightened up like my White Chicken Chili, Broccoli Cheese Soup, and Potato Soup and while I love them all, this creamy Chicken Corn Chowder is definitely a favorite. I craved this soup until every last drop was gone. And then some. I think you will crave it too.
This One Pot Chicken Corn Chicken Chowder recipe, comes together incredibly quickly and the majority of "making" this corn chowder is simply dumping in cans and spices. Your taste buds will be blown away at the punch of flavor from so little effort and they definitely won't believe this soup is lightened up!
What is Corn Chowder?
Corn Chowder is a thick and creamy soup traditionally with chicken and potatoes. I've taken traditional Chicken Corn Chowder and added Mexican seasonings to create the most flavorful corn chowder you've ever tasted!
How Do I make Healthy Chicken Corn Chowder?
We are able to achieve such a creamy skinny Chicken Corn Chowder without all the fat by:
Roux: Making a roux of flour, olive oil and butter then adding chicken broth creates a thick, creamy sauce-like base. This eliminates our need to use heavy cream.
Cornstarch: Cornstarch further thickens the Chicken Corn Chowder without having to add extra butter that adding more flour would require
Cream cheese: Using ⅓ fat cream cheese adds a rich, creamy tanginess without as much fat as heavy cream.
Creamed corn: Creamed corn adds extra body to the corn chowder and the same trick I use in my Skinny Buffalo Chicken Mac and Cheese (amazing). The natural creaminess of creamed corn is a life changing as a secret ingredient.
What Ingredients do I need for Chicken Corn Chowder?
chicken breasts:

I use chicken breasts because they area leaner but you can use chicken thighs if you prefer.
onion: you may substitute 1 teaspoon onion powder for those lazy days you don't feel like chopping
garlic: you can substitute 1 ½ teaspoons garlic powder.

j

alapeno: the jalapeno will not make this Chicken Corn Chowder spicy – just add some flavor. You an add more heat with hot sauce or cayenne pepper at the end of cooking.
red bell pepper: you can substitute a green bell pepper if that's all you have on hand.
flour: I'm sure gluten free flour would work great here.
chicken broth: make sure you use low sodium chicken broth or your Chicken Corn Chowder might be too salty.
cornstarch: helps thicken the soup or you may use 1 tablespoon additional flour
seasonings: cumin, chili powder, smoked paprika,a dried oregano, salt and pepper – I can almost taste the fiestaliciouusness!
cream-style corn: a must to make this soup extra creamy!

petite diced tomatoes: make sure you use diced tomatoes without any added seasonings

diced green chilies: use only canned MILD diced green chiles or else your soup will be too hot.
cream cheese: make sure your cream cheese is quite soft so it will melt easily.
cheese: you can use any combo you like from

Mexican cheese blend

or ½ cup each cheddar, Monterrey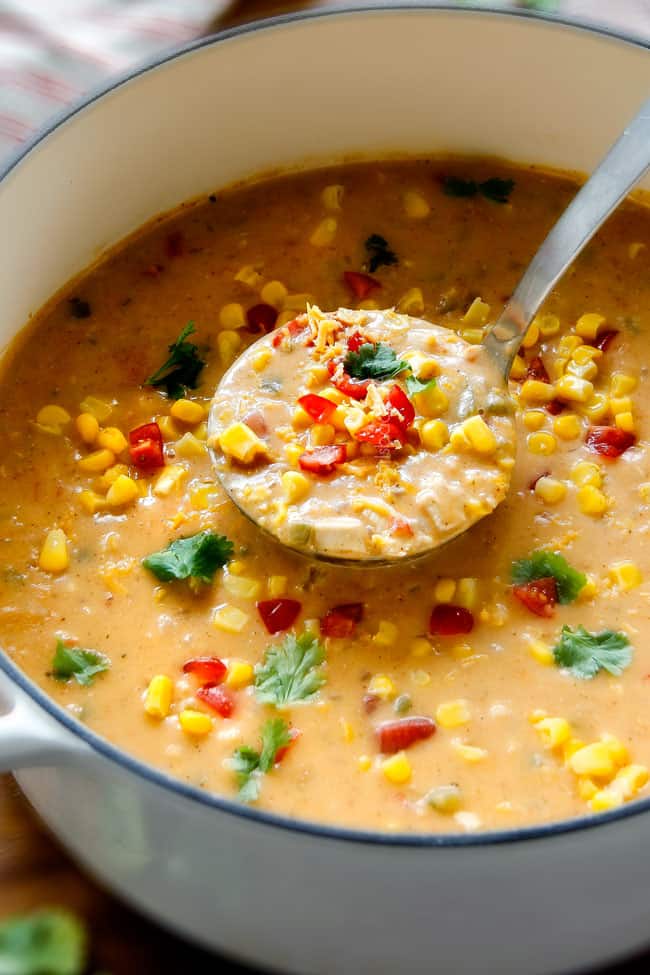 Can I use Frozen Corn for Corn Chowder?
I prefer fresh or canned corn for this Chicken Corn Chowder recipe because the texture holds up better.
Canned Corn: drain and rinse before adding to the chowder.
Fresh corn: you will need about 2 cups sweet corn.
Frozen corn: use only as a last resort. Make sure the corn is thawed before adding to the soup otherwise it will add extra liquid which will make the chowder less creamy.
Can I use Rotisserie Chicken for Chicken Corn Chowder?
Absolutely! You will need about about 2 ½ cups shredded rotisserie chicken. Add the chicken to the corn chowder after step 4, before you add the cheeses.
Can I add Vegetables to Chicken Corn Chowder?
Absolutely! I've stuck with the basics, but you can add zucchini, carrots, potatoes, etc. You can also add black beans!
Can I add  Rice to Chicken Corn Chowder?
I love the added texture of rice! You can add cooked rice to creamy Chicken Corn Chowder (I LOVE wild rice) or you can cook your rice directly in the soup like I do in my Chicken Fajita Rice Soup. If you choose to cook your rice in the soup you will need to add additional chicken broth and adjust cooking time accordingly.

How do You Make Chicken Corn Chowder?
To make this Chicken Corn Chowder:
saute your onion, jalapeno and chicken breasts in some olive oil/butter
add your bell peppers, garlic, and flour and cook for two minutes then its dumping time!
add your chicken broth, creamed corn, whole corn, diced tomatoes, green chilies and all seasonings/spices.
bring to a boil then reduce to a simmer, uncovered, for 10 minutes, stirring occasionally.
finally, stir in your Mexican cheese and reduced fat cream cheese until wonderfully smooth and creamy.
How do I thicken Chicken Corn Chowder?
You can customize the consistency of your Chicken Corn Chowder by adding either heavy cream or additional cream cheese for a creamier soup. For a thicker soup, whisk 1 tablespoon cornstarch with ¼ cup water and add to soup then simmer for 5 minutes. For a thinner soup, add addiitonal milk or chicken broth.
What goes with Chicken Corn Chowder?
Toppings, toppings toppings! Toppings are part of the fun of Mexican Chicken Corn Chowder and a way for everyone to customize their soup. Toppings like cheese, avocado, cilantro, tomatoes, tortilla chips etc.
As far as sides for Chicken Corn Chowder, here are a few ideas:
How long does Chicken Corn Chowder Last?
Not very long at our house! You can refrigerate Chicken Corn Chowder in an airtight container and store in the refrigerator for up to 5 days.
Can I freeze chicken Corn Chowder?
I do not recommend freezing Chicken Corn Chowder with the cream cheese and cheeses because the fat in the cheeses will separate and create a funny texture. You can freeze your Chicken Corn Chowder without the cream cheese and Mexican cheeses.
How do I freeze Chicken Corn Chowder?
Follow recipe up to the point of adding cream cheese – do not add cream cheese or cheeses.
Let soup cool completely.
Add Chicken Corn Chowder to a freezer size bag or airtight freezer safe container.
Push out any excess air, seal, seal and freeze for up to 3 months.
When ready to eat, let corn chowder thaw in the refrigerator.
Transfer soup to a Dutch oven/soup pot and warm over the stove.
Once warm, stir in cream cheese until melted followed by cheeses until melted.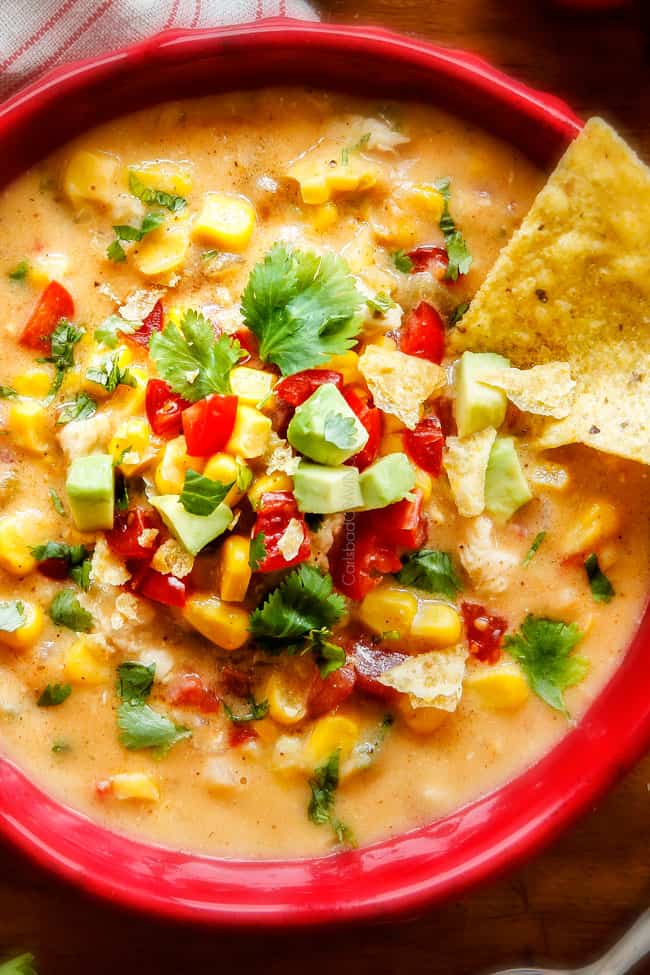 Looking for more Mexican Soup Recipes?
Want to try this Chicken Corn Chowder recipe?
Pin it to your SOUP, CHICKEN, MEXICAN or 30 MINUTE MEALS Board to SAVE for later!
Find me on Pinterest for more great recipes!  I am always pinning :)!
©Carlsbad Cravings by CarlsbadCravings.com
30 Minute Mexican Chicken Corn Chowder (lightened up)
This 30 Minute LIGHTENED UP Mexican Chicken Corn Chowder is destined to become one of your favorite soups ever!  Its cheesy, creamy (without any heavy cream!), comforting and the layers of flavors are out of this world – and all made in one pot! 
Save This Recipe To Your Recipe Box
You can now create an account on our site and save your favorite recipes all in one place!
Ingredients
Mexican Corn Chicken Chowder
3

tablespoons

butter

2

tablespoons

olive oil

½

large onion, chopped

1

jalapeno, seeded, deveined, minced

1

pound

boneless skinless chicken breasts, chopped

(uncooked)

2

teaspoons

ground cumin

1

tsp EACH

salt, chili powder

1/2

tsp EACH

smoked paprika, dried oregano

1

red bell pepper, chopped

1/4

cup

flour

4

cups

low sodium chicken broth, divided

2

tablespoons

cornstarch

2

14.75 oz.

cans cream-style corn

1

15 oz.

can corn, drained and rinsed

1

14 oz. can

petite diced tomatoes, drained

1

4 oz. can

mild diced green chilies

4

oz.

cream cheese, softened

(I use ⅓ less fat)

8 oz.

Mexican cheese blend

or ½ cup each cheddar, Monterrey

Hot sauce to taste
Garnish (optional)
sour cream

(highly recommended)

cheese

cilantro

Avocados

Tomatoes

Tortilla chips
Instructions
Melt butter in olive oil over medium high heat in a large Dutch oven/soup pot. Add chicken, onions, jalapenos and all seasonings and sauté for 3 minutes.

Add bell peppers, garlic, and flour. Cook, stirring constantly, for 2 minutes.

Turn heat to low and gradually stir in 3 cups chicken broth.

Whisk 2 tablespoons cornstarch with remaining 1 cup chicken broth and add to soup. Stir in creamed corn, whole corn, diced tomatoes, and

green chilies

. Bring to a boil then reduce to a simmer, uncovered, for 10 minutes, stirring occasionally.

Turn heat to low and stir in softened cream cheese and Mexican cheese. Continue to stir until completely melted.

Garnish individual servings with desired toppings.
Did You Make This Recipe?
Tag @CarlsbadCravings and Use #CarlsbadCravngs
Leave a Review, I Always Love Hearing From You!
©Carlsbad Cravings Original