Taco Soup is quick and easy, easy to double/triple for a crowd, freezer friendly and only takes 30 minutes to make!
You haven't had Taco coup until you try this CHEESY, creamy Taco Soup version! This 30 minute, ONE POT Taco Soup recipe is the ultimate comforting, hearty soup packed with all your favorite taco flavors. It's made with ground beef, beans, corn, tomatoes, peppers, onions and homemade taco seasoning simmered in a rich enchilada-beef broth. Top your Taco Soup with tortilla chips, cheddar cheese, sour cream, and avocados and you have a new Taco Tuesday favorite in soup form! This Taco Soup is a dump-and-simmer dinner perfect for weeknight dinners or its easy to double or triple for crowds. Say hello to a new family favorite!
TACO SOUP RECIPE VIDEO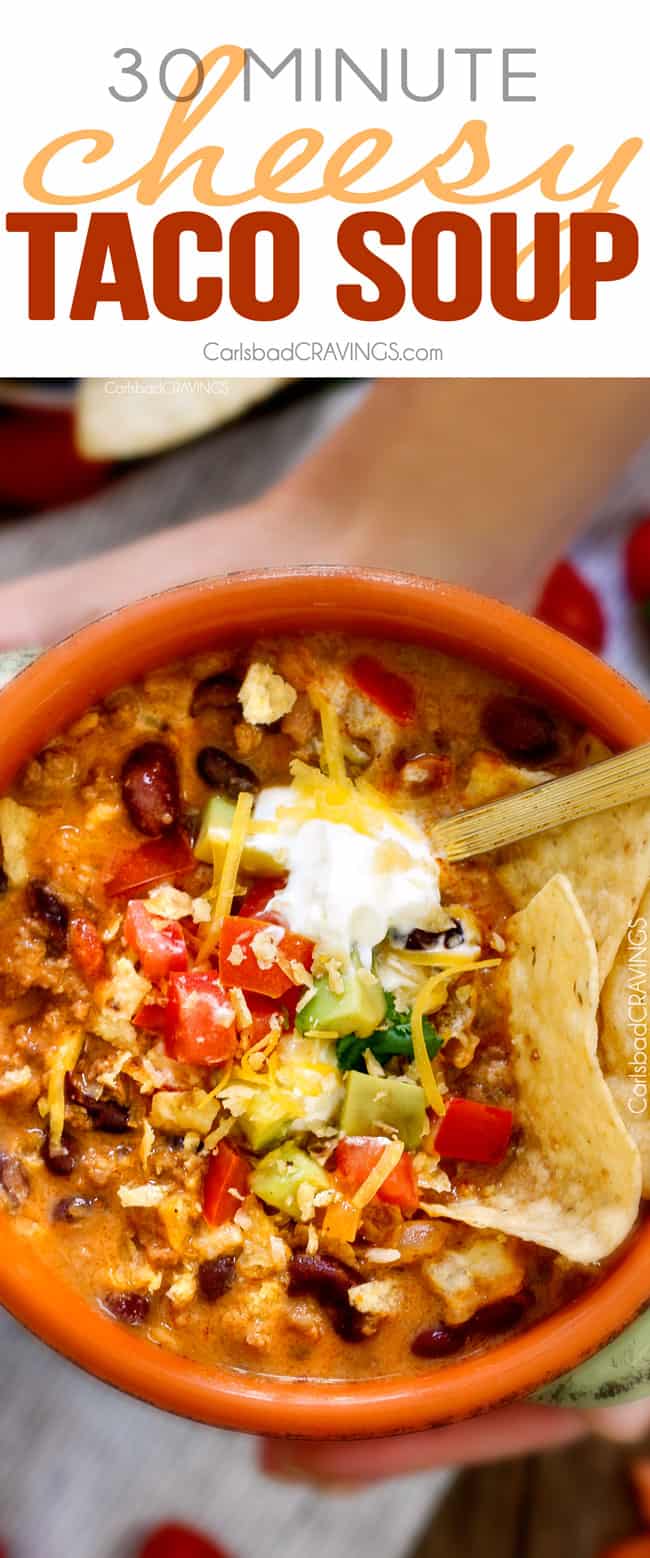 Taco Soup Recipe
I love tacos in every form from my from Taco Spaghetti to Taco Pasta Bake and I LOVE Mexican soups from Chicken Fajita Soup and White Chicken Chili so when you combine two loves you get the BEST EVER TACO SOUP!
The first time I tried Taco Soup was as a young teenager at my sisters home. My married sister loved to cook and experiment and the "7 Can Taco Soup" was wildly popular at the time. As I spooned the frito topped soup into my mouth, I was enthralled at the idea of eating taco soup! Since then, Taco Soup has continued to be a favorite of mine (and probably the rest of the world), but my Cheesy Taco Soup version is my ultimate favorite.
My Cheesy Taco Soup recipe is based off of my Cheesy Chili Dip. The first time I made this dip, I instantly knew I would make it into Taco Soup so we could all shovel it into our mouths even quicker than a dip and call it dinner. And what an easy, dinner it is. It is also a wonderful make ahead meal that you can refrigerate and reheat or keep on the stovetop on low or even add to your slow cooker on the warm setting.
What do you put in taco soup?
The majority of ingredients in Taco Soup are either pantry staple cans or spices you dump into the soup so you can make this meal-in-one Taco Soup any night of the week!
Ground Beef: take care you use lean ground beef or see substitutions below.
Onion: you can substitute the onion with 1 teaspoon onion powder.
Garlic Cloves: you can substitute the garlic with 1 ½ teaspoons garlic powder.
Homemade Taco Seasoning: we create homemade taco seasoning with chili powder, ground cumin, dried oregano, smoked paprika, salt and pepper. This custom blend adds the perfect punch of flavor. You may substitute with 1 pouch (2 tbsp) taco seasoning and then adjust seasonings to taste.

Canned

Mild Diced Green Chilies: make sure you purchase mild green chiles – I have accidentally used the hot chilies before and they are HOT! Mild green chiles, however are more tangy than hot so you don't have to worry about them making your soup spicy.
Salsa: this Taco Soup recipes uses your favorite salsa instead of just diced tomatoes to give your soup another dimension of flavor. Make sure you us mild salsa or else your Taco Soup might be too spicy. It is easy to add more heat but it is hard to take it away!
Canned Black Beans: you can substitute with pinto beans, kidney beans, cannellini bean or your favorite bean.
Canned kidney beans: I like pairing both kidney beans and black beans together for added texture but you may substitute with additional black beans.

Canned S

weet Corn: I use canned corn for this Taco Soup for convenience but feel free to use corn fresh off the cob if you prefer. You can also use frozen corn but add it toward the end of cooking, just so it has time to warm through, otherwise it can disintegrate.

M

ild Enchilada Sauce: feel free to use your favorite homemade enchilada sauce if you prefer.
Chicken Broth: take care your chicken broth is low sodium so you can salt to taste.
Cream Cheese: cream cheese makes the soup wonderfully creamy. You may use ⅓ fat cream cheese but it will not melt quite as well.
Cheese: we add sharp cheddar cheese and pepper Jack to make our CHEESY Taco Soup. Take care you use freshly grated cheeses so they melt easily. You can omit the cheeses and add cheese to individual servings if you prefer.
CAN I SUBSTITUTE BEEF WITH OTHER MEATS?
Absolutely! You can make Taco Soup with ground turkey or ground chicken. Whenever I make these beef substitutions, I add 2 teaspoons beef bouillon and then add salt to taste (because bouillon is already salty). I use this trick in my Turkey Chili and Turkey Tacos and it is magic! It imparts a beefy flavor without the beef!
You can also make Taco Soup with chicken by either using shredded rotisserie chicken or simmering the soup with chicken breasts or thighs until they are pull-apart-tender like I do in my Chicken Tortilla Soup.
Do you put tomato sauce in taco soup?
Instead of tomato sauce, I use enchilada sauce in this Taco Soup recipe because it has more flavor than tomato sauce and doesn't leave the broth tasting like your slurping tomato sauce. If you are looking to make this Taco Soup gluten free, then substitute the enchilada sauce with tomato sauce (or use gluten free enchilada sauce) and add additional seasonings to taste. You will also need to omit the flour or use gluten free flour.
How do you make taco soup?
Step 1: The almost dump and run soup begins by browning your beef with onions, then adding your spices, garlic, bell peppers and sprinkling with flour to help it thicken and creamify.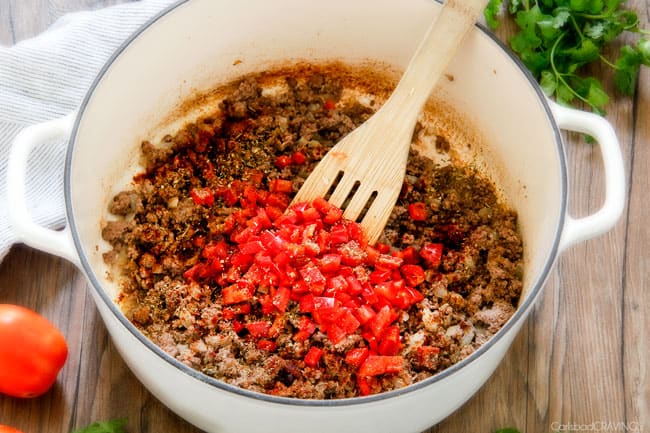 Step 2: Then comes the "dumping" of black beans, kidney beans, enchilada sauce, salsa, green chilies, and chicken broth. The addition of enchilada sauce and salsa really elevates and enlivens this fiestalicious Cheesy Taco Soup and of course then there's the cheese…
Step 3: Melt in some cream cheese then stir in half cheddar and half pepper Jack cheese for creamy, Cheesy Taco Soup!
What to serve with Taco Soup?
Then its topping time! There is no right or wrong when it comes to toppings – the option to customize your soup with whatever toppings fit your mood is part of the fun! The only wrong thing about this Taco Soup is not making it soon, very soon. You can create a toppings bar and let everyone pile on their favorites of:
Tortilla chips: tortilla Strips are the Taco Shell in Taco Soup! We also love to use fritos.
Cheese: we've already made our our Taco soup creamy and cheesy but that doesn't mean it can't benefit from a little more cheese! Use freshly grated cheese for superior taste and melting ability.
Sour cream: a must in my book! Sour cream adds a wonderful creaminess and its refreshing tanginess cuts through and compliments the robust, rich flavors. You can also use fat free sour cream or Greek yogurt.
Cilantro: chopped cilantro adds a fresh, zesty flair.
Avocado: chopped or sliced avocados add a wonderful creaminess. I prefer chopped so I can get a bite of avocado in every spoonful.
Tomatoes: add a juicy freshness.
Pico de gallo: a spoonful of pico de gallo ins't necessary but adds a depth of freshness I love. You can also use chopped fresh tomatoes.
Sliced jalapenos: a fabulous topping for those who want to add some heat.
Lettuce: We even add shredded lettuce to our Taco Soup! It reminds me of adding cabbage to soup and adds a fabulous texture.
HOW TO MAKE TACO SOUP IN THE CROCK POT OR SLOW COOKER:
This Taco Soup is easy to make in your slow cooker or crock pot for a walk-in-the-door eat right away dinner.
Spray slow cooker with nonstick cooking spray and add chicken.
Follow step 1 in which you brown the beef with onions, add spices/seasonings, red bell pepper and garlic and cook with flour for 3 minutes.
Transfer beef mixture to slow cooker followed by all remaining Taco Soup ingredients up to the cheeses.
Cook on LOW for 4-6 hours.
Add very soft cream cheese and stir/whisk until melted, followed by pepper jack and cheddar cheese until melted.
Add milk to thin to desired consistency if desired. Season with additional salt/pepper/hot sauce to taste.
Serve with desired toppings.
HOW SPICY IS THIS TACO SOUP RECIPE?
This Taco Soup has a ton of flavor but is not spicy. That being said, the spice level can change depending on how spicy your salsa is. You can spice up the Taco Soup by adding hot sauce to individual servings if you like it spicier.
HOW DO YOU MAKE CREAMY TACO SOUP?
This Taco Soup is a creamy, cheesy version. To make Creamy Taco Soup:
melt 4 oz. softened cream cheese at the end of cooking and stirring until completely melted. This is the method I also use i n my Mexican Chicken Corn Chowder and it is fabulous.
melt pepper Jack cheese and sharp cheddar cheese directly in the Taco Soup.
if you are out of cream cheese, you can substitute 2 cups of the chicken broth with heavy cream or half and half mixed with 1 tablespoon cornstarch.
you can also add sour cream directly to the soup for a creamy tangingess.
HOW LONG DOES TACO SOUP LAST?
Taco Soup tastes even better the next day! It will last in the refrigerator for up to 5 days in an airtight container. You may need to add a little water to the soup when reheating.
CAN I FREEZE TACO SOUP?
I do not recommend freezing Taco Soup with the cream cheese and cheeses because the fat in the cheeses will separate and create a funny texture. You can freeze your Taco Soup without the cream cheese and shredded cheeses.
HOW DO I FREEZE TACO SOUP?
Follow recipe up to the point of adding cream cheese – do not add cream cheese or cheeses.
Let soup cool completely.
Add Taco Soup to a freezer size bag or airtight freezer safe container.
Push out any excess air, seal, seal and freeze for up to 3 months.
When ready to eat, let Taco Soup thaw in the refrigerator.
Transfer soup to a Dutch oven/soup pot and warm over the stove.
Once warm, stir in cream cheese until melted followed by cheeses until melted
Looking for More Mexican Recipes?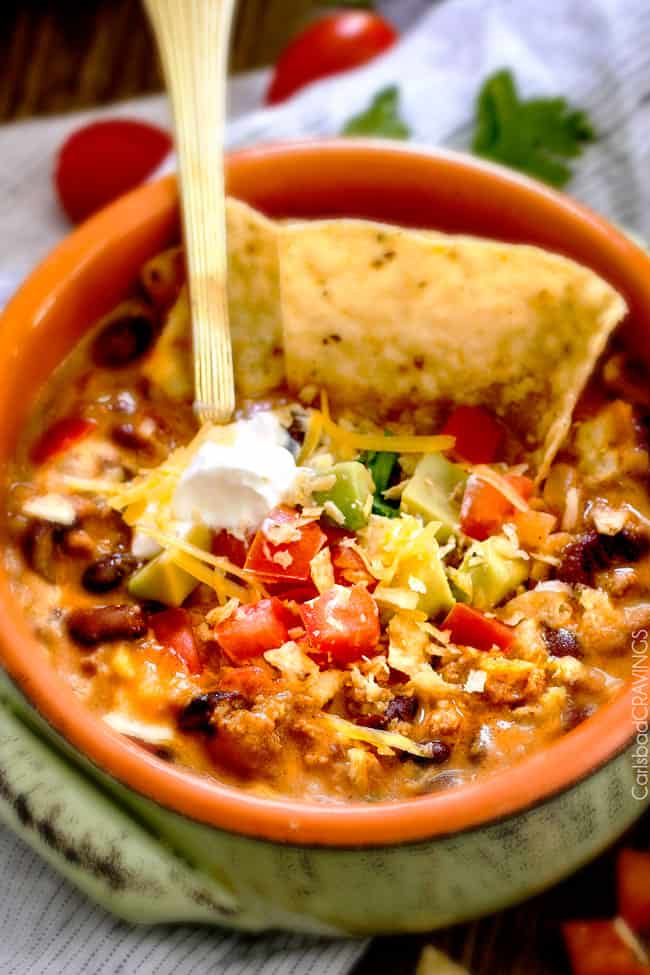 Want to try this Best Taco Soup?
Pin it to your Soup, Mexican, or Dinner Board to SAVE for later!
Find me on Pinterest for more great recipes! I am always pinning :)!
©Carlsbad Cravings by CarlsbadCravings.com
Cheesy Taco Soup
You haven't had taco soup until you try this CHEESY Taco Soup version! This 30 minute, ONE POT Cheesy Taco Soup recipe is the ultimate comforting soup packed with all your favorite taco flavors and is SO easy and great for crowds!  Say hello to a new family favorite! 
Save This Recipe To Your Recipe Box
You can now create an account on our site and save your favorite recipes all in one place!
Ingredients
1

tablespoon

olive oil

1

pound

lean ground beef

1/2

large onion, chopped

1

tsp EACH

chili powder, ground cumin

1/2

tsp EACH

salt, dried oregano, smoked paprika

1/4

teaspoon

pepper

1

red bell pepper, chopped

4

garlic cloves

minced

1/4

cup

flour

1

15 oz. can

kidney beans

rinsed and drained

1

15 oz. can

black beans

rinsed and drained

1

15 oz. can

sweet corn

rinsed and drained

1

4 oz. can

mild diced green chilies

1

cup

mild salsa

1

10 oz. can

mild enchilada sauce

5

cups

reduced sodium chicken broth
Add later:
1

cup

freshly grated sharp cheddar cheese

1

cup

freshly grated Pepper Jack cheese

4

oz.

cream cheese, cubed and softened
Garnish
Tortilla chips or fritos

sour cream

Tomatoes

lettuce

Avocado/guacamole

Hot sauce to taste

fresh cilantro
Instructions
Heat 1 tablespoon olive oil over medium heat in a Dutch oven or soup pot. Brown the meat with onions until meat is cooked. Add all spices/seasonings, red bell pepper and garlic. Sprinkle in flour and cook, stirring constantly for 3 minutes.

Stir in kidney beans, black beans, corn,

green chilies

, salsa,

enchilada sauce

and chicken broth. Bring to boil then reduce to a gentle simmer, stirring occasionally, for 10-15 minutes or until slightly thickened.

Turn heat to low and stir in cream cheese until melted, followed by pepper jack and cheddar cheese until melted. Add milk to thin to desired consistency if desired. Season with additional salt/pepper/hot sauce to taste.

Serve with tortilla chips/fritos and additional garnishes as desired.
Notes
*If you like spicy, then heat it up with some medium salsa! I use medium Kirkland brand salsa from Costco.
**Once prepared, you can keep soup warm in your slow cooker until ready to serve if desired.
Did You Make This Recipe?
Tag @CarlsbadCravings and Use #CarlsbadCravngs
Leave a Review, I Always Love Hearing From You!
©Carlsbad Cravings Original