Avocado Ranch Dressing takes just 5 minutes in your blender and is about to become your new addiction – you will want to put it on everything!
Avocado Ranch Dressing spiked with tomatillos, jalapeno, garlic, cilantro, lime and smoked paprika to create a creamy ranch with a Mexican flair. This Avocado Ranch Dressing makes everything better from salads to tacos, to burritos to a dip for quesadillas, empanadas, etc.
Avocado Lime Ranch Dressing
They say actions speak louder than words.
My actions say I am in love/borderline obsessed with this Avocado Ranch Dressing.
In one week I made this Avocado Ranch Dressing twice just so I could feature it (and subsequently consume it) in my Chipotle Sweet Pulled Pork Tacos with Avocado Ranch, Chipotle Sweet Pulled Pork Taco Pizza with Avocado Ranch and BBQ Chipotle Chicken Salad with Avocado Ranch – because this dressing is completely obsessive worthy.
This Avocado Dressing tastes like creamy, velvety avocado ranch with a Mexican fiesta flair added by the avocado, tomatillo, jalapeno, garlic, cilantro, lime and smoked paprika. Layers of herbs, layers of spice, layers of luscious goodness that I just can't seem to get enough of.
Almost as much as I love this Avocado Ranch Dressing, I love how easy it is! Everyone will think you spent hours to create the gourmet flavor, but you simply add all the ingredients to a blender or food processor, chop then puree until smooth and you have the creamiest, tastiest, want to smother everything in Avocado Ranch Dressing! I was licking the spoon.
Again, actions speak louder than words.
Ingredients for AVOCADO Ranch Dressing:
avocado: you can use small, medium or large depending on how much of an "avocado" taste you prefer. A larger avocado will also make your Avocado Ranch Dressing creamier but you can control the consistency by adding additional milk if you wish.
tomatillos: you will need two tomatillos. If you aren't familiar with tomatillos, they should easily be found at every grocery store tucked away somewhere in the produce section. Chances are, you've passed them every time you've been there and never even noticed! If you can't find them, ask someone in the produce department. More detailed info below.
jalapeno: always differ in heat, so if you aren't sure how much of kick you want, you can start with half.
cilantro: you will want 1/3 cup PACKED cilantro. This means packing the leaves and stems into a measuring cup. The stems have fabulous flavor so no need to separate.
garlic: you will need 2 garlic cloves or you can substitute with 1/2 teaspoon garlic powder.
mayonnaise: use real mayonnaise for the best flavor. You can also use light or avocado mayonnaise.
sour cream: use light or full fat but full fat will have better flavor. You may also substitute with plain (nonfat) Greek yogurt.
milk: use any type of milk and use more or less to adjust consistency.
lime juice: bottled or fresh are both great.
white vinegar: enhance the tanginess. You may substitute with lime juice if you don't have it on hand.
ranch seasoning: is easy to make with either dried or fresh herbs – instructions to follow.
DIY RANCH SEASONING
You can use fresh or dried herbs in this Avocado Ranch Dressing depending on what you have on hand. I typically use dried herbs because the quantity of each herb is so small. If using fresh herbs, you will want 3X the amount of fresh to dried. Here's what you'll need for each:
DIY RANCH SEASONING with FRESH HERBS:
2 Tablespoon fresh parsley
1 Tablespoon fresh chives
1 Tablespoon fresh dill weed
1/2 teaspoon salt
1/2 teaspoon pepper
1/2 teaspoon smoked paprika
DIY RANCH SEASONING with DRIED HERBS:
2 teaspoons dried parsley
1 teaspoon dried chives
1 teaspoons dried dill weed
1/2 teaspoon salt
1/2 teaspoon pepper
1/2 teaspoon smoked paprika
How to Pick Avocados
You will need one ripe avocado for this Avocado Ranch Dressing Recipe. Here are some tips for selecting ripe avocados:
Color: bright or medium green means the avocado is still hard and not ripe; dark purple typically means the avocado is too ripe. Instead, look for the dark green- turning purple colored skins.
Touch: Always test avocados ripeness by touch. You want the avocado to just give slightly when pressed. If an avocado feels firm or hard to your touch, it isn't ripe yet. Purchase it only if you plan to use the fruit several days in the future. The harder an avocado is, the longer it will take to ripen. If the avocado feels soft, it's overripe and likely has many brown spots, so avoid it.
Do I have to Use tomatillos for Avocado Dressing?
If you aren't familiar with tomatillos, please don't be intimidated by working with them. They are the primary ingredient in salsa verde and impart a mildly tart, citrusy punch of bright, tanginess to everything they grace, including this Avocado Ranch Dressing.
Tomatillo means, "little tomato" in Spanish. They are known as the Mexican husk tomatoes but are not technically tomatoes and more closely related to the gooseberry. They look like green, unripe tomatoes with a dry, leafy green husk. Once you peel off the husk, the tomatillo is a bright green.
You could theoretically substitute the tomatillos in the recipe for about ¼ cup salsa verde but I honestly have not tried this because the real thing is easy, bright and beautiful. If you do choose to substitute the tomatillos for salsa verde, make sure you use a mild salsa verde and you might want to omit the jalapeno in the Avocado Dressing.
HOW DO YOU MAKE AVOCADO RANCH DRESSING?
While it can be tempting to grab salad dressing off of the grocery store shelf, homemade dressings are always 10X better, take less than 5 minutes to make, require very little chopping AND are made with nothing but wholesome ingredients.
To make our easy Avocado Dressing:
Add ingredients to blender. It is important to add all of the ingredients to the blender in the order listed starting with garlic, jalapeno, cilantro tomatillos, etc. This ensures the garlic, jalapeno, etc, get chopped fine and you don't end up with big chunks.
Puree. Begin by pulsing to chop the ingredients then puree until smooth, scraping sides down as needed.
Adjust consistency. Add milk, a tablespoon at a time to reach desired consistency.
Chill. Refrigerate Avocado Ranch Dressing for at least 30 minutes before serving.
TIPS AND TRICKS FOR AVOCADO DRESSING:
Use ripe avocado. The star of this Avocado Ranch Dressing recipe is the avocado, so it is important to start with a beautifully ripe avocado for maximum flavor and creamy consistency. If your avocado isn't soft enough, it will leave you with hard chunks and a grassy flavor.
Ripen avocados quickly. If your avocado isn't cooperating, you can speed up the ripening process by adding it to a brown bag with a banana or apple. These fruits release a lot of ethylene which triggers ripening in the avocados.
Dry cilantro well. Wash then dry cilantro very well otherwise the leftover water will thin the dressing and make it less flavorful.
You can use some stem. You will use the top part of the cilantro bunch with the leaves and stems – no need to pick off individual cilantro leaves.
Don't be afraid of tomatillos. If you aren't sure where the tomatillos are at your grocery store, ask someone! They are super easy to use and sooo good! You'll want to remove the delicate paper husk and wash then dry the sticky surface. This stickiness is actually a natural deterrent against insects caused by a chemical compound that insects find bad tasting. This film comes off very easily with just a rinse of warm water.
Greek yogurt substitute. I prefer sour cream in this Avocado Dressing recipe but Greek yogurt works well because we are making a tangy dressing. You umay want to start with less lime juice if using Greek yogurt. If the dressing is too tangy, add a teaspoon or so of honey.
Store bought ranch seasoning. You can use store bought Ranch seasoning mix, such as Hidden Valley. I would start with 2 tablespoons and add more to taste if desired.
Customize heat. Always remove the seeds and white membrane of the jalapeno because these carry the most heat. I like to keep the jalapeno seeds and add them at the end if I want a spicier dressing. You can also spice up your Avocado Ranch Dressing with a pinch of cayenne pepper.
Customize tang. The cilantro, tomatillo, ranch seasonings and lime juice all add tang to this dressing. To customize the tanginess, keep all the measurements the same except the lime juice – add more or less to taste.
Control consistency. This Avocado Dressing is delightfully creamy due to the avocado. You can control the consistency by adding more or less milk. The amount of milk will depend on the type of milk, the size of the avocado, the consistency of your mayo/sour cream/Greek yogurt, the power of your blender and your desired consistency.
Turn into a dip. You can omit the milk and instantly turn this Avocado Ranch Dressing into a creamy avocado dip!
CHILL Dressing! Chilling your Avocado Dressing is HUGELY important – no wants warm dressing! If you taste the dressing right after making, you will be sorely disappointed. The fresh, vibrant tanginess only emerges after the dressing has had time to chill and the flavors have had time to meld.
Chill in freezer. If you are short on time, place the dressing in the freezer! You can chill in the freezer for up to 30 minutes to speed up the process then place the Avocado Ranch Dressing in the refrigerator.
HOW LONG DOES Avocado DRESSING LAST IN THE REFRIGERATOR?
This Avocado Dressing stores well for about 3-5 days.
Take care to store in a sealable, airtight container.
Press a piece of plastic directly onto the surface of the dressing. This will help prevent oxidation which turns the dressing brown.
The top of the dressing will darken sightly upon storing, but this doesn't mean it's gone bad – it simply means the surface of the dressing is oxidizing. Once you give the dressing a stir, you won't even notice.
It will thicken as it chills so you may need to whisk in additional milk before using.
What Can I Use Avocado Ranch Dressing for?
This Avocado Ranch Dressing makes everything better! It is fabulous with anything you would use ranch, guacamole or sour cream for. Here are just a few ideas:
Salads: Use it as a salad dressing for green salads, pasta salads, potato salads, veggie salads. You can swap out the dressing in any of these recipes:
Nachos: Drizzle it all over your favorite nachos to add a creamy, tangy kick.
Burrito Bowls or Rice Skillets: I LOVE Avocado Ranch Dressing on burrito bowls or anything with rice because it marries all the other components together. Try it on:
Tacos: Drizzle it all over your tacos instead of using sour cream or ranch like in:
Burritos. Can be drizzled over burritos or used as a dip. It's always a welcome bright contrast to the robust Mexican seasonings. Try it with:
Fajitas. I love adding Avocado Ranch instead of sour cream to everything fajita! I also love turning these different fajita recipes into rice bowls or salads with Avocado Ranch Dressing:
Mexican appetizers. This Avocado Ranch Dressing makes a fabulous dip for all your favorite baked or fried appetizers! Try it on:
Veggies: serve it as a dip with chips like you would guacamole or raw vegetables such as carrots broccoli, cucumbers, snap peas or bell peppers. It is even divine with roasted vegetables such as broccoli or cauliflower.
Sandwiches, burgers, wraps: use it in place of mayonnaise for a tangy, fabulous spread.
Pasta: toss it with pasta zoodles or spaghetti squash,
Rice/grains: add a lot or a little to rice, cauliflower rice, or quinoa for an instant flavor upgrarde.
Looking for more Mexican MUST HAVE recipes?
These Mexican staples go with practically every meal!
Want to try this Avocado Ranch Dressing Recipe?
Pin it to your MEXICAN or DRESSING board to SAVE for later!
Find me on Pinterest for more great recipes! I am always pinning :)!
©Carlsbad Cravings by CarlsbadCravings.com
Carlsbad Cravings Original
NEVER MISS A CARLSBAD CRAVINGS CREATION:
You might also like these Mexican Favorites
Chili Lime Chicken Tacos with Grilled Pineapple Salsa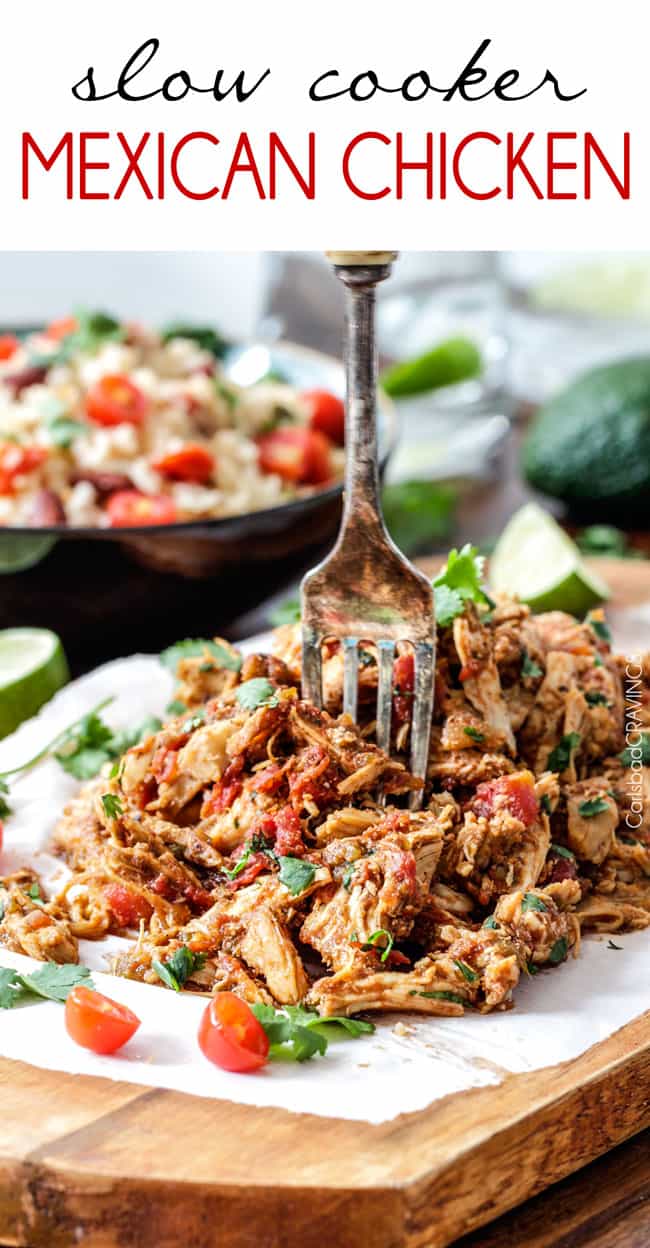 Salsa Verde Honey Lime Pepper Jack Chicken Enchiladas