The best Chilaquiles recipe! Delicious for breakfast, lunch or dinner!
Chilaquiles are corn tortilla chips simmered and softened in salsa verde (Chilaquiles Verdes) or enchilada sauce (Chilaquiles Rojos), topped with cheese then served with eggs, beans, cilantro, radishes, guacamole and/or sour cream. They are intoxicatingly flavorful from the aromatic bath, use pantry friendly ingredients so they can be made at any time, are a scrumptious way to use leftover Mexican chicken, pork or beef, and SO versatile – you can top them with virtually anything. This Chilaquiles recipe is also fabulous for make ahead meals or entertaining because the chips, sauce and toppings can all be prepped in advance- just add chips to the simmering sauce, top with cheese and bake for 5 minutes – THAT'S IT!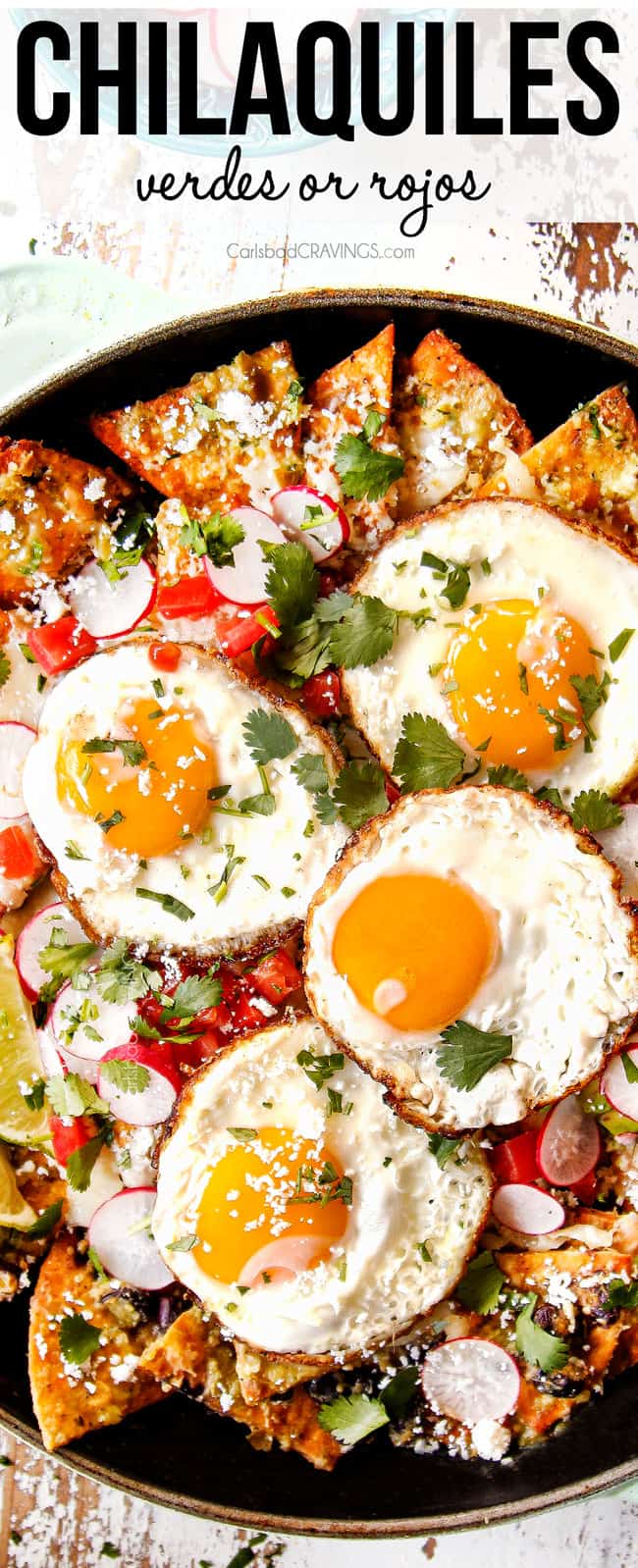 What are Chilaquiles?
Chilaquiles are a traditional Mexican breakfast food and one of my personal favorite breakfasts of all time. Friends will attest that whenever we go out to breakfast, I always order Chilaquiles. So, what exactly are this beloved favorite? Chilaquiles began as a way to use up leftover homemade tortilla chips and sauce and have existed for hundreds of years. The tortillas are lightly fried (although baked in this recipe) then simmered in salsa or enchilada sauce to soften them up a bit then often (but not always) served with fried eggs on top.
There are many variations of Chilaquiles but they almost always include either salsa verde for Chilaquiles Verdes or red enchilada sauce or salsa for Chilaquiles Rojos depending on the region. In Mexico City, for example, the tortillas are more often simmered in tart green tomatillo sauce or spicy red enchilada sauce. In Central Mexico, however, it is more common for warmed salsa to be poured over the chips right before serving for crispier chips. On the opposite end of the spectrum, home cooks in Guadalajara simmer the chips longer until the Chilaquiles become thick like polenta. So, really, there is no right or wrong way to make Chilaquiles – just make them right for YOU!
There are also countless toppings for Chilaquiles – nothing is off limits! Traditional toppings include: fried eggs, proteins such as salsa verde pork, shredded chicken or beef barbacoa along with frijoles negros, cilantro, thinly sliced radishes, red or green onions, avocados, pickled jalapenos, Queso fresco and/or Mexican crema.
Where do Chilaquiles come from?
The tradition of Chilaquiles dates back centuries to the early Aztecs. In fact, the word chilaquiles (pronounced: [tʃilaˈkiles] or chee-lah-kee-lehs) means "chilis and greens" in ancient Nahuatl which is the language used by the Aztecs. Nahuatl is still spoken today in some areas of Central Mexico. Chilaquiles were (and are!) a delicious and hearty way to extend and make use of not only leftover tortillas and salsa but meats, cheeses and beans as well. Today, Chilaquiles have evolved within each region and within each family with their own unique ingredients and flavor combinations.
Chilaquiles were popularized in America by the cookbook "The Spanish Cook" in 1898 by Encarnación Pinedo and today are a staple on practically every breakfast restaurant menu throughout the country from Broken Yolk to Toast Gastrobrunch to Breakfast Republic – and now your very own kitchen!
The best Chilaquiles recipe
Chilaquiles are eaten daily in many Mexican homes and now you can enjoy them whenever your heart (and belly) desire! You will love this Chilaquiles recipe because:
The SAUCE! Chilaquiles are only as good as the sauce the chips are bathed in, so whether you prefer Chilaquiles Verdes or Chilaquiles Rojos, I have you covered with the best homemade sauces!
BAKED TORTILLA CHIPS. Many Chilaquiles recipes fry the tortillas but baked tortilla chips emerge every bit as delicious without all of the mess or extra calories!
PANTRY FRIENDLY. Chilaquiles, particularly Chilaquiles Rojos use inexpensive, widely available pantry friendly ingredients, so you can make this Mexican favorite any day of the week.
DELICIOUS USE OF LEFTOVERS. Chilaquiles are a delicious use of leftover proteins! Didn't use all your chicken in enchiladas? Have leftover carnitas from tacos? Add them to Chilaquiles!
PREP AHEAD. You can prep the chips and sauce and toppings ahead of time, so all you have to do is add chips to simmering sauce, top with cheese and bake for 5 minutes -HOW EASY IS THAT?!
GREAT FOR ENTERTAINING. To that end, this Chilaquiles recipe is fabulous for entertaining because all the major components (chips, sauce, toppings) can be made or prepped in advance. They are also super fun to dish up then let guests "build their own Chilaquiles" with a simple or elaborate toppings bar.
VERSATILE. The beauty of this Chilaquiles recipe is it is completely customizable. You can choose to make Chilaquiles Verdes or Chilaquiles Rojos, whether or not to add protein, which protein, whether or not to add eggs, how to cook the eggs, and finally what to top them with – the options are endless! Because they are so versatile, they are a choose your own adventure every time!
BREAKFAST, LUNCH OR DINNER! Chilaquiles not only boast versatile ingredients, but the are versatile on when they are served! They check so many boxes that they can be enjoyed for breakfast, lunch, or dinner – and will be a winner every time – any time.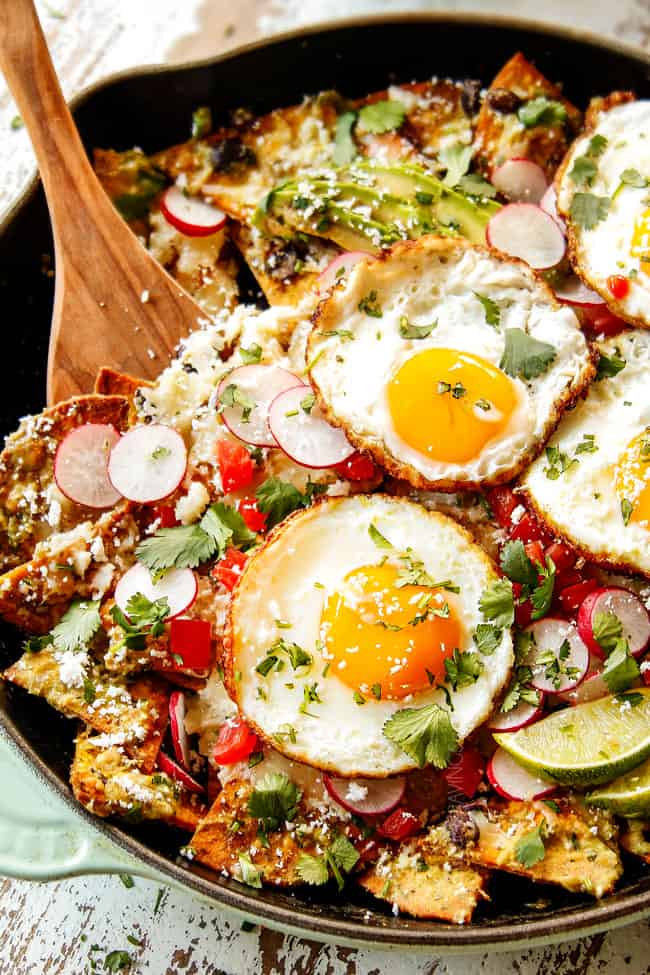 What do Chilaquiles taste like?
Chilaquiles are all about flavor and texture. Th flavor of the Chilaquiles is dependent on what sauce you use – whether red or green – so please use a quality, flavorful sauce! The crunchy fried tortillas soften and absorb the liquid of the simmering sauce until they're tender but not completely soft or mushy. Of course, the texture ultimately comes down to personal preference. For firmer Chilaquiles, don't simmer or bake as long – for softer Chilaquiles, place foil over the combined chips and sauce and let soften to desired consistency.
What are Chilaquiles made of?
Chilaquiles are made with many of the same ingredients as enchiladas – corn tortillas, tomatillo green sauce or red enchilada sauce – but Chilaquiles takes much less time to prepare because it's usually made with leftover ingredients and because there is practically no assembly required.
In the US, Chilaquiles is synonymous with Chilaquiles with fried eggs, but in Mexico, they don't always come with eggs. I've included fried eggs in this recipe because it makes it more of a complete meal and because I love the irresistible oozing egg yolk with the undeniably crispy edges, but eggs are still optional.
As previously mentioned, the toppings are a crucial part of this fiesta favorite. In addition to eggs, Chilaquiles are almost always are topped with queso fresco. Other popular favorites include sour cream, cilantro and raw onions. As far as protein, shredded chicken is the most popular, but it can also be served with chorizo, pork or beef.
What's the Difference Between Chilaquiles Verdes and Chilaquiles Rojos?
The difference between Chilaquiles Verdes and Chilaquiles Rojos is the sauce used to simmer the homemade tortilla chips in which produces two very different flavor profiles – the rest of the ingredients used in the Chilaquiles such as the tortillas, eggs and topping remains the same.
Chilaquiles Verdes are made with a tomatillo salsa known as salsa verde – thus the name. Salsa verde is a green salsa made with tomatillos, cilantro, onions, garlic and green chiles such as jalapenos or serrano peppers.
Chilaquiles Rojos are made with red enchilada sauce that is made with dried red chilies such New Mexico chiles, Ancho chiles, or Cascabel chiles or shortcut chili powder (like I use) along with onions, and garlic.
The difference: Red enchilada sauce is warm, robust and earthy whereas green enchilada sauce is herby, tangy, bright and far more tart than red enchilada sauce. Red enchilada sauce, on the other hand, is naturally sweeter because it is made with red chiles – the red color is indicative that the peppers are ripe as opposed to green chiles and tomatillos which are not yet ripe.
Which is spicier? It all comes down to the chilies used. If serrano peppers are used in the salsa verde, it will knock the socks off of any red enchilada sauce made with ancho chiles (which is a poblano chile when green). The same role reversal can take place by swapping chiles to make red enchilada sauce spicier.
What is the difference between Chilaquiles and nachos?
Chilaquiles and nachos both are made with corn tortilla chips and include many of the same toppings, but the flavor and texture are very different.
Nachos are hard tortilla chips eaten with your hands. They derive most of their flavor from the blanket of melted cheese.
Chilaquiles, on the other hand, are softened tortilla chips (handmade from corn tortillas) and are not at all crispy and eaten with a fork. They are more like the texture of enchiladas or an enchilada casserole. Chilaquiles are often topped with queso fresco, but not always melted cheese. The primary flavor of Chilaquiles comes from either the red sauce or tomatillo sauce and not the cheese like in nachos.
What is the difference between huevos rancheros and Chilaquiles?
Huevos Rancheros and Chilaquiles share many of the same ingredients. In Huevos Rancheros, the fried eggs are served over hot, crispy tortillas smothered in warm salsa over top. In Chilaquiles, however, the chips are actually combined with the warm sauce so they soften before the fried eggs are added on top.
What is the difference between Chilaquiles and Migas?
Migas is also a Mexican breakfast dish that utilizes leftover corn tortillas as well as eggs, but the technique is different than Chilaquiles. Migas translates to "crumbs" in English which is appropriately named because leftover diced corn tortillas ("crumbs") are fried until crispy, then eggs are poured over the top and scrambled with the chips. Onions, tomatoes and jalapenos are often included as well. Chilaquiles, on the other hand, uses sauce instead of the eggs to cook in which results in purposefully softer tortillas. In Chilaquiles, the eggs are added on top of the chips and not cooked with the chips.
Chilaquiles Recipe Ingredients
Now to the fun part of making your very own Chilaquiles Rojos recipe or Chilaquiles Verdes recipe at home. There are three essential parts to this dish:
1) Enchilada sauce or Tomatillo sauce
You can use either red enchilada sauce or salsa verde which will determine the flavor of your Chilaquiles. Salsa verde will be bright and tangy, red enchilada sauce with be earthy, rich and robust. I love both of them and can pick a different favorite depending on my mood. No matter which sauce you choose, make sure it is AMAZING because it is where most of the flavor comes from.
For Chilaquiles Rojos:
For Chilaquiles Rojos, I highly recommend my 10-minute enchilada sauce – it is spectacular and made with pantry friendly ingredients – you probably have everything to make it right now! My enchilada sauce recipe is layered with Mexican seasonings plus a hint of cocoa powder, sugar and a pinch of cinnamon (to mimic Mexican chocolate) to create a deeply complex flavor profile that's absolutely mesmerizing. The homemade enchilada sauce elevates this Chilaquiles recipe to restaurant level – or beyond. As one reader put it (thanks Stephanie!):
The depth of flavor, spices and richness of this sauce is literally what I have been looking for, for years. Canned sauce is watery and flavorless, TV chefs and bloggers recipes have left me disappointed but YOUR enchilada sauce is to die for.
You will need these pantry friendly ingredients:
flour
butter
vegetable oil or other neutral oil
tomato paste
reduced sodium chicken broth
unsweetened cocoa powder
sugar
apple cider vinegar
seasonings: chili powder, ground cumin, garlic powder, onion powder, ground coriander, smoked paprika, salt, dried oregano, cinnamon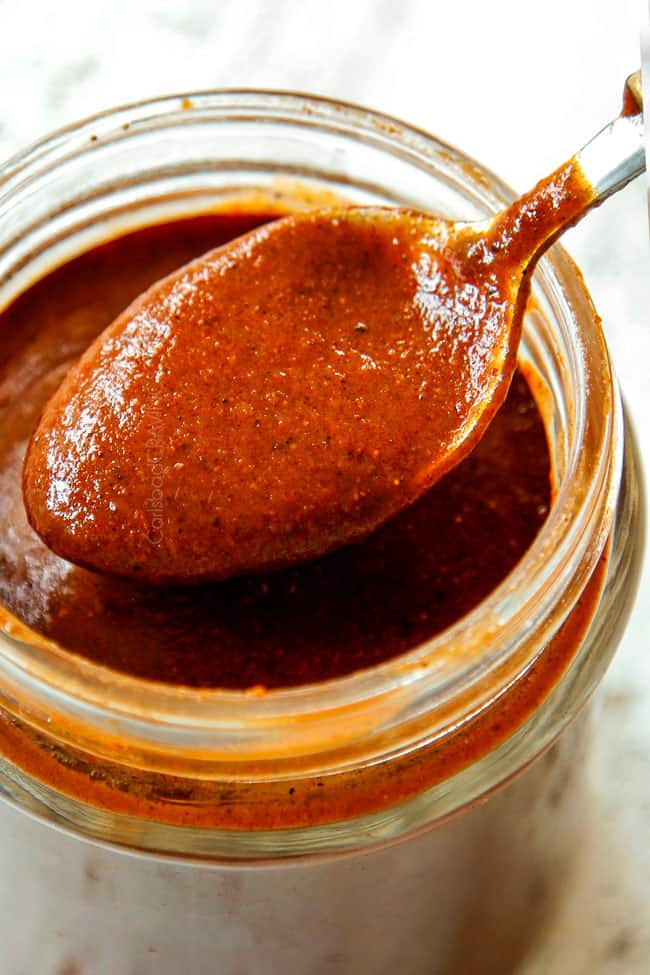 For Chilaquiles Verdes:
For Chilaquiles Verdes, I recommend my intoxicating salsa verde recipe (like I used in these photos) that is so easy, takes less than 15 minutes to make and tastes way better than any jarred salsa. It's mildly tart, citrusy, complex, slightly smoky and offer a dynamic punch of bright, tanginess. The only downfall is that it takes some planning as unlike enchilada sauce, it requires fresh ingredients. You will need:
tomatillos
serrano chiles or jalapeno peppers
yellow onion
garlic cloves
olive oil
cilantro
lime juice
seasonings: ground cumin, salt, ground coriander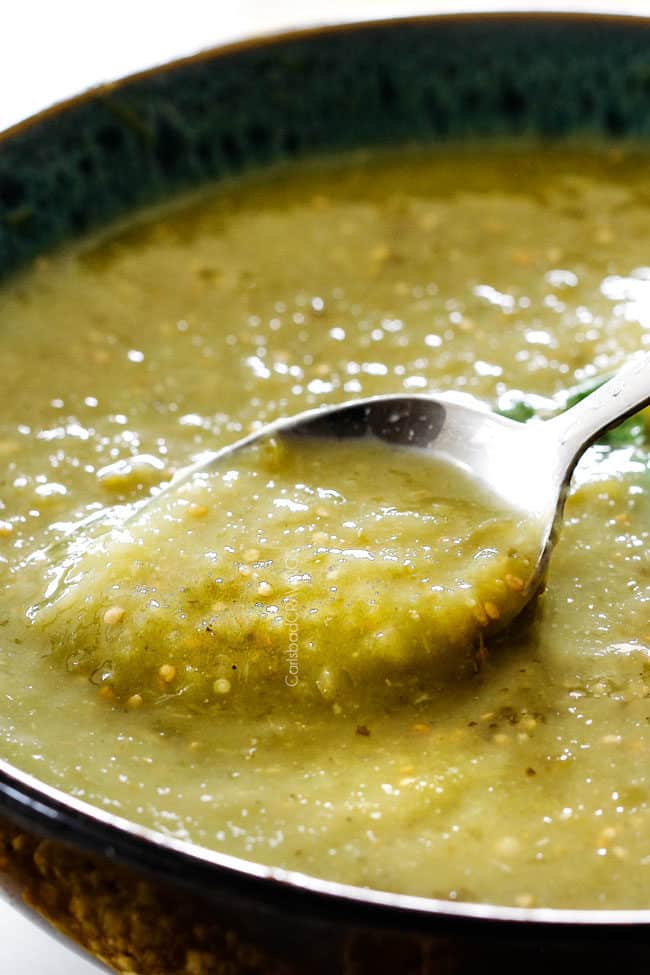 2) Corn Tortillas
Chilaquiles are made with homemade tortilla chips made out of corn tortillas – not store-bought chips – to produce the best texture. You can bake or fry the cut tortillas and both produce tasty results. The important thing about the corn tortillas is that they are stale. To create stale tortillas, I remove them from the package, lay them out on a baking sheet and let them sit at room temperature for 2 days.
If you don't have time to wait for stale tortillas, then dry them out by placing them on a baking sheet and bake at 350 for a few minutes until stale. Sorry, I can't tell you exactly how long as this will depend on the brand and moisture content of tortillas.
3) Toppings
There are TONS of topping options – so have fun! In this Chilaquiles recipe, I've built in eggs, black beans (combined with the sauce), Monterrey Jack cheese and queso fresco. Aside from the eggs, these ingredients actually bake right into the Chilaquiles. The beans add creamy, earthy textural contrast against the soft chips, the cheese adds buttery tanginess and the eggs add hearty, textural contrast with their crispy edges and rich, runny yolk. Of course, all of these toppings are optional because it's really all about the sauce.
In addition to these toppings, the rest is up to you! I've included tons of toppings ideas below from crisp, fresh radishes, to zippy cilantro, to creamy avocado, to any of your favorite Mexican proteins.
CAN I USE STORE-BOUGHT ENCHILADA SAUCE?
Chilaquiles are only as good as the sauce you use, so for the BEST Chilaquiles recipe, I highly encourage you to go homemade. Both my homemade enchilada sauce and my roasted salsa verde elevate these Chilaquiles into restaurant delicious AND they only take 15 minutes to make and can be made two weeks ahead of time!
If you decide to go store-bought, then I suggest Herdez mild salsa verde. Quality enchilada sauce is harder to come by but Frontera enchilada sauce is decent but you still may want to doctor it up a bit or for those who like a little deeper, spicier sauce, I prefer Frontera's Adobo Sauce.
Can I use Store-Bought Tortilla Chips?
I am all about shortcuts, but I don't advocate using store-bought tortilla chips in this Chilaquiles recipe unless you really don't mind super soft Chilaquiles. Store bought tortilla chips become soft super quickly which means they can easily become soggy and mushy. Even thick tortilla chips don't provide the same taste and texture as authentic Chilaquiles. Furthermore, store-bought tortilla chips can be either overly salty or overly oily which negatively impacts the flavor of the Chilaquiles recipe.
CAN I USE FLOUR TORTILLAS?
NO! You cannot make Chilaquiles with flour tortillas or they will become a soggy, unappetizing heap. Corn tortillas, however, retain some of their structure and soften to the ideal texture while boasting robust corn flavor.
Can I make them gluten free?
Select certified gluten-free corn tortillas. If making Chilaquiles Rojos, use gluten-free all-purpose flour in the sauce; the salsa verde in Chilaquiles Verdes is already gluten free.
Can I make THEM DAIRY FREE?
Yes! Simply omit the cheeses.
Can I make THEM VEGAN?
Yes! If making the enchilada sauce, use vegetarian broth instead of chicken broth; the salsa verde is already vegan. For toppings, omit the eggs and cheeses.
How to Make Chilaquiles
Chilaquiles are very easy to make, but it does require a few steps. The key to success is to have all of your toppings prepared ahead of time so you can serve the Chilaquiles fresh out of the oven. Here's how to make Chilaquiles Rojos and Chilaquiles Verdes:
1) Bake CRISPY TORTILLA Chips:
Adjust oven racks to upper-middle and lower-middle positions; preheat to 425 degrees F. Line two rimmed baking sheets with foil, parchment paper or nonslip mat.
Spread tortillas evenly over the two baking sheets. Drizzle each sheet with 2 tablespoons oil and ¼ teaspoon salt; toss until evenly coated.
Bake until tortillas are golden brown and crisp, 15-20 minutes, switching sheet positions after 7 minutes of baking. If one sheet is browned before the other, remove it from the oven.
2) Make Sauce
While the chips are baking, I like to multi-task and make the sauce.
For Chilaquiles ROJOS:
Cook flour and seasoning in butter/olive oil for a couple minutes then stir in tomato paste, followed by chicken broth.
Bring the sauce to a simmer and continue to simmer, whisking often, until it thickens to your desired consistency, about 5-7 minutes. Keep in mind the sauce will thicken some as it cools.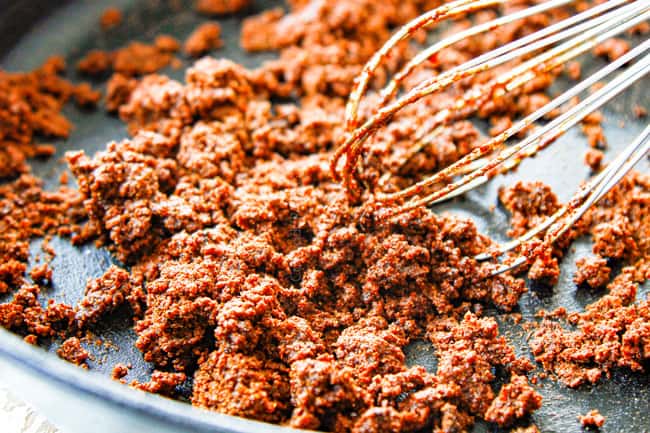 For CHILAQUILES VERDES:
Add halved tomatillos, onions, garlic and peppers to a baking sheet and drizzle with olive oil. Broil for 5-7 minutes or until the tomatillos are charred in some spots.
Seed peppers and to a blender along with tomatillos, onions, garlic, cilantro, lime juice, cumin, salt and coriander. Pulse or puree until salsa reaches desired consistency.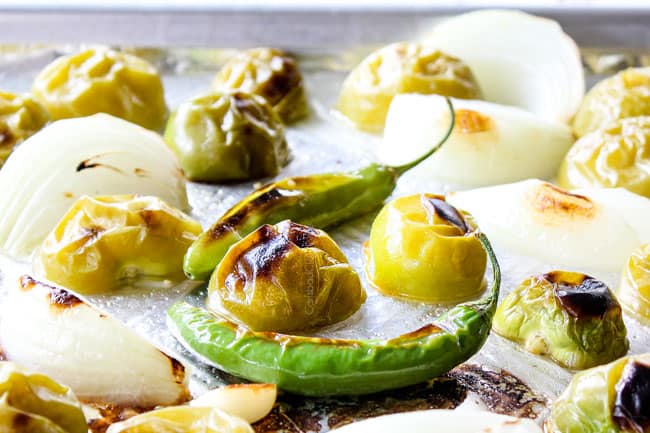 3) MAKE fried eggs
Crack 2 eggs into 2 separate small bowls or ramekins. Heat 2 small nonstick skillets over medium-heat. Add 1 tablespoon extra-virgin olive oil to each pan and heat until its hot and shimmering.
Reduce heat to medium then carefully pour one egg into each skillet. Let the eggs cook, gently tilting the pan occasionally to redistribute the oil.
Cook until the edges are crisp, the whites are solid and yolks still soft, about 2-3 minutes. Remove to a plate and repeat with remaining 2 eggs. Do NOT cover with foil or the eggs will steam and cook the yolk.
4) ASSEMBLE
While eggs finish cooking, transfer sauce and beans (if using) to a large oven proof skillet (large enough to toss all the chips). Heat over medium-high heat until the sauce is simmering.
Once the sauce is very hot, stir in toasted tortillas until evenly coated. Spread tortillas into a somewhat even layer and top with cheeses.
5) Bake or Stir
Bake at 425 degrees F for 5 minutes or until Monterrey cheese is melted (queso fresco will not melt).
If not adding Monterrey, then you don't need to add to the oven-simply stir tortillas in the skillet until they have softened to your likening, 2-5 minutes.
6) Add toppings and serve
Remove Chilaquiles from oven and top with eggs and desired toppings OR scoop servings onto plates and allow individuals to top their own.
Serve Chilaquiles immediately as the chips will continue to soften the longer they sit.
Can I fry the tortillas?
Absolutely! Instead of baking the tortillas, feel fry to fry them if you like but I really don't find this necessary as the homemade chips are supposed to soften so you really can't tell if they are baked or fried. To fry:
Heat about ½ cup vegetable oil in a deep pan over medium-high heat.
Working in 2 to 3 batches, add the tortillas once the oil is hot.
Fry until tortillas are lightly golden.
Drain the tortillas on paper towels.
What Toppings Can I add to Chilaquiles Recipe?
I LOVE adding toppings to everything Mexican – they really make the dish come alive and are a super fun way to let everyone customize their own Chilaquiles. You can even set up a toppings bar and let everyone pile on toppings to their own servings. In addition to protein and eggs, I always add queso fresco, radishes, sour cream and avocados in some form – the tangy, creamy, crunchy together are magic! So, make your own magic with any of the below topping ideas:
Sour cream or Mexican Crema: their refreshing, bright, silky creaminess compliments and cuts through the rich stack of flavorful Chilaquiles.
Greek yogurt: is a great creamy alternative to sour cream if you are trying to save some calories.
Dressings: instead of sour cream, try either Cilantro Lime Dressing or Tomatillo Avocado Ranch– they are SO addicting and make everything 10X better.
Avocado Crema: is my addiction and my preference over chopped avocados or guacamole. Avocado crema is a marriage of avocados, sour cream and lime juice, is wonderfully silky, tangy and just takes minutes in your blender.
Guacamole: use my homemade guacamole recipe (amazing!), your favorite recipe or even use store bought.
Avocados: chopped or sliced avocados are the easiest avocado option and add a wonderful creaminess.
Tomatoes: seeded, chopped Roma tomatoes or halved cherry tomatoes for a juicy, vibrant win or you can substitute with pico de gallo.
Pico de gallo: is fresh tomato salsa that adds a vibrant, punchy freshness. You can use my homemade pico de gallo recipe or store bought. You can make the pico de gallo ahead of time and store it in an airtight container in the fridge. Bring to room temperature before serving.
Cilantro: if you skip the pico de gallo, you can load on fresh cilantro and tomatoes instead for a fresh, zesty flair.
Pickle red onions: I can't believe I haven't shared a recipe for this yet (coming soon!), but I love pickled red onions! They are bright, tangy, and punchy. They are particularly fantastic if you make Chilaquiles Rojos which aren't already tangy.
Salsa: when I say salsa, I don't just mean my restaurant style salsa, but rather chunky salsas with varying textures and flavors like my black bean corn salsa, avocado corn salsa, charred corn salsa, pineapple salsa, or mango salsa– all SO good!
Corn: if you skip the salsa recipes with corn, I recommend fresh charred sweet corn. You can also use canned sweet corn plain or char it in a skillet for an added smoky depth of flavor.
Add Fajita Peppers: stir fried bell peppers are always tasty. You can follow the instructions for the peppers in my Pork Fajitas recipe.
Other vegetables. sautéed or roasted zucchini, sweet potatoes, butternut squash, broccoli, cauliflower, spinach, etc. – pick your favs!
Jalapenos: amp up the heat with fresh jalapenos or I love pickled jalapenos. They are especially great if you're making a toppings bar so individuals can customize their spice level.
Hot Sauce: pass around the hot sauce for an easy, delicious way to customize heat.
What Protein Can I Add to Chilaquiles recipe?
Whenever I order Chilaquiles at restaurants, they always included a protein because it just makes them that much more flavorful, textural interesting and a meal- in one – so if you have leftovers, use them up! Leftover shredded crockpot meats are exceptionally delicious because they remain super juicy and tender. If you don't have leftovers, consider making some of my quicker proteins such as my 10-minute Mexican Chicken.
The following proteins can be made specifically for Chilaquiles Rojos or Chilaquiles Verdes or get double use out of them in tacos, enchiladas, etc. then use the leftovers in your Chilaquiles recipe:
Shredded Mexican Chicken (Crockpot): simmered with Mexican spices, salsa and green chilies for amazingly flavorful chicken that's dripping with flavor and SO tender.
Beef Barbacoa (Crockpot): crazy juicy beef slow cooked until melt-in-your-mouth tender infused with a tangy, chipotle sauce. Barbacoa Beef is known for its intense flavor and perfect balance of chipotle peppers, cumin, oregano and lime juice – one of my favorites of all time!
Carnitas (Crockpot): juicy pork smothered in a dynamic fiesta spice rub then slow cooked with orange juice and lime juice all finished in the oven to create glorious caramelized crispy burnt ends.
Honey Lime Salsa Verde Chicken (Crockpot): tangy, flavorful with just the right amount of kick all balanced by a hint of honey. The chicken cruises in the slow cooker all day to tender perfection.
Salsa Verde Pork (Crockpot): inspired by the aforementioned chicken but in juicier pork version. It is tangy, flavorful with just the right amount of kick all balanced by a hint of honey.
Quick Mexican Chicken: exploding with robust fiesta seasonings in a light sauce. This chicken only requires 10 minutes start to finish by utilizing Rotisserie chicken for a juicy, easy shortcut.
Quick Mexican Ground Beef (from my tacos): tender, juicy ground beef sautéed with onions, garlic and homemade taco seasoning, creamified with refried beans and salsa – you will want to eat it with a spoon – but butter yet, Chilaquiles!
Quick Ground Turkey (from my tacos): quick, easy, healthy and packed with flavor – you won't even miss the beef with my secret ingredient!
Chicken Tinga: is another super quick and easy recipe made with shredded rotisserie chicken tossed in a saucy, smoky, spicy tomato chipotle sauce.
Carne Asada: is the quintessential Mexican steak marinated in orange juice, lime juice, soy sauce and a splash of liquid smoke then spice rubbed with cumin, chili powder, smoked paprika, garlic and onion. It's juicy, flavorful and crazy good.
Chipotle Chicken: smoky, robust and spicy. It is made with a wet rub which concentrates the flavor so the chicken only requires 30 minutes of marinating. You may also marinate for up to 8 hours – whatever is more convenient for you!
Cilantro Lime Chicken: zesty, tangy and citrusy. It requires 2-10 hours of marinating so you'll want to save this dreamy chicken if you are short on time BUT so worth the wait.
TIPS FOR Best CHILAQUILES Recipe
Use stale tortillas. It is crucial to begin with stale corn tortillas which translates into stale homemade chips. Fresh tortillas/chips will absorb the sauce to quickly and quickly become mushy. Spread the tortillas out on a baking sheet/clean surface for 1-2 days and leave them uncovered to dry out.
Don't use tortilla chips. As previously discussed, most tortilla chips will not work in this Chilaquiles recipe as they will become too soggy. Even thick tortilla chips don't provide the same taste and texture as authentic Chilaquiles.
Swap cheese. Use more or less cheese or swap the type of cheese but be aware this will change the flavor profile. If you love spicy, consider using Pepper Jack cheese or you can also add sharp cheddar, Colby, etc.
Homemade sauce. For the very best Chilaquiles recipe, take the extra few minutes to make homemade salsa verde or homemade enchilada sauce. You can taste the difference! Homemade enchilada sauce or salsa is good for up to two weeks in the refrigerator or three months in the fridge.
You don't need to chill salsa verde. The salsa verde instructions state to chill for at least 2 hours, while this is optimal for the flavors to blend and build, you can skip this step and proceed to simmering if you are short on time.
Freeze extra salsa verde. The salsa verde recipe makes extra, so freeze leftovers for round 2 of Chilaquiles or enchilada casserole, enchiladas, macaroni and cheese or Mexican Lasagna.
Prep toppings first. Prep all of your toppings before you combine the Chilaquiles with the sauce or else the chips will cool off and become soggy by the time you're ready to dress them. Also note that the Avocado crema, if making, is very best after being refrigerated for at least one hour so plan accordingly.
Don't pre-assemble. To that end, only assemble the Chilaquiles when you're ready to serve or they can become soggy.
Prep ahead. But don't worry about not being able to pre-assemble, you can still prep ahead by making the sauce, chips and toppings days in advance. Your Chilaquiles recipe will literally take minutes to come together with this prep work.
Simmer sauce. Make sure the sauce is simmering hot before you add the tortilla chips otherwise the chips won't soften.
Customize consistency. For firmer chips, serve Chilaquiles immediately after removing from the oven. For softer chips, cover the Chilaquiles with foil after the come out of the oven for a couple minutes or until they soften to your liking.
Serve Chipotle style: You can create a Chilaquiles Toppings Bar like they do at Chipotle and let everyone build their own servings after you have served up the plates.
How do you eat Chilaquiles?
In case we have any newbies to Chilaquiles – let me spare you any possible embarrassment – Chilaquiles are eaten like enchiladas and not like nachos – with a fork 😉.
Can I reheat Chilaquiles?
Chilaquiles are best served fresh for the best texture when the chips are teetering between crunchy and soft. You can reheat Chilaquiles, but expect them to be on the soft, even mushy side.
WHAT CAN I PREP AHEAD?
Chilaquiles are a time sensitive dish and should be served right away. Fortunately, you can prepare all of the ingredients ahead of time which makes cooking a breeze and allows you to serve them immediately without a glitch – at least on your end😉
Make homemade tortilla chips. The chips can be baked up to three days in advance, cooled, then stored in an airtight container at room temperature.
Make sauce. Both the enchilada sauce and the salsa verde can be made, cooled and stored in the refrigerator for up to one week or frozen for up to three months. Thaw the sauce in the refrigerator overnight when ready to use and make sure to bring to a vigorous simmer when reheating.
Toppings. The toppings can be chopped and stored in airtight containers in the refrigerator or small covered serving bowls if making a toppings line.
Want to try this Chilaquiles RECIPE?
Pin it to your Breakfast or Mexican Board to SAVE for later!
Find me on Pinterest for more great recipes! I am always pinning :)!
©Carlsbad Cravings by CarlsbadCravings.com
Chilaquiles (Verdes or Rojos)
Chilaquiles are corn tortilla chips simmered and softened in salsa verde (Chilaquiles Verdes) or
enchilada sauce
(Chilaquiles Rojos), topped with cheese then served with eggs, beans, cilantro, radishes and/or sour cream. They are intoxicatingly flavorful from the aromatic bath, use pantry friendly ingredients so they can be made at any time, are a scrumptious way to use leftover Mexican chicken, pork or beef, and SO versatile – you can top them with virtually anything. They are also fabulous for make ahead meals or entertaining because the chips, sauce and toppings can all be prepped in advance- just add chips to the simmering sauce, top with cheese and bake for 5 minutes – THAT'S IT!
Save This Recipe To Your Recipe Box
You can now create an account on our site and save your favorite recipes all in one place!
Ingredients
12

6-inch

corn tortillas, stale, or left out 24-48 hours

cut into 6 wedges each

4

tablespoons

extra virgin olive oil

divided

1/2

teaspoon

salt

divided

2

cups

Homemade Salsa Verde

(or store bought like Herdez)

OR 2

cup

red enchilada sauce

4

eggs

optional

1

15 oz. can

black beans

rinsed and drained

1/2

cup

shredded Monterrey Jack cheese

optional

1/2

cup

queso fresco
TOPPINGS – Pick your favs!
Mexican crema or sour cream

chopped cilantro

very thinly sliced radishes

chopped red or green onions

sliced avocados

pickled jalapenos

hot sauce
Instructions
Did You Make This Recipe?
Tag @CarlsbadCravings and Use #CarlsbadCravngs
Leave a Review, I Always Love Hearing From You!
Carlsbad Cravings© Original