THIS Southwest Orzo Salad is flavorful, healthy, refreshing, texture packed  and will actually have you craving salad!
This Orzo Salad is loaded with sweet mangoes, hearty black beans, fresh corn, crunchy peppers, creamy avocado, punchy red onions and cilantro all doused with the most incredible tangy sweet heat Chipotle Honey Lime Vinaigrette! This make-ahead Southwest Orzo Salad is an ideal side for any occasion (hello summer potlucks!) or add some chicken and make it dinner!
This Orzo Salad post is a sponsored conversation written by me on behalf of Bush's Beans. The opinions and text are all mine.
ORZO SALAD RECIPE VIDEO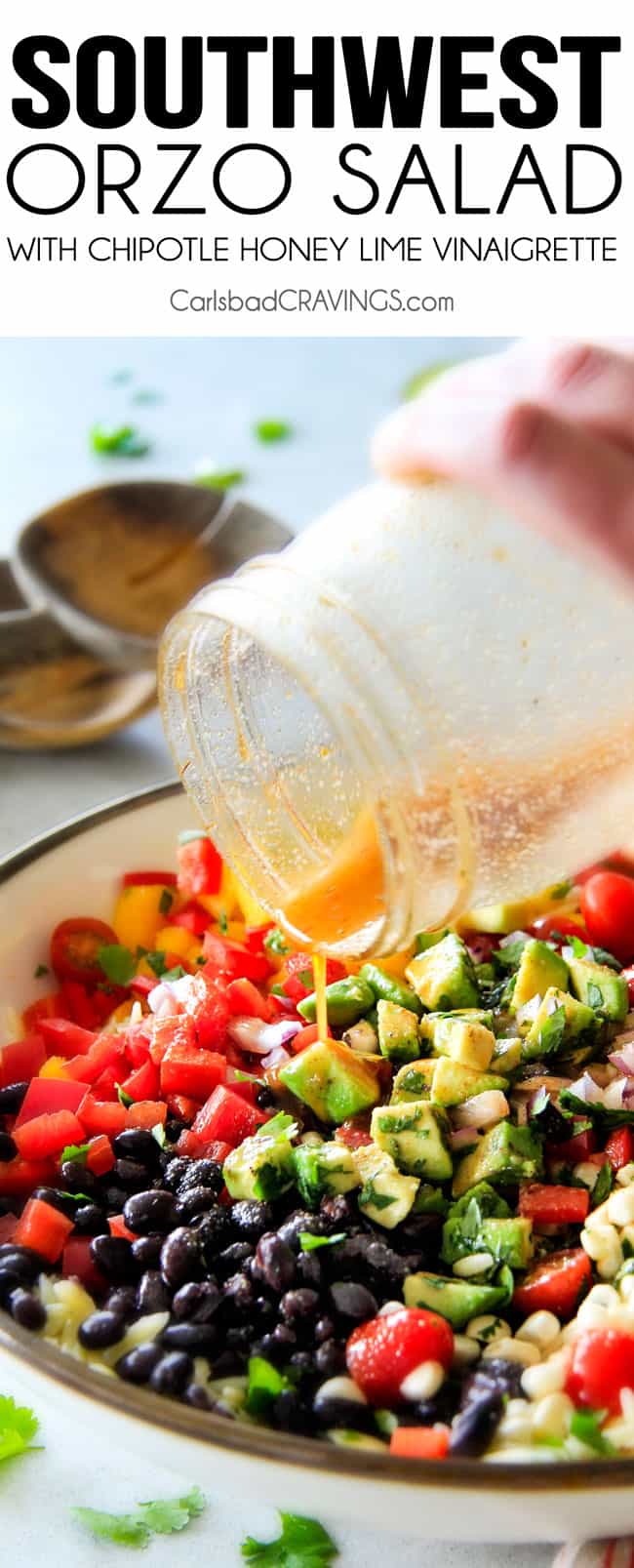 Every so often a salad comes along that has me actually craving salad. This Southwest Orzo Salad with Chipotle Honey Lime Vinaigrette is such a pasta salad. A love at first bite pasta salad. A take to every summer picnic, potluck, BBQ, pool party type of pasta salad. It joins the ranks of my Italian Pasta Salad with Tortelli, Creamy Bacon Pea Pasta Salad with Lemon Parmesan Dressing, Greek Pasta Salad with Sun-Dried Tomato Feta Pesto andBLT Pasta Salad with Lemon Chive Dressing as a summer MUST MAKE pasta salad recipe.
About This Orzo Salad Recipe
This orzo salad recipe is truly exceptional because:
1. This Southwest Orzo Salad is an appetizer, salad, and dinner all in one! You can top it with chopped lettuce, a dollop of sour cream and dig in with chips for an exquisite appetizer (SO GOOD)! Or it is hearty enough to stand alone as an entree because BUSH'S® Black Beans is a super food, well at least in my book. BUSH'S® Black Beans boast 7 g of protein, 6 g of fiber, are super low in fat, cholesterol-free, gluten-free and have only 105 calories in a serving!
I am such a fan of BUSH'S® Black Beans and how they allow me to prepare healthy and delicious meals in such a short amount of time. By tossing BUSH'S® Black Beans into dinner, you're instantly adding protein and fiber and a whole lot of YUM like in my Southwest Pepper Jack Salad, One Pot Chicken Fajita Soup, TexMex Creamy Roasted Red Pepper Pasta, Chipotle Mango Black Bean Chili, Chicken Fajita Wraps, Chipotle BBQ Chicken Salad, One Pot Cilantro Rice with Black Beans, 30 Minute Skinny Sante Fe Pasta and on and on and on…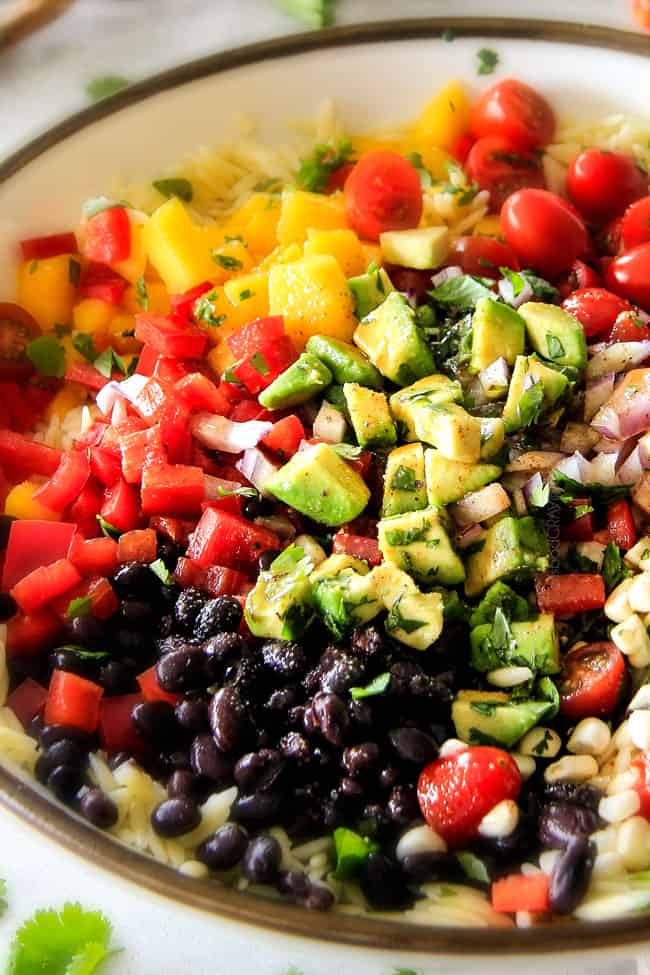 2. This Orzo Salad can be on the table in 30 minutes! Its so invitingly easy – just chop your mangoes/veggies, rinse and drain your BUSH'S® Black Beans and shake up your salad dressing and that's it! Another win for hassle free BUSH'S® Black Beans.
3. This Southwest Orzo Salad is healthy, loaded with a rainbow of fiestalicious flavors and textures from mangos, corn, BUSH'S® Black Beans, peppers, red onion, tomatoes, avocados and cilantro. All the components are delicious individually but add them together and you have an explosion of exponential deliciousness. And if you are intimidated by cutting mangos – don't be, just check out my How to Cut A Mango Post that teaches everything you could ever want to know about mangos!
4. This Orzo Salad recipe is great to make in advance. You can prep this Southwest Orzo Salad almost completely ahead of time as BUSH'S® Black Beans and other salad ingredients keep beautifully – just leave the avocados until the last minute. This make-ahead factor gives you a stress free side/potluck ace at a seconds notice or allows you to feast on its deliciousness throughout the week. If you do make ahead of time, I like to keep the pasta salad and dressing separate and then toss just before serving as it keeps the flavors fresh and bright.
5. The orzo pasta itself has a wonderfully satisfying texture. I chose orzo specifically for this pasta salad because to me, orzo is rice's pasta cousin. Orzo's texture is a mix between a pasta and a rice, so it lends itself fabulously to anything Mexican related, particularity black beans, and fabulously to this Southwest Orzo Salad.
And if you're just getting on the orzo bandwagon, you are definitely going to wan to check out my Parmesan Meatballs with Orzo and Italian Chicken Orzo Pasta – both dreamy!
6. This Southwest Orzo Salad boasts an extra punch of flavor by tossing the orzo pasta with a couple tablespoons of the Chipotle Honey Lime Vinaigrette right after its cooked and drained. I borrowed this technique from my traditional pasta cooking – whenever I cook a pasta, I toss the cooked pasta with a couple tablespoons of olive oil to keep it moist and from sticking together.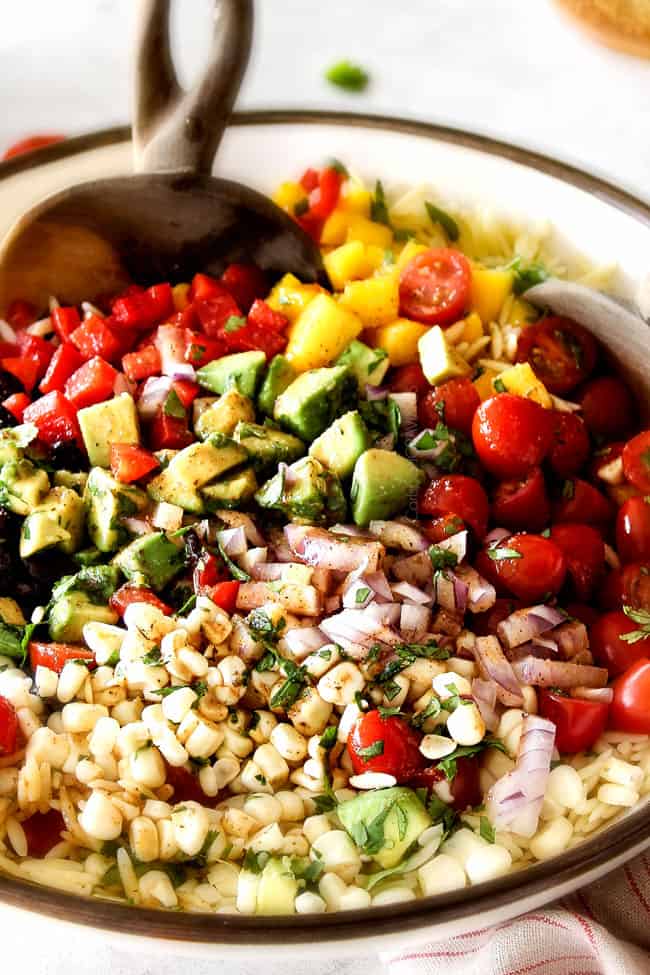 7. This Orzo Salad is doused in delectable Chipotle Honey Lime Vinaigrette that boasts a sweet heat that's light and refreshing – without any mayo! I am so in loooooovve with this dressing. Its packed with flavor from not only the honey and lime but chipotle powder, cumin powder, garlic powder, and pepper. Its the perfect enlivening accompaniment to the orzo/veggies that you will strongly be tempted to drink all by itself. But trust me, its even better with the salad. I use a similar dressing/not as sweet vinaigrette in my Corn Salad with Cilantro Lime Dressing which is also a MUST make!
Exceptionally delicious Southwest Orzo Salad. Bright, healthy, DE-licious and packed with veggies and protein thanks to BUSH'S® Black Beans! This versatile Orzo Salad is guaranteed to become a new favorite in your home and a new favorite at all your summer gatherings!
LOOKING FOR MORE SIDE SALAD RECIPES?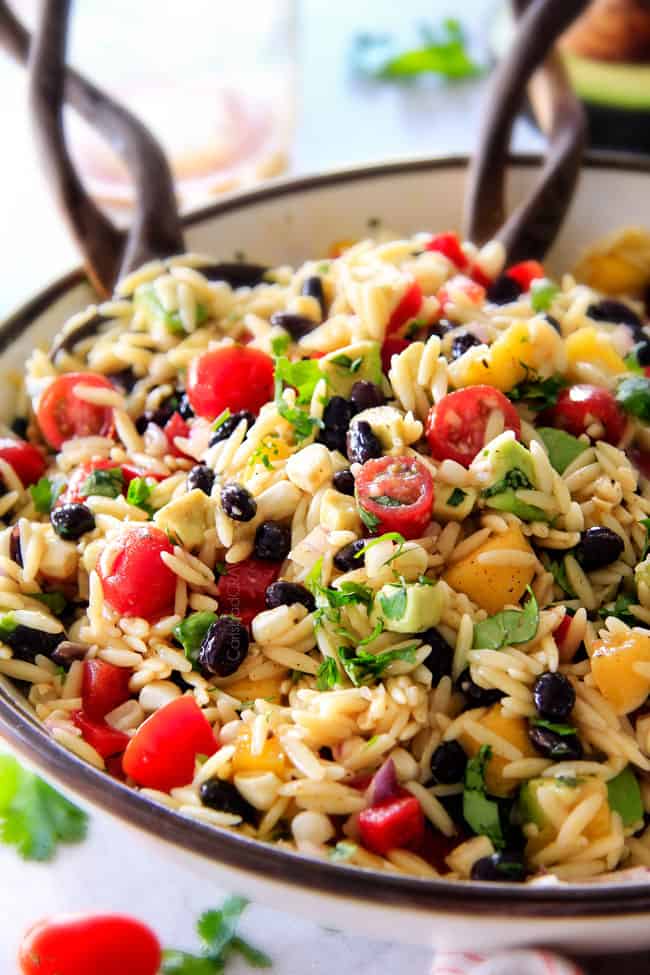 You might also like these salad recipes:
Want to try this Southwest Orzo Salad Recipe?
Pin it to your PASTA, SALAD, MEXICAN or SIDE Board to SAVE for later!
Find me on Pinterest for more great recipes! I am always pinning :)!
©Carlsbad Cravings by CarlsbadCravings.com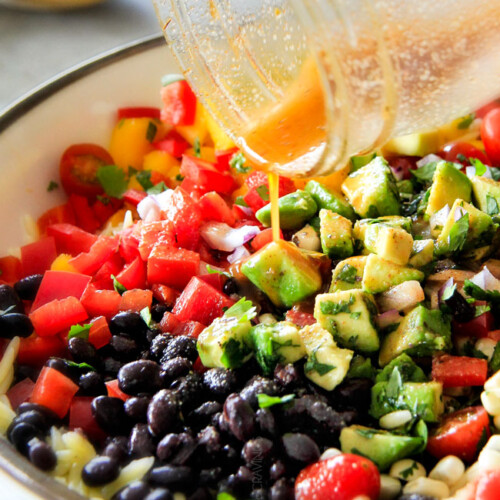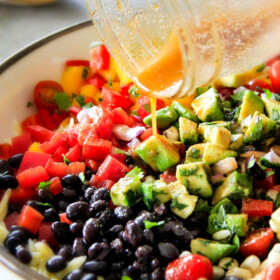 Southwest Orzo Salad with Chipotle Honey Lime Vinaigrette
Servings:
10
-12 servings
Save This Recipe To Your Recipe Box
You can now create an account on our site and save your favorite recipes all in one place!
Ingredients
Salad
1 1/2

cups

uncooked orzo

1

15 oz. can

BUSH'S® Black Beans

rinsed and drained

2

large mangoes, chopped

1 1/2

cups

fresh corn from 2 ears sweet corn

(don't cook)

1

red bell pepper, chopped

1

pint

cherry tomatoes, halved

1/4

large red onion, chopped

1

large Avocado, chopped

1/2

cup

packed cilantro, roughly chopped
Dressing
1/3

cup

olive oil

3

tablespoons

lime juice

plus more to taste

2

tablespoons

honey

1

tablespoon

red wine vinegar

1/2-3/4

teaspoon

chipotle powder

3/4

tsp EACH

ground cumin, salt

1/2

teaspoon

garlic powder

1/4

tsp EACH

dried oregano, pepper
Instructions
Add all of the Dressing ingredients to a jar, cover, and shake.

Meanwhile, cook orzo according to package directions. Drain orzo and toss with 2 tablespoons Dressing. Let cool completely.

Add orzo to a large bowl and toss with all of the salad ingredients EXCEPT the avocado. If serving right away, then toss in avocado, if chilling first, then add avocado right before serving.

Store dressing and salad separately. When ready to serve, add dressing to salad and toss to combine. Season with freshly cracked salt and pepper to taste and additional lime juice if desired.
Notes
Don't miss the "how to make" recipe video at the top of the post!
Did You Make This Recipe?
Tag @CarlsbadCravings and Use #CarlsbadCravngs
Leave a Review, I Always Love Hearing From You!
©Carlsbad Cravings Original
This is a sponsored conversation written by me on behalf of Bush's Beans. The opinions and text are all mine.