This How to Cut a Mango post is sponsored by the National Mango Board.  All opinions are my own. 
---
Everything you ever wanted to know about How To cut A Mango, How to Tell if a Mango is Ripe, How to Ripen Mangos, How to Store Mangos and Mango Nutrition
---
Mangos are a juicy, natural superfruit that can be enjoyed year round but often people shy away because they don't know How to Cut a Mango.  This post will help you conquer your fears and get you giddy about Mangos!

I am SO excited to be partnering with the National Mango Board to share my love of mangos with you! As I state on my
About Page,
"Some people escape in dreams of sandy beaches and sunny skies, I escape in dreams of mangos, chipotle peppers and bacon," AKA mangos are my happy place and I hope they will be yours too if they aren't already! Mangos are naturally sweet, juicy and just plain delicious!  I have used mangos in many of my recipes (see Recipes List below), but not as many as I would like because I know many people are intimidated by choosing and cutting mangos.  In fact, while mangos are considered the world's most popular fruit, a recent survey by the
National Mango Board
, finds that nearly half of Americans not only don't know how to cut a fresh, whole mango but they actually consider mangos the toughest fruit to cut.  The same survey showed Americans are more confident in hosting a dinner party than they are cutting a fresh, whole mango
and
less than half of women surveyed felt like pros when it came to cutting mangos. I'd like to change all of that!  I want you to feel confident and excited about mangos because they not only taste divine, but they are also a Super fun, Superfruit.  I am going to walk you through everything you need to know about mangos from Mango Nutrition, to How to Tell if a Mango is Ripe, How to Ripen Mangos, How to Store Mangos and How to Cut a Mango.  The information I'm going to share comes from the
National Mango Board
.  So, let's talk mangos!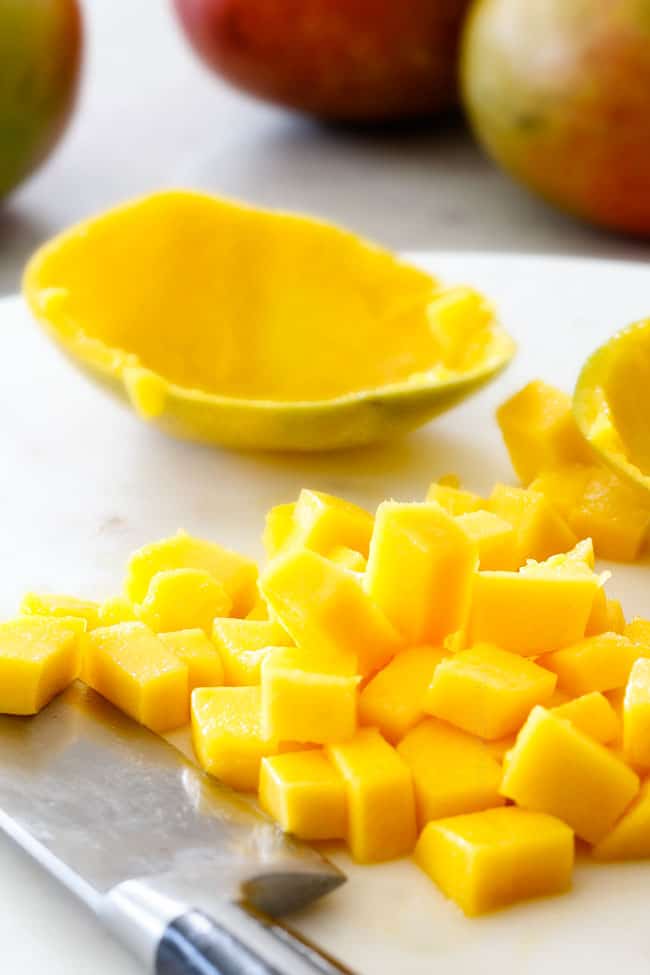 Mango Nutrition
Mangos are the versatile, juicy superfruit you are going to love.  They are guilt free good for you!
One cup of mangos is just 100 calories, so it's a satisfyingly sweet treat.
One cup of mango provides 100% of the daily value for Vitamin C, which plays an important role in immune function.
One cup of mango is a good source of Vitamin A, which is important for immune function and helps maintain healthy skin.
Mangos contain over 20 different vitamins and minerals, helping to make them a superfood.
One cup of mango is rich in folate, which helps maintain cardiovascular function.
One cup of mango is a good source of fiber, which helps you feel full faster.
Each serving of mango is fat free, sodium free and cholesterol free.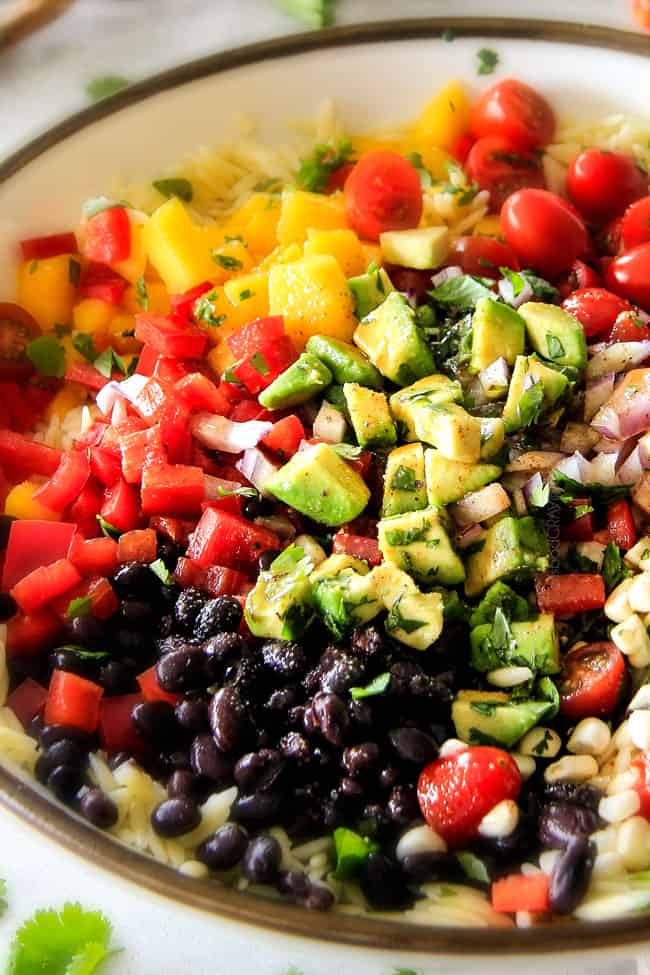 How to tell if a Mango is Ripe
Mangos are available year-round thanks to the six varieties that have staggered growing seasons in Mexico, Peru, Ecuador, Brazil, Guatemala and Haiti so don't shy away from eating them in the winter too! Right now, you'll likely find the delicious Honey, Kent and Tommy Atkins mangos available in your supermarket, offering different mango options for any dish, here's more information about
mango varieties
.
To check for ripeness, focus on FEEL not color because every variety is a different color when ripe. For example, red doesn't necessarily mean ripe.
Squeeze gently to judge ripeness. A ripe mango will give slightly, indicating soft flesh inside.
Use your experience with produce such as peaches or avocados, which also become softer as they ripen.
Ripe mangos will sometimes have a fruity aroma at their stem ends.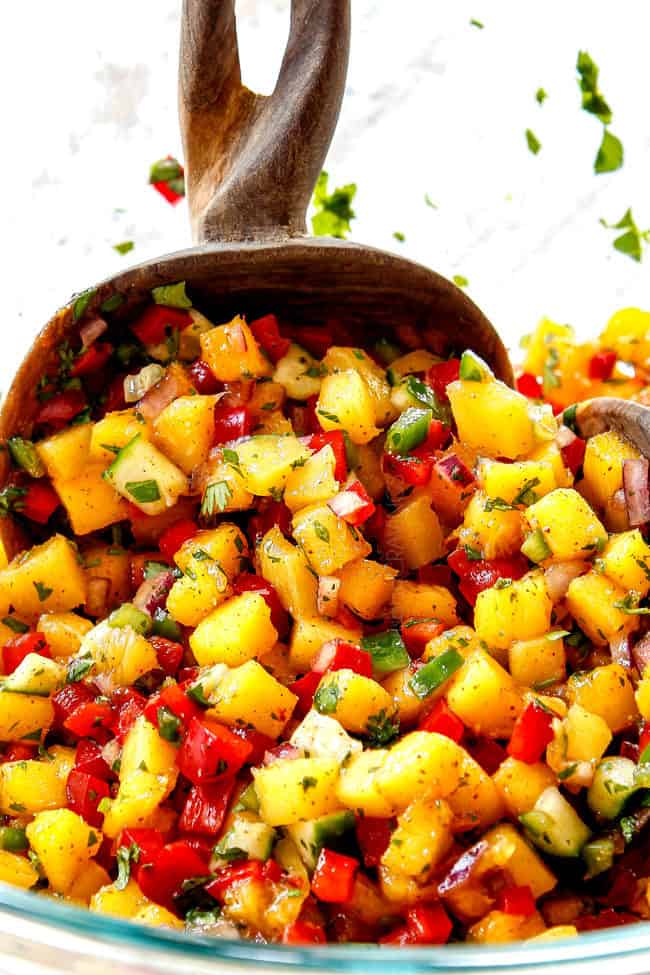 How to Ripen Mangos
Keep unripe mangos at room temperature. Mangos shouldn't be refrigerated before they are ripe.
Mangos will continue to ripen at room temperature, becoming sweeter and softer over several days.
To speed up ripening, place mangos in a paper bag at room temperature, and store for approximately 2 days or until the mangos are ripe.
Once ripe, mangos can be moved to the refrigerator to slow down ripening for several days.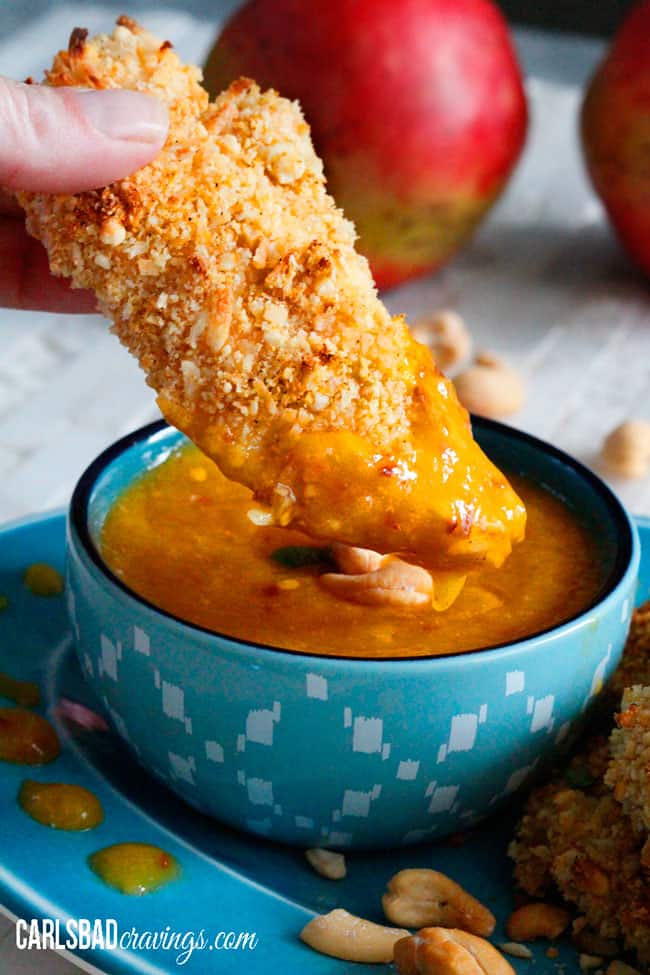 How to Store Mangos
Once ripe, mangos should be moved to the refrigerator, which will slow down the ripening process.
Whole, ripe mangos may be stored for up to five days in the refrigerator.
Mangos can be peeled, cubed and placed in an airtight container in the refrigerator for several days or in the freezer for up to six months.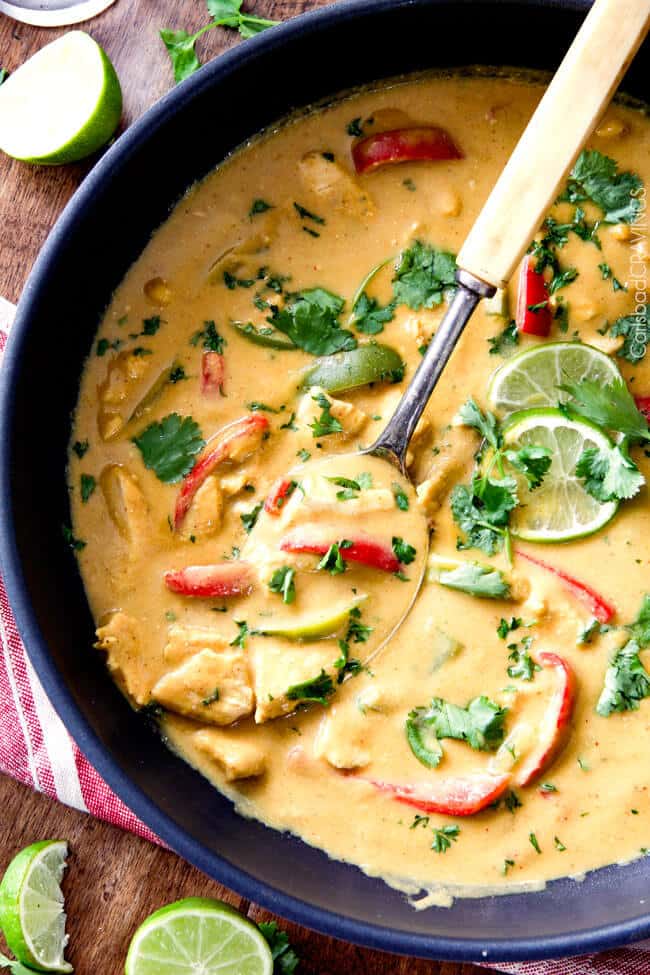 How to Cut a Mango
Learning How to Cut a Mango is easy!  There are no real mistakes.  The worst thing that can happen is you accidentally hit the pit, no biggie.  If you hit the pit, then just move your knife further from the center of the mango and cut again.  You got this!
First, the basics. Wash your hands and wash the mango.  Always use a clean knife and cutting board to cut a mango.
Start by locating the stem. Make sure the step is on top. The long, flat seed runs from stem to nose.  We want to cut around this pit.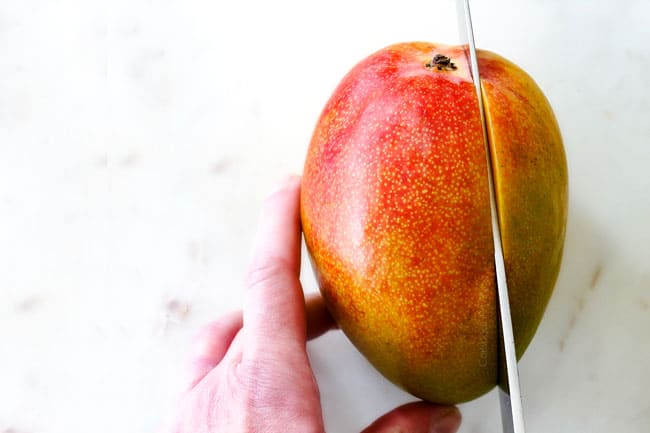 3. Once you locate the stem, make a vertical cut 1/4″ away from this midline then make the same cut on the other side.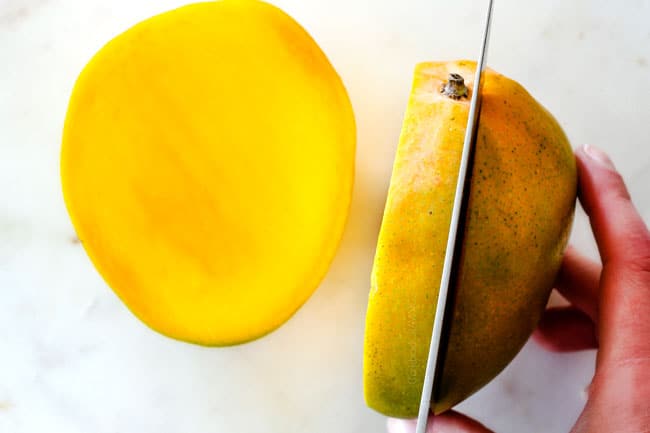 4. With the mango stabilized on a flat surface, make vertical slices without cutting through the skin. At this point you can use a large spoon to detach the flesh from the skin and scoop out OR…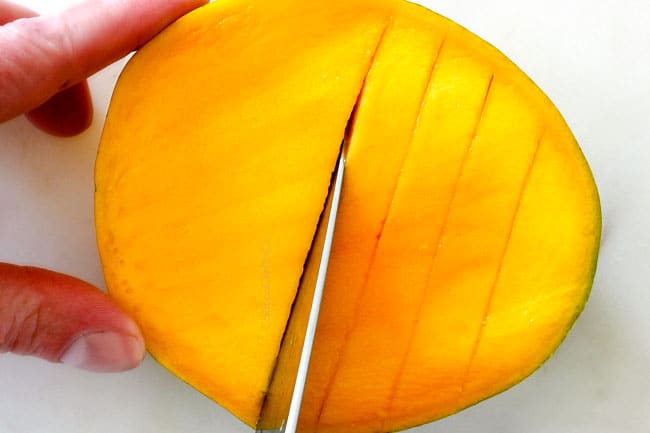 5. Slice the flesh the other direction without cutting through the skin to create a grid pattern.
6. Use a large spoon to detach the flesh from the skin and scoop out the cubes.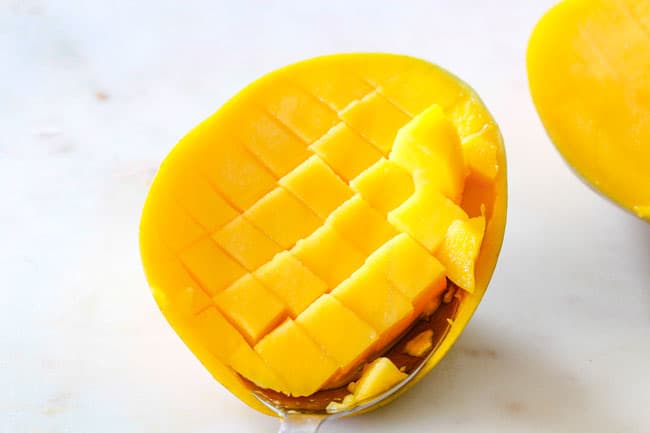 Enjoy!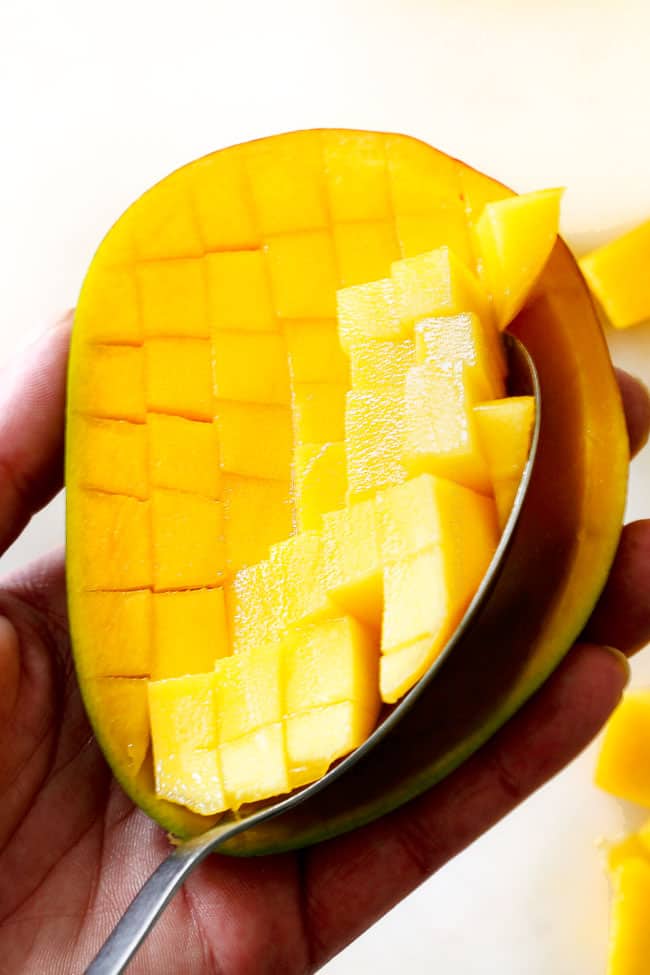 MY MANGO RECIPES
I love mangos so much I have used them in sauces, stir fries, salad dressings, dips, chimichurri, smoothies, salads and even desserts.  I hope you enjoy these recipes thanks to the versatile, ever delicious mango!
Want to remember how to cut a mango?
PIN it TO YOUR HOW TO BOARD TO SAVE FOR LATER!
FIND ME ON PINTEREST FOR MORE GREAT RECIPES!  I AM ALWAYS PINNING :)!
©Carlsbad Cravings by CarlsbadCravings.com