Pineapple Salsa made even more delicious by grilling the pineapple, red bell peppers, red onions AND jalapeno! Possibly the best sweet and smokey salsa E-V-E-R! 
This easy Pineapple Salsa recipe makes everything better! It's made with fresh pineapple, red bell peppers, red onions, jalapeños, cilantro and lime juice. You can serve it as an appetizer or snack with chips, on top of your favorite grilled chicken, fish, or steak or on top of your favorite tacos!
pineapple salsa video
Pineapple Salsa Recipe
While we all love our Homemade Restaurant-Style Salsa and Salsa Verde, there is something magical about Pineapple Salsa — Grilled Pineapple Salsa! I have to admit, it wasn't until last year that I started grilling. I somehow thought it would take some time to master and I was already very comfortable in my kitchen, but once I started grilling, I couldn't stop!
If you have never grilled before, it is SO easy and there is no clean up. That might be my favorite part if it wasn't for the fact that practically everything tastes better grilled, including this grilled pineapple salsa.
I have made pineapple salsa before (like in my first recipe every posted — my Hawaiian BBQ Taquitos — still one of my favs!) and even seen grilled pineapple salsa recipes before, but never have I seen a pineapple salsa that not only grills the pineapple, but the red bell peppers, red onions and jalapeno as well. Until now…
The pineapple caramelizes as it grills, softening, sweetening and transforming into the most healthy addictive fruit known to wo-man. The heat of the jalapeños is complemented by the grilled smokiness and the natural enhanced sweetness of the red bell peppers and onions that can only occur by grilling. Dice the pineapple, red bell peppers, onion and jalapeño and toss with freshly chopped cilantro, lime juice and a dash of ginger and cumin — add in some jalapeño seeds for more heat if desired…
And sweet and smoky Grilled Pineapple Salsa is begging for you to eat with your fingers, with chips and guacamole, to top your favorite chicken/fish or adorn your Grilled Chili Lime Chicken Tacos that everyone won't stop talking about (that recipe coming this week) along with Mexican Rice and/or Cilantro Lime Rice.
Grilled Pineapple Salsa. The one condiment that outshines the entree – every time. Perfect for grilling season. Perfect for summer. Perfect for a refreshingly delicious life.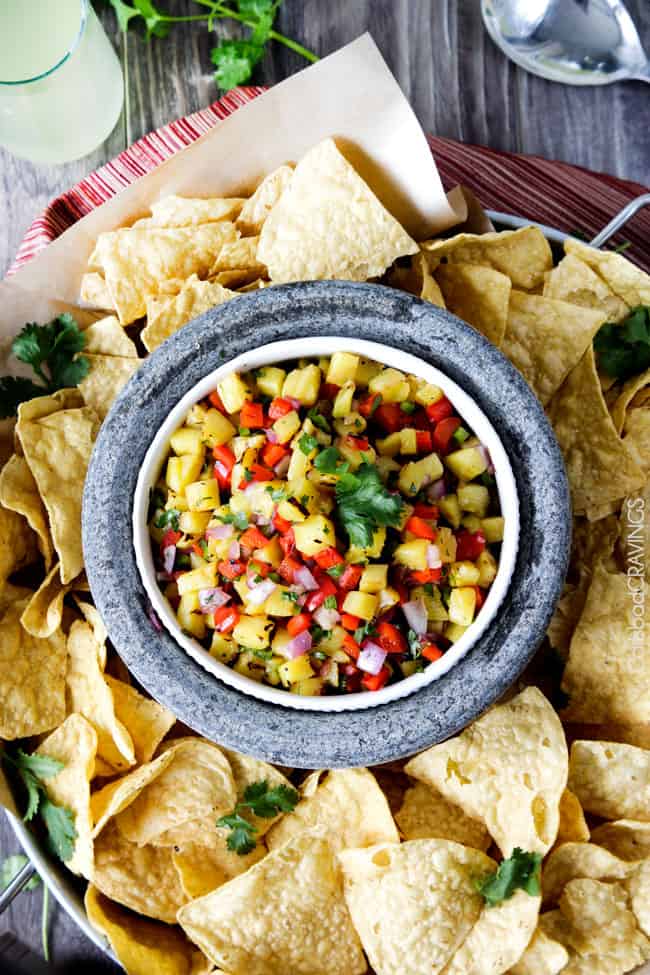 Pineapple Salsa Ingredients
This pineapple jalapeño salsa couldn't be simpler to make! Here's what you'll need to make this recipe:
Pineapple: Make sure you use a ripe pineapple for juicy, sweet freshness.
Red bell pepper: I use red bell pepper because it is sweeter than other colors, but feel free to substitute for whatever color bell pepper you have on hand.
Red onion: I like the fresh pop of red onion but you may also use green onions.
Jalapeño: Remove the seeds and the white veins of your jalapeño to scale back the spice levels.
Fresh cilantro: Adds a bright, fresh, citrusy pop of flavor. You can use more or less to taste.
Lime juice: You can use fresh or bottled lime juice and use more or less to taste
Spices: Ground cumin and ground ginger really liven up this pineapple salsa.
Olive oil: You just need a drizzle of oil for grilling the fruit and veggies.
Ingredient Variations
Green onions or another variety of onion can be used in place of the red onion.
Fresh pineapple is a must for this recipe. Canned pineapple is often packed in syrup (making it far too sweet for salsa) and doesn't grill well.
Any color bell pepper will work in this recipe. Red is the sweetest, with yellow and orange being the next sweetest. Green bell peppers are the strongest in flavor.
HELPFUL PINEAPPLE TIPS
You will also need one sweet, juicy pineapple for the best pineapple salsa. Here is what to look for:
HOW TO SELECT A PINEAPPLE:
Select a pineapple without any blemishes such as indentations, squishy spots, wrinkles or cracks.
Choose a pineapple with bright green leaves as opposed to brown and stiff.
The diamonds on the surface of the pineapple are called "eyes." Look for a pineapple with flat eyes, this indicates the pineapple is sweet.
The pineapple should feel heavy for its size. This means it's juicy.
Choose the pineapple with the largest eyes, this means the pineapple was allowed to ripen the longest on the branch.
Look for a pineapple with flat eyes – meaning the spiky points are pressed against the pineapple instead of sticking out. Flat eyes mean the pineapple is sweeter.
If choosing a ripe pineapple to use immediately, select one in which the yellow reaches high up the pineapple. The higher the yellow, the more evenly flavored the pineapple. More tips on how to know when a pineapple is ripe below.
HOW TO KNOW WHEN A PINEAPPLE IS RIPE:
You can purchase a ripe pineapple if making pineapple salsa immediately, but more often than not, you will have to first select a pineapple and wait for it to ripen. Here is how you know your pineapple is ripe and ready to use:
Touch: Squeeze the pineapple gently. The skin should give a little, but it should still be firm.
Smell: Put your nose close to the bottom of the fruit. It should smell sweet; that indicates it is ripe.
Sound: Tap the pineapple. Unripe fruits will sound hollow whereas ripe pineapple will sound dull and solid.
Color: It is possible for a green pineapple to be ripe, but more often than not, look for yellow coloring around the eyes and base.
Shape: When a pineapple is ripe, the eyes will be uniform in size as opposed to small on the bottom and large in the middle.
HOW TO RIPEN A PINEAPPLE QUICKLY:
If you are eager to make pineapple salsa and your pineapple isn't ripe yet, you can help speed the process along. Place the whole pineapple into a paper bag along with a whole apple, and fold over the top of the bag. Leave at room temperature for 1-2 days or until the pineapple is ripe.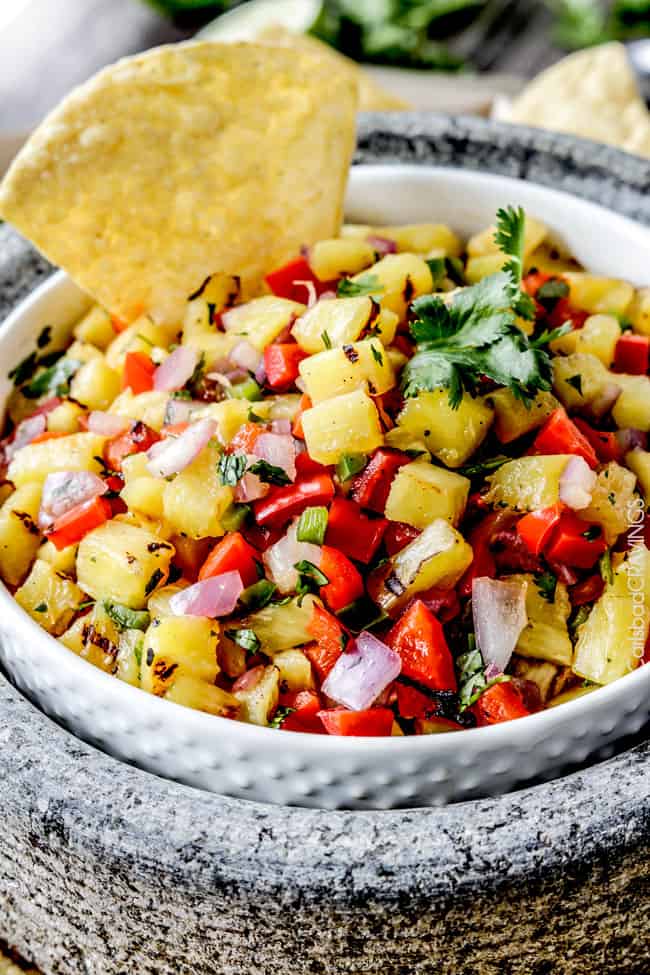 How to Make Pineapple Salsa
The extra time spent grilling the pineapple and veggies for this salsa is so worth it!
Drizzle the onion, bell pepper, and jalapeño with olive oil.
Grill pineapple and vegetables at medium high heat until tender and lightly charred all over (I prefer grilling the red onion on a skewer).
Dab off any excess oil with paper towels from the grilled vegetables and chop the pineapple, red bell peppers, and onions. Devein and deseed the jalapeño and dice.
Toss all the pineapple jalapeño salsa ingredients together and serve immediately or chill for later.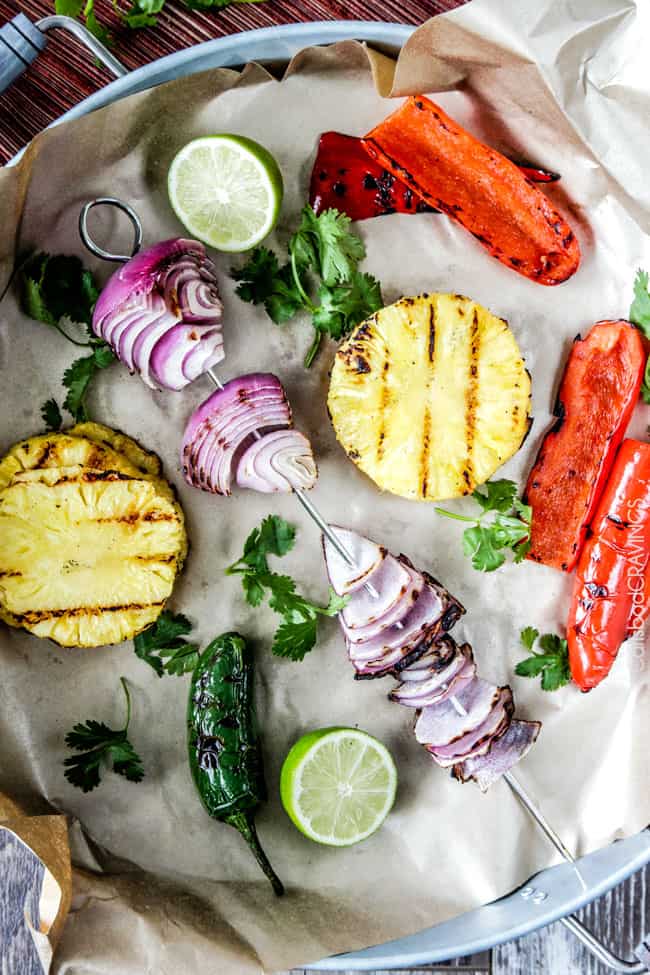 Tips for Making Pineapple Salsa
Make sure your pineapple is ripe so it is sweet, flavorful and juicy; pineapple that's underripe can be sour.
If you have the misfortune of a bland pineapple that's not very sweet, then try adding a teaspoon or so of honey. You may need to microwave the honey a little so it combines easily, especially if adding honey after the salsa is tossed.
I recommend slicing the pineapple into rings and grilling with the core intact (rather than slicing, removing the core, and then grilling). This way, the pineapple rings are super sturdy and can be flipped easily on the grill.
Thread the red onion chunks onto skewers for easier grilling.
I recommend 1 large jalapeno or 2 smaller jalapenos to balance the sweet fruit otherwise it might taste like your pineapple salsa is missing something. You can start with less jalapenos but add more to taste if your salsa doesn't have enough kick or I like to reserve the jalapeno seeds and stir them in to taste for a spicier salsa.
Be careful not to touch your face after handling the grilled jalapeño. You don't want any of the pepper juice to get on your skin or in your eyes!
he ingredient quantities are just a guideline, feel free to add more/less of anything to make it YOUR perfect pineapple salsa recipe.
Pineapple Salsa Variations
Add berries: strawberries, blueberries, etc. add extra juicy sweetness.
Add stone fruit: add chopped peaches, nectarines, plums, or apricots.
English cucumber: add a delightful crunch. I like English cucumbers so you don't have to peel them, but you can certainly substitute with a peeled cucumber.
Add tomatoes: I like to use cherry tomatoes and slice them in half or you can use Roma tomatoes and remove the fleshy part so the salsa doesn't become watery.
Add avocado: Chop and add just before serving. Use avocados that are ripe but on the firmer side so they don't get mushy in the salsa. If you add avocados, keep in mind the leftovers will not keep for as long or as well because the avocados will brown and get mushy.
Add black beans: Rinse and drain one 15 oz. can black beans. Black beans will drastically change the flavor profile of your pineapple jalapeño salsa into a hearty, savory salsa.
Make it a meal: Add chopped cooked chicken, rotisserie chicken, chopped pork, salmon etc. to make this salsa a full meal.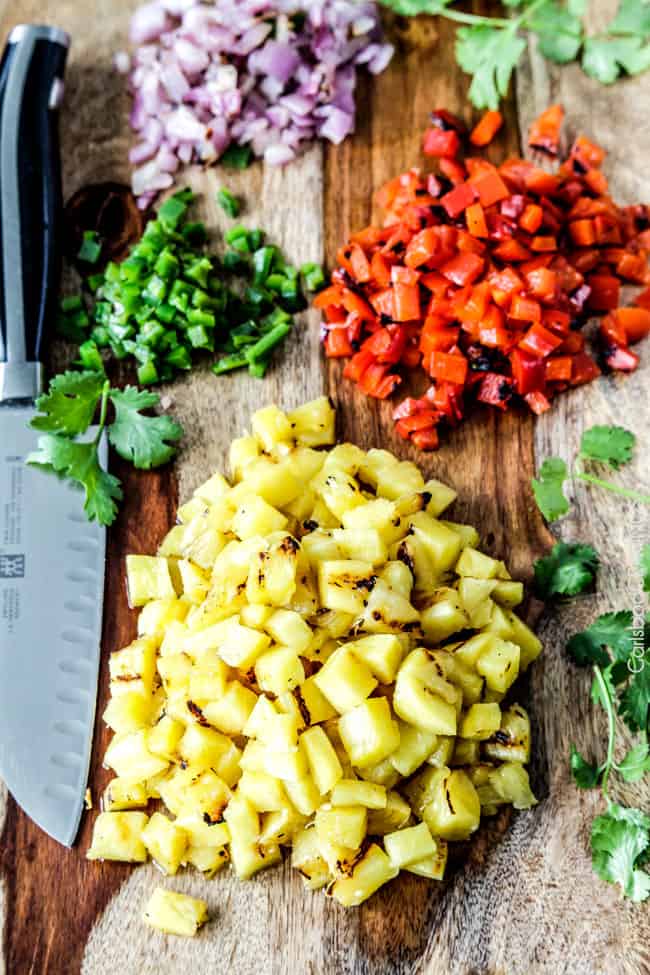 How to Prep Pineapple Salsa in Advance
Because pineapple is a bit sturdier than other summer fruits, you're fine to prep this pineapple salsa 24 hours in advance. Just note that the veggies and pineapple will soften slightly over time.
How to Store Pineapple Salsa
You can store pineapple jalapeño salsa up to 4 days in an airtight container in your refrigerator, but be aware that the fruit and veggies will become increasingly soft and change the texture of the salsa.
Can You Freeze Pineapple Salsa?
No, this fresh fruit salsa doesn't freeze well.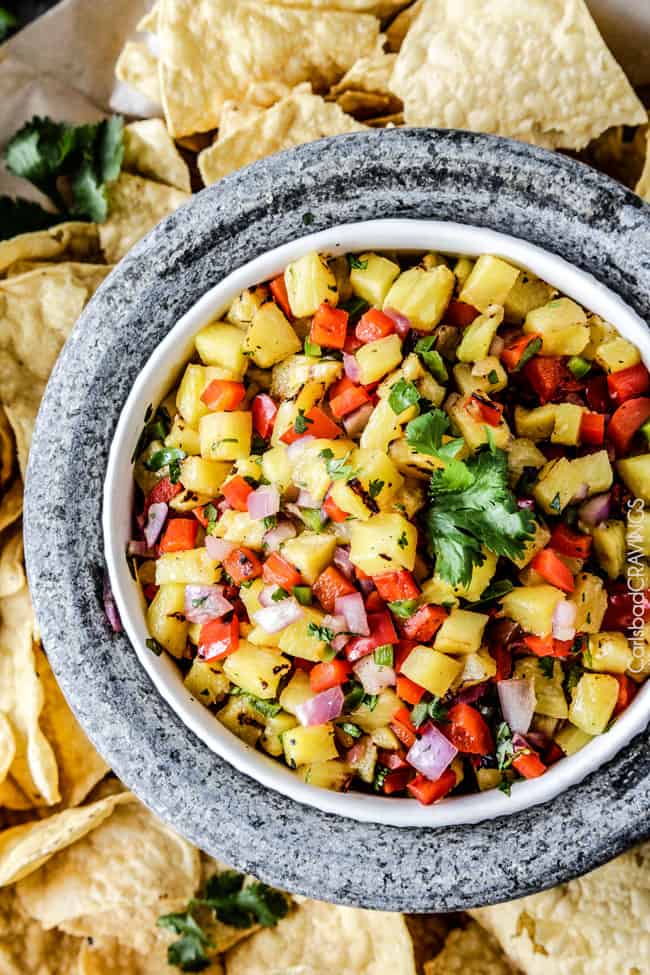 What to Serve with Pineapple Salsa
This pineapple jalapeño salsa pairs well with so many dishes! Here are a few of my faves:
Chips: all you need are tortilla chips to scoop up your delectable salsa and you have a winning appetizer. The salty crunch with sweet, tropical heat is perfection.
Tacos: of course, salsa belongs with tacos and this pineapple salsa is no exception! It is incredible on shrimp tacos, carne asada tacos, pork tacos, chili lime chicken tacos, buffalo chicken tacos, blackened fish tacos, and honey chipotle chicken tacos just to name a few.
Everything Mexican! In addition to tacos, this salsa is a welcome topping to so many Mexican favorites from chicken and steak fajitas to burrito bowls, tostadas to taquitos.
Grilled proteins: any plain protein is instantly elevated with the addition of pineapple salsa. It is fabulous with mojo chicken, Hawaiian chicken, chili lime chicken, chipotle chicken, cilantro lime chicken, marinated flank steak and carne asada.
Everything spicy! The refreshing sweet heat of the pineapple salsa pairs beautifully with spicy proteins such as Cajun steak, Cajun chicken bowls, jerk shrimp, buffalo chicken, Cajun honey mustard chicken, and honey sriracha chicken.
Seafood: the salsa also pairs magically with seafood such as simple salmon or more exotic mojo salmon bowls, Cajun salmon, cilantro lime shrimp, chipotle salmon, salmon fajitas, and shrimp fajitas.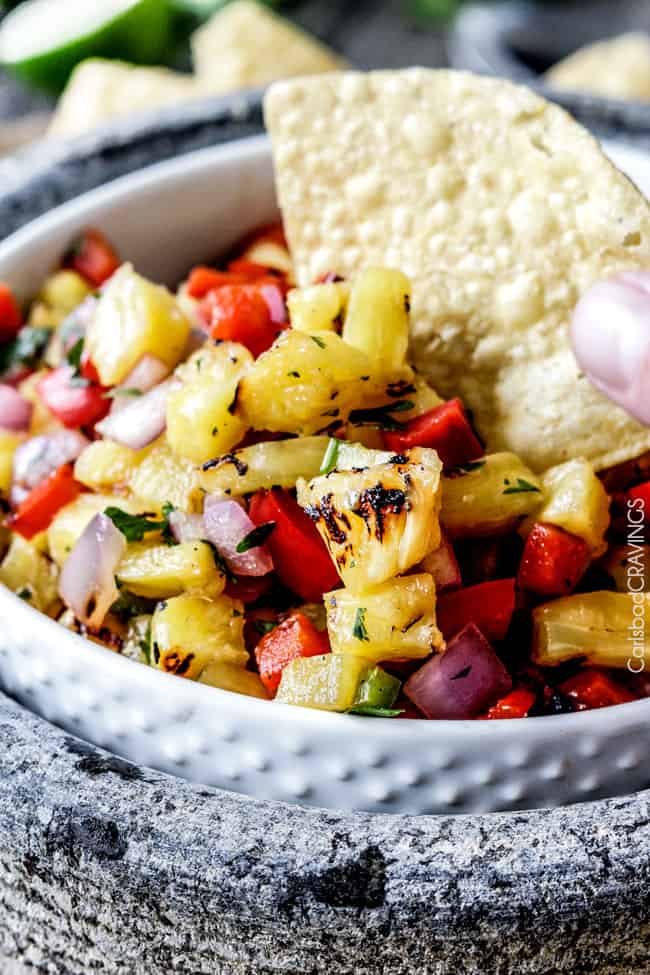 Looking for More Pineapple Recipes?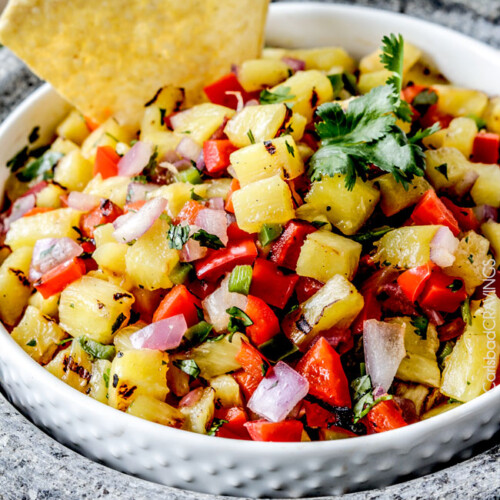 Pineapple Salsa (fresh or grilled)
This easy Pineapple Salsa recipe makes everything better!  It's made with fresh pineapple, red bell peppers, red onions, jalapenos, cilantro and lime juice.  You can serve it as an appetizer or snack with chips, on top of your favorite grilled chicken, fish, or steak or on top of your favorite tacos!   It is a delectable balance of sweet, spicy and smoky if you choose the grilling option.  This Pineapple Salsa is also secretly healthy so you can munch away without any guilt! 
Save This Recipe To Your Recipe Box
You can now create an account on our site and save your favorite recipes all in one place!
Ingredients
1/2

ripe pineapple, trimmed and sliced

1

large red bell pepper, seeded and quartered

1/2

small red onion, peeled and cut in half

(so you have 2 quarters of whole onion)

1

whole jalapeno

1/2

cup

loosely packed cilantro, finely chopped

1

tablespoon

lime juice

1/4

teaspoon

ground ginger

1/4

teaspoon

ground cumin

salt and pepper

to taste
Instructions
If you are not grilling the salsa, then chop the pineapple, bell pepper, red onion, jalapeno and cilantro and combine with remaining ingredients in a large bowl. Can be served immediately, or better chilled.

GRILLING: Grease grill and heat to medium high heat.

Drizzle red onions with olive oil and thread onto a skewer (if using a wooden skewer, soak skewer in water for at least 30 minutes beforehand). Drizzle red bell pepper quarters and jalapeno with olive oil to lightly coat.

Working in batches as needed depending on grill size, grill pineapple and vegetables at medium high heat until tender and lightly charred all over, about 12 minutes for the onions, turning occasionally, about 8-10 minutes for the pineapple, or until caramelized, flipping once, 6 minutes for the red bell peppers, flipping once, and jalapeno for 3-5 minutes, turning occasionally.

Once cool enough to handle, dab off any excess oil with paper towels from vegetables and chop pineapple (cutting around core), red bell peppers, and onions. Devein and deseed jalapeno and dice, reserving some of the seeds if desired.

Toss pineapple, red bell pepper, red onion, jalapeno, cilantro, lime juice, ginger, cumin and salt and pepper to taste in a large bowl. If you would like it spicier, add some of the jalapeno seeds to taste.

Can be served immediately or even better chilled.
Notes
If you don't have a grill or don't have the time to grill, this salsa is still delicious without grilling!
How to Store 
You can store pineapple jalapeño salsa up to 4 days in an airtight container in your refrigerator, but be aware that the fruit and veggies will become increasingly soft and change the texture of the salsa.
Did You Make This Recipe?
Tag @CarlsbadCravings and Use #CarlsbadCravngs
Leave a Review, I Always Love Hearing From You!
Carlsbad Cravings© Original