Just 4 simple ingredients are all you need to make these delectable candied nuts!
These Candied Nuts take just 5 minutes to make! Use any nuts you'd like — pecans, walnuts, cashews, you name it. Great for holiday gifting!
Photos updated 11/10/22 – same great recipe!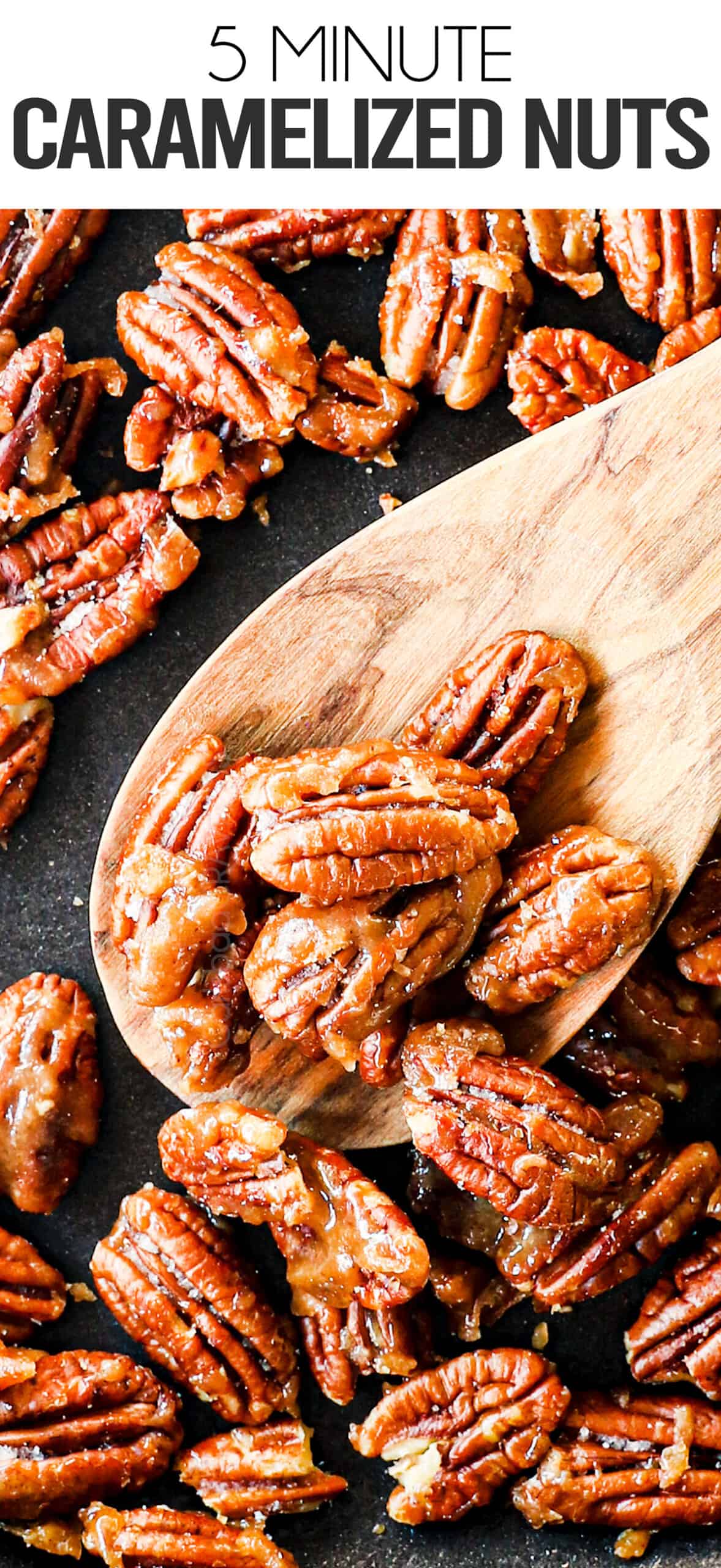 Easy Candied Nuts Recipe
You may want to double this "recipe" (quotations because I can barely call it a recipe its so easy!) for these 5-Minute Caramelized Nuts because you won't be able to resist their caramelized crunch as they beg to be eaten sprawled out unprotected on parchment paper as they cool.
But if they make it past the tantalizing cooling phase, then these caramelized nuts are the cherry on top of salads (like my Apple Salad with Candied Walnuts), vegetables (like my Dijon Maple Green Beans), popcorn, desserts, and even stir fries (like my Skinny Caramelized Cashew Chicken Stir Fry). They just make everything better. And better is always better.
I've tried many recipes to caramelize nuts and this is by far the easiest and most delicious, which really makes these nuts, well, perfect!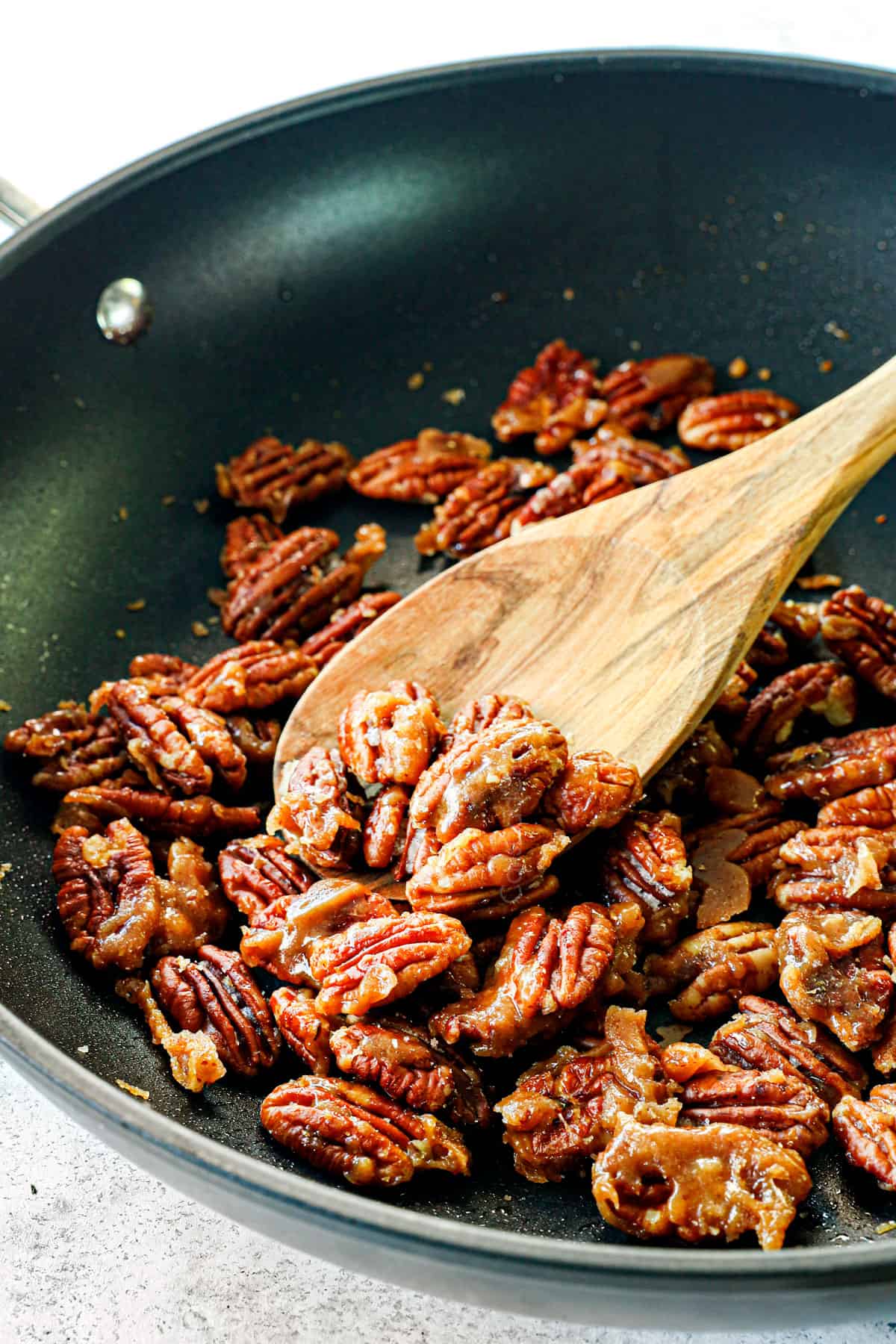 Candied Nuts Ingredients
This recipe can be used to make caramelized walnuts, caramelized pecans, caramelized cashews — whatever your heart desires! Here's what you'll need to make the candied nuts:
Nuts: Use any nuts you like!
Granulated sugar: I prefer using granulated sugar because it caramelizes so easily.
Cinnamon: Totally optional, but highly recommend.
Butter: Salted or unsalted will work. Just be sure to use real butter.
How to Make Candied Nuts
Step 1: Combine. Add the nuts, butter and sugar to a nonstick pan.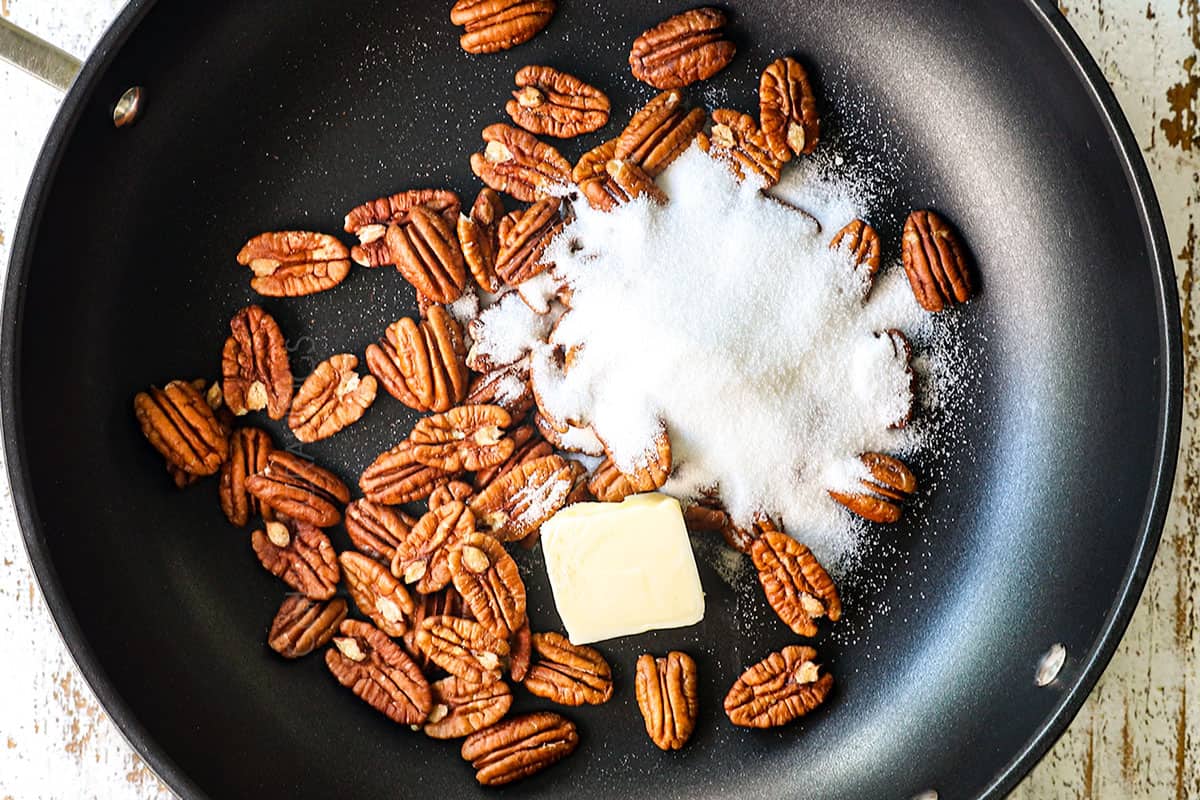 Step 2: Cook. Stir constantly as the butter and sugar melt (so it doesn't burn). At first the sugar with clump, and then turn loose and sandy and then start to cling to the nuts. Finally, the white granules will melt into a caramel-like coating. And you have Perfect Caramelized Nuts in 5 minutes. Wasn't that easy?!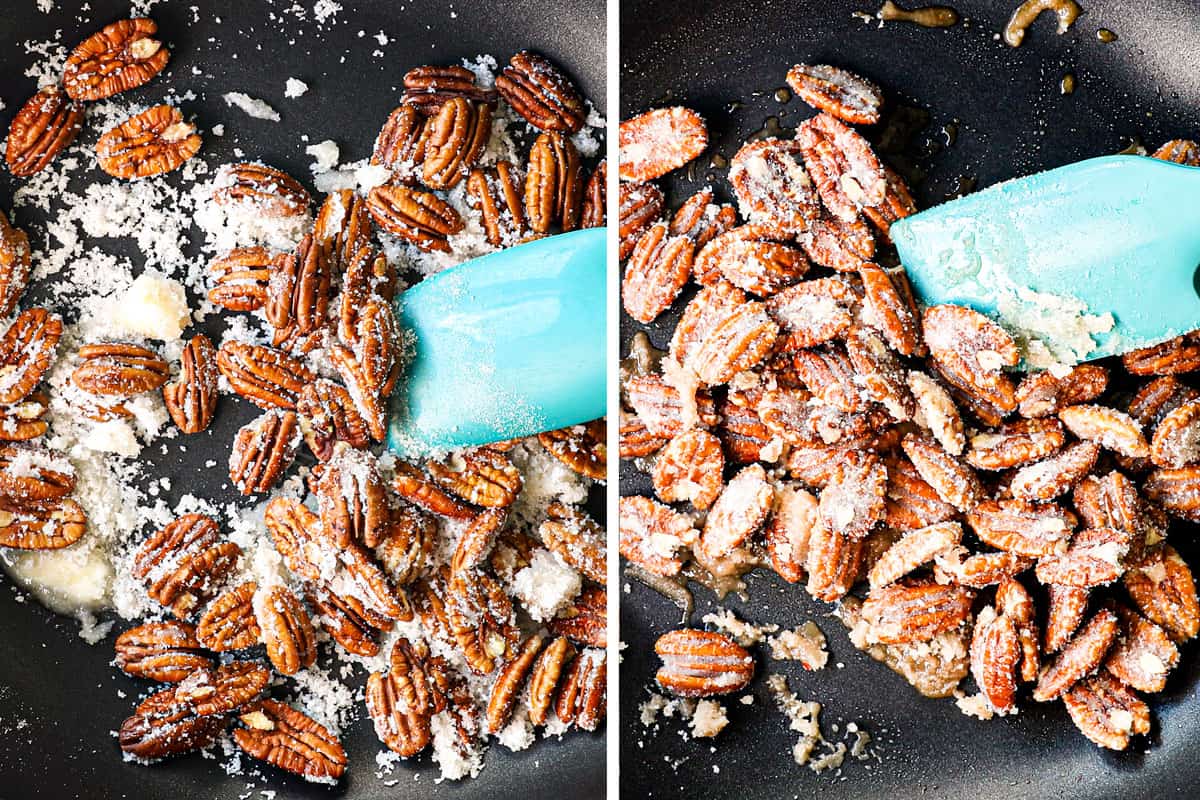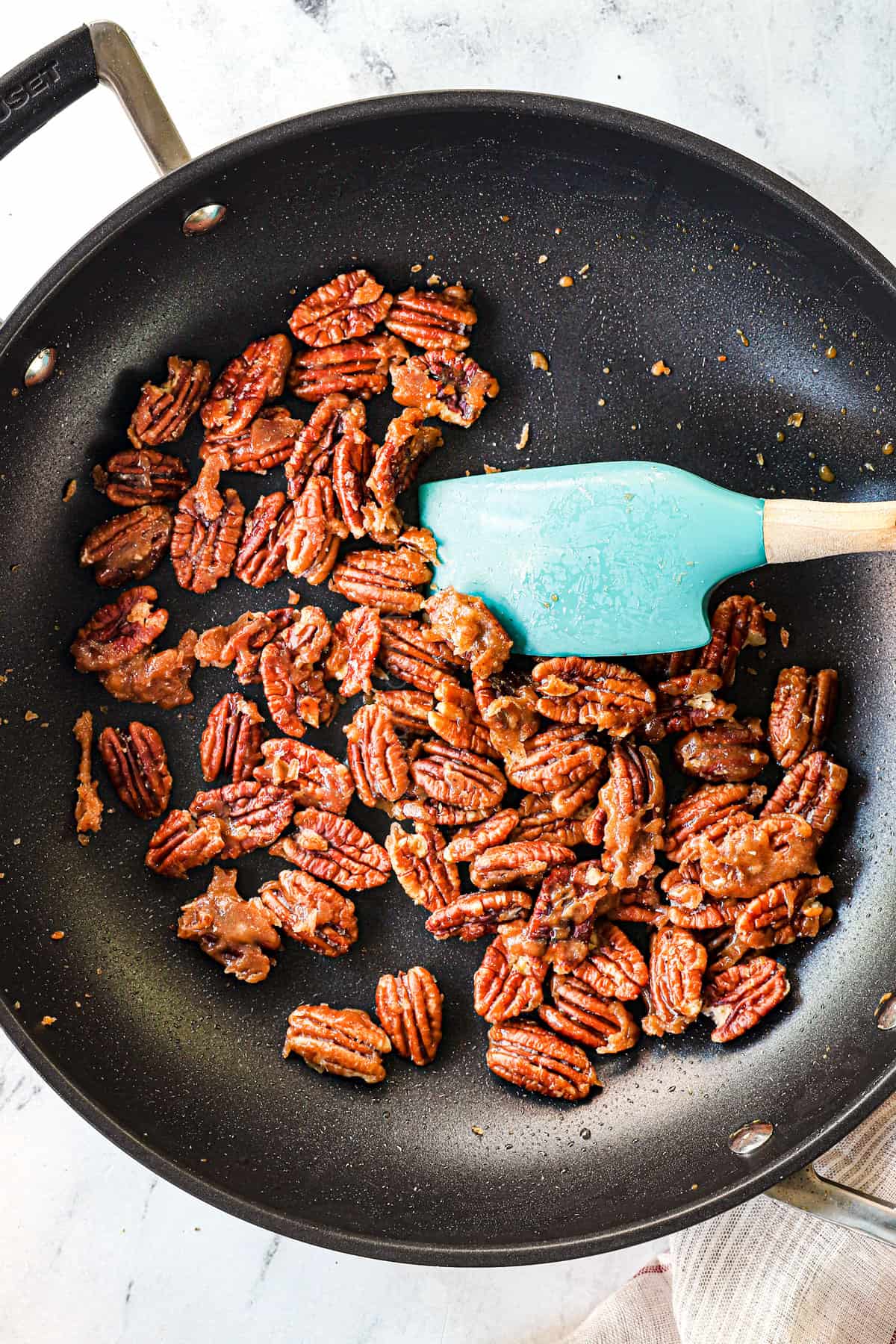 Step 3: Cool. Lastly, transfer your nuts to parchment paper to cool and try to resist eating them all — or don't because you can have another batch in just 5 minutes.
Tips for Making Candied Nuts
Don't chop the nuts first because they will burn before the sugar and butter can create the candied coating.
Be patient and keep cooking until all of the sugar has melted.
I've only made this recipe using granulated sugar, but I've seen other recipes call for brown sugar so you can likely use either.
If your nuts don't harden fully, that means the sugar wasn't cooked long enough and didn't caramelize. Cook the nuts longer next time!
Caramelized Nuts Variations to Try
Add some heat: Add a pinch of cayenne pepper to add a kick of spicy flavor.
Add some salt: Sprinkle a little sea salt or kosher salt over the caramelized nuts to make them salty-sweet.
Add different spices: This recipe calls for cinnamon, but I'm sure you could add other warming spices (cardamom, nutmeg, pumpkin pie spice, etc.).
How Long Do Candied Nuts Last?
If stored at room temperature in an airtight container, these candied nuts should last up to 2 weeks.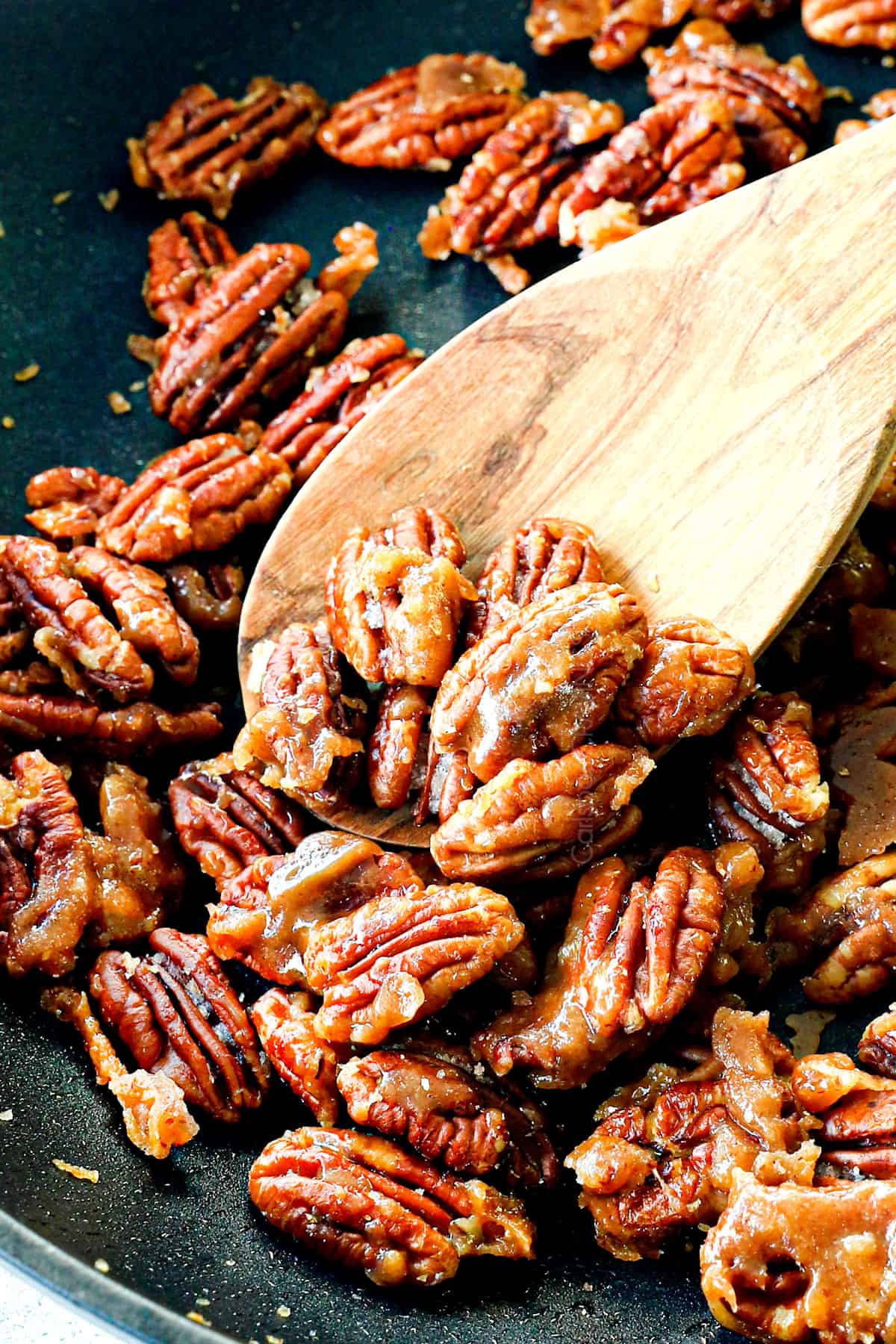 How to Serve Candied Nuts
Whether you made caramelized pecans, caramelized walnuts, or another kind of candied nut, there are so many ways you can enjoy them! Here are a few ideas to get you started:
Salads: Sprinkle these candied nuts atop salads like this Beet Salad, Apple Salad, Berry Fruit Salad, Cobb Salad, Cranberry Apple Brussels Sprouts Salad, or Roasted Butternut Squash Salad.
Vegetables: Enjoy atop sides like these Mashed Sweet Potatoes, Twice Baked Sweet Potatoes, Dijon Maple Green Beans, Balsamic Asparagus, or Glazed Carrots.
Desserts: These caramelized nuts are delicious atop Caramel Toffee Ice Cream Cake, Caramel Brown Sugar Pound Cake, Pumpkin Ice Cream Pie, Caramel Apple Poke Cake, and Apple Crisp.
More Easy Nut Recipes: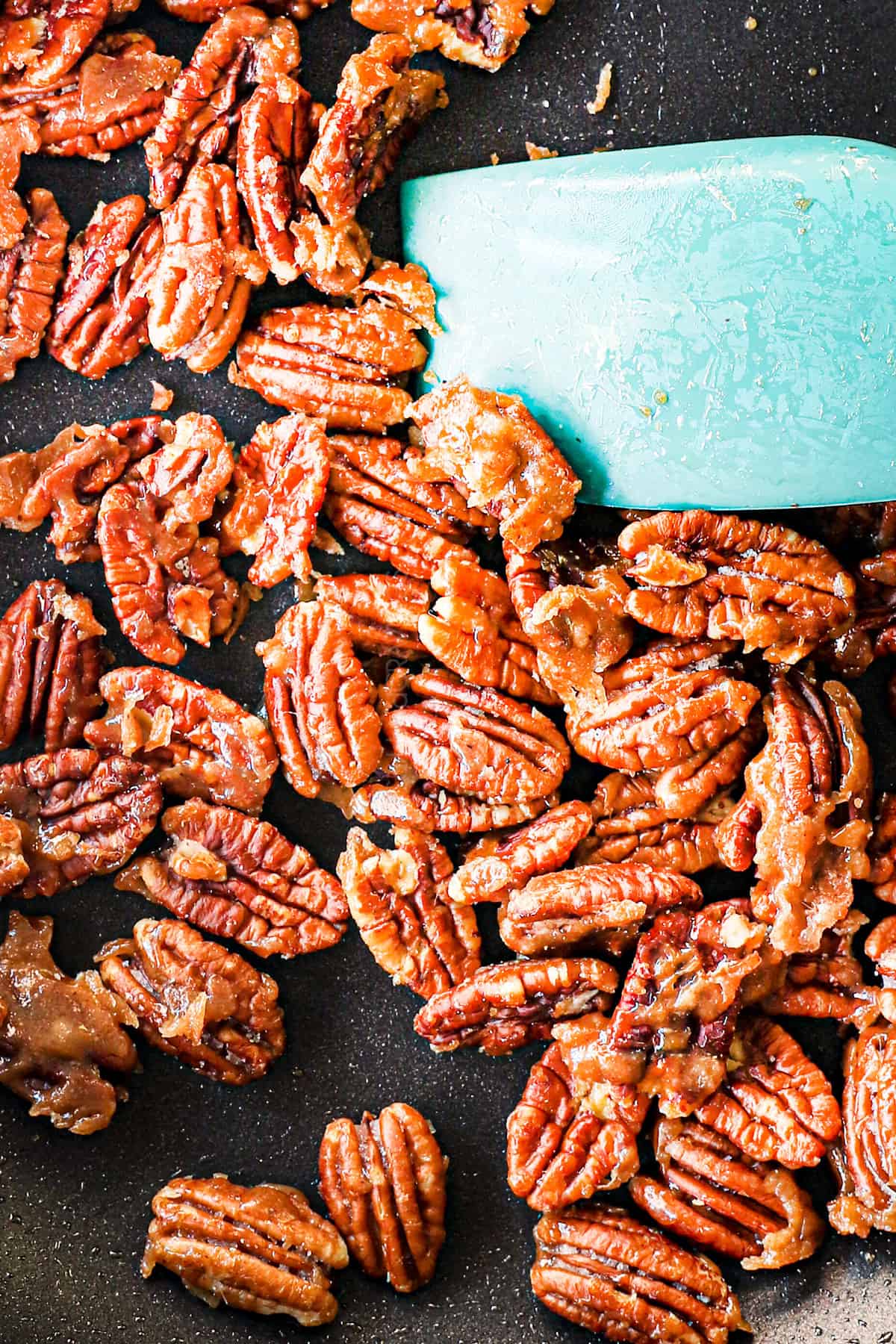 More Favorites from Carlsbad Cravings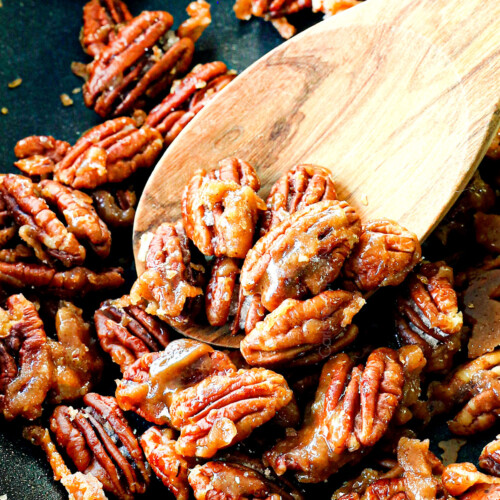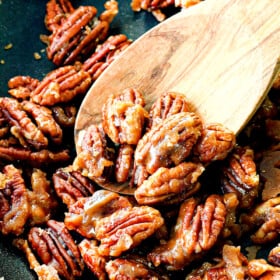 5 Minute Perfect Caramelized Nuts
These Candied Nuts take just minutes to make! Use any nuts you'd like — pecans, walnuts, cashews, you name it. Great for holiday gifting!
Save This Recipe To Your Recipe Box
You can now create an account on our site and save your favorite recipes all in one place!
Ingredients
1

cup

whole raw nuts

1/4

cup

sugar

1

tablespoon

butter
Instructions
Add nuts, sugar, and butter to a large nonstick skillet and heat over medium heat. Stir constantly with a rubber heat-proof spatula until the sugar melts into the butter and completely coats the nuts, turning the heat down as needed, approximately 5-7 minutes. The sugar will look grainy until the melting/liquifying process happens at the very end.

Immediately transfer nuts to parchment paper and separate using 2 forks OR let the nuts harden together and break them apart with your fingers once cooled. Before cooling, I like to sprinkle with cracked sea salt. The nuts and coating will harden in 5-7 minutes. Chop the nuts if desired.
Notes
*If using chopped nuts, don't chop them too small or they will burn.
Did You Make This Recipe?
Tag @CarlsbadCravings and Use #CarlsbadCravngs
Leave a Review, I Always Love Hearing From You!
Carlsbad Cravings© Original