Chicken Cashew Stir Fry with the best sweet and spicy ginger sauce you ever tasted!
This Chicken Cashew Stir Fry is loaded with incredibly tender chicken, stir fried with bell peppers, carrots and snow peas garnished with the sweet crunch of caramelized cashews enveloped in intoxicating sweet, spicy, tangy, ginger sauce AKA the BEST Chicken Cashew Stir Fry you ever tasted!
WHAT READERS ARE SAYING ABOUT THIS CASHEW CHICKEN RECIPE:
My husband said it was better than anything he has had at an Asian restaurant – Sara Ellen (Pinterest)
Made this a few times, everybody loves it. – Denise (Pinterest)
The cashews made all the difference! – Precious (Pinterest)
Most amazing sauce ever. – John
I made this tonight and it was AMAZING! -Mike
Chicken Cashew Stir Fry Recipe
This sweet and spicy Chicken Cashew Stir Fry is a new recipe to love that requires minimal time and effort while bursting with my two favorite words – flavor and texture – that can be on your table in 30 minutes. Happy dance commence.
Crunchy Cashews
My goal of this Chicken Cashew Stir Fry was to create an Asian dish that is addictively delicious but quick and easy and still has the satisfying crunch of breaded and baked chicken like my General Tso's and my Sticky Honey Lemon Ginger Chicken, because, let's be honest, the best Asian dishes have crunchy chicken OR caramelized cashews!  
These cashews add the beloved crunch to the stir fry that baked/fried chicken usually adds while also adding a sweet, caramelized nutty flavor that is absolutely heavenly.
I made the cashews using my 5 Minute Perfect Caramelized Nuts recipe and can't get enough! I'm so in love with them, they are the crowning crunch in my Tropical Fruit Salad and I can't wait for you to fall in love too!
The Stir Fry Sauce
Now let's talk sauce in this Chicken Cashew Stir Fry because a stir fry is only as good as its sauce. I woke up planning on making Crispy Orange Chicken Tenders but most of my oranges had taken themselves to lunch with my husband which turned out to be a blessing because this sweet and tangy little number was born. UPDATE: Since posting this recipe, many comments have reported it is the "best sauce" they've ever had.
This delectable sauce reminds me of a less "sour" sweet and sour sauce comprised of apricot preserves, orange juice, red wine vinegar, soy sauce, brown sugar, honey, ginger, garlic and sriracha. Its sweet, spicy and tangy enlivened by the splash of citrus and given a kick with the ginger. AKA you will be craving this sauce…with this chicken…with these cashews. Guaranteed. Hello Chicken Cashew Stir Fry.
The Chicken
The chicken for this Chicken Cashew Stir Fry is marinated in buttermilk, soy sauce and orange juice which creates mega tender chicken, but you can definitely skip the marinade if you don't plan ahead and it will still be delicious.
Making the chicken is super quick and easy because its not breaded in egg/flour but simply tossed in spiced cornstarch and sauteed. Super quick, super easy, super healthy, super yum.
As the famous quote states, "all good things take time." But sometimes, good things don't take as much time. I hope when you take 30 minutes to make this Skinny Caramelized Cashew Ginger Chicken Stir Fry you will emphatically agree "I will DEFINITELY be making this again. Wow!"
Ingredients for Chicken Cashew Stir Fry
This Chicken Cashew Stir Fry is made with:
chicken: I use boneless skinless chicken breasts for this chicken cashew stir fry but you may also use skinless chicken thighs.
breading: adds a light texture, insulated the chicken against high heat (keeps it tender) and allows you to add seasonings. The breading is made with cornstarch, onion powder, garlic powder, ginger powder, salt and pepper.
apricot preserves: is one of my favorite secrete ingredients! It adds multidimensional fruity sweetness instead of just using one-note sugar.
soy sauce: use low sodium soy sauce so your cashew chicken isn't too salty.
red wine vinegar: please use red wine vinegar as it cannot be evenly swapped with other vinegars.
brown sugar: contains molasses for a richer flavor.
honey: adds a fruity sweetness.
Sriracha/Asian hot red chili sauce: use 1-3 teaspoons to taste.
orange juice: you will need the juice of one orange which is on average 1/4 cup.
salt and pepper: use more or less to taste.
cornstarch: thickens the sauce.
ginger:  adds a warm spicy, almost pepper taste.  You may substitute with 3/4 teaspoon ginger powder.
garlic:  You can use more or less garlic depending on your garlic love.  You can substitute the fresh garlic with 3/4 teaspoon garlic powder.
What Vegetables for Chicken Cashew Stir Fry?
First this Chicken Cashew Stir Fry recipe, I used onions, carrots, bell peppers, and snow peas, but you can make cashew chicken with any of your favorite veggies. Other vegetables for Chicken Cashew Stir Fry include:
zucchini
celery
water chestnuts
broccoli
mini corn
bok choy
If using broccoli, make sure to cut it into smaller florets and stir fry it for 2-3 minutes before adding other veggies.
What Cashews are best for Chicken Cashew Stir Fry?
I LOVE caramelized cashes in this Cashew Chicken recipe which I highly recommend, but you may also use roasted cashews. Take take the cashews or unsalted so the chicken stir fry isn't too salty.
If you can only find unsalted cashews, and not roasted, then simply toast them in your skillet for a few minutes until golden.
IS CHICKEN CASHEW CHICKEN STIR FRY GLUTEN FREE?
As written, this Cashew Chicken recipe is not gluten free – but almost! To make gluten free Cashew Chicken, simply use gluten free soy sauce or tamari.
HOW TO MAKE CHICKEN CASHEW STIR FRY
STEP 1: MARINATE CHICKEN (OPTIONAL)
This Chicken Cashew Stir Fry starts with a simple marinade of buttermilk, soy sauce and orange juice to infuse the chicken morsels themselves with tons of flavor instead of flavor just sitting on the outside of the chicken AND to tenderize the chicken.  You can marinate your chicken for whatever amount of time you have – whether its just while prepping your stir fry veggies and sauce or for up up to 4 hours. If you don't have the marinade ingredients on hand, you may skip this step.
STEP 2: MAKE CARAMELIZED CASHEWS
This step literally takes 5 minute and elevates this Chicken Cashew Stir Fry into the BEST you've ever had! You simply combine cashews, butter and sugar in a pan and cook until the mixture caramelizes and the cashews are evenly coated in the sugar/butter mixture. You can make the cashews up to a week in advance and store in an airtight container.
STEP 3:  MAKE STIR FRY SAUCE
Simply whisk together the stir fry sauce ingredients and set aside. You can make the sauce days in advance and store in an airtight container in the fridge.
STEP 4: BREAD CHICKEN
The breading for this Chicken Cashew Stir Fry Breading is super light and super easy – no multi-step dredging! Simply add cornstarch, and seasonings to freezer bag, and chicken and toss until evenly coated.
STEP 5: COOK CHICKEN
Heat 1 tablespoon olive/coconut oil over medium heat in a large nonstick skillet. Add chicken and saute for 8 minutes, or until lightly browned. The chicken does not need to be cooked through because it will cook more in the sauce.
STEP 6: STIR FRY VEGETABLES
Add 1 tablespoon oil to the now empty skillet and heat over medium heat. Add onions and carrots and saute for 2 minutes. Add red bell peppers, ginger and garlic and saute 30 seconds.
STEP 7: COMBINE
Stir sauce (to make sure cornstarch has not separated) and add to skillet along with chicken and snow peas; stir to combine. Simmer until sauce is thickened, vegetables are crisp tender, and chicken is cooked through, approximately 1-2 minutes. Garnish skillet or individual servings with green onions, and caramelized cashews.
Add the cashews last so they stay nice and crunchy. If you prefer softer cashews, you can add them to the sauce with the vegetables and simmer 1-2 minutes.
WHAT SHOULD I SERVE WITH CHICKEN CASHEW CHICKEN?
We like to serve Chicken Cashew Stir Fry with white or brown rice but you can also serve it in lettuce wraps, with zoodles, or cauliflower rice. If you're looking to make this cashew more of a feast, pair it with Wontons, Asian Salad, Potstickers, Wonton Soup or Chinese Chicken Egg Rolls.
CAN I FREEZE CASHEW CHICKEN?
Yes! The chicken freezes well but the veggies can loose some of their texture and even turn mushy. If you know you are going tot freeze the chicken, take care to not overcook your veggies initially. You can also freeze the chicken separate from the sauce and combine when ready to eat.
TO FREEZE CASHEW CHICKEN WITHOUT SAUCE:
Cook chicken according to directions.
Line chicken so it isn't touching on a baking sheet and place in the freezer for 1-2 hours or until the chicken is solid. This prevents the chicken from clumping together.
Add chicken to a freezer size bag, squeeze out excess air and label.
Add stir fry sauce to a separate airtight container.
When ready to use, defrost chicken and sauce in the refrigerator overnight and add fresh vegetables.
TO FREEZE CASHEW CHICKEN IN SAUCE:
Let chicken stir fry cool completely.
Transfer chicken to either a large freezer size bag or divide into smaller size bags. Alternatively, transfer to airtight container(s).
Press air out of the freezer bag, seal, label and freeze for up to 3 months.
When ready to eat, defrost in the refrigerator.
Heat on the stove until warmed through.
LOOKING FOR MORE CHINESE CHICKEN RECIPES?
Want to try this CHICKEN CASHEW STIR FRY RECIPE?
Pin it to your CHICKEN, ASIAN or DINNER Board to SAVE for later!
Find me on Pinterest for more great recipes! I am always pinning :)!
©Carlsbad Cravings by CarlsbadCravings.com
Carlsbad Cravings Original
NEVER MISS A CARLSBAD CRAVINGS CREATION:
You might also like:
Baked Sweet and Sour Chicken, Pineapple, Carrots and Bell Peppers
Sesame Chicken Egg Rolls with Hoisin Sweet and Sour Sauce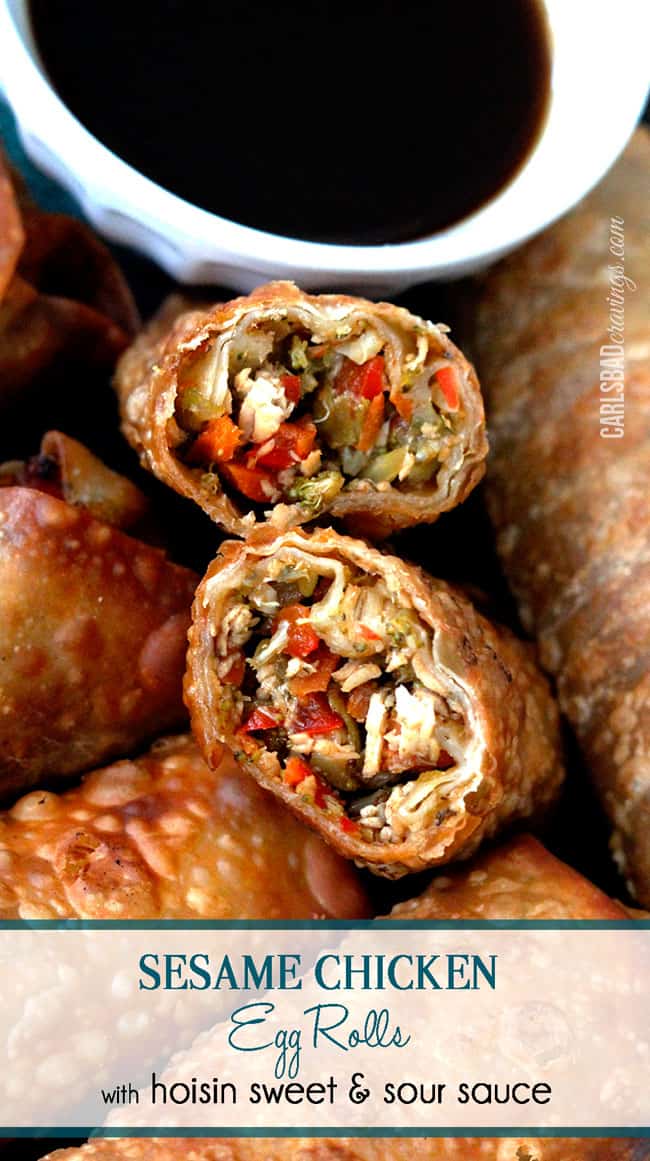 Asian Sweet Chili Sesame Chicken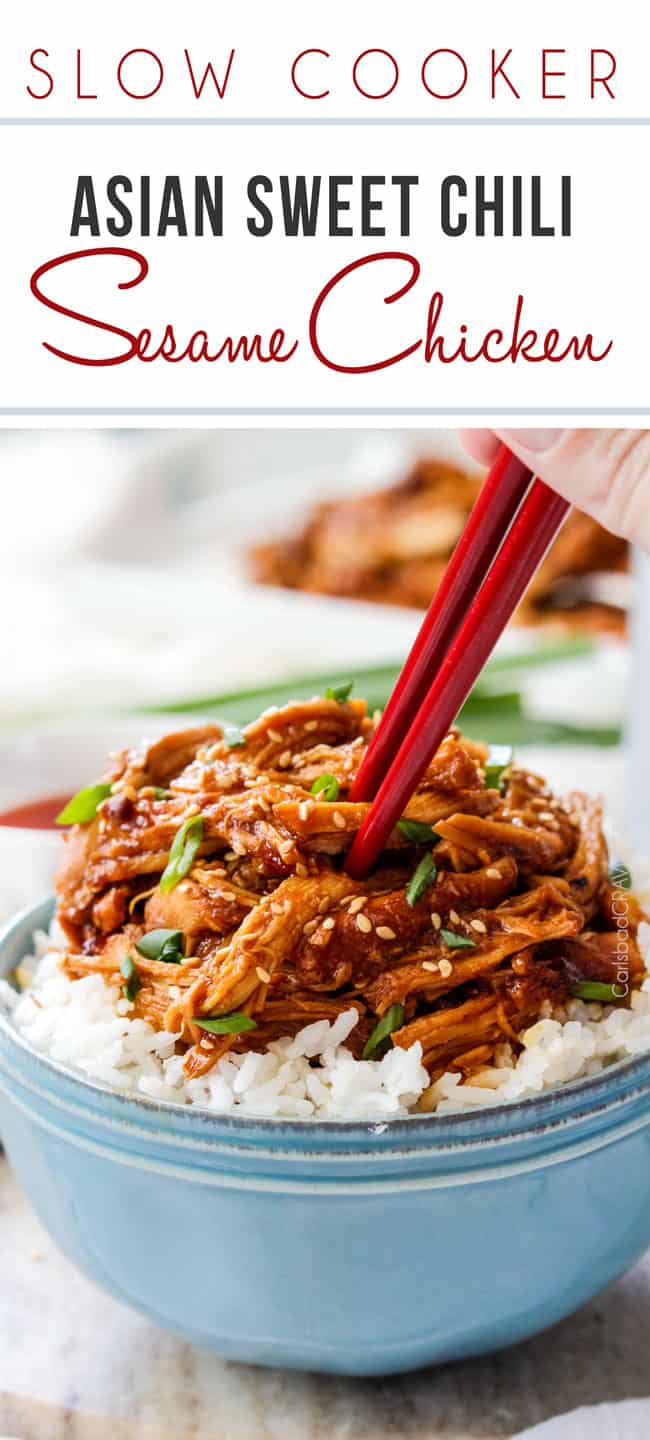 Sticky Honey Lemon Ginger Chicken