German Chocolate Cupcakes that are soft, rich and soooo chocolaty slathered with caramel-esque sweet and crunchy Toasted Coconut Pecan Frosting!
These German Chocolate Cupcakes are your favorite German chocolate cake but in mini-cupcake form! I've tested and tested to bring you the moistest cupcakes and the BEST brown sugar, vanilla, toasted pecan and coconut, frosting that is ridiculously delicious! You won't want to skip out this German Chocolate Cupcakes Recipe!
Easy German Chocolate Cupcakes Recipe
You know how sometimes you regret eating too much of a good thing?   Well, I divided up these German Chocolate Cake Cupcakes and dropped them off to different friends (after eating no less than half a dozen, I assure you), and I was instantly filled with regret. I didn't eat enough of a good thing!
Because, my friends, this German Chocolate Cake Cupcakes Recipe is ridiculous. As in there is no way to wrap my brain around just how ridiculously delicious they are!
Ridiculously moist.
Ridiculously soft and fluffy.
Ridiculously chocolaty; German chocolaty.
Ridiculously topped with the most delectable frosting of brown sugar, evaporated milk, vanilla, toasted pecans and toasted coconut. Seriously guys, this frosting is heaven sent!
I first fell in love with my sister's German Chocolate Cake (recipe coming later) that my dad would request for Father's Day. My dad loves coconut so every dessert for his birthday or Father's day (like his requested Toasted Coconut Chocolate Ganache Oreo Crusted Cheesecake), involves coconut. I wanted to take my sister's cake and transform it into the most perfect cupcakes ever, more suitable for everyday deliciousness sharing.
It was a ridiculous success.
Last parting words before we dive into recipe details. Be good to yourself and don't share too many of these German Chocolate Cake Cupcakes, or you will instantly be filled with regret, cravings and yearnings for these purely ridiculously delicious cupcakes. Now that you've been warned, I am so excited for you to go mix, bake, frost and devour!
German Chocolate Cupcake Ingredients
These cupcakes have two components: the German chocolate cupcakes and the German chocolate cake frosting. Talk about yum!
German's sweet chocolate: Sweeter than semi-sweet chocolate. A must when making homemade German chocolate cake-inspired desserts!
Semi-sweet chocolate: Adds more chocolaty flavor without making the cupcakes too sugary.
All-purpose flour: Spoon and level the flour when measuring it for best results.
Baking soda and baking powder: Gives the cupcakes a little lift.
Salt: Do not omit! You need some salt to balance out the sweetness of the batter. I also include sea salt in the frosting for the same reason.
Cocoa powder: Use unsweetened cocoa powder.
Granulated sugar: Sweetens the batter without altering the flavor.
Unsalted butter: I prefer using unsalted butter in my baked goods, then add a pinch of table salt to the batter to balance things out.
Eggs: Whole eggs are added to the batter and egg yolks are added to the German chocolate cake icing (don't worry, the icing is cooked!).
Vanilla extract: Use pure vanilla extract for the best flavor.
Buttermilk: Creates a super tender cupcake, and the tanginess balances out the sweetness of the chocolate.
Semi-sweet chocolate chips: Yes, these are chocolate chip German chocolate cupcakes!
Evaporated milk: Not to be confused with sweetened condensed milk!
Brown sugar: I like using brown sugar in the German chocolate cake frosting rather than white sugar since it makes the frosting taste more caramel-y.
Sweetened shredded coconut: Toast the coconut before mixing it into the frosting.
Chopped pecans: Use unsalted raw pecans.
WHAT IS GERMAN CHOCOLATE?
These German Chocolate Cupcakes are luxuriously rich and creamy made with German chocolate, semi-sweet chocolate and cocoa powder.
If you aren't familiar with German chocolate (and haven't read my German Chocolate Cupcakes with Chocolate Ganache post AKA another FABULOUS Christmas dessert), then let me share that German Bakers Chocolate has nothing to do with Germany but is named after Samuel German, a Walter Baker & Company employee who developed the chocolate in 1952.
German chocolate is sweeter than semi-sweet chocolate and is famous for German Chocolate Cake with its Coconut Pecan Frosting. And now you can enjoy German Chocolate in this ridiculously delicious cupcake form!
How to Make German Chocolate Cupcakes
This German chocolate cupcake recipe requires a little extra elbow grease, but it's incredibly easy to make.
Make the cupcakes: Bring 1/2 cup water to a simmer in small saucepan. Reduce heat to low and add chopped German and semi-sweet chocolates; whisk until smooth.
Cream together butter and sugar, then add in the eggs, melted chocolate, and vanilla.
Add the dry ingredients and buttermilk to the butter mixture. You want to add a little flour mixture, then a little buttermilk, etc. until everything is incorporated.
Fold in the chocolate chips.
Scoop the batter into your cupcake liners and bake.
Make the German chocolate cake frosting: Whisk the egg yolks, evaporated milk and brown sugar together in a large saucepan.
Add butter and cook over medium high heat until the sugar dissolves and the butter melts.
Continue cooking, stirring constantly until thick enough to coat the back of a spoon.
Remove from heat and stir in vanilla, salt, coconut and pecans.
Wait to frost cupcakes until they're completely cool!
Tips for Making German Chocolate Cupcakes
MAKE SURE INGREDIENTS ARE AT ROOM TEMPERATURE
If you use butter and eggs when baking, you will have much better results if you let them come to room temperature.   If they are cold, they aren't able to allow as much air into the batter so cakes will be less fluffy than if you allow the ingredients to be brought to room temperature. Room temperature eggs also mix much easier so you are more likely not to over-mix your batter.
CREAM UNTIL FLUFFY
One of the keys to a soft German Chocolate Cupcakes – or any cupcakes – is to cream your sugar and butter until light and fluffy. You should beat your butter and sugar at medium – high speed for at least 4-5 minutes. I suggest setting a timer because 4 minutes will seem extra-long but you don't want to cut it short.
This step is so important because it is the only time you want to whip air into the cupcake batter to create bubbles. The bubbles will expand as the cupcakes bake, resulting in a lighter cupcakes. If you don't cream them enough, your cupcakes will be denser, not as tender, or rise as high.
DON'T PEEK!
I know it is going to be hard not to peek, but please don't open the door! Opening the doors can cause your cupcakes to cook unevenly and to fall.
DON'T OVERBAKE!
One of the main reasons people complain of dry cupcakes is because they overbake them. You want to remove your cupcakes when there are just a few crumbs clinging to a toothpick. Check your German Chocolate Cupcakes at about 15 minutes then continue to cook as needed, setting a timer so you don't overbake them.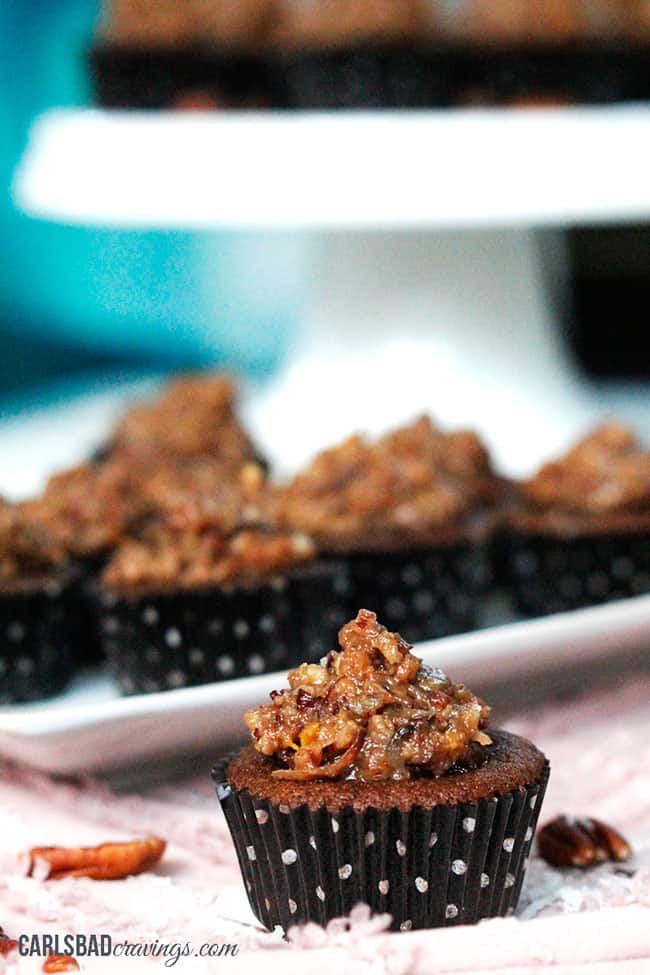 How to Store German Chocolate Cupcakes
Cupcakes may sit at room temperature for day, then they should be refrigerated. They'll last up to 4 days, noting that they'll dry out over time.
Can I Make German Chocolate Cakes Ahead of time?
Let baked cupcakes cool to room temperature.
Transfer cupcakes to an airtight container.
Store at room temperature until ready to serve.
Before serving, frost with German Chocolate Cupcake frosting.
Cupcakes can also be frosted and then stored in the refrigerator for 3-4 days.
CAN I FREEZE GERMAN CHOCOLATE CUPCAKES?
You can freeze German Chocolate Cupcakes with or without the frosting. Frosting the cupcakes once defrosted and ready to serve will taste the same as if frozen with the frosting but will give you the advantage of a prettier pretension. To freeze:
Wrap each cupcake tightly in plastic wrap and then place into a zippered bag or airtight container.
Place frosting in separate airtight container if frosting separately.
Freeze cupcakes and frosting for up to 1 month.
Allow the cupcakes and frosting to thaw overnight in the refrigerator then unwrap and come to room temperature on the counter before serving (and frosting).
Looking for More Cake recipes?
Looking for more winter Cake Recipes?
Want to try this German Chocolate Cupcakes Recipe?
Pin itto your CUPCAKE, CHOCOLATE or DESSERT to SAVE for later!
Find me on Pinterest for more great recipes! I am always pinning :)!
©Carlsbad Cravings by CarlsbadCravings.com
Carlsbad Cravings Original inspired by Epicurious
 Never miss a Carlsbad Cravings Creation:
You might also like:
Cream Cheese Stuffed Carrot Cake
Triple Chocolate Turtle Cookies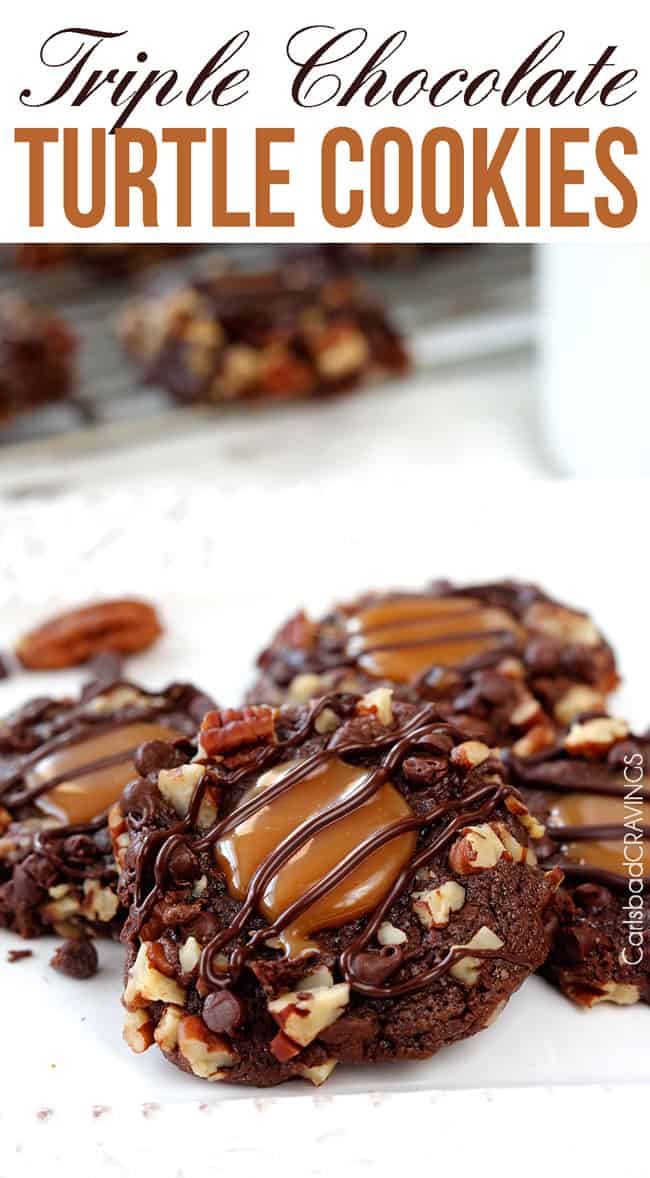 Easy Molten Chocolate Lava Cake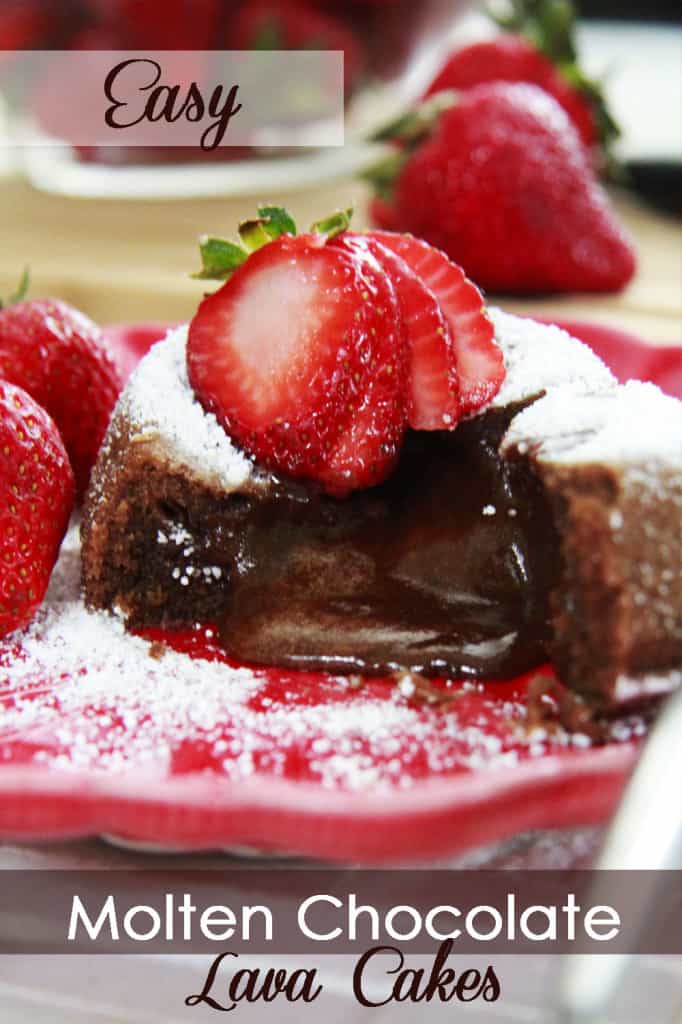 Homemade Little Debbie's Oatmeal Creme Pies