Easy, make ahead, Caramel Toffee Ice Cream Cake with layers of the BEST homemade caramel, easy pecan cookie crumble and toffee ice cream = summer's rich yet refreshing favorite stress free dessert!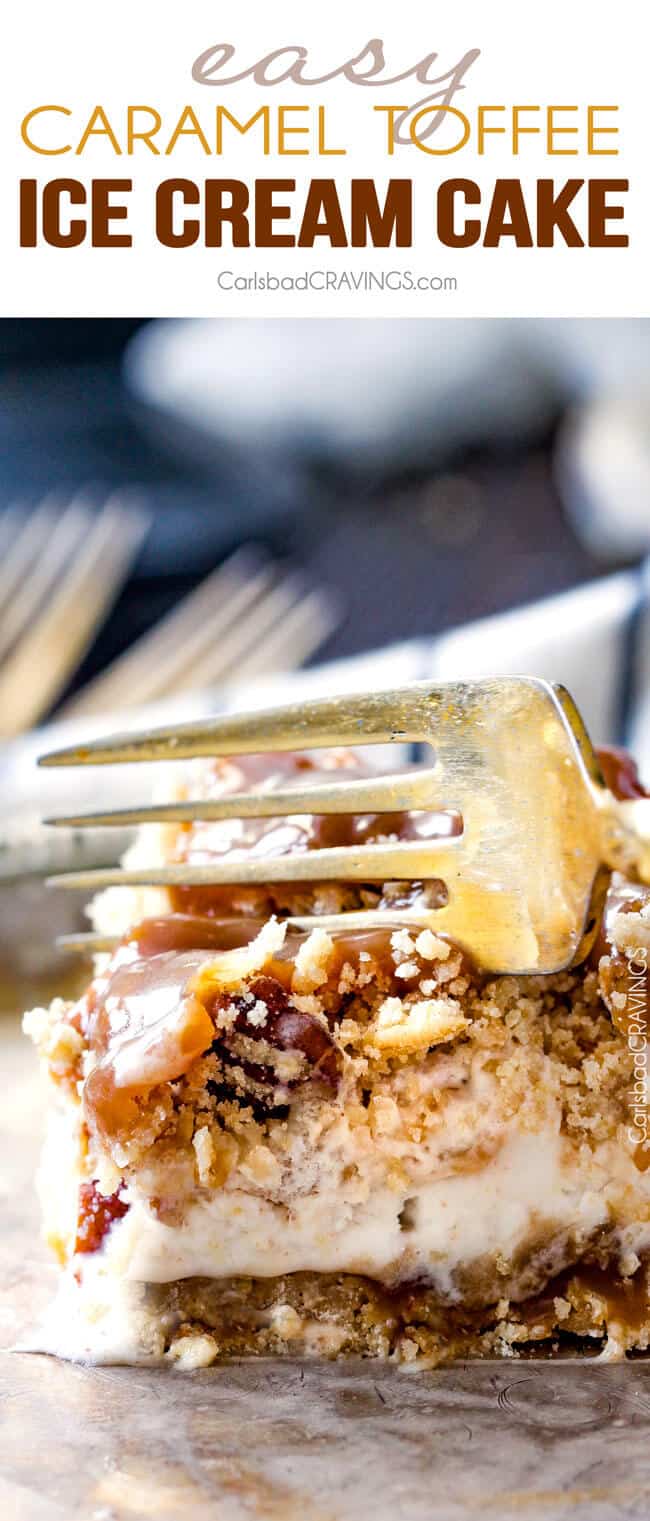 I first posted this Caramel Toffee Ice Cream Cake almost two years ago when I first started blogging and it needed a makeover because an Ice Cream Cake with toffee ice cream AND pecan cookie crumble AND caramel needs to be seen and made and devoured.  An Ice Cream Cake that is so addicting that after I dropped a heaping section off at a friend's house, she texted me, "Mmmmm…yum, yum, yumm!  I'm fighting Rian over it as we speak!"
I think that means they liked it? 🙂

This recipe comes from my mother-in-law, Marcia, who is one of the most amazing women – ever –  I am so lucky to be part of her family!  Marcia is mother of seven children, 2 time breast cancer survivor and constant compassionate service giver.  She is always in the middle of a million projects to uplift others, one of which is her Sock Monkeys 4 Kids.  After being inspired by a powerful video of a teenager with her own severe health problems inventing/making/delivering sock monkeys to cheer up others, Marcia decided to start making her own sock monkeys and donating them to hospitals.
Amid Marcia's sock monkey making/giving, and everything else, she managed to compile a book of the family's favorite recipes for Christmas a few years ago.  This Caramel Toffee Ice Cake was one of them.  In the family recipe book, she prefaced this cake with, "Someone brought this to a Relief Society Dinner, and that is where it became famous.  Make it once,and discover why…"  Having tasted this cake, I have personally discovered why.  I am sure my energy bill went up the week I made this by opening and closing my freezer multiple times a day to sneak a bite  – but I just couldn't stay away!
This cake starts with an easy homemade pecan cookie dough that you bake, then crumble.  Half of the crumble is pressed into the bottom of a 9×13 dish and you reserve the rest.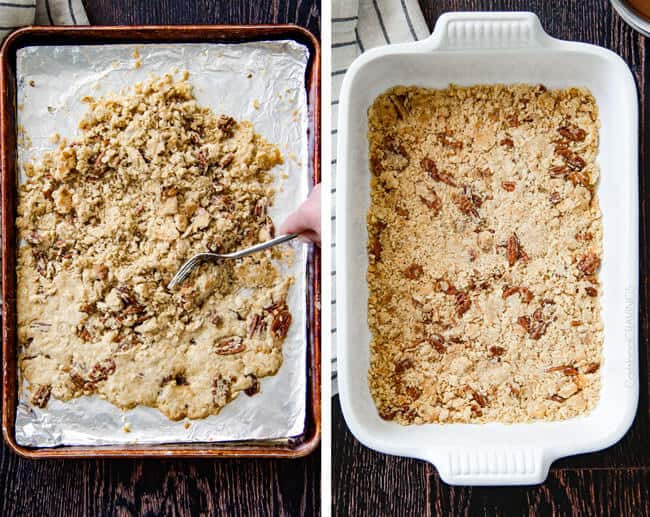 I then made this already delicious cake even more incredible by using my own Easy Creamy Caramel Sauce that gets drizzled over the pecan cookie crumble.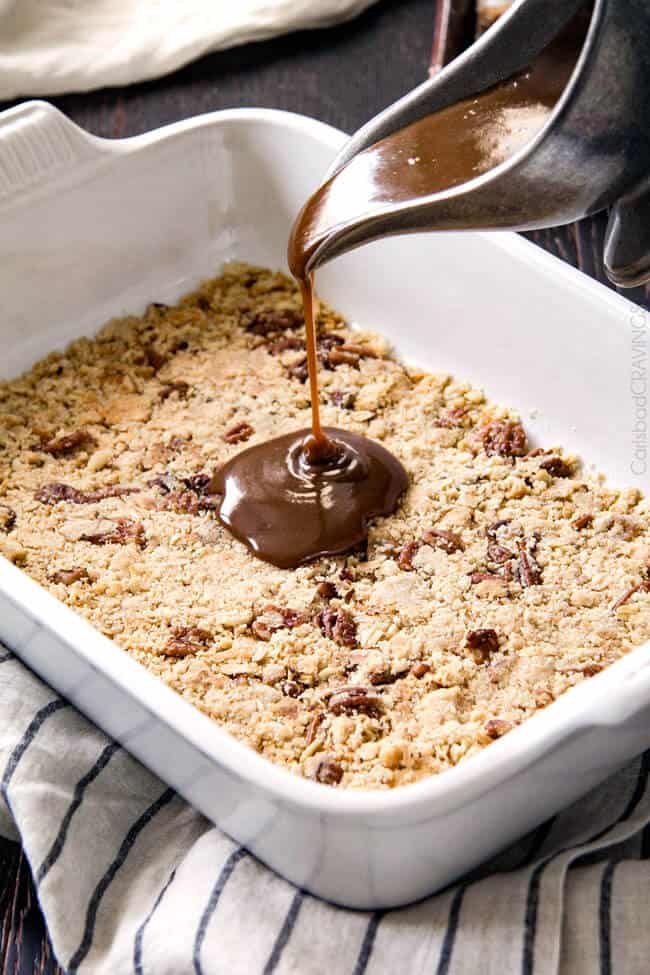 And smothered with ice cream. I used Toffee Caramel Crunch Ice Cream – but you really could swap the ice cream for whatever your mood is – even vanilla would be delicious.  I, however, am ALWAYS in the mood for ice cream swirled with toffee, pecans and caramel.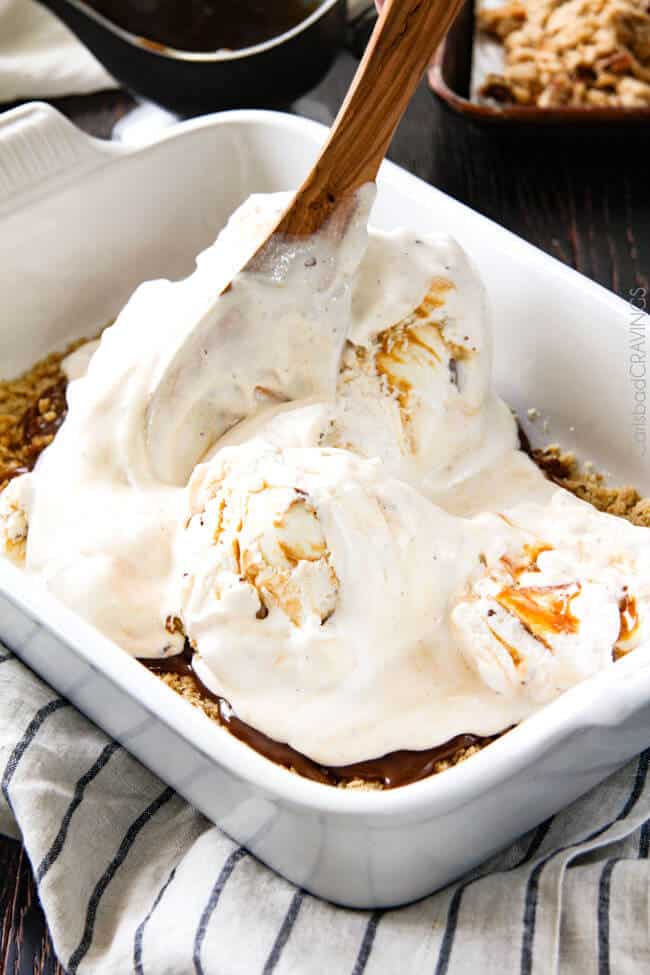 Smooth out your ice cream and top it with the remaining buttery pecan cookie crumble…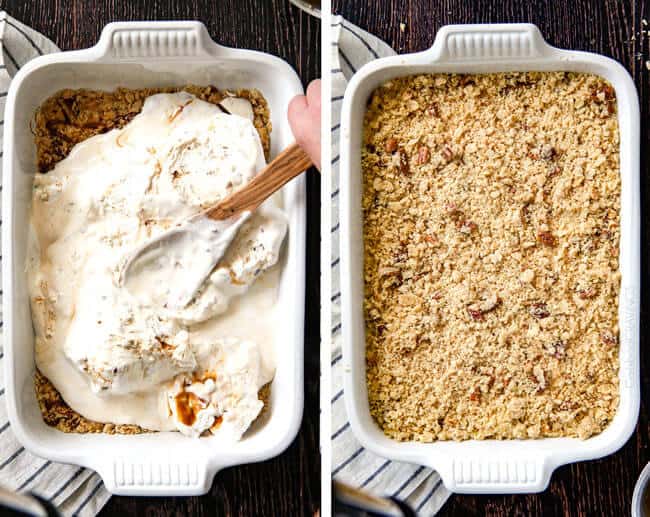 Top with more homemade caramel, freeze for 8+ hours, and you have one of the most mouth watering desserts ever!  Its decadent but light at the same time, easy to prepare and perfect for your backyard summer barbecues  (or just your own personal freezer for daily bites of pleasure 🙂 ).
You too can be saying "Mmmmm,, yum, yum, yumm!" with this Caramel Toffee Ice Cream Cake.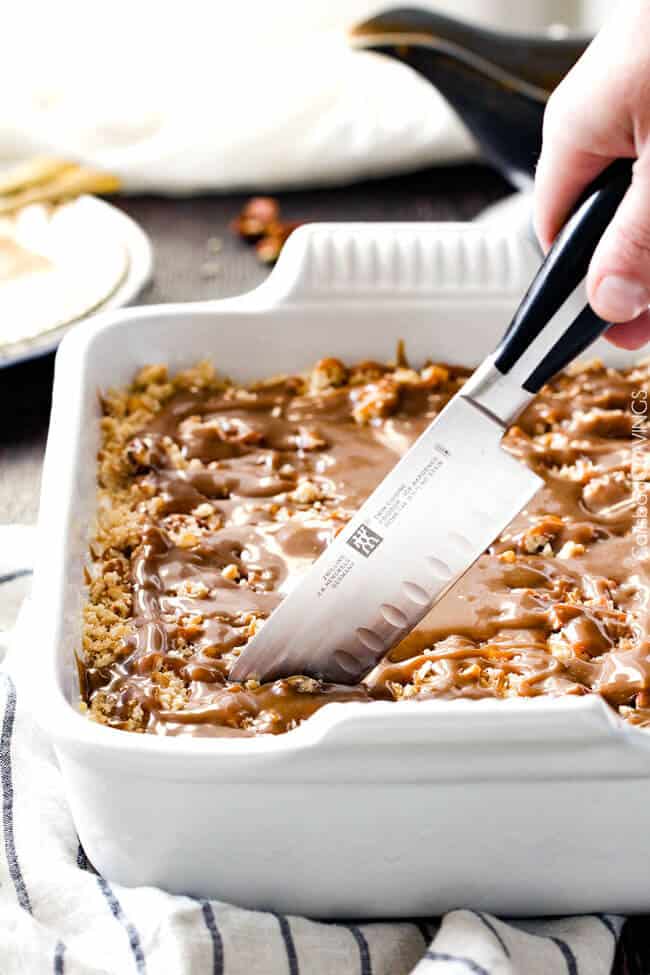 Just be prepared to fight over the leftovers!
Want to try this Caramel Toffee Ice Cream Cake?
Pin it to your DESSERT board to SAVE for later!
Find me on Pinterest for more great recipes!  I am always pinning :)!
©Carlsbad Cravings by CarlsbadCravings.com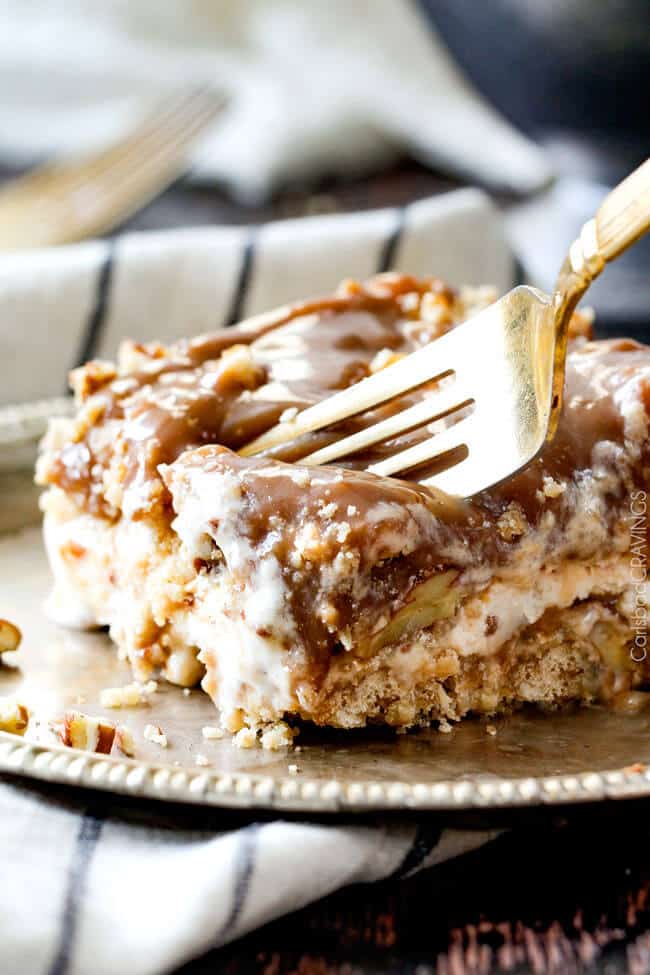 1/2

gallon

of your favorite Toffee Ice Cream, softened

(I use Heath bar)
1/2

cup

brown sugar, packed

2

cups

flour

1/2

cup

old fashioned oats

1/2

teaspoon

salt

1

cup

butter, sotfened

1

cup

pecans roughly chopped
1/2

gallon

of your favorite Toffee Ice Cream, softened

(I use Heath bar)

1/2

cup

brown sugar, packed

2

cups

flour

1/2

cup

old fashioned oats

1/2

teaspoon

salt

1

cup

butter, sotfened

1

cup

pecans roughly chopped
Mix all of the Cookie Crumble ingredients together then spread evenly over a foil lined cookie sheet. Bake at 400 degrees for 10 minutes.

Meanwhile, prepare 1 Recipe Easy Creamy Caramel Sauce.

Break up the baked Cookie Crumble with a fork and divide in half. Transfer half of the Cookie Crumble to a 9x13 pan and press evenly into the bottom of the pan. Drizzle with half of the caramel sauce (its okay if it runs together). Spread the ice cream evenly over the sauce, then layer with the rest the Cookie Crumble. Top with the remaining caramel.

Freeze for at least 3 hours before serving. Take out of the freezer 10 minutes before serving to soften.

Cake will last covered in the freezer for a few weeks - if you can stand the temptation!
Adapted from my mother in law, Marcia Sattley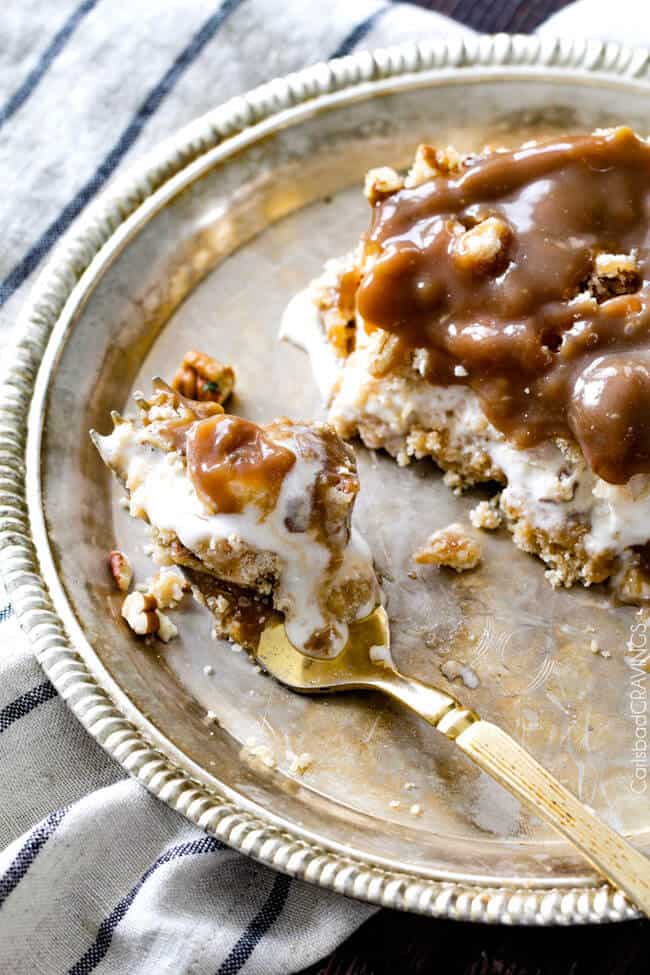 Never miss a Carlsbad Cravings Creation: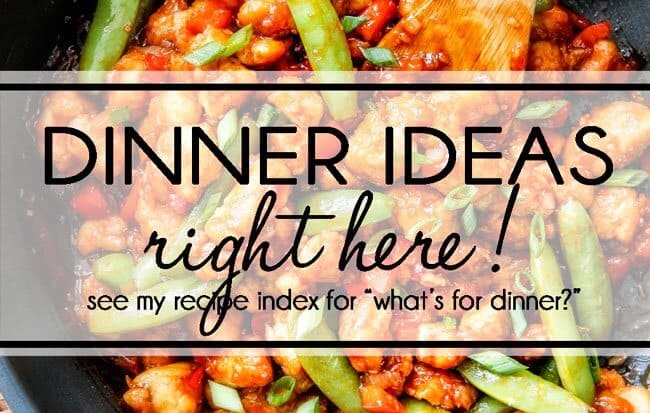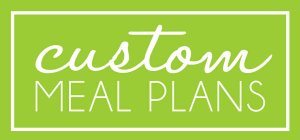 You might also like: 
Toffee Caramel Pecan Pound Cake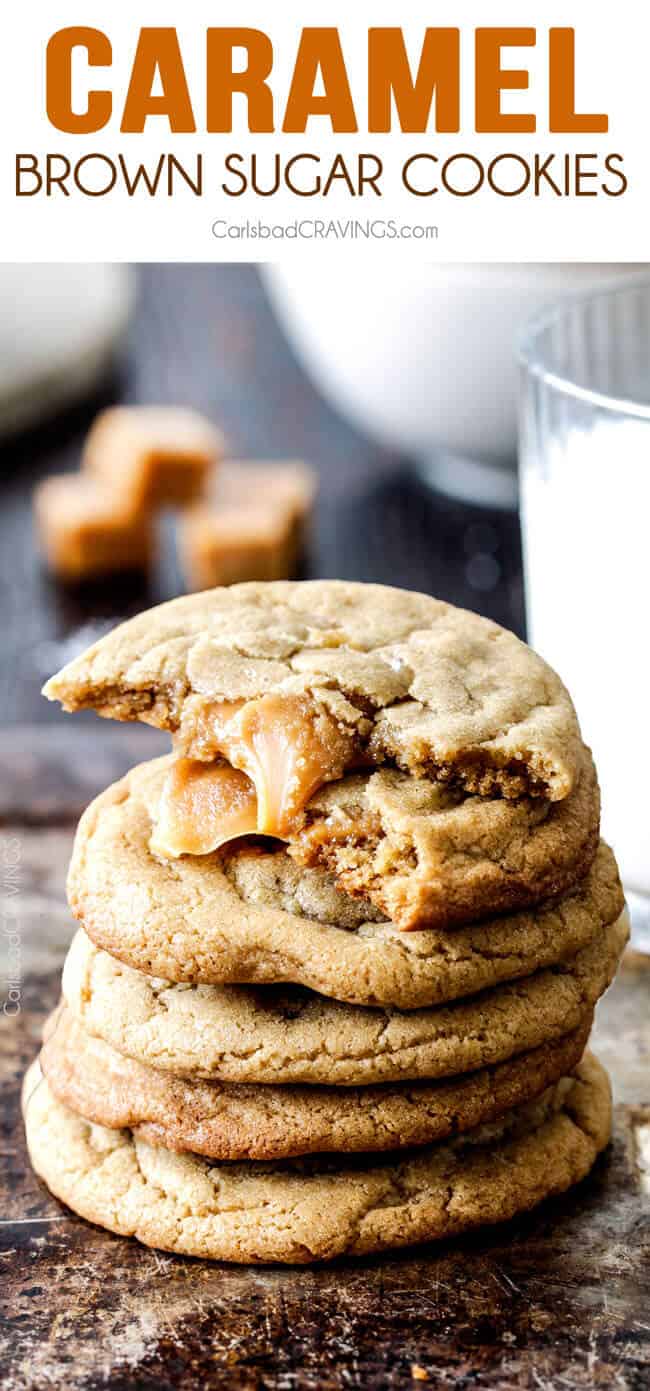 Mini Chocolate Peanut Butter Pies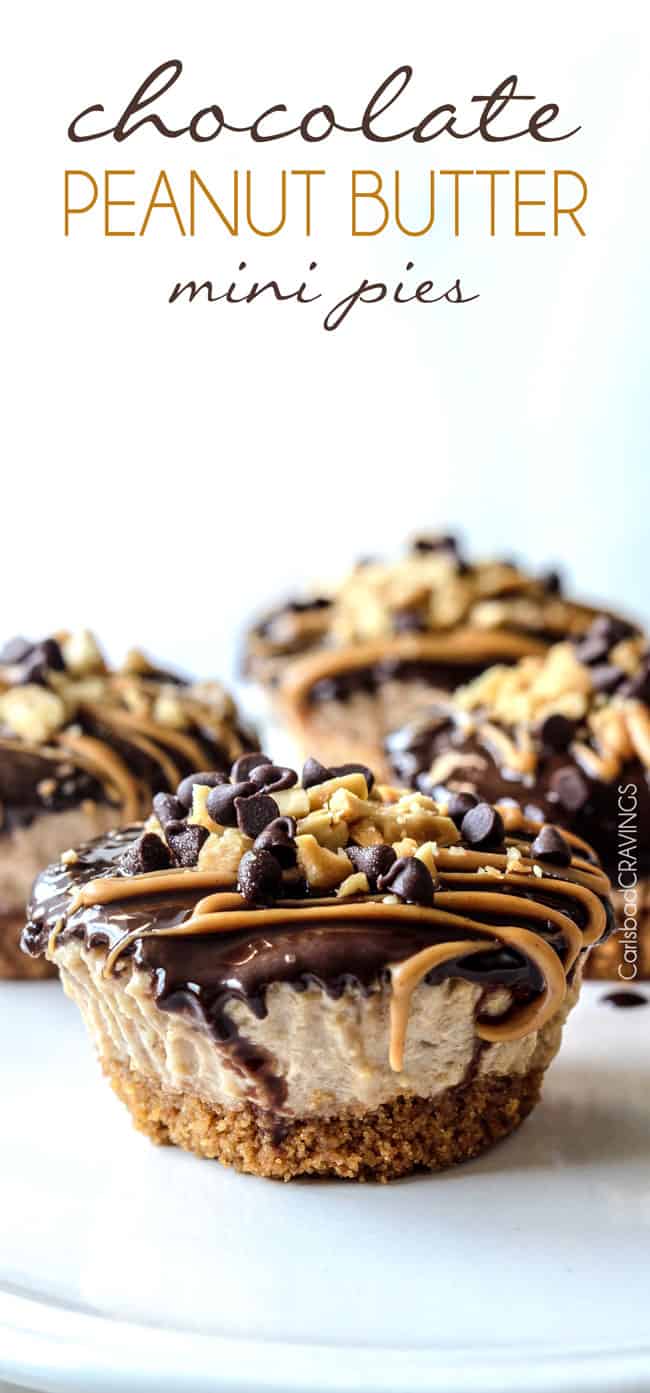 Chocolate Covered Strawberry Pound Cake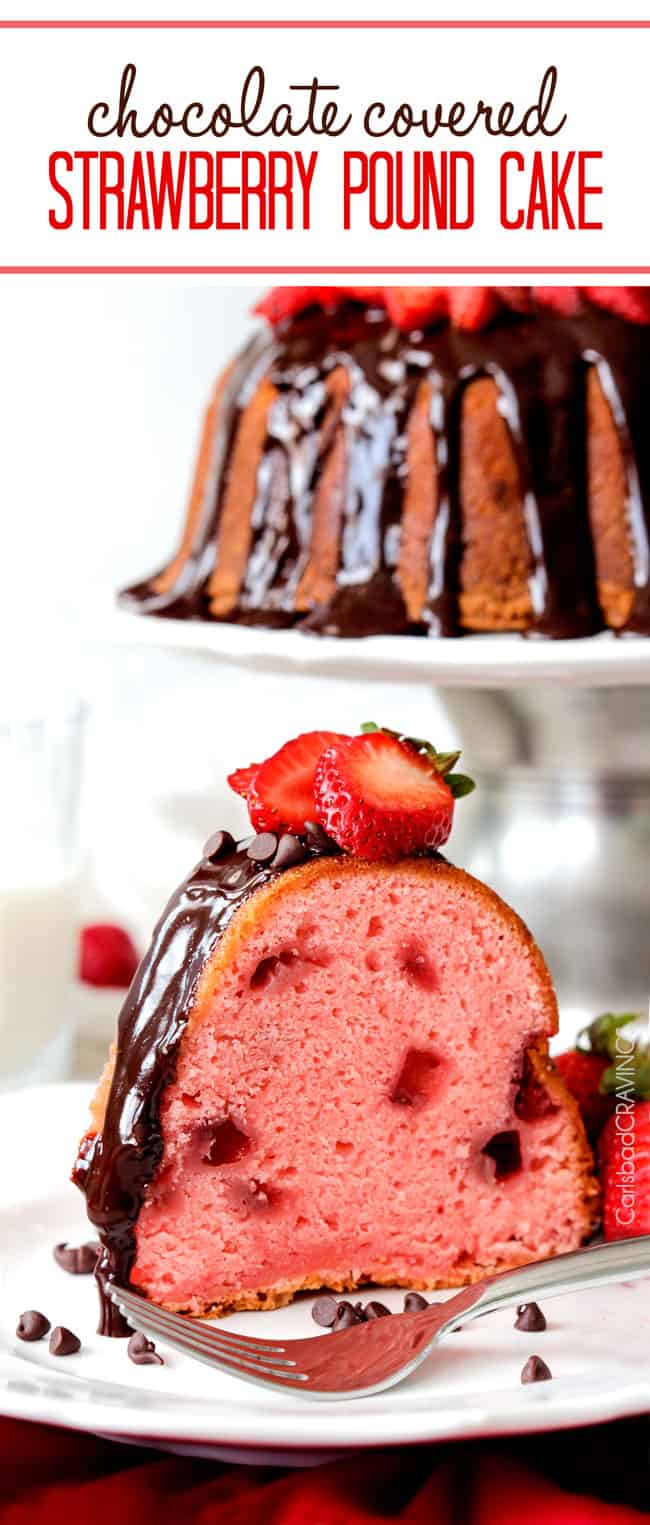 Strawberry Shortcakes with Lemon Curd Whipped Cream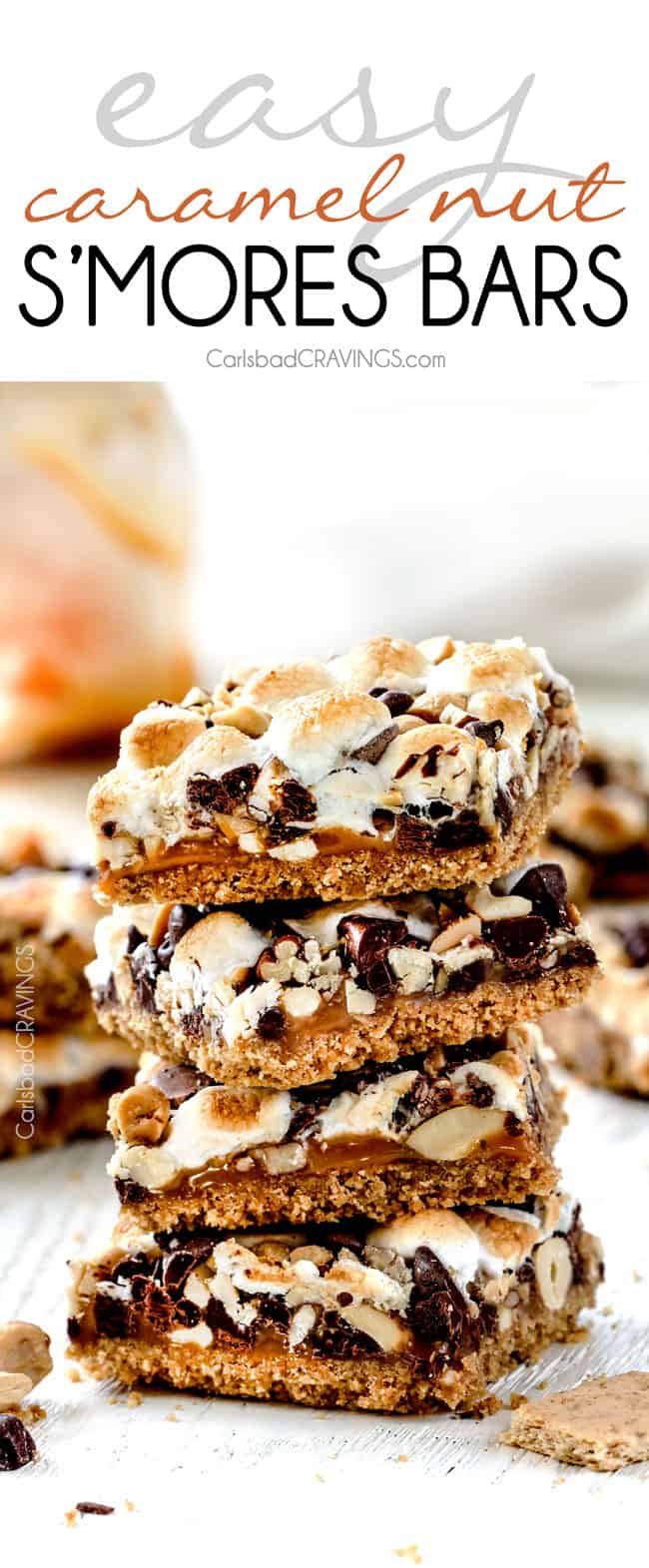 Follow Carlsbad Cravings (Jen)'s board Carlsbad Cravings Recipes on Pinterest.