Homemade Ice Cream Cake at a fraction of the price as store bought!
This ice cream cake boasts layers of the BEST homemade caramel sauce, easy pecan cookie crumble and toffee ice cream. It is easy, make ahead and summer's rich yet refreshing favorite stress free dessert!
Ice Cream Cake
I first posted this Caramel Toffee Ice Cream Cake almost two years ago when I first started blogging and it needed a makeover because an Ice Cream Cake with toffee ice cream AND pecan cookie crumble AND caramel needs to be seen and made and devoured. An Ice Cream Cake that is so addicting that after I dropped a heaping section off at a friend's house, she texted me, "Mmmmm…yum, yum, yumm! I'm fighting Rian over it as we speak!"
I think that means they liked it? 🙂
This ice cream cake is decadent but light at the same time, easy to prepare and perfect for your backyard summer barbecues (or just your own personal freezer for daily bites of pleasure 🙂 ). You too can be saying "Mmmmm,, yum, yum, yumm!" with this Caramel Toffee Ice Cream Cake. Just be prepared to fight over the leftovers!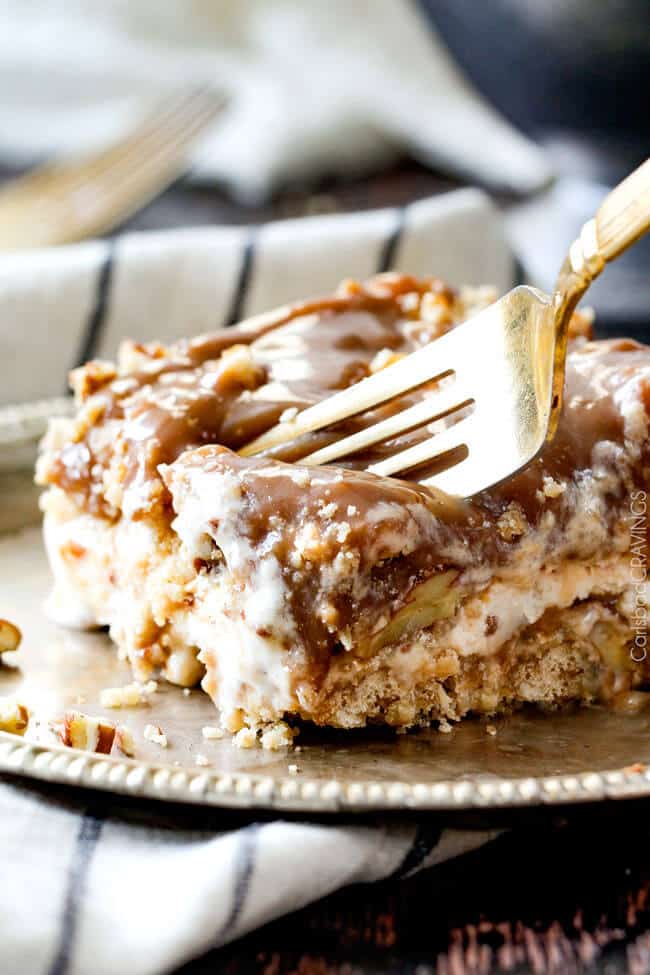 WHERE DID ICE CREAM CAKE COME FROM?
Ice cream cake might seem like a new invention but there are some recipes dating back to the 1870's! Ice cream, as we know it with cream, or milk, is primarily found 1700's. In the Victorian era, they had a dessert called Bombes, which was ice cream and fruits in decorative molds. These desserts often were lined with cake or biscuits and were the inspiration for the first "ice cream cakes."
In the US, ice cream cakes were made popular with the franchise named Carvel. Carvel began his legacy by borrowing $15 in order to sell ice cream from a truck. In 1934, after 5 years of business, Carvel's truck broke down over Memorial Day weekend, which was actually a blessing in disguise as Carvel discovered the market potential of soft ice cream.
Carvel moved to brick and mortar buildings and began selling soft-serve ice cream and eventually many other novelty ice cream inventions, including ice cream cake. So, we owe Carvel a huge THANK YOU for ice cream cake as we know it!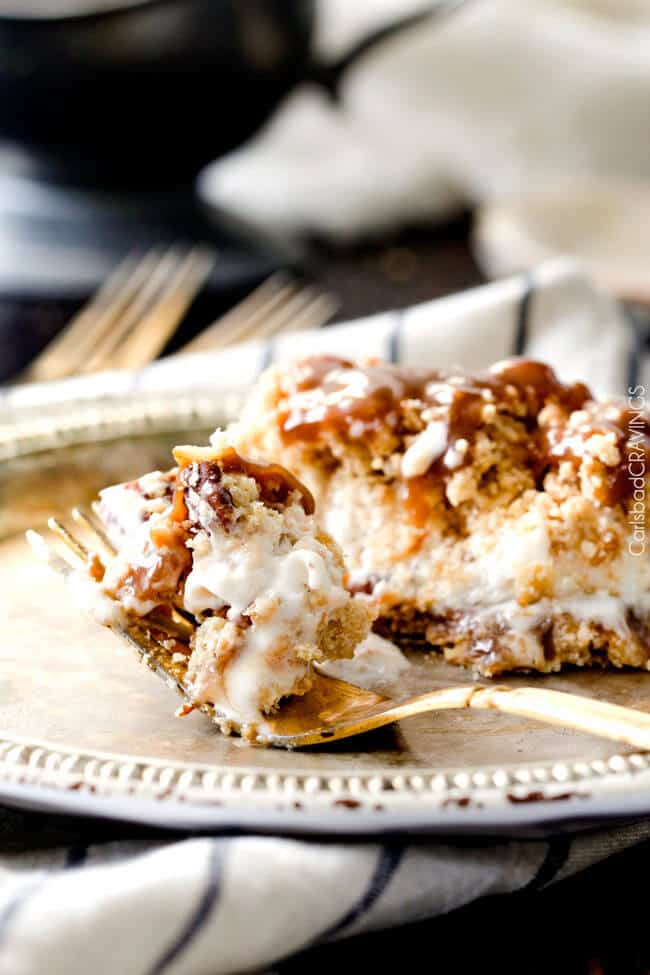 Ice Cream Cake Recipe
This ice cream cake recipe comes from my amazing mother-in-law, Marcia, who compiled a book of the family's favorite recipes for Christmas a few years ago. In the family recipe book, she prefaced this ice cream cake with, "Someone brought this to a Relief Society Dinner, and that is where it became famous. Make it once,and discover why…"
Having tasted this homemade ice cream cake recipe, I have personally discovered why. I am sure my energy bill went up the week I made this by opening and closing my freezer multiple times a day to sneak a bite – but I just couldn't stay away!
More reasons to love ice cream cake:
Easy prep and assembly
Perfect make ahead dessert
Versatile by mixing up ice cream flavors
Homemade taste better and at a FRACTION of the cost. Store bought ice cream cakes cost $2.4 to $3.75 per serving. I can buy an entire quart for the price of almost one serving which makes this ice cream cake a guilt free dessert! or at least monetary wide ;).
How to make Ice Cream Cake
Make base layer. This ice cream cake starts with an easy homemade pecan cookie dough that you bake, then crumble. Half of the crumble is pressed into the bottom of a 9×13 dish and you reserve the rest.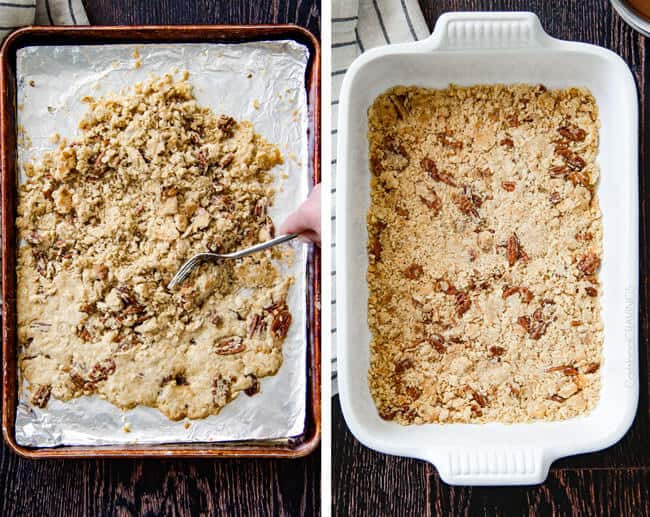 Layer with caramel sauce. I then made this already delicious ice cream cake recipe even more incredible by using my own Easy Creamy Caramel Sauce that gets drizzled over the pecan cookie crumble.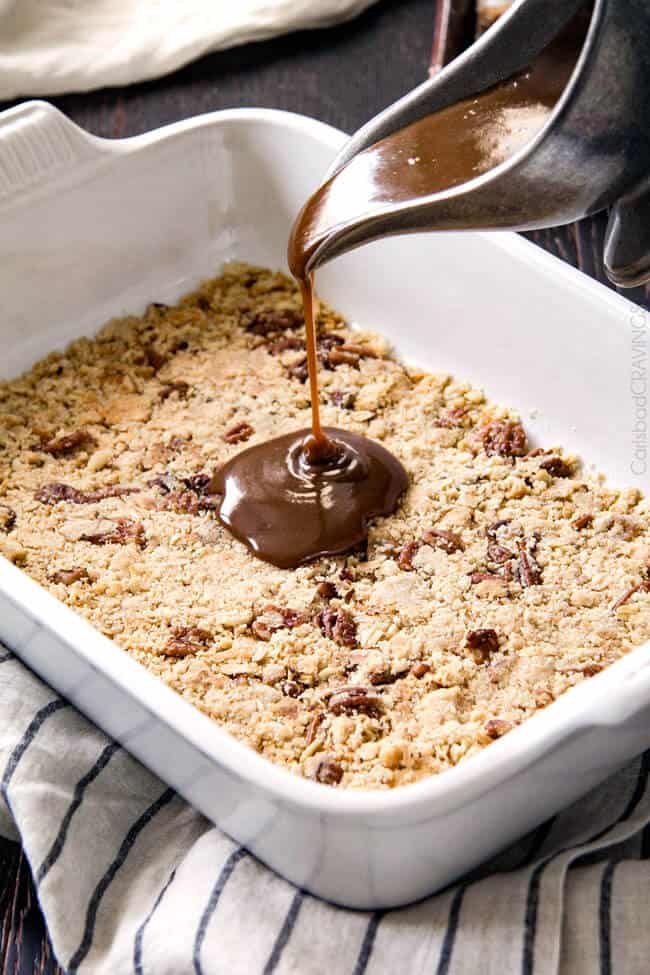 Top with ice cream. Next, smothered the caramel with ice cream. I used Toffee Caramel Crunch Ice Cream – but you really could swap the ice cream for whatever your mood is – even vanilla would be delicious. I, however, am ALWAYS in the mood for ice cream swirled with toffee, pecans and caramel.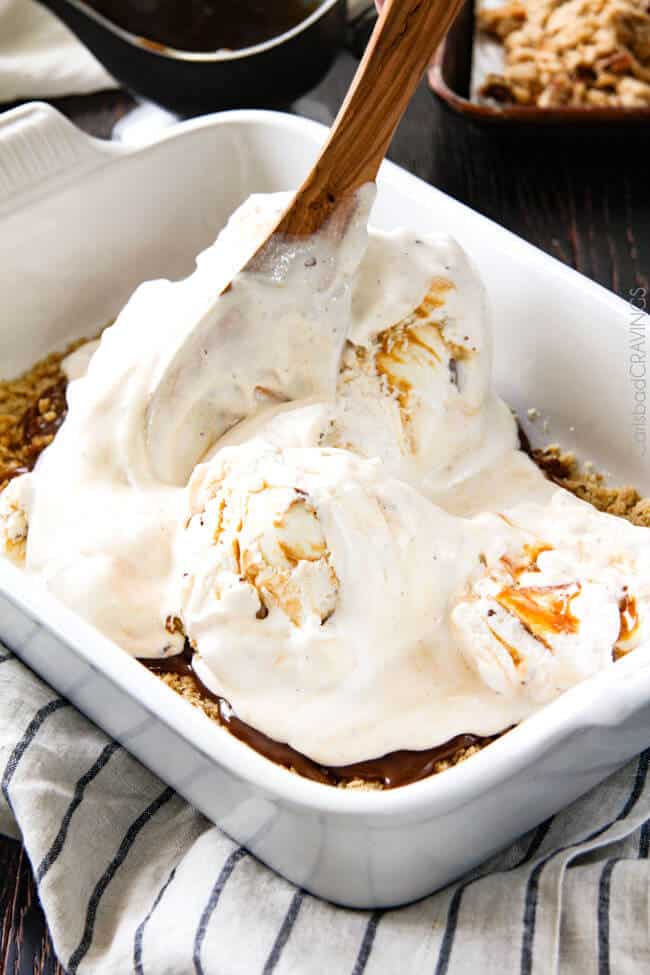 Top with crumble. Smooth out your ice cream and top it with the remaining buttery pecan cookie crumble…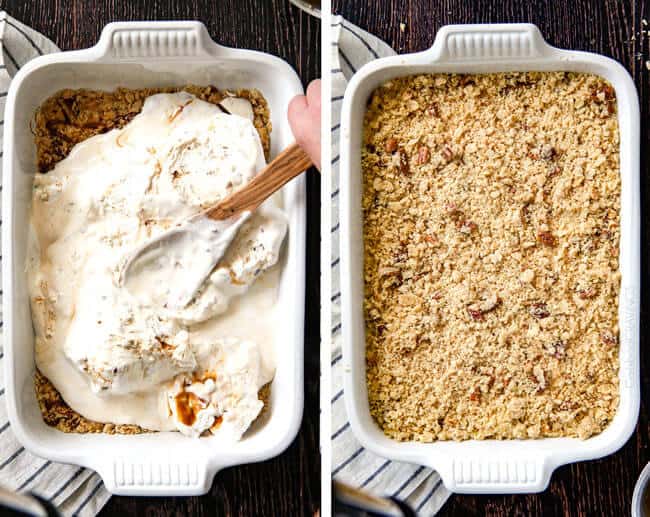 Freeze. Top with more homemade caramel, freeze for 8+ hours, and you have one of the most mouth watering desserts ever!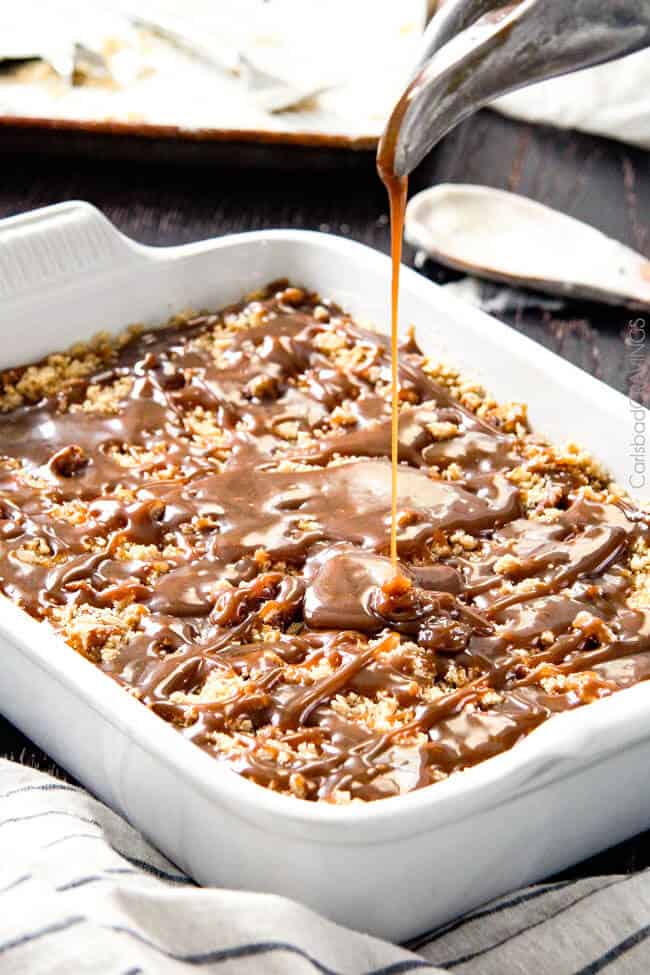 ICE CREAM CAKE TIPS
You can line your 9×13 dish with overhanging parchment paper and pop the cake out of the dish for better presentation (and easier clean up).
Place a small amount of room temperature caramel in a plastic bag and snip off a small corner to get a beautiful drizzle effect.
Before serving, bring the cake out and let it sit at room temperature for about 10 to 15 minutes so it's easier to slice and because softer ice cream is delish!
Make sure you give cake enough time to "set," by freezing for at least 3 hours, preferably overnight or it will be a gooey mess.
To easily slice your ice cream cake, run a sharp knife under hot water before slicing.
ICE CREAM CAKE INGREDIENT VARIATIONS
The possibilities are endless when it comes to ice cream cake combinations. Here are just a few ideas:
Cake layer: you can replace the cookie crumble with any crumbled cookies (mixed and baked like you do the crumble so it doesn't fall apart), or even brownies, blondies or cake! Take care not to overcook your cake layer so it stays soft and chewy.
Ice cream layer: you can use any flavor your taste buds desire. You can even layer or mix with crushed candy bars, chocolates, fruit, etc.
Caramel layer: you can replace with any sort of drizzle such as chocolate sauce, strawberry syrup, blueberry sauce, etc. that matches your ice cream flavor.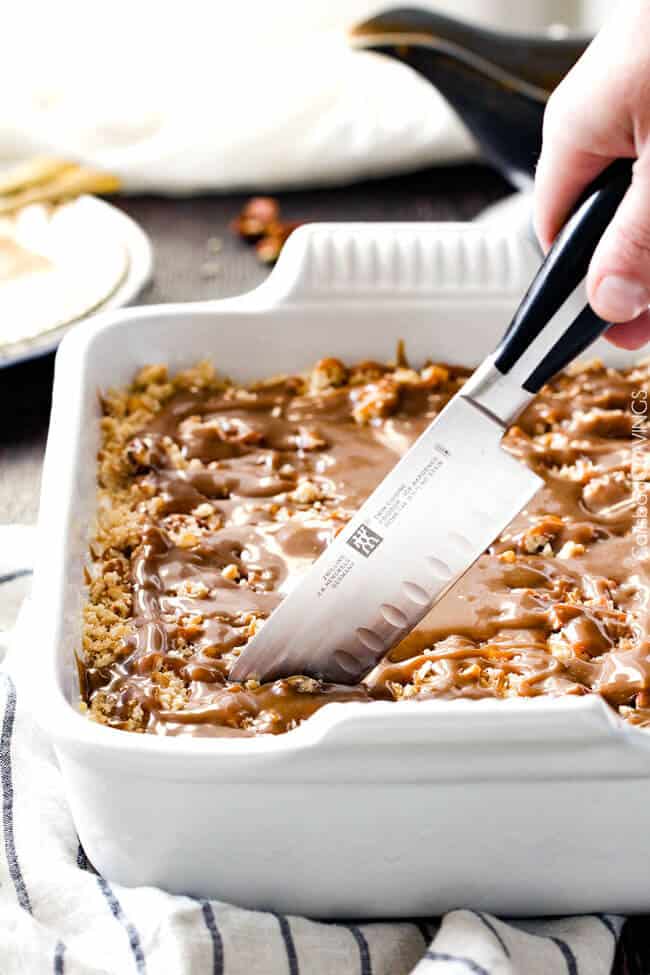 ICE CREAM CAKE VARIATIONS
Here are a few ideas of ice cream cakes you can make from the aforementioned ideas. Remember, the possibilities are endless!
Mint Chip Ice Cream Cake: Layer brownie base with mint chocolate chip ice cream and fudge sauce.
Reese Peanut Butter Ice Cream Cake: Layer the cookie crumble base with Reese peanut butter ice cream and the cookie bits crumbles on top.
Oreo Ice Cream Cake: Layer crumbled Oreo cookie base with Oreo ice cream, fudge sauce and whipped cream.
Chocolate Ice Cream Cake: Layer brownie base with rocky road ice cream (my fav), fudge sauce and whipped cream. You can also layer with more chopped peanuts and marshmallows in between layers.
Strawberry Ice Cream Cake: Layer cookie crumble with vanilla ice cream, sliced strawberries and top with strawberry syrup and whipped cream.
Georgia Peach Ice Cream Cake: Layer cookie crumble with vanilla vanilla or peach ice cream, sliced peaches and whipped cream.
HOW LONG CAN I STORE ICE CREAM CAKE IN MY FREEZER?
From the professional himself, Mr Cavel says you shouldn't store ice cream cake longer than one week otherwise ice crystals will start to form after that. If you do not mind ice crystals then storage in the freezer extends 2 months.
Also, if you make a version without any of the following: cream cheese, butter, cream, whipped cream or eggs, it can stay good for up to two months as these are the ingredients that will crystallize. Our caramel sauce contains butter and cream so one week is a good rule of thumb.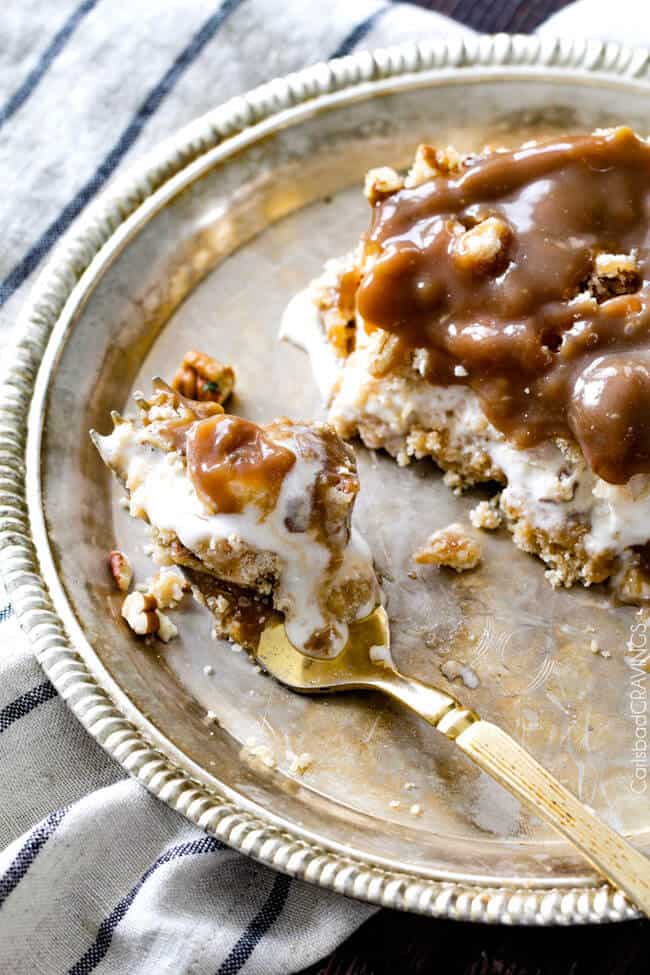 Want to try this Ice Cream Cake Recipe?
Pin it to your DESSERT board to SAVE for later!
Find me on Pinterest for more great recipes!  I am always pinning :)!
©Carlsbad Cravings by CarlsbadCravings.com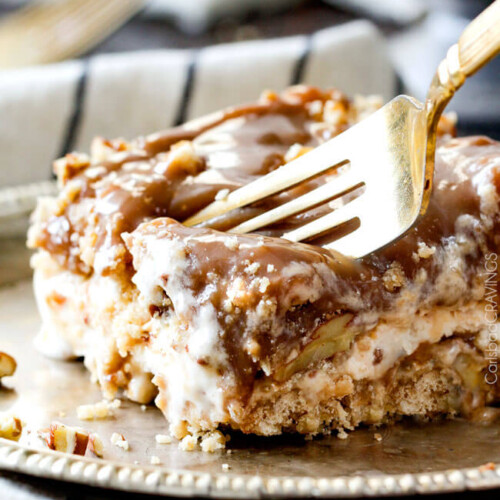 Caramel Pecan Ice Cream Cake
Homemade Caramel Pecan Ice Cream Cake at the fraction of the price as store bought! This ice cream cake boasts layers of the BEST homemade caramel sauce, easy pecan cookie crumble and toffee ice cream.  It is easy, make ahead and summer's rich yet refreshing favorite stress free dessert!   
Save This Recipe To Your Recipe Box
You can now create an account on our site and save your favorite recipes all in one place!
Ingredients
1/2

gallon

of your favorite Toffee Ice Cream, softened

(I use Heath bar)
Cookie Crumble
1/2

cup

brown sugar, packed

2

cups

flour

1/2

cup

old fashioned oats

1/2

teaspoon

salt

1

cup

butter, sotfened

1

cup

pecans roughly chopped
Instructions
Mix all of the Cookie Crumble ingredients together then spread evenly over a foil lined cookie sheet. Bake at 400 degrees for 10 minutes.

Meanwhile, prepare 1 Recipe Easy Creamy Caramel Sauce.

Break up the baked Cookie Crumble with a fork and divide in half. Transfer half of the Cookie Crumble to a 9×13 pan and press evenly into the bottom of the pan. Drizzle with half of the caramel sauce (its okay if it runs together). Spread the ice cream evenly over the sauce, then layer with the rest the Cookie Crumble. Top with the remaining caramel.

Freeze for at least 3 hours before serving. Take out of the freezer 10 minutes before serving to soften.

Cake will last covered in the freezer for a few weeks – if you can stand the temptation!
Did You Make This Recipe?
Tag @CarlsbadCravings and Use #CarlsbadCravngs
Leave a Review, I Always Love Hearing From You!
Adapted from my mother in law, Marcia Sattley