TURTLE BROWNIES seeping with pockets of caramel, infused with pecans and chocolate chips, smothered in the BEST chocolate frosting and topped with more caramel!
These Turtle Brownies aren't just brownies and they aren't just Turtle Brownies, they are POKE Turtle Brownies which means they literally have holes brimming with caramel. And this, of course, means they are the best brownies in the world, or so says everyone who tries them!
TURTLE BROWNIES RECIPE VIDEO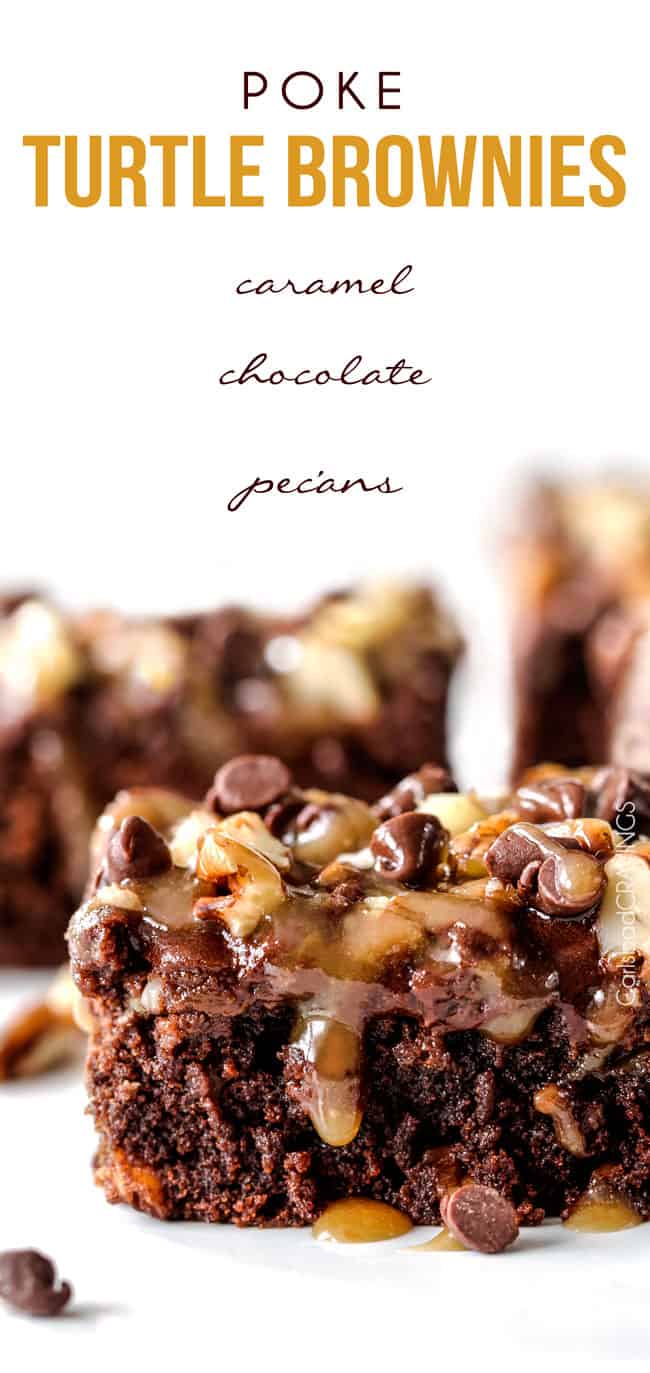 Poke Turtle Brownies
These Turtle Brownies are so outrageously delicious that although I had a list of people to deliver the leftovers brownies to, they didn't make it. I embarrassingly will admit that Patrick and I ate the entire pan of brownies by ourselves. The entire pan.
When I made them again for the video and managed to give the leftover Turtle Brownies to three friends, they ALL posted on their instagram stories. One friend said, "These are the "best brownies I've ever tasted." Another friend showed a picture of the plate with one brownie left and said, "Should I save it for Paul?" (her husband) The third friend said she would never make any other brownie recipe again.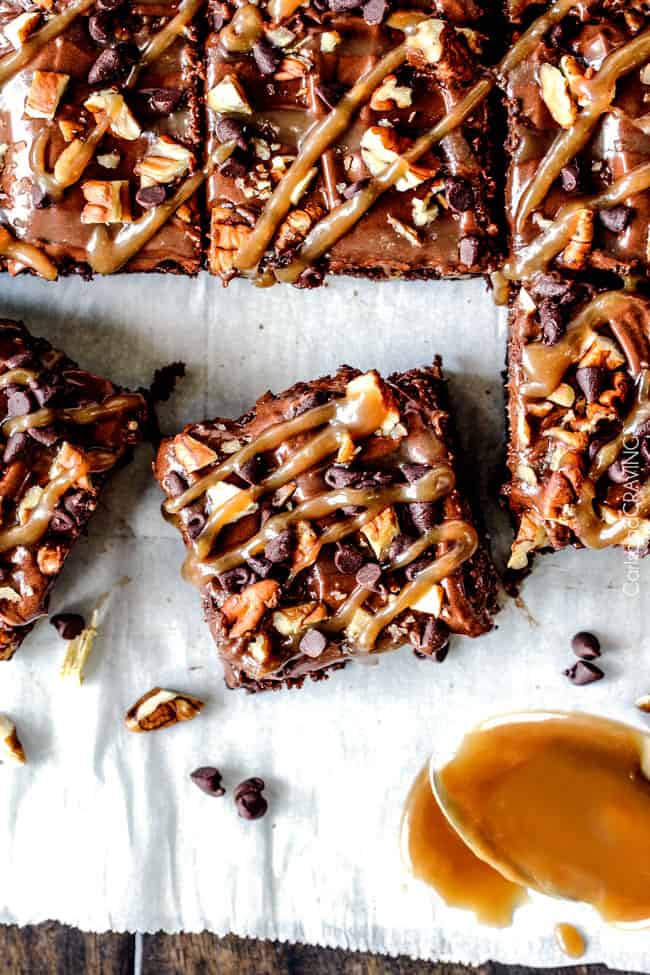 Yes, friends, my thoughts exactly. Just like my Turtle Cookies, these Turtle Brownies are intoxicating. They stay moist for forever because of the caramel IN the brownies and the silky chocolate frosting should be boxed and sold. To top it all off, the dance of crunchy pecans, chocolate chips, and creamy caramel is texture bliss. So just a fair warning, with one bite, you won't be able to say no to these Turtle Brownies unless you have the will power of steel. Pure steel.
How to Make Turtle Brownies
I wanted to create the best Turtle Brownies, so I took my favorite simple brownie recipe, added pecans and chocolate chips to the batter.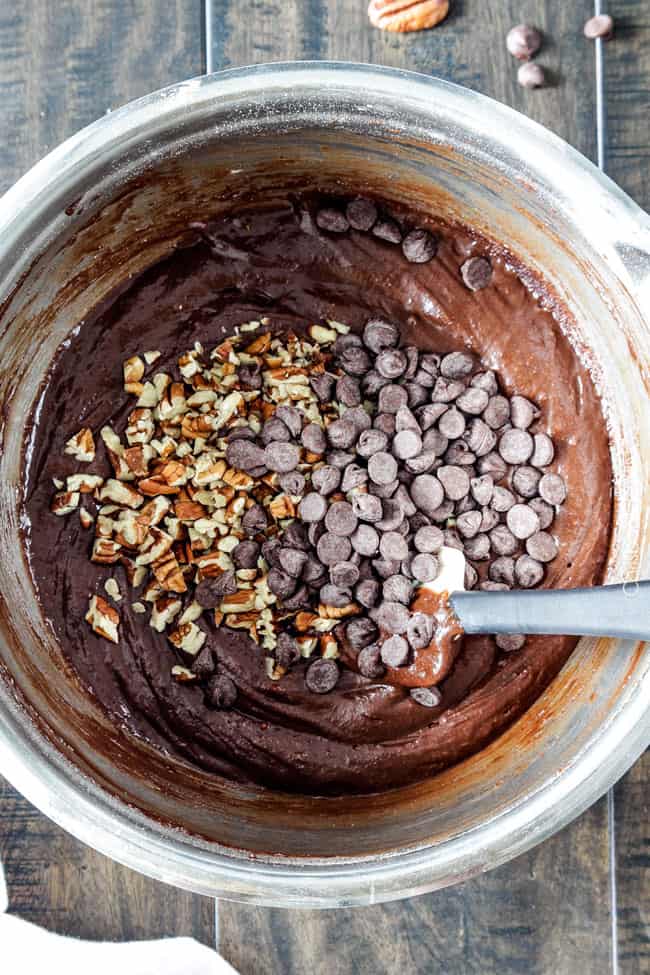 Then poked holes all over the top and poured my favorite Easy Creamy Caramel (so good you will eat it with a spoon!), to sink deep into the craters so every bite is super moist and caramelicious…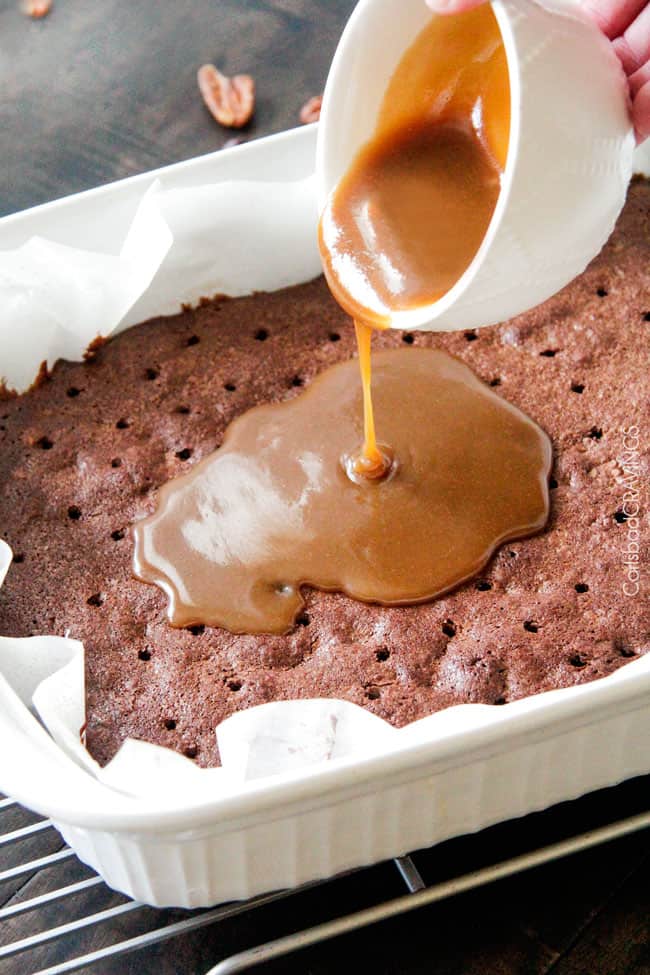 Then I spread the caramel all over the Turtle Brownies so it glides deep into the brownie pockets.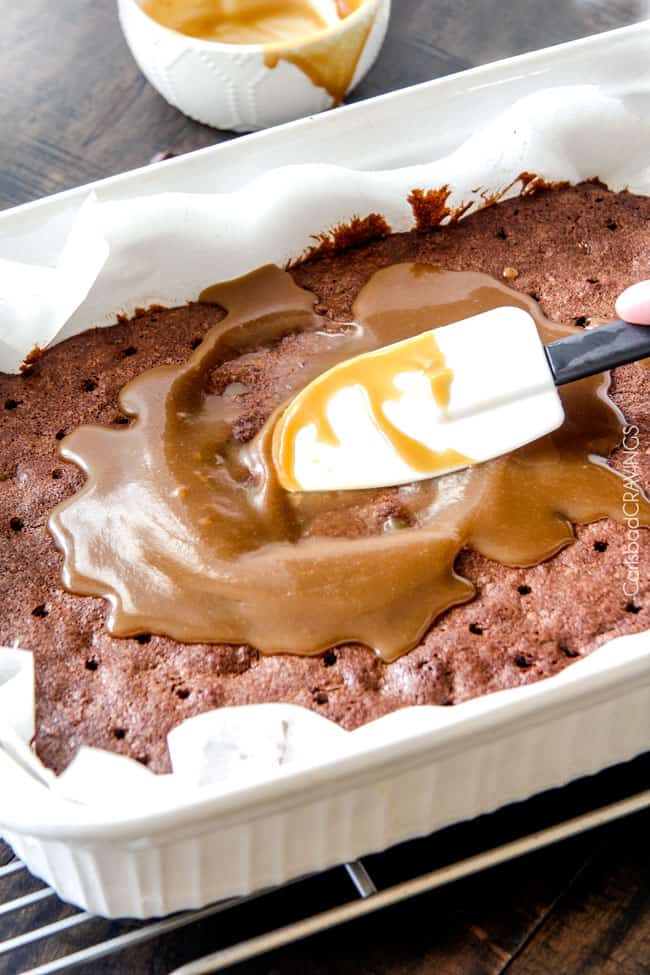 I then topped the Turtle Brownies with my favorite velvety chocolate frosting (you might never go back to any other chocolate frosting!) and finally adorned the brownies with more chocolate chips, pecans and caramel. INSANE!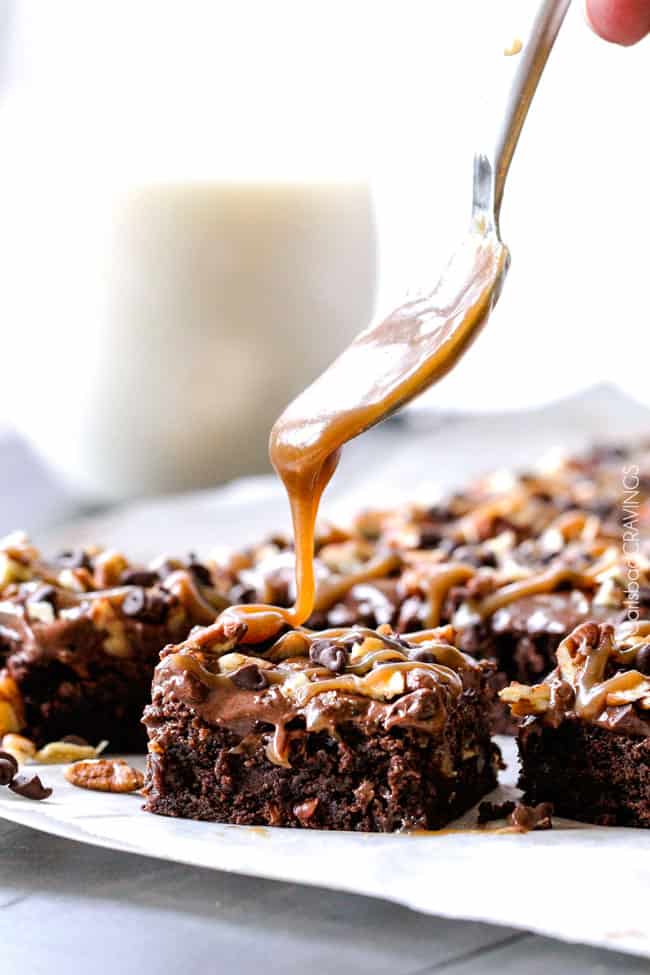 How to Serve Turtle Brownies
My favorite way to eat these rich, million dollar morsels is to microwave them for 10 seconds or so, just enough to warm the Turtle Brownie, liquefy the caramel and soften the chocolate frosting to melt in your mouth heaven.
How Do you Store Turtle Brownies?
Cover Turtle Brownies and store at room room temperature for up to one week. They caramel pockets keep them nice and moist.
Can I Make Turtle Brownies Ahead of Time?
You can make just the Turtle Brownies without the extra nut/caramel topping and freeze for up to 3 months. When ready to serve, thaw the brownies overnight in the refrigerator, then bring them to room temperature on the counter before serving.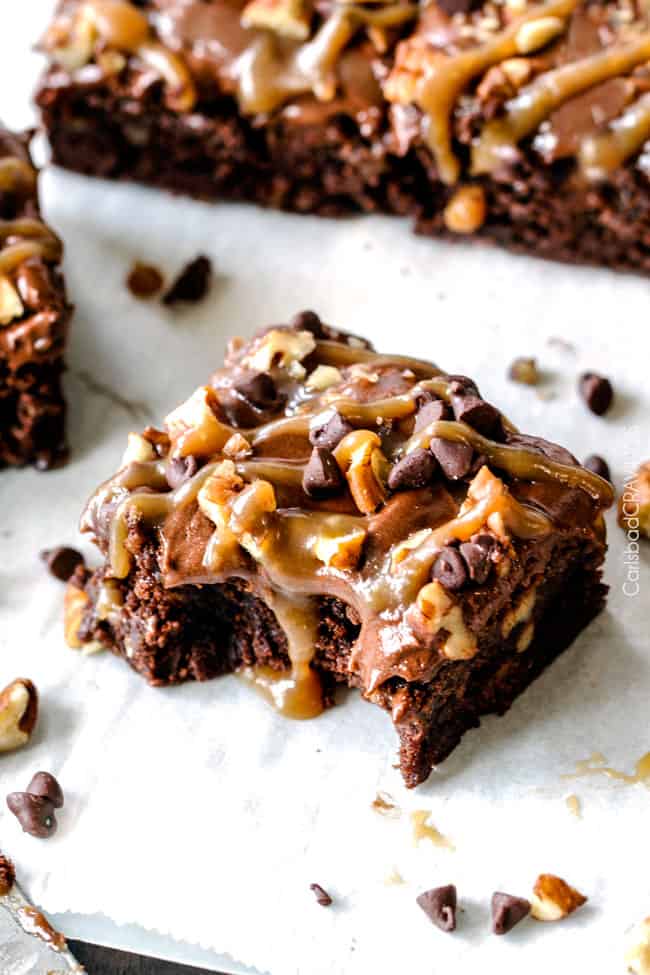 Can I Leave the Nuts Out?
If you have a nut allergy or are not a fan of nuts, then you can omit the pecans. The brownies, however, will no longer be Turtle Brownies, just Caramel Brownies.
Can I Use Store Bought Caramel Sauce?
I highly recommend my own Caramel Sauce recipe – I think it "makes" these Turtle Brownies and only takes 5 minutes to make! But yes, you can use store bough caramel sauce, NOT ice cream topping. The ice cream topping will be to thin and not have the same rich, luscious results.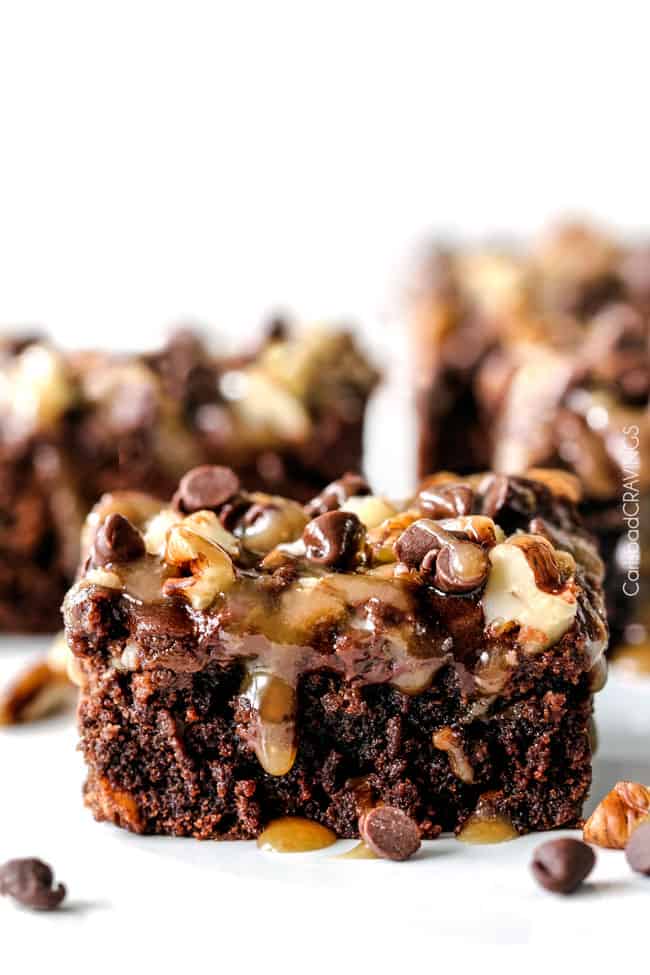 Poke Turtle Brownies. Brownies don't get any better.
Looking for more Chocolate recipes?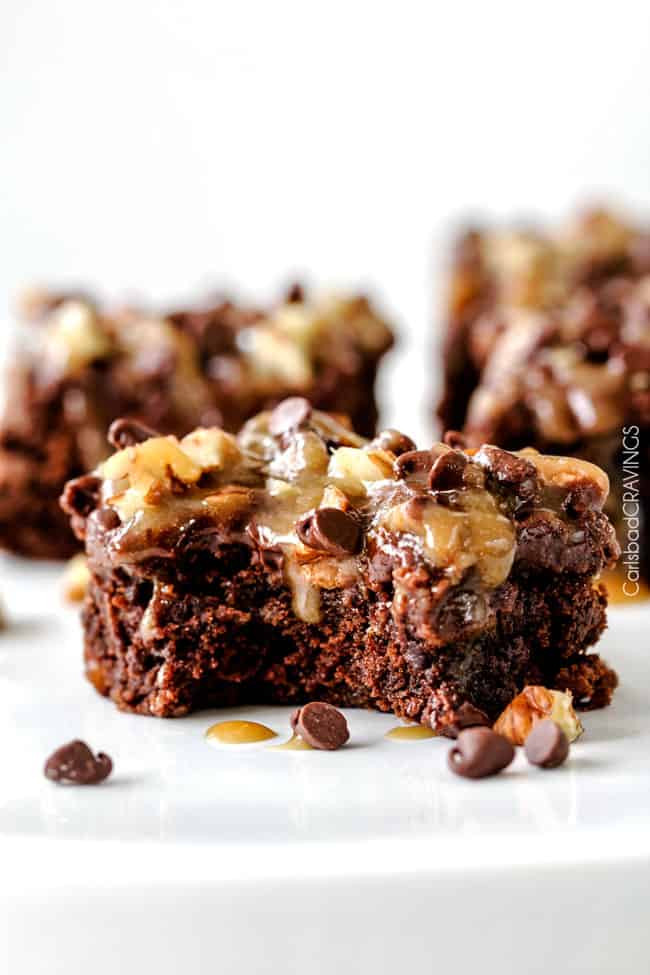 Want to try this bownie Recipe?
Pin it to your brownie, bar or chocolate Board to SAVE for later!
Find me on Pinterest for more great recipes! I am always pinning :)!
©Carlsbad Cravings by CarlsbadCravings.com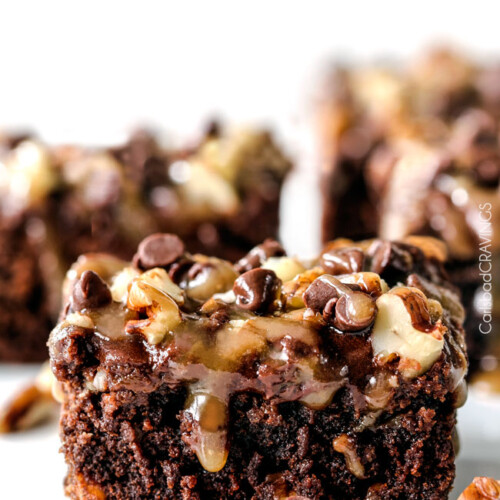 Poke Turtle Brownies
Crazy moist Poke Turtle Brownies seeping with pockets of caramel, infused with pecans and chocolate chips, smothered in the BEST chocolate frosting and topped with more caramel AKA the best brownies EVER!
Servings:
24
-36 brownies
Save This Recipe To Your Recipe Box
You can now create an account on our site and save your favorite recipes all in one place!
Ingredients
Brownies
1

cup

flour

1/2

teaspoon

baking powder

1/2

teaspoon

salt

1/4

teaspoon

cinnamon

(optional)

1

cup

butter, melted

(2 sticks)

2

cups

granulated sugar

3/4

cup

unsweetened cocoa powder

4

large eggs

2

teaspoons

vanilla extract

1

cup

semi-sweet chocolate chips

1 1/4

cup

pecans, roughly chopped, divided

3/4

cup

Recipe Easy Creamy Caramel Sauce

1/4

cup

mini semi-sweet chocolate chips

(may sub regular)
Chocolate Frosting
6

tablespoons

butter, softened

1/4

cup + 2 tablespoons

cocoa powder

2

tablespoons

light corn syrup

(may substitute honey)

1

teaspoon

vanilla extract

1 1/2

cups

powdered sugar, sifted

2-3

tablespoons

milk
Instructions
Preheat oven to 350 degrees F. Line a 9×13 pan with parchment paper or aluminum foil so it overhangs slightly (so you can easily lift brownies out later) and lightly spray with nonstick cooking spray. Set aside.

Brownies: In a medium bowl, mix together flour, baking powder, salt and cinnamon. Set aside.

To a separate large bowl, whisk butter, sugar and cocoa powder together. Add eggs to the batter one at a time, beating after each addition just until incorporated. Beat in vanilla. Fold in flour mixture just until combined. Add 1 cup semi-sweet chocolate chips and ¾ cups chopped pecans to batter and stir until just combined. Pour batter evenly into pan.

Bake at 350 degrees for 30-35 minutes. Let pan cool on a wire rack for 5 minutes then poke holes all over with the back of a chopstick or small wooden spoon. Pour ½ cup caramel over brownies and spread into holes with a spatula. Refrigerate brownies for one hour or freeze for 30 minutes to let the caramel set. Meanwhile, prepare the Chocolate Frosting.

Chocolate Frosting: Beat butter, cocoa, corn syrup and vanilla in small bowl until blended. Add powdered sugar and 2 tablespoons milk and beat until smooth, adding additional milk if needed to reach spreading consistency.

Once caramel has set, frost brownies with Chocolate Frosting (you don't have to use all of it but I highly recommend it!). Sprinkle evenly with ½ cup chopped pecans, ¼ cup mini chocolate chips and drizzle with ¼ cup caramel.

You can serve immediately or refrigerate to allow frosting to set and make cutting easier. I LOVE to microwave my brownie serving for 15 seconds or so before devouring.
Notes
Don't miss the "how to make" recipe video at the top of the post!
Did You Make This Recipe?
Tag @CarlsbadCravings and Use #CarlsbadCravngs
Leave a Review, I Always Love Hearing From You!
Carlsbad Cravings Original with plain brownie recipe adapted from Hersheys