---
These Fresh Green Beans with Bacon, Dijon Maple Sauce, Caramelized Pecans, and Feta aren't your grandmother's green beans – no offense grandma.
---
In need of a quick and easy Thanksgiving side dish? These green beans and bacon are a total winner! Plus, they can be made in advance.
Fresh Green Beans with Bacon
I was in charge of making the "green bean casserole" for Thanksgiving a couple times back in the day so I whipped up my mom's green beans that have been passed down for generations. They were comforting and homey but there is a reason they are only made once a year. Isn't it funny how we only make certain foods only once a year because it's an obligatory Thanksgiving item?
But what if green beans weren't canned? What if green beans weren't smothered in mystery "cream-of-something-soup? What if green beans weren't bland and boring but fresh, exciting and exploding with flavor and texture?
I give you such green beans.
While these Dijon Maple Green Beans might sound like another Thanksgiving recipe, they are not just a Thanksgiving recipe. They are going to become a year-round favorite dinner side, favorite side to impress company and favorite side when you simply crave crisp tender green beans sauteed in butter, garlic, shallots and red pepper flakes, infused with a sauce of Dijon, pure maple syrup, and balsamic vinegar topped with the crunch of bacon, sweet caramelized pecans and creamy Feta cheese.
Tangy, salty, sweet, crunchy, crispy, creamy – AKA, in my humble opinion, "the best green beans ever," or at least that's what I repeatedly exclaimed to myself when I tried to stop eaten them long enough to take pictures.
Move over, green bean casserole, there is a new exquisitely beautiful and exquisitely delicious green bean side in town.  And it goes by Dijon Maple Green Beans with Caramelized Pecans, Bacon and Feta.  Not your grandmother's green beans.

Green Beans and Bacon Ingredients
Despite the long recipe title, these sautéed green beans with bacon have a fairly short ingredient list:
Fresh green beans: Trim the ends before blanching and sautéing them.
Butter: Just 2 tablespoons adds lots of flavor to these beans.
Shallot: I prefer using a shallot because it has a light garlicky-onion flavor. But a small, mild onion may be substituted.
Garlic: Don't be tempted to throw in extra garlic as it can easily overwhelm this dish.
Maple syrup: Use pure maple syrup, NOT pancake syrup.
Dijon mustard: Has a wonderful depth of flavor that regular mustard lacks.
Balsamic vinegar: Adds some tanginess to the dish.
Caramelized nuts: You need just 5 minutes to make my favorite caramelized nuts.
Bacon: Needs to be cooked until crisp and then crumbled.
Feta cheese: Adds extra saltiness the perfectly complements the sweet dressing.
How to Pick Fresh Green Beans
With the abundance of green beans in season, our Dijon Maple Green Beans boast fresh green beans instead of canned. You will need 1 ½ pounds fresh green beans for this recipe. Here are some helpful tips to select the freshest and therefore the most flavorful fresh green beans:
Color: Green beans should be vibrant green. They should not be yellowish or brownish and should be free from brown blemishes.
Texture: The skin of the green beans should be smooth and tight. It should be free from bumps, bruises and blemishes. These can indicate overripe green beans.
Structure: Fresh green beans should be firm and not limp or flabby. The green beans should snap when bent.
Size. Select, thin, small green beans. This indicates they will be tender and flavorful. Large green beans that are excessively thick can be tough or stringy.
How to Prep Fresh Green Beans
Wash fresh green beans thoroughly in cool water. Repeat.
Pat green beans dry.
Trim the stems off the green beans in batches. You can trim them straight or at a slight diagonal for a more gourmet look.
The most efficient way to trim fresh green beans is to line a small bunch on a cutting board so the ends are even on one side. Trim the ends on this even side.
Level the other side and trim those ends.
Beans are more aesthetically pleasing left whole but if they are extra long, then you can cut them in half.
How To Store Fresh Green Beans
If you're making these Dijon Maple Green Beans for Thanksgiving, you aren't going to want to wait to the last minute to purchase your green beans – or else they could all be sold out!  Thankfully green beans store very well.  To store fresh green beans:
Do NOT wash the beans. Wait until you are ready to cook your green beans to wash them otherwise moisture can be left on them which can cause mold.
Use a paper towel. Line an airtight container or large freezer bag with a paper towel. The paper towel will absorb any moisture and prevent the green beans from growing mold.
Remove excess air. If using a resealable bag, try and push out as much air as possible before you seal it.
Store. Store in the crisper drawer of your refrigerator for 5-7 days.
What is the best way to cook fresh green beans?
There are several ways to cook fresh green beans from sautéing, roasting, or steaming. No matter the method, the most important part of cooking fresh green beans is to not OVER-COOK them. We want crisp-tender green beans and never mushy green beans.
My preferred method of cooking fresh green beans is to blanch them for tenderness and then sauté them for flavor.  To do this:
Add water to a large stock pot and bring to a boil.
Add about 1/8 teaspoon salt.
Carefully add green beans using a slotted spoon or strainer so the water doesn't splatter and burn you.
Boil green beans for 2 minutes. Make sure you set a timer.
Drain green beans in a strainer.
Immediately add green beans to an ice bath.
How Long to Blanch Green Beans?
The fresh green beans need to blanch for just 2 minutes in boiling water. Set a timer!
WHAT IS AN ICE BATH FOR COOKING?
If you aren't familiar with an ice bath, it is used to quickly stop the cooking process. We need an ice bath to stop our green beans from cooking because we are going to sauté them later. If they continue to cook, they will become mushy and unappetizing.
Prepare your ice bath before you start cooking your green beans so it is all ready for you.  To make an ice bath, simply fill a large bowl with ice and cold water.
How to Make Fresh Green Beans with Bacon
I've given detailed instructions below on how to make this green bean side dish, but here's an overview of the process:
In a small bowl, mix together the mustard-maple sauce. Set aside.
Blanch green beans in a large stock pot of salted boiling water for 2 minutes. Drain and transfer beans to a large bowl of ice water.
In a saucepan, sauté the shallots, garlic and red pepper flakes n some melted butter.
Add beans and Dijon-maple sauce and continue to cook until beans are evenly coated in the sauce and beans and cooked to desired crisp-tenderness.
Garnish with caramelized nuts, bacon and Feta.
Tips for Making Green Beans and Bacon
Double the sauce: I tend to like more Dijon Maple Sauce than some, so you might want to Double the Dijon Maple Sauce and add to taste.
Use fresh green beans: Make sure your beans are green all over and aren't soft or spotty.
Use plain bacon: You don't want to use flavored bacon for this dish since there are already so many wonderful flavors in this green bean dish. Plain bacon is the way to go!
CAN GREEN BEANS with Bacon BE MADE AHEAD of Time?
Yes!  These green beans are excellent to make ahead of time for stress-free Thanksgiving or entertaining.  To make ahead:
Blanch the green beans according to directions and immediately transfer to a water bath.
Melt the butter over medium heat in a large skillet. Add shallots, garlic and red pepper flakes and sauté for 1 minute.
Add beans and Dijon Maple Sauce and stir to coat green beans but do NOT continue to cook. Once green beans are coated in sauce, immediately remove from heat.
You can also make the caramelized pecans in advance and store the in an airtight container for up to 7 days.
You can cook the bacon up to 2 days in advance and store in an airtight container in the refrigerator.
How to Reheat Fresh Green Beans with Bacon
To reheat, add green beans to a skillet and sauté until they achieve desired crisp tenderness. Garnish with feta, bacon and caramelized nuts.
How to Store Green Beans and Bacon
Leftovers will last up to 5 days in the fridge. If possible, store the toppings and the beans separately so nothing gets soggy.
WHAT TO SERVE WITH GREEN BEANS and Bacon
These green beans are an excellent side to Thanksgiving Turkey as well as:
Looking for more Green Bean Recipes?
Want to try this Green Beans recipe?
Pin it to your Sides, THANKSGIVING or Holiday Board to SAVE for later!
Find me on Pinterest for more great recipes! I am always pinning :)!
©Carlsbad Cravings by CarlsbadCravings.com
Carlsbad Cravings Original
Never miss a Carlsbad Craving Creation:
Looking for More Fall Recipes?
Slow Cooker Ricotta Bacon Creamed Corn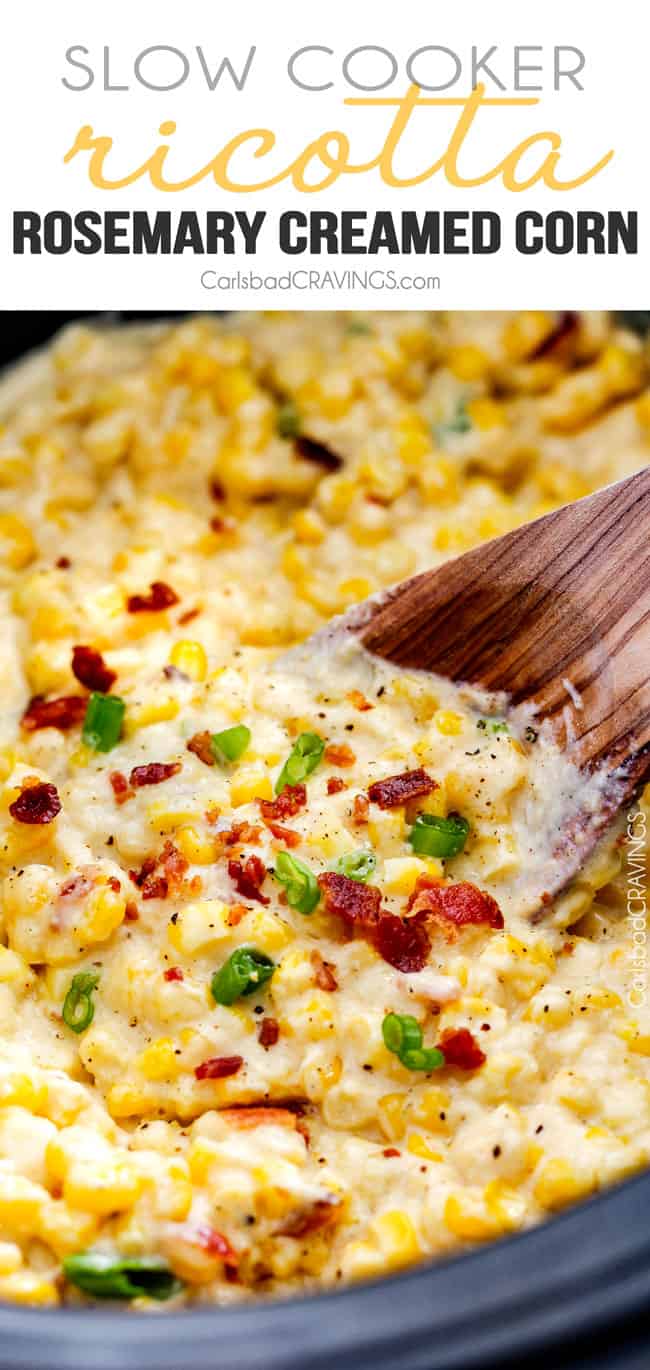 Herbed Gruyere Scalloped Potatoes and Bacon Au Gratin
Perfect Soft and Fluffy Dinner Rolls
Cranberry, Apple Pecan Wild Rice Pilaf
Fall Salad with Pomegranate Vinaigrette
Double Layer Pumpkin Oreo Cheesecake
Slow Cooker Sweet and Spicy Cranberry Meatballs
Herb Sweet Potatoes with Bacon and Gruyere