SPAGHETTI BOLOGNESE THAT IS RICH AND HEARTY, TASTES LIKE IT'S BEEN SIMMERING FOR HOURS BUT IS ON YOUR TABLE IN LESS THAN 30 MINUTES!
This Spaghetti Bolongese is my easy weeknight version that skips the hours of simmering and delivers an Italian meat sauce with BIG, bold, complex flavors in super LITTLE time! This divine semi-homemade spaghetti sauce is a family favorite recipe I make more than ANY OTHER RECIPE! The recipe that always comes to the rescue when you don't feel like cooking but want your food to taste like its been simmering for hours and BONUS, it freezes super well!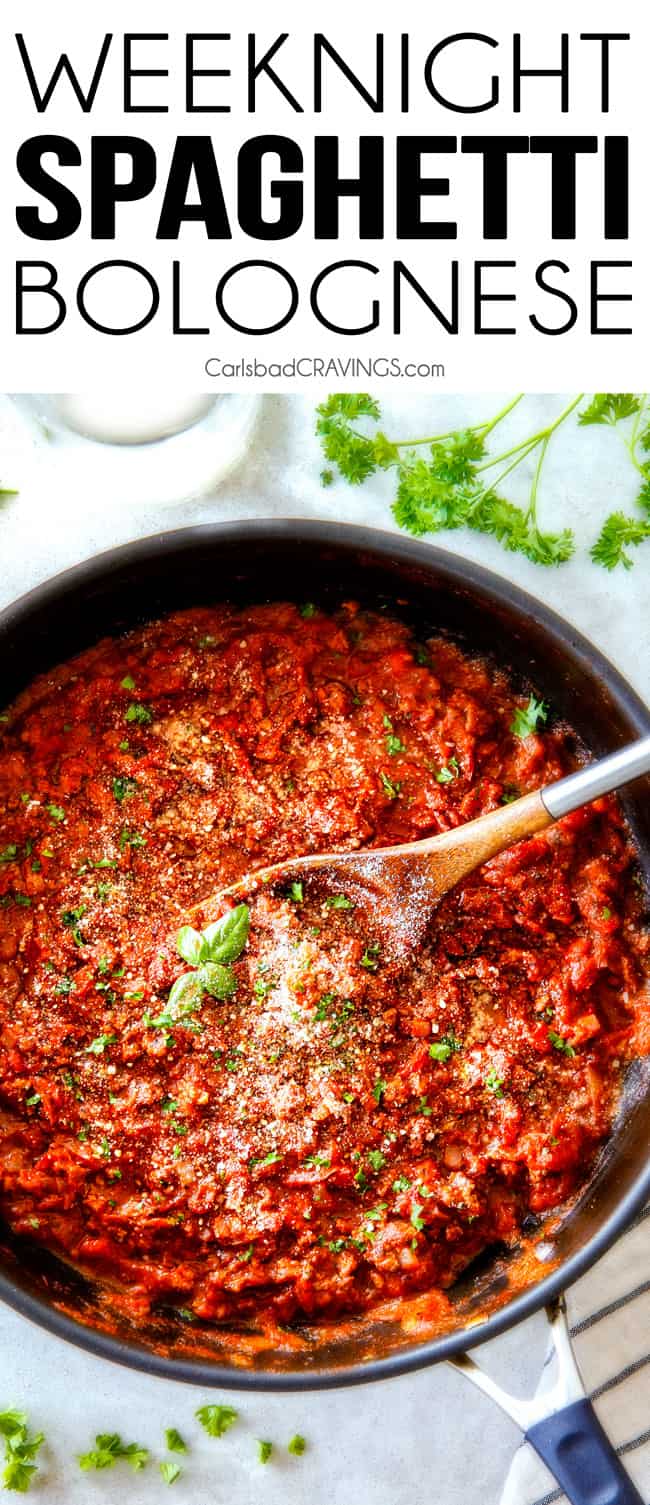 Spaghetti Bolognese Recipe
I have a confession. As a food blogger, after I perfect a recipe to share, I hardly ever make it again. Instead, I am either experimenting and creating the next best recipe to share with you OR I'm too burnt out of cooking. Yes, it happens. As much as I crave the World's Best Lasagna and Manicotti, I opt for much quicker meals like my Shrimp Fettuccine, to my One Pot Italian Orzo Pasta, Pad Thai, Lasagna Soup, and of course this Weeknight Spaghetti Bolognese!
I make this Spaghetti Bolognese more than any other recipe. period. Not only do I absolutely crave its hearty, rich, meaty sauce bursting with flavor but it is SO effortless and almost instant, I don't dread whipping it up even when I don't feel like cooking AKA the back pocket weeknight wonder.
This easy Spaghetti Bolognese is made with sauteed minced onion, garlic, carrots and celery, and jarred marinara. We add a small can of crushed tomatoes for volume and texture, a splash of balsamic vinegar and sugar to add dimension and plenty of dried herbs – basil, parsley, oregano and thyme to add loads of flavor and a pinch of crushed red pepper flakes to waken it up a bit. And with one bite, your taste buds will awaken and squeal with delight!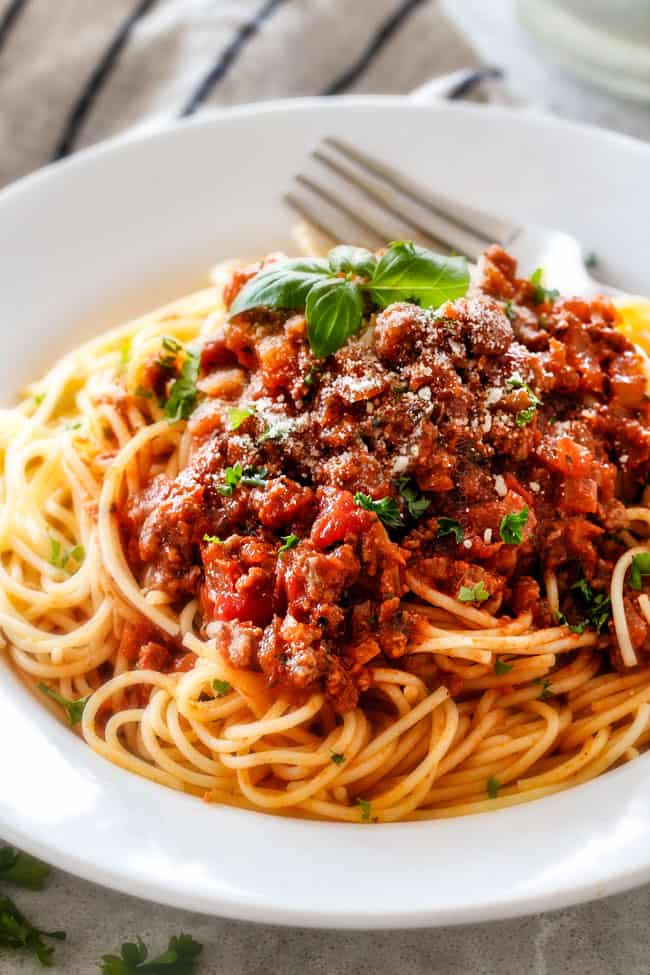 What is Spaghetti Bolognese?
Bolongese is named after the cooking style in Bologna, Italy. Bolognese Sauce is thick, and meaty, simmered with minced onions, carrots and celery and often enhanced with wine, milk or cream. So if you are looking for a tomatoey, liquidy sauce, more marinara style – this is not it.
Now, I'm not going to claim this is the best bolognese sauce recipe ever and its definitely not an authentic hard core bolognese sauce with pancetta that requires up to all day simmering, standing and stirring, BUT it tastes like it.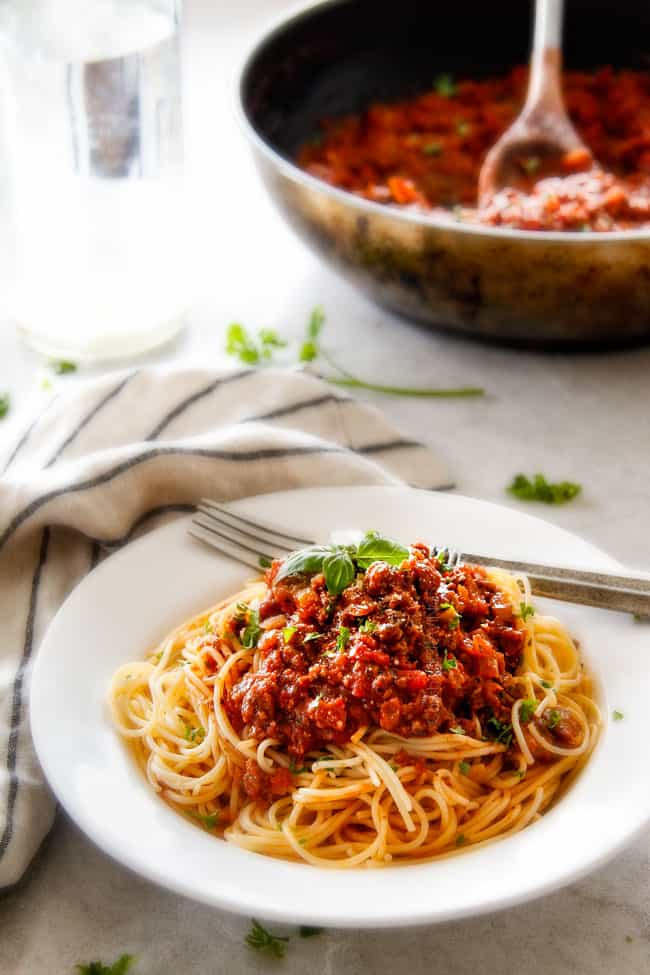 What is Bolognese sauce made of?
Traditional Spaghetti Bolognese traditionally starts with sauteing a sofrito of onions, celery and carrots along with minced or finely chopped beef and pork. Fresh tomato purée, white wine, chicken broth and milk or heavy cream are often added. The sauce is then simmered low and slow to create a hearty, thick sauce.
What is in Easy Spaghetti Bolognese?
This EASY Spaghetti Bolognese Sauce skips the pork, wine, etc. AND the long simmer – but you won't even taste the difference!
The secret to the best EASY Spaghetti Bolognese? Chicken bouillon and quality jarred marinara sauce (like Barilla or Classico).
Chicken Bouillon: The bouillon replaces the chicken broth which doesn't have time to reduce in this quick and easy version and it infuses the sauce with intense flavor (replacing the salty pork), just as if it had been simmering and reducing all day.
Jarred marinara sauce: Jarred marinara sauce, on the other hand, has been simmering all day – just not in your kitchen. A quality jarred sauce replaces much of the work (and time) for you by using quality vine-ripened tomatoes and aromatic herbs.
I have found that when I have used just tomato sauce or crushed tomatoes alone to create my homemade sauce, it needs the hours of simmering to develop flavor and not just taste like acidic-y tomatoes, whereas, using jarred marinara in combination with other ingredients creates the full body taste and texture you expect from classic Spaghetti Bolognese.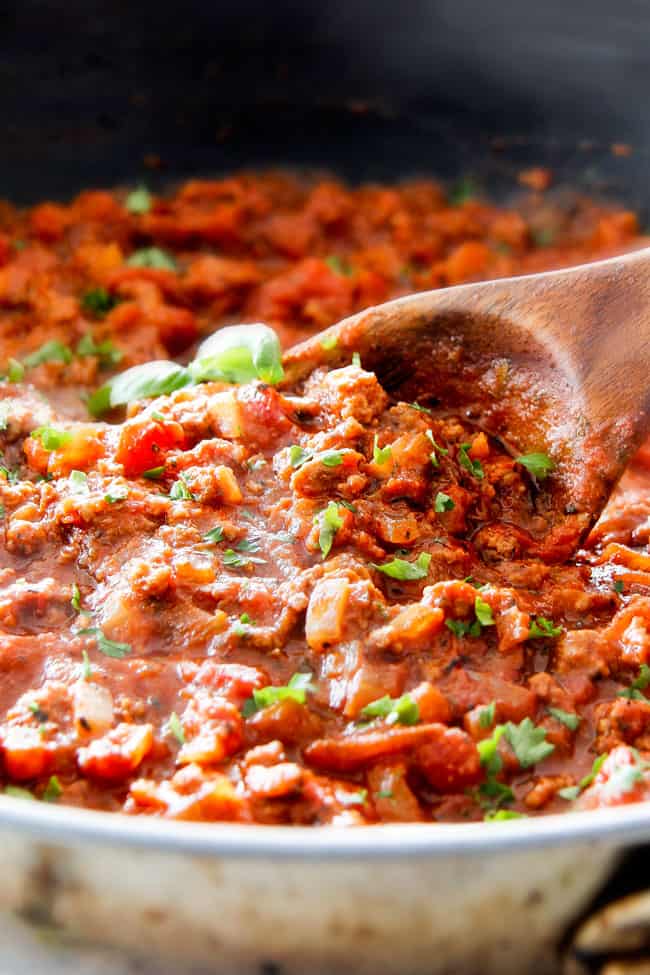 Crushed Tomatoes: In addition to the marinara, we add crushed tomatoes (often be called crushed tomatoes in puree) which add the fresh tomato puree texture and flavor. We balance the acidity with a little sugar. The amount of sugar will depend on the actual acidity of the tomatoes and personal preference.
I recommend the brands San Marzano, Cento and Muir Glen. San Marzano tomatoes are usually sold "whole" so you will want to pour them into a bowl and crush them with your hands first.
Garlic: Garlic is essential to flavorful Bolognese. Feel free to use more garlic depending on your garlic love. For extra lazy day Spaghetti Bolognese, you can substitute fresh garlic with 1 ½ teaspoons garlic, more or less to taste.
Seasonings: Even though jarred Marinara Sauces comes seasoned, we diluted the flavor with the addition of crushed tomatoes. We want to pump up the overall flavor again with the addition of dried basil, dried parsley, dried oregano, dried thyme, and ¼ teaspoon red pepper flakes.
I think the red pepper adds just the right kick to the Spaghetti Bolognese but you an omit it completely or add even more. If you aren't sure how much red pepper to add, start with a pinch and add more to taste.
And that's how this Weeknight Spaghetti Bolognese can be on your table in 30 minutes and taste THIS GOOD. For an uber quick and easy meal, you can freeze this Weeknight Spaghetti Bolognese sauce and it will still taste THIS GOOD.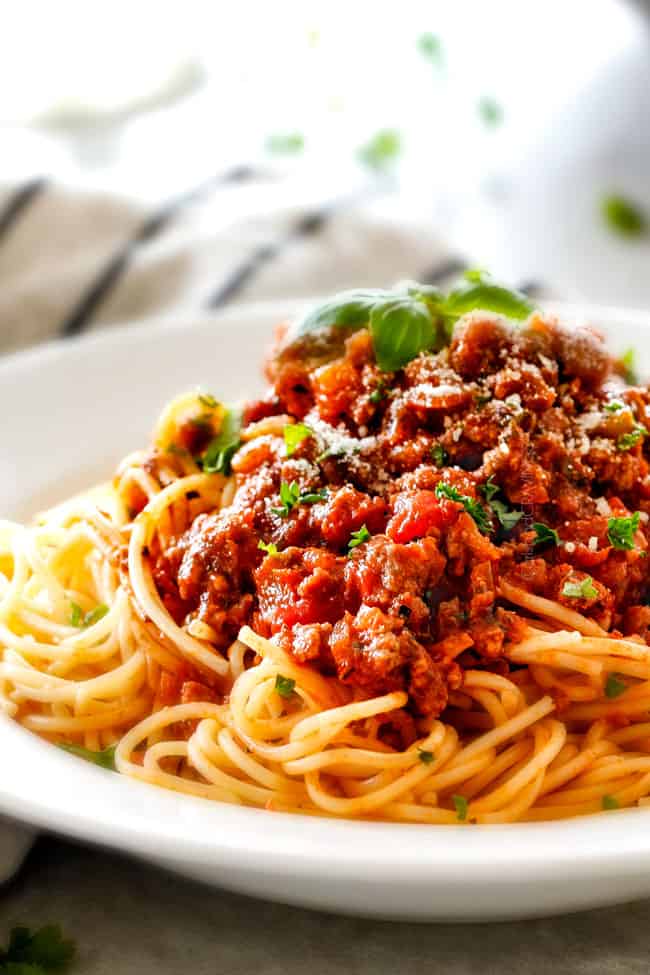 How do I Make Spaghetti Bolgonese?
To make Spaghetti Bolognese, you first cook your meat, onions, carrots, celery and garlic. Add jarred marinara, crushed tomatoes and all seasonings.
You simmer all of this deliciousness for 10 minutes then stir in ¼ cup heavy cream and simmer an additional 5 minutes.
The addition of heavy cream is definitely optional and is found in more classic bolognese sauce recipes. It adds a creamy richness and rounds out the acidity, but you can certainly leave it if you don't have it on hand (as I often don't) or are trying to save calories and it will still taste delicious.
You can also omit the the celery and carrots if you don't have them or are feeling extra lazy and this Weeknight Spaghetti Bolognese will still taste amazing. promise. Just be sure to garnish with extra Parmesan. It makes everything better.
Divine, comforting, rich and complex Weeknight Spaghetti Bolognese, on your table in under 30 minutes – come and get it!
WHAT SHOULD I SERVE WITH SPAGHETTI BOLOGNESE?
Spaghetti Bolognese is fabulous just with a big green salad and garlic bread. We also love it with: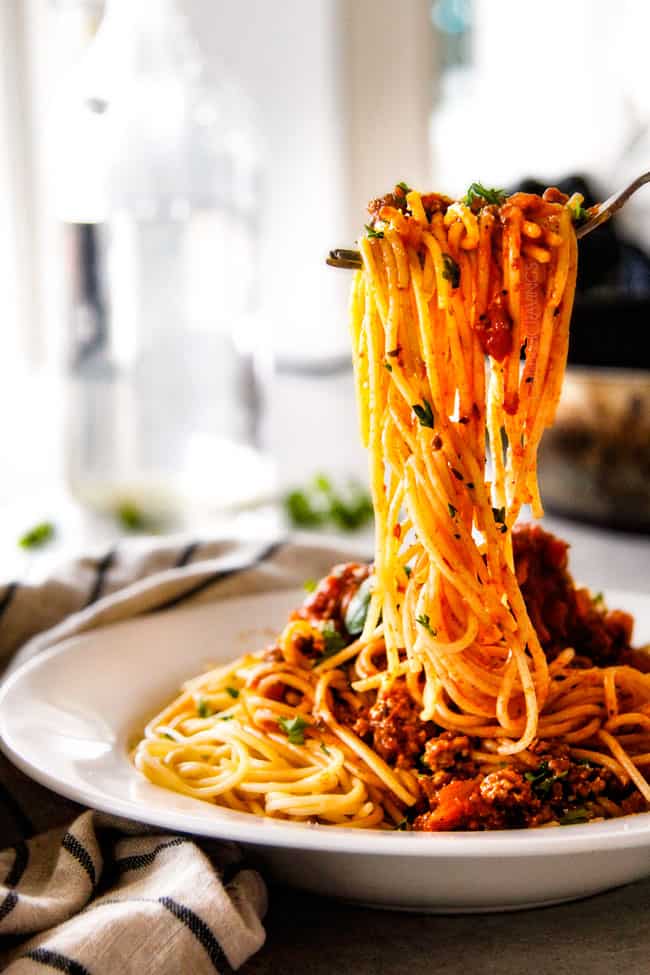 CAN I MAKE SPAGHETTI BOLOGNESE IN ADVANCE?
Yes! Spaghetti Bolognese tastes even better the next day as the flavors further develop and meld so it is the ideal make ahead or meal prep dinner.
HOW DO I STORE SPAGHETTI BOLOGNESE?
You will want to store your spaghetti separate from your bolognese sauce otherwise, the pasta will soak up moisture from the sauce.
To store, toss spaghetti with a little olive oil to keep it from sticking together. Store in a freezer size plastic bag or airtight container.
Transfer Bolognese to an airtight container. Take care it is glass or ceramic as the sauce can stain plastic containers.
HOW LONG WILL SPAGHETTI BOLOGNESE LAST IN THE FRIDGE?
When stored properly, Spaghetti Bolgonese will last for up to 5 days.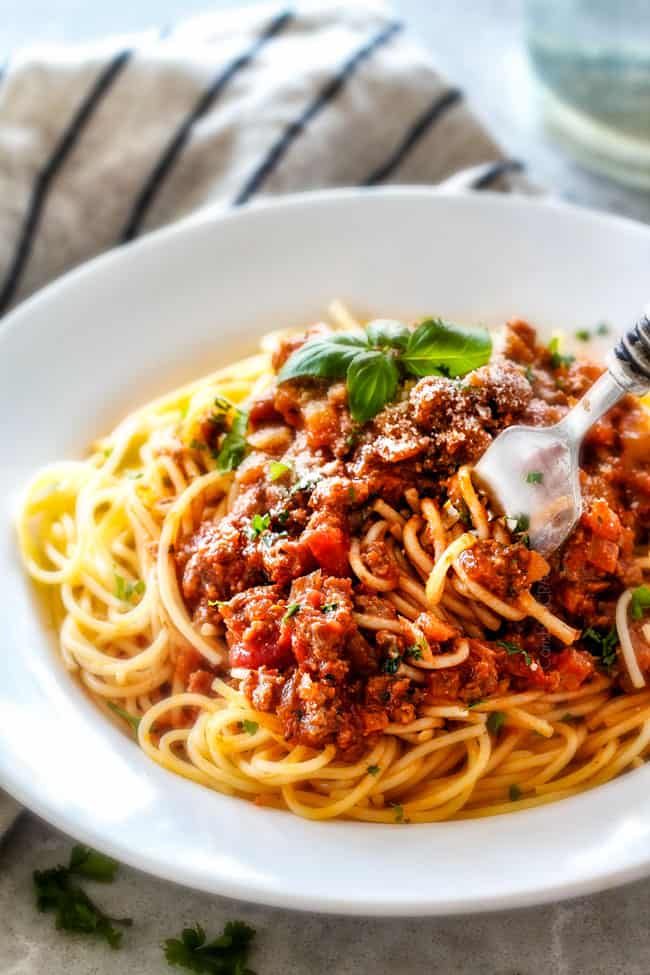 CAN I FREEZE SPAGHETTI BOLOGNESE?
The Bolognese Sauce freezes exceptionally well but I do not recommend freezing the pasta itself, as it will develop a funny texture when defrosted. To freeze the Bolognese sauce:
Prepare Bolognese Sauce recipe according to instructions.
Let sauce cool completely.
Transfer sauce to freezer safe airtight containers or freezer bags.
Squeeze out any excess air, seal and label.
Freeze for up to 3 months.
When ready to use, let Bolognese Sauce defrosts in the refrigerator overnight.
Gently heat over the stove while you boil fresh spaghetti.
Looking for more easy Italian pasta recipes?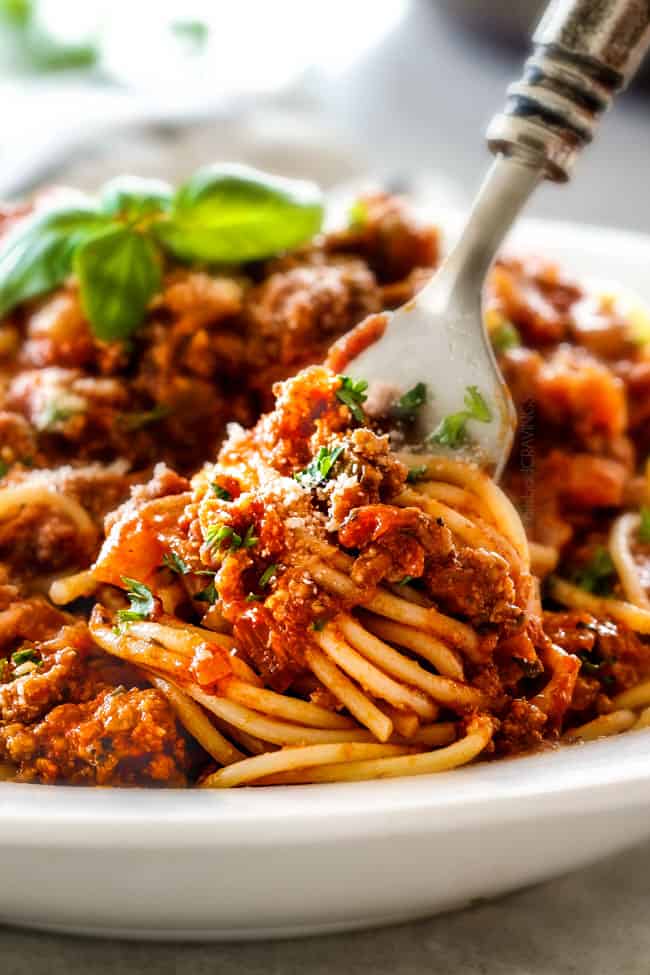 Want to try this Spaghetti Bolognese Recipe?
Pin it to your DINNER, MEAT or PASTA Board to SAVE for later!
Find me on Pinterest for more great recipes! I am always pinning :)!
©Carlsbad Cravings by CarlsbadCravings.com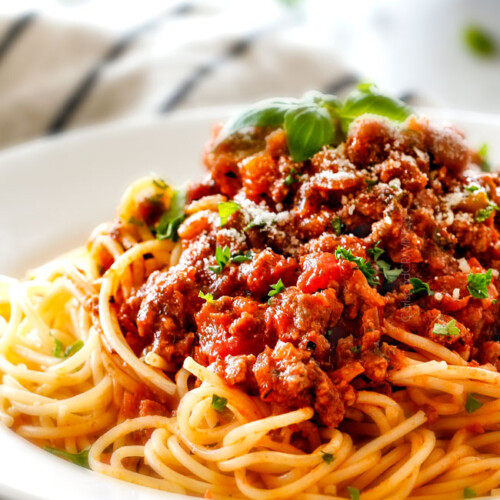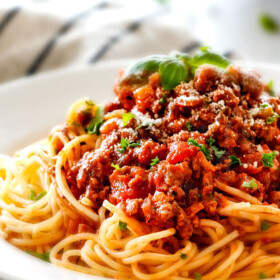 30 Minute Weeknight Spaghetti Bolognese
Spaghetti Bolognese that is rich and hearty, tastes like it's been simmering for hours but is on your table in less than 30 minutes! This Spaghetti Bolongese is my easy weeknight version that skips the hours of simmering  and delivers an Italian meat sauce with BIG, bold, complex flavors in super LITTLE time!  This divine semi-homemade sauce is a family favorite recipe I make more than ANY OTHER RECIPE!  The recipe that always comes to the rescue when you don't feel like cooking but want your food to taste like its been simmering for hours and BONUS, it freezes super well!  
Save This Recipe To Your Recipe Box
You can now create an account on our site and save your favorite recipes all in one place!
Ingredients
Bolognese Sauce
1

pound

lean ground beef

1/2

onion, finely chopped

1

medium carrot, finely chopped*

1

stalk celery, finely chopped*

1

14 oz.

can crushed tomatoes

1

24 oz. jar

quality marinara sauce

(recommend Raos brand)

1 1/2

teaspoons

balsamic vinegar

2

teaspoons

dried basil

2

teaspoons

chicken bouillon

1/2-1

teaspoon

sugar

(to taste)

1

tsp EACH

salt, dried oregano, dried parsley

1/2

teaspoon

dried thyme

1/4-1/2

teaspoon

pepper

1/4

teaspoon

red chili pepper flakes.

(optional)
Add later:
1/4

cup

heavy cream

(optional)
Garnish
fresh parsley

LOTS of parmesan cheese
Instructions
Cook spaghetti al dente according to the package directions. Reserve ½ cup pasta water before draining. Toss drained spaghetti with a little olive oil to keep the noodles from sticking to each other.

Heat 1 tablespoons olive oil in a large skillet over medium high heat. Add meat, onions, carrots and celery and cook until meat is browned.

Add garlic and sauté 30 seconds. Drain off any excess grease if needed.

Stir in all of the remaining "Bolognese Sauce" ingredients up to the heavy cream and bring to a boil then reduce to a simmer. Simmer gently uncovered for 10 minutes, stirring occasionally. Add heavy cream and continue to simmer 5 minutes or until sauce reaches desired consistency. If you like a thinner sauce, stir in a little of the reserved pasta water a little at a time.

Serve Bolognese Sauce over spaghetti and garnish with plenty of Parmesan!
Notes
*Carrots and celery enhance the flavor of this Bolognese but the sauce is still delicious if you don't have them on hand. **Heavy cream adds creamy richness and is an authentic Bolognese touch but is definitely not necessary.
Did You Make This Recipe?
Tag @CarlsbadCravings and Use #CarlsbadCravngs
Leave a Review, I Always Love Hearing From You!
©Carlsbad Cravings Original