This Crock Pot Cashew Chicken is loaded with incredibly tender chicken, wonderfully flavorful sauce and buttery, creamy cashews and SO easy made in the crockpot!
This Chinese Cashew Chicken is destined to become a new family favorite! It's better than your favorite takeout and heather too! This Cashew Chicken recipe utilizes the easy restaurant velveting technique to produce smooth, tender, melt-in-your-mouth chicken. To finish the recipe, simply whisk and dump the sauce ingredients into your crockpot and sit back and await away dynamic takeout fakeout Cashew Chicken!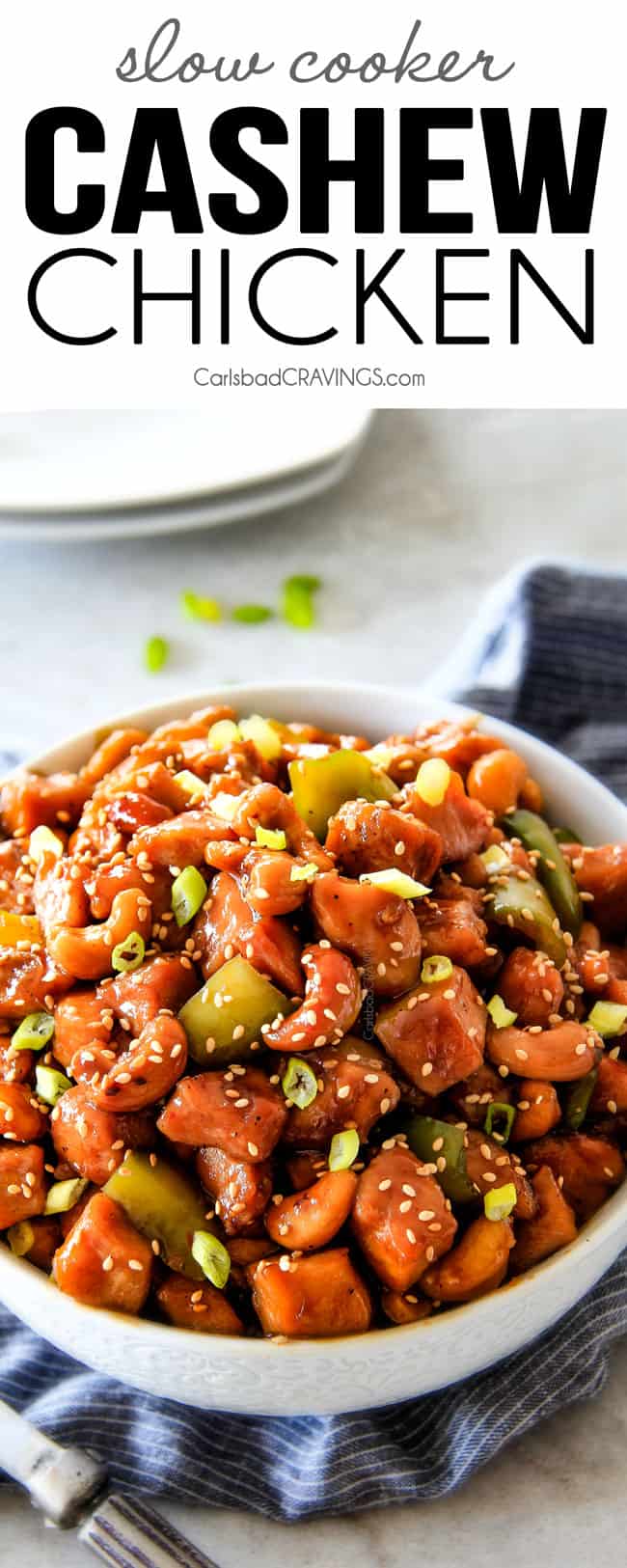 Cashew Chicken
You know how I love a good slow cooker recipe. In fact, most of my most popular recipes are made in the slow cooker from Mexican Chicken to French Dips to Asian Sweet Chili Sesame Chicken to BBQ Ribs. I looooove the slow cooker method so much because it tenderizes and infuses your chicken or meat with tons of flavor with hardly any effort AKA the ideal recipe – just like this is the ideal Cashew Chicken.
This Crock Pot Cashew Chicken recipe comes from the mind blowing, taste bud thrilling Asian Slow Cooker Cookbook by Kelly Kwok. I was eager to get my hands on Kelly's book as I'm a big fan of her blog, Life Made Sweeter where she shares classic Asian recipes with a modern spin. Kelly's book focuses on eliminating the last minute dinner scramble with over 80 gorgeous full color photographed recipes that can be made either in the Slow Cooker or just in One Pot.
I am confident you will love the Asian Slow Cooker Cookbook just as much as you love this Cashew Chicken! The cookbook makes a wonderful birthday gift, bridal gift, graduation gift or gift to YOU just because! It can be ordered on Amazon HERE or Barnes & Noble HERE.
To give you a taste of the deliciousness that is The Slow Cooker Asian Cookbook, I am excited to share Kelly's Slow Cooker Cashew Chicken with you all. The multidimensional sauce with the buttery rich punch of cashews is perfection and the chicken is oh so tender due to the process of velveting. With one taste, you will never want to order Cashew Chicken again!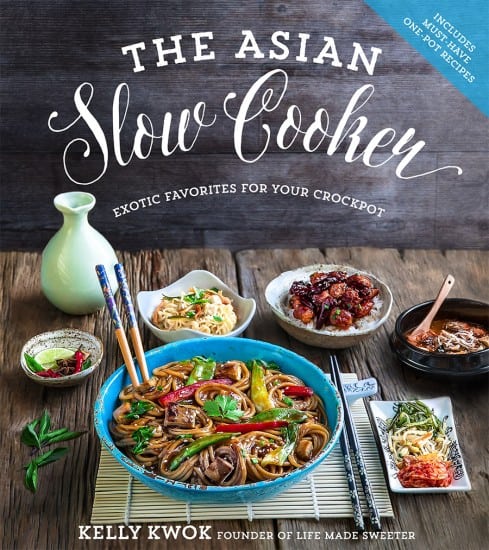 Who Invented Cashew Chicken?
The invention of Cashew Chicken can be traced back to Chinese immigrant and chef, David Leong. Leong moved to Springfield, Missouri from China in 1940 where his food struggled to gain popularity. Noting the city's love of fried chicken, he decided to deep fry this chicken and it became a huge hit! This fried version is now known as "Springfield-style cashew chicken."
Leong's famous Cashew Chicken recipe was so popular, he soon opened Leong's Tea House in Springfield. The dish became exceedingly popular in the Springfield area and is often cited as the unofficial "dish of the city". Springfield even hosts an annual festival that is centered on this chicken dish: Springfield Sertoma's Cashew Craze.
So thanks to Chef Leong, we all get to enjoy Cashew Chicken – even without an annual festival!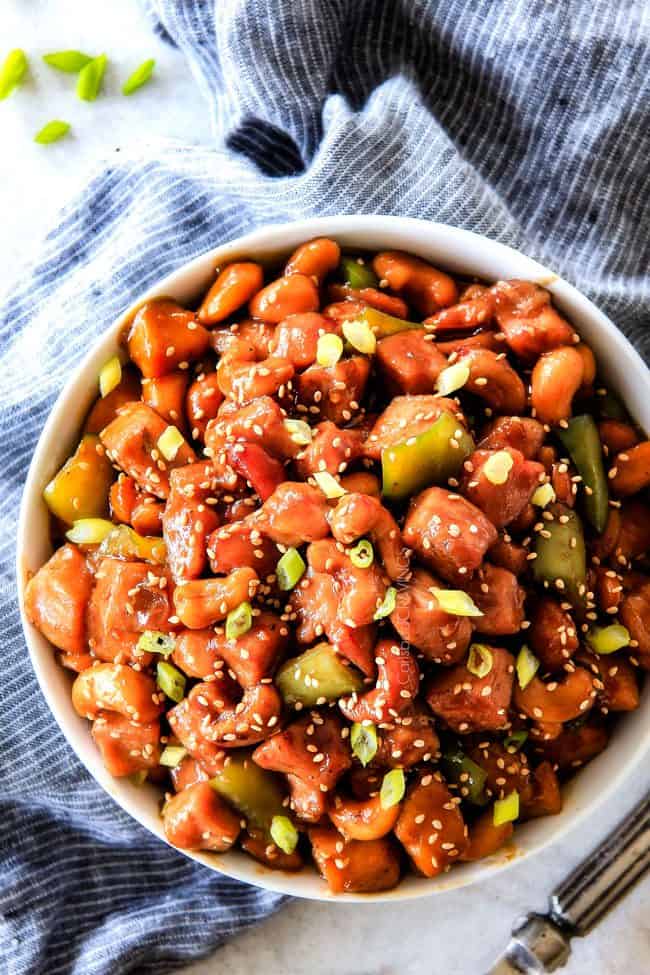 Ingredients for Cashew Chicken
The ingredient list for Cashew Chicken might seem somewhat lengthy, but most of it is just a quick shaking in a freezer bag or whisking in a bowl.
cashews: use roasted, UNSALTED cashews. If you can only find unsalted, and not roasted, then simply toast them in your skillet for a few minutes until golden.
chicken: you can use chicken thighs or breasts. Try and chop them into uniform size cubes so they cook evenly.
cornstarch: used in both the velveting process to tenderize the chicken and to thicken the sauce.
baking soda: used in the velveting process to tenderize the chicken – I promise you won't taste it!
soy sauce: use low sodium soy sauce or your cashew chicken will be too salty.
chicken broth: use low sodium chicken broth so you can control the salt level. You can also use vegetable broth but chicken broth is more flavorful.
honey: adds sweetness to balance the soy and vinegar. You may need more or less depending on personal preferences. You can substitute honey for brown sugar if you're in a pinch.
Rice Wine: Rice wine should become a pantry staple if you do much Asian cooking. Rice wine is NOT rice vinegar- DO NOT switch them out. Rice wine adds a sweetness and depth of flavor whereas rice vinegar adds an acidic flavor. I use "Kikkoman Aji-Mirin: Sweet Cooking Rice Seasoning" which is commonly found in the Asian section of most grocery stores or you can Amazon it. I highly suggest you google image before you head off to the grocery store so you know exactly what you are looking for. The best substitute for rice wine is pale dry sherry.
Oyster sauce: Oyster sauce is a staple in Asian cooking. It is a thick, brown sauce with a balance between sweet and salty with an earthy undertone, due to the oyster extracts. You can find oyster sauce in the Asian aisle of any supermarket for only a few dollars.
Asian sweet chili sauce: It is sweet and spicy and packed with flavor from a combination of red chilies, onion, garlic, brown sugar and fish sauce. It can be found in the Asian section of your grocery store.
ginger: adds a warm spicy, almost pepper taste. You only need 1 teaspoon freshly grated ginger so feel free to use ¼ teaspoon powdered ginger instead.
garlic: garlic makes everything better! You can use more or less garlic depending on your garlic love. You can substitute the fresh garlic with 1 teaspoon garlic powder.
green bell pepper: you can substitute with any of your favorite vegetables with similar cooking times.
Is Cashew Chicken Gluten Free?
As written, this Cashew Chicken recipe is not gluten free – but almost! To make gluten free Cashew Chicken, simply use gluten free soy sauce or tamari. You will also want to double check that your oyster sauce is gluten free. The rest of the Crockpot Cashew Chicken ingredients are gluten free.
How Do I make Cashew Chicken Tender?
If you have wondered how Chinese restaurants attain such smooth, tender chicken, it is through this simple velveting process. Velvetitng is essentially coating chicken or meat in baking soda. The baking soda tenderizes the chicken by breaking down the chicken fibers.
Velveting takes just a couple extra minutes in this Crock Pot Cashew Chicken recipe but is SO worth it! You truly can taste the textural difference (but not the baking soda)!
In many stir fry recipes, you would wash off the baking soda after 30 minutes or so, but in this Cashew Chicken, you also combine the baking soda with cornstarch, salt and pepper which not only adds flavor to the chicken but protects it from the heat of the slow cooker and allows it to cook evenly.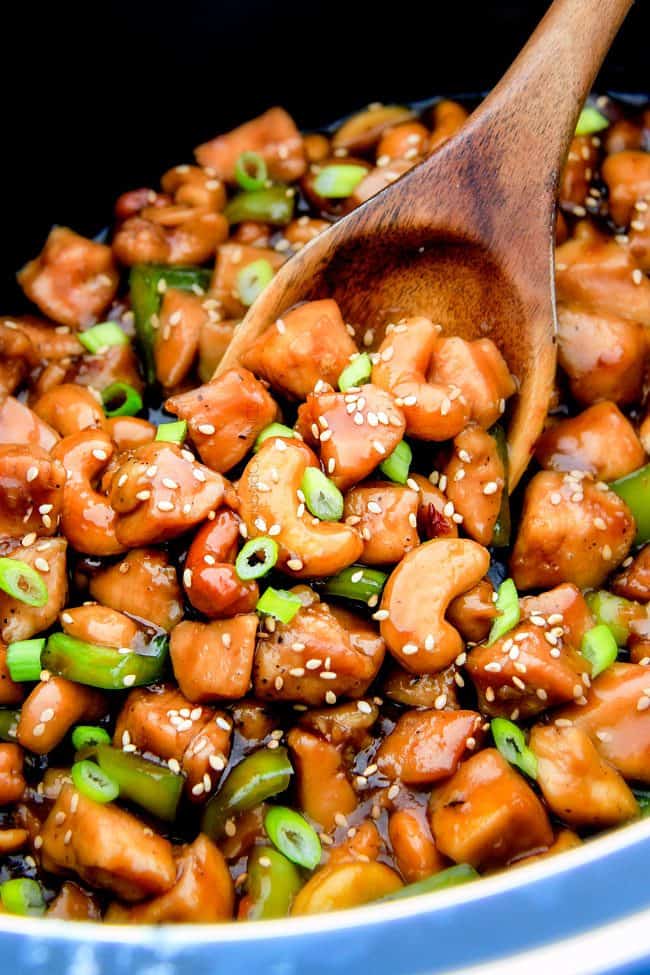 How to Make Cashew Chicken
STEP 1 – Velveting
Combine some cornstarch, baking soda, salt and pepper and chicken in a plastic bag and shake until well coated. I love this bag technique because it keeps your hands clean!
STEP 2 – Stir Fry
Cook the chicken until golden in a skillet, about 2-3 minutes per side then transfer it to the slow cooker. This quick stir fry ensures the chicken doesn't get soggy and locks in all the flavor.
STEP 3 – STIR FRY SAUCE
The Slow Cooker Chinese Cashew Chicken Sauce is a quick whisking of all your favorite Asian sauce components in perfect proportion: soy sauce, chicken broth, oyster sauce, Chinese rice wine, honey, sesame oil, garlic, ginger and red pepper flakes. I also added 1 tablespoon Asian Sweet Chili Sauce to the recipe that was not in Kelly's original that you can feel free to leave out but I think almost everything is better with Asian Sweet Chili Sauce and its subtle sweet heat.
STEP 4 – COOK
Cook on low for about 3 hours then stir in your cornstarch slurry, bell peppers and UNSALTED cashews and cook for an additional 30 minutes to thicken the sauce.
STEP 5 – Eat!
Can I make this Cashew Chicken on the Stove?
Yes, you sure can! Many times I have looked at my menu for dinner at 4 pm and realized I am having a slow cooker recipe. There is no time now for a slow cooker, oops! But never fear, this Cashew Chicken is here!
Bread and stir fry chicken per recipe (do not cook through).
Mix together sauce including the 1 ½ tablespoons cornstarch and 2 tablespoons water listed under "add later."
Add sauce and to the chicken and simmer gently until sauce is thickened and chicken is cooked through.
Stir in cashews.
Now look, dinner was saved! Cashew Chicken is easy in a slow cooker or stove top!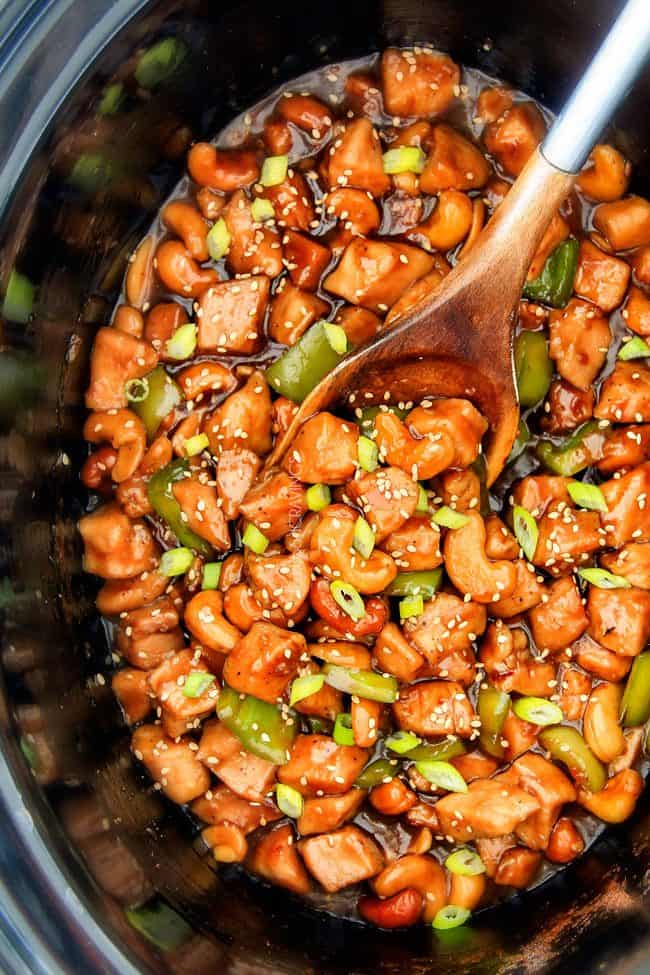 Tips for the Best Cashew Chicken
Can I add Other Vegetables?
Yes! You can definitely add more vegetables at the same time you add your bell peppers or swap the bell peppers for your favorite veggies. Broccoli, zucchini, bok choy, snap peas, celery, mushrooms, edamame, water chestnuts etc. would all be great vegetable options that only take about 30 minutes in the slow cooker on high.
What Cashews Should I use?
Don't be tempted to use salted cashews or your dish will be disastrously salty! In a pinch, you can rinse the salt off and sauté cashews to dry them out. Add last to keep their crunch!
Should I use Chicken Breasts or Chicken Thighs?
You can use either chicken breast or chicken thighs for this Cashew Chicken recipe. Both will emerge tender due to the velveting and slow cooking method of the crockpot. For the juiciest chicken, however, opt for chicken thighs as the dark meat is inherently juicer and hard to overcook or dry out.
Can I use different Protein?
Looking beyond poultry, try out cubed tofu, pork or shrimp. If using shrimp add at the end as shrimp gets rubbery if overcooked.
How Do I thicken the Sauce?
As I've noted in the actual Crock Pot Cashew Chicken recipe, if you like a thicker sauce, then I recommend removing the liquid from the slow cooker at the end of cooking and simmering it for just a couple minutes on the stove until thickened then adding it back to the slow cooker.
I don't know if it's because I have an extra-large slow cooker, but this seems to be my preferred method for extra thick sauce in most crockpot recipes. It only takes minutes and works like a charm.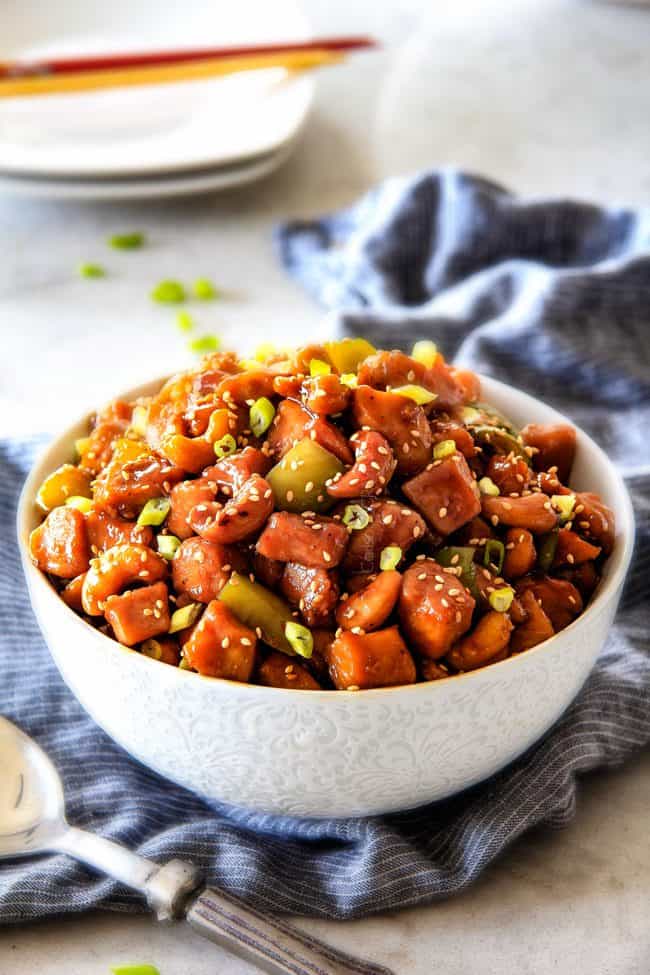 How to make Healthy Cashew Chicken?
This Crock pot Cashew Chicken is already healthier than most because it is not deep fried. If you are looking to make it even heather:
Add more veggies or substitute some chicken for vegetables. The more vegetables, the better!
Use chicken breasts instead of chicken thighs.
Reduce the amount of cashews.
Serve Cashew Chicken with with zucchini noodles, cauliflower rice or quinoa instead of rice.
CAN I PREPARE SLOW COOKER CASHEW CHICKEN AHEAD OF TIME?
Yes! You can prep all of the ingredients ahead of time so this Cashew Chicken literally comes together in minutes:
whisk the sauce ingredients together and store it in an airtight container in the refrigerator.
add the breading/velveting ingredients to a large ziploc bag.
chop the bell pepper, garlic and ginger and store in separate baggies/containers in the refrigerator.
cut chicken and store in a separate container in the refrigerator.
in the next 48 hours, take all the prepared ingredients out and proceed with the recipe without any of the prep!
CAN I FREEZE CASHEW CHICKEN?
Yes! To freeze Cashew Chicken, simply make the recipe as instructed then:
Allow the chicken and sauce to cool completely.
Portion Cashew Chicken into either several 1 quart freezer bags (individual servings) or 1 gallon freezer bag (family serving) or a freezer-safe container.
Label and freeze for up to 3 months.
When ready to use, thaw overnight in the refrigerator.
Reheat in the crockpot for 1-2 hours or stovetop until warmed thru and bubbly.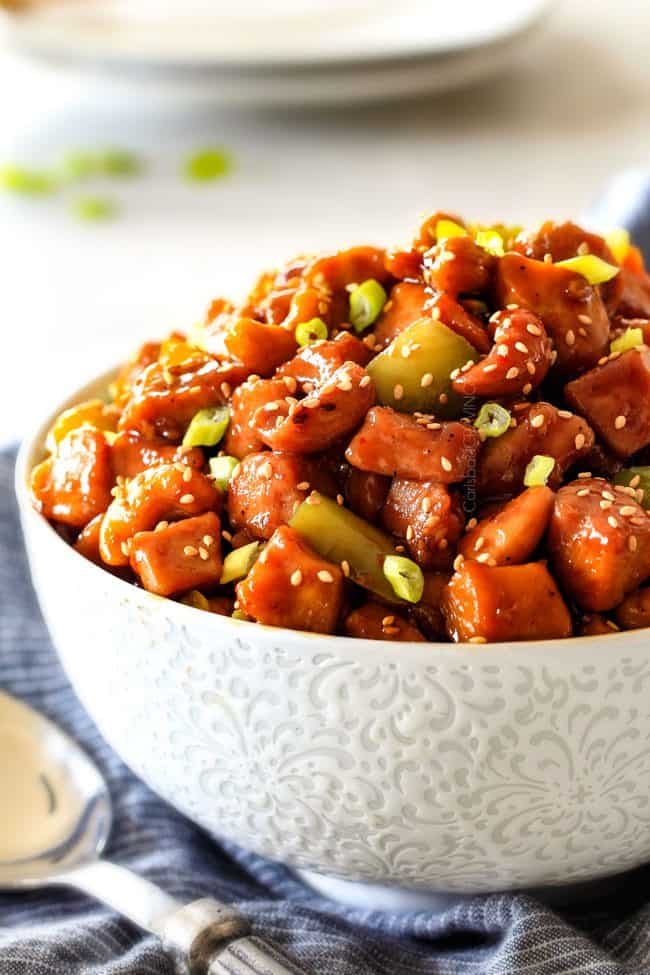 If you love Chinese fakeout takeout, be sure to check out my Sesame Noodles, Beef and Broccoli, Mongolian Chicken, Mongolian Beef, Sesame Chicken, General Tso's Chicken, Sweet and Sour Chicken, Kung Pao Shrimp, Honey Lemon Chicken, Pineapple Ginger Chicken, Coconut Cashew Chicken, just to name a few!
Want to try this Cashew Chicken Recipe?
Pin it to your CROCKPOT, ASIAN, CHICKEN or DINNER Board to SAVE for later!
Find me on Pinterest for more great recipes! I am always pinning :)!
©Carlsbad Cravings by CarlsbadCravings.com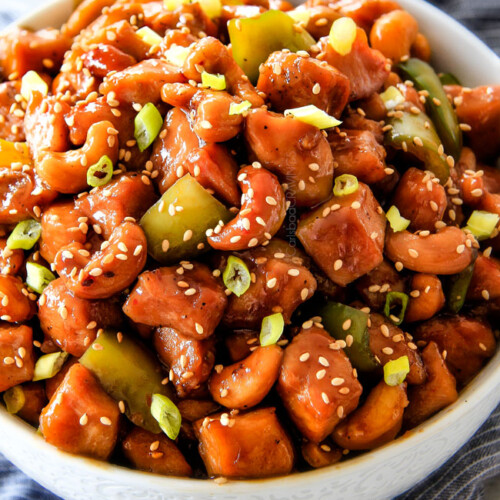 Slow Cooker Cashew Chicken
This Slow Cooker Chinese Cashew Chicken is loaded with incredibly tender chicken, wonderfully flavorful sauce and buttery, creamy cashews.  It is destined to become a better than AND much healthier than takeout family favorite! 
Total Time:
3

hours
10

minutes
Save This Recipe To Your Recipe Box
You can now create an account on our site and save your favorite recipes all in one place!
Ingredients
CHICKEN
1

tablespoon

cornstarch

1

teaspoon

baking soda

1/4

teaspoon

pepper

1 1/2

lbs

boneless skinless chicken thighs or breasts,

cut into bite-sized cubes

2

teaspoons

cooking oil
ADD LATER:
1 1/2

tablespoons

cornstarch

2

tablespoons

cool water

1

green bell pepper

cut into 1" cubes

2/3

cups

UNSALTED cashews, roasted
GARNISH (optional)
sesame seeds

1

green onion, thinly sliced

Sriracha/ Asian chili sauce

to taste
Instructions
In a large Ziploc bag, toss together 1 tablespoon cornstarch, baking soda, and pepper. Add chicken, seal and shake until well coated.

In a large skillet, heat 2 teaspoons oil over medium-high heat. Cook the chicken, about 2-3 minutes per side until browned but not cooked throuth; transfer to the slow cooker.

In a medium bowl, whisk together all of the Sauce ingredients then pour over chicken. Cover and cook on LOW for 2-3 hours.

About 30 minutes prior to serving, whisk together 1 ½ tablespoons cornstarch with 2 tablespoons cool water in a small bowl and stir into the slow cooker. Toss in the bell pepper and cashews and stir to combine. Turn the heat to high and allow the sauce to cook and thicken up for 20-30 minutes. ***If you would like thicker sauce after 20 minutes, then remove sauce from slow cooker to a small saucepan and boil until thickened (2-3 minutes) then stir back into slow cooker (this is what I do).

Taste and season with salt, pepper,

sriracha

to taste. Serve hot over rice. Garnish with sesame seeds and green onions, if desired.
Did You Make This Recipe?
Tag @CarlsbadCravings and Use #CarlsbadCravngs
Leave a Review, I Always Love Hearing From You!
Source: Slow Cooker Asian Cookbook by Kelly Kwok, very slightly adapted