THIS 30 MINUTE THAI RED CURRY CHICKEN WITH VEGETABLES IS WONDERFULLY COCONUT CREAMY, BURSTING WITH LAYERS OF FLAVOR, INCREDIBLY EASY AND ALL MADE IN ONE POT! DEFINITELY A NEW FAVORITE AT OUR HOUSE AND BETTER THAN ANY RESTAURANT!
You guys HAVE to make this Thai Red Curry Chicken Recipe! I don't beg often, so I hope you know I never cry wolf. If you are a lover of Thai Food, you will be a LOVER of this warm, comforting, multi-dimensional Thai Red Curry Chicken with Vegetables! Its a one pot wonder worthy of any weeknight or weekend and you should be able to find all the ingredients at your local grocery store!
how to make Thai Red Curry Recipe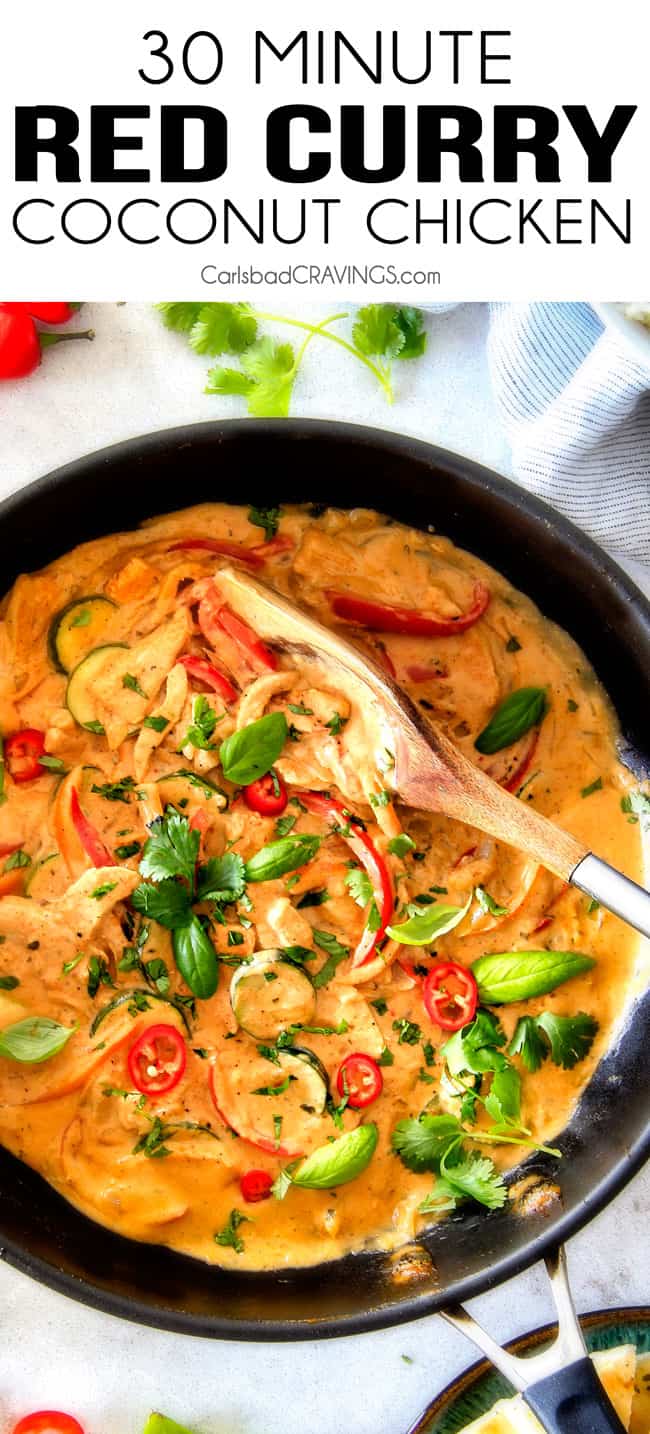 Thai food is one of my favorite cuisines with its depth of layered flavors that create a savory symphony in every bite. I've created several of my restaurant favorites into takeout fakeout versions from Chicken Pad Thai, Panang Curry, Coconut Curry Chicken, Yellow Curry, Tom Kha Gai. and now this INSANELY delicious Thai Red Curry Chicken Recipe!!! (update, this Red Curry Chicken Recipe made my Most Popular Recipes of 2017! AKA it's a winner!)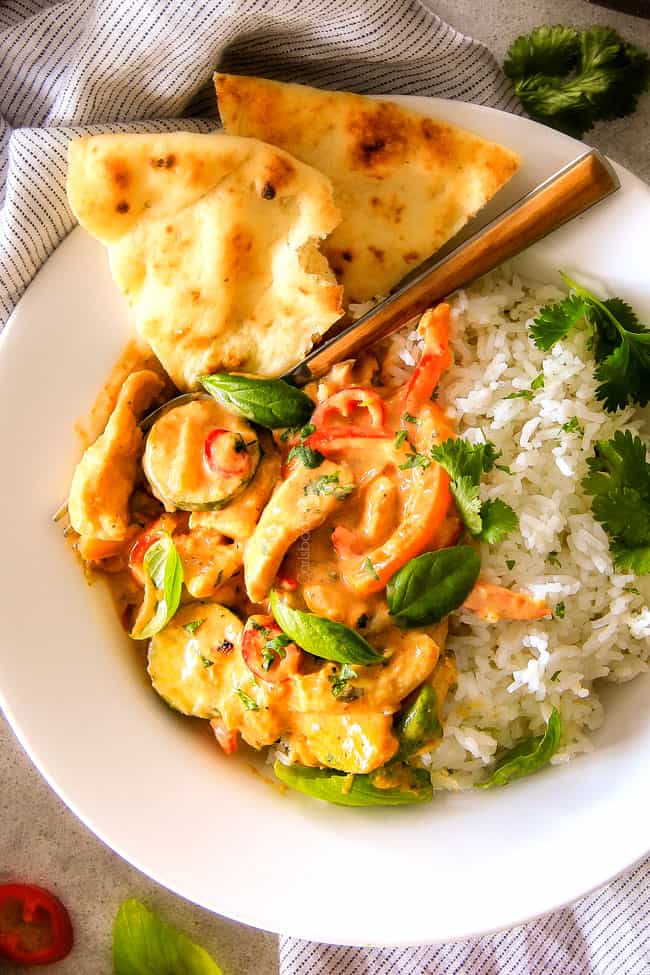 As I was looking at my other "Thai" or "curry"recipes, many of them boast how quickly they come together in the title, "30 Minute Pantry Friendly Panang Curry," "30 Minute Pineapple Red Curry Chicken Stir Fry," "20 Minute Thai Red Curry Beef Tacos" – so apparently Thai food is quick and easy? YES IT IS!!! Thanks to to the magical store bought Thai red curry paste that packs a huge flavor punch. The premade red curry paste is comprised of finely ground coriander, peppercorns, Kaffir lime leaves, lemongrass, galangal, lime leaves, cilantro, shallot, garlic, and fresh chiles – all combined for you. No wonder it adds tons of flavor with minimal effort.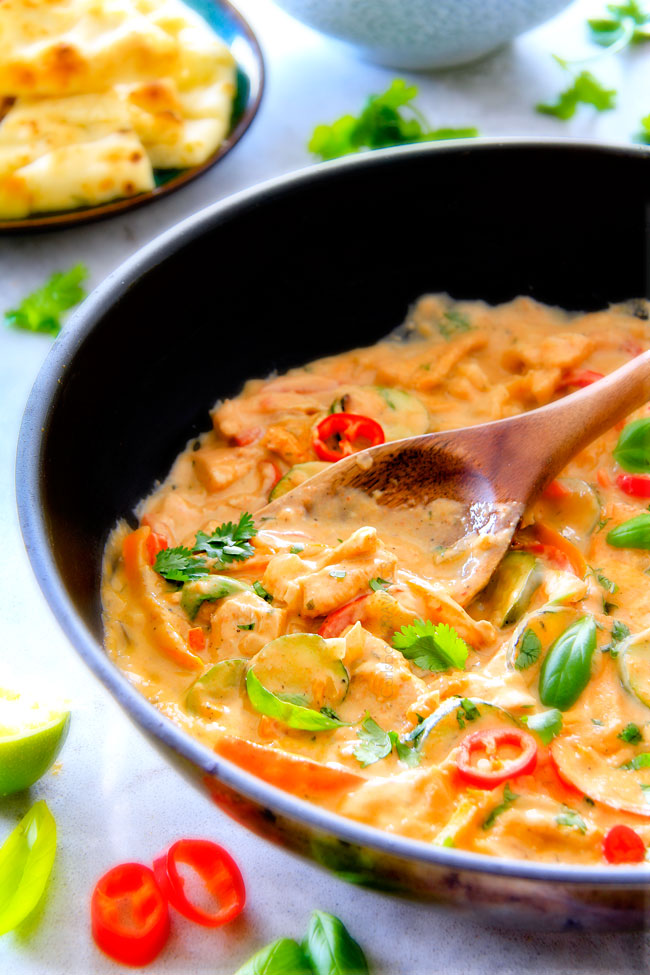 The key to bringing the red curry paste alive and for its flavors to permeate the entire dish, is to saute it with plenty of onion, garlic and ginger. We also stir fry our chicken, bell peppers and zucchini directly in the simmering red curry paste to infuse it with the dynamic flavors all before we add the coconut milk. Feel free to change up the vegetables to whatever suits your mood or make Thai Red Curry Chicken – cleaning-out-the-fridge-style with whatever you need to use up. It will be the best use of miscellaneous veggies Ever.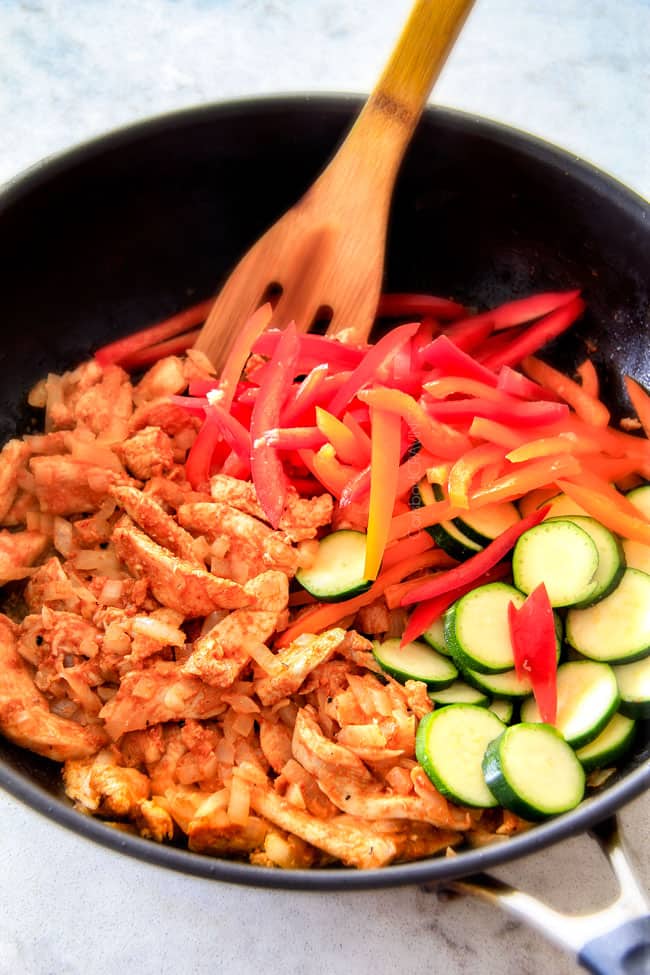 To further the complexity of flavors, we also add Thai sweet chili sauce, and the classic cast of Thai food characters: soy sauce, fish sauce, lime juice, brown sugar, dried basil and a bay leaf. Its a somewhat long list of ingredients, but most of them you are just dumping into the sauce. You might notice we are not using Kaffir lime leaves which are responsible for the distinctive earthy lime-lemon flavor in many traditional Thai Red Curry recipes, but this exotic ingredient can be very difficult to find, and I want you to be able to make this Thai Red Curry Chicken recipe AT ALL TIMES. While there is no direct substitute for Kaffir lime leaves, it doesn't mean other ingredients can't be used to produce otherworldly flavors. This Thai Red Curry Chicken achieves a wonderfully fresh citrus zing by playing up the fresh lime juice, bright lime zest and simmering the sauce with a bay leaf. Done.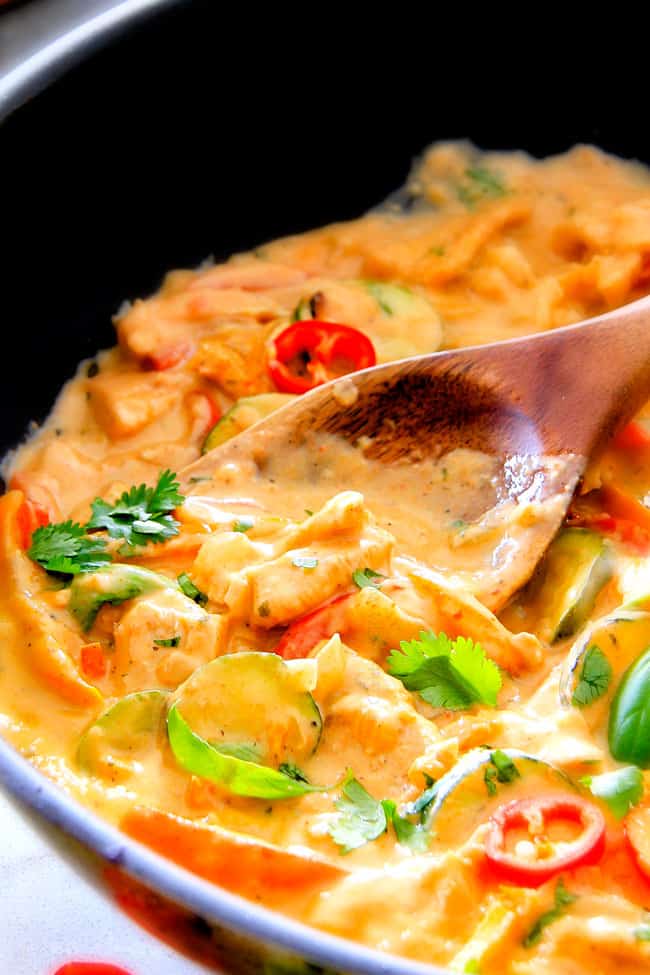 Finally, my authentically blasphemous key to gorgeously, thick, silky red curry coconut sauce is to whisk our quality coconut milk (I like Chakoah) with a little cornstarch. The end result is a rich, luscious red curry coconut sauce that is soooo creamy, so infused with flavor all cradling your tender chicken and crisp-tender vegetables. All in 30 minutes. And your house will smell incredible. This Thai Red Curry Chicken might be as good as it gets.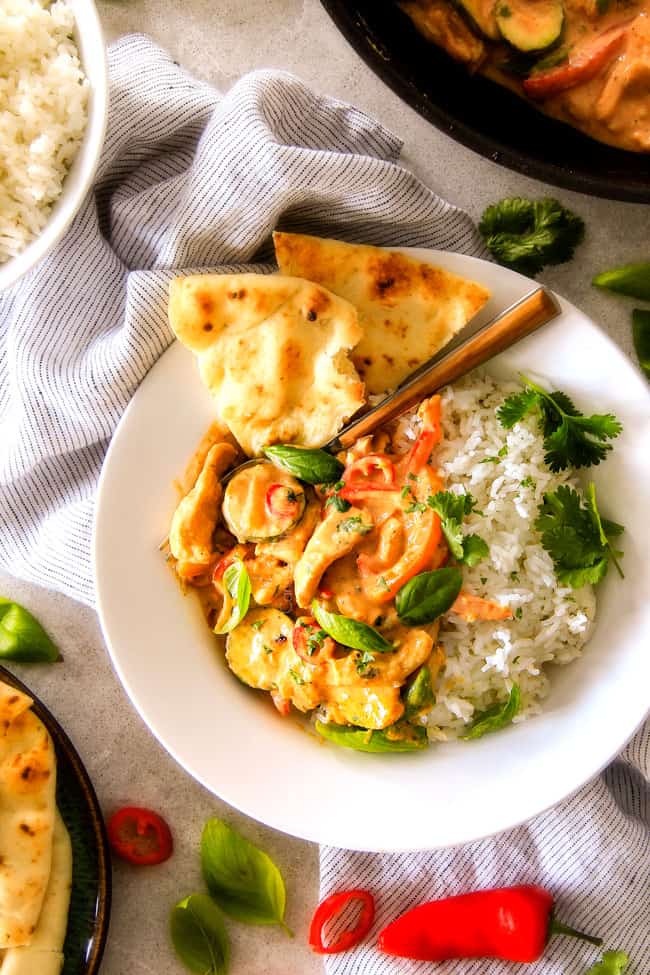 WANT TO TRY THIS THAI RED CURRY CHICKEN?
Pin it to your ASIAN, CHICKEN, or DINNER Board to SAVE for later!
Find me on Pinterest for more great recipes! I am always pinning :)!
©Carlsbad Cravings by CarlsbadCravings.com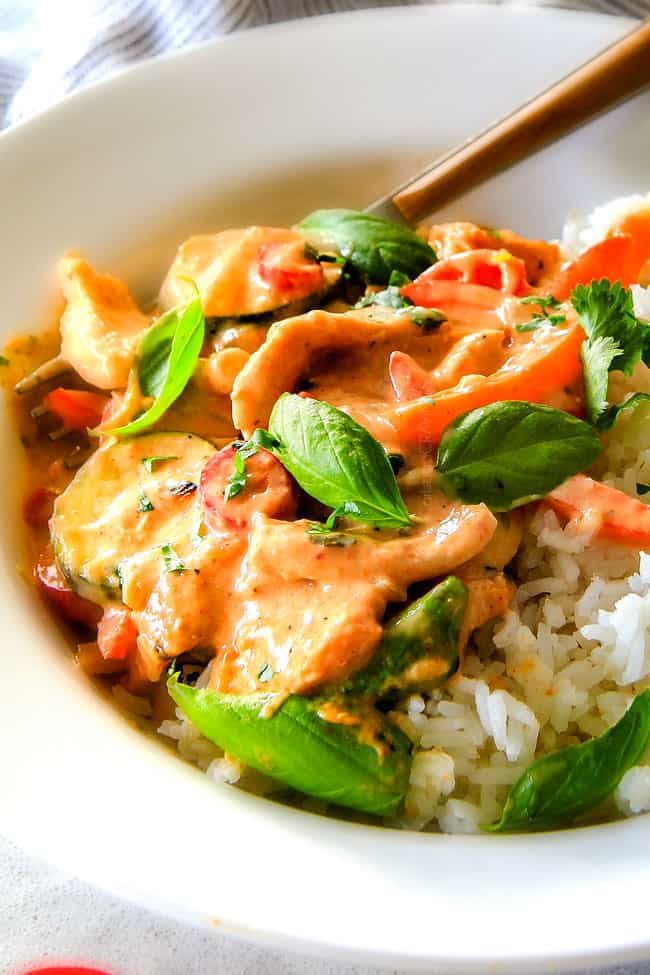 Looking for more Thai recipes?
More Favorites from Carlsbad Cravings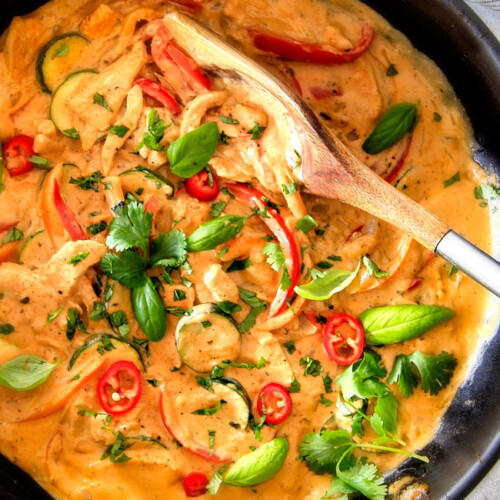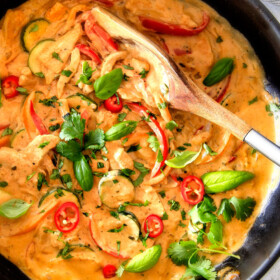 Thai Red Curry Chicken
This 30 MINUTE Thai Red Curry Chicken with Vegetables is wonderfully coconut creamy, bursting with layers of flavor, incredibly easy and all made in one pot!  Definitely a new favorite at our house and better than any restaurant!
Save This Recipe To Your Recipe Box
You can now create an account on our site and save your favorite recipes all in one place!
Ingredients
1 1/2

tablespoons

olive oil or coconut oil

1

pound

chicken breasts

sliced into 1/4" slices then 2" pieces**

1/2

large onion, chopped

2

tablespoons

red curry paste

1

red bell pepper, thinly sliced

then chopped into 2" pieces

1

orange bell pepper thinly sliced

then chopped into 2" pieces

1

small zucchini, sliced

2

teaspoons

freshly grated ginger

1

13.5 oz.

can quality coconut milk

(I like Chaokoh)

1

tablespoon

cornstarch

1

tablespoon

Asian/Thai Sweet Chili Sauce

(like Mae Ploy)

2

tablespoons

less sodium soy sauce

2

tablespoon

fish sauce

2

tablespoons

lime juice

1

tablespoon

brown sugar

1

bay leaf

1

teaspoon

dried basil

1/4

teaspoon

salt

more or less to taste

1/4

teaspoon

pepper

sriracha to taste/Asian chili sauce

(optional)
Garnish
lime zest to taste

fresh basil

fresh cilantro

fresh lime juice
Instructions
Heat oil over medium high heat in large nonstick skillet. Add chicken, onion and red curry paste and cook just until chicken is no longer pink. Add bell peppers, zucchini, ginger and garlic and saute 1 minute.

Add half of the coconut milk. Mix remaining coconut milk with 1 tablespoon cornstarch and add to skillet along with all remaining ingredients (expect Garnishes).

Bring to a boil, then reduce to a simmer for 5 minutes or until the sauce thickens and the vegetables reach desired crisp-tenderness. If you would like a thinner sauce, thin with water (I don't do this). Discard bay leaf.

Garnish with additional optional fresh basil, cilantro, lime zest, lime juice and

Sriracha

to taste. Serve with rice.
Notes
**Chicken is much easier to slice if partially frozen. It will thaw quickly once sliced. You can slice your chicken and red bell peppers in advance for even quicker meal prep.
Did You Make This Recipe?
Tag @CarlsbadCravings and Use #CarlsbadCravngs
Leave a Review, I Always Love Hearing From You!
Carlsbad Cravings© Original