Wedge Salad is quick and easy but looks and tastes gourmet with hardly any chopping!
This Wedge Salad is one of the best salads on the planet! It's smothered in creamy, decadent homemade Blue Cheese Dressing, crispy bacon, juicy tomatoes, crunchy corn, creamy avocado and drizzled with sweet and tangy Balsamic Reduction. Its a flavor/texture lovers dream and crazy easy to make! This Outback Wedge Salad recipe pairs beautifully with any meal or makes a showstopping appetizer.

Wedge Salad Recipe
I don't make many "copycat" recipes because I like to put my own spin on things – and this Outback Wedge Salad Copycat is not an exact replica – but it boasts the same playful, magical combination of tangy Blue Cheese Dressing and sweet Balsamic Reduction found in Outback's Wedge Salad that both Patrick and my taste buds went crazy for – the combo is sheer brilliance. In fact, Patrick was craving this glorious symphony of flavors so urgently, we had to go back the very next week.
It's that good.
And now this Wedge Salad recipe is that good. It's light and refreshing yet satisfying at the same time. Its simple to make yet the bold contrasting flavors and textures are complicated enough to please even the toughest critic.
This Outback Wedge Salad can be completely customized depending on your mood, pantry or by forming a salad bar. Basically, it's salad perfection.
And did I already emphasize how easy this Wedge Salad is? So easy, in fact it's the first recipe I made and photographed in almost three weeks after recovering from my pneumonia (see IG post HERE) because I knew it was going to be a breeze to make. I mean, slicing lettuce 4 ways?! whisking dressing ingredients together? You got this!
WHAT IS A WEDGE SALAD?
If you aren't familiar with Wedge Salad, it is a simple salad made from a head of iceberg lettuce that is chopped into four pieces to create wedges. It is Connolly served at steakhouses – but don't be intimidated, it is super easy to make!
The traditional dressing for Wedge Salad is blue cheese dressing, so Wedge Salad is sometimes called Blue Cheese Salad. I've include a fabulous homemade blue cheese dressing recipe, but you are welcome to use your own ore store bought as well.
Wedge Salads are then topped with crispy bacon, blue cheese crumbles. and tomatoes. Wedge Salads are traditionally served as side salads although you can make the a complete meal with grilled chicken or shrimp.

DO YOU WASH LETTUCE FOR WEDGE SALAD?
Wedge Salad starts with a head of iceberg lettuce. You will need to wash your lettuce first so it not only is sanitary, but so you don't taste any gritty dirt.
To wash, first, peel off the outer leaves and toss them in the trash because they're usually limp, and we want our wedge salads to be crisp and fresh!
Then, cut the core out of your iceberg head.
Next, rinse the whole head of lettuce completely with cold water.
Allow your head of lettuce to drain over the sink.
Lastly, pat dry before cutting into wedge pieces.
HOW DO YOU MAKE WEDGE PIECES?
I LOVE that there is hardly any cutting involved with making wedge salad! all you need to do is create 4 wedge pieces. Once you wash your head of lettuce, it's time to cut:
Take your clean head of lettuce and place it on your cutting board
Cut once down the middle
Then cut each of those halves in half
You now have 4 wedges to serve to 4 lucky lunch-or-dinner guests!
What Toppings Go On a Wedge Salad?
Wedge Salad always begins with a head of iceberg lettuce chopped into wedges – thus the name – but then comes the fun part – toppings!
Traditional Wedge Salad Toppings include blue cheese dressing, bacon crumbles, diced tomato and chives.
I topped this Outback Wedge Salad with your traditional toppings of juicy tomatoes and crispy bacon and then added sweet raw corn (my fav- don't be tempted to cook!), creamy avocado and punchy red onions and thought it was magnificent, but the possibilities really are endless.
You could add petite peas, croutons, pecans or turn it Fall festive with dried cranberries. Just as long as you make the Blue Cheese Ranch. Because really, this best wedge salad is just a vehicle for the creamy, pungent dressing.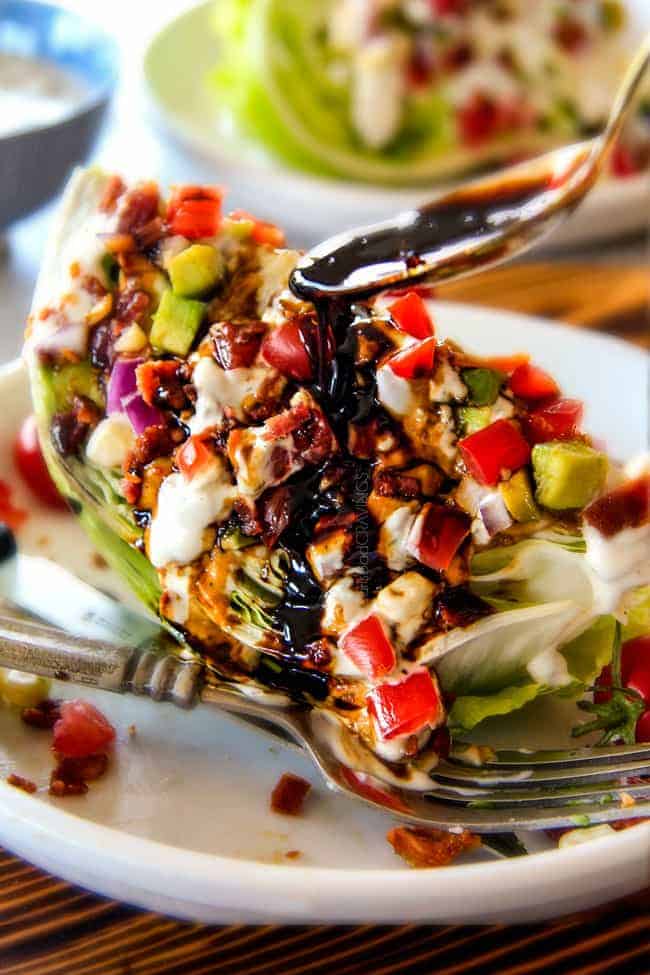 What Dressing Goes On A Wedge Salad?
Blue Cheese Dressing is the traditional dressing for Wedge Salad and my Blue Cheese Dressing is to live for! It's SO creamy and flavorful with just the right amount of kick to compliment the crispy lettuce.
If you are not a blue cheese fan, then you can easily start off with less blue cheese crumbles and add more to taste. It will still taste flavorful, just more like ranch.
I also love that you can make this Blue Cheese Dressing in advance and store it an airtight container until ready to serve – making this Wedge Salad even easier.
And then there's the Balsamic Reduction. It's the sweet, bright, refreshing answer to balance the creamy richness of the dressing and meaty bacon and takes all but 5 minutes to make. SO worth it for Wedge Salad perfection.
HOW TO MAKE A WEDGE SALAD
Dressing: You want to make your Blue Cheese Dressing first so it has time to chill in the refrigerator.  This helps the flavors build and meld as well as chill the dressing – no one wants lukewarm dressing!
Lettuce:  wash, dry and chop lettuce into four equal wedges.
Toppings:  cook bacon until crispy, cool and crumble.  Dice tomatoes, red onions, avocados and slice corn off of the cob.
Reduction:  make the Balsamic Reduction just before serving, otherwise it twill thicken too much.
Serve: 

Add wedges to individual plates and top with desired amount of Blue Cheese Ranch (this helps the toppings stick) followed by tomatoes, onions, corn and bacon. Drizzle with balsamic reduction. Garnish with additional blue cheese if desired.

CAN I PREPARE ANYTHING AHEAD OF TIME?

Absolutely! I love this Wedge Salad because you can make almost everything in advance which makes it a fabulous salad for company.

Vegetables: You can dice your tomatoes, chop your onion and cut the corn off its ear ahead of time. I do not recommend storing your pre-cut veggies longer than a day because the beauty of this salad is its freshness.

Bacon: You could cook your bacon and crumble it ahead of time too. Just make sure to store your pre-cut ingredients in an airtight container or zip bag and place in your refrigerator.

Dressing: Your homemade Blue Cheese Dressing can be made up to 2 days in advance, as long as you store it in an airtight container in your refrigerator.

I would not recommend cutting your wedges ahead of time because you would lose the crispness of the lettuce. No one wants to cut into a limp lettuce wedge! You also don't want to make the Balsamic Reduction in advance or it will harden.

HOW DO YOU EAT A WEDGE SALAD?

I'm so glad that you asked! Wedge salads are so fun to eat and are absolutely delicious.

Put your fork in the center of the wedge, tines straight down toward the bottom of the plate. Then with your knife, cut from the corner nearest you, one bite at a time.

Most wedge salads have bacon pieces, blue cheese crumbles and tiny bits of tomato on top. (Mine features even more tiny bits of greatness on top, hello avocado, corn and onion!) Feel free to scoop some of that yummy goodness onto your fork along with your bite of lettuce from the wedge. You can rotate your plate if you need to as you continue to cut your salad one bite at a time.

IS ICEBERG LETTUCE GOOD FOR YOU?

This Wedge Salad is basically like eating a lot of iceberg lettuce – so is iceberg good for you? When it comes to lettuce, the darker the shade of green, the better it is for you.

However, don't let the light-green coloring of Iceberg lettuce fool you into thinking it has little or no nutritional value. Iceberg lettuce features vitamins C, K and A as well as Calcium, Folate and Potassium. So yes, Iceberg lettuce is good for you!

HOW MANY CALORIES AND CARBS ARE IN A WEDGE SALAD?

The calorie and carb count of your Wedge Salad depends on the ingredients you use. The count goes up if you include bacon pieces and blue cheese crumbles, or sour cream instead of Greek yogurt.

For an approximate guess for calories and carbs of blue cheese, dressing, one brand of blue cheese dressing has 77 calories and about 1 gram of carbohydrates per tablespoon. So, you would really need to look at the nutrition information on the packaging of your ingredients (I'm looking at you, bacon!) to get an accurate count.

If you want to cut calorie or carb corners, try swapping out the blue cheese dressing with a low-calorie buttermilk one and maybe skip the blue cheese crumbles. Let's be honest though, no one ever called this Wedge Salad SKINNY! and it is worthy every bite!

Looking for more Salad Recipes?

Want to try this Wedge Salad

Recipe

?

Pin it to your SALAD or SIDE Board to SAVE for later!

Find me on Pinterest for more great recipes! I am always pinning :)!

©Carlsbad Cravings by CarlsbadCravings.com

Wedge Salad with Blue Cheese Ranch and Balsamic Reduction (Outback Copycat)

Save This Recipe To Your Recipe Box

You can now create an account on our site and save your favorite recipes all in one place!

Ingredients

Salad

1

small head iceberg lettuce

cut into 4 wedges

6-8

slices

bacon, cooked and crumbled

1/4

red onion, chopped

2

Roma tomatoes, chopped

Corn from one ear of sweet corn

leave raw

1

avocado, chopped

Blue Cheese Ranch

1/2

cup

real mayonnaise

(I use lowfat)

1/2

cup

sour cream

may sub Greek yogurt with a pinch of sugar

1/3

cup

Blue cheese crumbles

1

tablespoon

lemon juice

1

tsp EACH

dried parsley, dried chives

1/2

tsp EACH

dried dill, garlic powder

1/4

tsp

EACH salt, pepper

3

tablespoons

milk

more or less as needed

Dash of cayenne pepper

(optional)

Garnish

Blue cheese crumbles

(optional)

Salt and pepper to taste

Instructions

Blue Cheese Ranch

Add all of the dressing ingredients to a medium bowl and whisk until well combined. Add milk to reach desired consistency. Best if chilled at least 30 minutes. Can be made days in advance and refrigerated in an airtight container.

Balsamic Reduction

Note: Make just before serving or Reduction will thicken too much.

Add ½ cup balsamic vinegar and 2 tablespoons brown sugar to a small saucepan. Bring to a boil then reduce to a simmer just until the consistency of syrup (it will thicken upon standing). Remove from heat. If Reduction thickens before you use it, then stir in a little water and reheat in the pan.

Serve

Add wedges to individual plates and top with desired amount of Blue Cheese Ranch followed by tomatoes, onions, corn and bacon. Drizzle with balsamic reduction. Garnish with additional blue cheese if desired.

Did You Make This Recipe?

Tag @CarlsbadCravings and Use #CarlsbadCravngs

Leave a Review, I Always Love Hearing From You!

©Carlsbad Cravings Original

Reader Interactions