Salmon with Mango Salsa is easy, healthy and on your table in just over 30 minutes!
This healthy Salmon with Mango Salsa is deceptively easy even though it looks completely gourmet! It is packed with flavor from a vibrant chipotle wet rub complimented by sweet, juicy fresh Mango Salsa. It is a symphony of flavor and texture in every mouthwatering bite that will make you look and feel like a professional chef!
SALMON WITH MANGO SALSA RECIPE VIDEO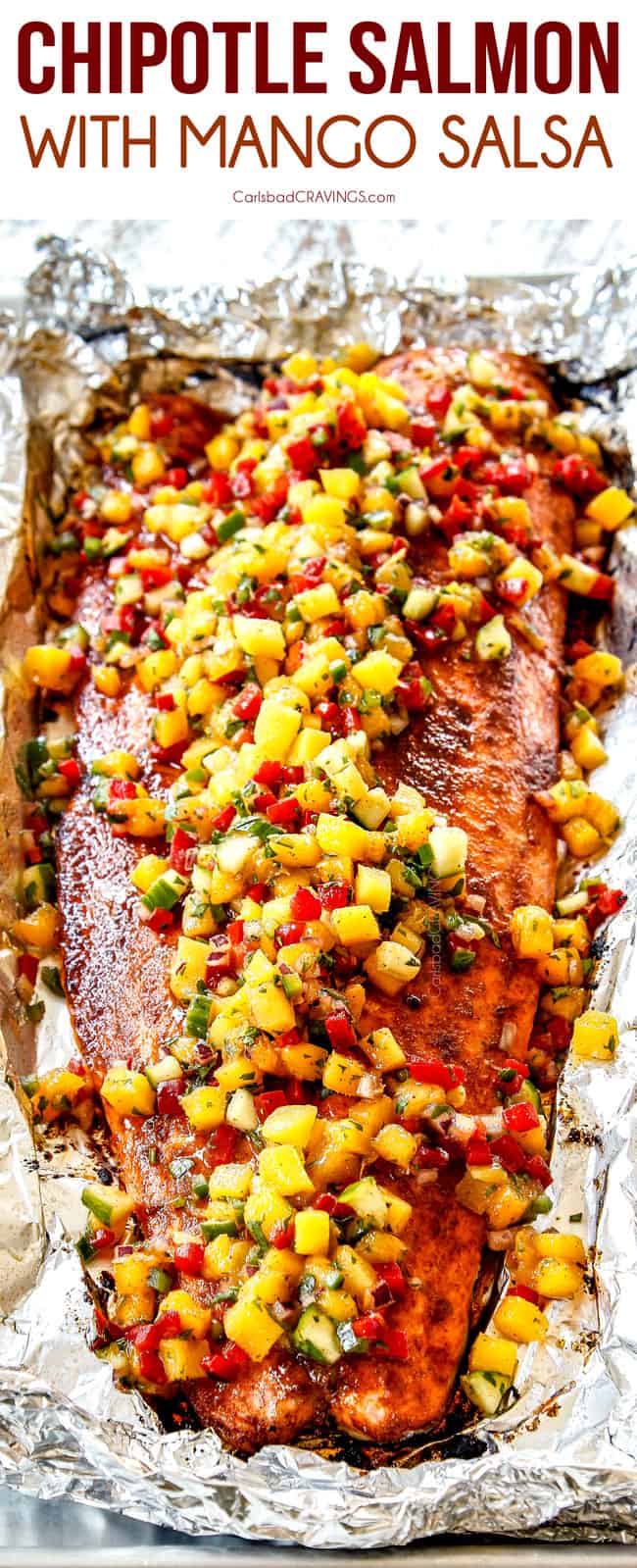 Baked Salmon in Foil
If you haven't made very many salmon recipes in your life, please stop the insanity now with this Baked Salmon with Mango Salsa recipe! Salmon is buttery juicy, and the easiest protein you can cook. It literally takes minutes to prep and then bakes to juicy perfection in the oven – no babysitting required!
To make this Salmon with Mango Salsa recipe, all you need are a few ingredients, a big piece of foil, a baking sheet and an oven. Wet rubbed salmon goes in, and gourmet deliciousness comes out.
This baked salmon recipe uses the almost embarrassingly easy method of baking salmon in foil as my Lemon Garlic Butter Salmon (a fav!), but I've swapped the lemon and herbs for spicy, smoky chipotle powder and Mexican seasonings. The earthy, robust seasonings are complimented by the bright, refreshing, sweet Mango Salsa so every bite is perfect harmony of sweet, tangy, spicy, fiestalicious perfection.
MORE REASONS TO LOVE SALMON WITH MANGO SALSA:
Salmon in foil. I love baking salmon in foil because it not only produces tender, juicy salmon, but you literally have ONE piece of foil to throw away for "dishes!"
Quick and Easy. The salmon rests in a simple wet rub while you prep the Mango Salsa so it can be served as soon as your salmon comes out of the oven- no extra prep time required!
Healthy and Satisfying. Salmon tastes buttery tender and will satisfy all those meat cravings, but it is a nutritious, protein-packed powerhouse. The wet rub and mango salsa are also healthy but deliver a dreamy explosion of flavor.
Fresh Flavorful Texture. The Mango Salsa is the ying to the Chipotle Salmon's yang both in texture and flavor. It introduces an alluring, palate pleasing symphony of fresh ingredients and vibrant flavors. It's a match made in heaven. And in your kitchen.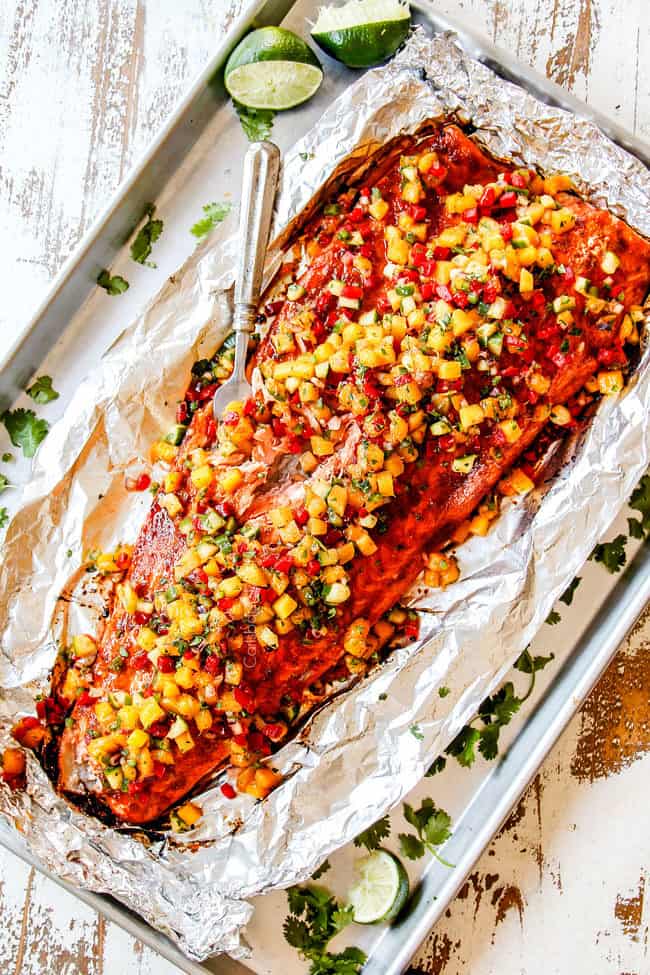 WHAT SALMON IS BEST?
I went into detail about types of salmon in my Greek Salmon recipe, so here is just a quick overview of what to look to look:
Use high quality salmon. This baked Salmon with Mango Salsa recipe is super simple, so you need quality salmon because you will be able to TASTE the difference – both in flavor and texture.
Use wild caught salmon. Always look for wild caught salmon (preferably Alaskan) and avoid farm-raised Atlantic salmon. Wild caught salmon includes king, coho and sockeye salmon. King salmon is the richest tasting, but it is also the most expensive, so don't feel like you have to buy it – the other varieties will also taste delicious.
What Salmon should I avoid? Avoid farm-raised Atlantic salmon as it is fatty, less nutritious (due to its artificial diet), waterier and can bake up mushy.
What size salmon is best? I used a 3-pound salmon fillet for this Salmon with Mango Salsa recipe, but the recipe is very forgiving. You can use a larger salmon with no problem. If you choose a smaller salmon, you may want to reduce the wet rub or not use all of it.
Can I use individual fillets? Absolutely! Individual fillets tend to be more expensive but they will certainly work in this recipe.
Can I use frozen salmon? I haven't seen frozen large fish fillets, but you can certainly use smaller frozen fillets, just take care they are wild caught fillets. Wild caught salmon is always better than farmed salmon – fresh OR frozen.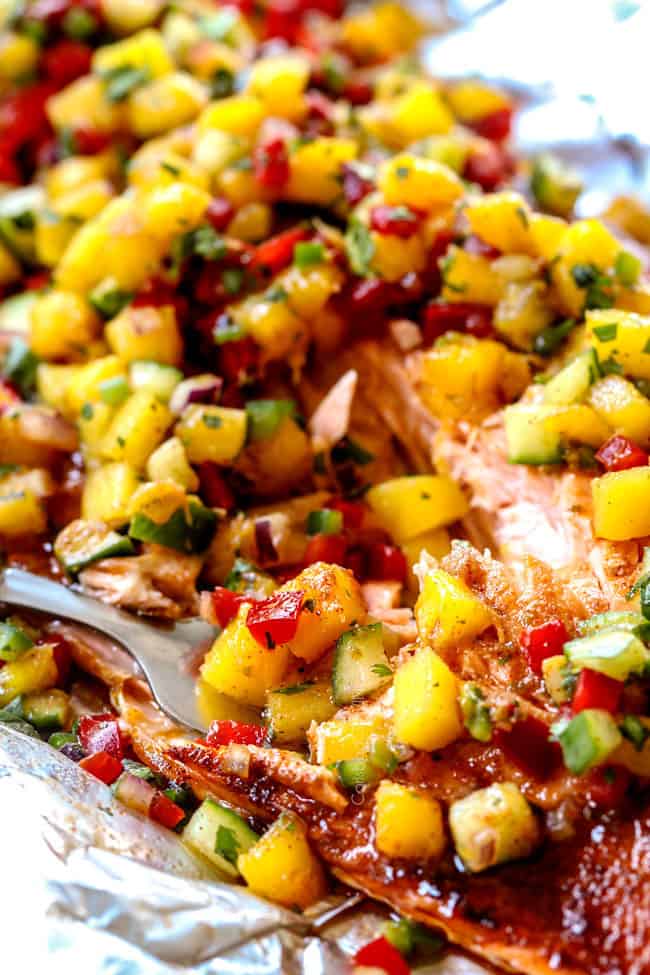 How to Season Salmon
This Salmon with Mango Salsa is seasoned with a dynamic wet rub. It is made with pantry ingredients with layers of smoky heat, tangy lime, sweet honey and buttery bliss. You will need:
Butter. Adds a depth of buttery flavor that is sublime. Use unsalted butter so we can salt the salmon separately. You may also substitute with olive oil but you will lose the butter flavor – and it's only two tablespoons, so go butter!
Lime juice and lime zest. Awakens the entire flavor profile with its fresh tanginess. It is the perfect compliment to the smoky, earthy chipotle. I like to add fresh lime juice to the salmon after it has baked as well.
Honey. Always a favorite with lime and chipotle. It cuts through the sourness of the lime and the heat of the chipotle powder. You may also substitute with brown sugar if you don't have honey on hand.
Chipotle Chile Powder. This seasoning is also called "ground chipotle chile pepper." Chipotle powder is a very common spice and should be easily found at every grocery store. Chipotle chile powder is smoky and spicy, and infuses our salmon with a deep, spicy, earthy flavor. You can use anywhere from ¼ teaspoon to 1 teaspoon chipotle powder, with 1 teaspoon being spicy but not knock-your-socks-off when combined with the mango salsa.
Seasonings. The rest of the seasonings include chili powder, ground cumin, smoked paprika, onion powder, garlic powder and salt to create layers of flavor without overwhelming the palate.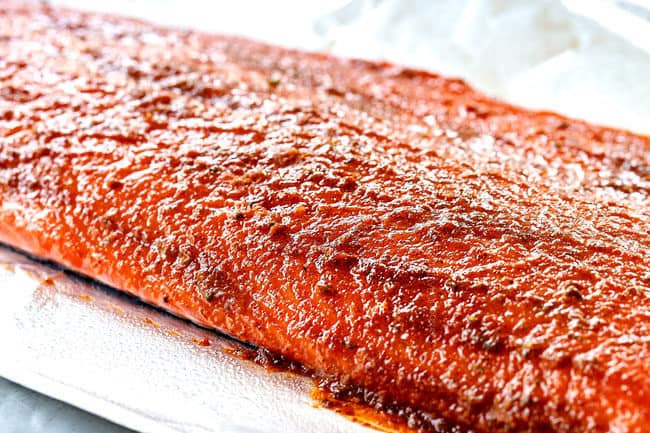 HOW TO MAKE SALMON with mango salsa
Baked Salmon with Mango Salsa is very easy to make. Here are some tips and tricks to help make it a swimming success!
Create a foil pouch. Line a large jelly roll pan with foil that extends 2" past the pan on each long side so you can fold the sides up and create a wall. This will keep the chipotle wet rub from leaking out. Lightly spray the foil with nonstick cooking spray.
Don't wash salmon. The USDA cautions that washing salmon before baking is not necessary and this will cause bacteria to splash and spread to other foods and surfaces.
Place Salmon in foil. If your salmon is too long for your pan, then you can cut in half and place in two individual pieces of foil, however will fit on your baking sheet or two medium size baking sheets. The baking time will remain the same.
Remove bones. Remove any leftover skinny "pin bones" the butcher may have missed. You should not use a knife or fingers, but rather, use sanitized needle-nosed pliers or tweezers. To find the bones, run your clean fingers down the surface of the salmon then remove them with your sanitized instrument of choice. There shouldn't be many, but I always find just a few.
Make wet rub. Our easy wet rub is a simple whisking of melted butter (or olive oil), honey, lime juice, chipotle powder, chili powder, ground cumin, smoked paprika and salt. Smother the wet rub evenly all over the salmon.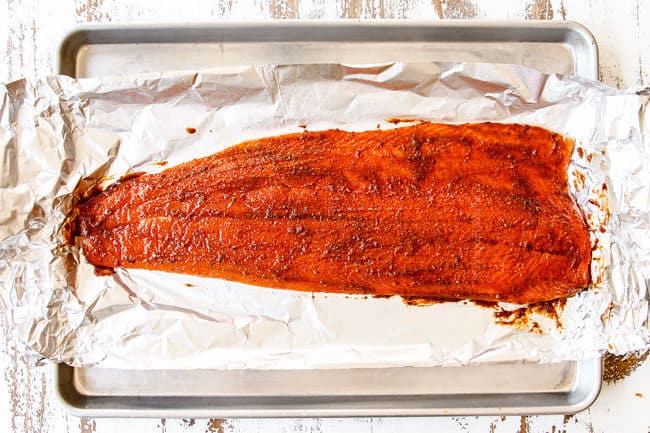 Bring to room temperature. Like other proteins, salmon should always be brought to room temperature before baking and never be baked directly from the oven or it won't cook evenly. Instead, we apply the wet rub then let the fillet rest on the counter for 15-30 minutes. This not only brings our salmon to room temperature but allows the wet rub to penetrate deep into the salmon.
Bake. This oven Bakes Salmon should be baked uncovered at 400 degrees F for 12-15 minutes (depending salmon thickness), or 130 degrees F.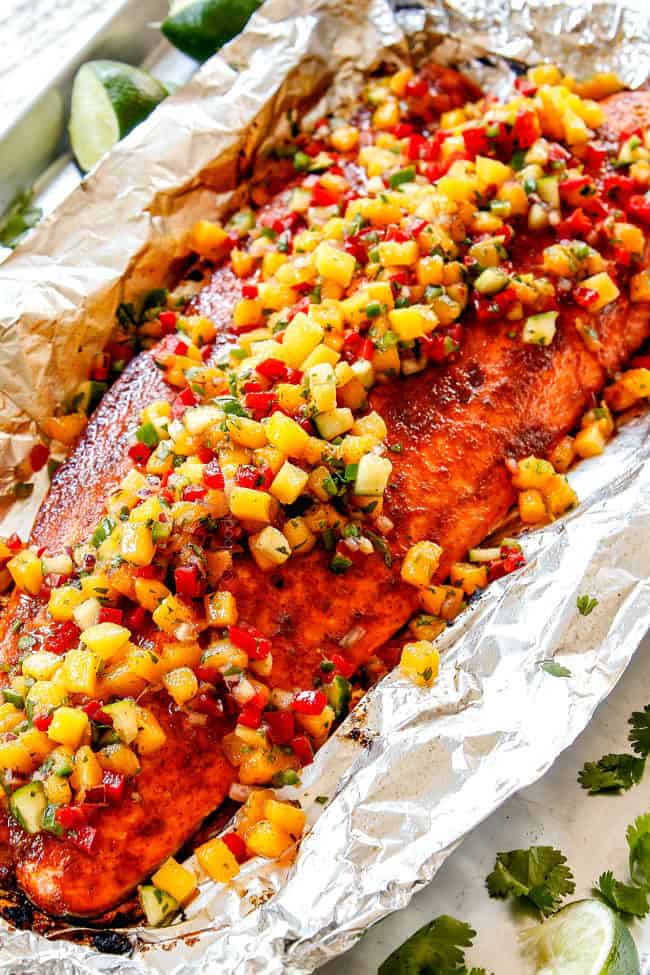 HOW DO YOU KNOW WHEN SALMON IS DONE?
Baked Salmon remains buttery, juicy and tender as long as it isn't overcooked. I like salmon medium so the inside is very moist, still slightly translucent but not raw. It is better for salmon to be undercooked than overcooked in my opinion.
The best way to know if your salmon is done but NOT overcooked is to use an instant read thermometer. Insert the thermometer into the thickest part of the salmon.
The FDA advises salmon should be cooked to an internal temperature of 145 degrees Fahrenheit, HOWEVER, if you cook your salmon to this temperature it will be overdone because the temperature will continue to rise after baking.
Instead, America's Test kitchen suggests cooking your salmon to about 125 degrees F (52 degrees C) to avoid dry, overcooked salmon. I usually cook my salmon to just 130 degrees F and the results are always perfect after a 5-minute rest.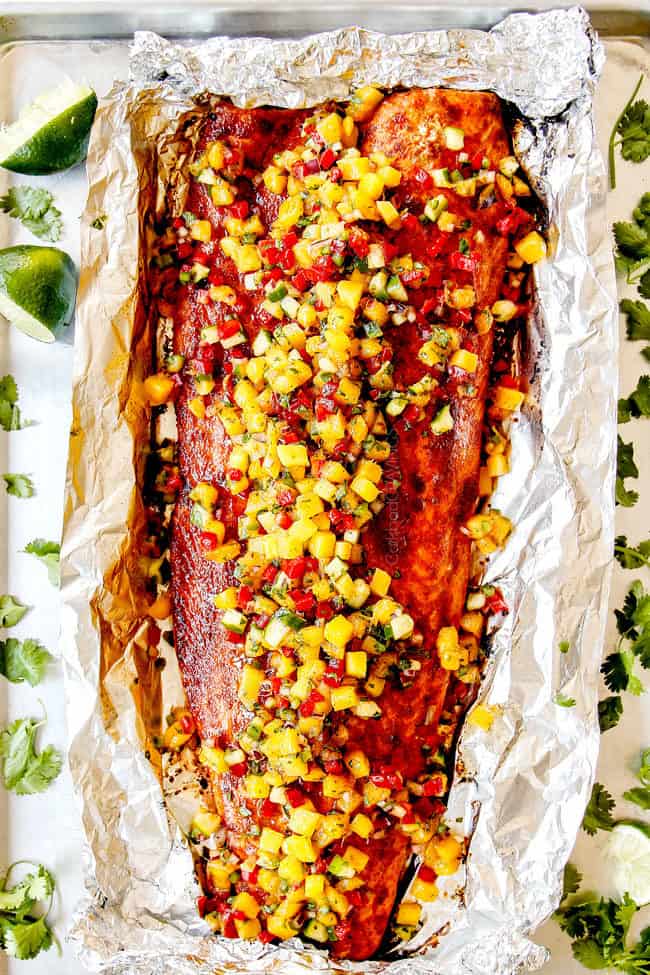 About Mango Salsa
I LOVE Mango Salsa so much; I have dedicated an entire post to it. It is delectable plain or with chips and elevates our Chipotle Salmon to jaw dropping delicious.
Our Salmon with Mango Salsa recipe is a dance of rich, smoky, spicy chipotle, sweet and juicy mangos, crunchy bell peppers, crisp cucumbers, zingy red onion, citrussy cilantro, kickin' jalapeno and tangy lime in every harmonious mouthful.
The fresh brightness of the Mango Salsa cuts through the spicy salmon and is a must in my book. Because nothing makes you appreciate sweet like heat.
This Mango Salsa recipe is super easy to make and can be prepped in minutes. You can start it while your salmon is resting with the wet rub and finish it while your salmon is in the oven if need be.
If Mango Salsa makes you nervous because you are uncertain of how to choose mangos or how to cut, I've got you covered in my post all about mangos here.
How to Make Mango Salsa:
Chop mangos and vegetables
Add ingredients to a large bowl
Add lime juice and seasonings
Taste and adjust to taste
Chill and/or serve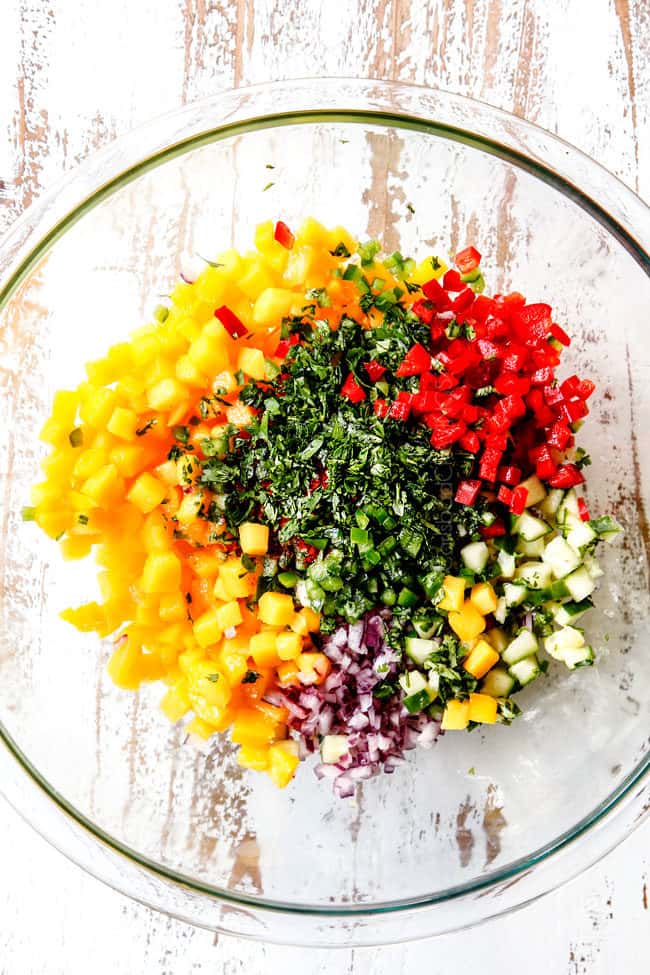 Can I Make Mango Salsa Ahead of Time?
Mango Salsa is best served the day it is made; however, you can store it for up to two days in an airtight container in your refrigerator but be aware that the mangos will become increasingly soft and change the texture of the salsa. Softer mangos don't mean they've gone bad, they're just not as appetizing.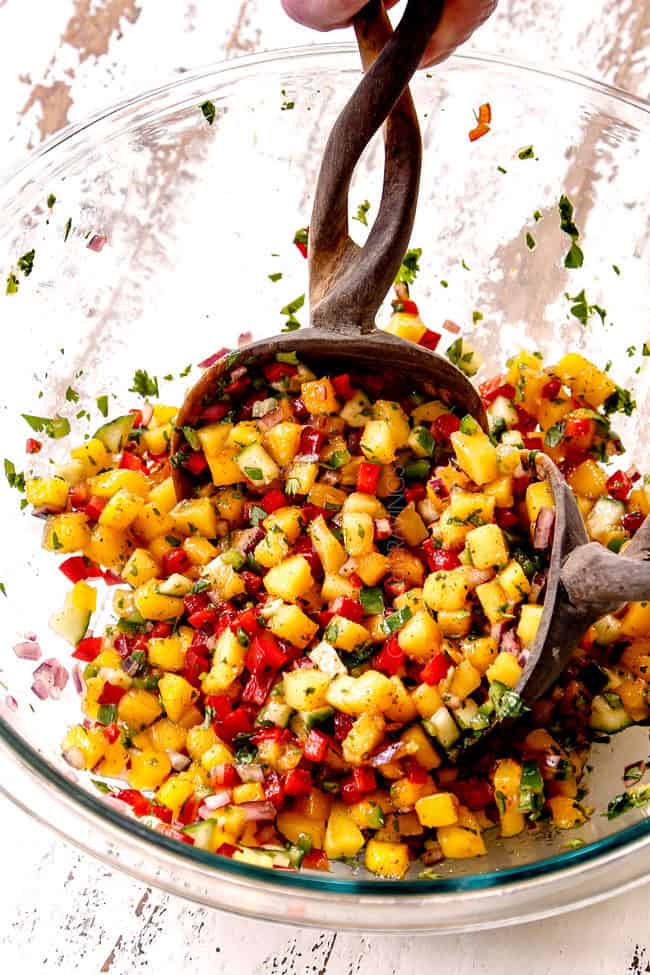 recipe variations
Seasonings: Season the wet rub with Cajun seasoning instead of chipotle.
Salmon fillets: Make the recipe with 6 oz. salmon fillets instead of one large fillet, the baking time will be about the same.
Cook on the stovetop: Cook salmon fillets on the stove for about 3-4 minutes per side.
Mango salsa variations: Customize the mango salsa by adding other fruits such as pineapple, strawberries, blueberries, orange or peaches. You can omit the cucumber and bell peppers or add more of one or the other. Make the salsa spicier by adding additional jalapeno or more tangy with additional lime juice.
Make mango slaw. Keep the mango salsa recipe the same but mix it with 2 cups finely shredded green cabbage. This would be fantastic in tacos.
HELPFUL Tips for Salmon with Mango Salsa
Is salmon skin safe to eat?
When you purchase your salmon fillet, it will still have the skin on one side. Place the skin side down on the pan and you can choose whether or not to eat the skin after its baked. The skin contains more of the same minerals and nutrients contained in salmon, so it is highly nutritious and safe to eat.
How to I prevent salmon skin from sticking to the foil?
Always spray your foil with nonstick cooking spray and make sure the skin is patted completely dry before it comes in contact with the foil.
How much salmon should I buy?
Although a whole fillet looks like a lot of protein, it will not feed an army – unfortunately. There are quite a few variables to when it comes to serving size such as what you are serving with your salmon and how big of eaters your audience is, but the general rule of thumb is about ½ pound per person.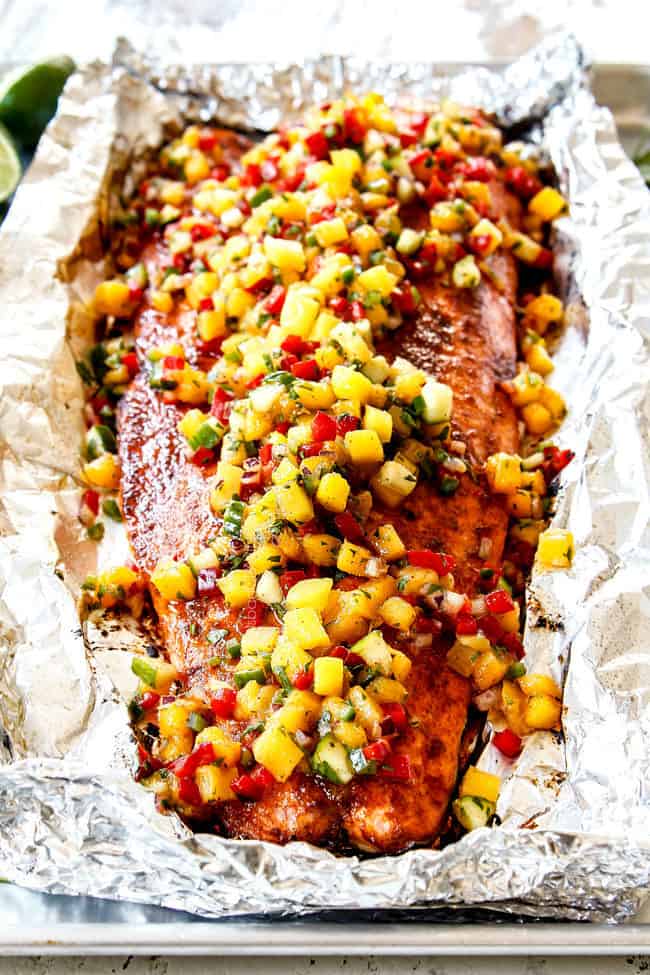 What can I serve with Salmon with Mango Salsa?
This healthy Salmon with Mango Salsa is almost a complete meal. I love serving it with any of the following sides:
How Should I Serve Salmon with Mango Salsa?
You can serve baked Salmon with Mango Salsa with any of the aforementioned sides, or you can turn it into something entirely different such as: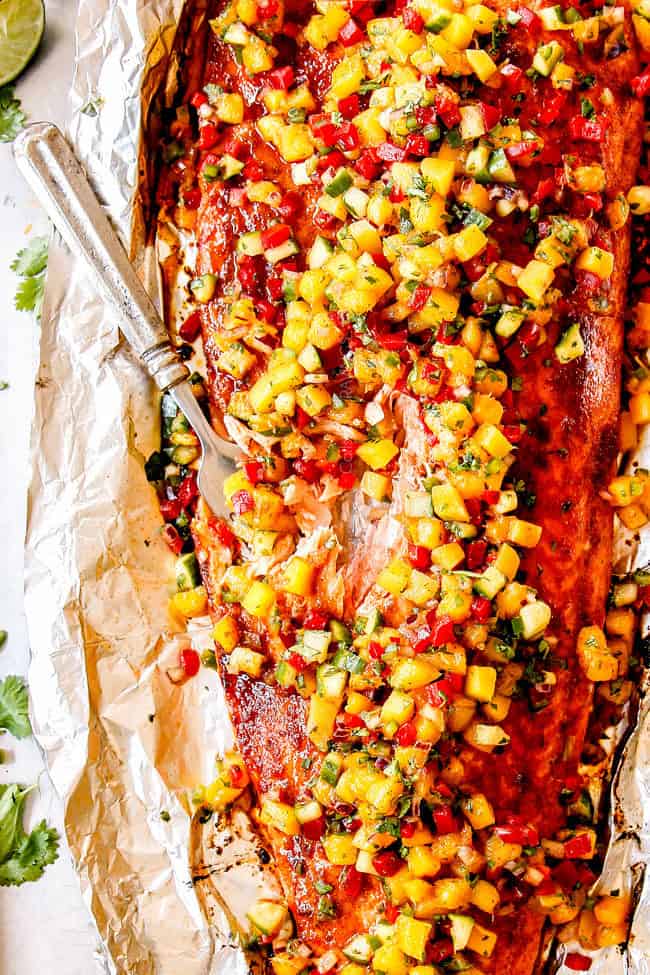 Can I freeze my Salmon with Mango Salsa?
You can definitely freeze your baked salmon but I would not advise freezing the salsa IF you plan on using it as salsa. The fruit will become soft and mushy when defrosted.
Instead of using frozen salsa as salsa, you can puree it and use as a sauce to pour over salmon or in the skillet like in my Mango Verde Chicken recipe.
To freeze salmon:
Prepare salmon according to directions but do not top with mango salsa.
Cool to room temperature.
Divide salmon into a couple freezer size plastic bags OR portion into smaller size sandwich bags.
Press bag flat, squeeze out excess air to prevent freezer burn.
Seal, label and freeze for up to 3 months.
When ready to use, defrost salmon in the refrigerator overnight.
Looking for more Salmon Recipes?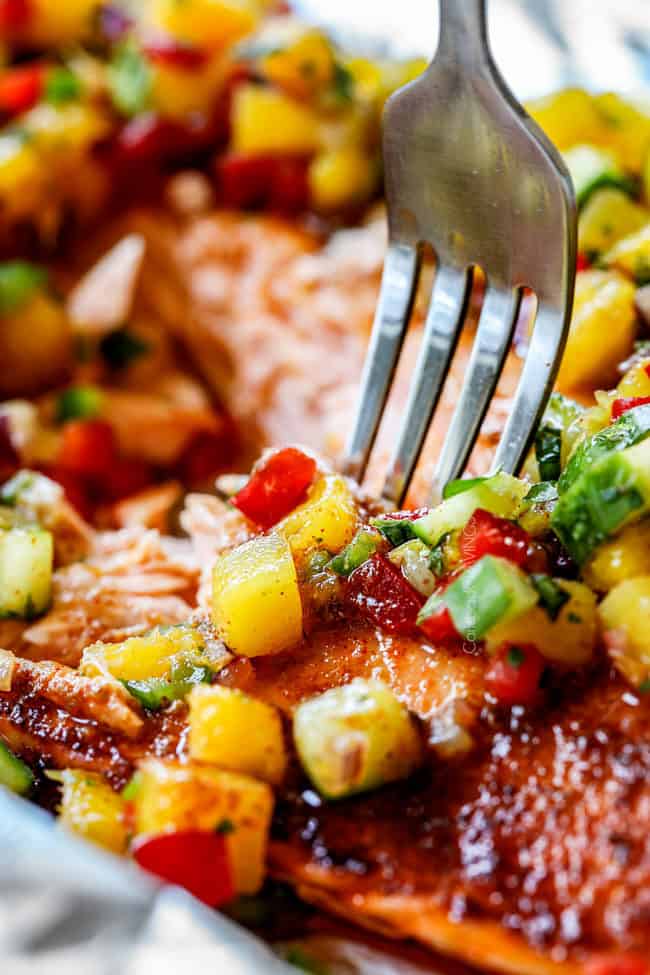 Want to try this Salmon with Mango Salsa RECIPE?
Pin it to your CHICKEN or DINNER Board to SAVE for later!
Find me on Pinterest for more great recipes! I am always pinning :)!
©Carlsbad Cravings by CarlsbadCravings.com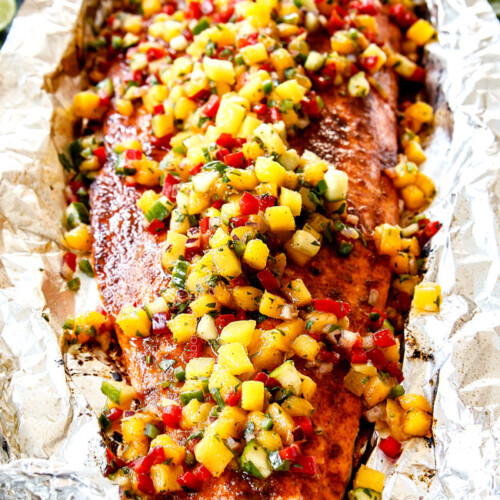 Chipotle Salmon with Mango Salsa
Chipotle Salmon with Mango Salsa is easy, healthy and on your table in just over 30 minutes! This healthy salmon recipe is deceptively easy even though it looks completely gourmet! It is packed with flavor from a vibrant chipotle wet rub complimented by sweet, juicy fresh Mango Salsa. It is a symphony of flavor and texture in every mouthwatering bite that will make you look and feel like a professional chef!
Save This Recipe To Your Recipe Box
You can now create an account on our site and save your favorite recipes all in one place!
Ingredients
1

large

wild Alaskan salmon fillet

approx 3 pounds
Wet Rub
2

tablespoons

unsalted butter

2

tablespoons

honey

2

tablespoons

lime juice

zest of one lime

1

tsp EACH

salt, chili powder, ground cumin, garlic powder

1/2

tsp EACH

smoked paprika, onion powder, dried oregano, pepper

1/2-1

teaspoon

chipotle chili powder
Instructions
Preheat oven to 400 degrees F. (See notes for grilling.)

Line a large jelly roll pan with foil that extends 2" past the pan edge on each long side (so you can fold the sides up). Lightly spray foil with nonstick cooking spray. Place salmon in the center of the foil skin side down.

Whisk all the Wet Rub ingredient together in a medium bowl. Pour rub on salmon and evenly rub all over the top. Fold up all the sides of the foil snugly around the salmon (but don't cover salmon). Let salmon rest 15-30 minutes to come to room temperature (you can make the mango salsa during this time).

Bake salmon uncovered at 400 degrees F for 12-15 minutes (depending salmon thickness), then broil 3 minutes.

Garnish salmon with fresh lime juice and mango salsa. Season with salt to taste.
Notes
Don't miss the "how to make" recipe video at the top of the post!
TO GRILL SALMON
Preheat your grill to 375-400 degrees F with the lid closed.

Carefully slide the salmon packet directly onto the grill. Close the grill and cook salmon for 15-20 minutes depending on thickness, or until the salmon registers 130-135 degrees on an 

instant read thermometer 

inserted into the thickest part. (1-inch thick salmon can take as little as 10 minutes, 1 ½-inch thick salmon will take closer to 20 minutes.)

To remove the salmon from the grill, carefully slide the foil packet back onto the baking sheet with the help of a spatula (careful, the foil packet will be hot!). Remove the top foil (watch for steam). 
Did You Make This Recipe?
Tag @CarlsbadCravings and Use #CarlsbadCravngs
Leave a Review, I Always Love Hearing From You!
Carlsbad Cravings Original