Chicken Cordon Bleu to rival any restaurant made at home!
This crunchy, flavorful Chicken Cordon Bleu recipe sounds and tastes fancy but is actually easy to prepare! Tender chicken breasts are stuffed with smokey ham, Gruyere or Swiss Cheese, rolled and breaded in lemon panko pistachio breading and then baked to nutty, smoky, cheesy golden perfection. If you like pistachios even just a little, you are going to go crazy for this spectacular breading! The baked Chicken Cordon Bleu is then smothered in creamy Honey Dijon Sauce for a bite after bite of flavor/texture heaven. I've included step by step photos of how to make Chicken Cordon Blue and how to prep ahead.
Chicken Cordon Bleu Recipe
You better hold onto your socks because they are about to be knocked off with the BEST Chicken Cordon Bleu recipe AKA Pistachio Gruyere Chicken Cordon Bleu with Creamy Honey Dijon Sauce!
My mom's delicious chicken cordon bleu is a staple on her company dinner rotation. It's always met with an abundance of compliments accompanied by inconspicuous finger licking. With the holiday season coming up and more reasons to have company over for dinner or simply share a special dinner with your family, I wanted to elevate traditional chicken cordon bleu to heights that will make your soaring taste buds giddy.
This Pistachio Gruyere Chicken Cordon Bleu sounds fancy, but is quite simple to make; so simple that even though I had never made chicken cordon bleu before this year, I was almost shocked at how easy it was and how quickly it comes together! Simple and quick enough that it doesn't just have to be for special occasions – thank goodness or you would be making up special occasions – weekly.
What is Cordon Bleu?
If you aren't familiar with Chicken Cordon Blue, let me introduce you! Chicken Cordon bleu is a dish made of thinly pounded chicken, layered with cheese and thinly sliced ham which is then thinly rolled up, breaded and either pan fried or baked.
The earliest reference to Chicken Cordon Bleu is in the New York Times in 1967, but it no doubt dates much earlier. It originated from other veal/pork cordon bleu recipes from Switzerland dating back to around 1940.
What is the Bleu in Chicken Cordon Bleu?
Chicken Cordon Bleu sounds fancy because it is French term, but is actually pretty simple to make. In French, cordon bleu is translated to "blue ribbon" and refers to the blue ribbon worn by members of the highest order of knighthood in France in 1578.
This blue ribbon term has come to mean virtually anything of a very high standard. In the culinary world, it is reserved for food prepared to the highest standard – and chicken cordon bleu has earned the highest honor in it's very name alone, so you know it has to be good!
Ingredient Tips for Chicken Cordon Bleu
There are a few special ingredients that make this Chicken Cordon Bleu soar. Here's what you'll need:
For the Chicken
chicken: 4 chicken breast fillets (6-8 oz. each), pounded thin. Many chicken breasts are much larger than 6-8 oz, so you will need to slice 2 large chicken breasts in half through the equator to create 4 fillets.
Alternatively, you can purchase chicken breasts halves at Costco and other grocery stores.
FOR THE BREADING
The breading is made of finely ground pistachios mixed with Lemon Pepper Panko Breadcrumbs, basil, garlic and onion powder create a crispy, crunchy, nutty breading. If you like pistachios even a little, then I am very, very excited for you to try this new breading.
pistachios: You can purchase pistachios pre-shelled to save time
panko: are a Japanese breadcrumb and can be found next to the traditional/Italian breadcrumbs at your grocery store. Panko breadcrumbs are lighter, larger and dryer than normal breadcrumbs so they absorb less moisture which produces a way crispier breading. Please do NOT substitute with traditional breadcrumbs and expect the same results. If you can't find lemon pepper panko, then you can use regular panko with a dash of lemon pepper seasoning.
seasonings: you will need dried basil, garlic and onion powder to infuse the exterior breading with flavor.
For The Wash
Typical breading techniques include coating the chicken in an egg wash so that the breading will stick. Instead, in this Chicken Cordon Bleu recipe, we use a combination Dijon, honey and olive oil for more tantalizing layers of flavor.
Dijon mustard: is made from fine ground hotter brown or black mustard seeds and white wine which give it a sharp, pungent flavor with a little heat. Please do NOT substitute with yellow deli mustard.
honey: any honey will do the trick.
olive oil: I use olive oil but you may substitute with your favorite neutral tasting oil.
For the filling
There are only two ingredients in the Chicken Cordon Bleu filling so it is important that they are flavorful!
ham: I recommend black forest ham. It adds a subtle, complex smokey flavor. You can purchase ham at the delic counter and ask them to slice it thinly.
cheese: the melty Gruyere cheese pushes this chicken cordon bleu over the top with its rich, creamy slightly nutty flavor. Gruyere can be found with the specialty cheeses in your grocery store.
can I use a different cheese?: I highly recommend Gruyere but if you want to make this Chicken Cordon Bleu all the time and don't want to purchase the cheese every time, you can substitute Swiss cheese. But let me give you one more reason to buy Gruyere cheese: Herbed Gruyere Scalloped Potatoes and Bacon Au Gratin. That should do it.
FOR THE Chicken Cordon Bleu Sauce
This sauce is one of the best parts of the dish. It is finger licking, spoon licking good. You will use some of the same ingredients you used earlier. You will need:
heavy cream: you may substitute half and half but you will need to simmer longer until thickened and reduced
cornstarch: promotes quick thickening of the sauce
Dijon mustard: same mustard used in the wash
spicy brown mustard: I LOVE this addition but if you don't have it on hand you can use Dijon and add additional hot sauce to taste
honey: same type of honey used in the wash
seasonings: dried basil, paprika, garlic powder, onion powder, salt and pepper – no bland Chicken Cordon Bleu here!
How to Make Chicken Cordon Ble
Step 1: Prepare Chicken
Why pound chicken? Even though Chicken Cordon Bleu starts with thin chicken fillets, it is important that they are pounded to a thin, even thickness for two main reasons: 1) it tenderizes the chicken as it breaks up the tissues, 2) the uniform thickness allows the chicken of different sizes to cook evenly and much quicker.
How to pound chicken:

I like to place my chicken in freezer bags (2 at a time) as opposed to in between parchment paper but you can use whatever you have on hand.
Take care to use the smooth side of the meat mallet when pounding chicken. If you don't have a meat mallet you can use the side of a can.
We are aiming for 1/4-1/2-inch but 1/4" is preferable because 1/4" chicken is ultra tender.
Step 2: Make Breading
Finely grind pistachios in food processor.
Transfer to a bowl and mix with Panko and seasonings.
Step 3: Make Wash
In a small bowl, mix 2 tablespoons Dijon mustard, 2 tablespoons honey, and 2 tablespoons olive oil.
Step 4: Layer Chicken
Lay 1 slice of ham over each chicken breast then sprinkle evenly with cheese.
Step 5: Roll up Chicken
Fold in the edges of the ham over the cheese as you roll the chicken up (to keep the cheese from oozing out). Secure chicken roll with toothpicks.
Step 6: Bread Chicken
Coat chicken in prepared honey/Dijon/olive oil. Not only does this Honey Dijon bath provide the perfect adhesive for the Pistachio Lemon Pepper Panko breading, it keeps the chicken moist while ensuring every cheesy pistachio, chicken, ham bite is complimented with honey and Dijon.
Dredge rolled up chicken in Pistachio breading, turning and pressing crumbs firmly into chicken.
Step 7: Bake Chicken
Bake the Chicken Cordon Bleu until golden while you prepare your Creamy Honey Dijon Sauce.
You'll want to check the last 10 minutes of cooking to make sure the breading isn't browning to quickly. You may need to top with foil to prevent excess browning.
On the other end of the spectrum if the breading isn't browned by end of baking, broil until golden.
Step 8: Make Chicken Cordon Bleu Sauce
The Creamy Honey Dijon Sauce is made by simply simmering heavy cream, Dijon, spicy brown mustard, honey, paprika, cornstarch and some spices until warmed through.
Pour the Creamy Honey Dijon Sauce over the Pistachio Chicken oozing with gooey Gruyere cheese and hot roasted ham and its time to knock some socks off.
TIPS FOR CHICKEN CORDON BLEU RECIPE
Pound chicken to an even thickness: Make sure your chicken is an even thickens so it baked evenly otherwise you will be left with partially dry/overdone chicken OR underdone chicken.
Prepare your baking sheet before you start breading the chicken. You'll want to rest your chicken on the baking rack as your finish breading it – this will help it not get soggy. Don't forget to spray your pan with nonstick cooking spray!
Pan fry panko. For the ULTIMATE crunchy Chicken Cordon Bleu recipe, toast the panko before you use it in the breading. This is one extra step but really the only way to make it golden. Melt one tablespoon butter in a small saucepan. Add panko and cook, while stirring until golden.
Dredge chicken completely and evenly. Press the breading into the chicken so it sticks and check for any bare patches.
Use two hands when breading chicken. Use one hand to touch the wet chicken and place it in the breading and the other hand to push the breading into the chicken. This ensures the breading doesn't get gummy because gummy breading = not as crunchy Chicken Cordon Bleu.
Don't Crowd the Pan. Leave a decent space between your chicken on the baking rack while cooking. Overcrowding the pan will cause steam and make your breading soggy. When nicely spaced, the hot oven air can circulate evenly around the chicken so they can get nice and crispy .
Consistency of Chicken Cordon Bleu Sauce. Simmer the sauce until it reaches desired consistency – simmer for longer for thicker sauce and less time for thinner sauce. If your sauce gets too thick upon standing, then thin with a little milk or chicken broth.
WHAT do you eat with CORDON BLEU?
This Chicken Cordon Bleu is a show stopper and doesn't require any fancy sides. It pairs beautifully with a simple green salad, some fruit and crusty bread. Still, if you are looking for more scrumptious options, here are some of my favs:
Potatoes:
Veggies:
Salads
Bread:
Bonus:
Million Dollar Macaroni and Cheese
Cordon Bleu recipe variations
Once you understand the technique of chicken cordon bleu, you can make all sorts of variations of cordon blue. Here are just a few:
HAM: Substitute the black forest ham for honey baked ham or for bacon or prosciutto
CHEESE: Substitute the Gruyere for Swiss or provolone for more traditional flavor or get wild and go cheddar, pepper Jack, cream cheese, etc.
BREADCRUMBS: You can swap the pistachios for any other nut such as pecans or almonds. You can also omit them completely and just use panko breadcrumbs.
CAN I MAKE CHICKEN CORDON BLEU RECIPE AHEAD OF TIME?
Chicken Cordon Bleu Chicken is best if completely assembled right before baking (so the breading doesn't get mushy), but you can still prep most of the recipe.
To prep ahead:
Breading: make the breading mixture up to one week ahead of time and store in an airtight container.
Chicken: roll up the chicken and brush with honey/dijon/olive oil and cover with foil/plastic wrap and refrigerate.
Assemble: When it's time to bake the cordon bleu, all you have to do is dredge the chicken and pop it in the oven!
HOW TO STORE CHICKEN CORDON BLEU
Chicken Cordon Bleu should be stored in an airtight container in the refrigerator. When properly stored, it is good for 3 to 5 days. When storing, don't stack your chicken for best results as this will make it more soggy. Instead, place a piece of parchment paper in between the layers. Reheated chicken will still be flavorful but not as crunchy as freshly baked.
HOW TO FREEZE CHICKEN CORDON BLEU RECIPE CHICKEN
You you can freeze the Chicken Cordon Bleu before or after baking:
Leave/place crusted chicken on the lightly greased baking rack (so they aren't touching) and place in the freezer for 2-3 hours or until solid.
Transfer to a large ziploc bag and squeeze out any excess air.
Freeze for up to 3 months.
Bake straight from frozen (so they don't get as soggy) at 375 degrees for 30-40 minutes or until chicken reaches 165 degrees F.
Want to try this Chicken Cordon Bleu RECIPE?
Pin it to your CHICKEN or DINNER Board to SAVE for later!
Find me on Pinterest for more great recipes! I am always pinning :)!
©Carlsbad Cravings by CarlsbadCravings.com
Carlsbad Cravings Original
NEVER MISS A CARLSBAD CRAVINGS CREATION:
Cordon Blue is also delicious served with:
Dijon Maple Green Beans with Caramelized Pecans Bacon & Feta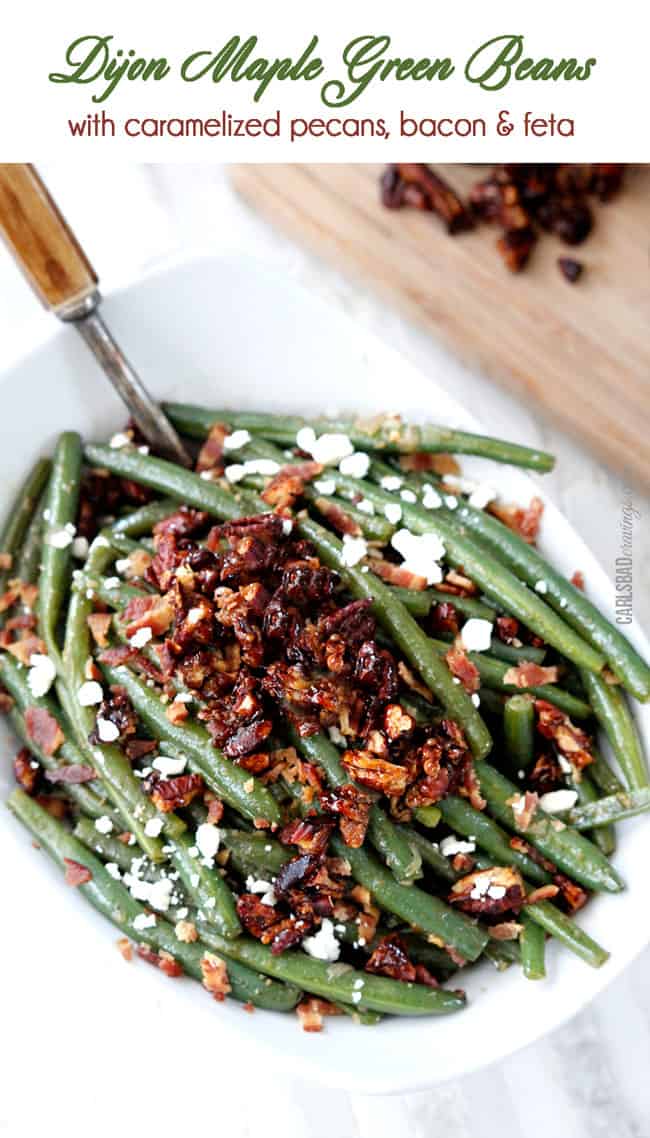 Pomegranate, Pear Pistachio Salad
Toffee Pecan Caramel Pound Cake