This Pull Apart Bread will be the most delicious bread you ever taste!
This Cheesy Pull Apart Bread is made with just 4 ingredients and will have everyone swooning! It will make your life easier and all your holiday parties more delicious! It is destined to become a most requested appetizer OR the favorite dinner side at your house. This Pull Apart Bread is so easy AND you can prep it all ahead of time for stress free entertaining!
PULL APART BREAD RECIPE
Pull Apart Bread
I just couldn't stop eating this Cheesy Pesto Pull Apart Bread. But the second I mustered the will power to pull away from inhaling it into oblivion, I called my mom and told her she had to make this pull apart bread for her next holiday party or dinner because:
It's is crazy delicious.
It can be made ahead of time so all you do is pop the prepared bread in the oven when its "go" time.
It couldn't be any easier with only 4 ingredients.
It has butter.
And pesto.
And cheeeeeese!
Everyone will LOVE it and beg for the recipe!
Ingredients for Cheesy Pull Apart Bread
This Pull Apart Bread is made with just FOUR ingredients! Here's what you'll need:
bread: 1 loaf sturdy bread – more on bread below.
cheese: use freshly grated mozzarella cheese for ultimate cheesiness.
butter: use unsalted butter so we can control the salt level.
pesto: adds TONS of flavor with just one ingredient! Use quality pesto for the best results.
What is the BEST BREAD FOR PULL APART BREAD?
The short answer is crusty bread that is dense. Artisan bread, sourdough, French baguettes are all great examples of breads you can use. You want the crust to be firm enough and the dough to be strong enough to stand up once sliced and to hold up to all the ingredients.
You can use a round loaf, longer football-shaped loaf or flatter ciabatta loaf as long as you stay in the 12 to 16-ounce range per loaf to keep proportions right in the recipe.
What is the Best Cheese for Cheesy pull apart bread?
I chose mozzarella for this Cheesy Pull Apart Breed recipe because it pairs beautifully with pesto. You may also use any of your favorite melting cheeses such as Brie, Provolone, or Gruyere.
It is important that you use melting cheese for the ultimate gooey cheese experience. You may also combine other cheeses with the melting cheeses, just as long as the melting cheese is dominant.
How to Make Cheesy Pull Apart Bread
You are going to LOVE how easy it is to make Pull Apart Bread! Let's get to it!
Slice bread. Slice your bread one way, turn and slice it in the other direction to create a crosshatch pattern. Make sure you don't slice all the way through the bread but leave the bottom in tact.
Pour in butter. Melt butter and pour it into the cuts in between the bread. Make sure you get every nook and cranny and don't leave any dry spots! To do this, I like to pull the bread back like an accordion – this separates the bread pieces so it's easy to get in between. If you run out of melted butter – simply melt some more!
Add pesto. By using pesto, we add tons of flavor to our pull apart bread in one easy slathering!
Add cheese. Finally, stuff the pull apart bread with cheese! At this point you can wrap the bread in foil and refrigerate or proceed to bake.
Bake. Bake bread for 15 minutes enclosed in foil then open the foil to expose the top of the bread and cook for an additional 10 minutes.
Serve! Once the buttery, pesto soaked bread emerges from the oven, and the ooey gooey cheese has melted into every crevice, just try and stop from eating half the loaf. Seriously, its so ridiculously delicious you will be thanking The Chew with every chew – I couldn't resist.
Tips for Pull Apart Bread
Use only the recommended sturdy breads.
Make sure not to cut bread all the way through or the goodies will fall out!
Use FRESHLY grated mozzarella for the best results. Pre-packaged cheeses are coated in anti-clumping chemicals which also prevents them from melting as well.
Stuff the bread evenly throughout the loaf so each bite is equally delicious.
Don't worry about using the exact ingredient measurements – use more or less – just whatever your bread needs to be evenly delishified.
Cook on a baking sheet to catch any drips or oozing cheese.
Keep an eye on the pull apart bread once you open the foil so it doesn't burn.
Eat the bottom of the bread! I know pulling the pieces is super fun, but the bottom is riddled with goodies and is beautifully crispy!
How to MAKE PULL APART BREAD AHEAD OF TIME
Pull apart bread is fabulous for parties because you can assemble it all ahead of time!
SERVING SOON: If making the pull apart bread ahead of time and serving relatively soon after assembling, then follow the exact recipe up to baking, then fold in foil and transport. This works well, for example, if assembling at your home to bring to a friends house to bake – without any down time needed to refrigerate the bread.
SERVING LATER: If you are going to prep ahead and not bake the pull apart bread for a while, use softened butter, otherwise having the bread sit in melted butter for an extended period of time can make the bread soggy. Instead, if the butter is spreadable soft, it will adhere to the dough all over but not seep into it.
REHEAT IN MICROWAVE. Your third option is to completely bake the pull apart bread, wrap in foil and store in refrigerator. When ready to serve, warm it in the microwave, starting with 90 seconds then adding 30 second intervals until warmed though.


How do I store PULL APART BREAD?
This Pull Apart Bread recipe needs to be refrigerated due to the cheese, butter and pesto.
REFRIGERATOR: You can store the baked pull apart bread for up tot 5 days in the refrigerator enclosed in foil.
FREEZER: You may also freeze baked pull apart bread for up to 6 months. Just be aware the cheese will loose some of its structural integrity. To freeze, tightly wrap in in plastic wrap a few times or divide into sections and place in freezer size bags or airtight containers.
TRY THESE TASTY VARIATIONS FOR PULL APART BREAD
My Bacon, Ranch and Pepper Jack Pull Apart Bread is a favorite flavor for any big game day.
My Buffalo Chicken Pull Apart Bread uses pre-made biscuits stuffed with cheesy Buffalo chicken in between – so good! You can also use the same buffalo chicken filling and stuff it in between a loaf like in this pull apart bread recipe.
My Italian Meatball Pull Apart Bread stuffs Italian Meatballs, mozzarella and marinara in between biscuits and bakes in a Bundt pan – drool.
Philly Cheese Steak Pull Apart Bread: marinate 1 pound thinly sliced, tri tip or flank steak in Italian dressing. Cook up and stuff in between bread slices along with 2 sliced green bell peppers, 1/2 cup of cream cheese and 2 cups of gooey provolone.
Bacon Maple Pull Apart Bread: caramelize 8 slices of bacon in a few tablespoons of brown sugar. Drizzle butter and maple syrup into bread and stuff with bacon and 8 oz of brie.
Pizza Pull Apart Bread: omit butter and spread pizza sauce, Parmesan cheese, 2 cups mozzarella and pepperoni slices in between bread.
Classic Garlic Cheese Pull Apart Bread: add garlic powder or 5 minced garlic cloves to butter along with Italian seasoning. Use both Parmesan and mozzarella.
Garlic with a kick Pull Apart Bread: add jalapeno slices, or sun-dried tomatoes.
Sweet Herb Pull Apart Bread: add fresh thyme and rosemary with cubed brie (8 oz) and either cranberries, or cranberry sauce mixed in.
Blueberry Heaven Pull Apart Bread: Add one cup blueberries, 8 oz cream cheese dressed up with a teaspoon of nutmeg and lemon zest. Sprinkle with some brown sugar.
What to serve with Pull Apart Bread?
This Pull Apart Bread is a fabulous stand-alone appetizer or it makes a delicious side to any meal, and is delicious enough for Thanksgiving and Easter! I also love serving it with comfort food such as:
Cheesy Pull Apart Bread. Easy, stress free and delicious, just as the perfect holiday should be. If you are looking for more holiday appetizers be sure to check out my Artichoke Dip Bites, Bacon Ranch Cheese Ball, Jalapeno Popper Dip and Baked Brie in Puff Pastry, just to name a few.
WANT TO TRY THIS PULL APART BREAD RECIPE?
PIN IT TO YOUR APPETIZER, SIDE OR BREAD BOARD TO SAVE FOR LATER!
FIND ME ON PINTEREST FOR MORE GREAT RECIPES! I AM ALWAYS PINNING :)!
©Carlsbad Cravings by CarlsbadCravings.com
---
Never miss a Carlsbad Cravings Creation:
You might also like:
Alice Springs Chicken French Bread Pizza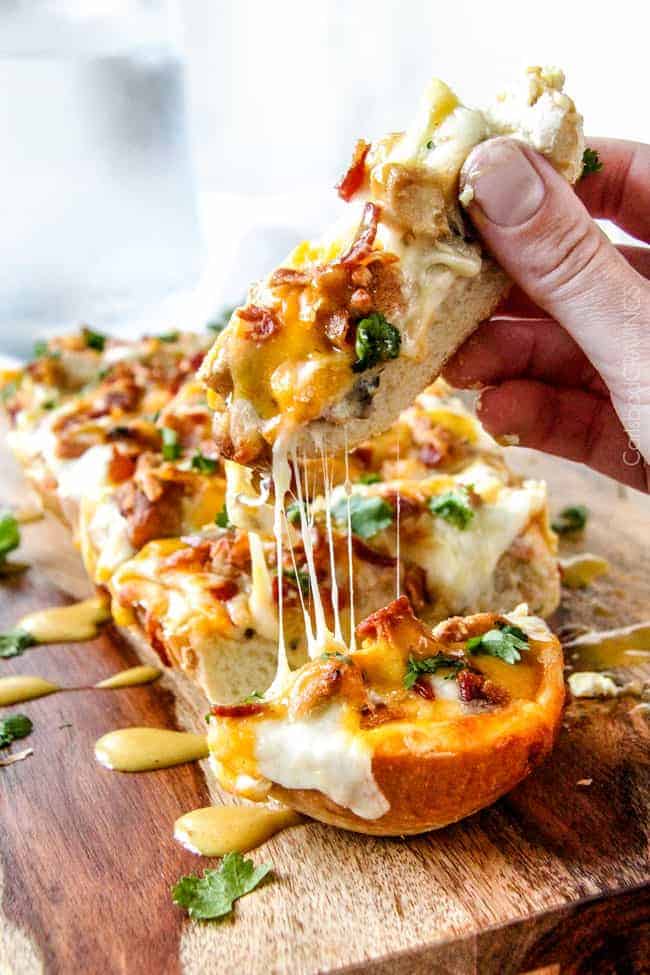 Slow Cooker Honey Buffalo Meatballs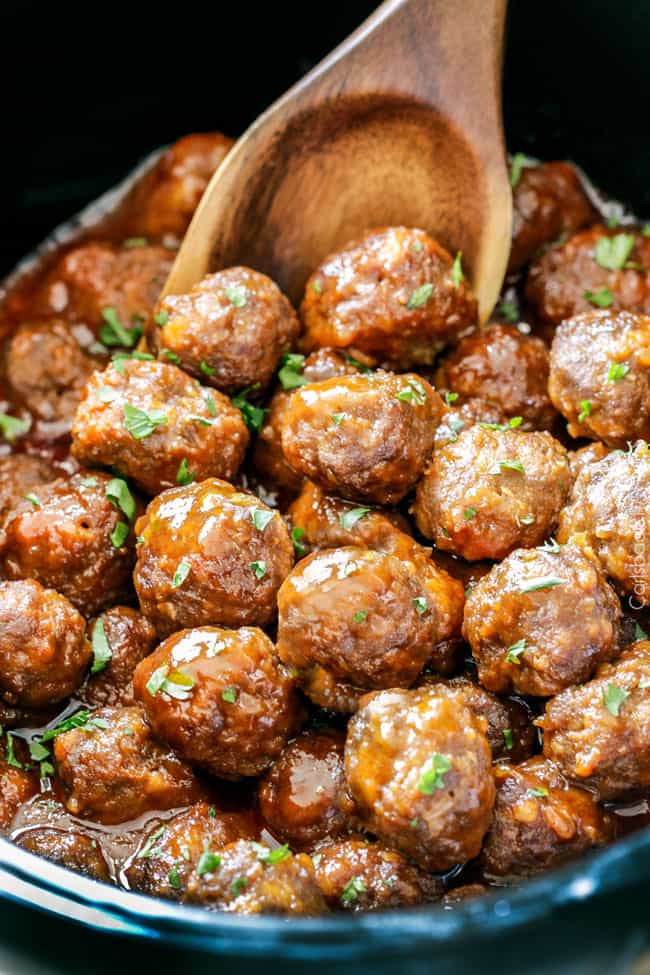 Spinach Dip Stuffed French Bread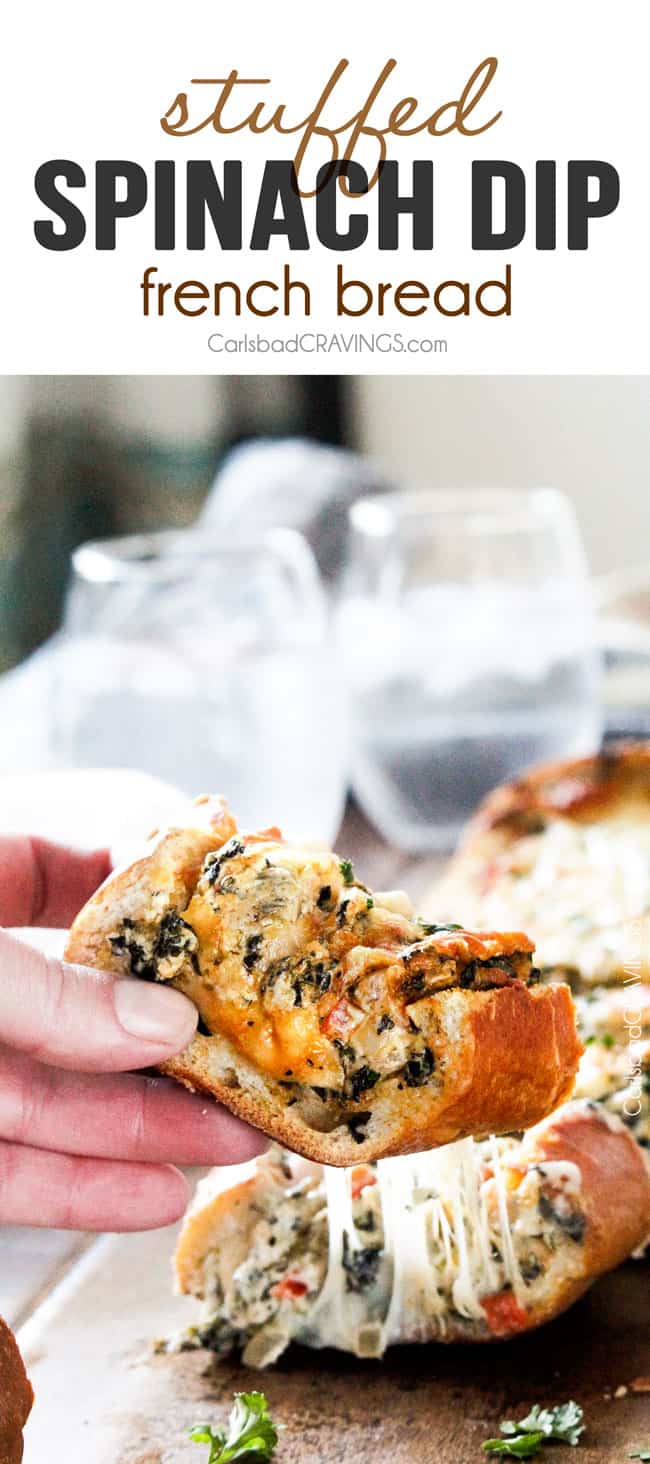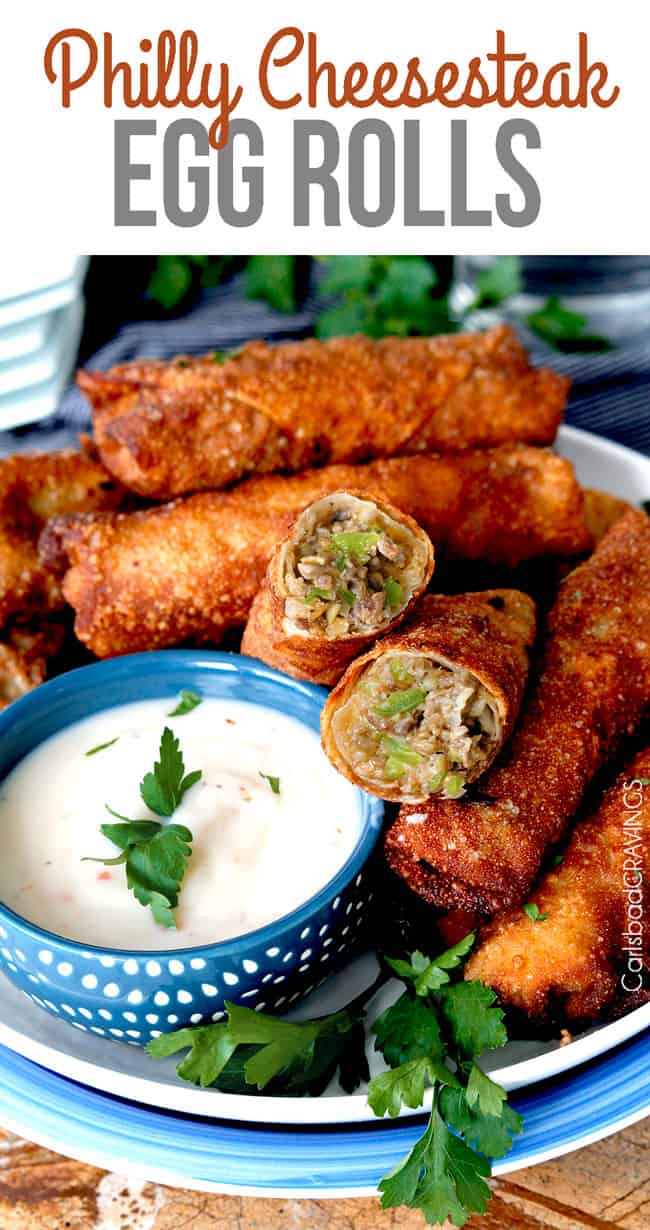 Easy Garlic Parmesan Butter Breadsticks