Thank you The Chew and She Knows Media for sponsoring this post.  All opinions are my own
4 Ingredient, make ahead Cheesy Pull Apart Pesto Bread will make your life easier and all your holiday parties more delicious!

I just couldn't stop eating this Cheesy Pull Apart Pesto Bread.  But the second I mustered the will power to pull away from inhaling it into oblivion, I called my mom and told her she had to make this bread for her next holiday party or dinner because:
1)  The Cheesy Pull Apart Pesto Bread is crazy delicious.
2)  It can be made ahead of time so all you do is pop the prepared bread in the oven when its "go" time.
3) It couldn't be any easier with only 4 ingredients.
4)  It has butter.
5)  And pesto.
6)  And cheeeeeese!
7)  Everyone will LOVE it and beg for the recipe.
8) It is nothing short of palate pleasing genius.  The genius of The Chew. The Chew –  I am forever in your debt.
If you aren't familiar with The Chew, its a show on ABC that celebrates life through food and showcases fabulous recipes from friendly, engaging, relatable hosts that are passionate about sharing their love and expertise of cooking, home entertaining, and everything holiday-related and so much more.   The Chew is not only one of my favorite television shows, the show and their online site is my go-to resource for anything and everything holiday related.  They even have a Holiday Headquarters on their site just to make our lives easier!
My current favorite foodie crafts/gifts include Gingerbread Garland, Cranberry Topiaries and Easy Instant Gifts:  Ready Made Cookie Mixes.  For the holidays, I am loving The Chew's helpful tutorials like How to Brine a Turkey (just as yummy for Christmas as well) and I'm so craving the Fried Tortellini Skewers.
I love welcoming The Chew into my home because the expert hosts – restaurateur star Michael Symon, catering maven Carla Hall, entertaining expert Clinton Kelly and health and wellness enthusiast Daphne Oz-  always leave me feeling good, refreshed and excited about life and cooking.  With their holiday entertaining ideas and recipes, I am actually excited about the holidays – instead of dreading them!
Case in point, I am SO excited to share The Chew's Cheesy Pull Apart Pesto Bread with my guests for the holidays – and with myself before and after and all in between – because it is that good – and that easy!   You can find more holiday crowd pleasing recipes at TheChew.com and join in all the fun of The Chew Holidays weekdays 1e|12c|p on ABC.
To make this Cheesy Pull Apart Pesto Bread, simply, slice your bread one way, turn and slice it in the other direction to create a crosshatch pattern, then pour melted butter into the cuts of the bread.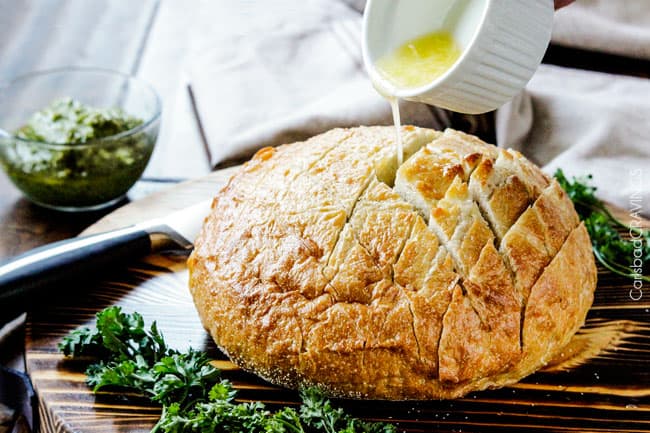 Next, drip the pesto into the cuts of the bread.
And finally stuff the bread with cheese! At this point you can refrigerate the bread or proceed to bake.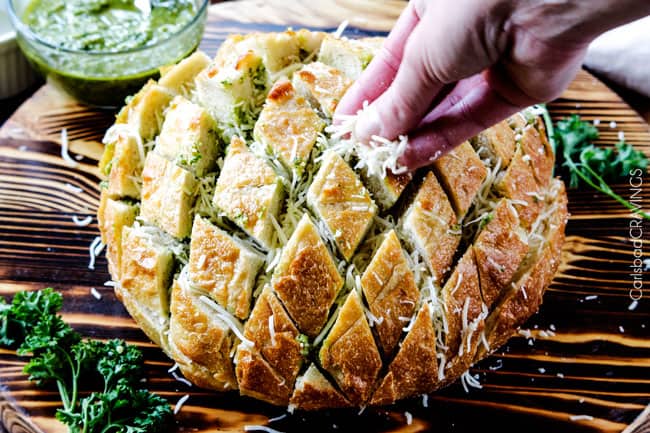 Once the buttery, pesto soaked bread emerges from the oven, and the ooey gooey cheese has melted into every crevice, just try and stop from eating half the loaf.  Seriously, its so ridiculously delicious you will be thanking The Chew with every chew – I couldn't resist.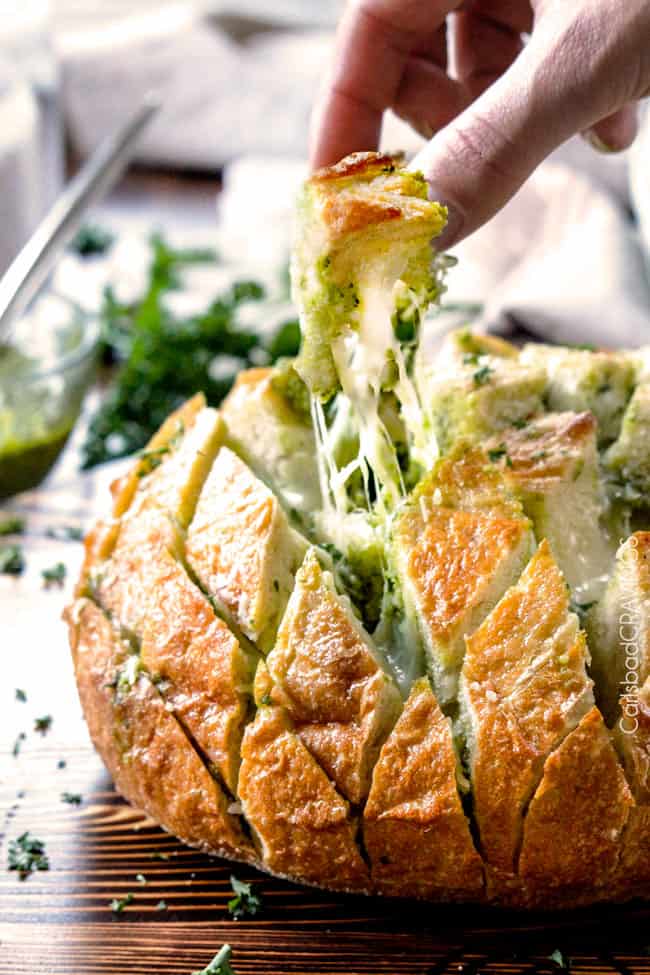 Cheesy Pull Apart Pesto Bread.  Easy, stress free and delicious, just as the perfect holiday should be.  Be sure to check out The Chew, for more delicious recipes, decorating ideas, festive crafts and everything you need to make the holidays special and memorable.


1

loaf french or Italian bread

(I prefer Italian)

1/4

cup

melted butter

1

cup

store-bought basil pesto

1 1/2

cups

3-cheese Italian blend

(mozzarella, parmesan and asiago)
1

loaf french or Italian bread

(I prefer Italian)

1/4

cup

melted butter

1

cup

store-bought basil pesto

1 1/2

cups

3-cheese Italian blend

(mozzarella, parmesan and asiago)
Place the bread on a cutting board. Using a serrated knife, make 1" diagonal cuts through the bread, leaving the bottom crust intact. Turn the bread and make diagonal cuts in the opposite direction, creating a crosshatch pattern.

Meanwhile, pour the melted butter into the cuts of the bread. Then, use a spoon to drip the pesto into the cuts of the bread. Finally, stuff the shredded cheese into the cuts of the bread.

Wrap the bread in aluminum foil and place on a baking sheet. Place in the oven to bake for 15 minutes. Then, open the foil to expose the top of the bread and cook for an additional 10 minutes.

Remove from the oven and let cool slightly before serving.
You can prepare/stuff the bread all in advance, wrap in foil and place in the refrigerator then simply bake as instructed when ready to serve.
See step by step video HERE
Recipe Source:  The Chew
 Never miss a Carlsbad Cravings Creation:
You might also like:
Alice Springs Chicken French Bread Pizza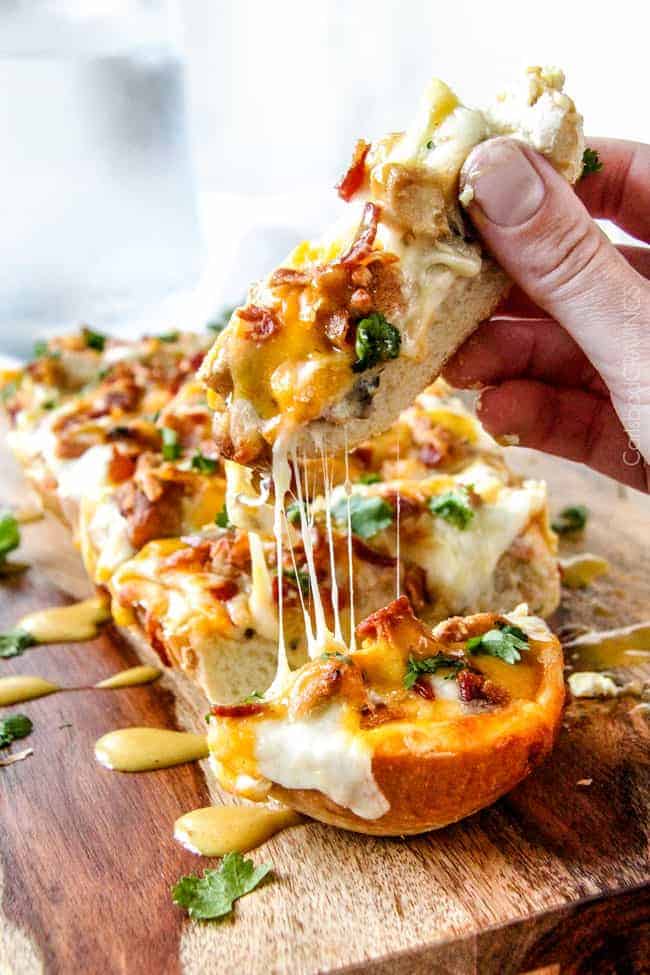 Slow Cooker Honey Buffalo Meatballs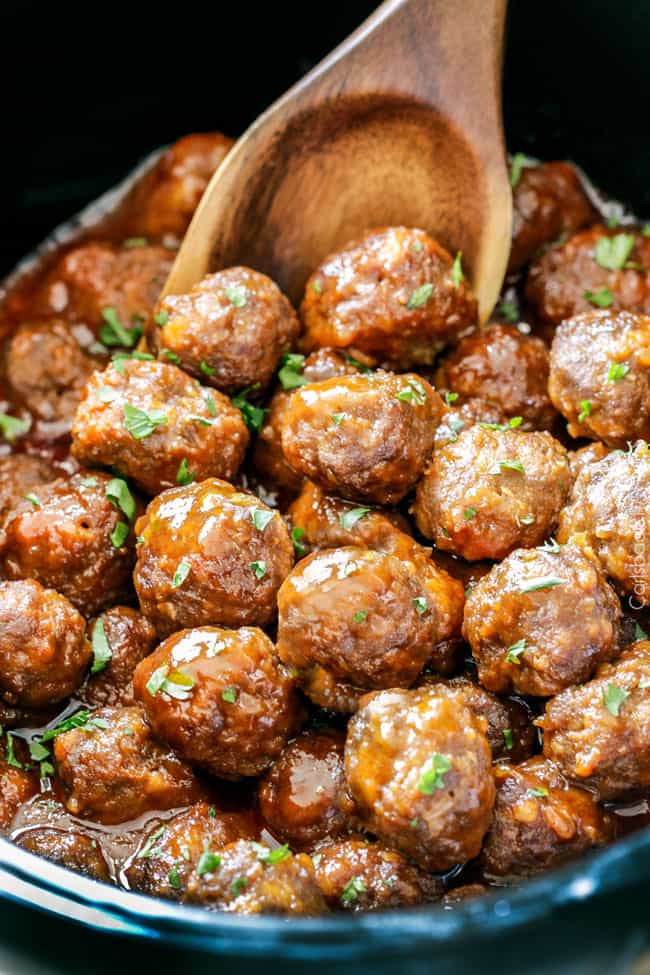 Spinach Dip Stuffed French Bread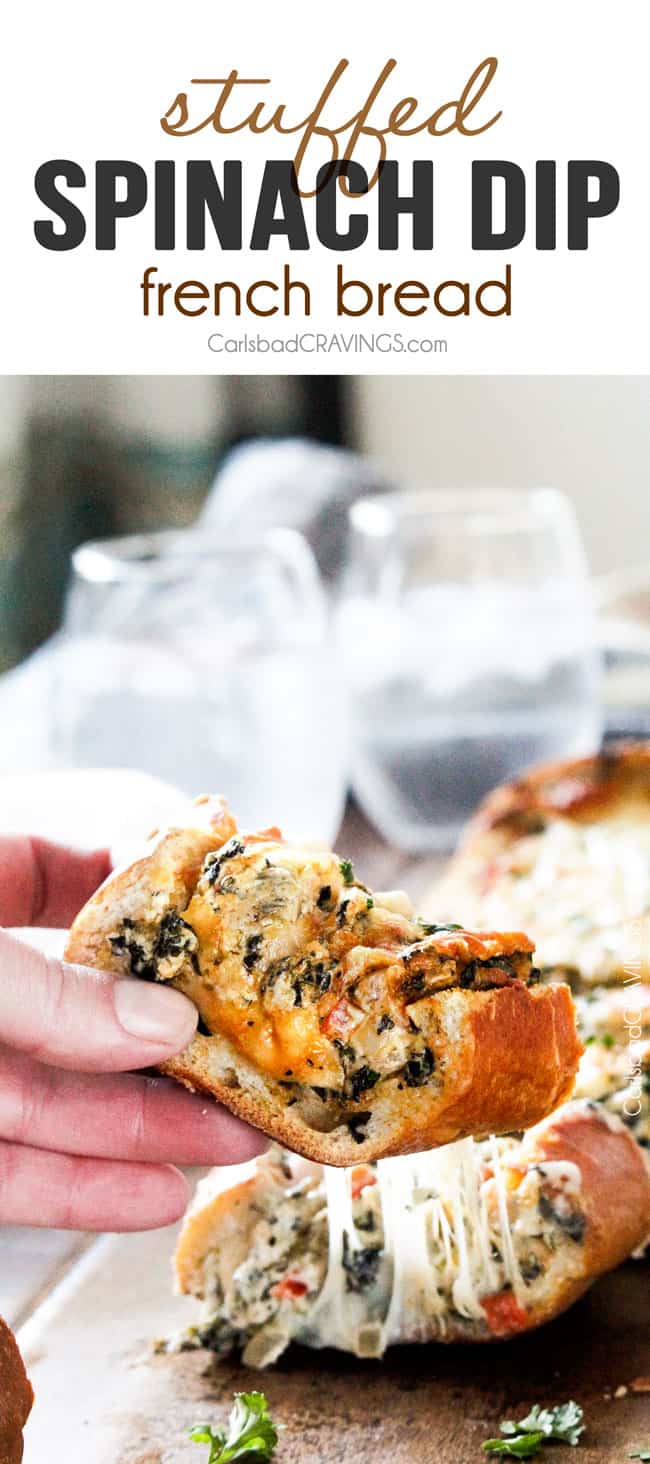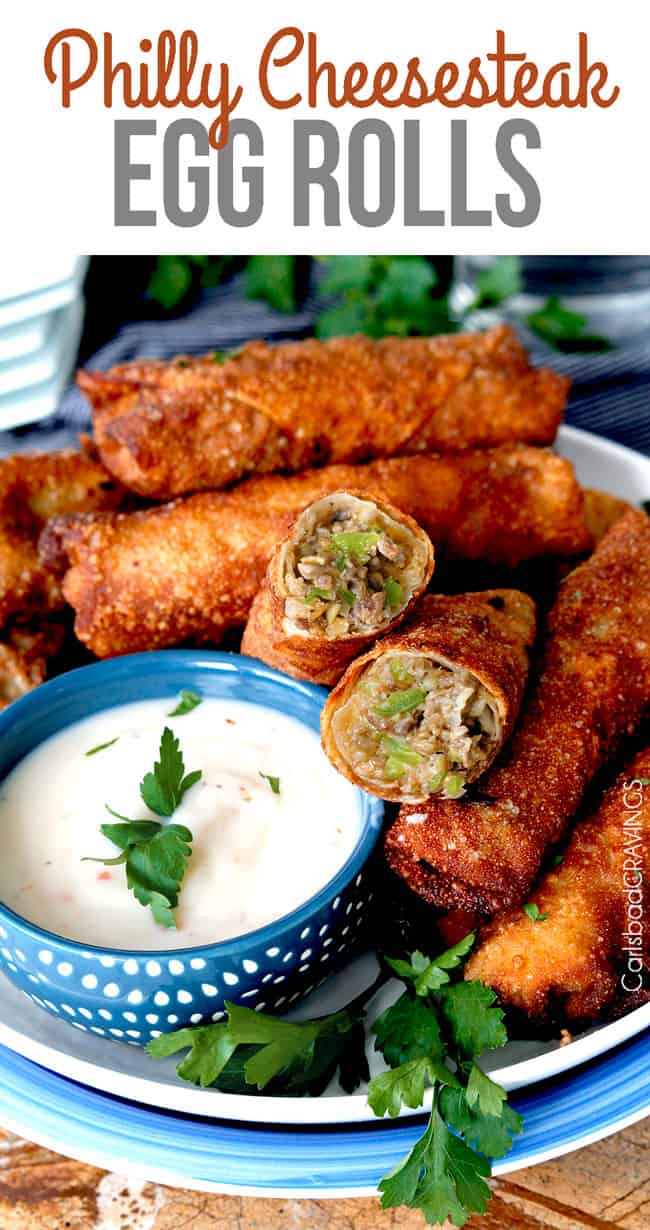 Easy Garlic Parmesan Butter Breadsticks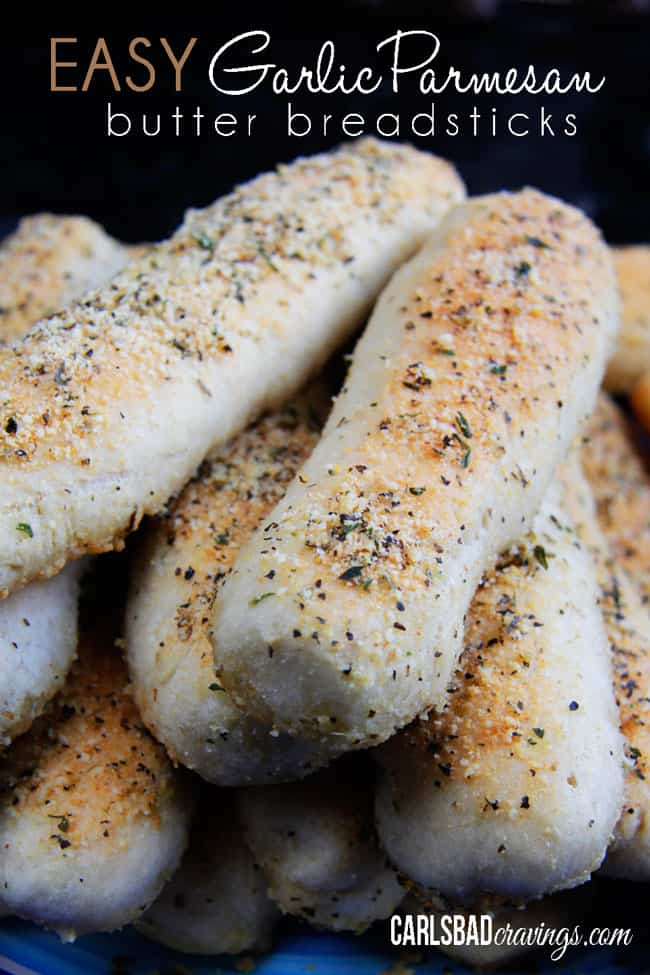 Follow Carlsbad Cravings (Jen)'s board Carlsbad Cravings Recipes on Pinterest.