Nashville Hot Chicken Recipe sponsored by McCormick®. All opinions are my own.
---
Nashville Hot Chicken (customizable spicy fried chicken) is crazy juicy, crunchy, flavor exploding and the only fried chicken recipe you will ever need!
---
Nashville Hot Chicken is legendary for its bite but when you make it at home, you can decide just how much heat you want. In this Nashville Hot chicken Recipe, you can leave off the Nashville Hot Sauce at the end for crunchy, flavor bursting chicken or add more or less Sauce to customize how spicy you want it. Either way, you won't be able to resist this electrifying easier-than-you-think fried chicken!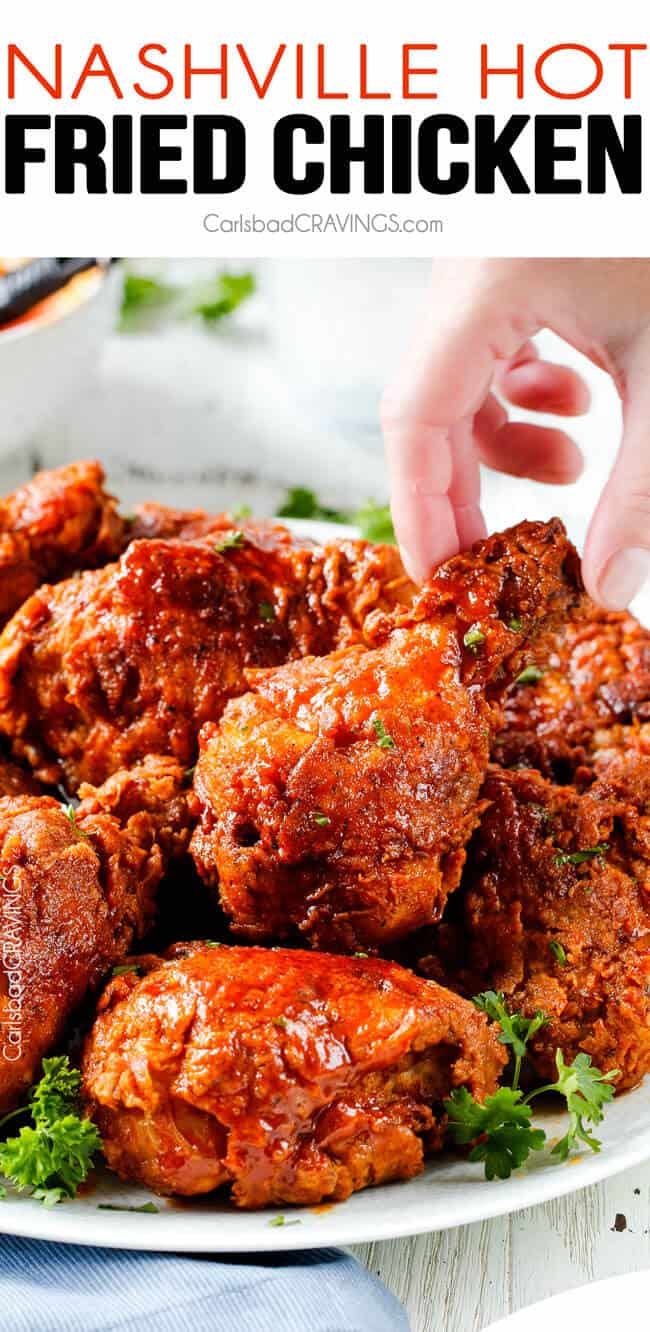 HOW TO MAKE NASHVILLE HOT CHICKEN RECIPE VIDEO
Nashville Hot Chicken Recipe
My little brother just got married this past weekend! It was a magical summer day full of love, laughter and pure joy. I have a special bond with my little brother (I used to call him my little "chunk of joy," now he's the tall "hunk of joy"). He is seven years younger than me with no siblings in between (with four siblings older than us).
He called me frequently while dating his now wife to gush about her kindness and talents and to ask me for advice. I finally met her over Memorial Day Weekend where we feasted on spicy fried chicken, AKA my version of Nashville Hot Chicken, accompanied by the best ever Slow Cooker Mashed Potatoes, Million Dollar Macaroni and Cheese and Best Baked Beans — all American favs perfect for then Memorial Day and now 4th of July!
They loved the Nashville Hot Chicken recipe almost as much as they love each other. Okay, that's a stretch. But they were ooohing and awwwing until every juicy morsel caked in crunchy spicy crisped crust was devoured.
And now you and all of your friends and family can fall in love with this Southern indulgence slathered in a tangy cayenne paste this upcoming 4th of July because, after all, what is more American than fried chicken? You would just be doing your patriotic duty by consuming 3, 4, 5 pieces….
What is Nashville Hot Chicken?
You might recognize the name Hot Chicken from everywhere from KFC to trendy restaurants, to "must-try" Southern foods in countless magazines and websites but this newly nationwide popular chicken has been popular in Nashville for decades.
My custom Nashville Hot Chicken recipe along with hot chicken joints all over Nashville, all trace back to the original Prince's Hot Chicken, who by all accounts, is where hot chicken was born over 70 years ago. Today, people still line up in long lines before Prince's Hot Chicken Shack opens its doors to get their spicy fried chicken fix.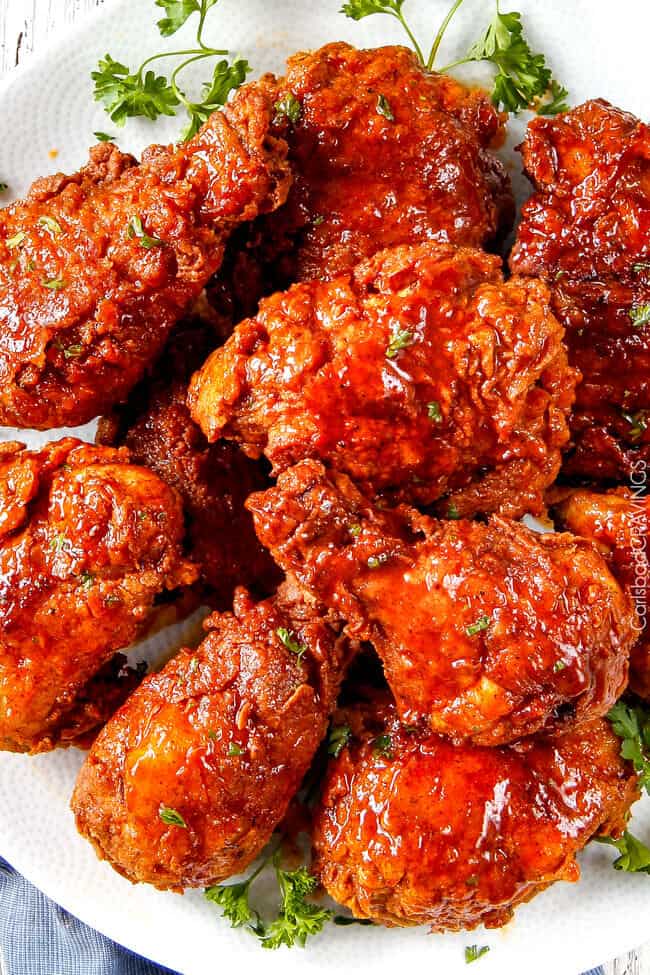 Nashville Hot Chicken Ingredients
This Nashville fried chicken recipe has a few components: the buttermilk marinade, the homemade spice rub, the buttermilk egg wash, the breading mixture, and the homemade Nashville hot chicken sauce. It sounds like a lot, but it's not really that bad!
Here's what you'll need to make this hot and spicy chicken:
Bone-in chicken pieces: You're looking for drumsticks, wings, breasts, etc. Trim the chicken of excess fat before starting the recipe.
Vegetable oil: This is my preferred oil for frying chicken.
Buttermilk: Tenderizes the chicken as its acidic enzymes break down the protein in the chicken. You may also substitute with DIY sour milk.
Bay leaves: Used in the marinade to add some extra flavor.
Nashville hot chicken seasoning: I created my own hot chicken seasoning blend using salt, paprika, onion powder, chili powder, and more!
Eggs: Are mixed with buttermilk and hot sauce to create a spicy egg wash for the breading to stick to.
Hot sauce: You can use any hot sauce you'd like. This gets brushed onto the chicken and is also incorporated into the homemade Nashville hot chicken sauce.
All-purpose flour: I use all-purpose flour but I'm sure gluten free flour, almond flour, etc. would also work.
Baking powder: Dries out the skin slightly and results in super crispy hot fried chicken.
Nashville hot chicken sauce: My homemade hot sauce mixture is made with butter, cayenne, smoked paprika, brown sugar, and more.
Ingredient Variations
I use Frank's Original Hot Sauce but you are welcome to use your favorite.
You can make DIY buttermilk or sour milk for this recipe by adding 3 tablespoons vinegar or lemon juice to a measuring glass. Add enough milk (not nonfat) to equal 3 cups. Give it a stir and let sit 5-10 minutes in order to activate and slightly curdle.
Vegetable oil is my go-to oil for frying because it has a smoking point comfortably above frying temperature and is very neutral. Other oils suitable for frying (although some aren't as neutral as others) include: peanut oil, soybean oil, safflower oil, canola oil, cottonseed oil, corn oil, sunflower oil.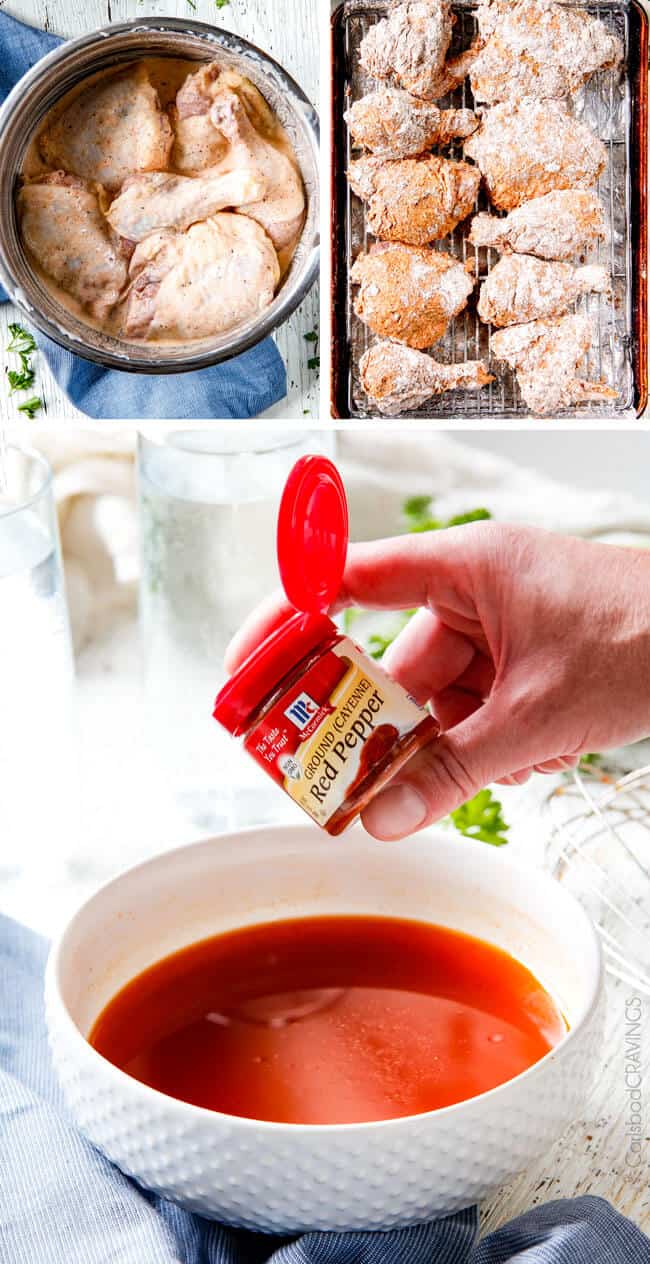 How to Make Nashville Hot Chicken
This Nashville chicken recipe requires a little TLC, but the end results are totally worth it. Here are the basic steps to making homemade hot fried chicken:
Marinate the chicken in a mixture of buttermilk, bay leaves, and some of the homemade spice rub. Refrigerate at least 3 hours.
When ready to cook, dredge the marinated chicken first through a spiced flour mixture, then through a buttermilk egg wash, and then once more through the flour mixture.
Repeat until all the chicken pieces have been coated.
Add enough vegetable oil to your Dutch oven until oil measures 3" deep. Heat over medium high heat until oil registers 375 degrees F.
Fry the hot and spicy chicken in batches until every piece is cooked through.
Let the chicken cool slightly, then brush with desired amount of homemade Nashville hot chicken sauce.
How Long to Fry Chicken?
This Nashville hot chicken will need to fry in 375 degree F oil for roughly 14 minutes total, or until the internal temperature reaches 160 degrees F or 165 degrees F for dark meat. See my instructions in the recipe card below for exact details on how to fry chicken.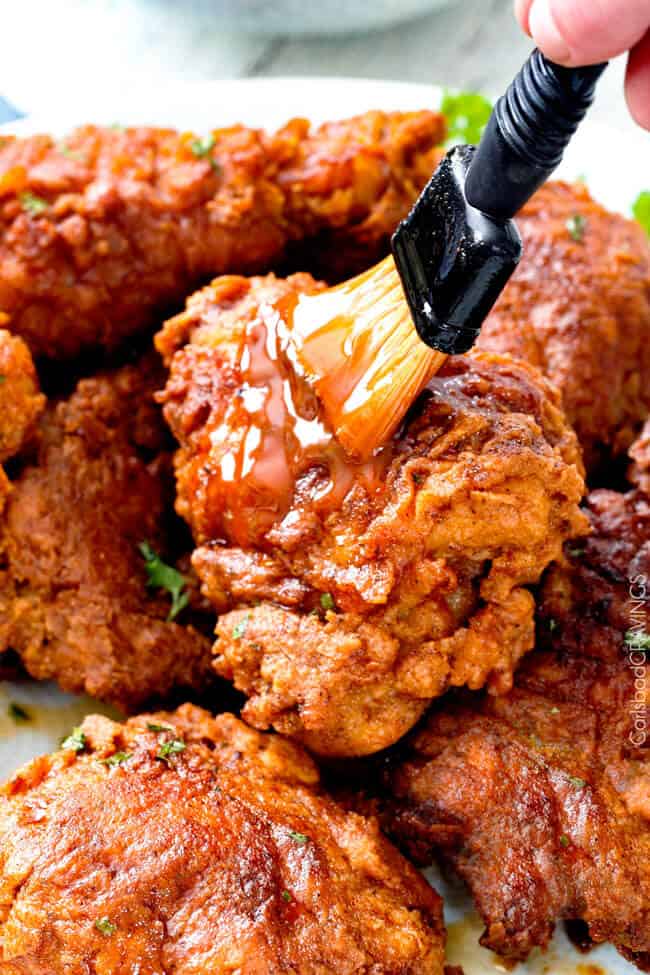 Tips for Making Nashville Hot Chicken
Use an instant read thermometer. I highly recommend an instant-read thermometer to ensure you have the correct temperature not only at the beginning of frying, but throughout the entire frying process. It will save you a few "test chicken pieces" and ensure all your chicken is fried to golden perfection.
Test oil. If you don't have a thermometer, medium-high heat should be about right, but every stove is different, so you will want to test the oil before frying the chicken. Test the temperature with a pinch of flour or better yet, an extra piece of chicken. If it boils, your oil is ready but if it boils and the test piece turns dark within a minute or so, your oil is too hot. You will have to remove from the heat, wait a few minutes, return to heat and try again.
Don't overcrowd pan. Fry the Nashville chicken in batches. This allows the chicken to cook evenly without touching.
Line on paper towels. Use a spider trainer, fine mesh sieve or slotted spoon to transfer the spicy fried chicken to a paper towel lined baking sheet or serving platter in a single layer without touching. You don't want the pieces touching or they will steam; you also don't want them sitting in oil or they won't be as crispy.
Recipe Variations to Try
The main component that transforms fried chicken into iconic Nashville Hot Chicken, is slathering it in a cayenne paste that's primarily a mixture of McCormick® Ground Red Cayenne Pepper and frying oil.
But don't worry, if you are concerned about this chicken being too spicy for your family and friends – the heat level is completely customizable! You can leave out the Nashville Hot Sauce and sink your teeth into mega flavorful chicken, or you can brush your chicken with a little Nashville Hot Chicken Sauce for a mild explosion of heat or brush the sauce on heavy for an aggressive dose of heat that will leave your lips tingling for Nashville Hot Chicken like it's really made in Nashville.
Any way you like it, this hot chicken that's getting its 15 minutes of fame nationwide will make you famous neighborhood wide as your friends and family clamor for the juiciest, crispiest Nashville Hot Chicken.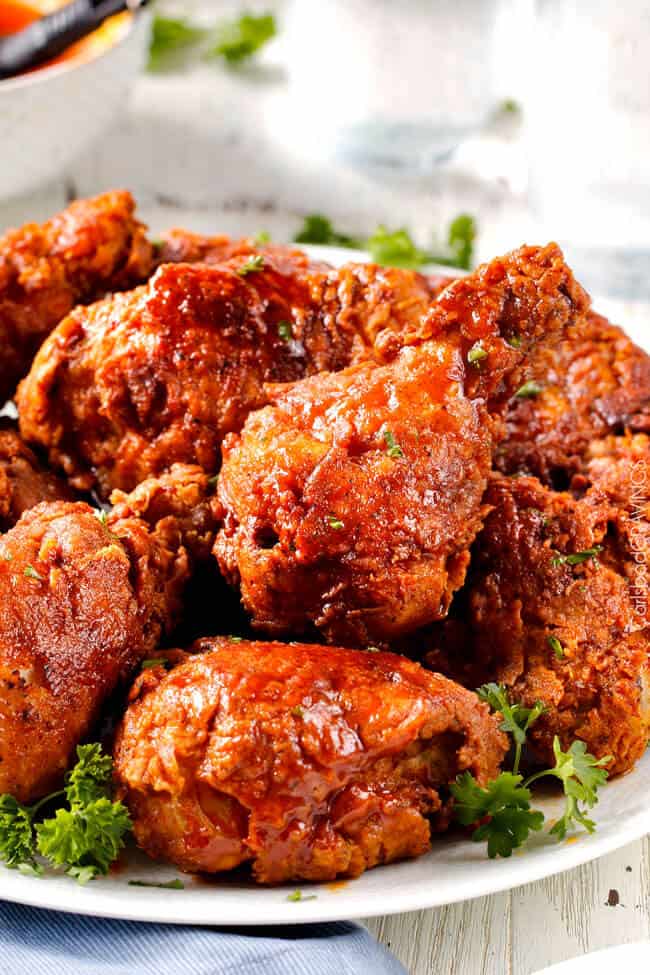 Can I Prep Nashville Chicken in Advance?
Yes! The chicken can be prepared up to the point of frying and kept in the refrigerator. Let the chicken sit at room temperature for 30 minutes before frying.
How to Store Nashville Hot Chicken
Nashville fried chicken should be stored in an airtight container in the refrigerator. When properly stored, it is good for 3 to 5 days. For best results, don't stack your chicken directly on top of each other as this will make it more soggy. Instead, place a piece of parchment paper in between the layers.
How to Reheat Nashville Fried Chicken
Microwave: the chicken won't be nearly as crispy if reheated in the microwave but it will still be flavorful. Transfer chicken to a microwave safe plate in an even layer. Microwave for 90 seconds, then in additional increments of 15 seconds as needed.
Oven: spread chicken on a lightly greased baking rack set in a baking sheet. Bake at 325 degrees F for 10 minutes or until heated through. You can also fry the chicken again to reheat.
Can I Freeze Nashville Hot Chicken?
Yes! The cooked chicken can be frozen.
Make sure your chicken is completely cool, then wrap each piece individually in plastic wrap before placing in a freezer bag.
When ready to eat, let chicken defrost in the refrigerator overnight then let it sit at room temperature for 30 minutes.
Bake at 375 degrees F until warmed through, approximately 15-25 minutes.
What to Serve with Nashville Hot Chicken
Nashville hot fried chicken pairs well with so many sides! Here are a few of my favs:
Just as Nashville Hot Chicken is becoming popular outside Nashville, there are many delicious regional food traditions that are becoming popular outside their region of origin – all for delicious reasons! For more swoon worthy regional chicken recipes, like Grilled Chicken Po Boy with Spicy Creole Mustard Sauce, check out McCormick's website. And then go eat Nashville Hot Chicken. And fall in love…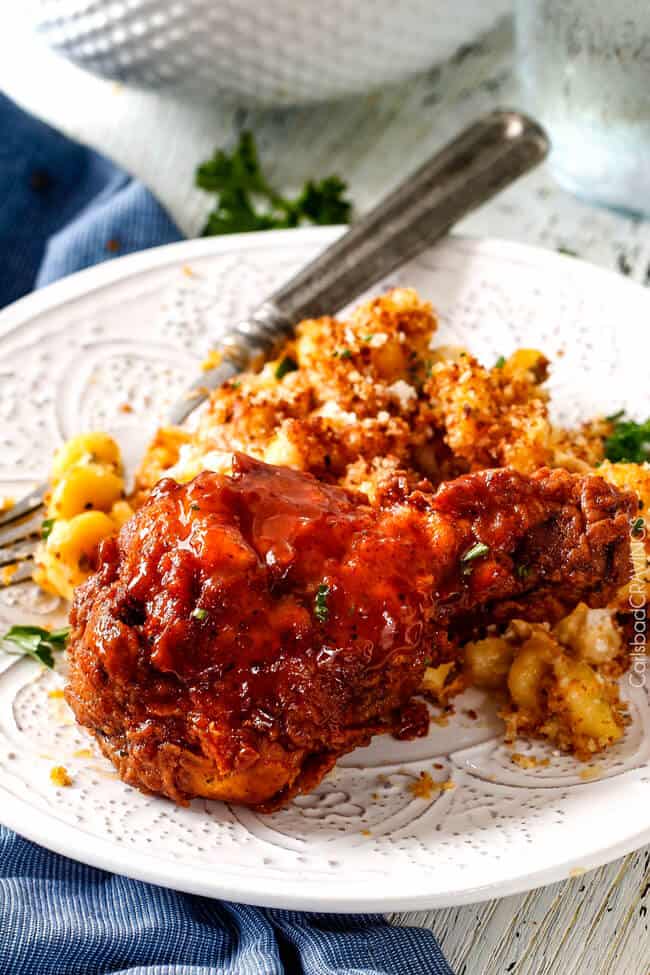 Looking for More American Favorite Recipes?
Want to try this Nashville Hot Chicken Recipe (Spicy Fried Chicken)?
Pin it to your CHICKEN, or MAIN DISH/ENTREE Board to SAVE for later!
Find me on Pinterest for more great recipes! I am always pinning :)!
©Carlsbad Cravings by CarlsbadCravings.com
©Carlsbad Cravings Original
Never miss a Carlsbad Cravings Creation:
You might also like:
Jalapeno Popper Cheese Muffins
Slow Cooker Honey Buffalo Meatballs