Easy Baked Parmesan Fingerling Potato Fries with a crispy exterior and creamy buttery interior and seasoned to perfection, make the perfect appetizer, snack or side you won't be able to stop munching!
Thank you McCormick® for sponsoring this Baked Parmesan Fingerling Potato post. All opinions are my own.
BAKED FRIES RECIPE VIDEO
Baked Parmesan Fingerling Potato Fries, oh how I love thee, let me count the ways:
easy, mindless prep
crispy outside
buttery, tender inside
salty
seasoned to perfection
roasted to golden perfection
minimal slicing
no painstakingly trying to cut potatoes to uniform size
healthier than fried
inexpensive
available year-round
perfect appetizer, snack or side
everyone loves them!
And I could go on and on and on! I have a mad crush on potatoes from my Slow Cooker Mashed Potatoes, to my Twice Bake Potatoes to my Baked Pesto Bacon Potatoes to these favorite Crispy Parmesan Fingerling Potato Fries! These fries are the perfect accompaniment to almost every meal from sandwiches and burgers to marinated chicken and baked chicken and especially my Nashville Hot Fried Chicken, and make a show stopping, can't-stop-eating appetizer or potluck side as well.
Dish them up with Million Dollar Macaroni and Cheese, Baked Beans with Brown Sugar and Bacon, Award Winning Sweet Moist Cornbread and/or Perfect Fruit Salad with Honey Citrus Viniagrette and you have a Million Dollar Meal!
Thankfully, you don't have to stop eating because these Crispy Parmesan Fingerling Potato Fries aren't submerged in a huge bath of simmering oil, but are baked instead so not only are they healthier, but with a few tips, they are just as crispy!
Traditional fries are parboiled and fried and even fried again to create the crispy exterior. Some baked fry recipes call for parboiling the potatoes first as well, but fingerling potatoes are particularly prone to become mushy when overcooked, so we definitely want to avoid that. Instead, we are going to soak our potatoes in cold water with a little salt in order to break down some of the starch, because less starch = more crispy potatoes. You will want to soak your potatoes for at least 30 minutes but feel free to soak them overnight in the fridge – I love doing this because not only does it create crispier potatoes, but when it comes time to make my fries, they are all ready to go. That being said, I have also made these potatoes without soaking them first – they are still delicious just not as crispy – so if don't have to have crispy potatoes, then feel free to skip the water bath.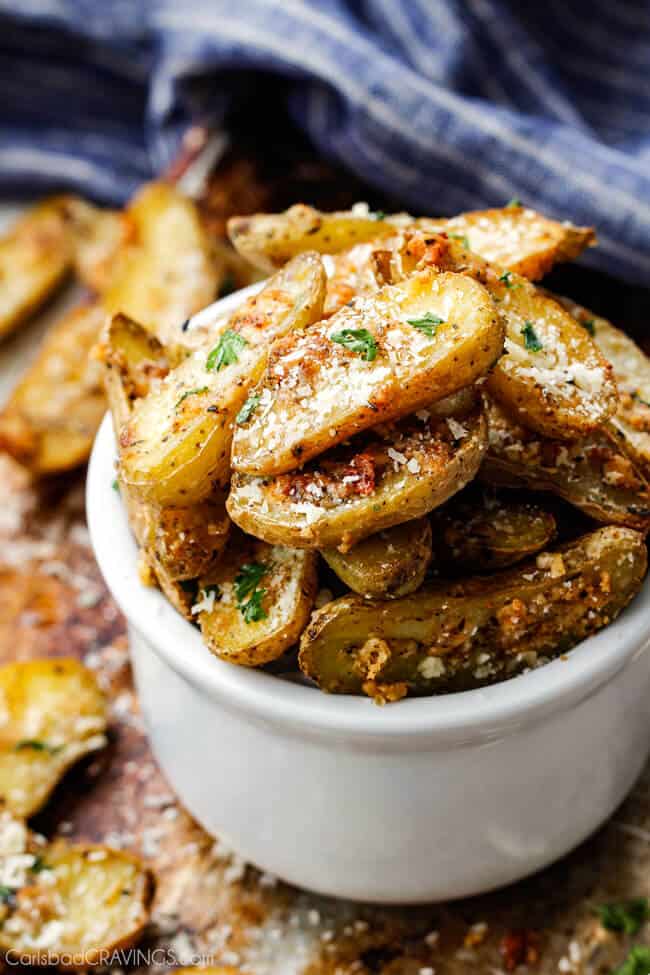 Next, we delishify the potatoes by adding them to a large bowl along with olive oil and butter to help them crisp up without drying up, garlic powder, salt, pepper, and introducing McCormick® Italian Blend Herb Grinder! If you haven't tried McCormick's® Spice Grinder's yet, I am officially obsessed, specifically with their new Herb Grinders!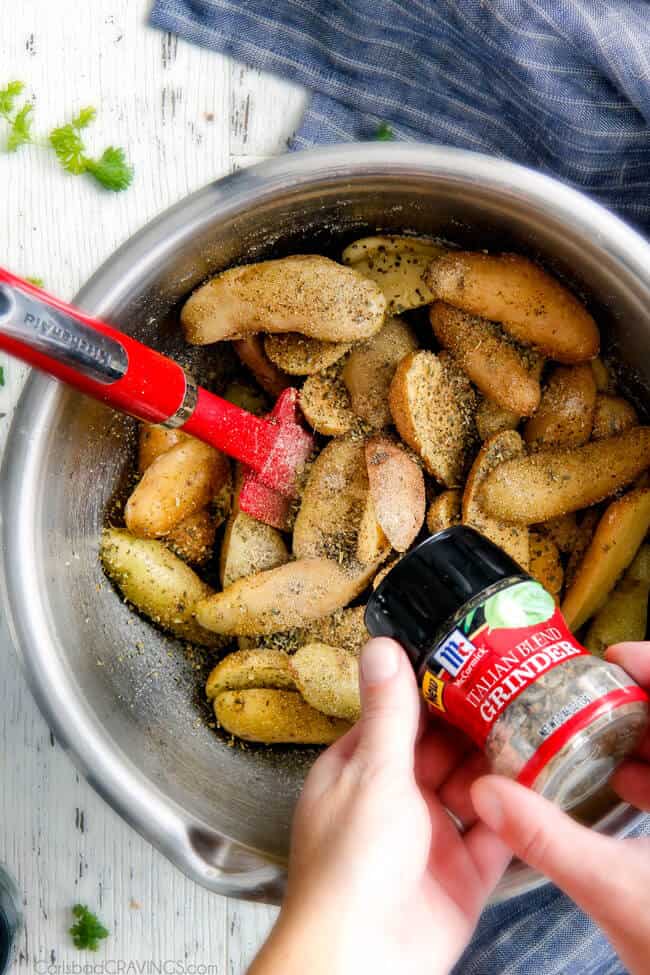 The larger herb pieces are gently dried to lock in essential oils so you can unlock the deliciously fragrant, fresh herb flavor with just a few twists of the wrist AKA they make everything better with the taste of fresh herbs without having to stock or chop! I can't tell you how many times before these Grinders I was wishing I had fresh basil or fresh parsley – but now I always have McCormick® Italian Blend Herb Grinders! I chose McCormick® Italian Blend Herb Grinder for these Crispy Parmesan Fingerling Potato Fries because they are stuffed with large-cut basil, oregano and rosemary that add dynamic fresh seasoning to these delectable morsels.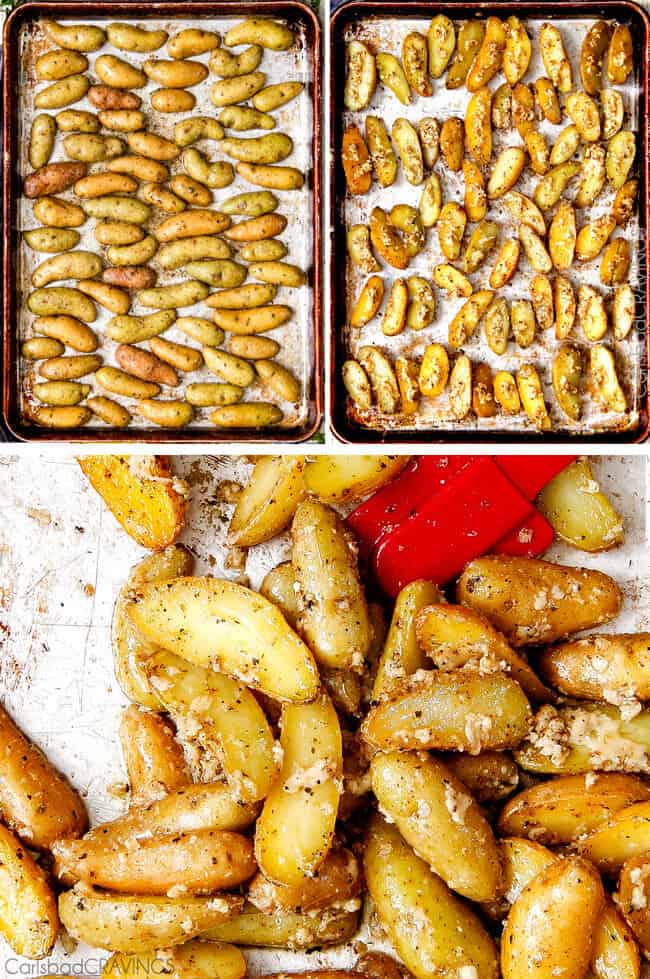 Once you toss your potatoes with your spices, olive oil and butter, you bake them at 400 degrees for 20 minutes. You'll want to make sure your potatoes are spaced evenly apart so they have enough surface area to dehydrate and crisp instead of being too close together where they will steam instead of bake. Then all that's left is to add them back to your bowl and toss with Parmesan and finish crisping at a higher temp of 425 while the Parmesan bakes to golden deliciousness. For extra crispy potatoes, turn your oven to broil so they can get nice and as crispy as your liking. This can take anywhere from 3 to 8 minutes but is so worth it for the extra crunch on the outside.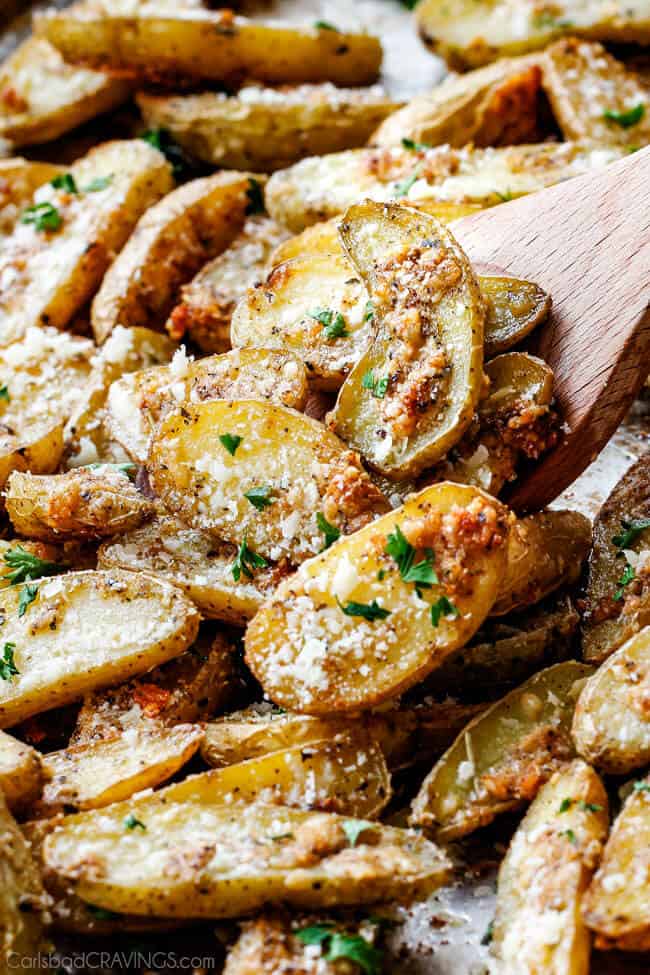 Toss with some freshly grated Parmesan once out of the oven and there you have it! Crispy Parmesan Potato Fries that are oozing with flavor instead of grease and are fantastically crispy on the outside, creamy on the inside – all in one bite!
Looking for More Potato Recipes?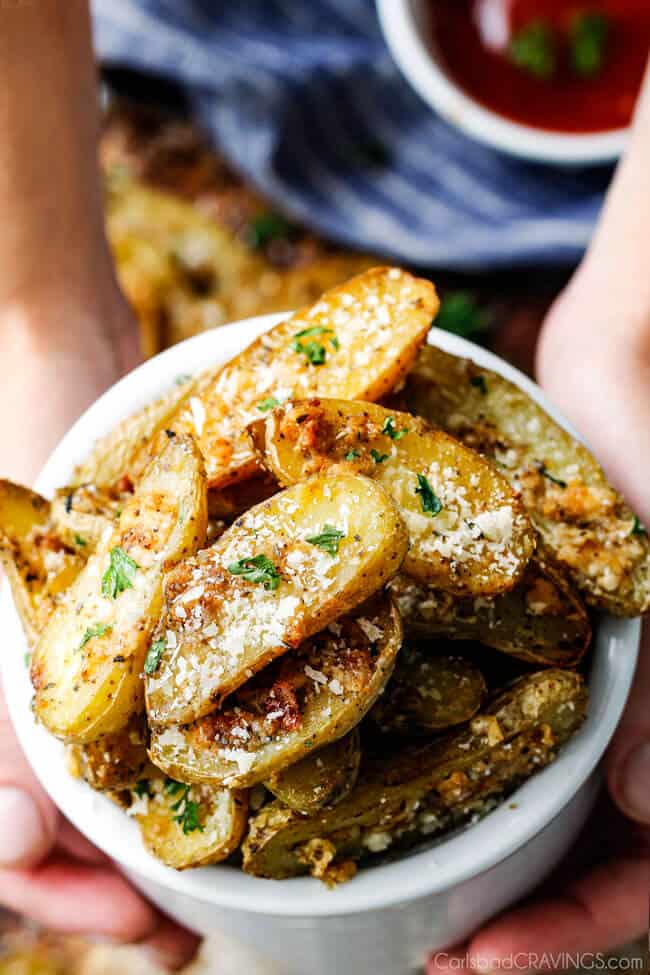 Want to try these Roasted Parmesan Fingerling Potato Fries?
Pin it to your SIDE, SNACK or APPETIZER to SAVE for later!
Find me on Pinterest for more great recipes! I am always pinning :)!
©Carlsbad Cravings by CarlsbadCravings.com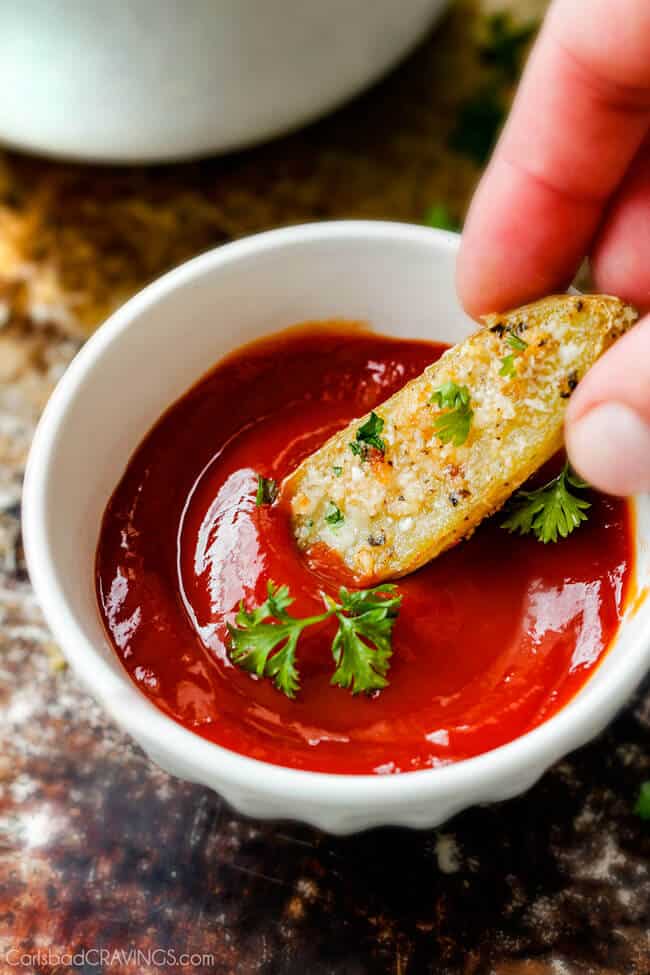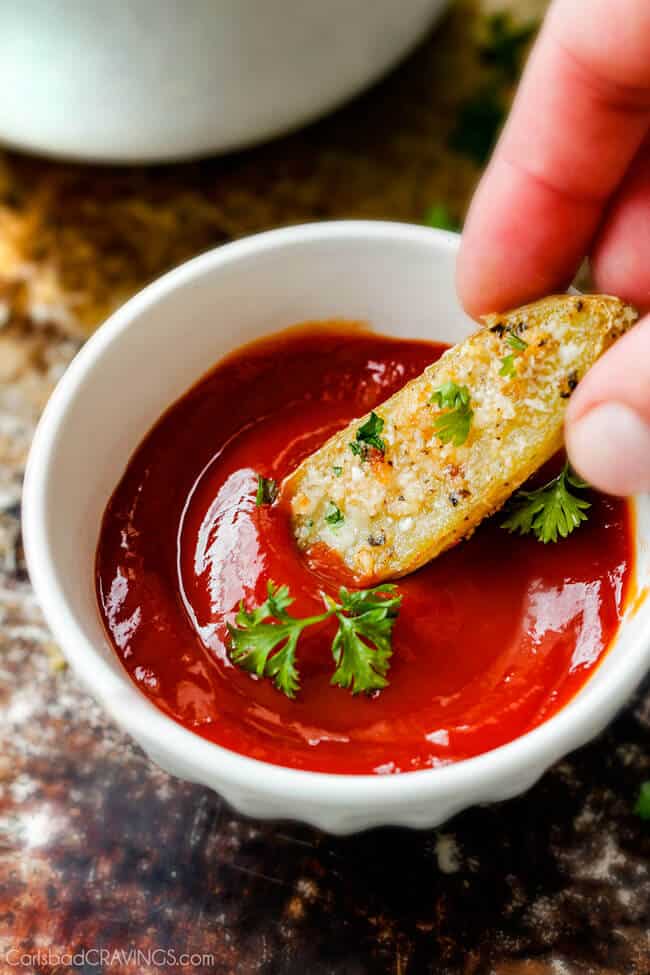 Baked Parmesan Fingerling Potato Fries
Ingredients
2

pounds

fingerling potatoes, washed

2

tablespoons

olive oil

2

tablespoons

melted butter

1

teaspoons

salt, divided

3/4

teaspoon

garlic powder

1/4

teaspoon

pepper

10

turns

McCormick® Italian Blend Herb Grinder

3/4

cup

freshly finely grated Parmesan cheese, divided

1/4

cup

finely chopped fresh parsley
Instructions
Add potatoes to a large bowl or pot and cover with cold water and ¼ teaspoon salt. Let soak 30 minutes up to overnight (refrigerate if soaking longer than an hour). Drain potatoes and pat dry (optional for crispy potatoes).*

Preheat oven to 400 degrees F. Line a large baking sheet with greased foil. Set aside.

Cut potatoes in half lengthwise and add to a large bowl. Toss dry potatoes with olive oil, butter, ¾ teaspoon salt, garlic powder, pepper and McCormick Italian Herb Grinder until evenly coated.

Line potatoes in a single layer on greased foil skin side up (leave any remaining oil in bowl for later).

Bake for 20 minutes at 400 degrees F. Remove potatoes back to large bowl with leftover oil. Increase oven temperature to 425 degrees F. Toss potatoes with ½ cup Parmesan cheese and remaining oil and return to baking sheet in a single layer, skin side down, and bake 10 minutes or until tender.

Broil potatoes until they have crisped to your liking, stirring every few minutes so they don't burn. Once done, toss fries with an additional ¼ cup Parmesan and ¼ fresh parsley. Serve with ketchup, ranch or other dipping sauce.
Notes
Don't miss the "how to make" recipe video at the top of the post!
*I have made these Fries without soaking them first and they are still delicious just not very crispy - so if you have to have crispy potatoes, then definitely soak them first, otherwise, feel free to skip this step.
Did You Make This Recipe?
Tag @CarlsbadCravings and Use #CarlsbadCravngs
Leave a Review, I Always Love Hearing From You!
Carlsbad Cravings© Original
NEVER MISS A CARLSBAD CRAVINGS CREATION: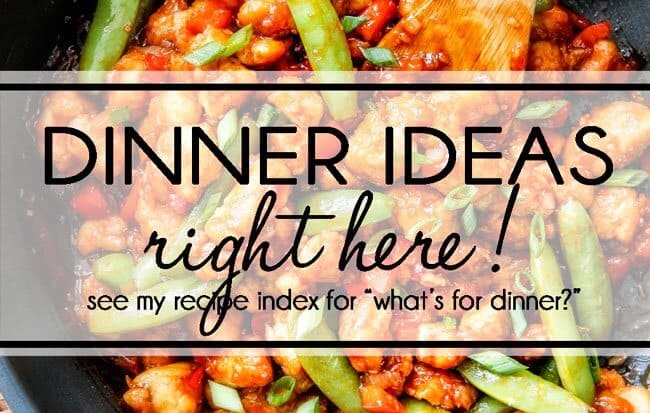 You might also like:
Million Dollar Macaroni and Cheese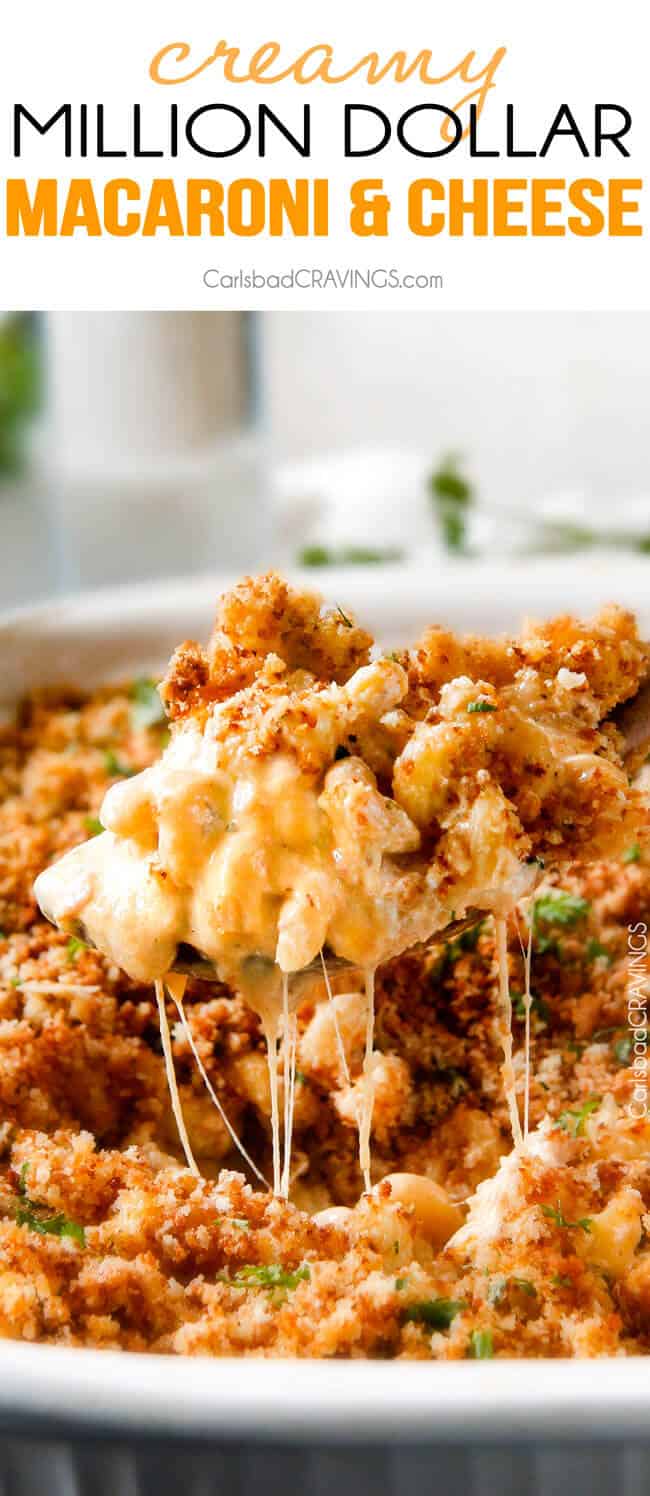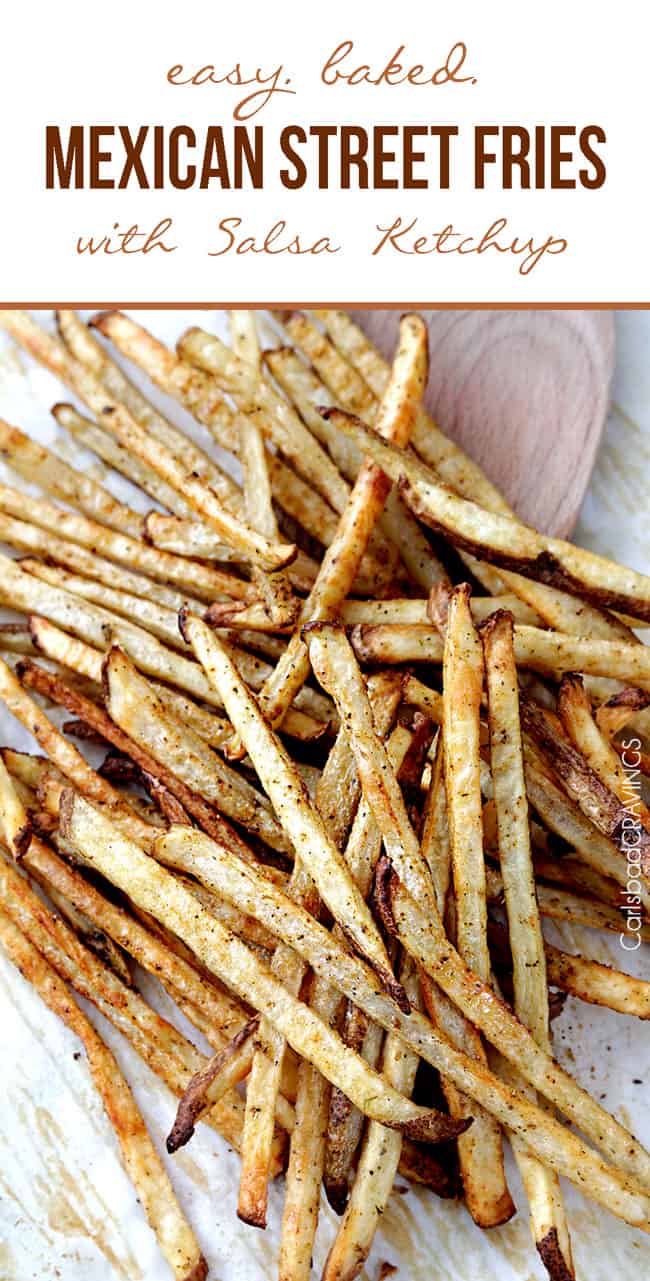 Spinach Dip Stuffed French Bread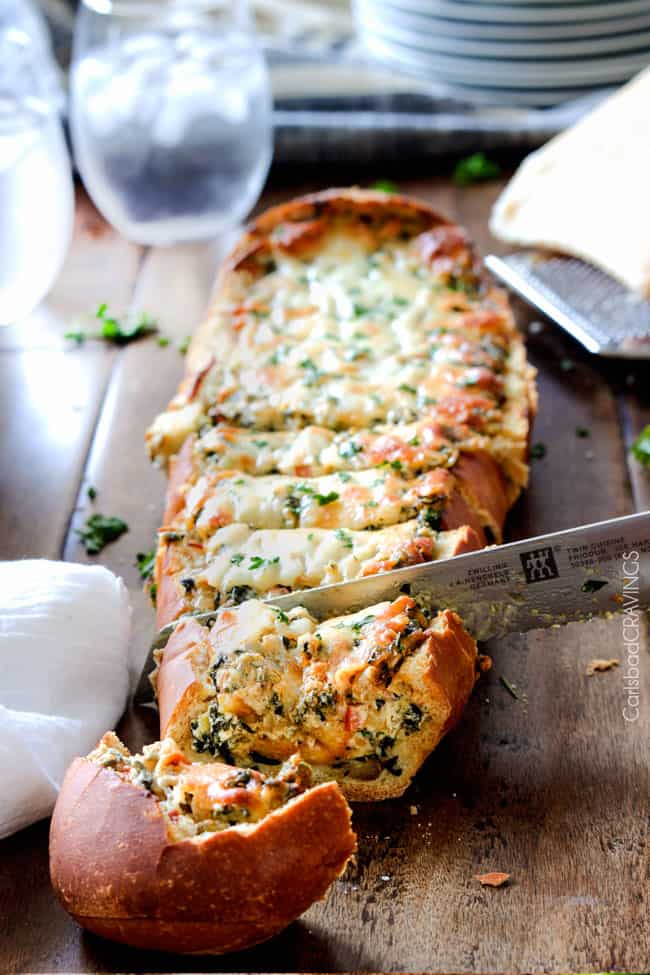 15 Minute Balsamic Brown Butter Roasted Asparagus