Carne Asada Fries might be the most addicting meal, appetizer or game day food on the planet!   
Carne Asada Fries are baked Mexican spiced French fries smothered in cheese and piled high with tender juicy marinated steak, salsa, avocado crema and whatever else your heart desires. Drool….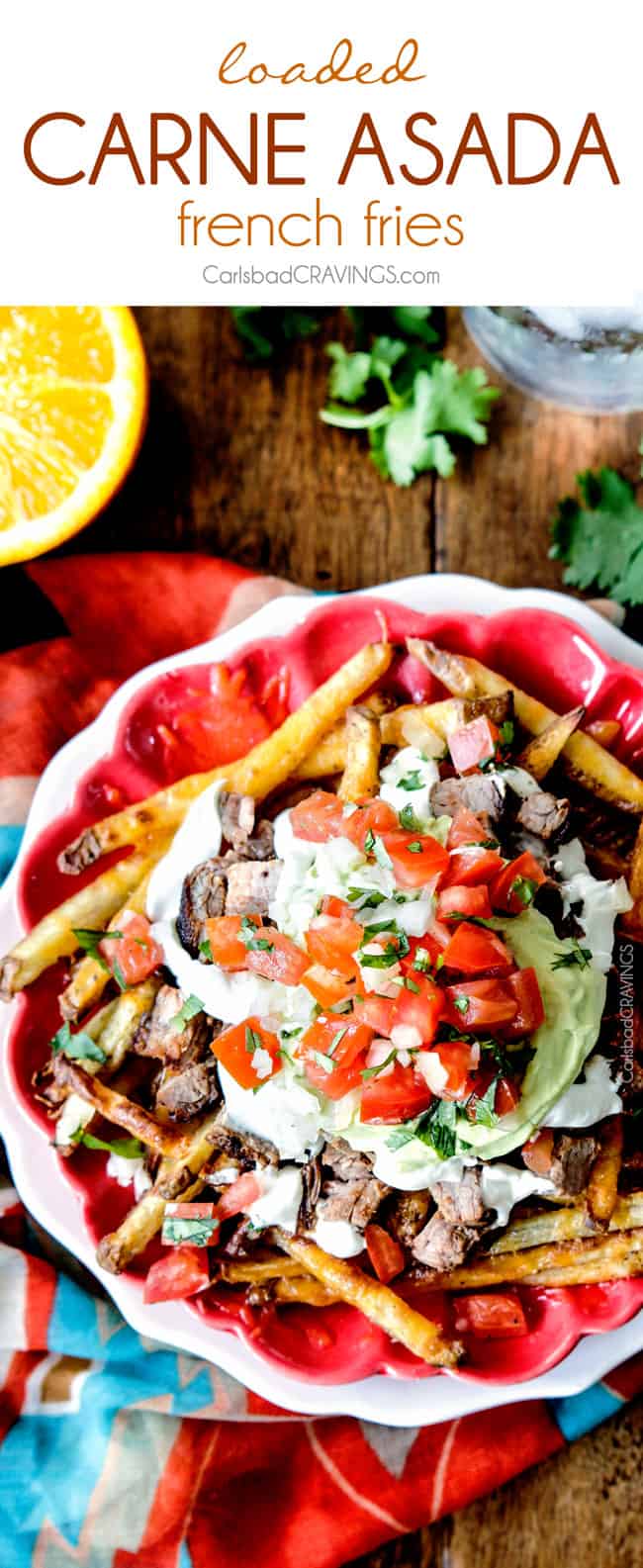 Carne Asada Fries Recipe
With the epic Big Game coming up, I only thought it right I share an appetizer/meal with epic big flavors. And these Loaded Carne Asada Fries, my friends, are epic. Living in Carlsbad, (north San Diego), where Mexican restaurants outnumber any other type of cuisine 20-1, I have tasted my share of Carne Asada Fries recipes, and this recipe outshines them all.
So no matter who wins the Big Game, you will be the winner of your football party with this Carne Asada Fries Recipe! You're welcome.
One of the best parts about this Carne Asada Fries recipe, except eating it, of course, is you can prepare every element in advance if you wish so when munching time comes, all you have to do is layer, heat and eat! And watch football.
Or just eat.
WHAT ARE CARNE ASADA FRIES?
Carne asada fries are the best of two worlds = carne asada + French fries! In Spanish, Carne literally means "flesh/meat/beef" and Asada means "roast/broiled/grilled," so "grilled meat." When it comes to "carne asada" in cooking, the term refers to grilled and sliced beef, usually skirt, flank or flap steak. The steak is associated with a charred flavor from searing the meat on the grill.
For carne asada fries, the steak is chopped into small, bite size pieces and loaded on top of seasoned French fries along with melted cheese, pico de gallo, avocado crema or guacamole. It's a mountain of satisfying flavor and textures that everyone will swoon over.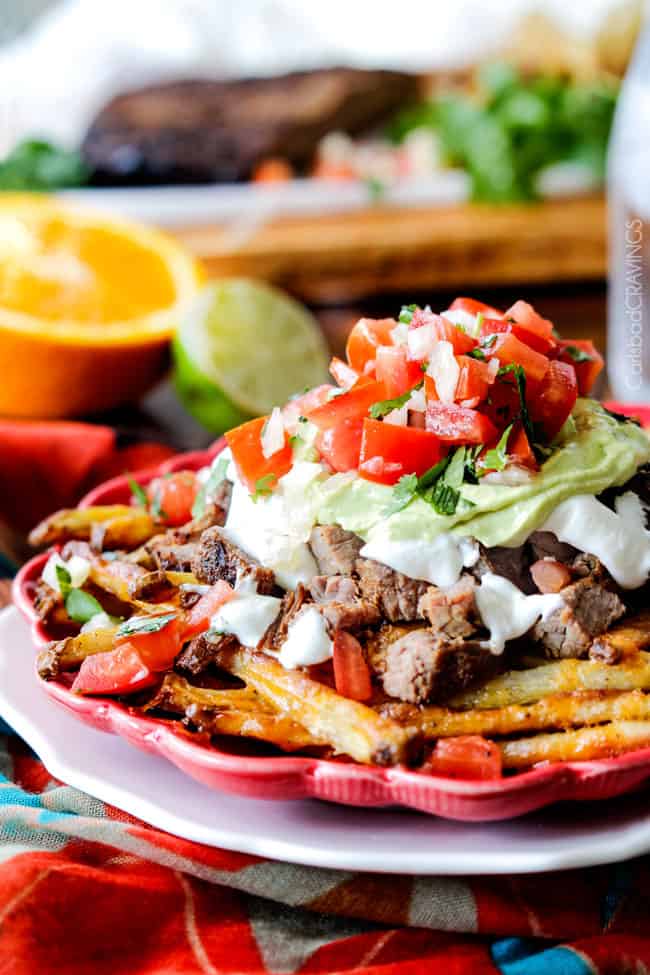 Carne Asada Fries Ingredients
These loaded Mexican fries require a good amount of prep, but trust me when I say this recipe is 100% worth it! Here's what you'll need to make the best carne asada fries:
Carne asada: My recipe for this Mexican spiced grilled flank steak is juicy, exploding with flavor and easy to prep. Just be aware it takes time to marinate so you'll need to plan ahead.
Mexican street fries: A simple recipe featuring Russet potatoes, cornstarch, olive oil, and a blend of spices!
Mexican cheese blend: Use pre-shredded cheese to make your life easier.
Avocado: The base of the creamy avocado crema. Make sure your avocados are ripe before cutting them open.
Sour cream: Gives the avocado crema that distinctive tang.
Mayonnaise: Makes the crema ultra creamy. Just ¼ cup is used, but it makes a big difference.
Lime juice: Freshly squeezed is best. This will go into both the avocado crema and the homemade pico de gallo.
Spices: Ground cumin, garlic powder, salt, and pepper are our best friends here.
Roma tomato: My preferred tomato for making pico de gallo.
Onion: Any variety can be used in the pico.
Fresh cilantro: Add more or less depending on how you want your pico de gallo to taste.
Ingredient Variations
If you are trying to save some calories, you may substitute plain Greek yogurt for the sour cream. Although not authentic, it gets the job done and you don't have to feel guilty about piling it on.
You can buy pre-made pico de gallo at the store if you don't have the time to make your own.
You can substitute the avocado crema for guacamole, if desired. It will give you a slightly different taste and texture, but will be equally delicious.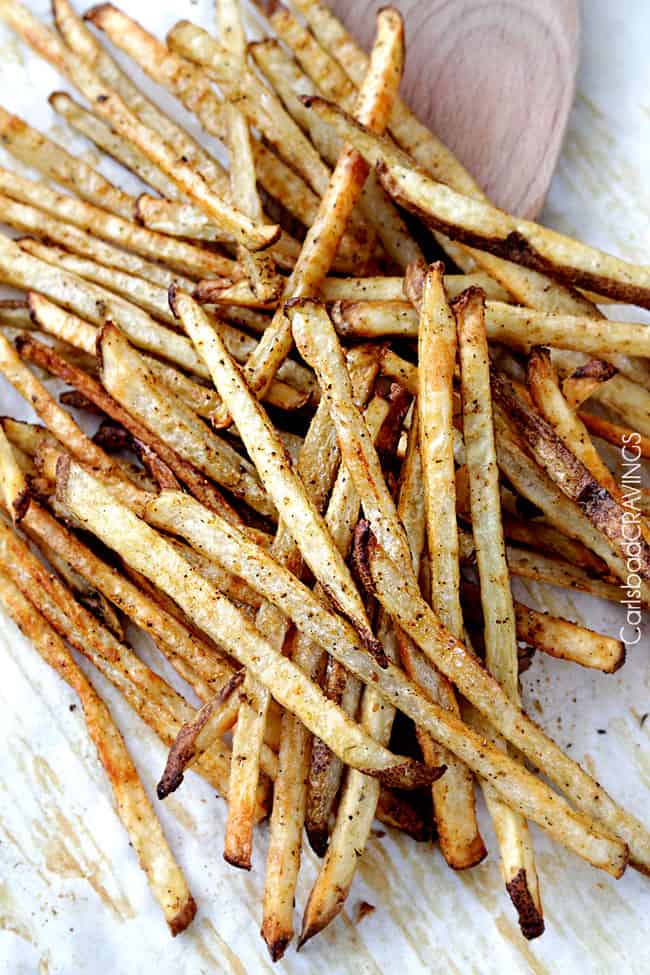 How to Make Carne Asada Fries
1. THE MEXICAN FRIES. In order for this Carne Asada Fries Recipe to be truly epic, every layer of the fries needs to be an MVP all on their own, starting with the bed of Baked Mexican Street Fries. These fries are super simple to make by first mixing olive, cornstarch (helps make the fries crispy), and our seasoning of salt, pepper, garlic powder, ground cumin and chipotle pepper. We bake our Fries for 30 minutes until they are golden, crispy on the outside and soft in the inside. As all fries should be.
2. THE MELTED CHEESE. When our golden fries emerge from the oven you can either smother them directly on the baking sheet with Mexican Blend cheese or part sharp cheddar/part Monterrey and broil OR you can divvy up the fries into individual servings, add cheese and microwave. I personally find the baking sheet to be the easiest, but if your guests are arriving/eating at different times then the microwave might be the way to go so the fries are freshly cheesy. Because just like nachos, we want our fries smothered in ooey, gooey, melty cheese.
3. THE CARNE ASADA. Let's be honest, Carne Asada Fries are only as good as the steak, so for this Carne Asada FRIES Recipe, we are using the Best Carne Asada recipe. This juicy, melt in your mouth steak is marinated in orange juice, lime juice, soy sauce then rubbed with cumin, chili powder, smoked paprika, garlic and onion powder for epic flavor bursting tender steak that rivals your favorite restaurant Carne Asada. And when I say "rivals," I really mean is better than. No joke.
4. THE SALSA. Top your Carne Asada Fries with fresh Pico de Gallo or my purely addicting 5 Minute Fire Roasted Restaurant Blender Salsa. Living in Carlsbad, (north San Diego), where Mexican restaurants outnumber any other type of food 20-1, I have tasted a lot of salsas! And this homemade restaurant salsa, my friends, is as good as the best I've ever tasted! You will also love that you can control the consistency and heat of your salsa — and that it's ready in 5 minutes!
5. THE AVOCADO CREMA. Finally, the crowning glory of these Loaded Carne Asada Fries is the obsessive worthy, silky Avocado Crema. Both Patrick and I are obsessed with this Crema! It so creamy that we prefer it hands down – way down – to guacamole. I have shared it in numerous recipes from Chili Lime Chicken Tacos to my Blackened Fish Tacos because it simply makes everything better and makes these Carne Asada Fries truly epic.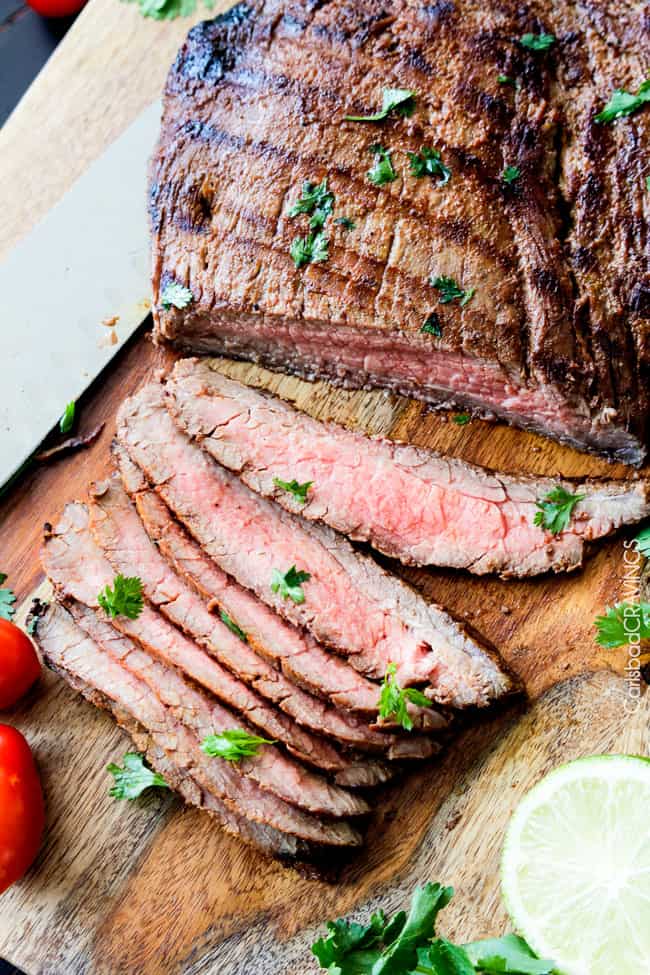 Tips for Making Carne Asada Fries
Don't over-marinate steak. The carne asada marinade is highly acidic which means you don't want to marinate the steak as long as you would in a marinade without as much citrus. Don't marinate much longer than 12 hours or the muscle fibers can break down and become mushy.
Don't overcook. For the juiciest carne asada fries, don't cook the meat above medium. It should register 145 degrees F with an instant read thermometer.
Let carne asada rest. After the carne asada is grilled, it is important to let it rest for 10 minutes before chopping. While the steak cooks, the juices are forced away from the heat to the middle of the meat. The resting time allows for the redistribution and reabsorption of the juices throughout the whole steak.
Let pico de gallo rest. After you combine the Pico de Gallo ingredients in a bowl, let them sit at room temperate in order for the flavors to meld together. If you taste it right away, I guarantee you will be disappointed. The salt draws out the flavor from the tomatoes, which we desperately want in this recipe. Sitting also tones down the raw onion as it mingles with the lime. Give your Pico de Gallo at least 30 minutes for the magic to happen.
Carne Asada Fries Variations to Try
The easiest way to change up the flavor of these loaded Mexican fries is to use different toppings.
Sour Cream. You can use plain sour cream or you can get creative and use the avocado crema I included in the recipe card below.
Guacamole. You can skip the avocado crema and use my favorite guacamole recipe instead.
Cheese. The recipe calls for a Mexican cheese blend, but you can also use a blend of Monterrey or Pepper Jack and cheddar or could keep things simple and just use Cotija or queso fresco. Cotija is found with the specialty cheeses and is delightfully salty. It is often called the "Mexican Parmesan."
Lime. Use lime wedges to add freshly squeezed lime juice if additional tanginess is desired.
Cilantro. If you skip the pico de gallo, you can load on fresh cilantro and tomatoes instead.
Jalapenos. You can also amp up the heat with chopped fresh or pickled jalapenos.
Pickle onions. I can't believe I haven't shared a recipe for this yet, but I love pickled onions on my carne asada fries! Tangy, punchy fantastic.
Salsas. Swap the pico de gallo with a different salsa to mix up the flavor profile. You can use: homemade restaurant salsa, salsa verde, black bean corn salsa, avocado salsa, charred corn salsa, mango salsa, or pineapple salsa.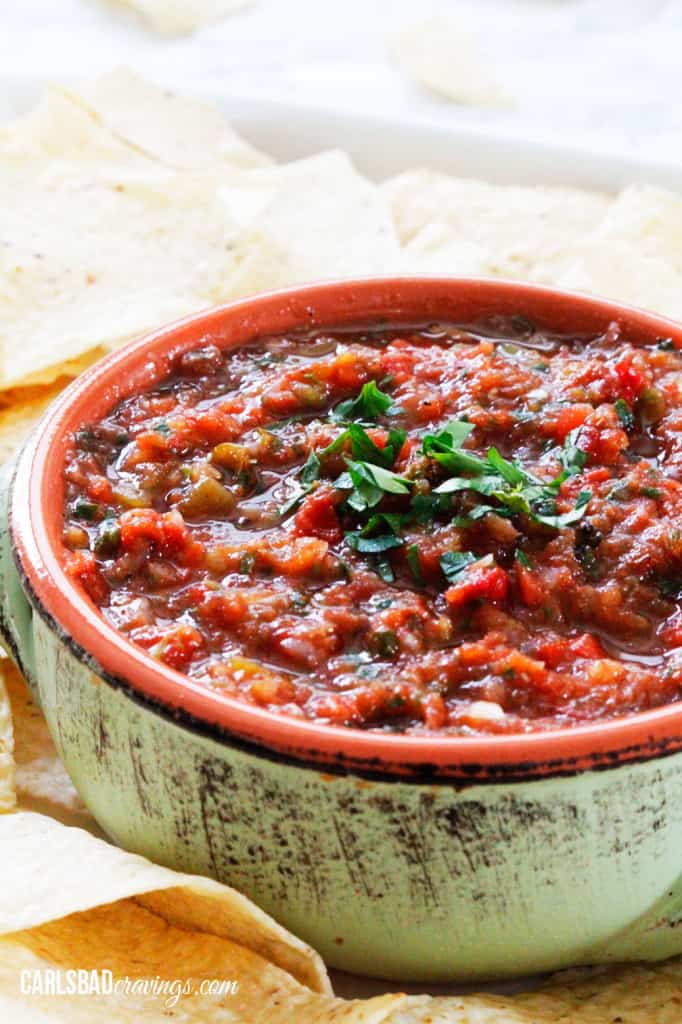 Can I Prep Carne Asada Fries in Advance?
Yes! While the carne asada is marinating, you can prep the pico de gallo and the avocado crema. Then all that's left to do is grill the steak and bake the fries (the steak and fries cook in roughly the same amount of time, so it's perfect!).
I don't recommend prepping the avocado crema more than 6 hours ahead of time for the best results. To store the crema, seal in an airtight container with a piece of plastic wrap pressed directly onto the surface of the guacamole. This will help decrease the speed at which the avocados brown due to oxidation.
How to Store Carne Asada Fries
Once assembled, the carne asada fries really should be eaten right away. However, the individual components of this recipe can be stored in the fridge and enjoyed at a later date if you wind up with leftovers.
Fries: Are best consumed the day they're made as they lose their crispness over time. However, they can be reheated the next day in the oven or a lightly oiled skillet and they'll regain some crispness.
Steak: Store in an airtight container in the refrigerator for up to 5 days.
Pico de gallo: Is best consumed the same day it is made as the tomatoes will continue to release juices BUT it can be stored for up to three days.
Avocado crema: Is best consumed the same day it is made as the top layer will begin to oxidize and turn brown. This doesn't mean the guacamole has gone bad, but it can be unappetizing.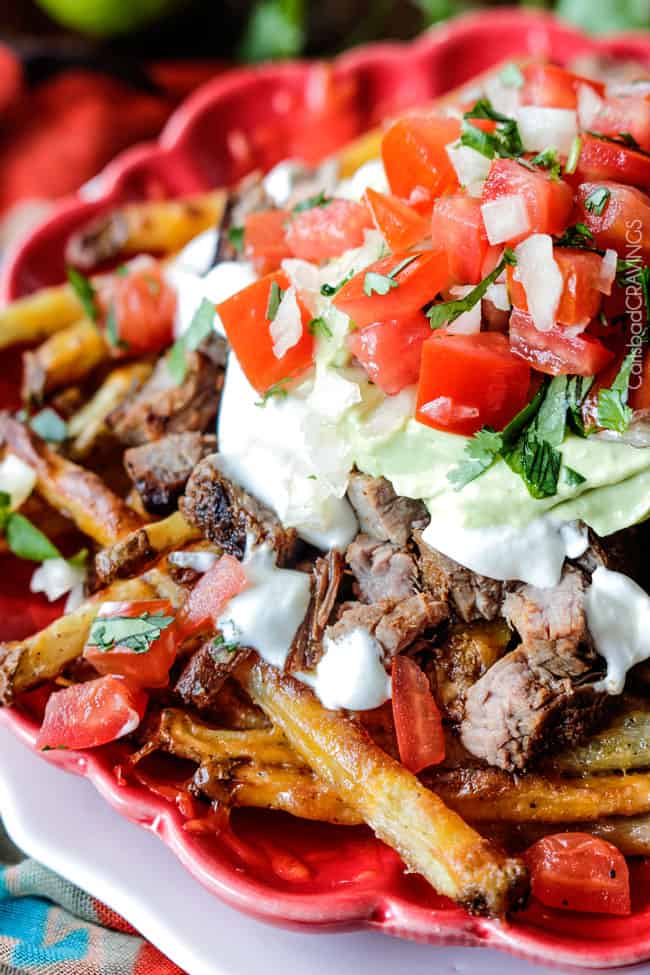 How to Reheat Carne Asada Fries
Assembled carne asada fries can be reheated in the oven. Note that they'll soften over time, so the texture won't be the same as when the fries were fresh.
If you have leftover carne asada, here's how you can reheat it by itself:
MICROWAVE:
Cover the chopped carne asada with a damp paper towel to keep it from drying out.
Microwave at 30-second intervals until warmed through.
STOVE TOP:
Heat one tablespoon oil or butter in a nonstick skillet over medium high heat. The fat will help the carne asada stay tender; you may substitute with water.
Once hot, add steak and cook undisturbed for a couple minutes, then begin to cook and stir until warmed through.
Take care not to overcook or it can become dry.
How to Freeze Carne Asada
The fries, pico de gallo, and avocado crema cannot be frozen. The carne asada can be frozen, however.
Uncooked carne asada: Add marinade and steak to a freezer bag per recipe instructions. Squeeze out excess air, seal and freeze for up to 3 months. Thaw in the refrigerator before cooking. It will marinate as it thaws. You will still want to use the spice rub on the steak before cooking.
Cooked carne asada: Transfer chopped carne asada to an airtight container or plastic freezer bag and squeeze out any excess air. Freeze for up to 3 months. Thaw in the refrigerator before reheating. You can also defrost in the microwave but take care to defrost slowly so your steak doesn't overcook or get rubbery.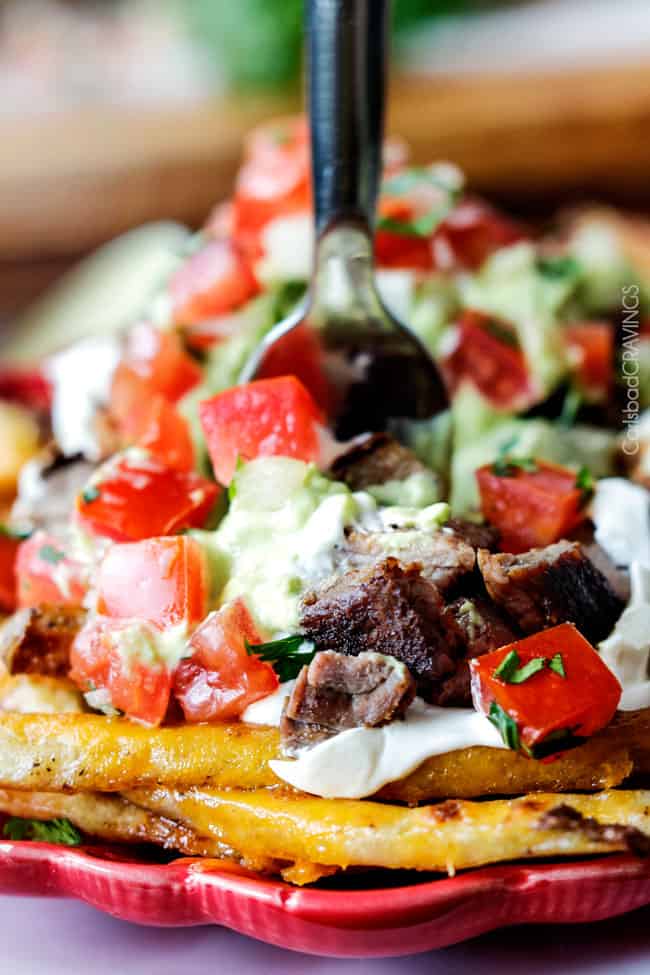 What to Serve with Carne Asada Fries
These fully loaded Mexican fries are basically a meal in itself. But if you're looking to round things out, here are a few dishes you can serve alongside it:
Looking for More Mexican Beef Recipes?
WANT TO TRY THESE LOADED CARNE ASADA FRIES?
Pin them to your appetizer, Mexican or beef Board to SAVE for later!
Find me on Pinterest for more great recipes!  I am always pinning :)!
©Carlsbad Cravings by CarlsbadCravings.com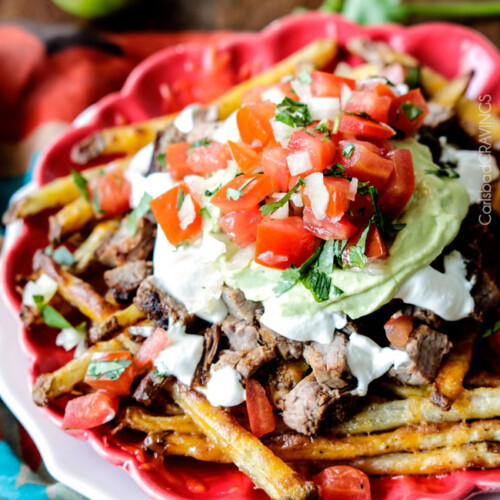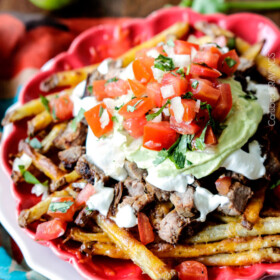 Loaded Carne Asada Fries
Carne Asada Fries might be the most addicting meal, appetizer or game day food on the planet!  These Carne Asada Fries are baked Mexican spiced French fries smothered in cheese and piled high with tender juicy marinated steak, salsa, avocado crema and whatever else your heart desires.
Total Time:
1

hour
20

minutes
Save This Recipe To Your Recipe Box
You can now create an account on our site and save your favorite recipes all in one place!
Ingredients
Instructions
Prepare Carne Asada according to directions. Note – it requires marinating time.

Prepare Mexican Street Fries according to directions.

Meanwhile, add Avocado Crema ingredients to your blender and process until smooth. Store in the refrigerator until ready to use.

For the

Pico de Gallo

, add all the ingredients to a medium bowl and toss to combine. Season with salt to taste. Store in the refrigerator until ready to use.

When ready to serve, you can either add cheese on top of French Fries on a large baking tray and broil until cheese is golden OR you can divide French Fries among individual serving plates/bowls, then top with cheese and microwave until cheese is melted. If you have prepared the Carne Asada in advance, you can reheat with the cheese.

Top cheese with chopped carne asada and garnish with Avocado Crema,

Pico de Gallo

and/or desired toppings.
Notes
Total prep time does not include marinating steak.
Did You Make This Recipe?
Tag @CarlsbadCravings and Use #CarlsbadCravngs
Leave a Review, I Always Love Hearing From You!
Carlsbad Cravings Original