Chicken Tacos seeping with a rainbow of chili lime spices, topped with oozing Jack cheese, sweet and smoky Grilled Pineapple Salsa and drizzled with silky Avocado Crema. Memorial Day worthy. Every day easy.
This Chili Lime Chicken Tacos recipe is an explosion of YUM in every bite and might just become your new favorite chicken taco recipe EVER! You can prep the chicken, salsa and crema ahead of time so your Chili Lime Chicken Tacos can come together in a flash at dinner time!
Chicken Tacos Recipe Video
Easy Lime Chicken Tacos Recipe
I made these Chili Lime Chicken Tacos with Grilled Pineapple Salsa last week and I was so in love that I sweet talked Ms. Strawberry Soup into letting us take her spot in this weeks line up so you could have them for Memorial Day along with Grilled Corn on the Cob with Chipotle Honey Lime Butter, homemade salsa and either Cilantro Lime Rice or Mexican Rice.
Because you need them for Memorial Day. Because nothing says "Hello Summer" like firing up the grill on Memorial Day and grilling your new favorite ever Mexican chicken.
Happy Memorial Day! May God bless all those who have died fighting for our freedoms and all who continue to fight for our freedoms every single day. They allow us to to take much for granted. May we strive to always honor their sacrifice and thank them for it.
Ingredients for Chili Lime Tacos
These pineapple chicken tacos come together with few ingredients but taste so flavorful! Here's what you'll need to make the BEST chicken tacos:
Chili Lime Chicken: You can find my recipe here. The ingredient list looks long, but it's 95% spices!
Pineapple Salsa: Enjoy it fresh or grilled (recipe here).
Flour tortillas: May sub corn tortillas if you're gluten-free.
Shredded cheese: Use your favorite.
Avocado crema: A delicious blend of avocado, sour cream, mayo, lime, cumin, and garlic powder. Do not leave this stuff off of your tacos!!
How to Make Lime Chicken Tacos
For these Chili Lime Chicken Tacos, the chicken is marinated either overnight or just 30 minutes in my easy All Purpose Chili Lime Chicken Rub bursting with fiestalicious spices all brightened by fresh lime juice and lime zest. SO EASY! You can either grill your chicken or cook it on the stovetop:
STOVETOP DIRECTIONS:
If chicken has been refrigerated, let sit at room temperature for 15-30 minutes (time permitting).
Heat a large non-stick skillet over medium high heat. Once very hot, add chicken and cook, undisturbed for 3-5 minutes, or until nicely browned (or blackened if you prefer) on one side.
Turn chicken over, cover, and reduce heat to medium. Cook for approximately 5-7 more minutes (depending on thickness of chicken), or until chicken is cooked through.
Remove to a cutting board and let rest 5 minutes before slicing.
GRILLING DIRECTIONS:
If chicken has been refrigerated, let sit at room temperature for 15-30 minutes (time permitting).
Meanwhile, grease and preheat the grill to medium heat, 375-450°F.
Grill chicken undisturbed for for 5-7 minutes per side, or until chicken is cooked through. (An inserted thermometer should read 165 degrees F.)
Remove chicken from grill and let rest 5 minutes before slicing.
So tender, so flavorful, so ready to be stuffed in a tortilla and then stuffed into your mouth.
What Toppings for Lime Chili Tacos?
As much as we all want to start eating these lime chili chicken tacos NOW, let me first sing the praises of Grilled Pineapple Salsa. I could have topped these Chicken Tacos with Homemade Salsa, Salsa Verde or Pico de Gallo but their rich smokiness was begging for vibrant, sweet, juicy Grilled Pineapple Salsa, much Tacos Al Pastor.
The Pineapple Salsa is made with grilled sweet and smoky caramelized pineapple, and GRILLED red bell peppers, red onions and jalapeno tossed with lime and cilantro and a hint of cumin and ginger. This pineapple salsa is insanely delicious all on its own and the refreshing companion to our Chili Lime Chicken Tacos. They make each other better even when you didn't think it was possible.
Finally, the crowning adornment of this Chicken Tacos that brings everything together is the silky Avocado Crema. Both Patrick and I are obsessed with this Crema. Made with sour cream, a little mayo and just the right kick of garlic, cumin, salt and fresh lime juice. It is so creamy that we prefer it hands down – way down – to guacamole. I think you will too. Just try and resist its silky siren calls.
Tips for the Best Chicken Tacos
Quality tortillas. Try and use QUALITY flour tortillas – you can taste the difference!
Spice it up. The spice level as written is not very spicy, just flavorful. If your chicken feels like it's missing something, it is probably a depth of heat.
Use fresh pineapple. For the pineapple salsa, fresh pineapple is a must. It's just not the same with canned pineapple.
Recipe Variations to Try
Add beans. Add your favorite beans – some refried beans, black, pinto, etc. are all fabulous. You can add them directly to the chicken or warm in a separate pan and add them to individual tortillas.
Add veggies. You can add any veggies your heart desires from corn, bell peppers, zucchini, sweet potatoes, spinach etc. You can sauté the veggies separately or cook them with the chicken.
Add fajita peppers. Stir fried bell peppers are always tasty. You can follow the instructions for the peppers in my Pork Fajitas recipe.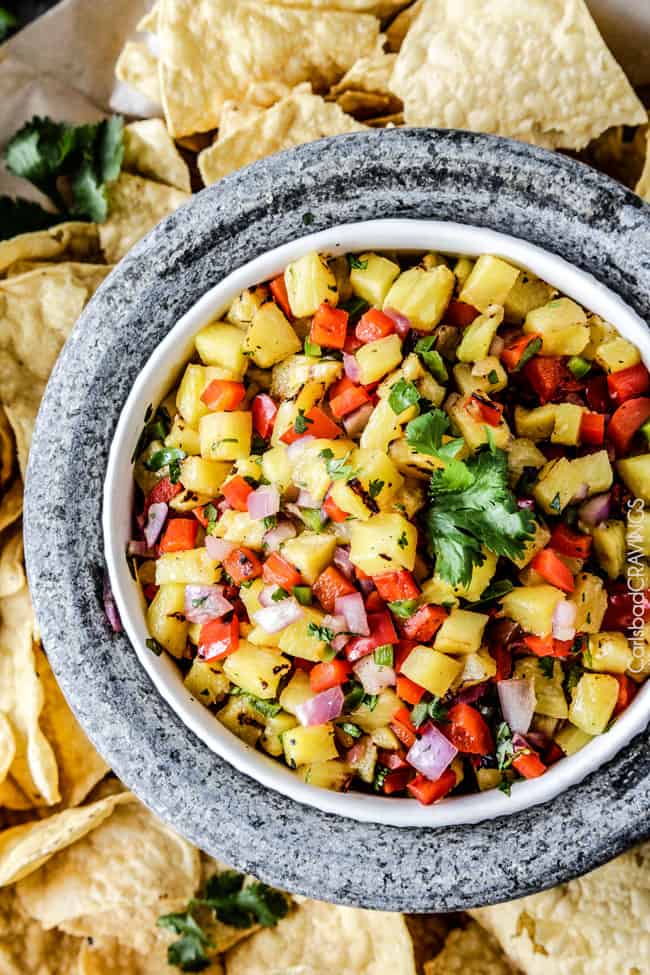 Can I Prep Chili Lime Chicken Tacos in Advance?
You can make the chicken ahead of time and just reheat when ready to serve. You can also prep all of your toppings ahead of time. The avocado crema will keep for up to a day without changing color very much – just make sure to press a piece of plastic wrap directly against the surface of the guac/crema to prevent oxidation.
How to Reheat Chili Lime Chicken Tacos
Reheat the chicken in the microwave or in a skillet over medium-low heat. The tortillas can also be gently warmed in a skillet to make them more pliable.
How to Store Leftover Chicken Soft Tacos
The chicken, tortillas, salsa, crema, and other toppings should be stored in separate containers in the fridge. The chicken will last up to 5 days, and the crema will last up to 2 days (it may oxidize, but that's okay!).
Can I Freeze Lime Chicken Tacos?
The tortillas and cooked chicken can be frozen individually. The toppings must be eaten fresh.
Prepare the chili lime chicken according to directions.
Cool to room temperature.
Add chicken to a freezer size plastic bag OR portion into smaller size sandwich bags.
Press bag flat, squeeze out excess air to prevent freezer burn.
Seal, label and freeze for up to 3 months.
When ready to use, defrost chicken in the refrigerator overnight.
Remove chicken and reheat in a skillet or in a microwave-safe container in the microwave.
What to Serve with Grilled Chicken Tacos
Looking for More Easy Taco Recipes?
If you love everything Tacos, be sure to check out some of my favorite:
Chili Lime Chicken Tacos with Grilled Pineapple Salsa
Chili Lime Chicken Tacos seeping with a rainbow of chili lime spices, topped with oozing Jack cheese, sweet and smoky Grilled Pineapple Salsa and drizzled with silky Avocado Crema.  Memorial Day worthy.  Every day easy.
Save This Recipe To Your Recipe Box
You can now create an account on our site and save your favorite recipes all in one place!
Ingredients
4

flour tortillas

or 6-8 corn tortillas

1/2

cup

favorite cheese, more or less
Instructions
Prepare Chili Lime Chicken And Grilled Pineapple Salsa according to directions.

To make the Avocado Crema, add all the Crema ingredients to your blender and blend until smooth, scraping sides down as needed. May make 4 hours ahead of time and refrigerate in an airtight container.

To assemble, melt cheese on tortillas in the microwave or stovetop then top with Chili Lime Chicken, Pineapple Salsa followed by Avocado Crema.
Notes
Don't miss the "how to make" recipe video at the top of the post!
Total Time does not include marinating chicken as this will vary depending on individual.
Did You Make This Recipe?
Tag @CarlsbadCravings and Use #CarlsbadCravngs
Leave a Review, I Always Love Hearing From You!
Carlsbad Cravings© Original