Carne Asada marinated and spice rubbed for the most juicy, tender, flavorful Carne Asada EVER!
Carne asada that is restaurant quality at home! This Carne Asada recipe is perfect for tacos, burritos, nachos, salads, etc. at a fraction of the price and fabulous for crowds!
How to Make Carne Asada Recipe Video
Carne Asada Recipe
I always hesitate by putting "best" in the tile of a recipe because "Best" is such a personal preference. We each have our own "best" – some may like spicier, some may like sweeter, some may like saltier. But this is the "Best" Carne Asada recipe I have ever made or tried and I hope you will agree!
My husband, Patrick, is Mexican food connoisseur. I've created recipes for Tacos Al Pastor, Slow Cooker Carnitas, Slow Cooker Barbacoa Beef, Slow Cooker Mexican Chicken, Baja Fish Tacos, Chicken Fajitas, Chicken Tortilla Soup and now this carne asada recipe because his heaven is eating Mexican food every. single. day. He devours carne asada burritos, California burritos (carne asado burritos with French fries, etc.), carne asada fries, carne asada nachos or carne asada street tacos at least once a week either after surfing or on our Friday night dates. Living in Carlsbad/San Diego, we have a plethora of Mexican restaurants and he is always on the hunt for the "best" carne asada.
The hunt stops here.
To please my carne asada critic, I perfected this recipe with 4 different attempts. We didn't mind the attempts as they were all tender, and charred and delicious. Still, they lacked a certain "umph" of flavor – restaurant quality flavor. Finally, I decided to not only marinate the steak but also rub the steak with spices right before grilling. So not only does the steak marinate in orange juice, lime juice, soy sauce and a splash of liquid smoke, it gets marinated with and then rubbed with cumin, chili powder, smoked paprika, garlic and onion. And that is when "good" became Patrick's approved "best" carne asada.
What does Carne Asada mean? What is Carne Asada?
In Spanish, Carne literally means "flesh/meat/beef" and Asada means "roast/broiled/grilled," so "grilled meat." When it comes to "carne asada" in cooking, the term refers to grilled and sliced beef, usually skirt, flank or flap steak. The steak is associated with a charred flavor from searing the meat on the grill.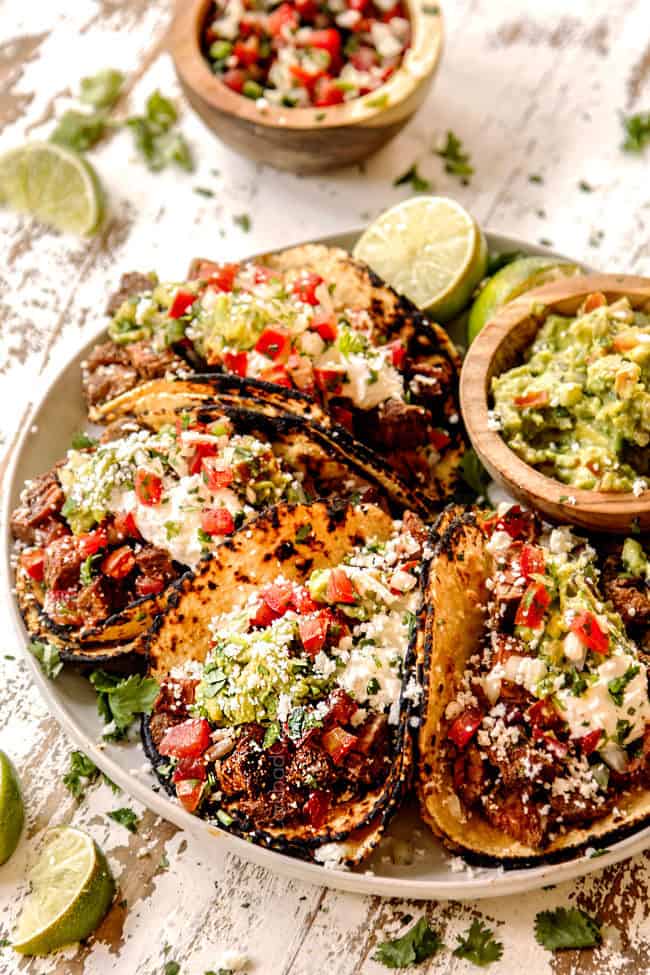 What Type of Meat Should I use for Carne Asada?
Carne asada is traditionally made using skirt or flank steak. I prefer flank steak with its wide, flat shape, rich buttery flavor and melt-in-your-mouth texture. Flank steak is a little leaner than skirt steak but because we are using a marinade to maximize the flavor, it emerges wonderfully juicy and flavorful.
SKIRT STEAK VS. FLANK STEAK
What is the difference between flank steak and skirt steak? Flank steak is a thicker, wider cut of meat than skirt steak. Flank steak and skirt steak come from two different parts of the cow which affects how tough they are. Skirt steak comes from the diaphragm muscle of the cow which contains more tough muscle fibers than flank steak and is therefore tougher; these fibers, however, also boat a more intense flavor.
Can I substitute skirt steak for flank steak? If you want to substitute skirt steak for flank steak, it should only be cooked to rare or medium-rare otherwise it will be too tough and chewy to eat.
HOW TO PURCHASE AND STORE STEAK FOR CARNE ASADA
Here is everything you need to now about purchasing flank steak to make the best carne asada:
Is flank steak expensive? Flank steak is generally one of the least expensive cuts of beef. It is traditionally slightly more expensive than skirt steak and flap meat at $7-10 per pound.
How much flank steak do I need per person? The general rule of thumb is to allow 4-8 oz. of steak per person, so an average flank steak will serve 3-5 people. You will need to take into consideration the appetite of your eaters (adults/children) and what else you are serving with the flank steak.
Where to buy flank steak? Flank steak is widely accessible and should be easy to find at any grocery store. It is located in the beef section or at the butcher counter. Flank steak sometimes comes packaged in marinade, so make sure to double check the packaging – for this flank steak recipe, we want just the steak.
What to look for when buying flank steak? Look for flank steak that's an even, deep red color with a fair amount of fine fat running along the length of the muscles. Look for steak that is smooth verses poorly buttered steak that suffers nicks or gouges from the membrane aggressively being removed. Finally, look for the steak that's the most uniform in thickness to avoid overcooking thin ends.
How do I store raw flank steak? Uncooked flank steak should be stored in its packaging until ready to marinate or transferred to a freezer bag with all excess air squeezed out. Store in packaging for up to three days.
How do I store cooked flank steak? Cooked flank steak should be stored in the refrigerator in an airtight container for up to five days. Flank steak can also be frozen in an airtight container with excess air squeezed out or vacuum-sealed to prevent freezer burn. Frozen flank steak is good for up to three months.
The Best Carne Asada Marinade
Because flank steak is a leaner, less expensive cut of steak, we need a dynamite marinade to transform this steak into a juicy, flavor bomb.  Marinades need to accomplish three things:  tenderize the meat, infuse it with flavor and chemically change the structure so it retains juices and actually becomes juicier.   I've outlined how the ingredients below adeptly accomplish this:
Citrus: orange juice and lime juice tenderize the meat by breaking down the tough connective tissue. They also infuse the meat with bright floral tones characteristic of carne asada that complement the earthy seasonings.
Soy sauce: enzymatically breaks down the proteins to further tenderize while also adding a rich depth of grounding flavor.
Seasonings: ground cumin, garlic powder, smoked paprika, chili powder, salt, onion powder, ground coriander, pepper and cayenne. 3 tablespoons of this Spice Mix are added to our marinade and the rest gets rubbed all over our steak before grilling. This allows the seasonings to both penetrate the meat inside and out and is the key to this best carne asada street tacos ever.
Oil: is crucial as it spreads the oil-soluble flavors more evenly across the meat and also promotes even browning when cooking.
CARNE ASADA MARINADE 101
When it comes to marinating steak for carne asada or any protein, there are some safety rules to follow to avoid cross contamination. Follow these simple rules to maintain sanitary conditions and food safety:
Use food safe containers. I prefer food-safe sealable plastic bags such as freezer Ziploc bags. They really allow the marinade to envelop the carne asada vs. a dish in which the marinade might not cover all of the steak. When using a plastic bag, make sure to squeeze out excess air before sealing then roll up the bag so the steak is nice and snug. Sealable bags are also great for easy cleanup – just toss them! You may also use food grade plastic, stainless steel, or glass containers and cover with plastic wrap if they don't have a lid.
Flip steak occasionally. If you marinate the flank steak in a shallow dish, make sure to flip the steak over occasionally so it marinates evenly.
Marinate in the refrigerator. Always marinate steak for a prolonged period of time covered in the refrigerator and not at room temperature to avoid food-born illness. Only remove it from the fridge to the counter 60 minutes before you're ready to grill to help bring it to room temperature so it cooks evenly.
Don't reuse marinade. Never reuse a marinade even for basting unless you boil it first to destroy any harmful bacteria. If you want to use the marinade for basting, drizzling or dipping, it is best to reserve a portion before you add the steak. I do this in countless of my recipes including this one.
PRO TIP: You can also reserve a couple tablespoons of marinade (not contaminated) to drizzle on veggies before grilling or cooking like I do in my chicken fajita recipe and many kabob recipes to make them uber flavorful without any extra work!
SHOULD YOU POKE HOLES IN FLANK STEAK BEFORE MARINATING?
In contrast to popular belief, you should NOT poke holes in the steak before marinating. This actually drains out the valuable juices and will result in less juicy steak.
HOW TO MAKE CARNE ASADA
STEP 1: Pound Steak
Using a meat mallet or side of a can, pound steak to an even, thin thickness.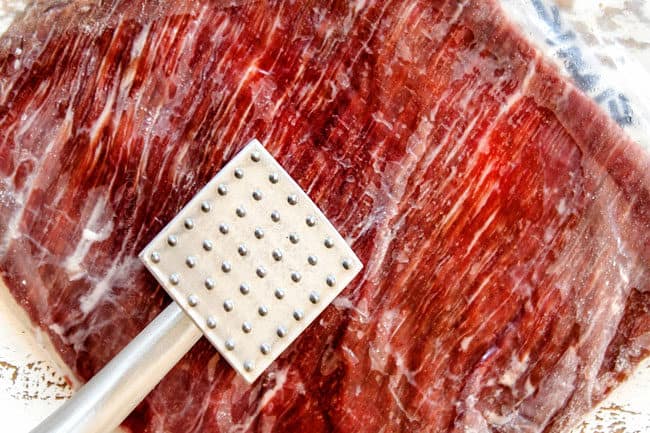 STEP 2: Make Spice Mix
The spice mix is a dynamic blend of seasonings that gets used both in the marinade and then in the wet rub. You only have to measure the seasonings once but get double the flavor.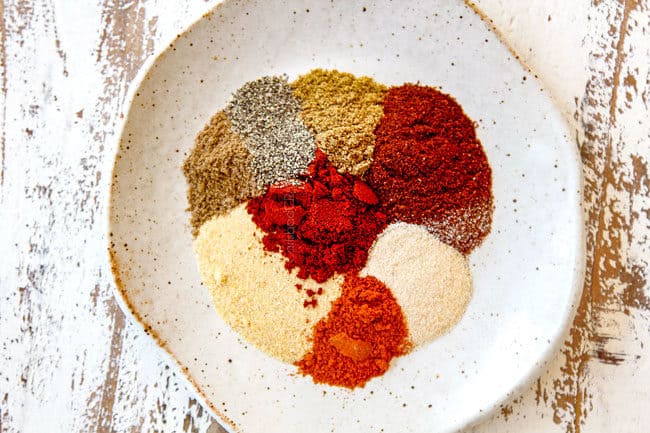 STEP 3: Marinate Steak
Add all Marinade Ingredients (except steak) to a large freezer bag and whisk to combine.
Add 3 tablespoons Spice Mix to Marinade and whisk to combine.
Add steak, squeeze out excess air, seal and turn to evenly coat.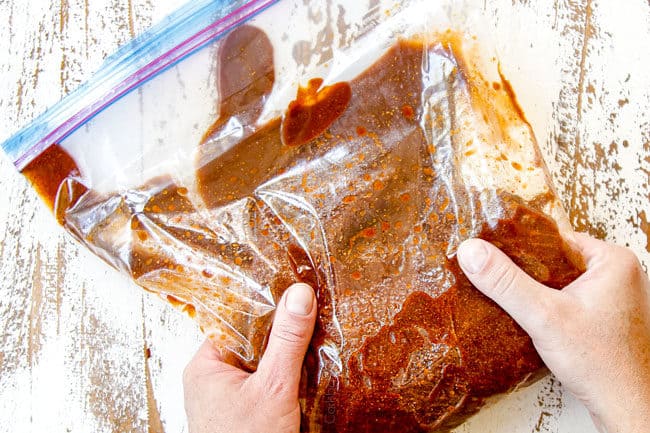 STEP 4: Wet Rub
The wet rub is my secret to the BEST carne asada so please don't skip! When ready to grill, mix remaining Spice Mix with 2 tablespoons olive oil to create a Wet Spice Rub.
Rub steak evenly all over with Spice Rub and let rest at room temperature for 30 minutes. I use this time to make guacamole.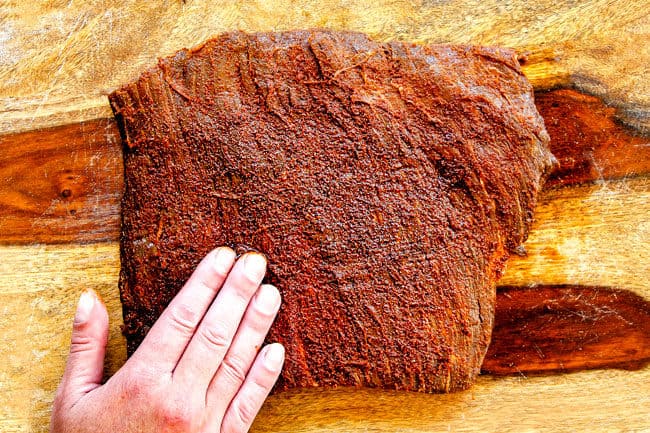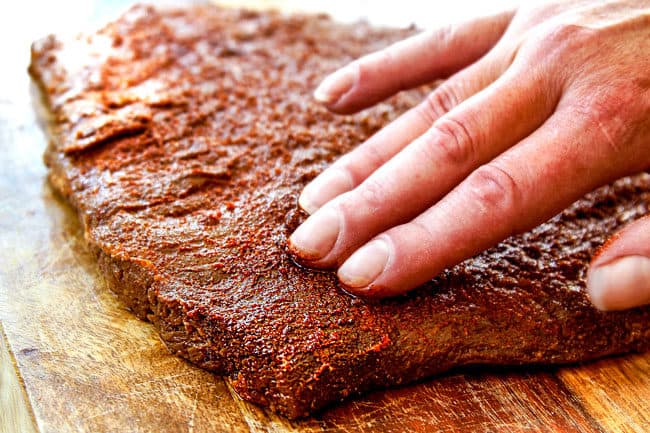 STEP 5: Cook Steak
I want you to be able to make this carne asada recipe year-round, so I've included how to make carne asada on the grill, in the oven and on the stove below. 
My preferred, and most authentic method, is definitely the grill as it delivers the smoky flavor characteristic of carne asada, but you can use the other methods if you don't have a grill or when it's not grilling season.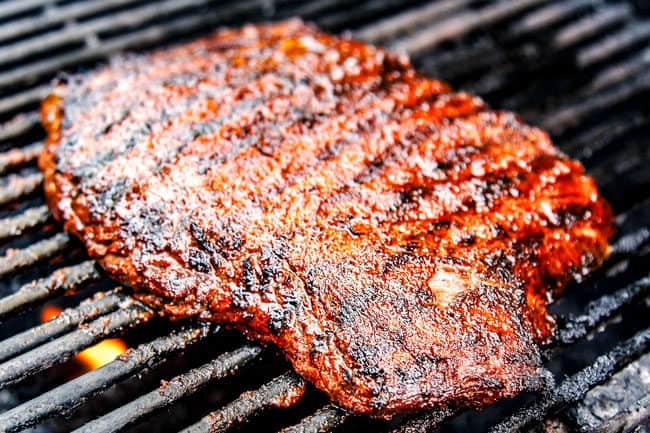 STEP 6: Let Steak Rest
Remove steak and let rest 10 minutes before chopping into small pieces.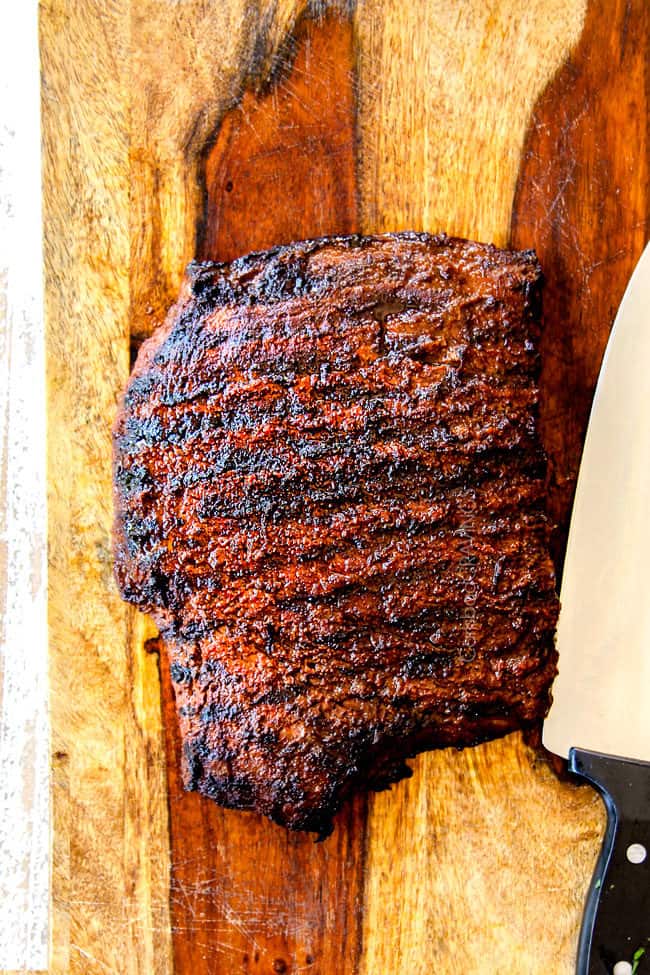 HOW LONG TO MARINATE CARNE ASADA STEAK?
4-12 hour is the optimal time to marinate carne asada. After 4 hours, the flank steak has absorbed a lot of the flavor but after 12 hours it will become even more tender. You definitely don't want to marinate it longer than 12 hours though because the acid in the marinade will begin to change the structure of the meat to the point of mushiness – no Bueno!
HOW TO GRILL CARNE ASADA
Take care to grease your clean grill grates well with oil. Next, close the lid and heat to the highest heat and WAIT to add your steak until the grill reaches temperature, this could take up to 15 minutes, so be patient. Add your steak and reduce heat to medium-high heat. This temperature ensures a smokey charred outside, and pink juicy inside. Grill steak for 5 to 6 minutes per side, turning once, for medium, depending on the thickness.
HOW TO COOK CARNE ASADA IN THE OVEN
My preferred method for cooking carne asada is on the grill. Grilling delivers the characteristic smokey flavor but you can use the other methods such as cooking on the stove or in the oven (directions to follow) if you don't have a grill or when it's not grilling season.
OVEN BROILED: Broiling the carne asada mimics the high directional heat of the grill. Place steak on a baking sheet. Broil 8 inches away from the broiler for 6-8 minutes on each side or until it reaches desired temperature.
HOW TO COOK CARNE ASADA ON THE STOVE
You may pan sear carne asada but unless you have a large grill pan, your steak will not fit and will need to be cut in half and cooked in two batches.
STOVETOP: Heat one tablespoon olive oil in a large cast iron skillet over medium-high heat. Cook for 6-8 minutes per side or until it reaches desired temperature.
How Do I Know When the CARNE ASADA IS Done?
Flank steak is a lean cut of beef, so it is best not cooked above medium or else it can be tough and chewy instead of juicy. I would aim for medium, meaning it will be pink in the middle. That being said, the marinade gives you a little wiggle room, but I wouldn't push it.
To check the carne asada for doneness, insert an instant read thermometer into the center of the steak.
Rare steak: 125 degrees F
Medium rare: 135 degrees F
Medium: 145 degrees F *RECOMMENDED*
Medium well: 155 degrees F
Medium Well (not recommended)
Well done: 165 degrees F (not recommended)
Let carne asada rest
After the carne asada is grilled, it is important that you let it rest 10 minutes before thinly slicing against the grain on a diagonal. While the steak cooks, the juices are forced away from the heat to the middle of the meat. The resting time allows for the redistribution and reabsorption of the juices throughout the whole steak.
HOW TO CUT CARNE ASADA?
After 10 minutes, take care to slice your steak THINLY against the grain. You can see the "grain" running through the meat in one direction. The grain is essentially the muscle fibers running through the meat. You want to cut perpendicular to the muscle fibers so they become as short as possible. You can a have melt in your mouth steak off the grill but if you cut it parallel to the grain you will end up with long muscle fibers AKA chewy, rubbery tough meat. So cut AGAINST the grain!
TIPS FOR CARNE ASADA RECIPE:
Pound the steak to an even, thin thickness. Even if your steak looks even already, you'll still want to give it a good pounding to tenderize it (works wonders!). Place steak in between two pieces of plastic wrap or I just place it in a freezer size plastic bag. Pound it evenly with a meat mallet or side of a can.
Don't over-marinate. The carne asada marinade is highly acidic which means you don't want to marinate the steak as long as you would in a marinade without as much citrus. Don't marinate much longer than 12 hours or the muscle fibers can break down and become mushy.
Marinate long enough. I recommend marinating the carne asada for the maximum 12 hours. This will infuse the steak with TONS of flavor and optimal juiciness.
Bring carne asada to room temperature before cooking. You always want to let any protein sit at room temperature before cooking in order for it to cook evenly so you aren't left with an overcooked exterior and cold interior. This also relaxes the cold fibers for juicier results.
Clean grill. Clean the grill very well before cooking for beautiful grill marks and to prevent sticking.
Use a hot grill. Heat up the grill with the lid closed cranked to the maximum temperature so it can achieve temperature more quickly; plan on 10-15 minutes. Once the grill is hot, you can adjust the temperature. Don't add the steak until the grill reaches temperature or it won't sear as nicely.
Flip carne asada once using tongs. Only flip/touch your steak once for the perfect caramelized crust. Only use tongs to flip the meat because a fork will pierce the meat and you will continuously loose juices and tenderness.
Cook to medium. Don't overcook or your carne asada won't be as juicy. Use a meat thermometer to check for doneness and grill to 140 degrees for medium. The steak will rise to 145 degrees after it rests.
When to use high heat. If you like rare or medium-rare steak, then grill steak on high heat so it's hot enough to get some color on the outside in a short amount of time.
Let carne asada rest. After the carne asada is grilled, it is important to let it rest for 10 minutes before slicing or chopping. While the steak cooks, the juices are forced away from the heat to the middle of the meat. The resting time allows for the redistribution and reabsorption of the juices throughout the whole steak.
Slice across the grain. Cut carne asada steak across the grain to shorten the muscle fibers for more tender steak.
Hot sauce to taste. The carne asada isn't spicy but plenty flavorful. If you are your guests like a kick, make sure to serve the steak with hot sauce on the side.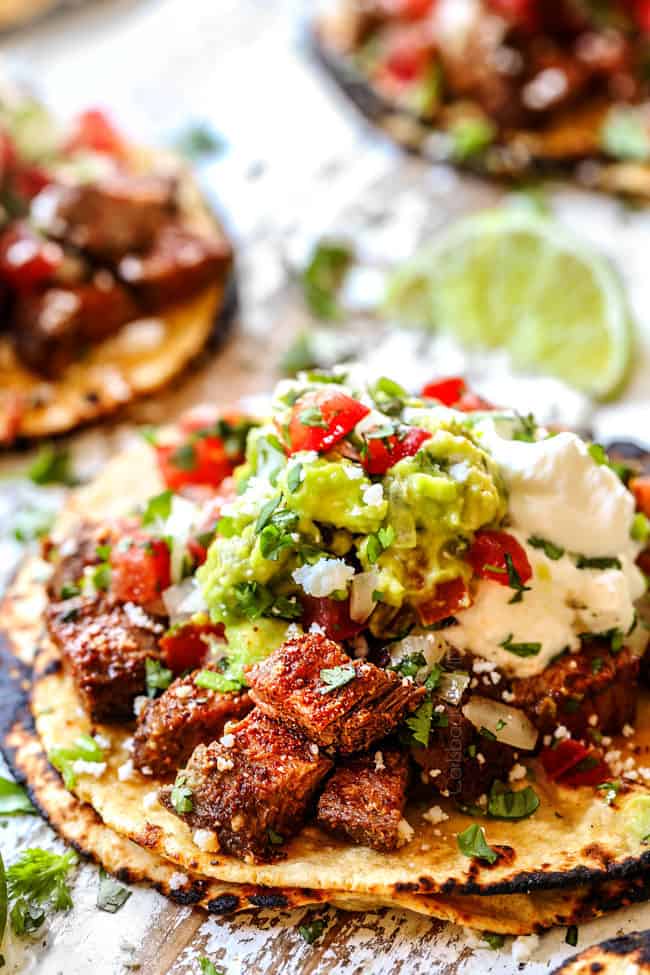 How to Serve Carne Asada STEAK
Carne asada should be thinly sliced and can be eaten plain alongside rice or beans or it will immediately elevate your tacos, burritos, nachos, fries, etc. to the most amazing tacos, fajitas, burritos, nachos, fries, etc. especially when piled with cheese, homemade salsa, salsa verde,pico de gallo, sour cream and/or guacamole or as I prefer, my avocado crema and served with any of the below sides such as Mexican Rice or Cilantro Lime Rice.
wHAT TO SERVE WITH CARNE ASADA?
how to FREEZE CARNE ASADA
You can freeze the carne asada meat cooked or uncooked:
Uncooked carne asada: add marinade and steak to a freezer bag per recipe instructions. Squeeze out excess air, seal and freeze for up to 3 months. Thaw in the refrigerator before cooking. It will marinate as it thaws. You will still want to use the spice rub on the steak before cooking.
Cooked carne asada: transfer chopped carne asada to an airtight container or plastic freezer bag and squeeze out any excess air. Freeze for up to 3 months. Thaw in the refrigerator before reheating. You can also defrost in the microwave but take care to defrost slowly so your steak doesn't overcook or get rubbery.
HOW TO STORE & REHEAT CARNE ASADA
STORAGE
Let carne asada come to room temperature.
Transfer to an airtight container.
Store in the refrigerator for up to five days.
MICROWAVE
Cover the sliced carne asada with a damp paper towel to keep it from drying out.
Microwave at 30 second intervals until warmed through.
STOVE TOP
Heat one tablespoon oil or butter in a skillet over medium high heat. The fat will help the carne asada stay tender; you may substitute with water.
Once hot, add steak and cook undisturbed for a couple minutes, then begin to cook and stir until warmed through.
Take care not to overcook or it can become dry.
IS CARNE ASADA HEALTHY?
Flank steak used in this carne asada recipe is a very lean cut of beef with a high amount of protein, amino acids, iron, and zinc. Here are some health benefits of steak:
Protein: Steak is a powerful source of protein to fuel your body. It is excellent for helping to build muscle and for maintaining muscle mass. Even fit individuals can suffer muscle atrophy if they do not consume enough protein which contains amino acids (the building blocks of protein). Protein can also help repair muscles from wear and tear and to relieve muscle aches.
Amino acids: Steak also contains the dietary amino acid called beta-alanine, which helps form a dipeptide called carnosine, which is crucial to support physical activity. Healthy levels of carnosine reduce fatigue and improves muscle performance, endurance and precision during physical activity.
Iron: Steak contains high levels of iron which is absorbed more quickly than iron found in supplements and even some vegetables. Iron is needed to carry oxygen tofrom the lungs to all parts of the body. Your body also needs iron to make some hormones and keep your hair, skin and nails healthy. If you do not have enough iron, you won't have healthy oxygen circulation, which will cause fatigue and grogginess.
Zinc: A (3.5-ounce) serving of beef contains 4.8 mg of zinc, which is 44% of the Daily Value. Zinc is vital for a healthy immune system, correctly synthesizing DNA, and healing wounds.
HELPFUL TOOLS FOR THIS FLANK STEAK RECIPE: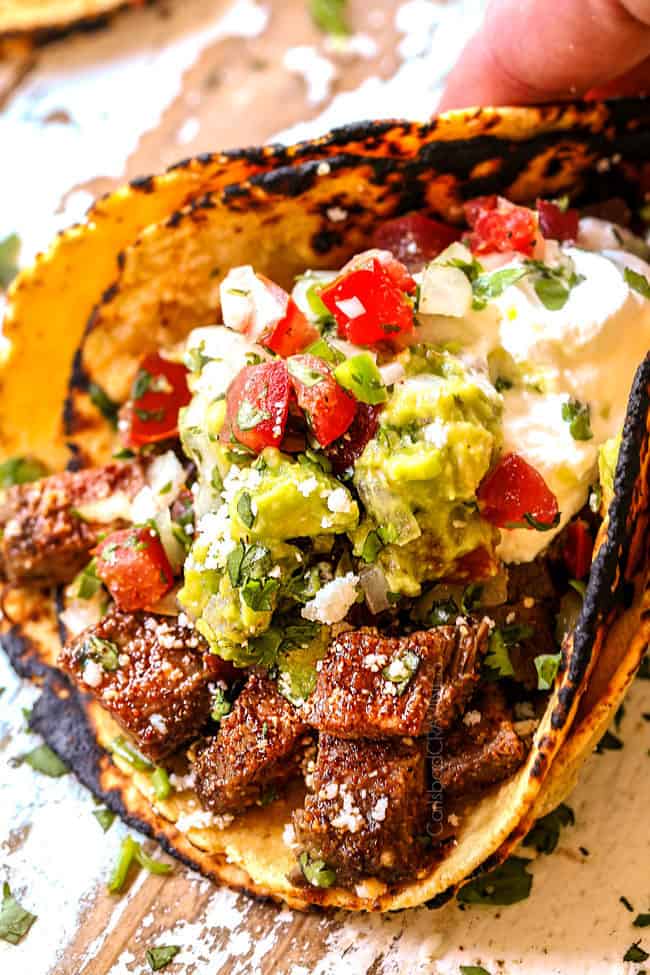 Carlsbad Cravings© Original
NEVER MISS A CARLSBAD CRAVINGS CREATION:
You might also like: