Healthy Fettuccine Alfredo packed with sun-dried tomatoes, Parmesan, and spices? Yes, please! This Sun-Dried Tomato Alfredo Sauce is bound to impress!
Creamy, Lightened Up Sun-dried Tomato Fettuccine Alfredo smothered in a flavor bursting velvety sauce with a fraction of the calories, and on your table in 20 minutes! A delectable, customizable go-to dinner!
Sun-Dried Tomato Alfredo Sauce Recipe
One of my favorite comfort foods in the world is creamy pasta. No vegetables, no chicken, no meat — just pasta so I can shovel the trail of silky noodles into my mouth at lightening speed, like my Million Dollar Mac and Cheese and Lightened up Fettuccine Alfredo.
Enter: comfortlicious Lightened Up Sun-Dried Tomato Fettuccine Alfredo! Don't get me wrong, you can totally add vegetables and chicken, shrimp, etc., there are a zillion variations to customize this pasta just the way you like it — that's part of its charm — but the star is the luscious sauce. Lightened up luscious sauce. The simple sauce is made with pantry-friendly ingredients and is one of those dinners you can just throw together last minute but is so crave worthy you will be craving it for days, weeks months.
I was craving this creamy sun-dried tomato goodness so badly last week that I whipped it up on Saturday, which was a bonus so Patrick could actually eat it fresh (as opposed to 99% of the time, I cook and photograph during the day so Patrick hardly ever gets straight-off-the-stove-food). But as the velvety pasta glided down his throat, my lived-in-Italy-for-2-years pasta critic couldn't stop gushing its praises. And it took me less than 20 minutes. And it's lightened up!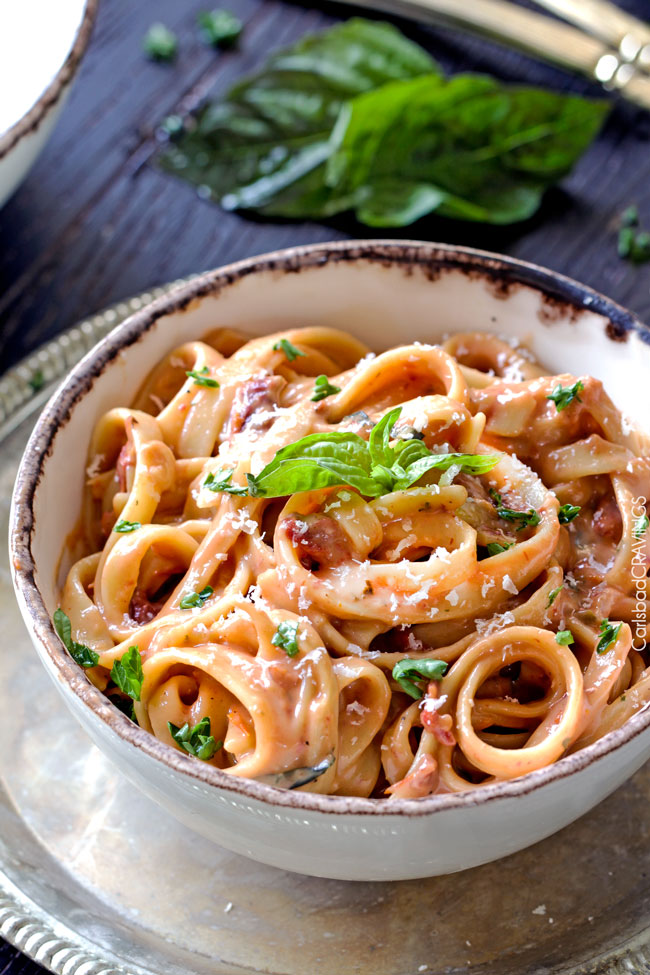 Sun-Dried Tomato Alfredo Pasta Ingredients
Think homemade fettuccine alfredo is a pain to make? Think again! It's actually one of the easiest pasta dishes to make from scratch, and it requires ingredients you may have on hand already:
Fettuccine noodles: I used fettuccine, but any long pasta will work.
Sun-dried tomatoes: Buy the kind packed in oil.
Garlic: I used 4 cloves because I LOVE garlic.
Herbs and spices: The sun-dried tomato alfredo sauce is flavored with red pepper flakes, basil, oregano, parsley, and more!
All-purpose flour: Helps thicken the sauce.
Chicken broth: Packs in lots of flavor. Use low-sodium chicken broth to control the amount of salt in the dish.
Milk: Use whole milk or 2% milk for best results.
Cornstarch: Helps thicken the sauce without adding extra fat.
Tomato paste: Enhances the tomato flavor.
Cream cheese: I used ⅓ less fat cream cheese to make the sun-dried tomato fettuccine alfredo sauce.
Cheese: I used a blend of freshly grated Parmesan and shredded mozzarella.
How to Make Sun-Dried Tomato Alfredo Pasta
The base of the flavorful sauce is sauteed sun-dried tomatoes, garlic and a dash of red pepper flakes. The aroma alone will make you drool.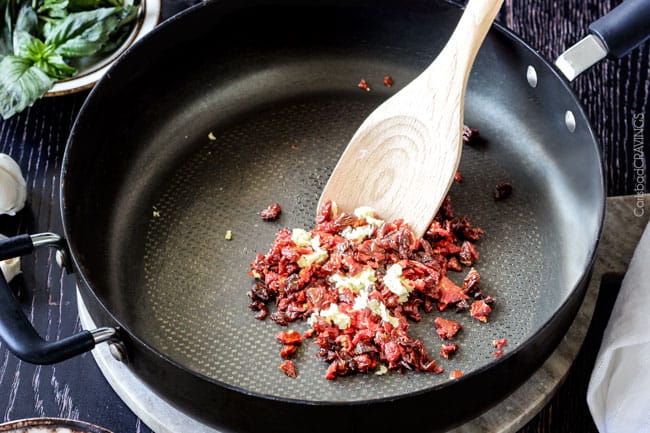 Sprinkle in some flour, whisk in some chicken broth and milk and the perfect rainbow of Italian spices, then stir in your freshly grated Parmesan cheese and mozzarella cheese…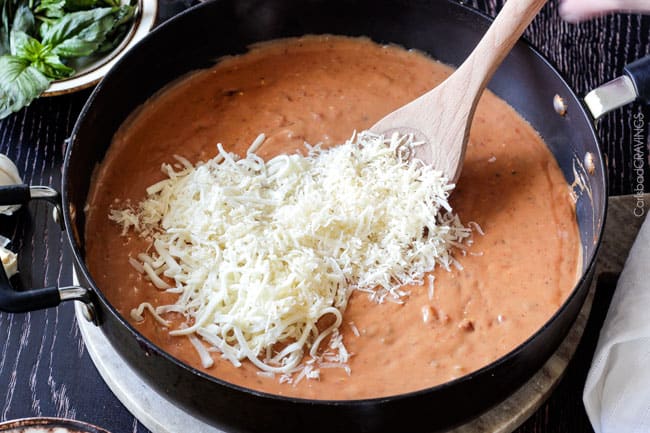 And finally bathe your fettuccine in the creamy comforting goodness…
And prepare for your eyes to roll back in your head as you slurp the velvety noodles.
And prepare to crave this Lightened Up Sun-Dried Tomato Fettuccine Alfredo long after your last twirled forkful.
Hello, comfortlicoius…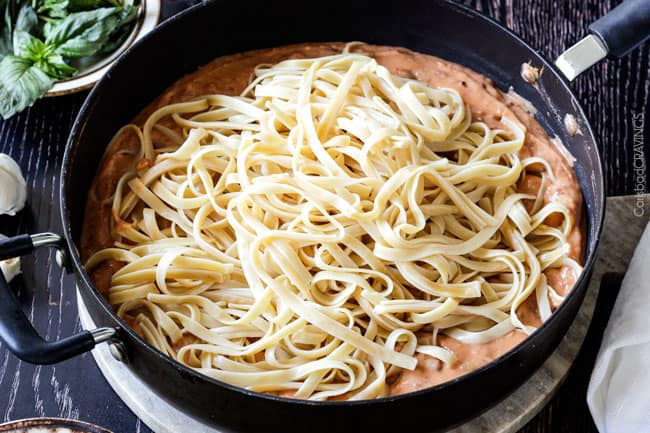 Tips for Making Sun-Dried Tomato Alfredo Sauce
Purchase sun-dried tomatoes packed in OIL not dry packaged ones.
Use more or less sun-dried tomatoes depending on desired taste.
Rinse tomatoes very well so your pasta isn't oily. You can chop your sun-dried tomatoes smaller instead of strips if you prefer.
If you don't have enough sun dried tomato olive oil when called for, then use regular olive oil.
Recipe Variations to Try
Add protein. This healthy fettuccine alfredo is a great base for chicken, Italian sausage, or even shrimp.
Add artichokes. Artichokes are tender, slightly sweet and nutty and divine paired with tomatoes. Purchase artichoke hearts in water NOT marinated. The marinated ones often have an acrid taste.
Make it gluten-free. Use your favorite gluten-free pasta and gluten-free flour in the sauce.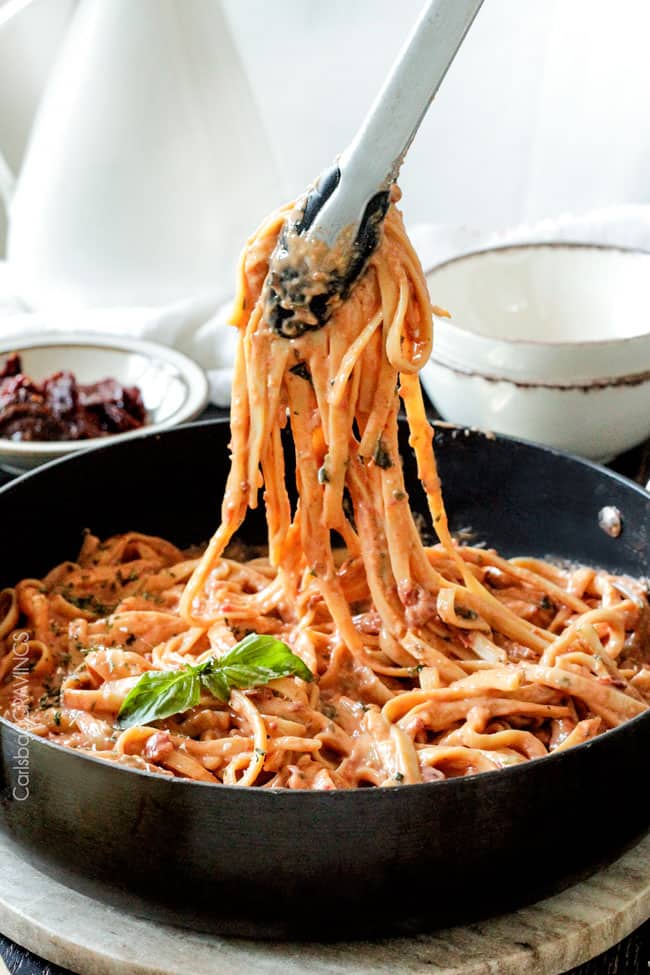 CAN I PREP SUN DRIED TOMATO Alfredo Pasta IN ADVANCE? 
You can make the homemade fettuccine alfredo 100% ahead of time and gently warm (see instructions), or prepare elements in advance so it can come together super quickly at dinner time. That being said, it already is a super quick meal! If you know you are reheating, take extra care that your pasta is al dente.
To prep ahead:
Pasta: cook the pasta al dente, drain with cool water and toss with a drizzle of oil to prevent it from sticking together. Store in an airtight container in the refrigerator until ready to use.
Aromatics: mince the garlic, chop the tomatoes.
Cheese: grate the Parmesan.
HOW TO STORE Fettuccine Alfredo
Sun dried tomato fettuccine alfredo should be stored in an airtight container in the refrigerator. When properly stored, it is good for up to five days.
HOW TO REHEAT Fettuccine Alfredo
This healthy fettuccine alfredo reheats well so you can enjoy leftovers for days! Just be aware you always want to make sure your pasta is cooked al dente, especially if you are going to be reheating.
Microwave: Microwave for one minute, stir, then continue to heat at 30 second intervals until warmed through. You may need to add a splash of milk to add some creaminess back.
Stove: For larger portions, reheat pasta on the stove. You may need to add a splash of milk to thin the sauce as it will have thickened in the refrigerator.
CAN I FREEZE SUN DRIED TOMATO Alfredo Pasta?
I do not recommend freezing this pasta because the creamy sauce can break and become a funny texture.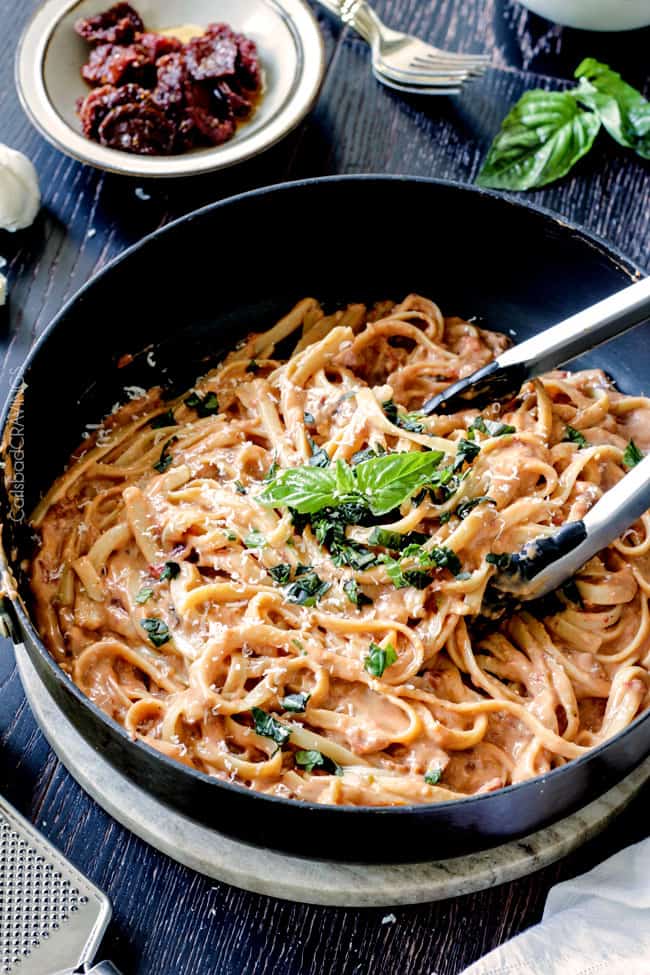 WHAT TO SERVE WITH Sun-Dried Tomato Fettuccine Alfredo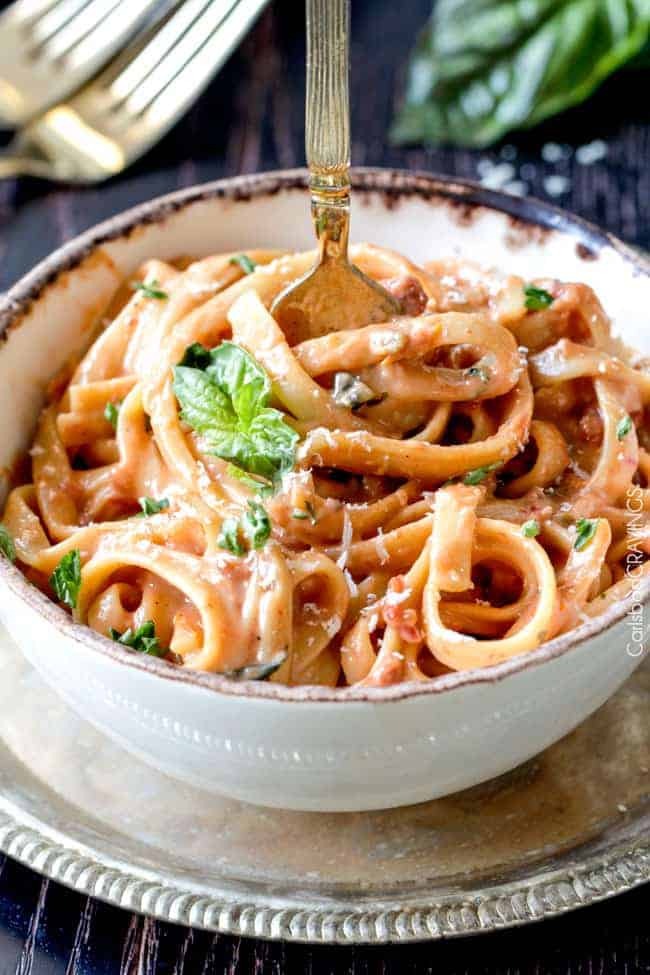 Looking for more easy pasta recipes?
Lightened Up Sundried Tomato Fettuccine Alfredo
Save This Recipe To Your Recipe Box
You can now create an account on our site and save your favorite recipes all in one place!
Ingredients
16

oz

fettuccine noodles

2

tablespoons

oil from sundried tomatoes in oil jar

1/2

cup

sundried tomato halves

, drained and finely chopped

1/8-1/4

teaspoon

red pepper flakes

or more to taste

2

tablespoons

all-purpose flour

2

cups

low sodium chicken broth

1 1/2

cups

milk

(I use lowfat)

1

tablespoon

cornstarch

1

tablespoons

tomato paste

1/2

tsp EACH

dried basil, dried parsley, onion pwdr, salt

1/4

tsp EACH

dried oregano, pepper

2

oz.

⅓ less fat cream cheese, cubed

3/4

cup

freshly grated Parmesan

1/3

cups

shredded mozzarella
Garnish (optional)
freshly grated Parmesan

fresh basil
Instructions
Cook fettuccine in salted water according to package directions. Strain and set aside.

Meanwhile, heat 2 tablespoons sundried tomato oil over medium heat in a large pan. Add sundried tomatoes, garlic and red pepper flakes and saute for one minute. Sprinkle in flour and continue to cook for 2 minutes, stirring constantly.

Turn heat to low and stir in chicken broth. Whisk cornstarch with milk and add to pan along with tomato paste, basil, parsley, onion powder, oregano, salt and pepper. Bring sauce to a simmer and continue to cook and stir until sauce is thickened (but not overly thick), approximately 5 minutes.

Reduce heat to low and stir in cream cheese until melted, followed by Parmesan cheese until melted. Keep heat on low until fettuccine is done cooking, then stir in mozzarella cheese until melted then fettuccine until evenly coated.

Taste and season with additional salt, pepper and/or red pepper flakes to taste. Garnish with freshly grated Parmesan Cheese, and fresh basil if desired (optional).
Did You Make This Recipe?
Tag @CarlsbadCravings and Use #CarlsbadCravngs
Leave a Review, I Always Love Hearing From You!
Carlsbad Cravings© Original