Roasted Shrimp Fettuccine Alfredo smothered in a velvety, creamy Alfredo sauce that's lightened up but tastes every bit as decadent as the finest restaurant Alfredo without any of the guilt or the price!
This Roasted Shrimp Fettuccine Alfredo Recipe is bursting with juicy oven roasted shrimp and crisp-tender broccoli made extra easy in the oven! This deceptively easy Shrimp Alfredo can be on your table in 30 Minutes!
Shrimp Alfredo
Sometimes I am secretly giddy Patrick is allergic to shrimp. Is that awful? Don't get me wrong, I feel sorry for the guy, and I don't rub it in his face and if I could change it, I would…but his allergy to shrimp means I get to stuff shrimp dinners into my face – and only my face.
Some of my favorite shrimp dinners include Lemon Garlic Butter Shrimp Fettuccine, Sheet Pan Lemon Garlic Butter Shrimp, Shrimp Fajitas, Cilantro Lime Shrimp Tacos, and Bacon Wrapped Shrimp and now this epic Roasted Shrimp Fettuccine Alfredo!
Good thing this Shrimp Fettuccine Alfredo its lightened up because I slurped every last Parmesan, mozzarella drenched shrimp cradled in fettuccine noodles down over a couple of days.
You might think I'd get sick of Shrimp Fettuccine Alfredo after the first couple rounds, by my goodness, this pasta is so good, the more I ate, the more I craved it. Does that qualify as an addiction? It feels like one.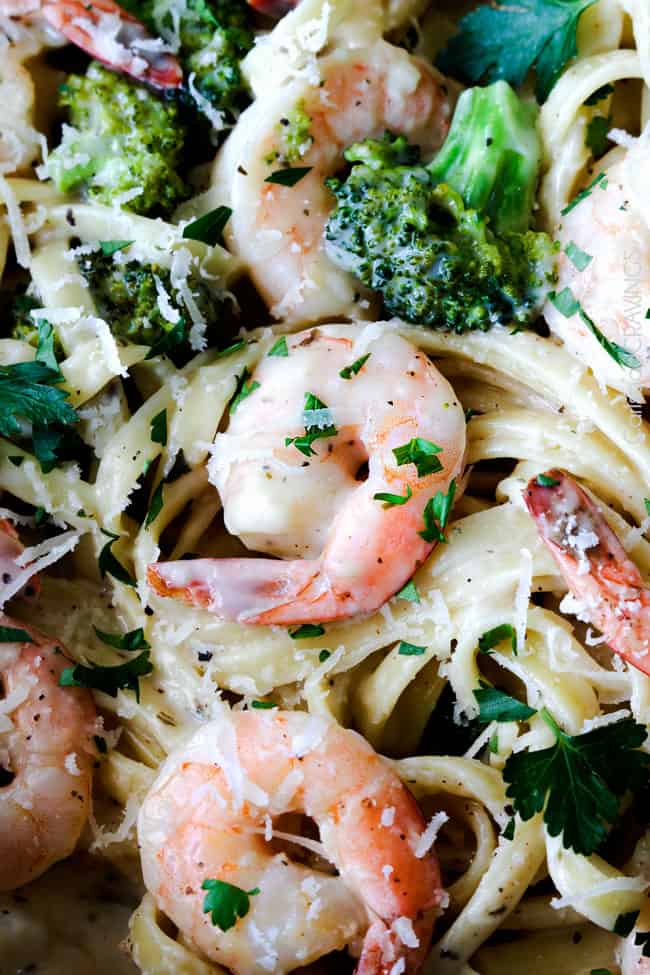 How do you clean shrimp before cooking?
I like to purchase shrimp that is already peeled and deveined so all the work is done for me! If you purchase shrimp that is not deveined, it will still have the dark, sandy intestinal tract running along the back of the shrimp just beneath the surface. Sometimes it will be very dark and sometimes it will be harder to spot depending on when the shrimp ate last.
While eating the shrimp with the veins won't harm you, it can add grittiness and distract from the clean shrimp taste so I highly recommended removing it. To devein shrimp:
Locate the vein in the shrimp running along its back.
Make a shallow cut with and use the tip of the knife to lift it out.
The veins and shells can then be thrown away.
Rinse the shrimp and lay on a paper towel to dry.
Before cooking, breading, make sure the shrimp is very dry so the flour will stick.
HOW DO I DEFROST SHRIMP?
I keep frozen shrimp stocked in my freezer so I can make this Shrimp Fettuccine Alfredo at a moments notice!
To defrost shrimp:
Quick Defrost: Place the frozen shrimp in a colander then place the colander in a large bowl. Fill the bowl with cold tap water and let it sit for 10 minutes. After 10 minutes, replace the water with new cold tap water and submerge the shrimp again. Let shrimp sit an additional 10- 20 minutes. If the shrimp isn't completely defrosted, then repeat.
Easy Defrost: The easiest way to defrost your shrimp in the refrigerator overnight.
How to make Shrimp Fettuccine Alfredo with Broccoli
Not only is this Alfredo sauce to live for, but the shrimp and broccoli are tossed in olive oil, and kisses of paprika, onion powder, garlic powder, salt and pepper so they are bursting with flavor as you first roast the broccoli for 4 minutes then add the shrimp and roast for 6-8 more minutes for perfectly crisp-tender broccoli and perfectly cooked shrimp for your soon to be Shrimp Fettuccine Alfredo.
Roasted shrimp and broccoli. I am a fan. Huge fan. (If you have never roasted shrimp and/or broccoli, I think this will become your new favorite method!) Sneak a few roasted morsels before they get dunked in Alfredo sauce and you won't be able to keep your hands off. I also use this method in my Sheet Pan Shrimp Scampi – a must!
What spices go well with alfredo?
While the magic of roasting is transpiring, you whip up your lightened up rich, creamy Alfredo sauce that masquerades as pure decadence but boasts only a fraction of the fat as the traditional Alfredo sauce. The sauce for this Shrimp Fettuccine Alfredo is made with both Parmesan cheese and mozzarella cheese for a depth of flavor while complimented by garlic, basil, parsley and red pepper flakes so you don't miss all the extra butter or heavy cream.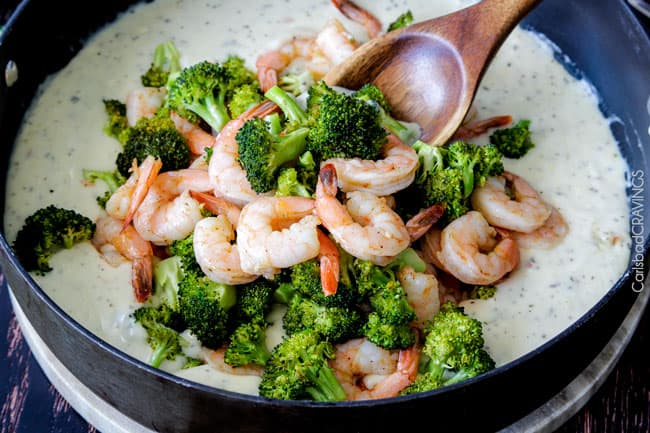 After you stir in your roasted shrimp and broccoli to the Alfredo, you stir in your fettuccine…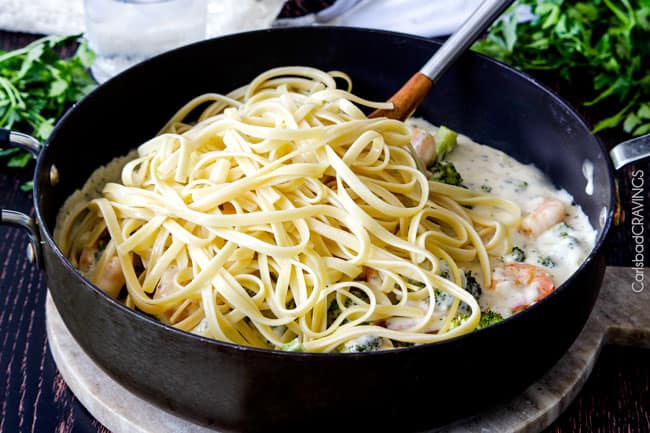 And in less than 30 minutes your family will be singing your praises for making slurp worthy Shrimp Fettuccine Alfredo.
How do you thicken Alfredo sauce?
The sauce for this Shrimp Fettuccine Alfredo should be thick enough to coat the back of a spoon. If it's not as thick as you would like, you can either thicken with cornstarch or flour.
Cornstarch: Whisk 1 tablespoon cornstarch with 3 tablespoons chicken broth with a fork until smooth then whisk it back into the Alfredo sauce. Simmer until thickened. Repeat if necessary.
Flour and butter: Whisk 2 tablespoons of flour with ¼ cup chicken broth with a fork until smooth then whisk it back into the Alfredo sauce. Simmer until thickened. Repeat if necessary.
What if my pasta sauce is too thick?
Alfredo Sauce can become too thick if its simmered at too high of heat or for too long. But don't worry, its SO easy to fix! Simply stir in a little milk or chicken broth until it reaches desired consistency.
Things to avoid
This Shrimp Fettuccine Alfredo Recipe is super simple to make, just take care you don't overcook your pasta or shrimp.
Overcooking the pasta: When you add cooked pasta back into the pan after draining, it can cook a little bit more. So I recommend testing your pasta about 2 or 3 minutes before the box recommends. Taste it and see if it is al dente– meaning it should still be a little firm in the center of your fettuccine. With a little extra time in the skillet with the sauce, it will be cooked just right. You can always cook it more in the sauce but you can't fix it if it's overcooked before you add it to the sauce.
Overcooking the shrimp: The shrimp should take approximately 6-8 minutes to cook. If it's done before your broccoli for whatever reason, then remove your shrimp and continue to roast the broccoli because if you overcook the shrimp it will be tough and rubbery instead of juicy.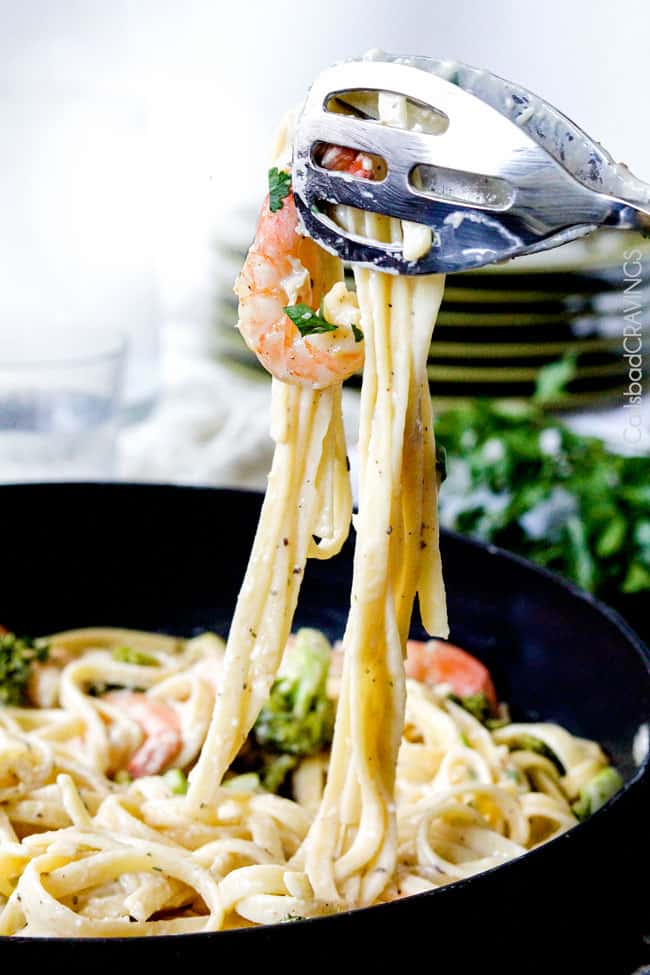 How do I know when My Shrimp is Done Cooking?
Color:  Raw shrimp starts off  translucent gray and as it cooks, it turns pink and opaque with some pink and bright red accents.  You will want to remove the shrimp from the oven as soon as it is fully opaque without any gray left.  To do this, check the shrimp at 6 minutes.  Look at the crevice in the back of the shrimp where the vein was removed.  When the base of this crevice becomes opaque, the shrimp is done.
Shape:  You can also check the shape of your shrimp but this is not as good of an indicator as color.  As shrimp cook, their muscle contract which cause them to curl.  As soon as the shrimp begin to curl, they are usually done cooking.  Some claim that perfectly cooked shrimp have  "C" shape while over cooked shrimp have an "O" shape.  I think you'll find that almost all shrimp, maybe with the exception of jumbo shrimp, still have an "O" shape without being overcooked.
Can I Prepare Shrimp Fettuccine Alfredo Ahead of Time?
You can completely make and assemble your Shrimp Fettuccine Alfredo ahead of time and gently warm (instructions below) or prepare elements in advance so it can come together super quickly at dinner time.  That being said, it already is a super quick meal as you can cook the sauce, pasta and shrimp all at the same time.
Alfredo Sauce: You can make the Alfredo sauce ahead of time and gently warm it over the stove with a splash of chicken broth or milk when you're ready to use.
Shrimp and Broccoli: You can also roast your shrimp and broccoli ahead of time, but I would advise against this as shrimp is juiciest if only cooked once. Instead, I recommend preparing the shrimp and broccoli but not cooking it yet.
Fettuccine: You can cook the pasta al dente, drain with cool water and toss with a drizzle of oil to prevent it from sticking together. Store in the refrigerator until ready to use.
How long is Shrimp Fettuccine Alfredo Good For?
Shrimp Fettuccine Alfredo should be stored in an airtight container in the refrigerator. When properly stored, Shrimp Alfredo is good for three days.
How do I reheat Shrimp
Fettuccine

Alfredo?
Microwave: Add a splash of chicken broth, water or milk to your individual serving of Shrimp Fettuccine Alfredo. You don't need to stir it in, yet. Microwave for one minute, stir, then continue to heat at 30 second intervals until warmed through.
Stove: For larger portions, reheat Shrimp Fettuccine Alfredo on the stove. You will need to add a splash of chicken broth to thin the sauce as it will have thickened in the refrigerator. If you know you are going to be reheating your Shrimp Alfredo, take extra care not to overcook the shrimp or fettuccine.
What goes well with fettuccine alfredo?
You can serve this Shrimp Fettuccine Alfredo with just a big salad and crusty bread. Some of our other favorite sides include:
Come and get it.
Looking for more pasta recipes?
WANT TO TRY THIS SHRIMP FETTUCCINE ALFREDO RECIPE?
Pin it to your ITALIAN, SEAFOOD or DINNER BOARD to SAVE for later!
Find me on Pinterest for more great recipes! I am always pinning :)!
©Carlsbad Cravings by CarlsbadCravings.com
Roasted Shrimp Fettuccine Alfredo (Lightened up!)
Roasted Shrimp Fettuccine Alfredo smothered in a velvety, creamy Alfredo sauce that's lightened up but tastes every bit as decadent as the finest restaurant Alfredo without any of the guilt or the price! This Roasted Shrimp Fettuccine Alfredo Recipe is bursting with juicy oven roasted shrimp.
Save This Recipe To Your Recipe Box
You can now create an account on our site and save your favorite recipes all in one place!
Ingredients
Roasted Shrimp and Broccoli
Fettuccine Alfredo
12

oz.

fettuccine

1

tablespoon

olive oil

1

tablespoon

butter

1/4

cup

all-purpose flour

1 3/4

cups

chicken broth

1 1/2

cups

milk

(I use lowfat)

1

teaspoon

dried basil

1/2

tsp EACH

salt, dried parsley, onion pwdr

1/4

teaspoon

black pepper

dash of red pepper flakes

(optional)

1/2

cup

freshly grated Parmesan cheese

3/4

cup

shredded mozzarella cheese

2

oz

cream cheese, cubed

(I use ⅓ less fat)
Optional Garnishes
freshly grated Parmesan cheese

fresh parsley
Instructions
Preheat oven to 400F degrees.

Cook pasta al dente according to package directions in generously salted water.

Meanwhile, combine 2 ½ tablespoons olive oil and spices listed under "Roasted Shrimp and Broccoli" in a small bowl. Add 2 tablespoons of this olive oil spice mixture to a large bowl and toss with broccoli. Line broccoli on a large baking sheet and bake for 4 minutes at 400F degrees.

Meanwhile, add remaining olive oil spice mixture to large bowl and toss with shrimp. After broccoli has baked 4 minutes, add shrimp to baking tray with broccoli and continue to roast an additional 6-8 minutes or until shrimp are opaque and broccoli is crisp tender.

Meanwhile, melt butter in olive oil over medium-low heat in a large skillet. Add the garlic and sauté for 30 seconds. Sprinkle in flour and cook while stirring for 3 minutes, or until raw flour smell is gone, then turn heat to low. Slowly whisk in chicken broth, then milk, stirring constantly until smooth. Turn heat to medium high and bring the sauce to a simmer. Stir in spices and continue to simmer until slightly thickened, stirring occasionally.

Reduce heat to medium-low and stir in Parmesan cheese until melted, followed by mozzarella cheese until melted. Stir in cream cheese until melted. Stir in roasted broccoli and shrirmp followed by al dente pasta until well coated in sauce, adding additional milk if needed to reach desired consistency. Taste and season with additional salt, pepper and/or red pepper flakes to taste.

Garnish with freshly grated Parmesan Cheese, fresh parsley and lemon (optional).
Did You Make This Recipe?
Tag @CarlsbadCravings and Use #CarlsbadCravngs
Leave a Review, I Always Love Hearing From You!