This Tortellini Al Forno (Bake) is one of my all time favorite pastas ever loaded with cheesy tortellini and incredibly flavorful Bolognese sauce!
Tortellini Al Forno is a MUST MAKE if you love pasta. It is hearty, comforting and the layers of cheesiness can't be beat! I can pretty much guarantee that your whole family (you included) will go crazy for this pasta!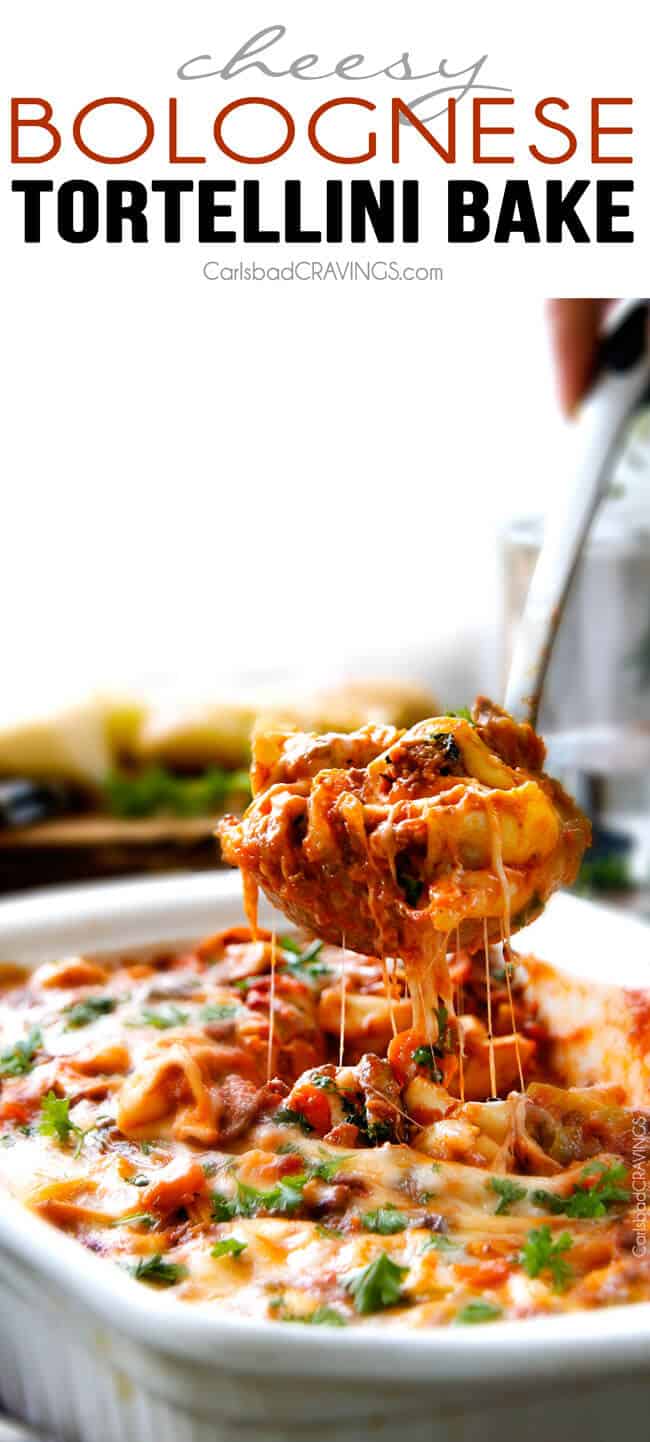 What is Tortellini Al Forno?
If you love Italian food as much as me, you know there are a few Italian recipe staples you need in your back pocket such as Classic Lasagna, Chicken Parmesan, Italian Meatballs, Spaghetti Bolognese, Sun-Dried Tomato Pasta, Shrimp Fettuccine, and of course, my famous Million Dollar Mac and Cheese. But did you know Tortellini Al Forno is also an Italian Staple?
Al forno is Italian food that has been baked in an oven such as pizza, bread and of course, pasta. Tortellini Al Forno is tortellini smothered in sauce then baked in the oven and this Tortellini Al Forno is perfecto!
Tortellini Al Forno Recipe
I feel like I'm breaking the rules by posting a this Tortellini al Forno casserole in August. After all, its one of the hottest months of the year but after all these grilling recipes, I am really craving some cheeeeese! And let's be clear, this isn't just any Tortellini Al Forno. Its not just a cheese tortellini bake, or a vegetable tortellini bake, or a marinara tortellini bake but an ooey gooey, Cheesy Bolognese Tortellini Al Forno – which means it has it all!
And as you know from my obsession with tortellini from my Chicken Tortellini Soup to my Creamy Tortellini Toscana to my Italian Pasta Recipe with Tortellini to my Creamy White Bean and Ham Tortellini Soup – tortellini makes EVERYTHING better! Tortellini will soon have your heart too (if it doesn't already) with this Tortellini Al Forno.
I chose tortellini for this Al forno recipe because the cheesy stuffed pillows are the perfect compliment to the the texture of crisp-tender carrots, green peppers, zucchini and mushrooms, blanketed in a hearty bolognese sauce infused with Parmesan sandwiched in between two layers of mozzarella cheese, topped with more freshly grated Parmesan cheese and baked until bubbly golden perfection. Are you drooling yet?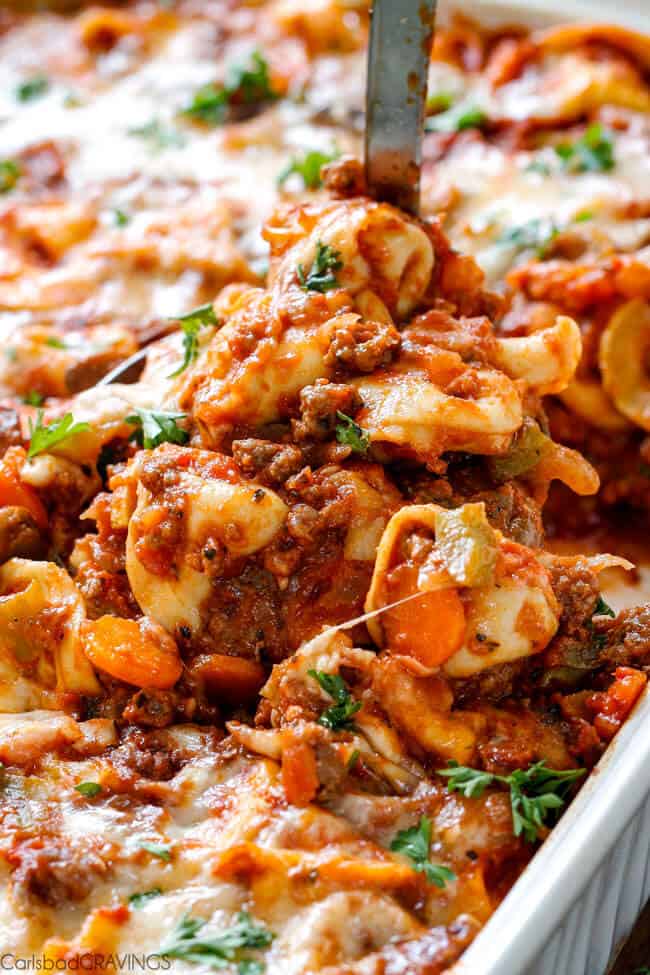 What People are Saying About this Tortellini Al Forno Recipe
Not only did my husband, a self proclaimed pasta critic after serving a mission for the Church of Jesus Christ of Latter-Day Saints in Rome for two years, give this Cheesy Bolognese Tortellini Al Forno "5 out of 5 stars," but a reader said the following when I first posted this recipe:
"Hey, Jen, I made this recipe yesterday for a large luncheon after church. (Actually I made it on Saturday and refrigerated it until yesterday when I baked it). I made a double batch and the only thing I changed was adding yellow squash with the zucchini. Everyone absolutely LOVED this recipe! The taste was awesome, the sauce was fabulous, and the cheesy gooeyness was incredible. Needless to say, we will be making this recipe AGAIN! Thanks so much for sharing."
In other words, you and your family of food critics will love this pasta!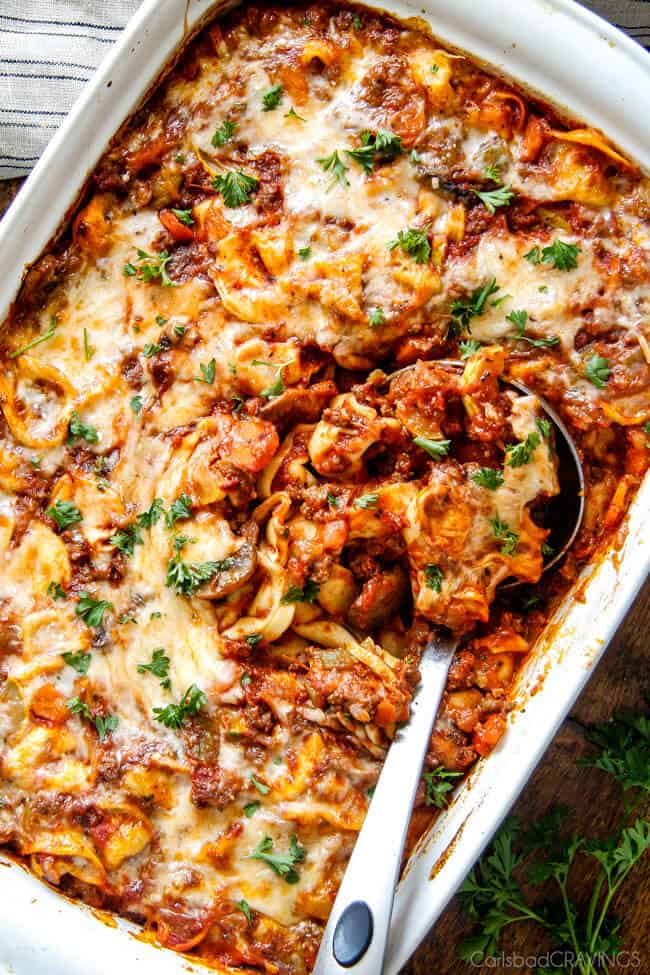 How to Make Tortellini Al Forno
This Tortellini Bake starts with a pretty typical Bolognese except with tons of flavor…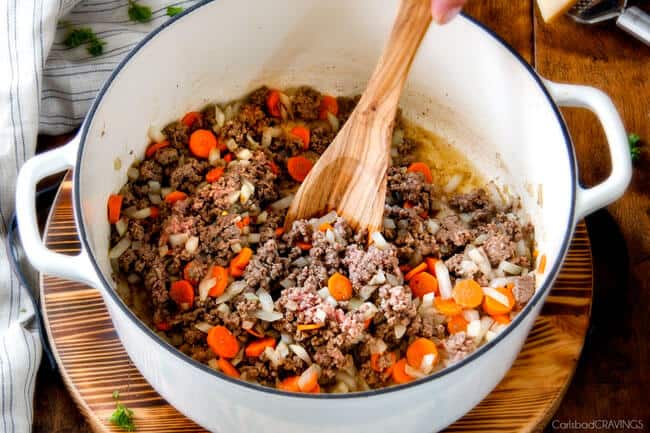 And the addition of squash…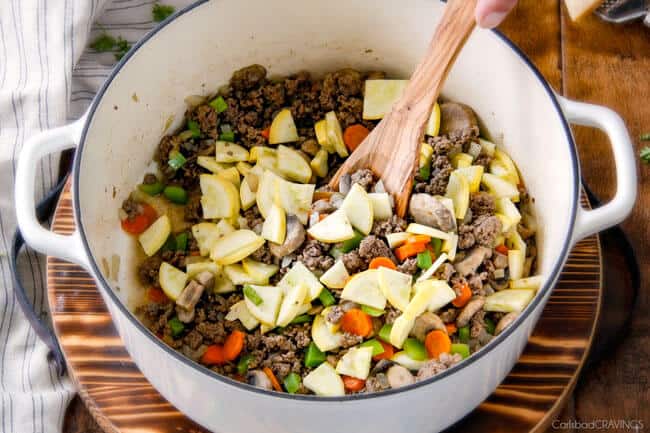 Once you have browned your meat with your onions and carrots, then you saute your mushrooms, followed by your squash and bell peppers.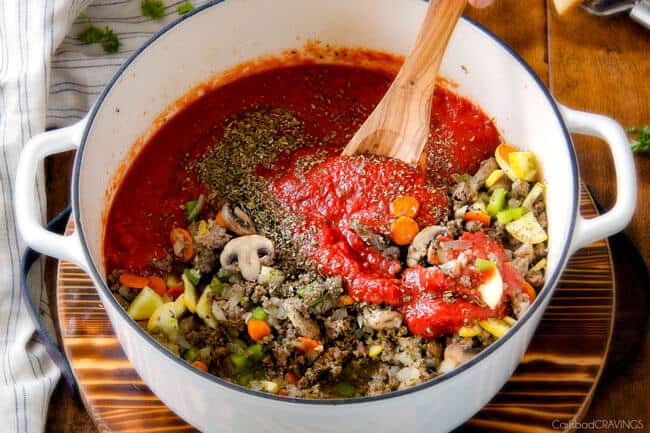 Stir in all the remaining "Bolognese ingredients" and simmer for 15 minutes for the the flavors to develop and the sauce to reduce…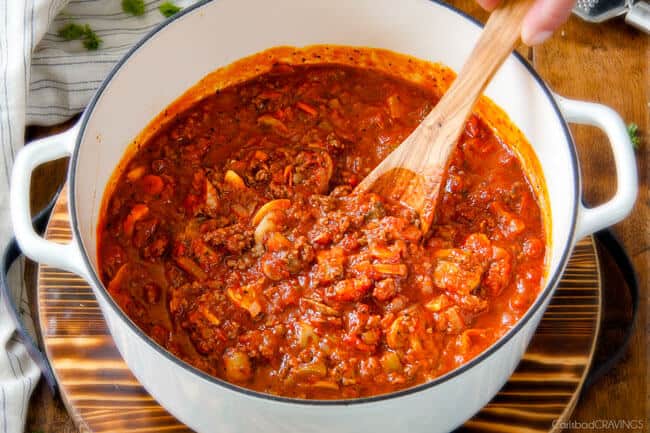 Then stir in your UNCOOKED tortellini and some Parmesan cheese…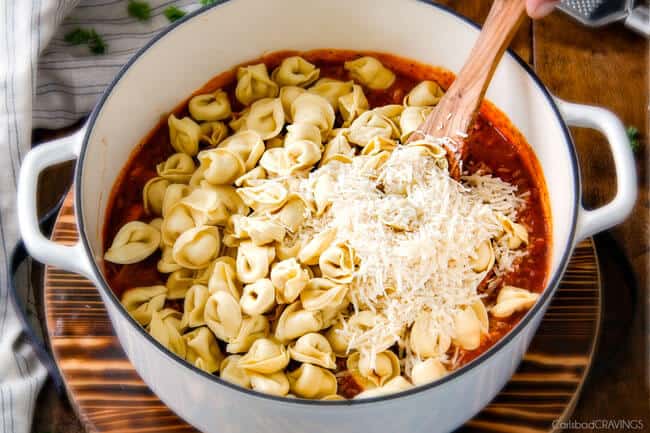 Then pour half of the Bolognese Tortellini into a 9×13 dish…
Top with a layer of mozzarella, the remaining Bolognese Tortellini then another layer of mozzarella and Parmesan and bake to golden cheesilicoiusness.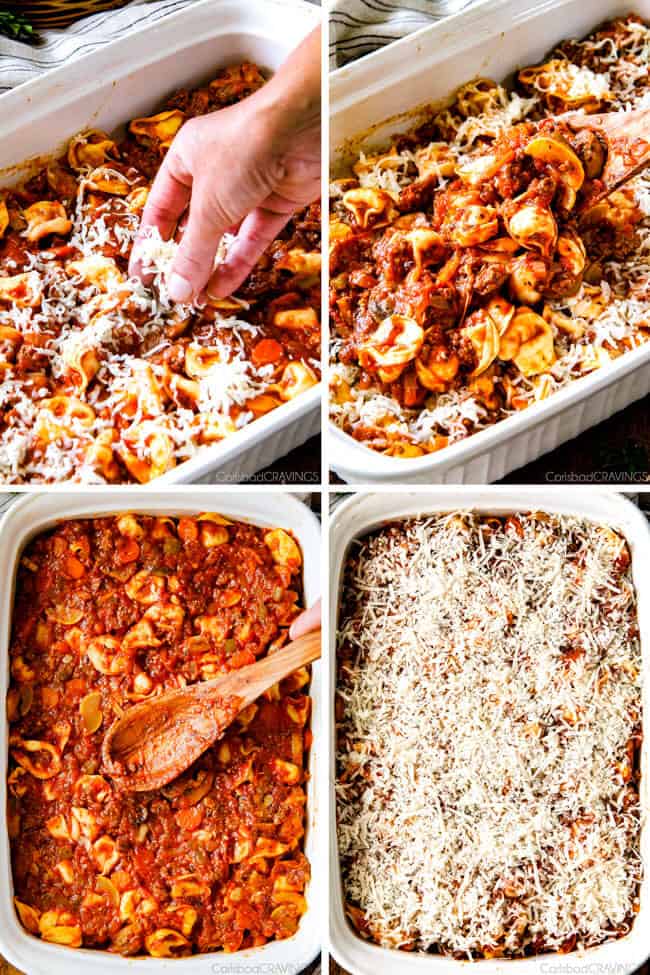 And then dig in to the hearty, cheesy, Bolognese bathed pillows of tortellini. And then you might understand why I have so many photos…
Because I just can't get enough!!!!
Cheesy Bolognese Tortellini Bake. It will win your heart ooey gooey bite after bite after bite…
Looking for more Italian pasta recipes?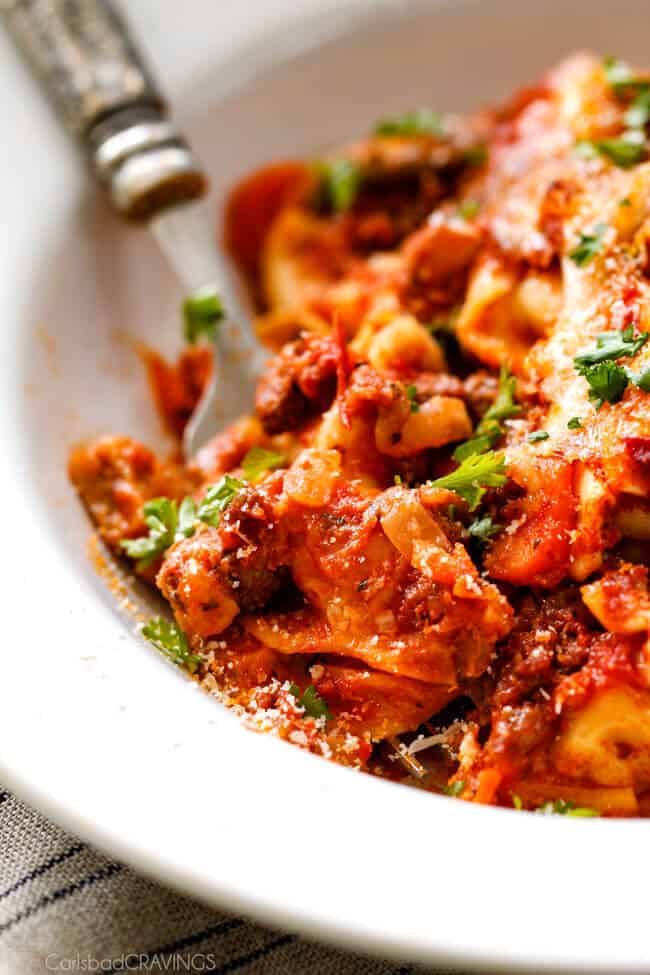 Want to try this Cheesy Tortellini Al Forno Recipe?
Find me on Pinterest for more great recipes!  I am always pinning :)!
©Carlsbad Cravings by CarlsbadCravings.com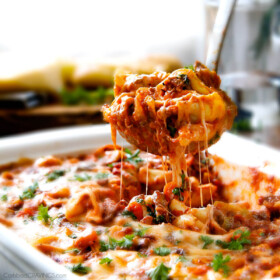 Cheesy Bolognese Tortellini Al Forno
Save This Recipe To Your Recipe Box
You can now create an account on our site and save your favorite recipes all in one place!
Ingredients
1

20 oz. package

fresh cheese tortellini – UNCOOKED***

1/4

cup

milk

2

cups

freshly grated mozzarella cheese, divided

1

cup

freshly grated Parmesan cheese, divided
Instructions
Heat 2 tablespoons olive oil in a Dutch Oven (or very large pot) over medium high heat. Add meat and season with ½ teaspoon salt, ½ teaspoon pepper and ¼ teaspoon red pepper flakes. Add onions and carrots and cook until meat is browned.

Add mushrooms and continue to cook for 5 minutes, stirring occasionally. Add squash, bell peppers and garlic and cook for 1 minute.

Stir in all of the remaining "Bolognese Sauce ingredients" and bring to a simmer. Simmer gently uncovered for 15 minutes, stirring occasionally.

Meanwhile, preheat oven to 350 degrees F.

After 15 minutes, discard bay leaf and stir in ¼ cup milk, ½ cup Parmesan and the uncooked tortellini. Stir until well combined then pour ½ of this Bolognese tortellini into a 9×13 casserole dish. Top with 1 cup mozzarella then top with remaining Bolognese tortellni followed by remaining cheeses.

Cover tightly with foil and bake at 350 degrees for 30 minutes then remove foil and broil cheese until golden brown.
Notes
***Use your favorite quality tortellini because that's what makes this dish! I love the Seven Cheese Olivieri Tortellini from the refrigerated section at Costco as well as
3 Cheese Buitoni Tortellini.
Did You Make This Recipe?
Tag @CarlsbadCravings and Use #CarlsbadCravngs
Leave a Review, I Always Love Hearing From You!
Carlsbad Cravings© Original