Juicy, flavorful Italian meatballs bathed in rich marinara, smothered in mozzarella and Parmesan and baked to golden cheesy deliciousness  – AKA my new deliciously comforting obsession!   
These Authentic Italian Meatballs will be the only Italian meatballs you ever want to eat and they make the BEST spaghetti and meatballs ever! Because this recipe comes from an Italian – read on!
Italian recipes have to be some of my favorite from my Lasagna and Million Dollar Baked Penne, to my Spaghetti Bolognese, to my Italian Vegetable Soup and Zuppa Toscana and now these Italian Meatballs! If you love Italian food as much as me then do yourself a favor and check out the The Slow Roasted Italian blog. I want to make every single recipe I see of theirs – from their blog, and now from their genius cookbook! Their Cookbook is packed with delicious recipes that are super flavorful but super easy like these best ever Italian Meatballs! As Donna says, "We love to find ways to take a complicated recipe and make it simply, without sacrificing flavor." And they have done just that.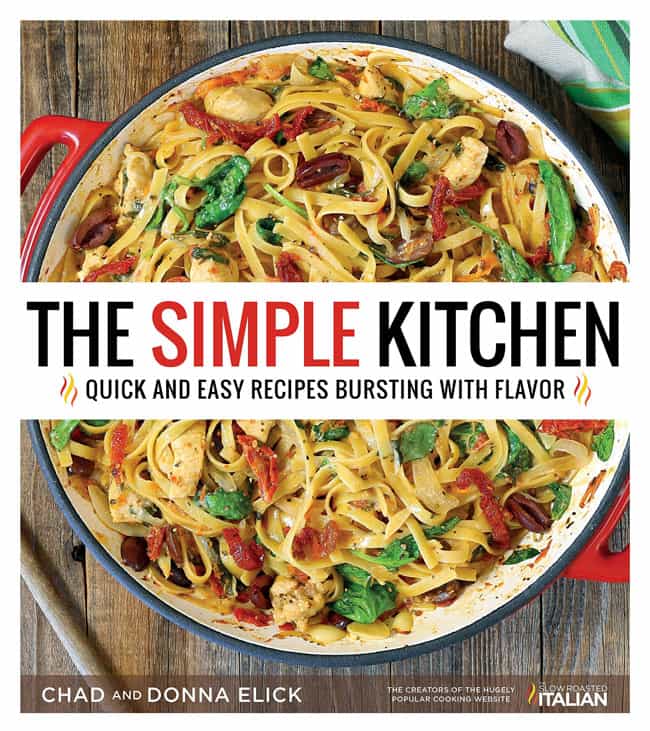 The Simple Kitchen Cookbook is loaded with over 80 easy, family recipes (with a whole chapter for one pot meals!) such as Tuscan Garlic Chicken and Linguine, Lemon Rosemary Chicken and Rice, Cheesy Cajun Pasta, Slow Cooker Mexican Roast Beef Dip Sandwiches and more drool worthy recipes. Quite simply, this cookbook belongs in your life and would make a wonderful gift this holiday season!
While I had the hardest time choosing a recipe from The Simple Kitchen Cookbook, to share with you (and still have a gazillion bookmarked to try), I am ecstatic I landed on these Cheesy Baked Italian Meatballs (called Meatball Parmesan Skillet in the cookbook, pg 46), because they BLEW ME AWAY. and they will blow you away.
I knew these Italian Meatballs would be good because Donna, after all is Italian, but I wasn't prepared at just how cravilicious they would be.  They are perfect.  I wouldn't change a thing.  And coming from someone who loves seasonings and playing with recipes, this is the highest compliment I can give.  They are so good, in fact, I 've already used them in Cheesy Italian Meatball Sliders, because I want to devour them in every possible form. 
The Italian Meatballs recipe itself is quite a few ingredients – BUT DON'T BE INTIMIDATED, this is actually an incredibly easy recipe, that takes just over 30 minutes to make! Most of the ingredients are seasonings so they literally take seconds to dump in. The rest of the ingredients are pantry staples.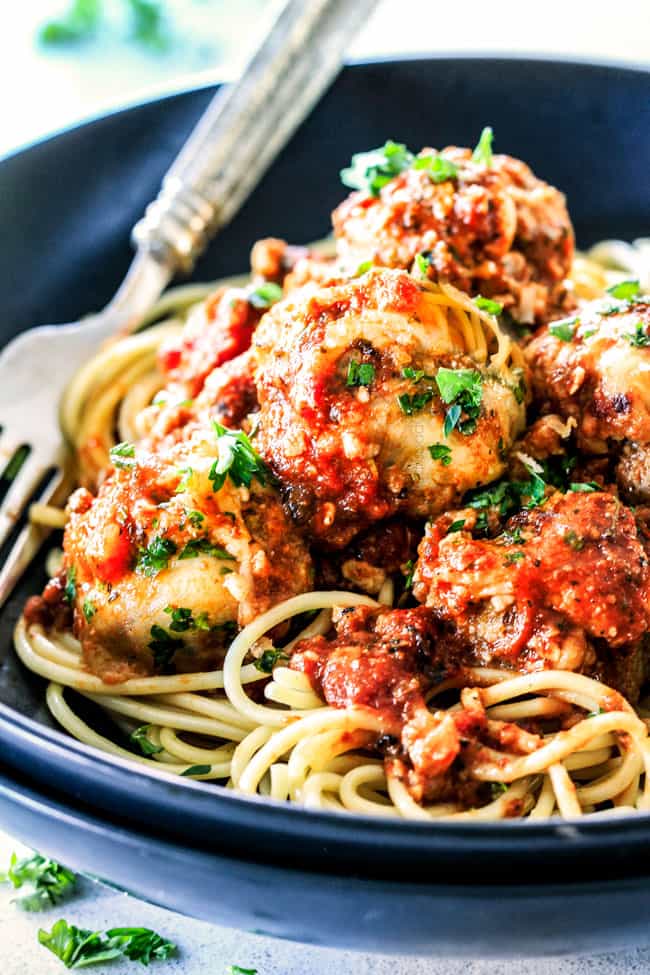 How to make Marinara from scratch
The recipe starts with a quick whisking of the Marinara Arrabbiata sauce ingredients in a saucepan: fire roasted diced tomatoes, tomato sauce, sugar and a plethora of hand picked spices. which you simmer for 5 minutes. Eazy peazy! Marinara Arabbiata or sugo all'arrabbiata in Italian, is a spicy tomato sauce and this one is wonderfully rich, seasoned to perfection and tastes like its been simmering all day. It does have a kick of heat so if you don't like heat or want to make this extra kid friendly, then I would reduce the red pepper flakes to ¼ teaspoon. I used ½ teaspoon and it was perfect for my medium spicy palate.
The key to making marinara that you don't have to simmer for hours so you can devour your Italian Meatballs ASAP is to use fire roasted diced tomatoes. Fire roasted diced tomatoes are a huge shortcut from roasting your own tomatoes. Instead, they are are gently roasted over an open fire for a great smoky, complex flavor which enhances the sweetness and mellows the acidity.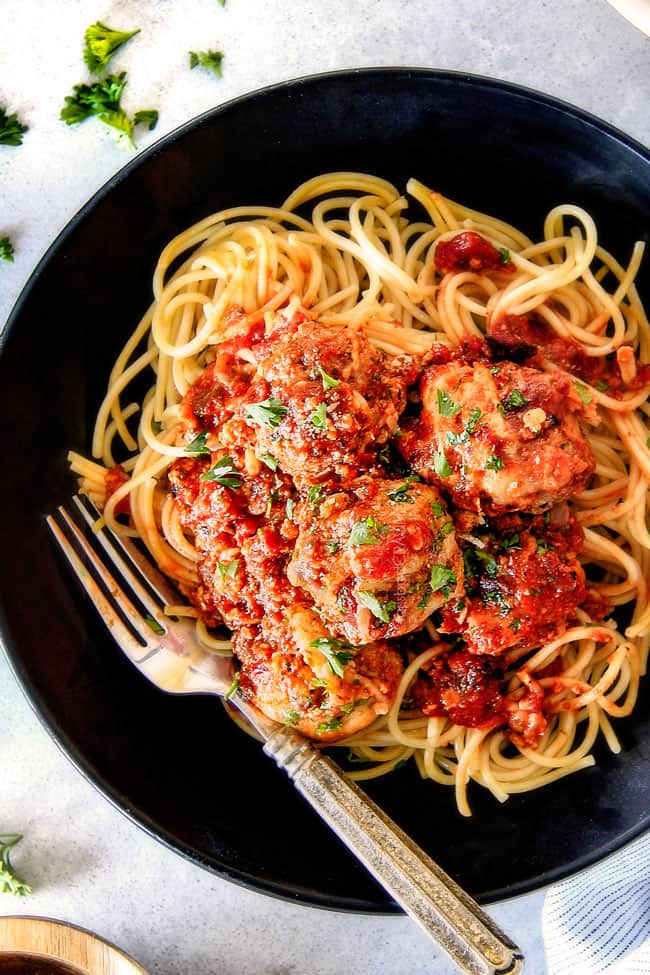 How to Make Italian Meatballs from Scratch
Next, the soft, tender, flavor bursting Italian Meatballs of your dreams. The meatballs consist of lean ground beef, Italian seasoned breadcrumbs, freshly grated Parmesan cheese, 1/2 small diced , milk, fresh rosemary, fresh Italian parsley, fresh basil, salt, pepper, garlic and 1 large egg lightly beaten. Can you taste the flavor now?!!! If you are in a crunch you can substitute dried herbs for fresh but I don't recommend substituting onion powder for the onion. The onion adds moistness as well as flavor.
Once you mix your Italian Meatball ingredients together, you drop the balls as you make them into a skillet over medium heat. So you roll and drop, roll and drop all the while the meatballs are sizzling in the skillet. As the meatballs turn golden, you roll them over and continue to roll and drop. I love this method for quick and efficient meatballs!
Next, we bathe our Italian Meatballs in our velvety Marinara Arrabbiata then bake for 15 minute. Remove meatballs from the oven, smother in mozzarella and Parmesan cheese – heavens yes! – and return to bake until ooey gooey cheesiliciousness.
You can serve these meatballs as is with toothpicks for a crowd pleasing party appetizer or I love to serve mine with spaghetti for the best spaghetti and meatballs
of
your
life.
No joke. Cheesy Baked Italian Meatballs you will want to dive face first into. And never stop.
Thank you Donna and Chad. Thank you.
LOOKING FOR MORE MEATBALL RECIPES?
WANT TO TRY THESE CHEESY BAKED ITALIAN MEATBALLS?
Pin them to your DINNER, MEAT or ITALIAN Board to SAVE for later!
Find me on Pinterest for more great recipes!  I am always pinning :)!
©Carlsbad Cravings by CarlsbadCravings.com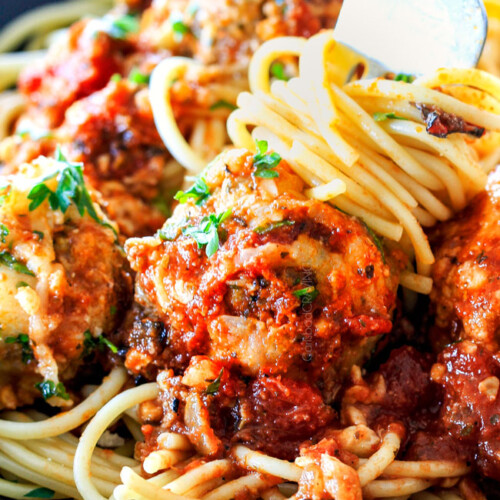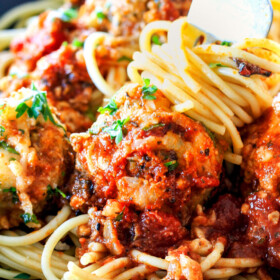 Authentic Italian Meatballs
Juicy, flavorful Italian meatballs bathed in rich marinara, smothered in mozzarella and Parmesan and baked to golden cheesy deliciousness  – AKA my new deliciously comforting obsession!   These Cheesy Baked Italian Meatballs will be the only Italian meatballs you ever want to eat and they make the BEST spaghetti and meatballs ever!  Because this recipe comes from an Italian!
Save This Recipe To Your Recipe Box
You can now create an account on our site and save your favorite recipes all in one place!
Ingredients
Meatballs
1

pound

lean ground beef

1/2

cup

Italian seasoned breadcrumbs

1/4

cup

freshly grated Parmesan cheese

1/2

small onion

diced

2

tablespoons

milk

1

tablespoon

chopped fresh rosemary

1

tablespoon

chopped fresh Italian parsley

1

tablespoon

chopped fresh basil

1 1/2

teaspoons

kosher salt

1/2

teaspoon

freshly cracked pepper

2

garlic cloves

minced

1

large egg

lightly beaten
Marinara Arrabbiata
1 14.5

oz. can fire roasted diced tomatoes

1 15

oz. can tomato sauce

1-2

teaspoons

sugar

to taste

1

tsp EACH

garlic powder, onion powder, kosher salt, dried rosemary, dried oregano, dried basil

1/2-1

teaspoon

crushed red pepper flakes

1/2

tsp EACH

dried thyme, freshly ground pepper

1/4

teaspoon

dried marjoram

1/8

teaspoon

dried sage
Toppings
2

cups

freshly shredded mozzarella cheese

1

cup

freshly shredded Parmesan cheese

2

tablespoons

chopped fresh basil

2

tablespoons

chopped fresh Italian parsley
Instructions
Combine all of the Marinara Arrabbiata ingredients in a medium saucepan over medium-high heat and stir until the sauce is well mixed. Decrease heat to a simmer and cook for 5 minutes then keep warm on low until ready to use, stirring occasionally.

Preheat oven to 375 degrees F.

In a large mixing bowl, combine all of the meatball ingredients. Using clean hands, gently mix everything until well-blended. Be careful not to overmix or your meatballs will be tough.

Add 2 tablespoon olive oil to a 12-inch oven safe skillet and heat over medium heat. Using a 2 tablespoon scoop, portion out a meatball and roll it into a ball. Place the meatball into the skillet. Continue scooping, rolling and placing the meatballs in the skillet.

Keep an eye on the meatballs and flip them over once they are golden brown. After all the meatballs have been turned at least once, remove from heat and pour the Marinara sauce over the meatballs. Place the skillet in the preheated oven. Bake for 15 minutes, or until the meatballs are cooked through.

Sprinkle the meatballs with mozzarella and Parmesan cheeses and continue baking until the cheese is melted, 3 to 5 minutes. Broil if desired. Remove from oven and sprinkle with basil and parsley.
Notes
*You may substitute 1 fresh tablespoon for 1 teaspoon dried.
**Arrabbiata is a spicy Italian sauce.  If you want more mild heat use ¼ teaspoon red pepper flakes.
Did You Make This Recipe?
Tag @CarlsbadCravings and Use #CarlsbadCravngs
Leave a Review, I Always Love Hearing From You!
©Meatball Parmesan Skillet, pg 46, The Simple Kitchen Cookbook by Donna and Chad Elick
Carlsbad Cravings© Original