Need an easy chicken dinner recipe? Try this Honey Dijon Chicken! It's ready in under 30 minutes and is so flavorful!
Sweet, Spicy (optional) and Tangy Honey Dijon Glazed Chicken is quick and easy and packed with flavor! The chicken thighs are rubbed in spices, cooked under the broiler for 12 minutes and glazed with the most incredible sauce!
Honey Dijon Chicken Recipe
It is practically Spring, which means its practically summer, which means its almost time to get out the grill! Isn't it crazy how time flies! Pretty soon I am going to be swapping all my slow cooker and soup recipes for grills, marinades and salads. In the meantime, however, I want to share my new favorite method of preparing chicken when it has a spice rub and a glaze but its too cold to grill, don't have a grill, or you simply want to cook indoors.
I discovered this method from Cooking Light and I cannot believe how easy it is. It might be old news to a lot of you, but it is old news worth getting giddy over. You simply rub chicken thighs with olive oil combined with your favorite spice rub and broil for 6 minutes on each side – that's it! You can glaze the chicken with whatever you like half way through cooking and/or at the end of cooking.
Dinner was never so easy. Giddy, no?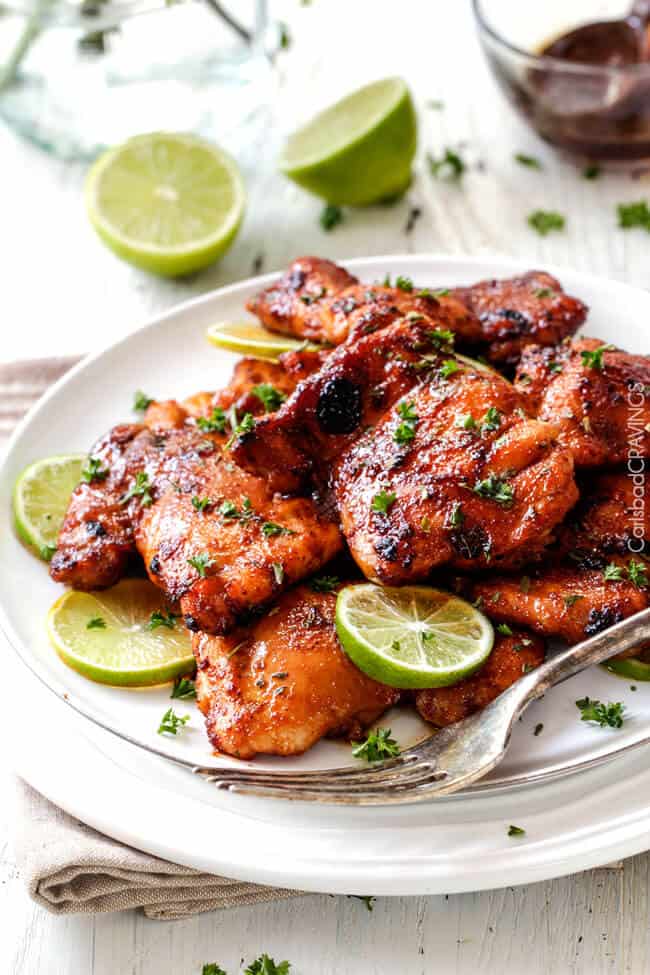 Honey Dijon Chicken Ingredients
This sweet and spicy chicken is flavored with both a dry rub and a honey mustard sauce. Here's everything you'll need to make this Dijon mustard chicken:
Chicken thighs: Normally you can substitute chicken breasts for chicken thighs, but in this recipe thighs are a must! They remain tender and juicy after being broiled, whereas chicken breasts tend to dry out.
Olive oil: You may use another neutral oil, if desired.
Spices: The chicken rub is packed with garlic powder, chili powder, cumin, onion powder, smoked paprika, and chipotle chili powder.
Honey: Sweetens the honey mustard chicken sauce.
Mustard: I used a blend of Dijon and yellow mustards.
Apple cider vinegar: You need some extra tang to balance out the honey mustard mixture.
Lemon juice: Brightens up the sauce without making it taste lemony.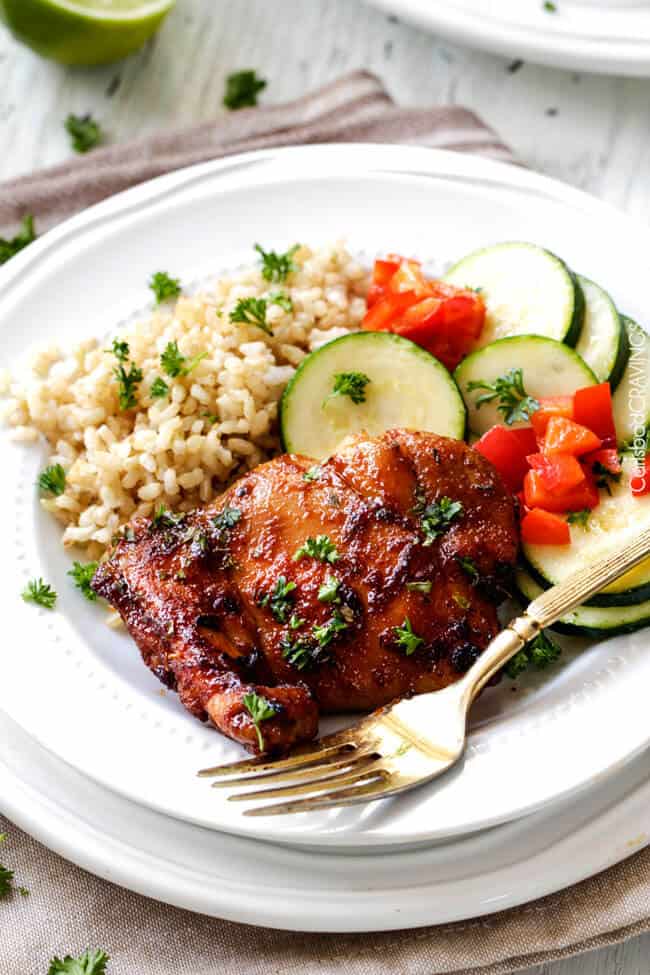 How to Make Honey Dijon Chicken
To make this scrumdidilouso Honey Dijon Glazed Chicken, combine olive oil, garlic powder, onion powder, chili powder, cumin, regular paprika and smoked paprika and chipotle powder in a bowl then rub it all over your chicken.
Broil chicken for 6 minutes per side, then brush with your Honey Dijon Sauce and broil for 1-2 more minute or until nicely browned.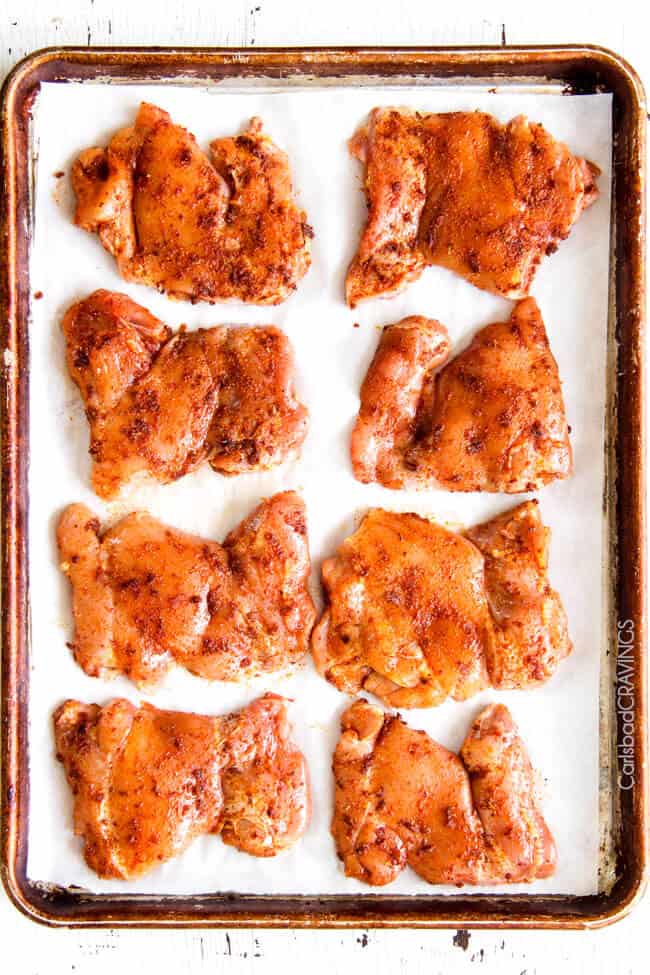 That's it for easy peasy and so delish Honey Dijon Glazed Chicken! The chicken alone is tender, juicy and packed with flavor. The Honey Dijon Sauce is sweet and tangy and intoxicating delicious. Together, they will blow your mind.
The Honey Dijon Sauce is a simple whisking of honey, Dijon mustard, yellow mustard, apple cider vinegar and a splash of lemon juice. It is sweet with a punch of acidity to balance out the honey and perfectly complements the bold rub spices.
Lastly, spoon the remaining Honey Dijon Glaze over the cooked chicken and dig in to juicy Honey Dijon Glazed Chicken!
Giddy.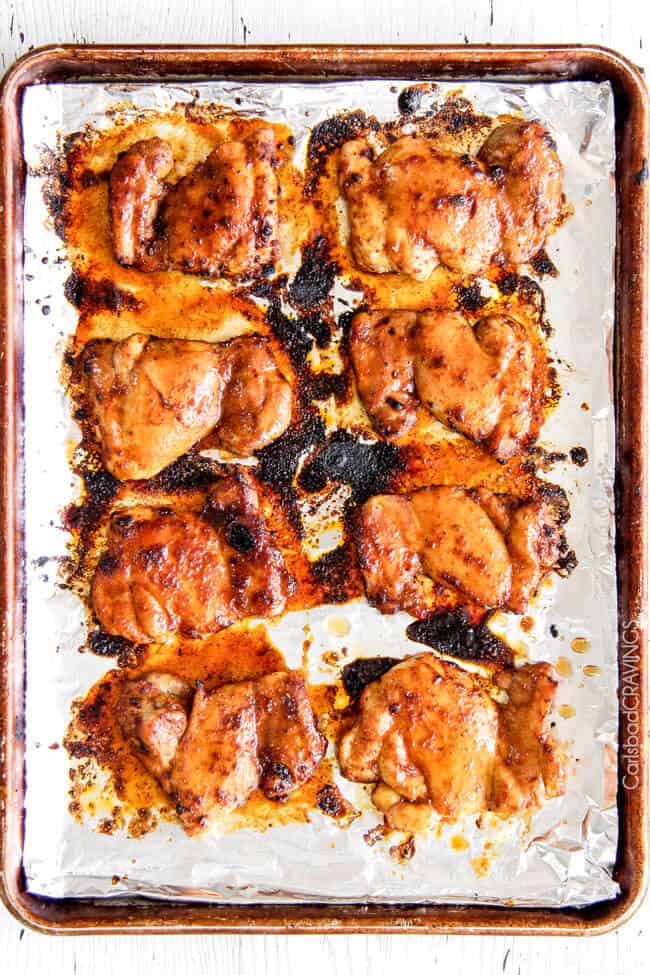 Tips for Making Dijon Mustard Chicken
A word about this cooking method – it is important that you use boneless, skinless chicken thighs instead of chicken breasts. Not only are chicken thighs more flavorful, but most importantly, they will remain tender and juicy after cooking at such a a high temperature whereas chicken breasts will dry out.
You will want to trim your chicken thighs of excess fat before smothering in the rub. I like to use my kitchen shears to make this super quick.
If you don't like spice at all, you can can completely omit the chipotle chili powder but I don't find ½ teaspoon very spicy and would still consider it family friendly. If you love spicy, you can increase the chipotle chili powder to 1 teaspoon.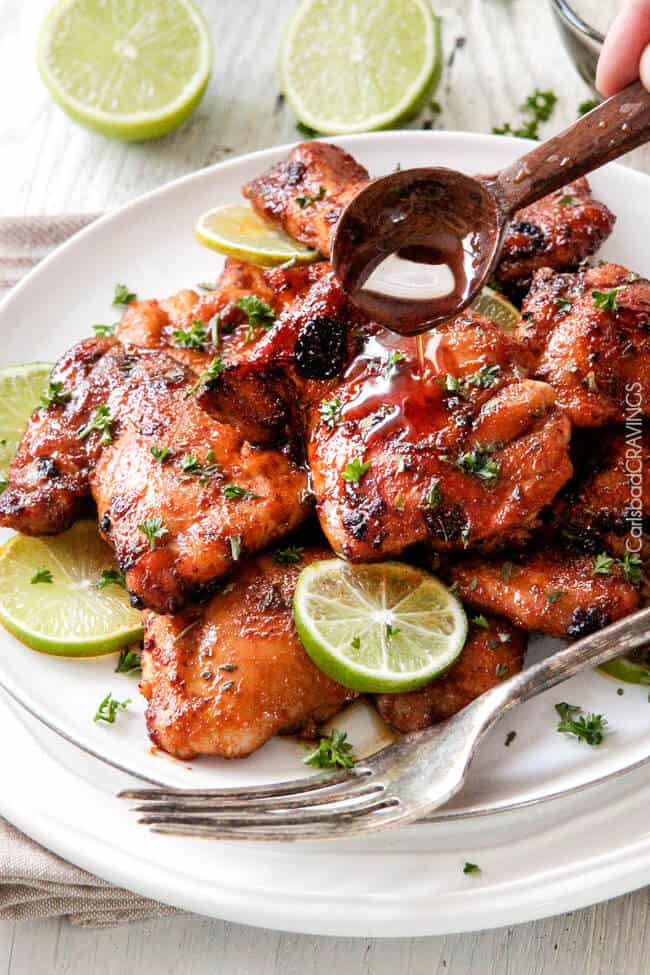 Recipe Variations to Try
Use different mustard(s). The easiest way to switch up the flavor of this spicy honey chicken is to use a mix of different mustards. I always combine mustards because I find that using just one type doesn't create a deep enough flavor.
Use your favorite chicken rub. I LOVE the spice rub used on this honey Dijon chicken, but you can try experimenting with a store-bought spice blend as well.
Make it spicy. Amp up the chipotle chili powder in the honey mustard chicken sauce to make it a spicy-sweet dish.
What Can I Prep in Advance?
This sweet and spicy chicken comes together so quickly that there's really no need to prep anything in advance. However, if you're looking to save a few minutes later on you can prep the following:
Spice rub: Measure out the spices and store in a plastic baggie or a glass container.
Honey mustard sauce: Whisk together the sauce and store in the fridge for up to 3 days. You may need to give it a stir before using in the recipe later on.
How to Store Honey Dijon Chicken
Leftovers should be stored in an airtight container in the fridge. They'll last up to 5 days.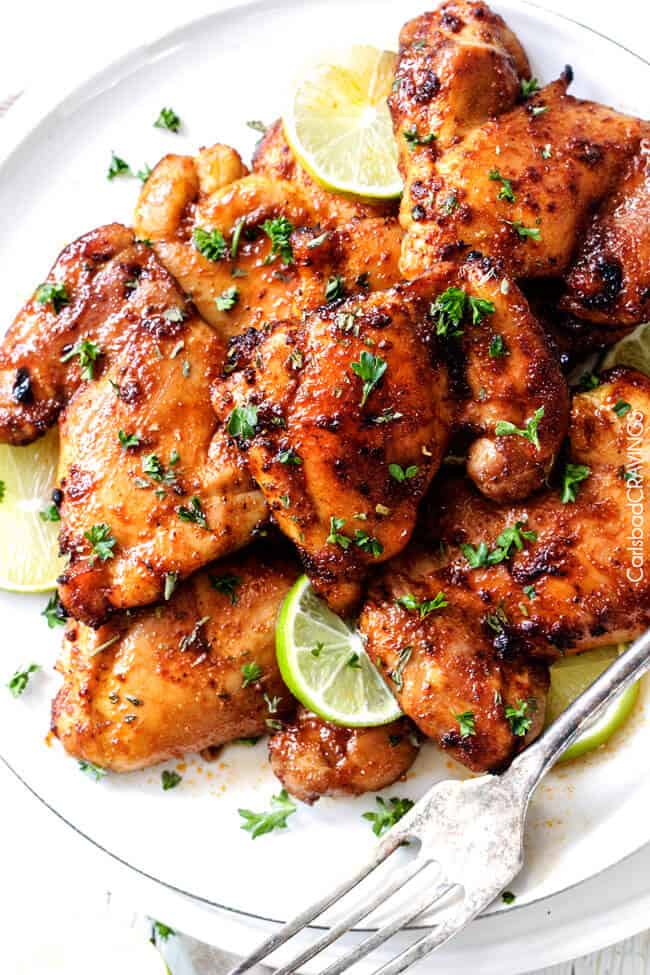 How to Reheat Honey Dijon Chicken
Microwave: Be careful when reheating chicken in the microwave as it can easily become rubbery. Reheat for 30-second intervals until warm.
Stove: Warm the Dijon mustard chicken in a skillet over medium-low heat.
Can I Freeze Dijon Mustard Chicken?
Yes, cook as instructed and then let the chicken cool completely before sealing in a freezer bag. Frozen chicken will last up to 3 months. To thaw, place in the fridge overnight.
What to Serve with Honey Dijon Chicken
This sweet and spicy chicken pairs perfectly with just about any side! Here are some recipes you can make to round out your meal:
Veggies: Parmesan Asparagus, Baked Parmesan Fingerling Potato Fries, Hasselback Sweet Potatoes, Corn Casserole, Crockpot Mashed Potatoes, Glazed Carrots, Roasted Broccoli.
Salads: Apple Salad, Berry Salad, Broccoli Salad, Corn Salad, Classic Fruit Salad, Wedge Salad.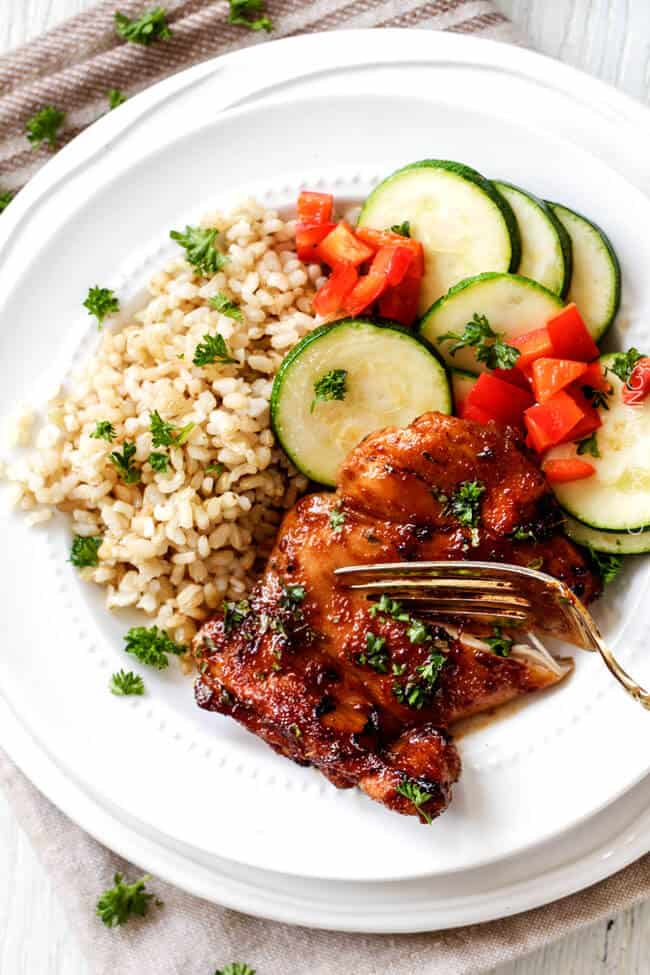 Looking for More Easy Chicken Dinners?
Want to try this Sweet and Spicy Honey Dijon Glazed Chicken?
Pin it to your Chicken, Dinner or 30 Minute Meal Board to SAVE for later!
Find me on Pinterest for more great recipes!  I am always pinning :)!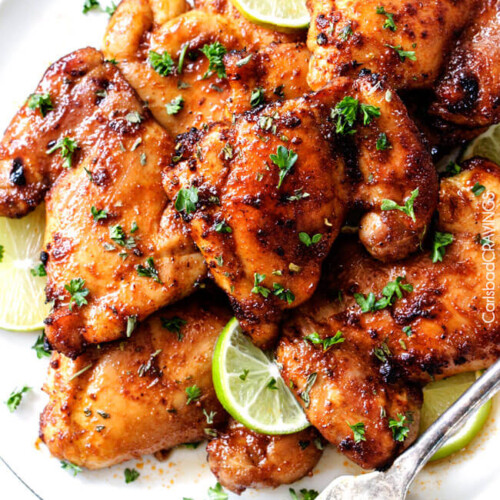 Sweet and Spicy Honey Dijon Glazed Chicken
Save This Recipe To Your Recipe Box
You can now create an account on our site and save your favorite recipes all in one place!
Ingredients
8

boneless skinless chicken thighs, trimmed
Honey Dijon Glaze
1/3

cup

honey

1

tablespoon

Dijon mustard

1

tablespoon

yellow mustard

1

tablespoon

apple cider vinegar

1

teaspoon

lemon juice
Instructions
Line a baking sheet with foil (not parchment paper) and lightly spray with cooking spray. Set aside.

In a medium bowl, whisk together the Chicken Rub Ingredients and evenly rub all over chicken. Place chicken on prepared baking sheet.

Move oven rack to top position and broil chicken for 6 minutes on each side (12 minutes total).

Meanwhile, in a small bowl, whisk together the Honey Dijon Sauce ingredients.

Remove chicken from oven and brush top side with Honey Dijon Sauce; broil 1-2 minutes or until chicken is cooked through.

Brush individual servings with remaining Honey Dijon Sauce as desired.
Notes
*It is not too spicy with only ½ teaspoon chipotle chile powder – just flavorful. If you really like heat, then increase chipotle chile powder to 1 teaspoon.
**For even more flavorful chicken, cover with rub and refrigerate up to 24 hours then bring to room temperature before broiling.
Did You Make This Recipe?
Tag @CarlsbadCravings and Use #CarlsbadCravngs
Leave a Review, I Always Love Hearing From You!
Carlsbad Cravings© Original