Crockpot BBQ Chicken is wonderfully tender, tangy, sweet and smoky smothered in the most amazing homemade BBQ sauce and extra easy made in the crock pot!
Crockpot BBQ Chicken is the perfect busy weekday meal or ideal for large gatherings and makes the best Slow Cooker BBQ Chicken Sandwiches! It's another recipe for your back pocket when you need an easy, stress free, make ahead dinner that tastes like you have slaved away for hours!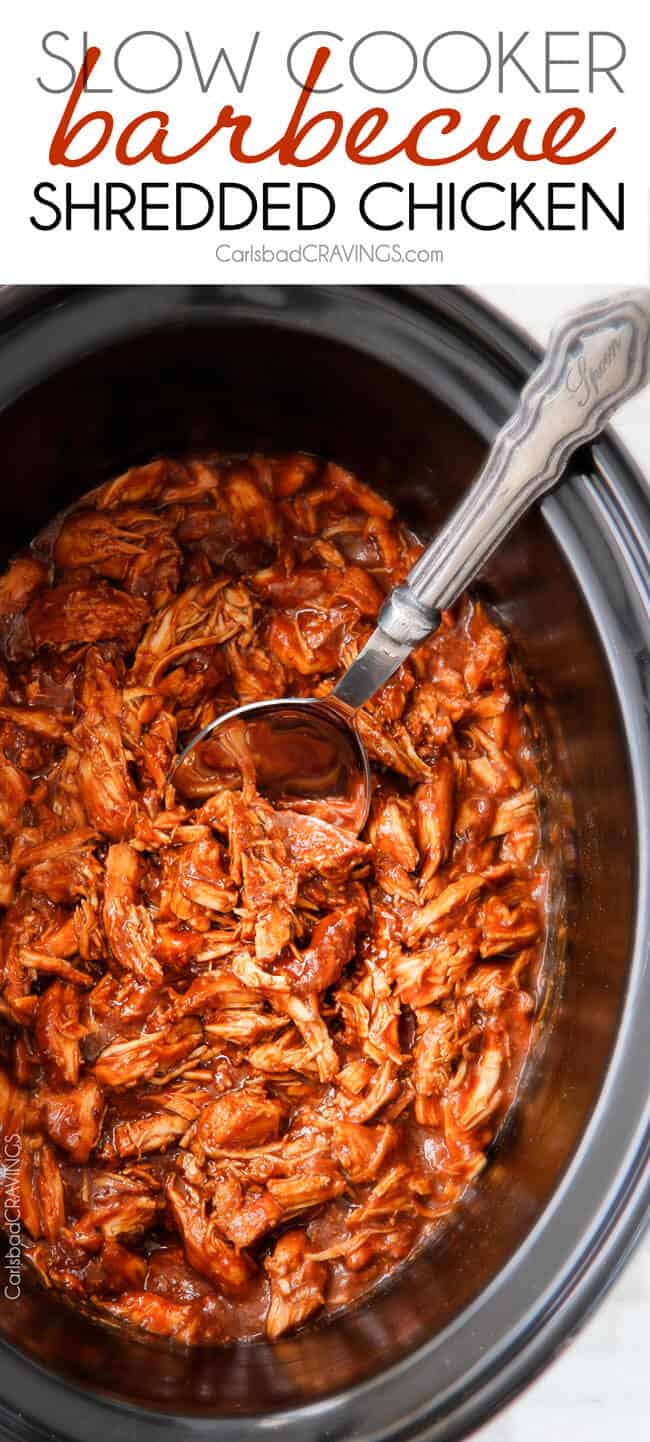 Crockpot BBQ Chicken Recipe
The slow cooker has done it again, creating an easy, almost effortless meal that fills your home with the aroma of smoky backyard barbecue while you go about your business, not having to babysit the barbecue or worry about "what's for dinner?" Because barbecue is for dinner. Juicy, tender, fall-apart, homemade barbecue sauce-smothered chicken, to be exact.
Its hard to imagine a more beloved all American meal than bbq chicken. It's perfect for so many reasons and for so many occasions because it's just so irresistibly easy to let the crockpot do all the work — and everyone loves bbq chicken! So naturally, finding a favorite slow cooker bbq pulled chicken is definitely a must. I hope this version of shredded bbq chicken becomes your new favorite!
As in all barbecue chicken recipes, they are only as good as the barbecue sauce. So in order to make this the best Crockpot shredded bbq chicken, I scaled down my favorite homemade barbecue sauce that I first created for my Slow Cooker BBQ Ribs.
It's an intoxicating blend of ketchup, molasses, brown sugar and my secret ingredient, blackberry preserves, which balances out the acidity with subtle sweetness — and the best part is all you do is whisk the ingredients together!
To infuse the barbecue sauce with a rainbow of flavor, I added paprika, chili powder, chipotle powder, onion powder, garlic powder, salt and pepper. Not too spicy, not too sweet, but just right. But if you want it sweeter, feel free to add more brown sugar and if you want it spicier, feel free to add more chipotle chili powder or cayenne pepper – totally customizable! And totally crave worthy.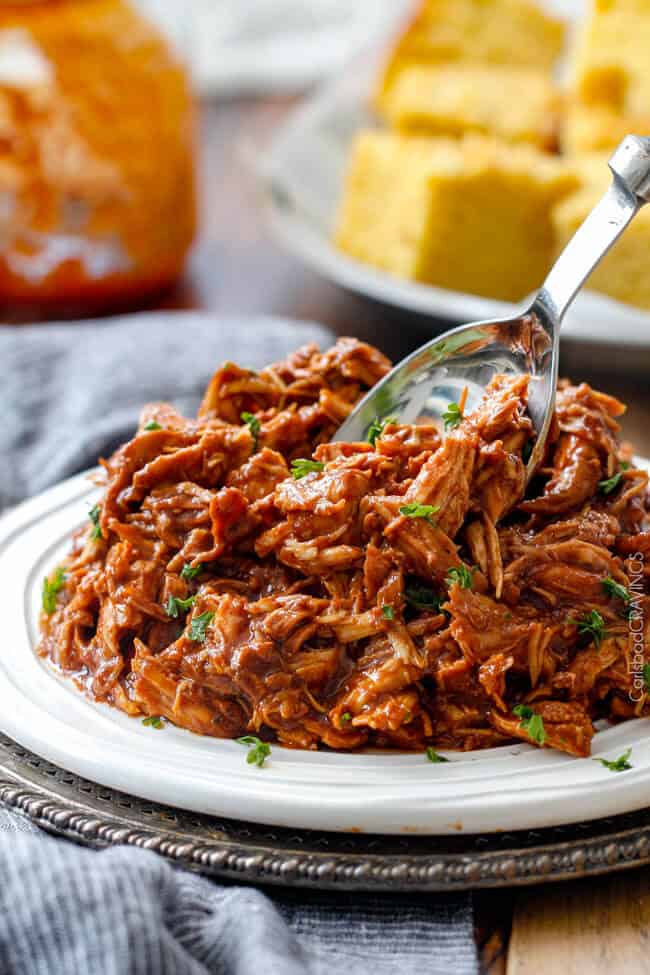 Crockpot BBQ Chicken Ingredients
This bbq pulled chicken recipe comes together easily with minimal ingredients:
Chicken breasts: Use boneless skinless chicken breasts for best results.
Cornstarch: Gets mixed with a little water to create a slurry. This will help thicken the bbq sauce.
Ketchup: Look for organic ketchup or one that isn't sweetened by high-fructose corn syrup if possible.
Molasses: Make sure you are using unsulfured molasses and NOT blackstrap molasses. Unsulfured molasses is the finest quality and only a small amount of sugar has been removed from the first boiling.
Brown sugar: Sweetens the sauce and helps deepen the molasses flavor. This BBQ Sauce recipe is on the sweeter sauce like Sweet Baby Ray's.
Blackberry preserves: Be sure to buy seedless preserves so you wind up with a smooth bbq sauce.
Cider vinegar: Adds the balancing tang to offset the sweetness.
Liquid smoke: This is a very common ingredient and should be easy to find next to the barbecue sauces in your grocery store.
Dried herbs and spices: I used quite a few herbs and spices to lend flavor and heat to this sauce.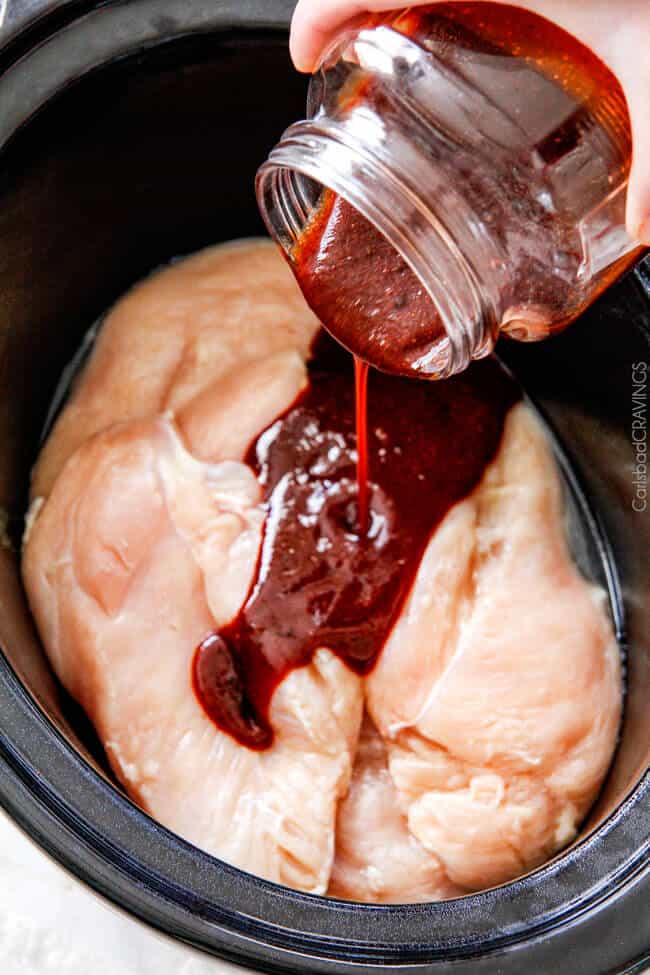 Ingredient Substitutions
If you can't find blackberry preserves, I've had readers comment they have had success using strawberry preserves, raspberry preserves, fig preserves, and apple jam.
You can use any variety of brown sugar you have on hand – light, medium or dark.
You can use granulated sugar or honey if that's all you have on hand but, in this case, I would reduce the sugar by a tablespoon or two and add extra molasses in its place. You can also use a blend of sweeteners.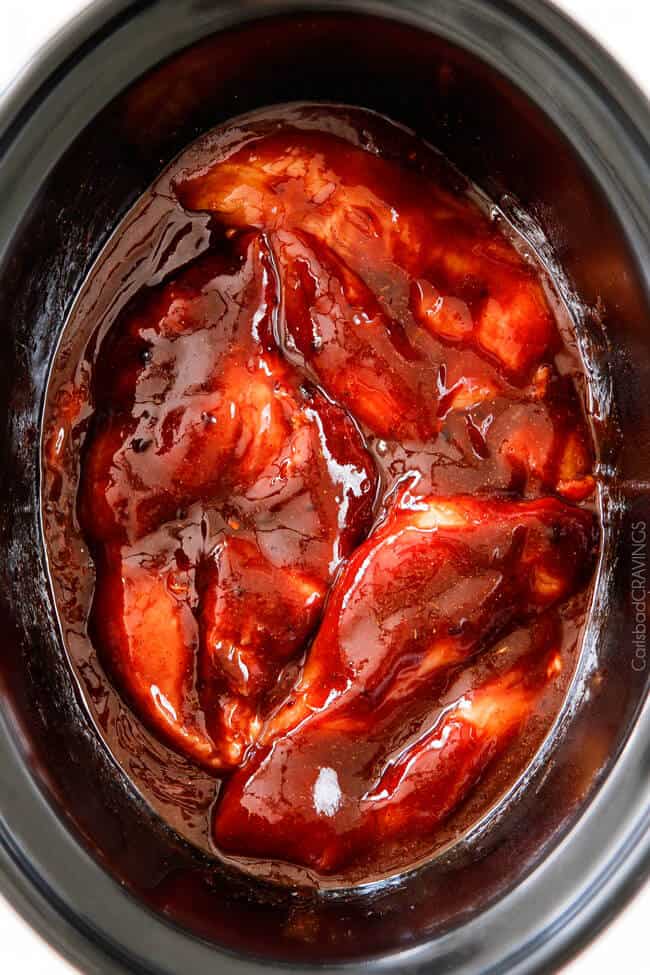 How to Make Crockpot BBQ Chicken
After we whisk the barbecue sauce ingredients together, we pour it over our chicken in our slow cooker.
Let the chicken cruise for 3-4 hours on high or 6-8 hours on low until its fall apart tender then shred.
The chicken will release moisture as it cooks and the barbecue sauce will thin as it bathes the chicken, so I like to thicken up my sauce at this point by whisking 1 tablespoon cornstarch with 2 tablespoons water. Add this slurry to your slow cooker along with your shredded chicken so your chicken can drink in all the juices and and the sauce can add "rich and thick" to is repertoire of tangy, sweet and smoky.
Our favorite way to down this Crockpot BBQ Shredded Chicken is piled high on rolls (homemade Hawaiian rolls pictured coming soon), with my coleslaw from my Slow Cooker Sloppy Joes, but they would also be delicious in wraps, sandwiches, salads, soups, taquitos, tacos, burritos, on pizza and even over rice.
Soooo many ways to eat this chicken which means soooo many easy, beloved meals for you! Thank you, back pocket Slow Cooker BBQ Chicken. Thank you.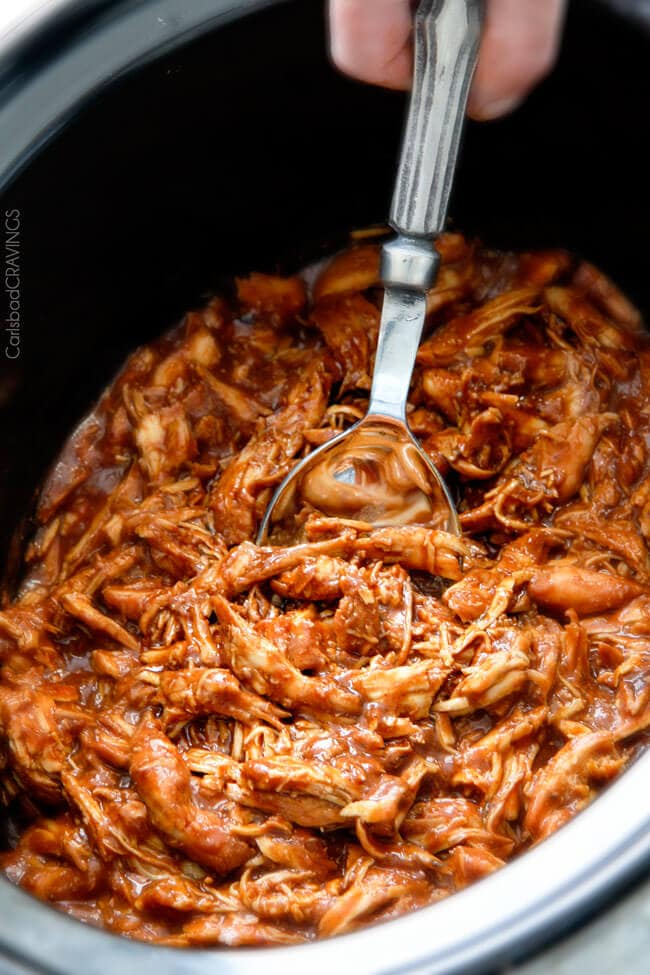 Tips for Making Crockpot Shredded BBQ Chicken
Don't let the chicken cook for too long. Unlike beef or pork, chicken doesn't become more tender the longer it cooks — it just becomes tough and stringy.
You can shred the chicken on a cutting board using two forks. I've also heard that you can add it to the bowl of a stand mixer and mix it with a paddle attachment to shred. Who knew?!
I prefer making my own bbq sauce whenever possible, but you can of course use store-bought sauce if that's easier for you.
BBQ Pulled Chicken Variations
Make it spicy. Add extra chipotle chili powder or cayenne pepper to give the bbq sauce more of a kick.
Make it sweeter. Add more brown sugar to make the bbq sauce sweeter.
Make it tangier. Add a little extra vinegar to bump up the tanginess of this easy Crockpot bbq chicken.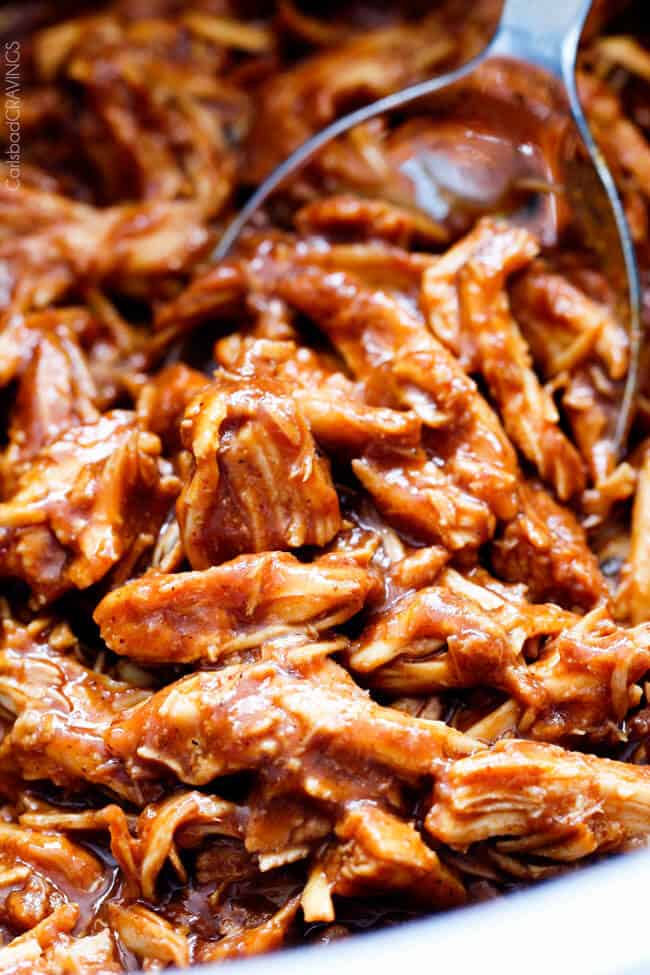 Can I Prep Crockpot BBQ Chicken in Advance?
The homemade bbq sauce can be whisked together and stored in the fridge for up to 2 weeks. The chicken can be popped into the slow cooker and set to cook on low all day while you're at work.
How to Store BBQ Chicken
This shredded bbq chicken should be stored in an airtight container in the fridge. It'll last up to 4 days.
How to Reheat Crockpot BBQ Chicken
This slow cooker bbq chicken can be reheated in the slow cooker on low, in the microwave, or in a saucepan over low heat.
How to Freeze Shredded BBQ Chicken
Slow cooker bbq chicken freezes beautifully! To freeze:
Prepare the chicken according to directions.
Cool to room temperature.
Add the meat to a large freezer bag OR portion into smaller size sandwich bags.
Press bag(s) flat and squeeze out excess air to prevent freezer burn.
Seal, label, and freeze for up to 3 months.
To thaw, place in your fridge overnight.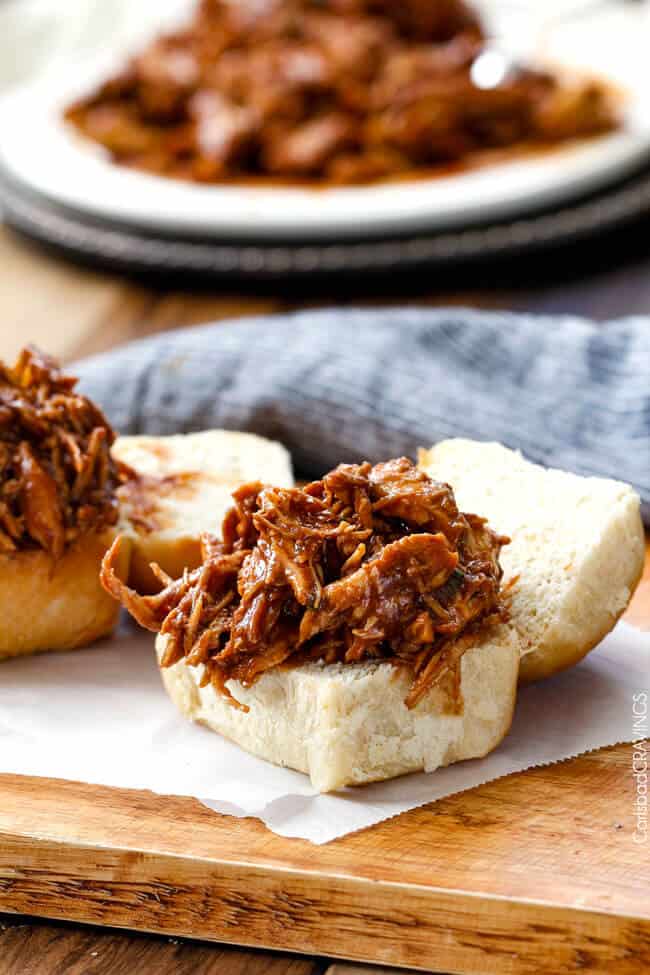 What to Serve with BBQ Chicken
Not sure what to serve with pulled bbq chicken? Here are a few of my favorite bbq chicken sides: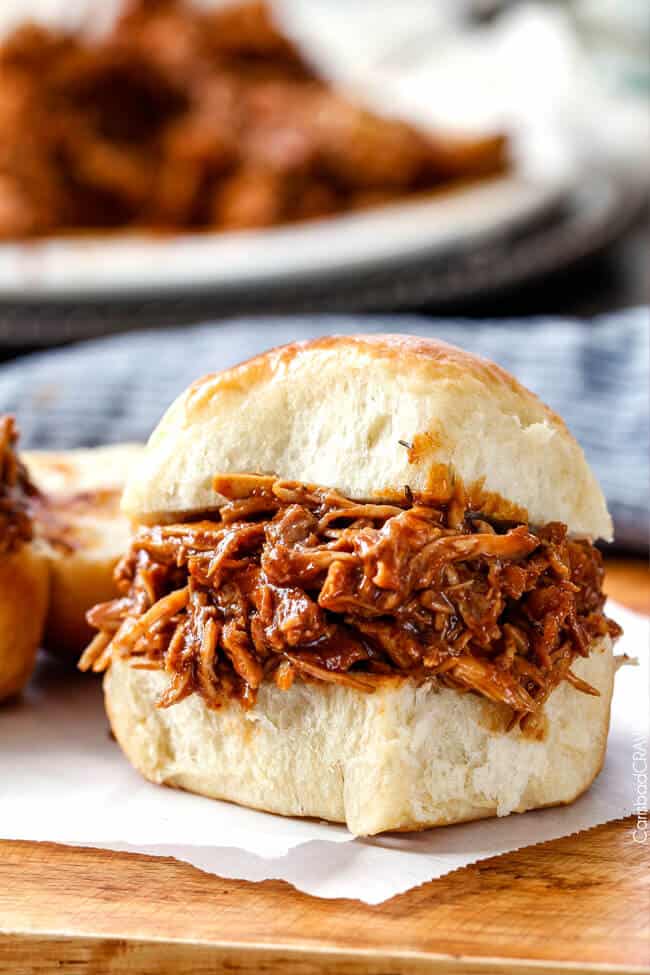 Looking for More CrockPot Chicken Recipes?
Want to try this Crockpot BBQ Chicken?
PIN IT TO YOUR CHICKEN, SLOW COOKER, OR DINNER BOARD TO SAVE FOR LATER!
Find me on Pinterest for more great recipes!  I am always pinning :)!
©Carlsbad Cravings by CarlsbadCravings.com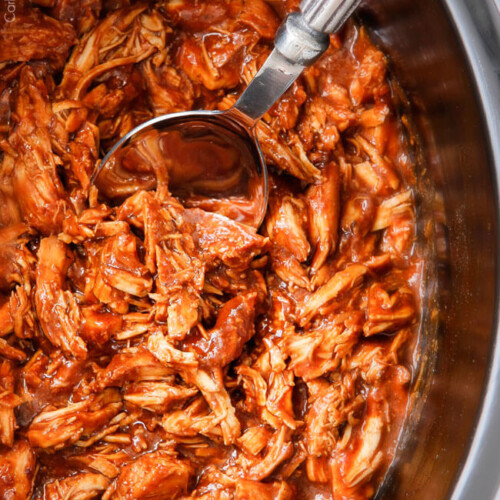 Slow Cooker BBQ Chicken
Crockpot BBQ Chicken is wonderfully tender, tangy, sweet and smoky smothered in the most amazing homemade BBQ sauce! Crockpot BBQ  Chicken is the perfect busy weekday meal or ideal for large gatherings and makes the best Slow Cooker BBQ Chicken Sandwiches!  It's another recipe for your back pocket when you need an easy, stress free, make ahead dinner that tastes like you have slaved away for hours!
Total Time:
4

hours
15

minutes
Save This Recipe To Your Recipe Box
You can now create an account on our site and save your favorite recipes all in one place!
Ingredients
2

pounds

boneless skinless chicken breasts

1

tablespoon

cornstarch

2

tablespoons

water

nonstick cooking spray
BBQ Sauce
1

cup

ketchup

1/4

cup

molasses

¼ - 1/3

cup

brown sugar

, packed (use ⅓ cup for sweeter)

2

tablespoons

seedless blackberry preserves

2 1/2

tablespoons

cider vinegar

2

teaspoons

liquid smoke

1

tsp EACH

smoked paprika, chili pwdr, onion pwdr, garlic pwdr, salt

1/2

teaspoon

pepper

1/4

teaspoon

dried thyme

1/4

teaspoon

chipotle chili powder

or cayenne pepper (optional for a kick)
Instructions
Lightly spray slow cooker with nonstick cooking spray then add chicken.

Whisk together all of the Barbecue Sauce ingredients and pour over chicken. Toss to coat.

Cook on HIGH for 3-4 hours or on LOW for 6-8 hours.

When chicken is tender enough to shred, remove to a cutting board.

Dissolve 1 tablespoon cornstarch in 2 tablespoons water then add to barbecue sauce in slow cooker. Turn slow cooker to HIGH (if it was on low).

Shred chicken and add back to slow cooker. Cook for 20-30 minutes for chicken to absorb sauce and for sauce to thicken

Taste and add (one tablespoon at a time) additional brown sugar for sweeter, cider vinegar for tangier or chipotle/cayenne for spicier.

Serve barbecue chicken alone or in sandwiches, tacos, salads etc.
Did You Make This Recipe?
Tag @CarlsbadCravings and Use #CarlsbadCravngs
Leave a Review, I Always Love Hearing From You!
©Carlsbad Cravings Original