This creamy Chicken with Mushroom Sauce is ready in just 30 minutes! It tastes gourmet but is actually so simple to make!
Lighter Chicken in Creamy Mushroom Sauce with Bacon and Pesto is one of the easiest yet most delicious chicken dinners you will ever make – and all in one skillet! Devour it alone or incredible with pasta, rice or potatoes, etc.
Creamy Chicken with Mushroom Sauce
This Chicken in Creamy Mushroom Sauce really is so craving good, so elegant, yet simple, quick and easy all at the same time AKA you are going to fall in love with this chicken! I actually made this skillet chicken twice in one week – which is quite a rarity being a food blogger because the only time I ever make something twice in such close succession is to either retest/perfect OR because it is so insanely delicious, I just need to relish all the flavors and creaminess one more time, and I need to now. It was the latter. Aaaand I knew it would only take me minutes and one skillet to whip up!
Now there are a lot of Chicken with Mushroom Sauces out there – but I promise this creamy mushroom bath has a depth of flavor you just won't savor in the other dishes thanks to splashes of pesto, Dijon and balsamic — lick your plate delicious.
Ingredients in Chicken with Mushroom Sauce
This creamy chicken and mushroom looks like it came from a restaurant, but it's secretly so simple to whip up. Here's what you'll need for the chicken and mushroom gravy:
Chicken breasts: Use boneless skinless chicken breasts.
Olive oil: Use extra virgin olive oil for superior flavor. A mixture of butter and olive oil when cooking the mushrooms adds extra flavor and the olive oil prevents the butter from burning.
Butter: Use unsalted butter so we can control the salt.
Cremini mushrooms: I love how flavorful these mushrooms are, so I use them any chance I get.
Shallot: One shallot is considered the entire bulb, regardless of how many cloves the bulb contains.
Herbs and spices: Oregano, thyme, salt and pepper flavor the sauce.
Pesto: Use classic basil pesto in this recipe.
Garlic: I use 6 cloves garlic and it is divine but feel free to use less if you prefer. You may also use 1 to 1 ½ teaspoons garlic powder – but the real stuff is so much better!
Half and half / heavy cream: I've tried this recipe with and without the half and half, and both methods work!
Chicken broth: Is more flavorful than just milk or half and half. Make sure you use low sodium broth so we can control the salt.
Balsamic vinegar: Adds tang and deepens the flavor of the sauce.
Dijon mustard: Adds a slight tanginess to complement the robust mushrooms.
Cornstarch: Helps thicken the sauce to gorgeously thick and creamy.
Bacon: Optional but highly recommended!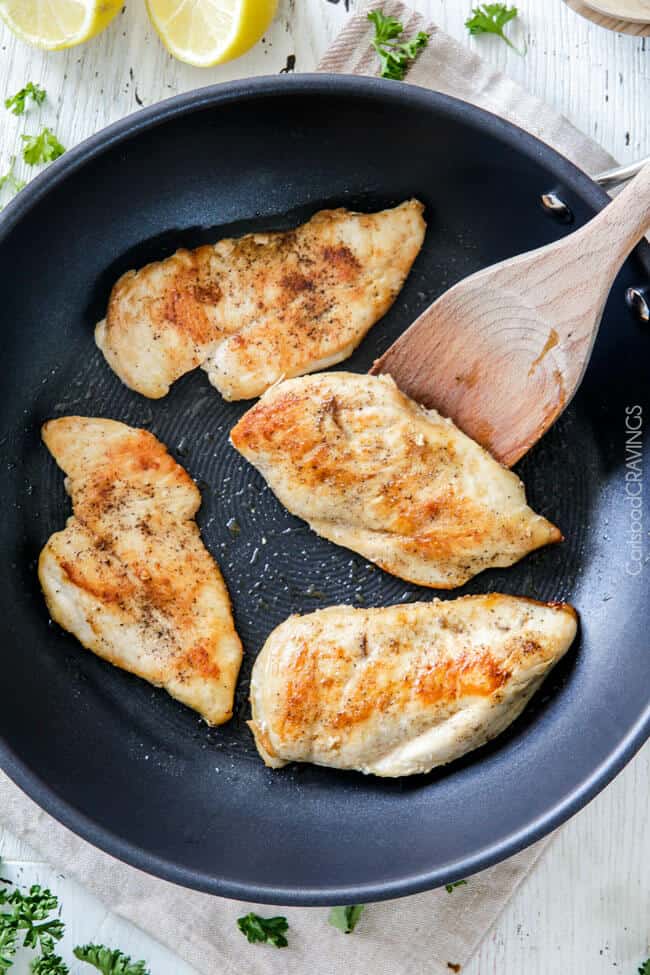 How to Make Chicken with Mushroom Sauce
This easy chicken skillet starts with either slicing two larger chicken breasts in half horizontally or pounding 4 smaller chicken breasts thin and seasoning with salt and pepper then searing (they will cook more in the sauce) for super quick, moist, tender chicken.
You then saute your mushrooms for a few minutes then add in some shallots, pesto, oregano and thyme and saute another few minutes and top off with some garlic. Can we say crazy flavorful mushrooms, which means crazy flavorful sauce?
Stir in some chicken broth, Dijon and balsamic along with some cornstarch to thicken, and the option of half and half or heavy cream.
Stir in some bacon (also optional but totally recommended) then garnish with Parmesan cheese — you are not going to want to skip the Parmesan! It transport this dish into other wordy deliciousness.
And let's eat! Chicken with Mushroom Sauce — an easy midweek meal or so delicious you'll be making it twice a week.
Tips for Making Creamy Mushroom Sauce for Chicken
Don't wash mushrooms. You should never rinse your mushrooms or they will absorb water like a sponge and become waterlogged. Waterlogged mushrooms will not brown as well or become as flavorful, and instead will emerge soggy and squeaky. Instead, clean your mushrooms with a damp paper towel.
Slice to a uniform size. As with all cooking vegetables, try and slice your mushrooms so they are similar in size so they cook evenly. If you are using a variety of mushrooms, try and slice all of them to a similar size, chopping larger mushrooms down before slicing if needed.
Don't crowd mushrooms in the pan. This is key! Mushrooms need enough space so they can sear instead of steam. If you pile raw mushrooms on top of each other, they will become soggy instead of caramelized. By spreading them out in a single layer, the entire surface area of the mushrooms comes in contact with the sizzling buttere in the hot pan so they can caramelize and become crispy around the edges.
Recipe Variations to Try
Omit the half and half. I have made this skillet both with and without the half and half/heavy cream (not using either) and it was absolutely divine each way. So if you are trying to cut some calories, then this can be a super lean meal with the omission of the cream. On the other hand, it is only ¼ cup heavy cream so if you want to revel in extra creaminess, then add the cream. Totally up to you. Deciding what to do will be the hardest part of this dish.
Use another mushroom variety. Use more exotic mushrooms such as maitake, oyster, and/or shiitake for the most intense mushroom flavor.
Add veggies: Peas, asparagus, zucchini, bell peppers, carrots, spinach etc. would all be delicious additions. You can even add leftover roasted veggies such as roasted broccoli,cauliflower etc.
CAN I PREP CHICKEN with Mushroom Sauce IN ADVANCE?
Yes! While this creamy mushroom chicken doesn't require much prep, you can still prep everything in advance so your dinner can come together in minutes.
Prep chicken. Create chicken cutlets by slicing chicken breasts in half and pounding to an even thickness. Store in an airtight container in the refrigerator.
Chop veggies. Mince the garlic, slice the mushrooms, chop the shallot. Store in separate plastic bags in the refrigerator.
HOW TO STORE AND REHEAT CHICKEN with Mushroom Sauce
Storage: creamy chicken and mushroom sauce should be stored in an airtight container in the fridge for three to five days.
Microwave: chop up chicken so it reheats more evenly, then transfer a small portion to a microwave safe dish. Heat for 1 minute, stir, then continue to heat at 30 second intervals.
Stove: chop up chicken, then transfer to a skillet. Heat over medium heat stirring often.
HOW TO FREEZE CHICKEN in Mushroom Sauce
Let the chicken cool to room temperature.
Transfer it to an airtight container or plastic freezer bag and squeeze out any excess air.
Label and freeze for 2 to 3 months.
Defrost in the refrigerator before using.
What to Serve with Chicken with Mushroom Sauce
This creamy chicken and mushroom sauce recipe is fabulous served with rice or noodles to soak up the flavorful, creamy sauce and for a neutral textural component.
Looking for More Easy Chicken Recipes?
Want to try this 30 Minute Chicken in Creamy Mushroom Sauce?
Pin it to your Chicken, Dinner or 30 Minute Meals Board to SAVE for later!
Find me on Pinterest for more great recipes!  I am always pinning :)!
©Carlsbad Cravings by CarlsbadCravings.com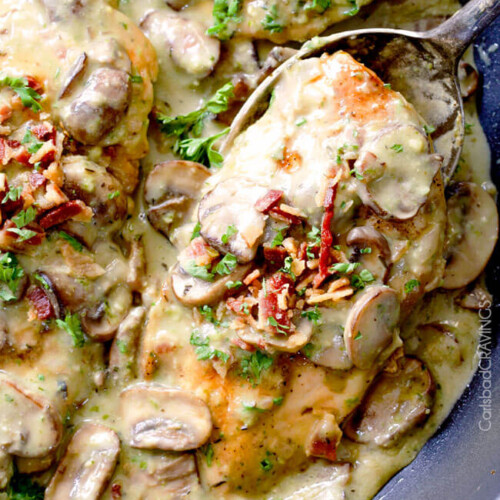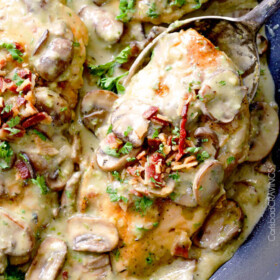 Skillet Chicken in Creamy Mushroom Sauce with Bacon
Save This Recipe To Your Recipe Box
You can now create an account on our site and save your favorite recipes all in one place!
Ingredients
2

chicken breasts

sliced horizontally or 4 small boneless, skinless chicken breasts, pounded thin (about 1 ½ pounds)

1/2

teaspoon

salt

1/4

teaspoon

pepper

2

tablespoons

olive oil, divided

1

tablespoon

butter

10

ounces

cremini mushrooms, thinly sliced

1

shallot, chopped

2

tablespoons

basil pesto

1/2

teaspoon

dried oregano

1/4

teaspoon

dried thyme

1/4

cup

half and half

or heavy cream, optional*

2

cups

low sodium chicken broth, divided

1

tablespoon

balsamic vinegar

1

tablespoon

Dijon mustard

1

tablespoon +1 teaspoon

cornstarch

4-6

strips bacon, cooked and crumbled, divided
Garnish
fresh parsley

freshly grated Parmesan cheese
Instructions
Rinse and pat chicken dry then season with ½ teaspoon salt and ¼ teaspoon pepper. Heat 1 tablespoon oil in large skillet over medium-high heat. Once very hot, add chicken and cook 2-3 minutes or until golden, flip, cover, and reduce heat to medium. Continue to cook 4-7 minutes (depending on thickness) or until chicken is cooked through. Transfer to plate.

Reduce heat to medium and melt 1 tablespoon butter in 1 tablespoon olive oil. Add mushrooms, and cook, stirring often, for 4 minutes then add shallots, pesto, oregano and thyme and cook another 3 minutes, stirring often. Add garlic and saute 30 seconds.

Stir in 1 ½ cups chicken broth, cream or half and half (optional),

Dijon mustard

and balsamic vinegar. Whisk cornstarch with remaining ½ cup chicken broth and add to skillet. Bring to a boil then reduce to a simmer, stirring occasionally until sauce has thickened. Add chicken back to skillet, stir in half the bacon and leave the rest to garnish.

Garnish with remaining bacon. freshly grated Parmesan (highly recommended) and fresh parsley. Serve with/over noodles, potatoes or rice.
Notes
*This sauce is still wonderfully flavorful without the half and half/heavy cream so if you want to save calories you can definitely skip it – but if you want to add some extra creaminess, its divine!
Did You Make This Recipe?
Tag @CarlsbadCravings and Use #CarlsbadCravngs
Leave a Review, I Always Love Hearing From You!
Carlsbad Cravings© Original