CHEESE FONDUE WITH RICH, DEEPLY CARAMELIZED ONIONS AND BUBBLING GRUYERE AND SMOKED GOUDA IS A PARTY MUST!  IT'S EASY TO PREPARE, CRAZY DELICIOUS AND THE HIT OF EVERY PARTY!

Are you already dreaming about Christmas Eve and New Year's Eve appetizers? Maybe that's just me. But once you make this French Onion Cheese Fondue you will be dreaming about it too – year round! But before we dive into that cheesiliciousness, let's talk party appetizers. It can be difficult to decide what to bring to a party, so here are a few of my favorite apps (but just because something isn't here doesn't mean I don't love it!):
Favorite Appetizers for Entertaining
So now that I've confused you with too many tantalizing options, let's dive into this no-brainer French Onion Cheese Fondue!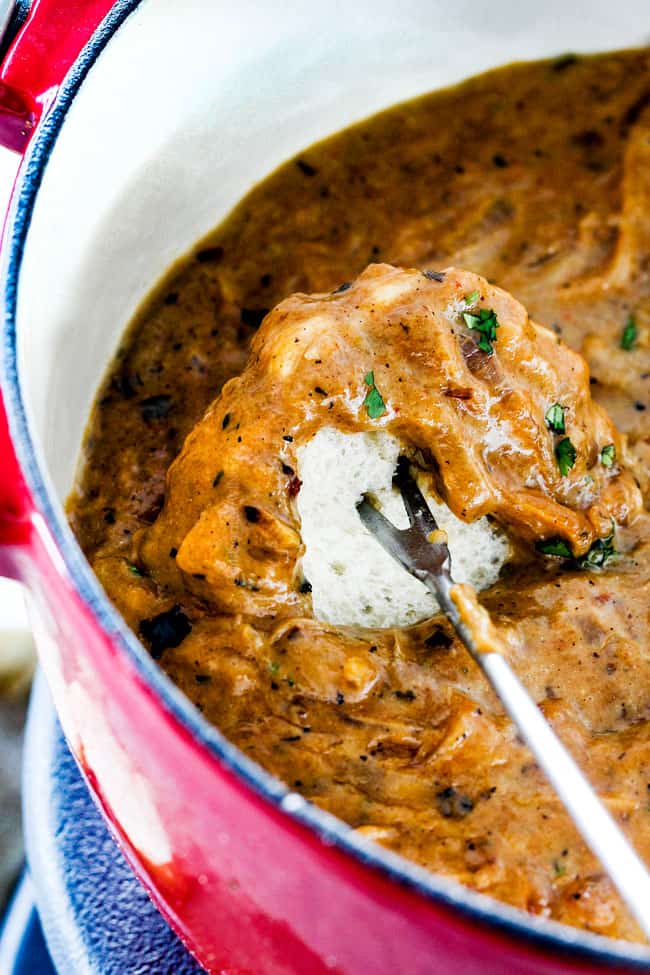 Cheese Fondue
This French Onion Cheese Fondue tastes 1000X better than your favorite French Onion Soup because Gruyere AND Smoked Gouda are melted right into the fondue, smothering the caramelized onions with their glory. And don't fret if you don't have a fondue pot, you can still make this fondue and then keep it warm in your slow cooker. So let's get to it!
What
What kind of cheese do you use for fondue?
I've chosen beautifully melty Gruyere cheese for its rich, creamy, slightly nutty taste and probably my favorite cheese in the world and Smoked Gouda, for its meltiness and sweet yet sharp, caramelly, nutty, buttery taste. I had to pull myself away from eating the cheeses plain. Now just imagine that deliciousness exponentially improved with rich caramelized onions – wowza!
How do you make cheese fondue?
To make our Cheese Fondue, we first saute our onions in not only butter and olive oil but in reduced sodium soy sauce, garlic powder, dried thyme, beef bouillon, dried oregano, dried parsley, paprika, red pepper flakes, a pinch of brown sugar and of course, salt and pepper AKA these will be the most flavorful onions of. your. life We cook the onions as they soak up all this flavor for approximately 20 minutes until very soft and caramelized.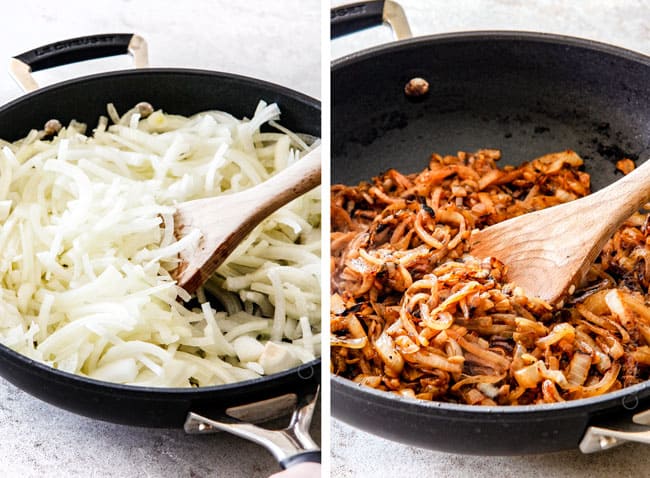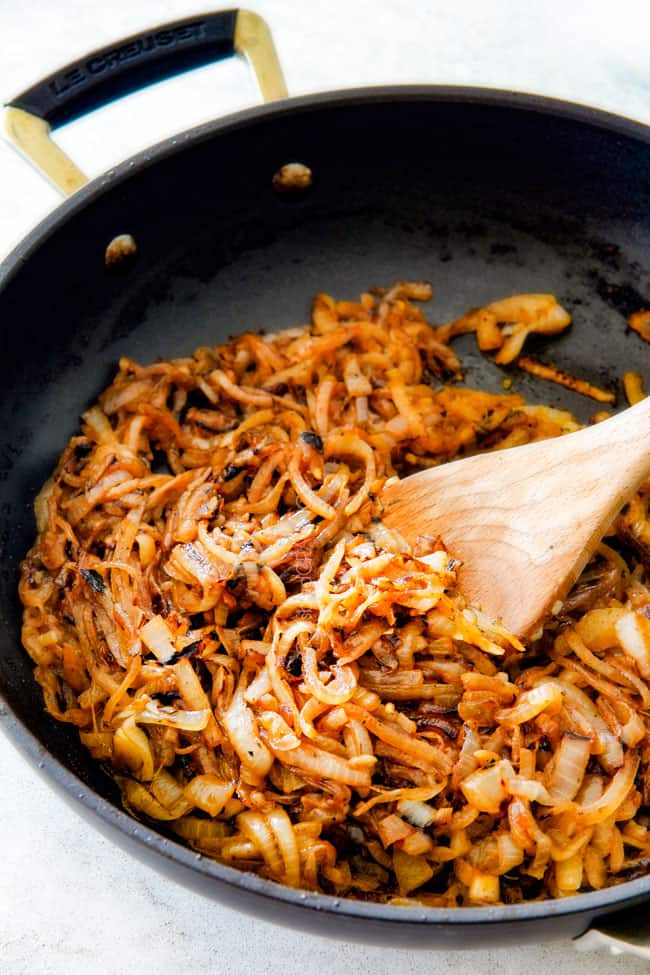 Next, we deglaze the pan (which just mean scraping up the remaining brown bits into our liquid to add flavor), with low sodium beef broth, Worcestershire sauce and balsamic vinegar.
Bring to a simmer for about 2 minutes to slightly reduce then we reduce the heat to barely a simmer add our freshly shredded Gruyere and Smoked Gouda, a handful at a time, which we have tossed with cornstarch to keep the cheese from clumping and to thicken the fondue.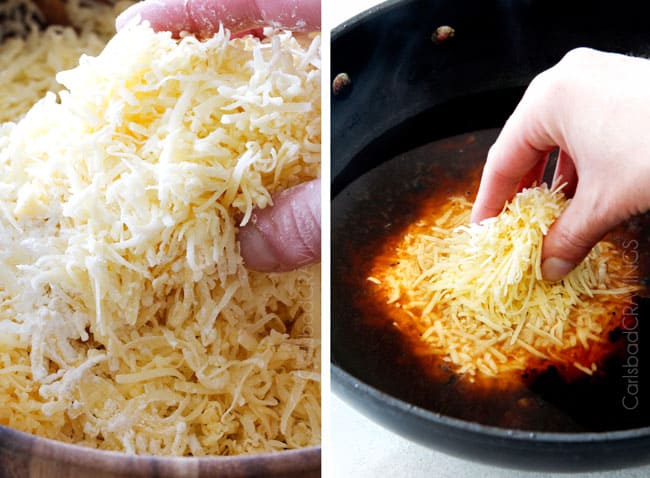 Now just a quick note about the temperature in which you add your cheese. Too hot and the cheese will coagulate and turn lumpy or stringy, too cool and it won't melt – no bueno for cheese fonude.
I advise barely a simmer which will both melt your cheese and keep it from turning lumpy. You also want to stir gently as opposed to vigorously as overstirring can cause the cheese proteins to clump and turn lumpy.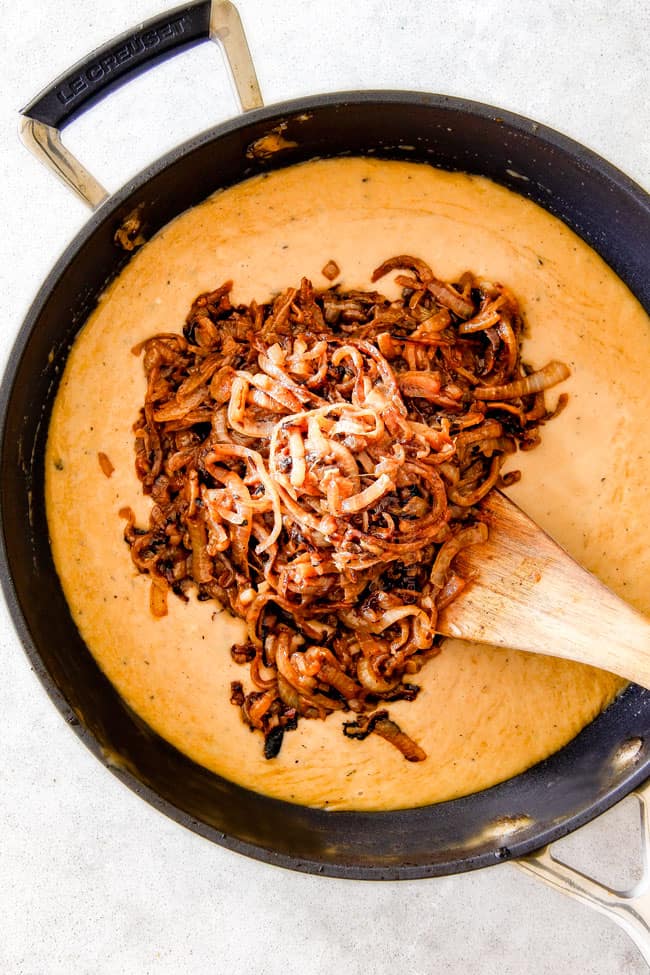 Once our Gruyere and Smoked Gouda are melted and smooth, we stir in our caramelized onions.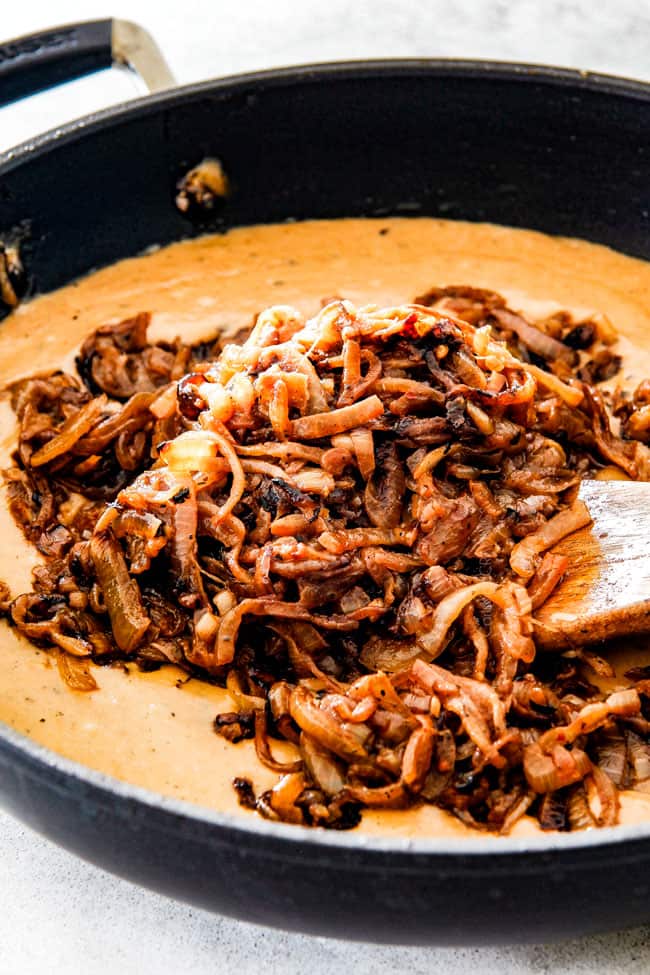 And now try not to eat it all with a spoon.
How to Serve Cheese Fondue
Transfer your French Onion Cheese Fondue to a to a warm fondue pot or warm small slow cooker. You want to try and keep your Fondue at a consistent warm temperature so it doesn't thicken. If it does thicken, however, it's not a big deal, simply whisk in some beef broth or water a little at a time until it reaches desired consistency.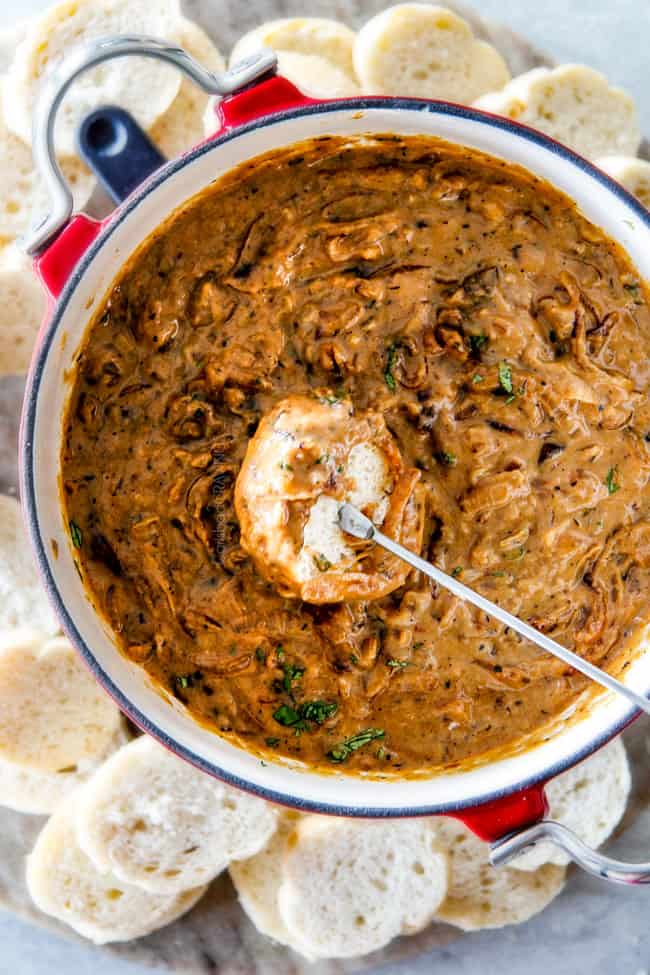 What foods are good for fondue?
All of the following make fabulous dippers:
baguette slices
soft pretzels
crackers
cooked potato cubes or wedges
broccoli
cauliflower
asparagus
snap peas
bell peppers
Now grab your favorite dippers and indulge in gloriously cheesy, decadently satisfying French Onion Cheese Fondue!
Merry Christmas and Happy New Year!
You might also like these tasty appetizers:
WANT TO TRY THIS FRENCH ONION CHEESE FONDUE?
Pin it to your APPETIZER, HOLIDAY, or GAME DAY Board to SAVE for later!
Find me on Pinterest for more great recipes!  I am always pinning :)!
©Carlsbad Cravings by CarlsbadCravings.com
French Onion Cheese Fondue
This French Onion Cheese Fondue with rich, deeply caramelized onions and bubbling Gruyere and Smoked Gouda is a party MUST! It's easy to prepare, crazy delicious and the hit of every party!
Save This Recipe To Your Recipe Box
You can now create an account on our site and save your favorite recipes all in one place!
Ingredients
Cheese
6

oz. Gruyere

freshly grated

7

oz. smoked Gouda

freshly grated

1 1/2

tablespoons

cornstarch
Onions
1/4

cup

unsalted butter

3

onions, thinly sliced

then cut into approx. 2" pieces*

2

tablespoon

reduced sodium soy sauce

1

tsp EACH

garlic powder, brown sugar

1/2

tsp EACH

dried thyme, beef bouillon

1/4

tsp EACH

dried oregano, dried parsley, paprika, pepper

1/4

teaspoon

red pepper flakes

more or less to taste
Deglaze
1 3/4

cups

low sodium beef broth

1-2

tablespoon

quality balsamic vinegar

1

tablespoon

Worcestershire sauce
Dippers
1

baguette

sliced

broccoli

asparagus

Cauliflower

snap peas
Instructions
Toss cheeses and cornstarch together in a large bowl until evenly combined. Set aside.

Melt butter in a large sauté pan with sides over medium heat. Add the onions and all remaining "Onions" ingredients and cook, stirring often, until the onions are very soft and caramelized, about 20 minutes. Transfer onions to a bowl.

Deglaze pan with beef broth, Worcestershire sauce and 1 tablespoon balsamic vinegar, scraping up any bits on bottom. Bring to a simmer and simmer for 2 minutes to slightly reduce.

Reduce heat to barely a simmer and add cheese mixture, a small handful at a time, whisking after each addition until cheese is melted then adding another handful. The cheese might seem separated at first, but it will come together. Once cheese is melted and smooth, stir in caramelized onions. Taste and add additional balsamic (I add 1 more tablespoon), salt pepper/red pepper if desired.

Transfer to a to a warm fondue pot or small slow cooker. This fondue must be kept warm to stay melted and not too thick. If fondue become too thick, stir in additional beef broth a little at a time until it reaches desired consistency.

Serve with baguette slices and other dippers of choice.
Notes
*I cut my onions in half, slice them, then cut those halves in half.
Did You Make This Recipe?
Tag @CarlsbadCravings and Use #CarlsbadCravngs
Leave a Review, I Always Love Hearing From You!
©Carlsbad Cravings Original