Cranberry Meatballs are the perfect appetizer for any party that always disappear in a flash!
Everyone needs a fabulous Cranberry Meatball recipe – and this is it with TONS of rave reviews! These party meatballs are perfect for Christmas Eve, New Years Eve or any Eve! The cranberry meatballs are so easy, tender and seeping with flavor from the crock pot and INCREDIBLE sweet and spicy sauce! The sauce is made with cranberry sauce, hoisin, ketchup and spiked with hot wings sauce for a tantalizing, lick the crock pot appetizer. You can make the meatballs early in the day and cook right before serving, or keep warm in the crock pot (yay for stress free entertaining) and even freeze – all instructions included! (Updated post, same recipe from 2014)
Cranberry Meatballs Recipe Video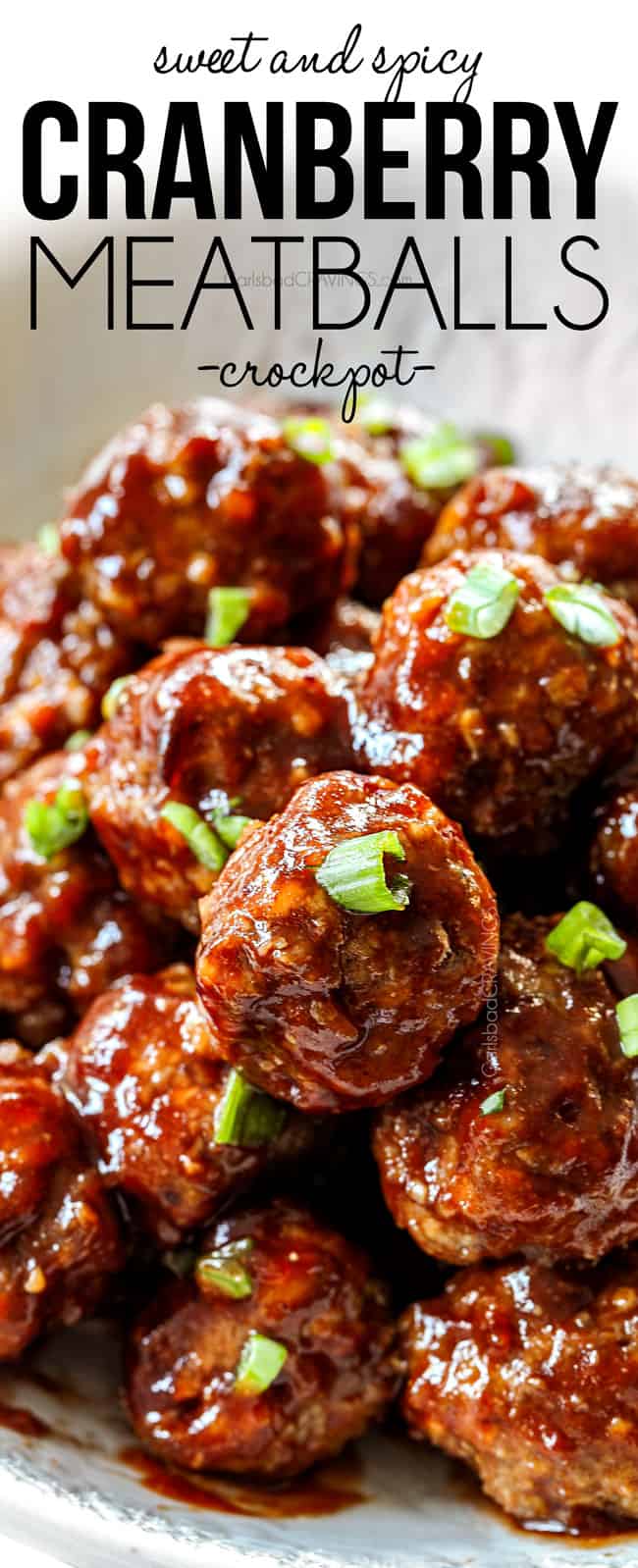 What Readers are Saying About this Cranberry Meatballs recipe:
I just made these for a holiday party this weekend. Wanted to leave feedback…because they were a HUGE HIT! – Niki
I have made this recipe so many times for my family and it is a huge hit in our house. It is one of my favorite recipes for the slow cooker. The sauce is amazing!!… – Julia
Thank you for this INSANELY delicious recipe! I made these meatballs for New Years and they were gone so fast! – Audrey
My mother made these for my 10 y/o son tonight (but w ground chicken) & he loved them so much, he ate about 15 of them (!!!) then got up, hugged her & said thanks for dinner Nani & asked me to make them for him lol… -Audra
About Cranberry Meatballs Recipe
Holidays are all about appetizers from Baked Brie in Puff Pastry, to Bruschetta Cheese Ball to Cranberry Pistachio Cheese Log to Spinach Artichoke Dip and Brie Spinach Dip, and of course, Cranberry Meatballs!
I love meatballs. I would request them as my birthday dinner for every single one of my birthday growing up so I'm thrilled to share this holiday worthy Cranberry Meatball recipe just in time for Thanksgiving, Christmas and New Years Eve because these meatballs are the perfect make ahead appetizer that everyone will be begging you for – just like I used to beg my mom to make her famous meatballs growing up.
These Cranberry Meatballs are not only crazy tender and juicy but they can be prepared in advance and kept warm in the slow cooker until its "go" time AKA perfect for a stress free company/holiday appetizer. Just be sure to sneak in a few cranberry meatballs before the company arrive because when its go time, there is no stopping until they are going, going….gone.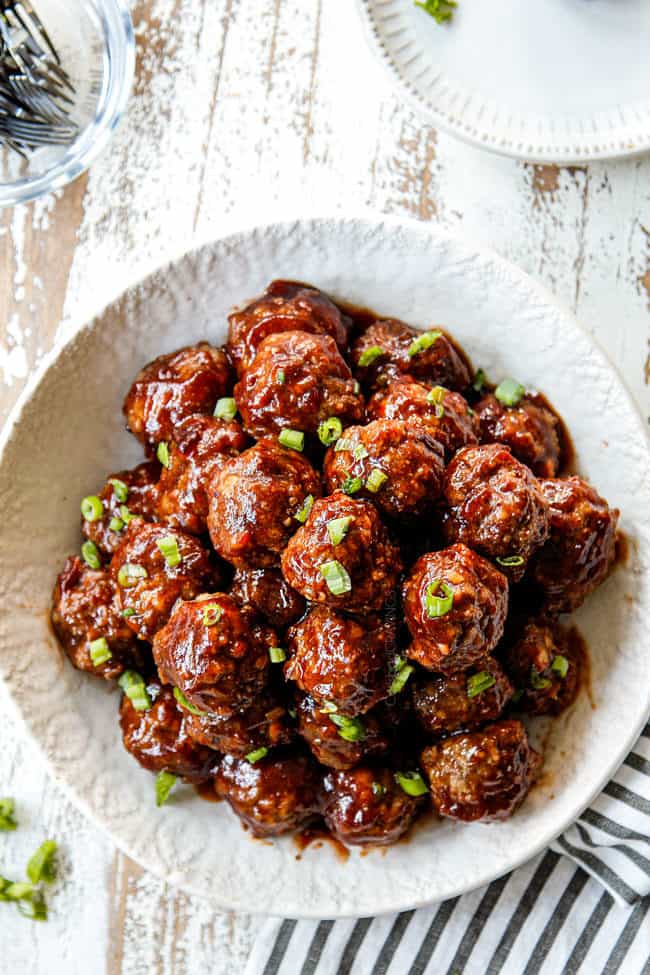 Ingredients for Cranberry Meatballs
ground beef: use lean ground beef so the meatballs will be tender but not greasy. I have not tried these Cranberry Meatballs with ground turkey or chicken but I am sure they would be delicious, just a little less juicy. Whenever I substitute turkey for beef, I like to add some beef bouillon, you can also add a splash of oil as well.
crackers: 22 saltine crackers add a fabulous flavor in place of panko or breadcrumbs. I'm sure Ritz crackers would also work well but I haven't personally tried them.
dried minced onion: I love using dried minced onion because they deliver concentrated flavor. You can find dried minced onions with all the other seasonings at your grocery store.
eggs: 2 eggs will do the trick to bind all the ingredients together.
milk: any kind of milk will work in this Cranberry Meatball recipe.
seasonings: ginger, garlic powder, salt and pepper add an oomph of flavor without being overpowering.
Cranberry Meatball Sauce
A meatball recipe is only as good as the sauce. And this Cranberry Sauce is crazy delicious. The sweet and spicy Cranberry Sauce is inspired by my blackberry hoisin ginger pork tenderloin sauce.
It's sweet from the cranberry sauce and brown sugar, tangy from the ketchup, complex from the hoisin, grounded by the soy, and spicy from the Buffalo Hot Wings Sauce. Basically, you'll want to put it on everything!
Ingredients for Cranberry Meatball Sauce:
whole cranberry sauce: you can use store-bought or homemade cranberry sauce, but go for the whole cranberry sauce vs cranberry jelly as the jelly contains more pectin and is less fluid.
hoisin sauce: is like an Asian BBQ Sauce and can be found in the Asian section of any grocery store. I use it in tons of my Asian recipes, so I promise it will not go to waste! Please use only Kikkoman or Lee Kum Kee brands hoisin sauce because they taste 1000X better!
ketchup: your favorite will work great. Don't substitute with other tomato substitutes because they are not as sweet.
red wine vinegar: adds a subtle tang.
soy sauce: use less sodium soy sauce so the sauce isn't too salty.
brown sugar: enhances the sweetness.
seasonings: garlic powder and ground ginger add complex flavor.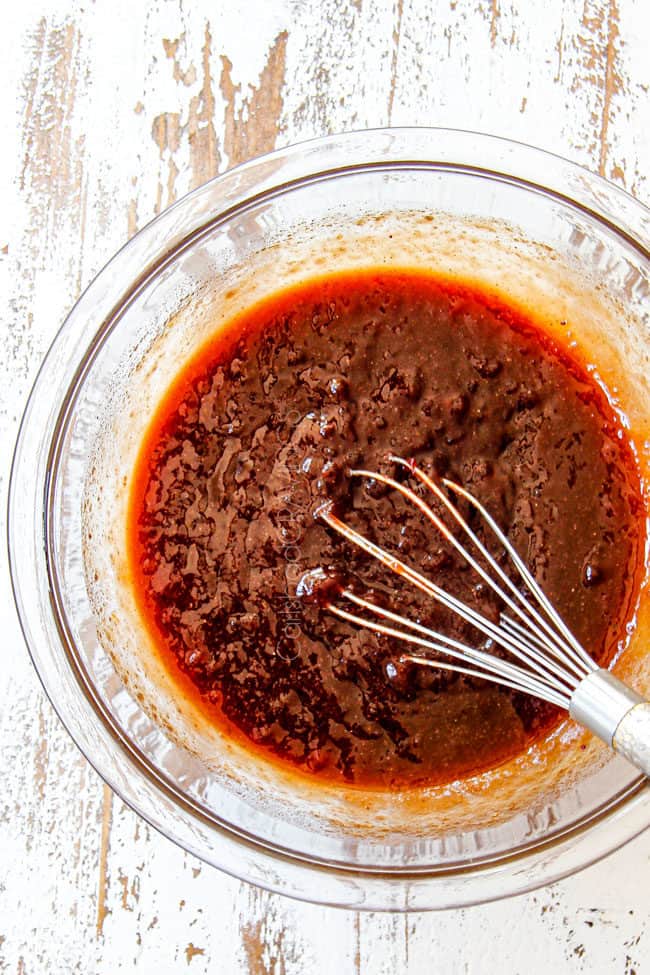 How to Make Cranberry Meatballs
STEP 1: COMBINE MEATBALL INGREDIENTS
These Cranberry Meatballs mega tender and super easy! I used my mom's perfect moist meatball recipe that uses crushed saltines instead of breadcrumbs as well as dried minced onion for maximum flavor. Simply add all of the meatball ingredients to a large bowl and mix with your hands until evenly combined.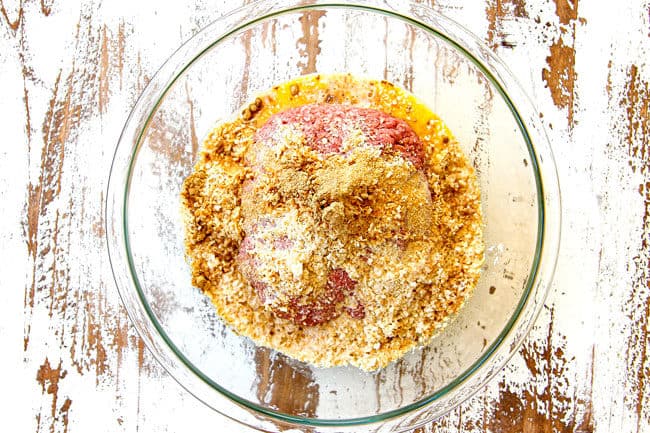 STEP 2: ROLL MEATBALLS
Next, roll the meat mixture into balls and place on foil lined baking sheet for easy cleanup.
I suggest using a cookie scoop to roll your cranberry meatballs so they are a uniform size and cook evenly.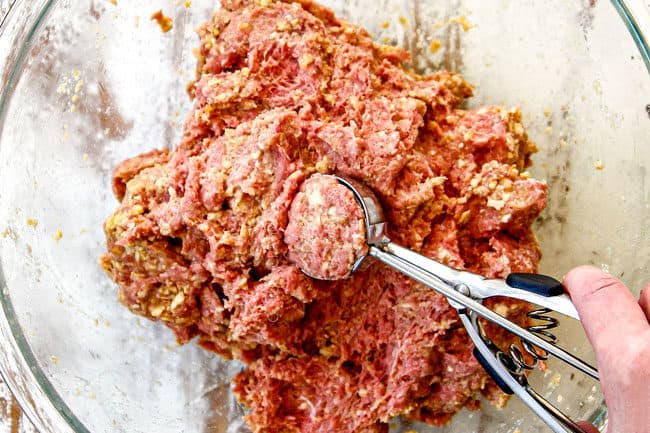 The size of the meatballs is totally personal preference. The recipe will make approximately 75 meatballs using 1″/1 tablespoon cookie scoop; 35-40 meatballs using 2″/2 tablespoon cookie scoop.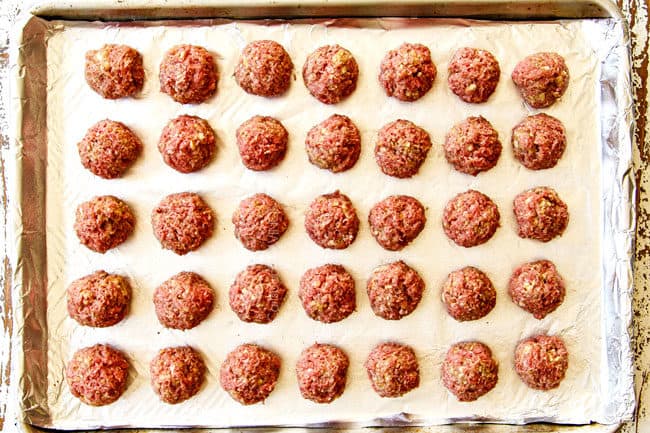 STEP 3: BAKE MEATBALLS
Bake for 8 minutes, or until lightly browned.
Baking the meatballs ensures they don't fall apart in the slow cooker and seals in the juices for more tender meatballs. Baking is also much easier in a mass batch to cook instead of frying (and healthier too!).
STEP 4: Combine Sauce Ingredients
The Cranberry Meatball Sauce is super easy to make, simply whisk all of the ingredients together in a medium bowl.
I suggest starting with 1 tablespoon hot wings sauce and then adding more hot sauce to taste at the end of cooking. Of course, if you know you like spicy, then feel free to add the full 2 tablespoons.
STEP 5: Layer sauce with meatballs
The sweet and spicy sauce gets layered between rows of our lightly browned meatballs in the slow cooker so every meatball can be enveloped by their glory.
How long do you Cook Cranberry Meatballs?
Cook Cranberry Meatballs on LOW for 2-4 hours. gently stirring one hour into cooking. The meatballs will cook and seep in the zesty, sweet, tangy, savory, spicy sauce.
You can keep the crock pot on the WARM setting until you're ready to serve.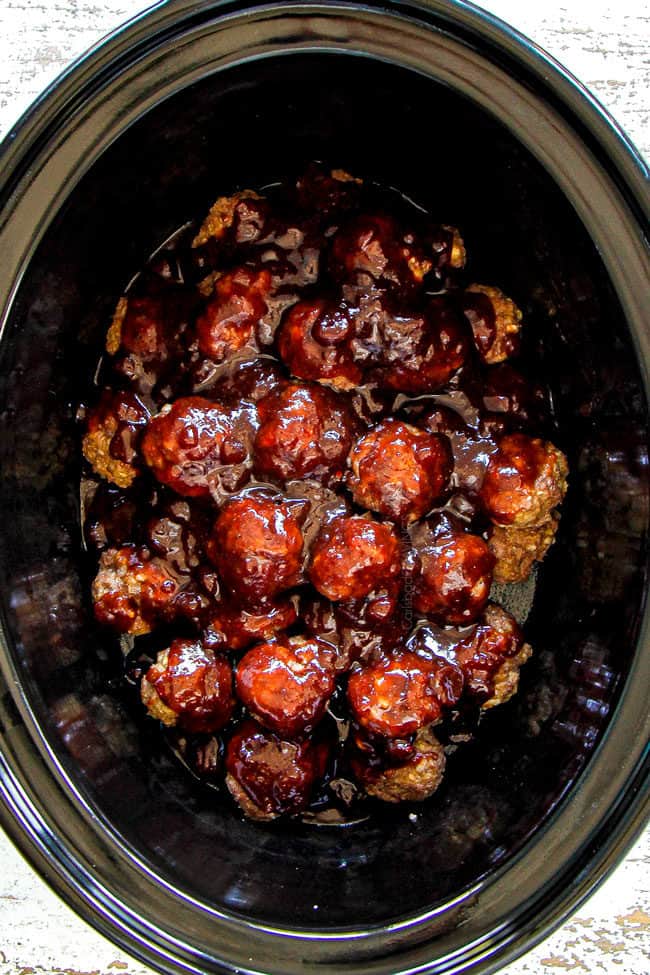 Can I make Cranberry Meatballs on the Stove?
Absolutely! I would still brown the meatballs in the oven first so they don't fall apart when cooked. Add sauce and browned/baked meatballs to a large pot and gently simmer over medium low heat for 20-25 minutes or until cooked through, stirring occasionally.
Can I make Cranberry Meatballs in the Oven?
Yes! Increase the baking time to 15-20 minutes for small meatballs and 20-25 minutes for larger meatballs or until the meatballs are cooked through. Either add the cooked meatballs to the cranberry sauce in the crockpot and keep on the warm setting or add them to a large pot over low heat.
Can I use frozen meatballs?
Part of the deliciousness of this Cranberry Meatball Recipe are the homemade meatballs, but you are welcome to use your favorite store-bought meatballs as well.
To make Cranberry Meatballs with store-bought meatballs, you will need one 32 oz. frozen fully cooked home style meatballs.
SLOW COOKER: Add sauce and meatballs to a 6-qt. slow cooker and cook on low 2-3 hours for THAWED meatballs and 6-8 hours for FROZEN meatballs.
STOVE TOP: Add sauce and meatballs to a large pot and gently simmer over medium low heat for 15-20 minutes for THAWED meatballs and 30-35 minutes for FROZEN meatballs, stirring occasionally.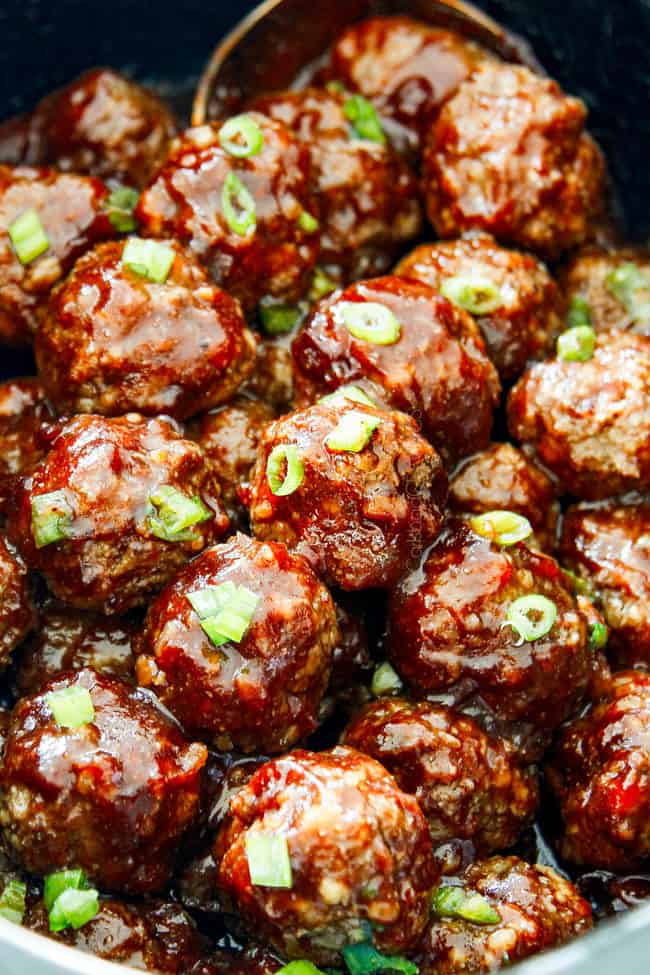 Can I Prep Cranberry Meatballs in Advance?
Assemble and bake the meatballs for 8 minutes.
Let meatballs cool completely.
Gently layer meatballs in slow cooker in between layer of sauce per recipe directions.
Remove crockpot ceramic insert with meatballs/sauce and refrigerate, covered.
Add an additional 30 minutes to cooking time when ready to make OR cook until meatballs are completely cooked through and sauce is hot.
Alternatively, you can bake the meatballs for approximately 20 minutes or until cooked through, then just reheat in the sauce.
Can I freeze Cranberry Meatballs?
You can either freeze your Cranberry Meatballs after baking but before cooking in the slow cooker or once fully cooked in the sauce.
TO FREEZE CRANBERRY MEATBALLS AFTER COOKING:
Let Cranberry Meatballs and Sauce cool completely in the refrigerator before freezing.
Transfer to an airtight, freezer safe container.
Freeze for up to 3 months.
When ready to use, let meatballs thaw overnight in the refrigerator.
Transfer to a large pot and gently simmer until heated through.
TO FREEZE CRANBERRY MEATBALLS BEFORE COOKING:
Bake Cranberry Meatballs according to directions.
Let meatballs cool to room temperature.
Place entire baking tray with the meatballs in the freezer. You will want to make sure the meatballs are not touching so they don't freezer together. If your freezer can't accommodate your baking tray then use a small tray and freeze in batches. Freeze for 1-2 hours.
When your meatballs are frozen enough that they won't stick together, then transfer meatballs to freezer safe bags or containers.
Label meatballs and store meatballs in the freezer for up to 3 months.
You can also make the sauce, store in an airtight container and freeze separately from the meatballs.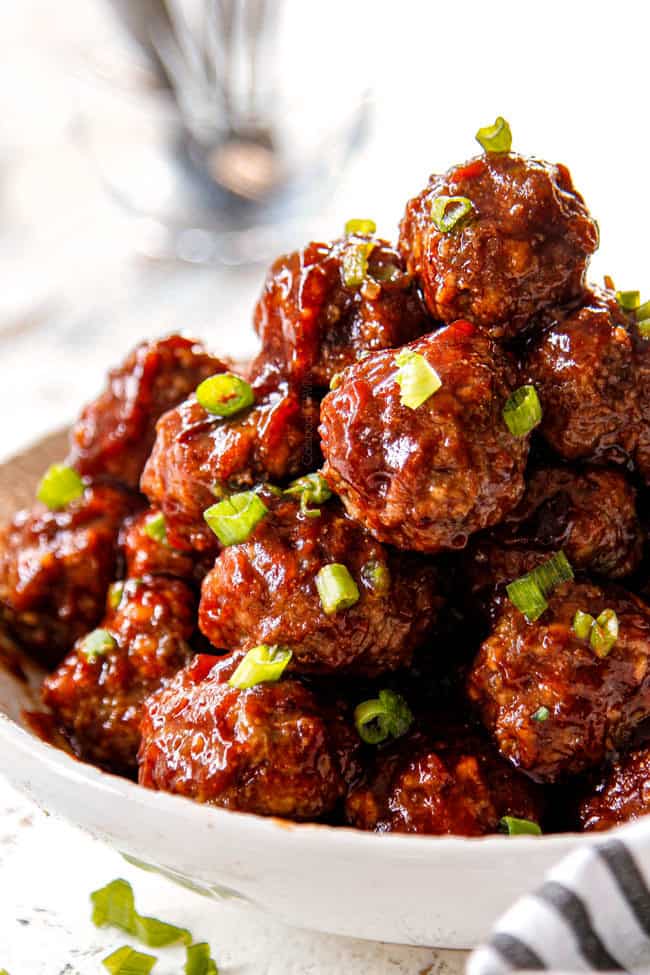 How to Defrost Frozen Cranberry Meatballs
When ready to make, cook Cranberry Meatballs either on the stove, crockpot or oven/crockpot:
STOVE: Add frozen meatballs and sauce to a large pot and simmer for 30 minutes or until cooked through, taking care not to stir the first 10 minutes so you don't break the meatballs.
CROCKPOT: Add frozen meatballs and sauce to crockpot and cook on low 6-8 hours or until cooked through and hot.
OVEN/CROCKPOT: Defrost meatballs in the oven by baking at 350 degrees F for 10 to 12 minutes. Meanwhile, defrost sauce in the microwave or stove, stirring often. Transfer meatballs and sauce to crockpot and cook on LOW for 2-4 hours or until completely cooked through.
Looking for more Meatball Recipes?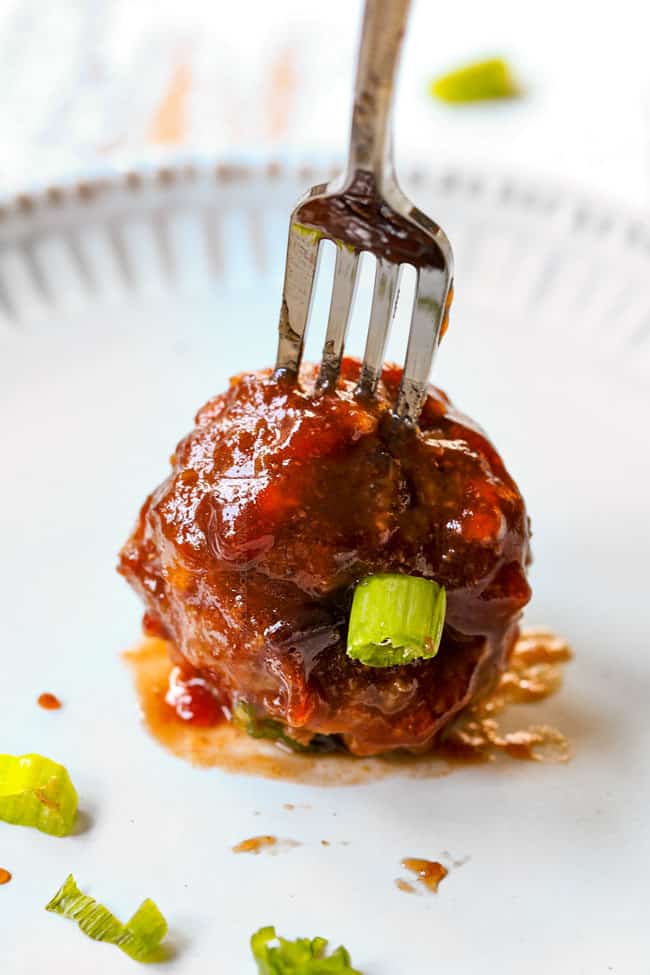 Want to try this Cranberry Meatball Recipe?
Pin it to your Slow Cooker, Meat, Holiday or Appetizer board to SAVE for later!
Find me on Pinterest for more great recipes! I am always pinning :)!
©Carlsbad Cravings by CarlsbadCravings.com
Carlsbad Cravings Original
Never miss a Carlsbad Cravings Creation:
Looking or more Holiday Recipes?
Cranberry Pistachio Cheese Log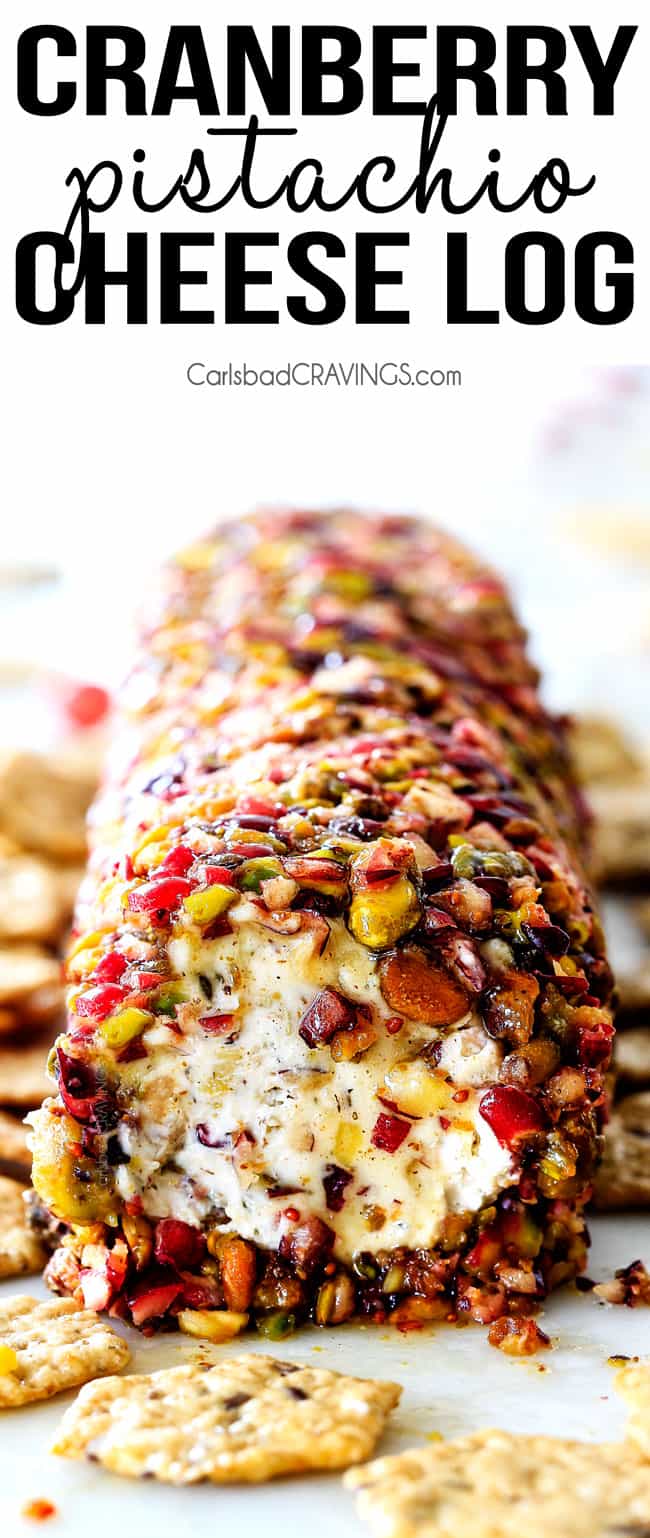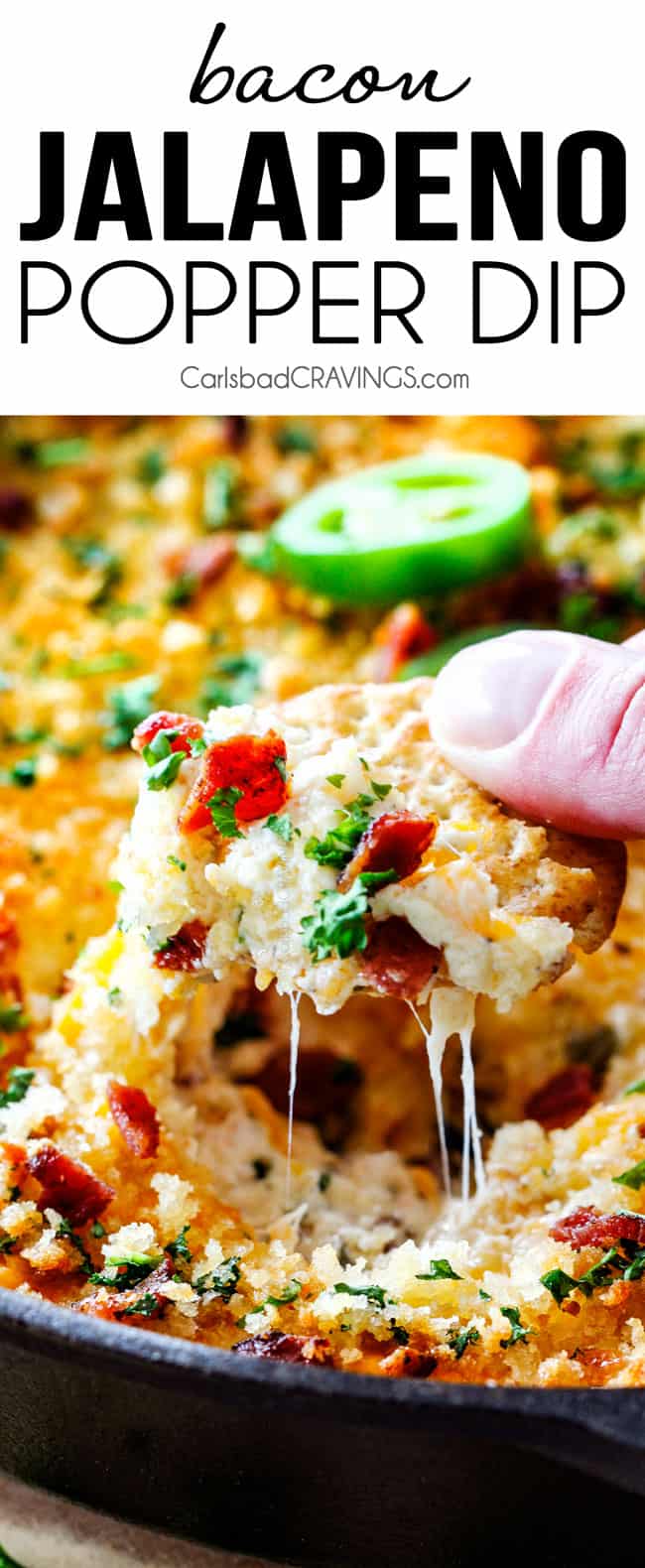 35 Minute No Rise No Wait Stromboli