Easy Cream Cheese Fruit Dip that tastes like sweet and tangy Key Lime Cheesecake!
---
This Cream Cheese Fruit Dip recipe is unbelievably creamy and the very BEST way to eat fruit! It is the ideal make-ahead snack or appetizer that everyone can't get enough of! This easy fruit dip makes a beautiful spread for any party, baby or bridal shower!
Cream Cheese Fruit Dip
Spring is upon us which means everything fruit! From my Pina Colada Fruit Salad to my Watermelon Pineapple Fruit Salad to my Grilled Pineapple Salsa, I am obsessed with spring and summer fruits and one of my absolute ways to devour fruit is dunked in this Key Lime Cream Cheese Fruit Dip! I am soooooo in love with this fruit dip. borderline obsessed. Its quick, easy, unbelievably delicious and sooooooooo creamy!
For my first fruit dip test run, I did used just key lime yogurt, cream cheese and sweetened condensed milk and although it was really good, it was missing a little something-something. So, I ran back to the store and added Pina Colada Yogurt. Magic.
The resulting cream cheese fruit dip is sweet, creamy and tangy with layers of both key lime and coconut. You can play around with how sweet or how tangy you want the dip to make it YOUR favorite Fruit Dip! For sweeter, simply add some honey, for tangier, simply add some lemon juice.
Key Lime Cream Cheese Fruit Dip. The next time those need something fresh and sweet and smooth and creamy cravings hit, you'll know what to do.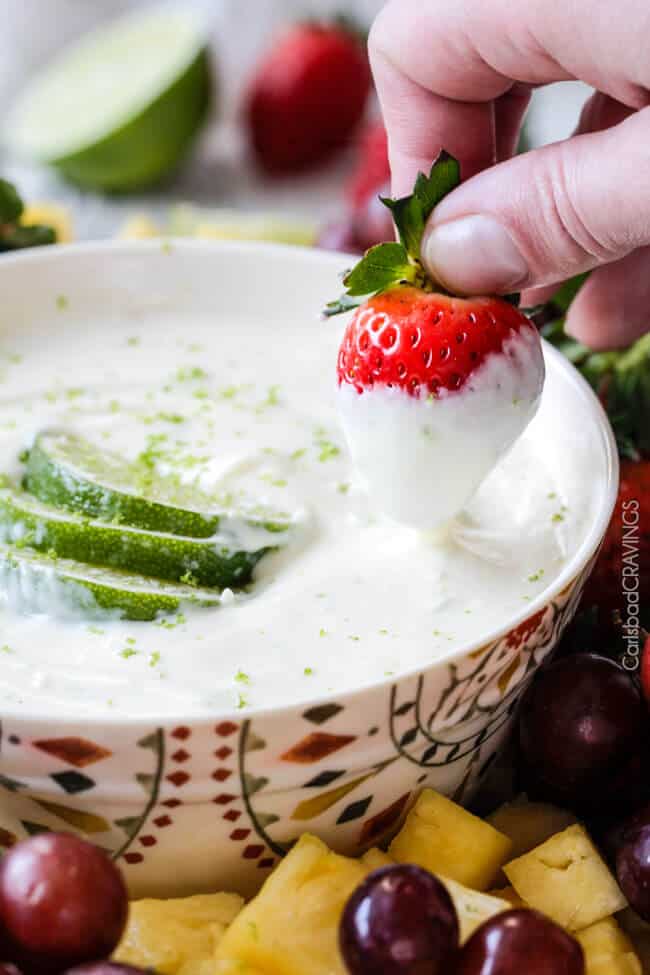 Ingredients for Cream Cheese Fruit Dip
You won't find any marshmallow fluff, heavy cream or whipped cream in this cream cheese fruit dip recipe, just pantry friendly:
cream cheese
sweetened condensed milk
vanilla extract
Key Lime Yogurt
Pina Colada Yogurt
Juice and zest from 1 lime
lemon juice
How to Make Fruit Dip
What's almost as amazing as the silky, creamy Key Lime Cream Cheese Fruit Dip, is the fact that it can be whipped up in just 5 minutes! 5 minutes! Now that's the easiest cheesecake I've ever made.
To make, simply whip together Key Lime Yogurt, Pina Colada Yogurt (I used Yoplait®), cream cheese (I use light), sweetened condensed milk, the juice and zest of one lime and a splash of lemon juice. Sweet, tangy and perfect for dipping!
How to Soften Cream Cheese For Fruit Dip
Cream cheese is a key ingredient in this easy Cream Cheese Fruit Dip recipe. It adds body, tanginess and of course that cheesecake-like goodness. It is important that your cream cheese be softened to room temperature or else you will get lumps in your dip – which kind of defeats the purpose of SILKY fruit dip!
In order to prevent lumpy fruit dip, you have three options to soften your cream cheese:
Water bath: This is my preferred method to soften cream cheese because it softens it evenly throughout without the risk of "melting" it or scorching it. To create a water bath, fill a medium bowl with hot water. Place the sealed, packaged cream cheese in the bowl for 10 minutes to soften. If it isn't soft enough after 10 minutes, then dump out the hot water, refill and repeat.
Counter + Microwave: This is my second preferred method as it is super quick and easy and allows the cream cheese to come to room temperature evenly. Cube cream cheese and transfer to a microwave safe plate. Microwave for 30 seconds then allow cream cheese to sit at room temperature for 30 minutes. This gives it a head start to soften at room temperature. I don't recommend just allowing the cream cheese to sit at room temperature without microwaving or it won't become soft enough within 60 minutes. By both microwaving and sitting, we get the best of both worlds.
Microwave: This method is if you need cream cheese NOW but it is a little more risky because the cream cheese can not only become too soft but can soften unevenly and worst of all, overcook – so proceed with care and caution. Cube cream cheese and transfer to a microwave safe plate. Microwave for 15-20 seconds, stir and microwave another 10 seconds. Repeat until cream cheese is softened.
WHAT To serve with FRUIT DIP Recipe?
First, I dunked my fruit in the silkilicious cream cheese fruit dip until the fruit was gone. Then, I was smothering anything I could get my hands on from granola bars to pretzels because in my book, dippers are just a vehicle to envelop in luscious, cream cheese fruit dip, so I can consume luscious, creamy Key Lime Cream Cheese Fruit Dip. I should have just grabbed a spoon.
Try this Fruit Dip with these fruit options:
strawberries
pineapple
grapes
honeydew
watermelon
cantaloupe
bananas
kiwis
peaches
pears
apples
oranges
Other options for fruit dip:
Sweets: cookies, lemon bars, brownies or granola bars, scones, donuts
Breakfast: If you have leftovers, this fruit dip is delicious mixed with berries and granola to create a parfait or on pancakes or in crepes
Can I make Fruit Dip Ahead of Time?
If your taste buds just can't wait, then you can devour the Cream Cheese Fruit Dip right away, but the dip thickens and the flavors are even more unbelievably delicious if refrigerated overnight or even 24 hours, making this fruit dip the perfect make ahead snack or appetizer any time your crave something a little more decadent, a little more sweet, a lot more delicious.
For me, that's all the time.
How Long is Fruit Dip Good For?
Store this Cream Cheese Fruit Dip in an airtight container in the refrigerator for up to 5 days.
CAN I FREEZE FRUIT DIP?
Some fruit dips are okay to freeze that contain marshmallow fluff but I do not recommend freezing this fruit dip because it is almost 100% dairy which will separate when frozen and thawed.
Looking for more Cream cheese Recipes?
Want to try this Fruit Dip Recipe?
Pin it to your Appetizer, Dessert or Summer Board to SAVE for later!
Find me on Pinterest for more great recipes! I am always pinning :)!
©Carlsbad Cravings by CarlsbadCravings.com
Carlsbad Cravings Original
Never miss a Carlsbad Cravings Creation: