Gyro Pizza is all your favorite Greek gyro flavors in pizza form!
This Gyro Pizza recipe is an explosion of Greek deliciousness! It starts with flatbread layered with sun-dried tomato basil hummus, flavor bursting Greek Chicken, red onions, mozzarella, feta and tomatoes all drizzled with easy Blender Tzatziki . It make the most satisfying lunches/dinners or a super fun appetizer!
Thank you Flatout Flatbread for sponsoring this Gyro Pizza recipe post. All opinions are my own.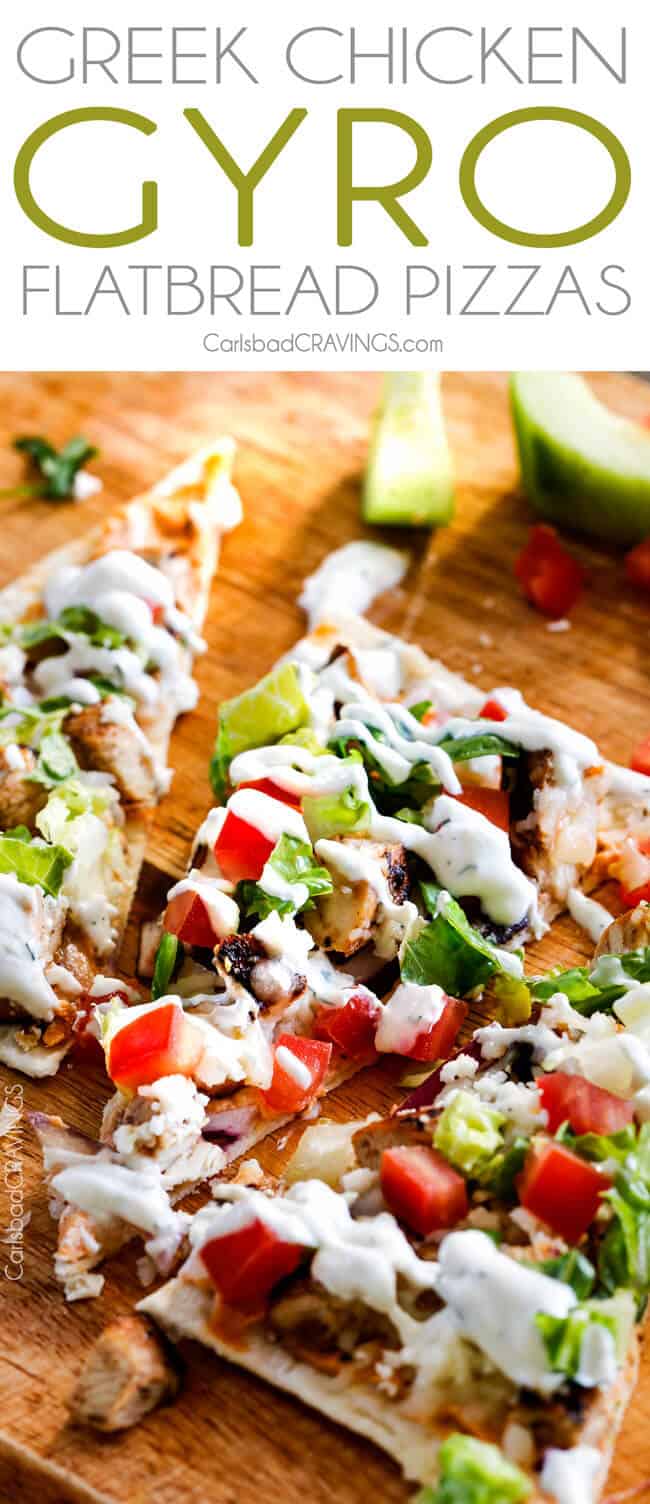 PIN THIS RECIPE TO SAVE FOR LATER
What is Gyro Pizza?
You guys, this Gyro Pizza is one of my favorite culinary creations! Instead of heavy, meaty cheesy pizza, we have light, flavor bursting, guilt-free pizza that's deeply satisfying.
The thin crunch of the Flatout Flatbread, the creaminess of the Sun-Dried Tomato Basil Hummus, the juicy, flavor exploding Greek chicken, the cheesy gooey mozzarella, the tangy feta and creamy punch of dill infused Blender Tzatziki Sauce makes this Greek Pizza one fresh, satisfying and irresistible meal you won't be able to live without!
The Best Greek Chicken for GYRO Pizza
This Gyro Pizza is based off of a chicken gyro and a gyro is only as good as the chicken – and this Greek chicken is a 10 out of 10 in my opinion. It's my new favorite chicken marinade e-ver. It's definitely Patrick's. This is actually a huge surprise to me as I am more of an Asian and Mexican food kind of girl, but there is no denying the deliciousness that is this Greek Pizza. Be prepared to fall in love!
The Greek Chicken marinade has quite a few ingredients but they are mostly a quick dash of common pantry spices that when combined make this chicken so good you will be want to eat it just plain!
The Best Pizza Dough for Gyro Pizza
Since we're trying to achieve a gyro type taste an feel for this Gyro Pizza, I chose to use flatbread for the pizza "crust" but you have a few options:
Flatbread: I love this chewy, crispy option of flatbread as it really allows the other ingredients to shine just like in my Taco Flatbread Pizza. Flatout Flatbreads come in Rosemary and Olive Oil, Spicy Italian, or Rustic White. I used Rustic White because that's what I had on hand but I can't wait to try these flatbreads with the other two flavors! And because we are using flatbreads instead of pizza crust, you can eat and eat and eat with a big blissful, guilt free smile on your face – in less time. Flatout Flatbread come partially baked so you will want to bake them for 2 minutes to crisp up before adding the hummus and other ingredients.
Naan: Naan is a type of flatbread but is a little thicker than Flatout Flatbread so you can skip the 2 minute baking time before adding toppings.
Pizza dough: If you want to go full pizza, you can use either store-bought pizza dough or my incredible, RAVE review worthy pizza dough recipe. I haven't tried this Gyro Pizza recipe using pizza dough, but I am assuming my recipe would be the right amount for one regular sized pizza (two flatbread pizzas). If you use my pizza dough recipe, be aware that it is for two pizzas, so you can either halve the recipe or freeze the dough (instructions included in the post).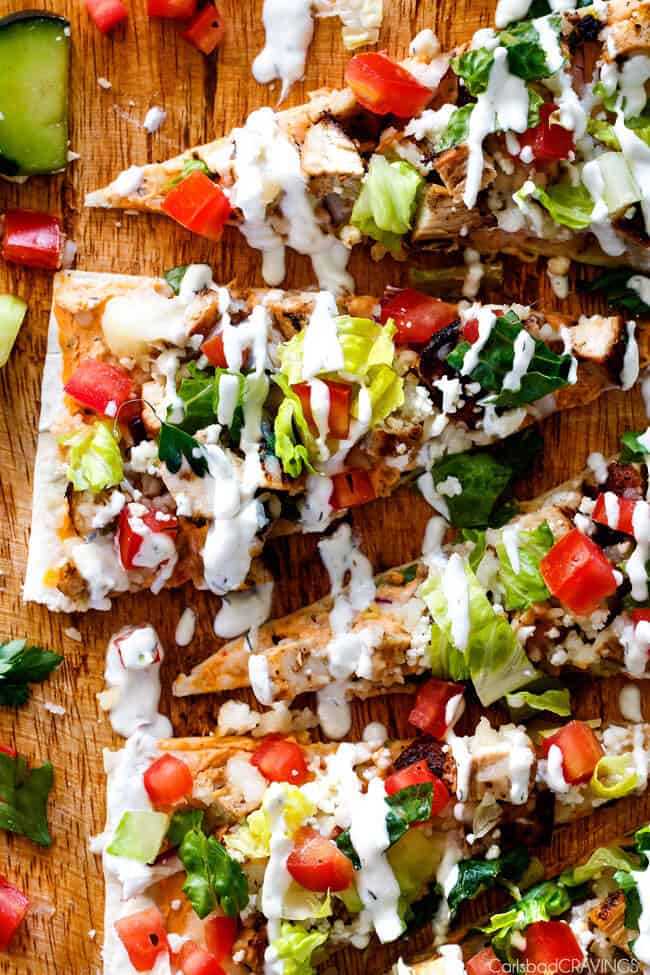 Gyro Pizza Toppings
This Gyro Pizza is layered with tantalizing Greek flavors. It begins with:
hummus: I use sun-dried tomato basil humus mixed with sour cream and Greek yogurt to create our "pizza sauce." It's creamy, flavorful and fabulous. Other flavors of hummus will work as well, but I recommend and LOVE the sun-dried tomato in this Greek Pizza recipe.
red onions: add a punchy, tangy flair.
mozzarella cheese: adds the cheesy, gooey delight. Please use freshly grated mozzarella for the best taste and melting ability.
feta: you can't have Greek Pizza without feta! It's salty, creamy and belongs in everything Greek! You can use more or less to taste.
tomatoes: I use two Roma tomatoes but you can use whatever you have on hand.
lettuce: I love the fresh crunch of lettuce – use your fav.
Other topping ideas:
Kalamata olives
bell peppers or roasted bell peppers
artichokes
zucchini
pepperoncini
sun-dried tomatoes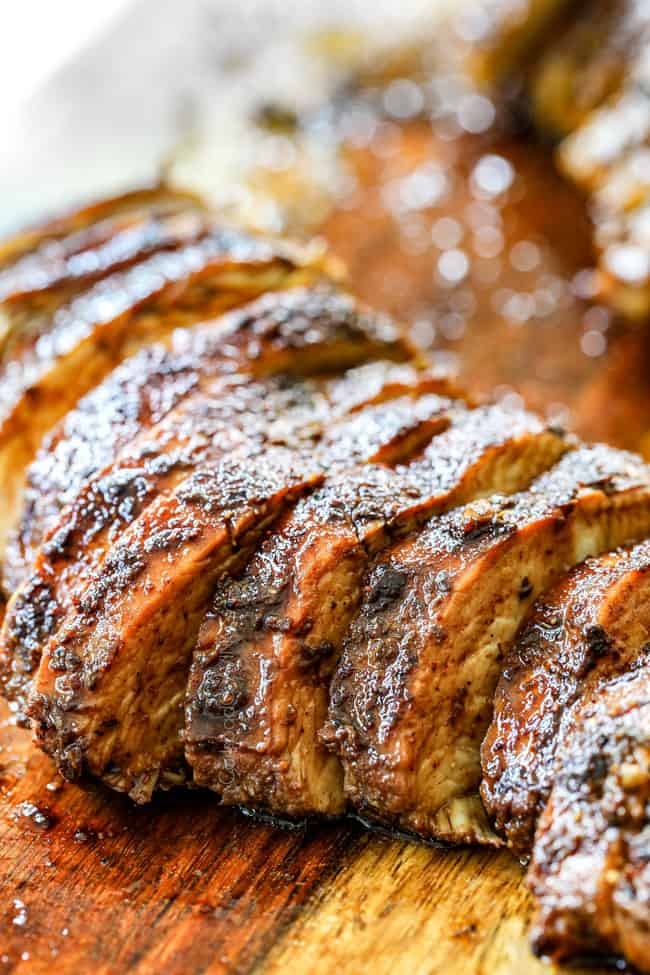 How to Make Gyro Pizza
Marinate chicken. To make the marinade, whisk together olive oil, balsamic vinegar, lemon juice, and a plethora of spices including garlic, oregano, cumin, basil, and paprika. Best. chicken. EVER!
Bake Flatbread. When it comes time to actually make your Gyro Pizza, they take minutes to whip up because you have already marinated your chicken. First you bake your Flatout Flatbreads for 2 minutes.
Layer pizza. The wonderfully thin, perfect amount of crispy Flatout Flatbreads, get layered with store bought (AKA easy), sun-dried tomato basil humus mixed with sour cream, followed by your Greek chicken and red onions, mozzarella and feta cheeses.
Bake Greek Pizza. Bake pizza for for 4 minutes (yes, that quick and easy!).
Finish with toppings. Finally, top with lettuce, tomatoes and Blender Tzatziki Sauce.
The Best Topping for Gyro Pizza
That's right, finish off your Gyro Pizza with heavenly Blender Tzatziki. This tzatziki is tangy, fresh and awakens and enlivens all the rest of the Greek Pizza flavors – just like it does a gyro – so PLEASE don't skip it!
I like to make my Blender Tzatziki Sauce the same time I am marinating my chicken, that way it is extra chilled, the flavors melded, and requires no extra time or effort when it comes to making the Gyro Pizza.
This Tzatziki Sauce is extra simple because there is no need to strain your cucumbers because we want the sauce to be a little thinner than usual – more the consistency of a dressing than a sauce – so we can easily drizzle its creamy tang all over our Greek Pizzas. I've subbed out half of the Greek Yogurt for sour cream because I personally like the taste better but feel free to use all Greek yogurt if you prefer – or even all sour cream if you prefer.
Recipe Variations
hummus: swap the red pepper hummus for any variety of hummus, sun-dried tomato would be tasty!
quick chicken: use the marinade on shredded rotisserie chicken and let it rest for 15 minutes to soak up the flavor.
protein: mix up the chicken and use the marinade on shrimp, pork, lamb or even meatballs!
toppings: get fun and flirty with the toppings! Some additional ideas include sun-dried tomatoes, olives, artichokes, pickled red onions, and avocados.
What to Serve with Gyro Pizza?
This Gyro Pizza is practically a meal-in-one. We love to serve it with a big green salad and fruit but it is also delicious with some more sophisticated options:
How to Store Gyro Pizza
Fold slices of Gyro Pizza in foil and store in the refrigerator for up to 3 days. If you know you're going to have leftovers, then don't add the lettuce, tomato and tzatziki to those slice and store them on the side in an airtight container in the refrigerator.
HOW DO YOU REHEAT Gyro PIZZA?
You can reheat this Gyro Pizza in the microwave at 30 second intervals but the flatbread will lose some of its crunch. I prefer to reheat this pizza in the oven at 250 degrees for approximately 5-10 minutes. You will want to remove any fresh toppings before reheating and add them fresh.
CAN I FREEZE Gyro PIZZA?
Yes!  You will just want to make sure you remove any fresh toppings before freezing as they will become an unpleasant texture.
To freeze Gyro pizza:
Bake flatbread pizza according to directions.
Do not add fresh toppings.
Let pizza cool completely to room temperature.
Add each flatbread pizza to a large freezer bag or wrap tightly several times in plastic wrap.
Freeze for up to 3 months.
Looking for more Greek recipes?
Want to try this Gyro Pizza Recipe?
Pin it to your PIZZA, DINNER, or CHICKEN Board to SAVE for later!
Find me on Pinterest for more great recipes!  I am always pinning :)!
©Carlsbad Cravings by CarlsbadCravings.com
Gyro Flatbread Pizzas
Greek Pizza is all your favorite gyro flavors in pizza form! This Greek Pizza recipe is an explosion of Greek deliciousness! It starts with flatbread layered with sun-dried tomato basil hummus, flavor bursting Greek Chicken, red onions, mozzarella, feta and tomatoes all drizzled with easy Blender Tzatziki . It make the most satisfying lunches/dinners or a super fun appetizer!
Save This Recipe To Your Recipe Box
You can now create an account on our site and save your favorite recipes all in one place!
Ingredients
Flatbread Pizzas
12

oz.

boneless skinless chicken breasts

1

tablespoon

olive oil

2

Rustic White/Rosemary and Olive Oil

or use Spicy Italian Flatout Flatbreads

1/3

cup

sundried tomato basil humus

2

tablespoons

sour cream

(may sub Greek yogurt)

2

tablespoons

thinly sliced red onions

(eyeball it)

1/2

cup

shredded mozzarella cheese

2

tablespoons

feta

2

Roma tomatoes, chopped

1

cup

chopped lettuce
Blender Tzatziki Sauce
Garnish
Tomatoes

lettuce

bacon

Extra feta
Instructions
Greek Marinade: Whisk together all of the Greek Marinade ingredients in a large freezer bag and add chicken. Marinate 4 hours up to overnight.

Blender Tzatziki Sauce: Meanwhile, slice cucumber in half lengthwise and scrape out the seeds using a teaspoon. Roughly chop cucumber and add to blender along with all remaining Tzatziki Sauce ingredients and blend until smooth. Add milk, a teaspoon at a time if needed to reach desired consistency. Refrigerate. (Best if chilled at least 1 hour.)

Chicken: When ready to make Flatbread Pizzas, remove chicken from fridge and let sit at room temperature 20-30 minutes (you can prep your toppings during this time). Heat one tablespoon olive oil in a large non-stick skillet over medium high heat. Once very hot, drain chicken from marinade, pat dry and add to skillet. Cook undisturbed for 3-4 minutes, or until nicely browned on one side. Turn chicken over, cover, and reduce heat to medium. Cook for approximately 5-7 more minutes (depending on thickness of chicken), or until chicken is cooked through. Remove to cutting board and let rest 5 minutes before chopping into bite size pieces.

Bake and Assemble: Meanwhile, heat oven to 375 degrees F. Place 2 Flatout Flatbreads on a cookie sheet and bake for 2 minutes. Remove from oven.

Whisk together ⅓ cup hummus and 2 tablespoons sour cream. Divide evenly between two flatbreads and spread in an even layer. Top hummus layer with red onion, chicken, mozzarella cheese and feta. Bake for 4 minutes or until mozzarella has melted (feta will not melt).

Garnish pizzas with desired toppings such as tomatoes and lettuce (and bacon would be delish too!). Drizzle with Tzatziki Sauce. Serve immediately.
Notes
**Note all ingredients are to be divided between 2 flatbreads
Did You Make This Recipe?
Tag @CarlsbadCravings and Use #CarlsbadCravngs
Leave a Review, I Always Love Hearing From You!
©Carlsbad Cravings Original