KOREAN MEATBALLS SIMMERED IN THE MOST TANTALIZING RICH SWEET HEAT SAUCE FOR TENDER, JUICY MEATBALLS THAT EVERYONE GOES CRAZY FOR!
These Best Crockpot Korean Meatballs are the perfect stress-free, make-ahead appetizer for New Year's Eve, Game Day or any party. These Korean Meatballs also make a delicious, easy meal with rice and veggies. You can make your Korean Meatballs ahead of time and keep them in the slow cooker for a stress free appetizer/dinner at your fingertips! You can also prepare the Korean BBQ Sauce days in advance!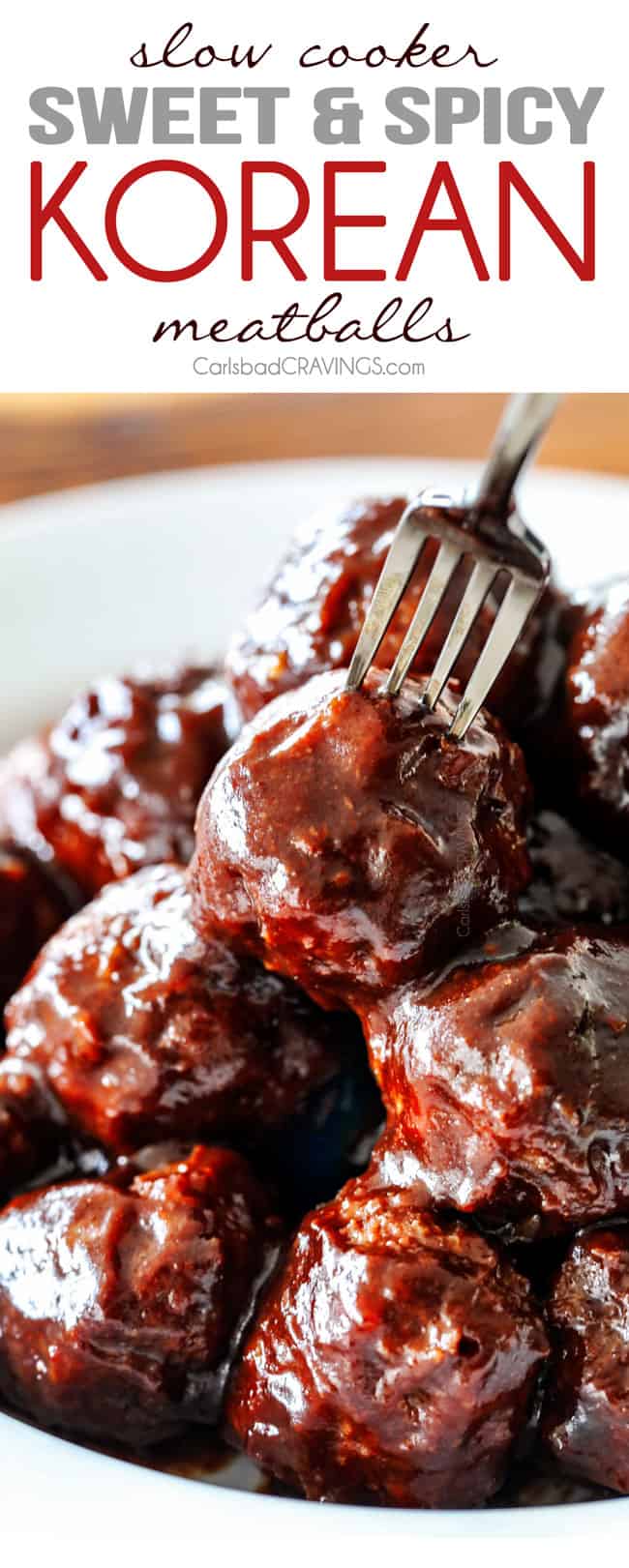 About Korean Meatballs
You guys know how I love a good meatball from my Italian Meatballs (and Italian Meatball Sliders) to Cranberry Meatballs to Parmesan Meatballs to Swedish Meatballs – all amazing. And you know how I love sweet and spicy anything and everything, well these Slow Cooker Korean Meatballs rank right at the top of my favorites. For those of you already obsessed with my Honey Buffalo Meatballs (as you should be), these are their Asian counterpart and they are can't-stop-eating de-LISH!
These Slow Cooker Korean Meatballs are unbelievably moist and seeping with flavor by not only the meatballs themselves boasting ginger, garlic, and onion but by finishing cooking in the slow cooker.
Cooking meatballs in the slow cooker is my absolute favorite method because instead of just pouring Korean BBQ Sauce on the meatballs and coating the outside, the meatballs actually soak up the low and slow flavorful saucy bath for taste bud exploding pleasure every time – but that would only be a good thing if the sauce was incredible – and this sauce is to live for!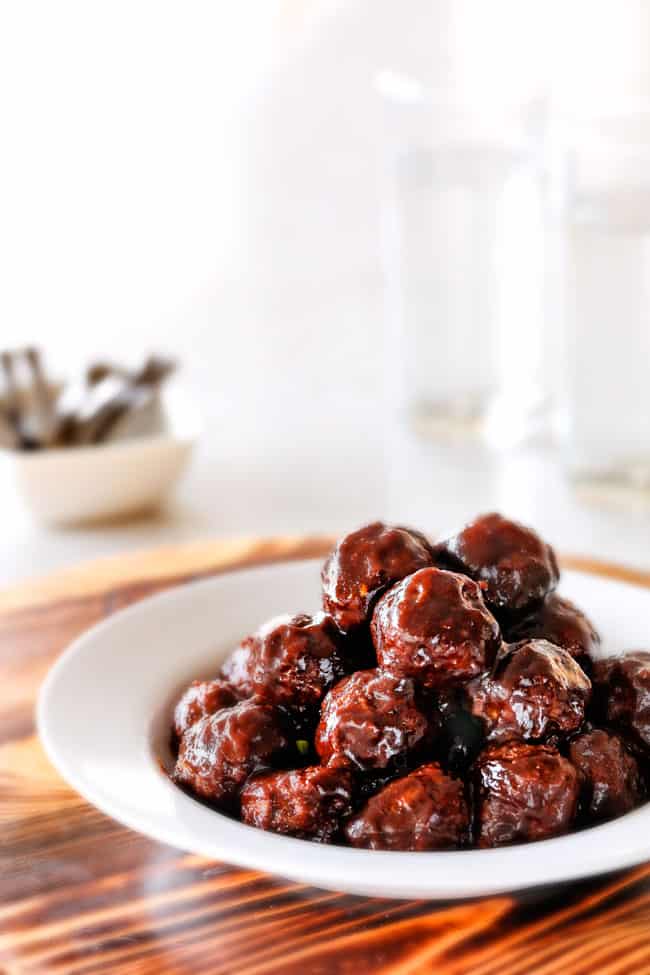 What's in Korean BBQ Sauce? 
The Korean BBQ Sauce for these Korean Meatballs is epic. It is savory, sweet, tangy and best of all, you can make it as spicy or mild as you like.
To make the sauce, just whisk together seedless blackberry preserves, hoisin sauce (like Asian BBQ Sauce), soy sauce, red wine vinegar, garlic, onion, ginger and the secret ingredient that makes these meatballs not only "Korean" but lick the crockpot delicious – Gochujang!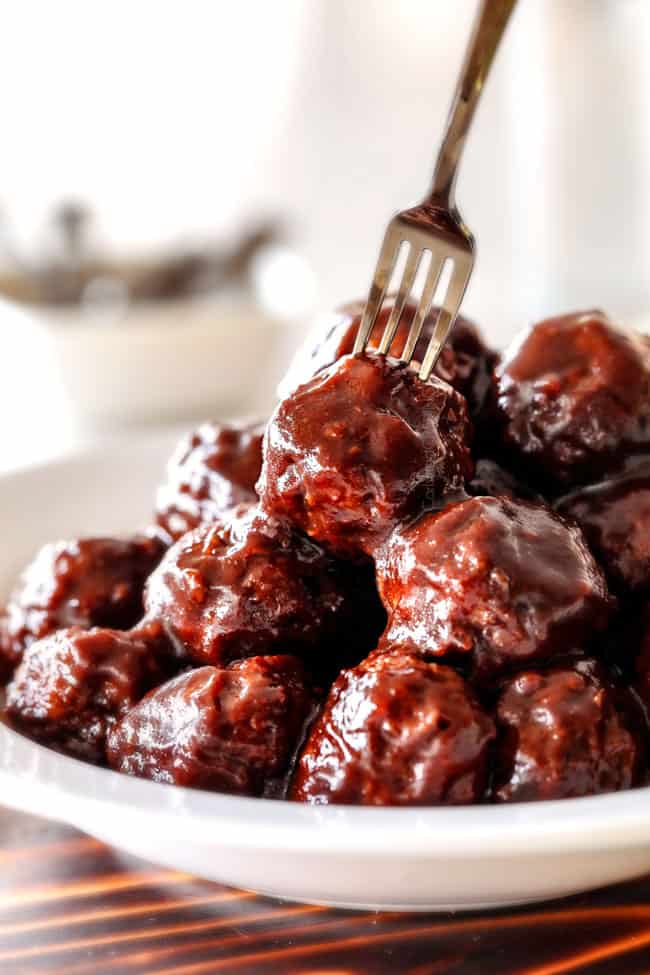 What is Gochujang?
Gochujang is absolutely essential in these Korean Meatballs. It's a Korean condiment that can be found in the Asian section of your grocery store. Now if you are wondering if there is possibly room in your refrigerator next to your Sriracha, Chili Garlic Sauce, Chili Paste and Sweet Chili Sauce, let me answer you friend, YES, yes, there is.
Gochujang is the sweet heat behind Korean dishes and its distinctly wonderful flavor can only be found in Korean cuisine. Gochujang is savory, sweet and spicy all at the same time, leaning more towards the sweet.
It is made from red chilies, glutinous rice (doesn't actually contain gluten, but means its very sticky) and soy beans. Its both complex in flavor and more mild in heat (compared to other chili pastes), making it perfect to elevate any meat, chicken or veggies. So while you might buy Gochujang specifically for these meatballs, I can guarantee you are going to be reaching for this flavor bursting condiment to dress up practically everything.
Where Can I buy Gochujang?
For these Korean Meatballs, and all my Korean dishes, I use Annie Chun's Gochujang Sauce. It is located in the Asian section of my grocery store, but you can also easily buy it on Amazon (LOVE Amazon prime!). I do recommend looking to see what Annie Chun's Gochujang Sauce looks like so you can easily spot it at the grocery store (not an affiliate, just will make your life easier).
So yes, please find a special place in your refrigerator for Gochujang.
And then you will find a special place in your heart and a can't-stop-craving-these-Korean-Meatballs spot in your belly.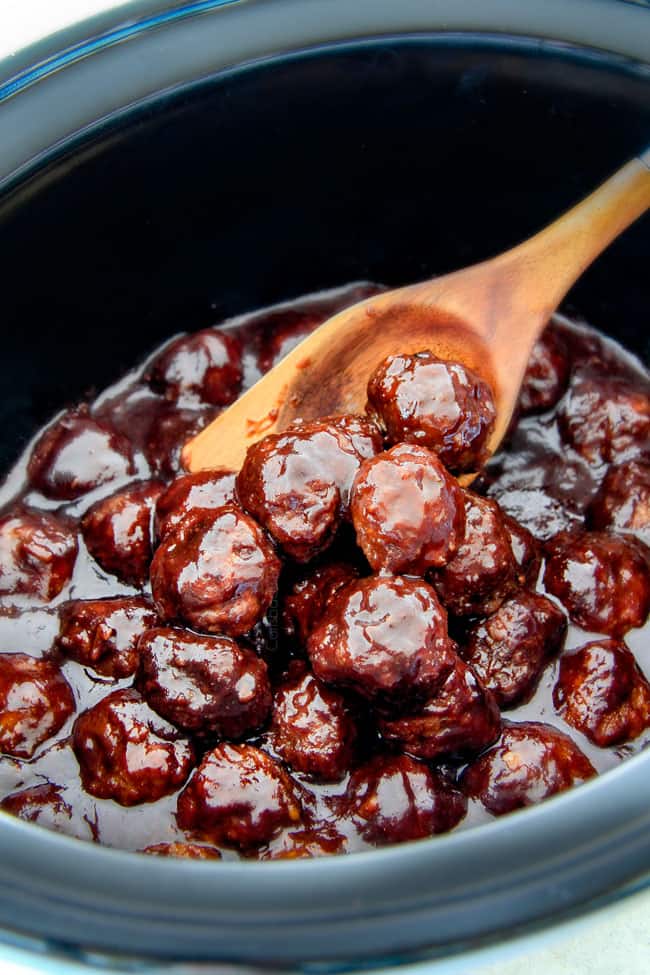 Can I Make Korean Meatballs Ahead of Time?
Absolutely! Prepare Korean Meatballs according to directions. Either refrigerate then reheat in the crockpot on LOW for 1-2 hours or until heated through. Alternatively, you can prepare meatballs according to directions then keep on warm for up to 2 hours after cooking.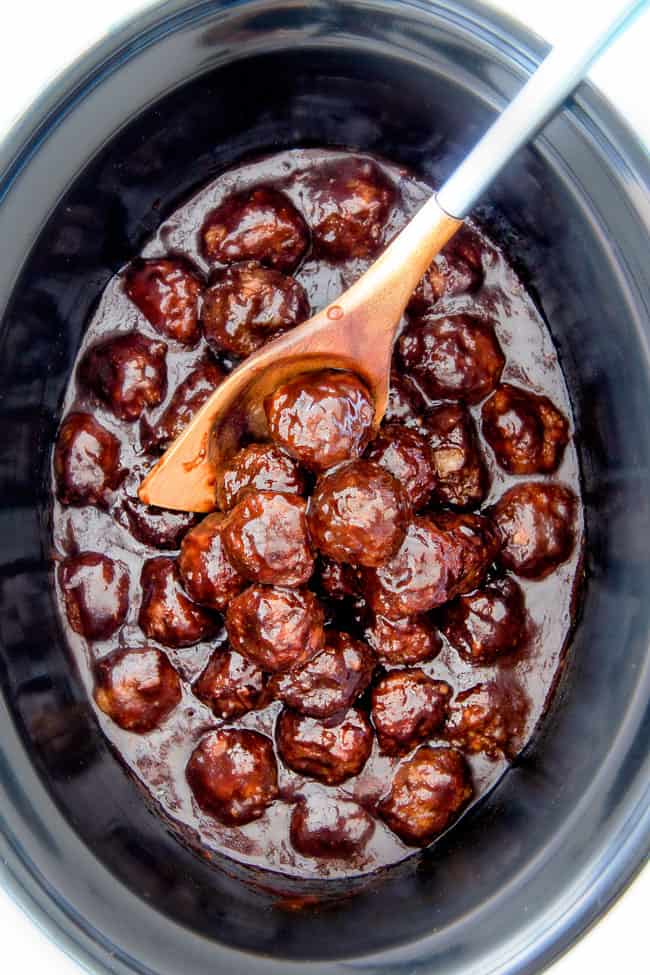 Can I Freeze Korean Meatballs?
Yes, Korean Meatballs freeze very well for a make ahead dinner or appetizer! To freeze:
Cook Korean Meatballs according to directions.
Let meatballs and sauce cool to room temperature.
Place meatballs and sauce in a large airtight container or freezer bag. For individual servings, portion into smaller sandwich bags.
Label meatballs and store meatballs in the freezer for up to 3 months.
When ready to eat, let meatballs defrost completely in the refrigerator.
Gently warm Korean Meatballs with sauce over the stove or warm in the crockpot for 1-2 hours or until heated through.
You might also like these Korean recipes: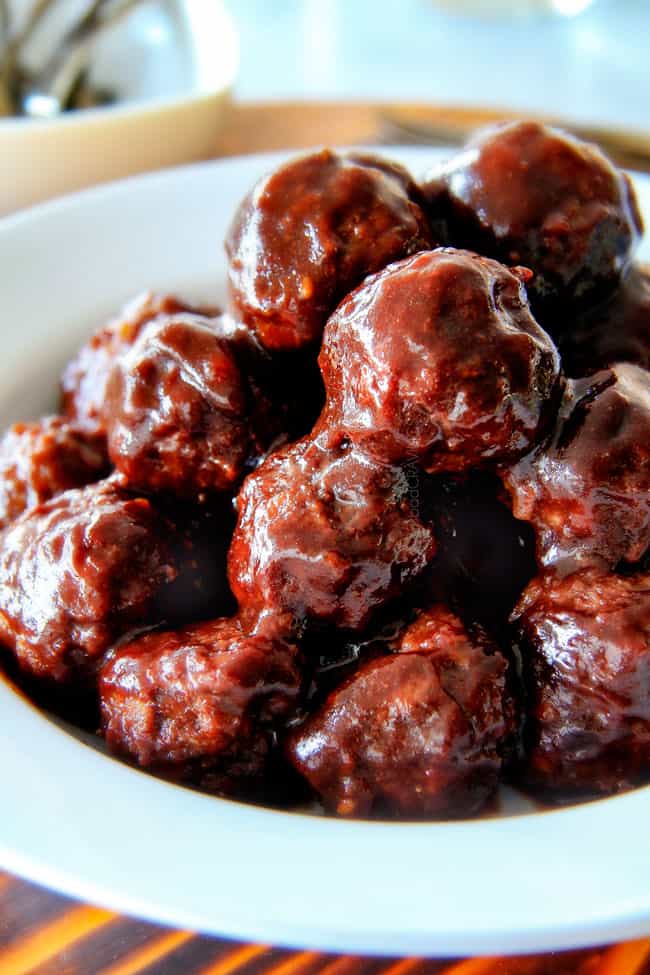 Want to try this Korean Meatballs Recipe?
Pin them to your ASIAN, SLOW COOKER, DINNER or APPETIZER Board to SAVE for later!
Find me on Pinterest for more great recipes!  I am always pinning :)!
©Carlsbad Cravings by CarlsbadCravings.com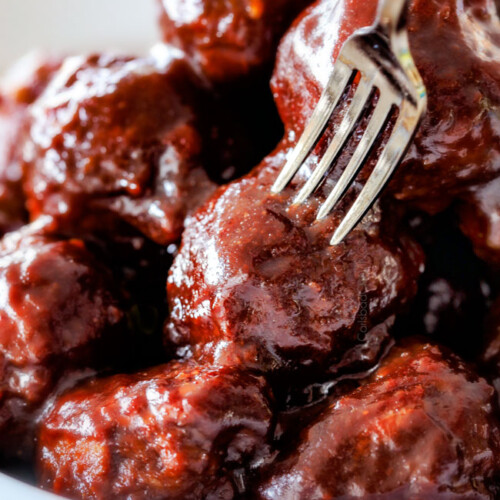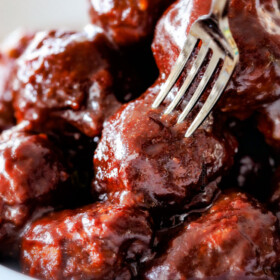 Slow Cooker Korean Meatballs
Tender juicy, sweet and spicy Slow Cooker Korean Meatballs simmered in the most tantalizing rich sweet heat sauce that everyone goes crazy for!  Perfect stress-free, make-ahead appetizer for New Year's Eve or Game Day or these meatballs make a delicious, easy meal with rice and veggies!
Total Time:
2

hours
30

minutes
Save This Recipe To Your Recipe Box
You can now create an account on our site and save your favorite recipes all in one place!
Ingredients
Meatballs
2

pounds

lean ground beef

2

eggs

22

saltine crackers, crushed

(approx. 1 cup)

1/3

cup

dry minced onion

1/3

cup

milk

1

tsp EACH

salt, garlic pwdr, onion pwder, ginger pwdr

1/4

teaspoon

pepper
Sweet and Spicy Korean Sauce
Instructions
Preheat oven to 450 degrees F. Line a rimmed baking sheet with foil. Set aside.

In a large bowl, add eggs and gently whisk. Add all remaining Meatball Ingredients and mix until well combined. Roll meat mixture into desired meatball size*. Place meatballs onto prepared baking sheet and bake for 8 minutes, or until lightly browned.

Meanwhile, add all of the Korean Sauce Ingredients to a medium bowl and whisk to combine.

Line the bottom of your slow cooker with a thin layer of the Korean Sauce. Add a layer of meatballs, drizzle with some more Sauce, then remaining meatballs followed by the remaining Sauce.

Cover and cook on low heat for 2 hours, gently stirring an hour after cooking. When done, taste and stir in additional

Gochujang

if desired for more sweet heat. Keep warm until serving.
Notes
*Makes approximately 60 meatballs using 1″ cookie scoop or heaping 1 tablespoon.
**Both Hoisin Sauce and Gochujang can be found in the Asian section of any grocery store.  I recommend googling, "Annie Chun's Go·Chu·Jang" so you can easily spot it.  If you can't find it, you can order it on Amazon.
Did You Make This Recipe?
Tag @CarlsbadCravings and Use #CarlsbadCravngs
Leave a Review, I Always Love Hearing From You!
©Carlsbad Cravings Original