THIS CROCKPOT POTATO SOUP IS UNBELIEVABLY CREAMY (WITHOUT ANY HEAVY CREAM), MEGA FLAVORFUL AND SUPER EASY!   
This Crockpot Potato Soup is wonderfully rich, thick and creamy without any heavy cream or the hassle of making a roux! I have a secret trick to get that velvety sauce that you are going to looooove! You are also going to love diving into this luxuriously creamy potato soup without all the guilt!
How to Make Crockpot Potato Soup Video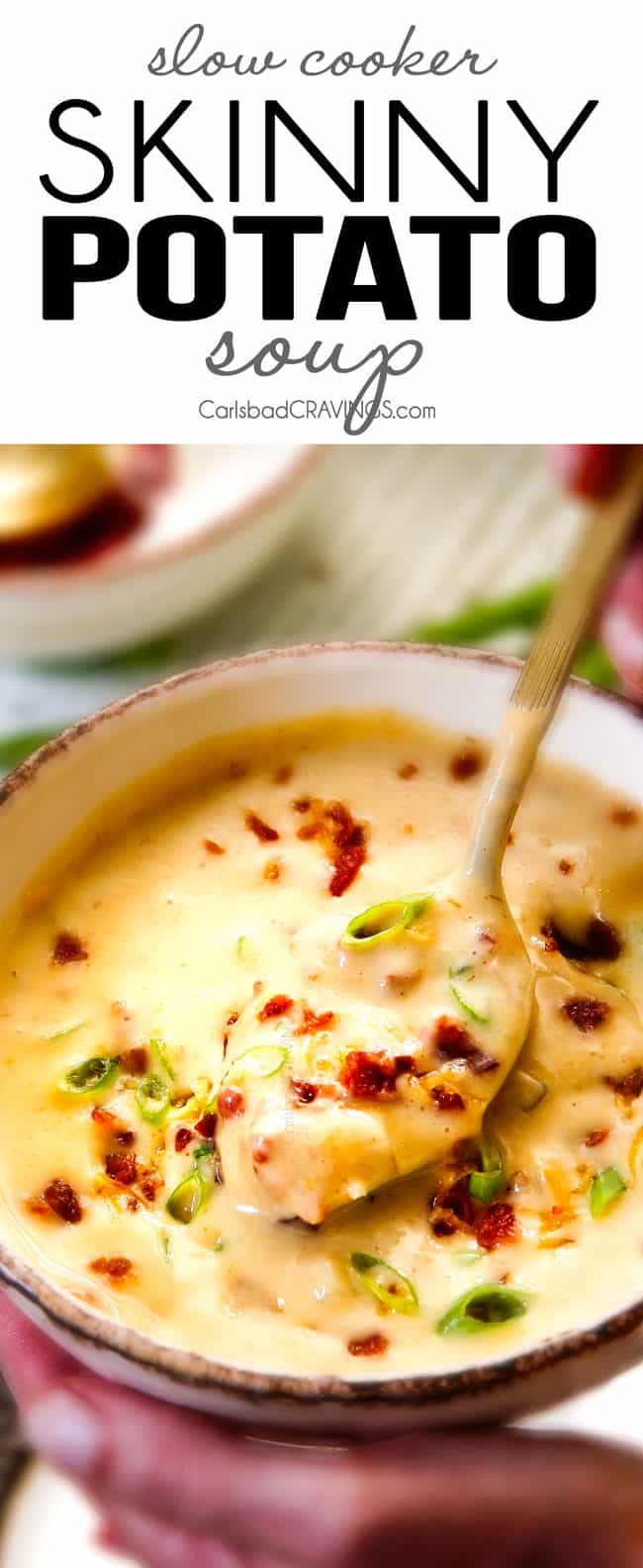 Crockpot Potato Soup Recipe
If your holidays were anything like mine with a basket brimming with goodies on the kitchen counter that you had to swipe something from every time you walked by, then you might be looking for something a little on the lighter side. But to ease you into "lighter," I've whipped up Lighter Crockpot White Chicken Chili, Lighter Broccoli Cheese Soup, Lighter Mexican Chicken Corn Chowder, HEALTHY Cauliflower Soup and now this thick and creamy potato soup! This Crockpot Potato Soup recipe is certain to fool your taste buds but not your waistline!
This Crockpot Potato Soup offers huge, warm, creamy comforting flavor with minimal effort. The most time consuming part of this easy Potato Soup is chopping the veggies which probably only takes 20 minutes – AND can all be done in advance. The little prep is SO worth the bowl after bowl of foodie heaven.
Reasons to Love this Easy Potato Soup Recipe
There are SO Many reasons to love this easy Potato Soup! In case you need any convincing to make this magnificent recipe, I'm going to spell it all out:
Easy: This creamy Potato Soup is a chop, dump and cook recipe. The only "work" you have to do is add some of the soup to the blender before serving – how easy is that?
Thick and creamy: This creamy Potato Soup is just that – CREAMY! It isn't the the sad, lackluster, runny consistency of many potato soups that leave you sadly dissapointted and comfortless. Instead, this wonderfully creamy Potato Soup is like a big, warm hug of velvety goodness that warms you from the inside out.
Healthier: This Crockpot Potato Soup is healthier than other potato soup recipes because it is thickened by evaporated milk, cornstarch and reduced fat cream cheese instead of butter, heavy cream and tons of cheese. You can also use turkey bacon in place of traditional bacon for even lighter Potato Soup.
Flavorful: Many Slow Cooker Potato Soup recipes fall short on flavor and taste like disenchanting thick, bland potatoes – not this potato soup! This easy Potato Soup recipe is seasoned to perfection so you won't miss the flavor – or calories.
Crowd pleaser: everyone LOVES creamy Potato Soup. Even your pickiest eater will be clamoring for more!
Customizable: you can create a "Potato Soup Bar" so everyone can customize their potato soup with options such as green onions, parsley, cheddar cheese, blue cheese, bacon, turkey bacon, broccoli, sour cream, Greek yogurt, chili powder, cayenne pepper, etc. AKA everyone's' favorite Loaded Potato Soup!
Make Ahead: Crockpot Potato Soup can be started in the morning then finished when you are ready to eat for an easy, stress free, make ahead dinner.
Fabulous Leftovers: you can also make this Potato Soup days in advance, refrigerate then reheat the soup in the crockpot or stove because the leftovers taste even better.
Makes a large quantity: This easy Slow Cooker Potato Soup makes a hearty crockpot full so its perfect for large crowds, company or leftover lunches or dinners.
Less Expensive: potatoes are very inexpensive so you can make a crockpot full to feed the entire family – and then some – at the fraction of the price of dining out.
What Kind of Potatoes Should I use?
My favorite potatoes for creamy Potato Soup is Yukon gold potatoes. They are waxy potatoes which means they do not absorb moisture while they cook so they retain their shape despite extended high heat. The emerge tender, creamy, buttery and melt-in-your-mouth with a superior flavor to Russets.
How many Potatoes is Two Pounds?
For this Crockpot Potato Soup recipe, you will need two pounds Yukon gold potatoes. This is about four medium size potatoes. Potatoes vary in size, so I suggest weighing them on the produce scale just to be safe. You can use more or less potatoes, but it will affect the ratio to other ingredients.
What Cheese Should I Use?
Make sure you use good quality FRESHLY GRATED sharp cheddar cheese. Pre-packaged cheeses contain anti-clumping agents which prevent the cheese from sticking together while in the bag which also prevents the cheese from melting as well.
Freshly grated cheeses melt smoother and boast full bodied superior flavor. Also don't be tempted to use mild cheddar. Sharp cheddar will add the oomph of favor needed in Slow Cooker Potato Soup.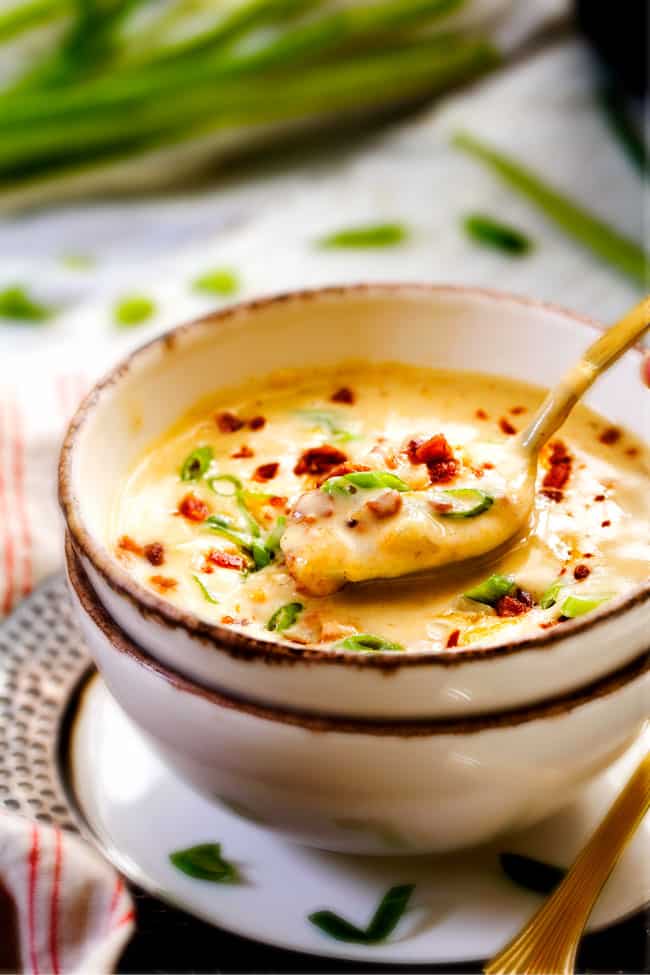 How do you add flavor to potato soup?
Potato Soup NEEDS seasoning because potatoes are quite bland on their own.
Onions and garlic: these aromatics create the flavor base of our Crockpot Potato Soup and are absolutely essential. You may substitute them with 1 teaspoon onion powder and 1 ½ teaspoons garlic powder.
Salt and pepper: Slow Cooker Potato Soup requires a significant amount of salt and pepper to awaken the rest of the flavors. If you feel like the soup is missing something at the end of cooking, it probably just needs more salt or pepper – so adjust to taste.
Carrots and celery: are part of the flavor base of all great soups and add a complex level of flavor. Please don't skip them or you will be missing out on layers of flavor.
Herbs: we add dried parsley, dried thyme and dried oregano to add subtle earthy, herby flavor.
Chicken bouillon: adds a salty flavor and is crucial in my opinion. If you want to skip it, you will need to add more salt to taste. 2 teaspoons chicken bouillon powder is two cubes chicken bouillon. You may also use better than bouillon.
What Kind of Bacon Should I Use?
You may use turkey bacon for healthier Potato Soup or pork bacon for traditional Crockpot Potato Soup.
If you use pork bacon, I suggest thick, center cut bacon opposed to traditional sliced bacon. Thick bacon holds up against time and heat.
Can I Make Vegetarian Potato Soup?
Absolutely! Simply omit the bacon and chicken bouillon and replace the chicken broth with vegetable stock. You will want to add additional salt to taste.
How to Make Slow Cooker Potato Soup
You area going to LOVE how easy this Crockpot Potato Soup is to make. Here's all you do:
Add diced potatoes, onions, carrots, celery, garlic, 2 strips crumbled bacon and 4 cups chicken broth to your slow cooker along with dried parsley, dried thyme, dried oregano, salt, pepper and chicken bouillon. The generous seasonings really set this soup apart because with that many otherwise bland potatoes and veggies, you really need to dress this silkiliciousness up with some flavor OOMPH!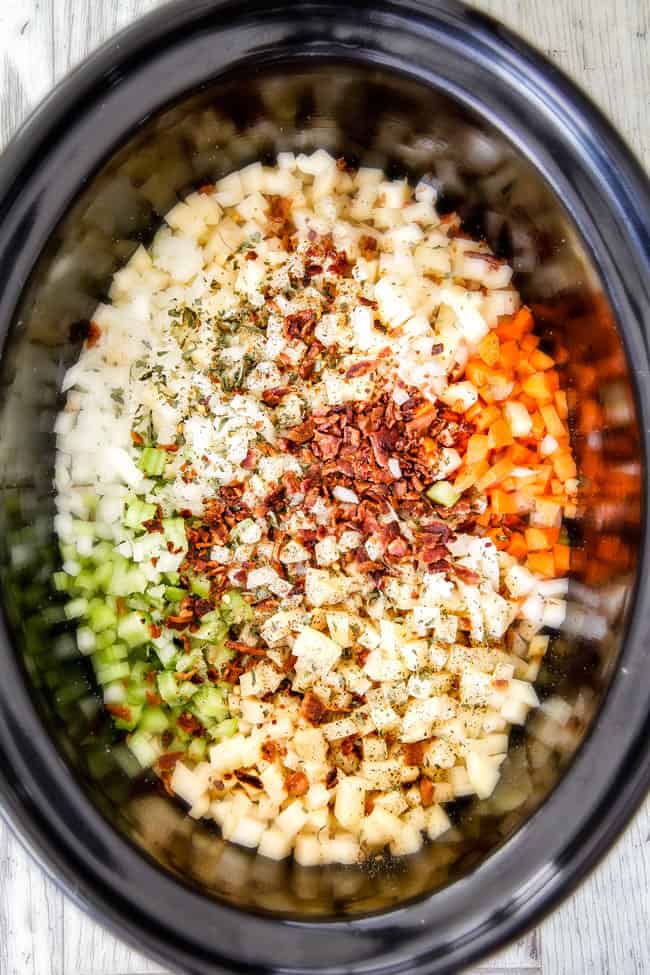 Cook on HIGH for 4 -5 hours or on LOW for 8-10 hours or until potatoes are completely tender – then it's magic time.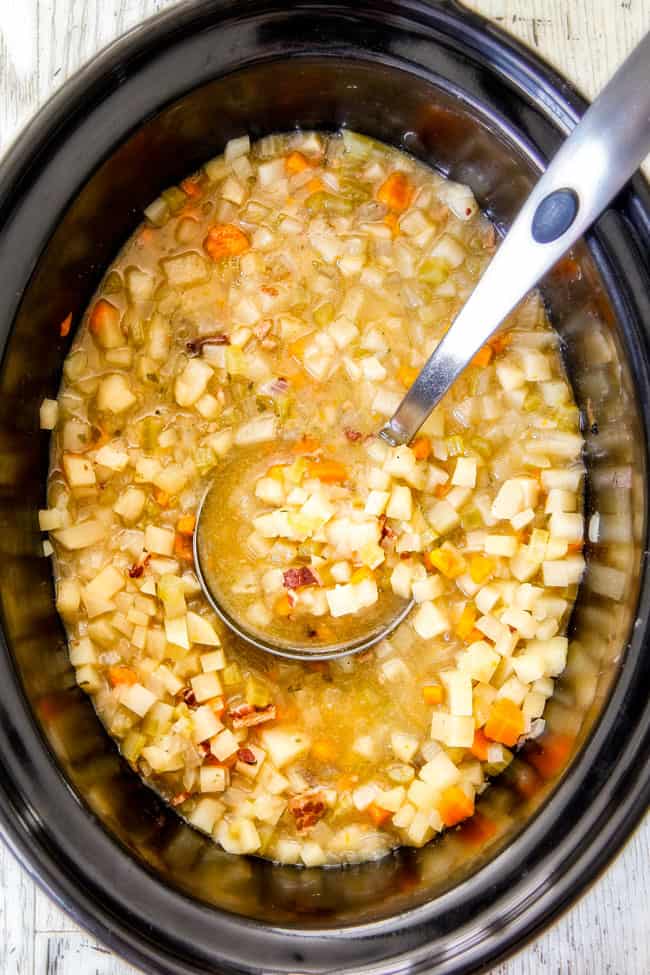 To create the ultra creamy soup, add 1/2-2/3 of the soup contents (veggies and broth) to your blender along with some cornstarch, evaporated milk and cream cheese (I use ⅓ less fat) and blend until completely smooth.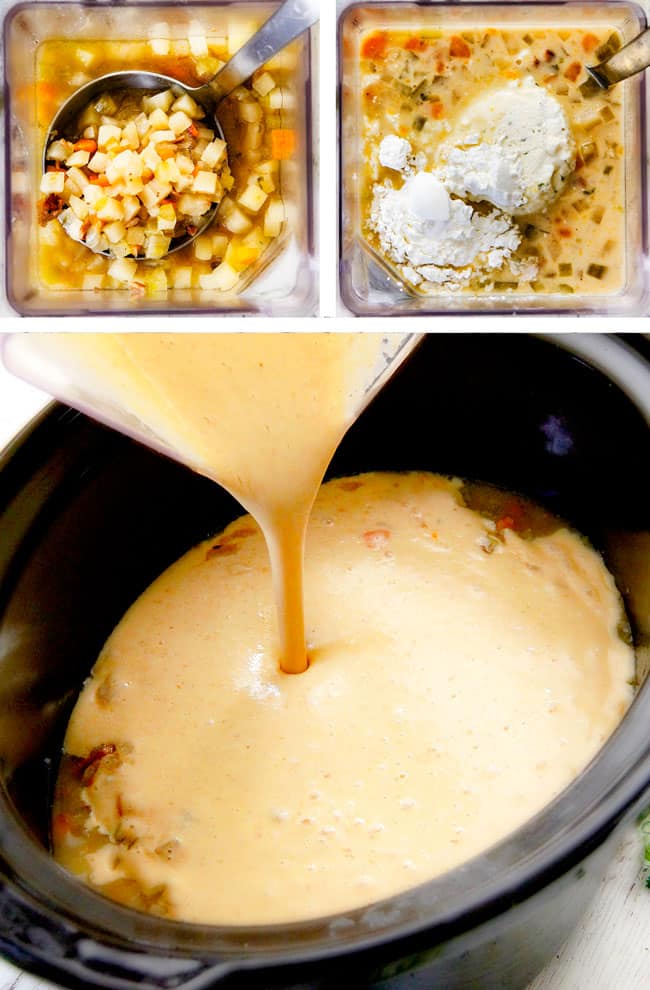 Pour the creamy blender contents back into slow cooker along with 1 cup chicken broth and cook on high for 20 additional minutes in order to thicken some more then stir in 1 cup cheddar until smooth.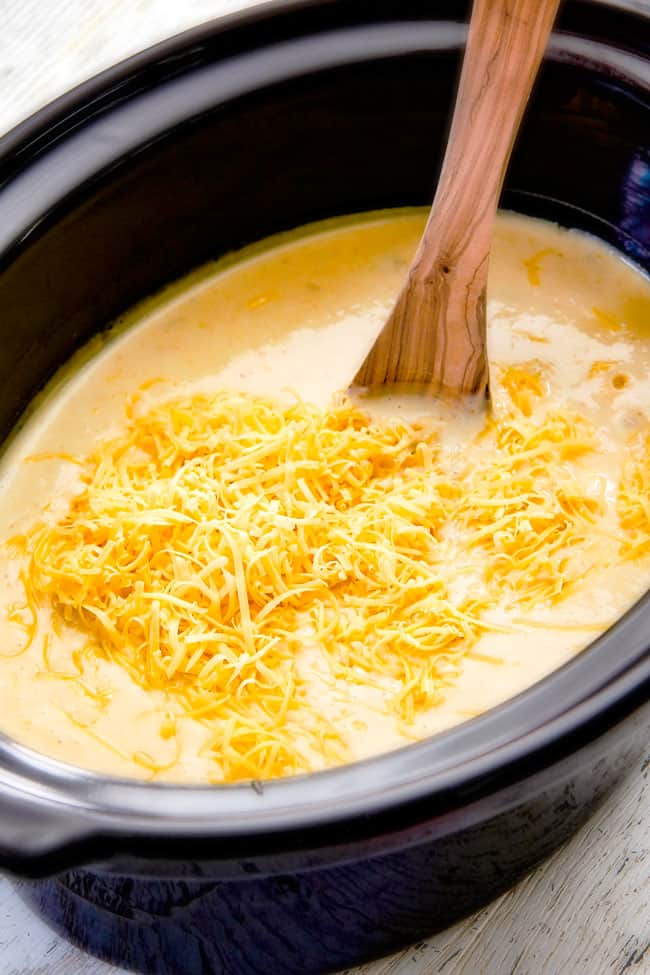 LOADED Potato Soup
To transform your Potato Soup into LOADED Potato Soup – pile it with toppings, just like you would a baked potatoes. Here are a few of my favs:
sharp cheddar cheese
blue cheese
bacon
barbecue chicken or pork
green onions
chives
broccoli
sour cream or Greek yogurt
crackers
dashes of chili powder, cayenne
salt and pepper
Then drink up bowl after bowl after bowl of Crockpot Potato Soup. Because it's skinny. And because it doesn't taste skinny at all.
How do you thicken up potato soup?
This creamy Potato Soup shouldn't require any thickening, but if you would still like a thicker soup, here are some suggestions:
Cornstarch: Remove some broth from the potato soup and whisk in 1-2 tablespoons cornstarch with a fork until smooth then whisk it back into the soup. Turn slow cooker to high until thickened, about 20-30 minutes, stirring occasionally.
Flour and butter: Mix equal parts flour and softened butter together with a fork so it becomes a thick paste and almost forms a ball. You will want 2-4 tablespoons each, depending on how thick you want the potato soup. Add it to the soup, stir, and cook on high until thickened, about 20-30 minutes, stirring occasionally.
Puree soup: Remove 1-2 cups of the potato soup and puree it in your blender or food processor. It will add body to the soup while preserving the flavor.
Mash potatoes: Remove more of the potatoes, mash them and return them to the soup. Mashed potatoes are thicker than pureed potatoes so they thicken the soup nicely. Alternatively, you can microwave a few potatoes separately, mash them and add them to the soup if you don't want to lose any of the cubed potatoes.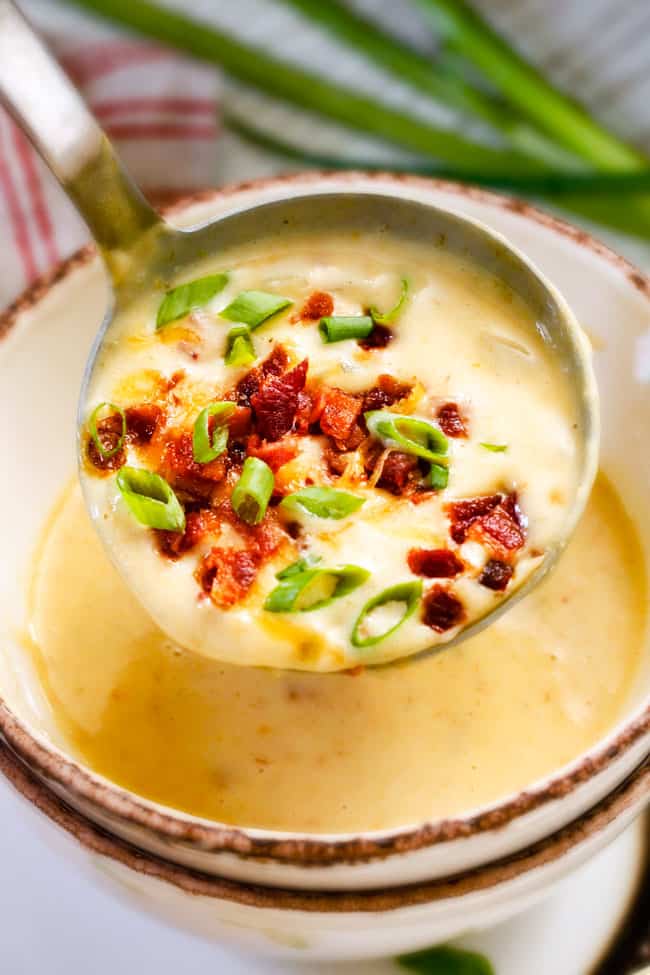 What meat goes well with easy potato soup?
This easy Potato Soup can be a meal all in itself, or a side to a main protein dish. It goes well with:
Ham and Cheese Sandwiches
What side dishes go with Potato soup?
I love serving Crockpot Potato Soup with a big chunk of bread and green salad. It also goes well with:
BREADS:
SALADS:
VEGGIES:
CLASSICS
Can I Prep Crockpot Potato Soup Ahead of Time?
Yes! You can prep all of the ingredients for easy Potato Soup a day ahead of time so then it's just dump, cook and eat! Here's how:
Veggies: you can chop the onions, carrots, celery and garlic and place them in an airtight container in the refrigerator.
Potatoes: You can chop the potatoes ahead of time but they will need to be submerged in water, covered and refrigerated to prevent them from browning.
Bacon: you can cook your bacon completely, cool, crumble and store in an airtight container.
Seasonings: you can measure out all of the seasonings and store them in a plastic aright bag.
How to Store Crockpot Potato Soup?
Once your Crockpot Potato Soup has cooled to room temperature, you can remove the ceramic insert from the slow cooker and put the whole pot (lid on) in the refrigerator.
Alternatively, you may also transfer your Potato Soup to an airtight container and store in the refrigerator.
HOW LONG WILL POTATO SOUP KEEP IN THE REFRIGERATOR?
Crockpot Potato Soup should be stored in an airtight container and kept in the refrigerator. When stored correctly, potato soup is good for three to five says.
Can I Make Potato Soup Ahead of Time?
The flavors of this Slow Cooker Potato Soup only gets better the next day so this soup makes wonderful leftovers. The soup will thicken in the refrigerator so just whisk in a little milk before reheating.
HOW DO I REHEAT Potato Soup?
Crockpot: To reheat your Slow Cooker Potato Soup from the refrigerator, place your ceramic crockpot insert back into your crockpot and heat on low for 1-2 hours.
Stove: You may also reheat large batches of Potato Soup in the stove over medium low heat, stirring occasionally until heated through.
Microwave: For smaller batches or individual servings, transfer Potato Soup to a microwave-safe dish, cover with a microwave-safe lid or paper towel. Microwave for 2 minutes, stir, then continue to microwave for 30-second intervals, if needed.
Can I Freeze Potato Soup?
No, I do NOT recommend freezing Potato Soup. Cream based soups do not freeze well as the dairy and fat separate resulting in an pleasant texture when reheated. Potatoes also don't freeze well as their texture becomes mealy and mushy.
LOOKING FOR MORE CREAMY SOUP RECIPES?
Want to try this Crockpot Potato Soup Recipe?
Pin it to your SOUP, CROCKPOT or HEALTHY Board to SAVE for later!
Find me on Pinterest for more great recipes! I am always pinning :)!
©Carlsbad Cravings by CarlsbadCravings.com
Crockpot Potato Soup (Skinny!)
This Skinny Slow Cooker Potato Soup is unbelievably creamy, mega flavorful and super easy in the crock pot!   This richly satisfying lightened up potato soup recipe is destined to become a new favorite! 
Total Time:
4

hours
20

minutes
Save This Recipe To Your Recipe Box
You can now create an account on our site and save your favorite recipes all in one place!
Ingredients
2

pounds

Yukon gold potatoes, peeled, diced

(about 1/4-½ inch)

1

medium onion, diced

3

medium carrots, peeled and diced

(about 1 cup)

3

stalks celery, diced

(about 1 cup)

6

cloves

garlic, minced

6

slices

(turkey) bacon, cooked and crumbled

divided

5-6

cups

low sodium chicken broth

divided

1

tablespoon

dried parsley

2

teaspoons

chicken bouillon powder

1 1/2

teaspoons

salt

1/2

teaspoon

dried thyme

1/2

teaspoon

dried oregano

1/2

teaspoon

pepper
ADD LATER:
2

tablespoons

cornstarch

1

12 oz. can

evaporated milk

(I use nonfat)

4

oz.

cream cheese, softened

(I use ⅓ less fat)

1

cup

freshly and finely grated sharp cheddar cheese
GARNISH
cheddar cheese

bacon

green onions

crackers

sour cream
Instructions
Lightly grease slow cooker with nonstick cooking spray.

Add diced potatoes, onions, carrots, celery, garlic, 2 strips crumbled bacon, 4 cups chicken broth and all seasonings and spices. Cook on HIGH for 4 -5 hours or on LOW for 8-10 hours or until potatoes are completely tender.

Remove ½ up to 2/3 of the soup (vegetables and liquid) to blender along with cornstarch, ½ cup evaporated milk and cream cheese. Blend until very smooth, being careful to let smoke escape or it will explode (I leave a corner open and cover with a paper towel). If you need more liquid in order for your blender to blend, then add additional evaporated milk.

Pour creamy blender contents back into slow cooker along with remaining evaporated milk and stir to combine. Cook on HIGH for 20 minutes then stir in 1 cup cheddar until smooth. For a thinner soup, stir in additional chicken broth.

Garnish individual bowls with additional cheese, bacon and plenty of green onions.
Notes
Don't miss the "how to make" recipe video at the top of the post!
Try this Potato Soup with my Moist Sweet Cornbread!
Did You Make This Recipe?
Tag @CarlsbadCravings and Use #CarlsbadCravngs
Leave a Review, I Always Love Hearing From You!
©Carlsbad Cravings Original