The Best Philly Cheese Steak recipe made right in the comfort of your own home!
This Best Philly Cheesesteak recipe boasts crazy tender, marinated steak, flavorful crisp tender bell peppers and ooey gooey cheese all sandwich in between a hoagie bun. The incredible marinated steak and spiced mayo set these Philly Cheese Steaks worlds above other recipes and you won't believe how easy they are. These Philly Cheese Steak Sandwiches make a fabulous game day food, guest food, or just a fun dinner any night of the week. You haven't tried Philly Cheese Steaks until you try these!
This Best Philly Cheese Steak recipe is sponsored by Sargento® Cheese. All opinions are 100% mine.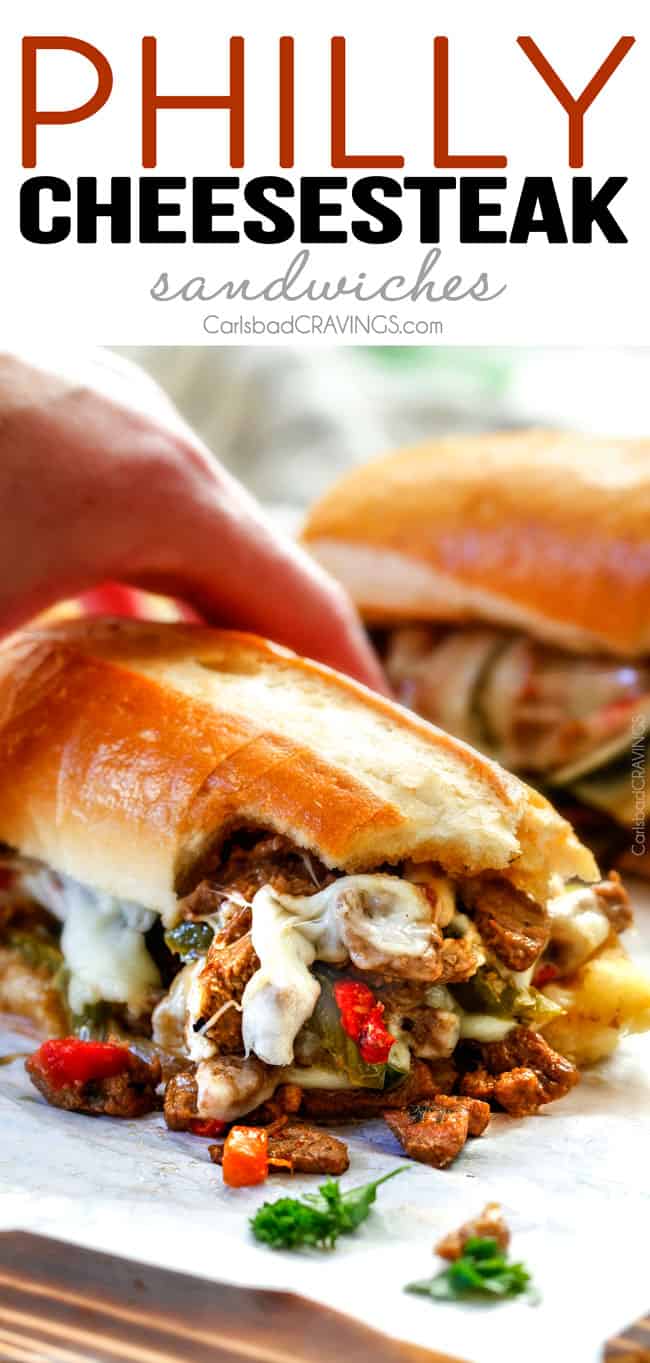 The Best Cheesesteak Recipe
I've mentioned my obsession with Philly Cheesesteaks here before. I crave them almost more than any other food. Thus my Alfredo Philly Cheese Steak Pizza (one of my first posts, terrible pics but SO GOOD) and my Philly Cheese Steak Egg Rolls and I've already photographed a Philly Cheese Steak Soup to share with you.
I love Cheesesteak so much that our authentic hole in the wall Philly Cheesesteak Sandwich shop was my requested Valentine's destination. True love.
So while I can't claim to have ever been to Pat's or Geno's, I've dined at my fair share of transplanted authentic Philly Cheesesteak shops to know what makes the Best Philly Cheesesteak recipe – AND what makes a bad one – no dry filling, bland meat or plain buns here!
So while these Philly Cheesesteak are not 100% authentic (I use provolone with sharp cheese (sorry purists), they are some pretty unbelievably delicious Philly Cheesesteak Sandwiches brimming with juicy chopped steak, peppers, poblanos and onions smothered in melty cheese – and I daresay the BEST homemade Philly Cheesesteak Sandwich recipe I have triad yet – I hope you agree!
What goes on Philly Cheese Steak
Philly Cheesesteak are known as Philadelphia cheese steak, Philly cheese steak, cheese steak sandwich, cheese steak, or steak and cheese but they all boast the same tantalizing filling of thinly sliced steak and melted cheese served on a hoagie roll.
Many Philly Cheesesteaks also include sautéed onions and bell peppers. Some versions also contain mushrooms, sweet peppers, hot peppers, banana peppers, pimientos, pickles, lettuce, tomatoes, olives and/or pepperoncinis.
So while I've kept this Philly Cheesesteak recipe simple with steak, onions, bell peppers and cheese, feel free to add whatever toppings your heart – or belly – desires!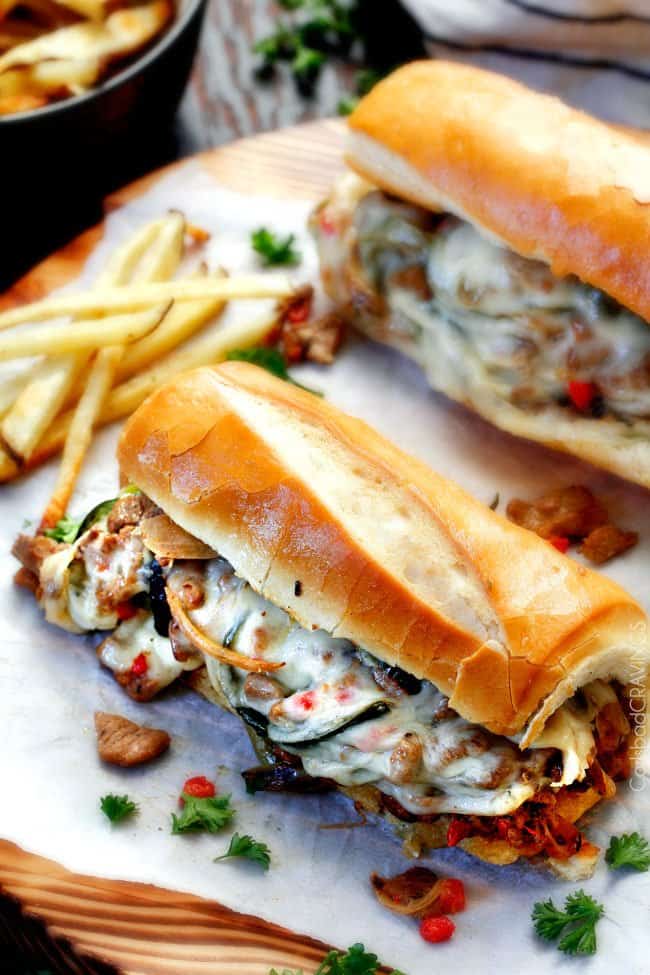 Philly Cheese Steak ingredients
The key to a good Philadelphia cheesesteak sandwich is perfectly flavored Philly cheesesteak meat. Here's what you'll need to make the sandwiches, marinade, and toppings:
Ribeye steak: See my notes below on steak substitutions you can use for this recipe.
Olive oil: Use quality extra virgin olive oil for the best flavor.
Onion: I used a yellow onion, but any kind will work.
Bell peppers: I prefer green bell peppers for this recipe, but use your favorite kind.
Poblano pepper: Adds flavor and a little heat.
Jarred cherry peppers: The jarred kind are sometimes labeled as pimento peppers.
Provolone cheese slices: A must for any Philly cheesesteak recipe.
Hoagie rolls: I've given more details below on how to choose the right rolls.
Marinade: A marinade is essential to tenderize steak and imparts significant flavor. This particular marinade is made with mustard, balsamic vinegar, Worcestershire sauce, and my own blend of Philly cheesesteak seasonings.
Spiced mayo: A simple blend of mayo and hot sauce.
What cut is best for Philly Cheesesteak Meat?
There are a few important factors to create the Best Philly Cheese Steak recipe starting with the cut of meat. Ribeye is the traditional cut of beef and if we weren't marinating the beef, I would highly recommend only that for its fat/marbling which keeps the meat moist and flavorful BUT because we are marinating the beef, feel free to substitute a less pricey cut such as top sirloin or skirt.
What cheese for Philly Cheesesteak is best?
There are a few different cheeses used for Philly Cheese Steak : American Cheese, Cheeze Whiz and provolone.
American and Provolone: a favorite for their mild flavor and consistency.
Cheeze Whiz: a favorite at Pat's and Geno's for its bold cheesy flavor.
I've chosen to avoid the processed cheese whiz but instead melt sharp cheddar cheese into the filling for a sharp cheesy flavor and add slices of provolone to the top of each Philly Cheese Steak to create a blanket of cheesy goodness.
What bread is best for this Cheese Steak?
Most Philly Cheesesteaks are are served on Amoroso rolls. These are long, soft rolls that are slightly salted. When looking for rolls to serve your Best Philly Cheesesteak recipe at home, shop your local bakery or the bakery at your local grocery store for a soft hoagie roll.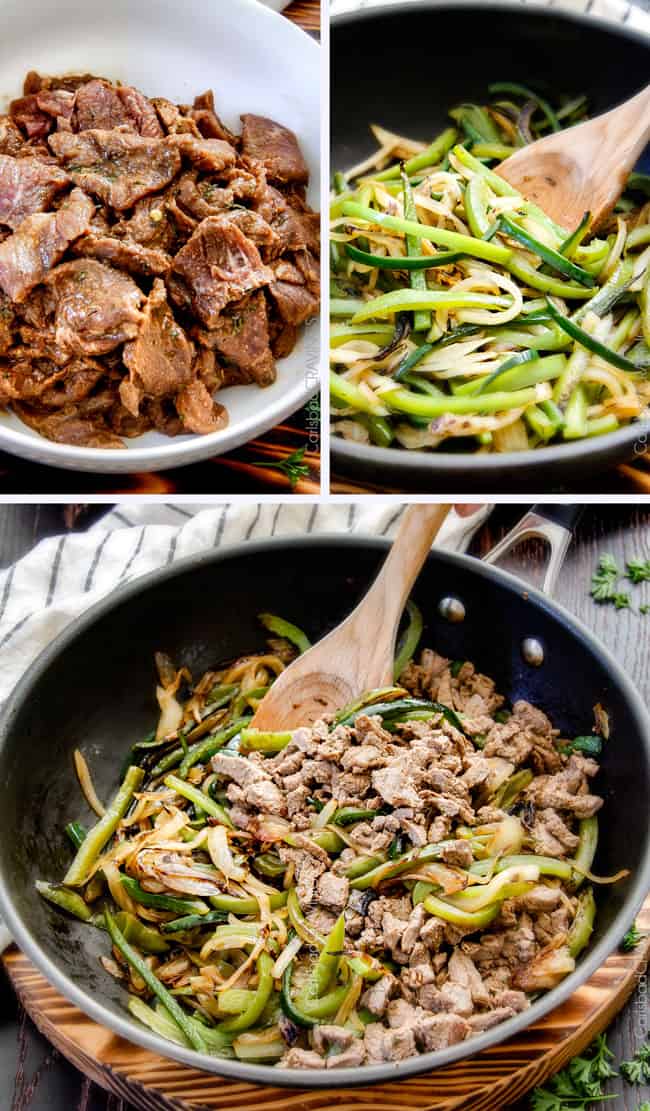 How to Make Philly Cheesesteak
Step 1 – Marinate Steak: Marinating the steak is KEY for the Best Philly Cheese Steak recipe. The marinade is where all the flavor comes from AND it tenderizes the meat. Our marinade consists of a simple mixture of Dijon, balsamic, Worcestershire and seasonings.
Step 2: Slice Beef Thinly: What makes amazing marinated steak more amazing is slicing it as thinly as possible before you marinate it. You can also ask your butcher to do this for you on their meat slicer or the easiest way to do it yourself is to freeze your steak for 30 minutes or so before slicing it. You can also tenderize and pound your steak even thinner after you slice it if you want to get a little crazy about it. What we do for love.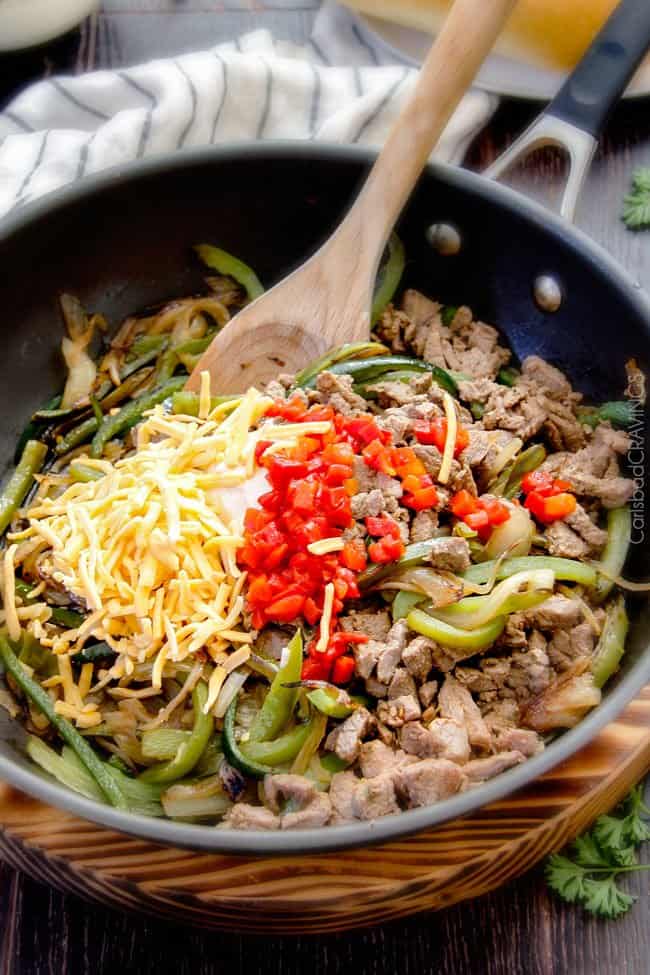 Step 3 – Saute Veggies: After you saute your steak, onions and peppers (I use a combo of poblano pepper and bell peppers for more flavor).
Step 4 – Add cheese to filling: More magic begins with the addition of a little seasoned mayonnaise (a simple mixture of mayo with some reserved marinade), sharp cheddar cheese and pimientos.
Step 5 – Stir: Stir it all together until melted for some creamy cheesy meatiness…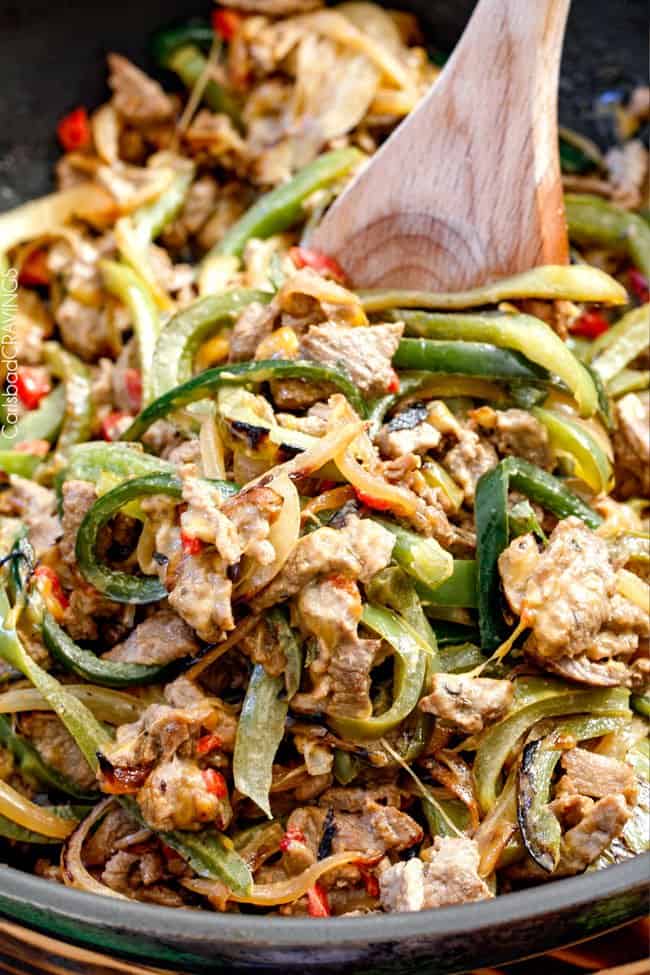 Step 6 – Assemble: Now we're ready to pile our cheese steak filling into our seasoned mayo slathered buns. And you better pile quickly because I could not stop eating the filling – and we haven't even added the extra cheese yet!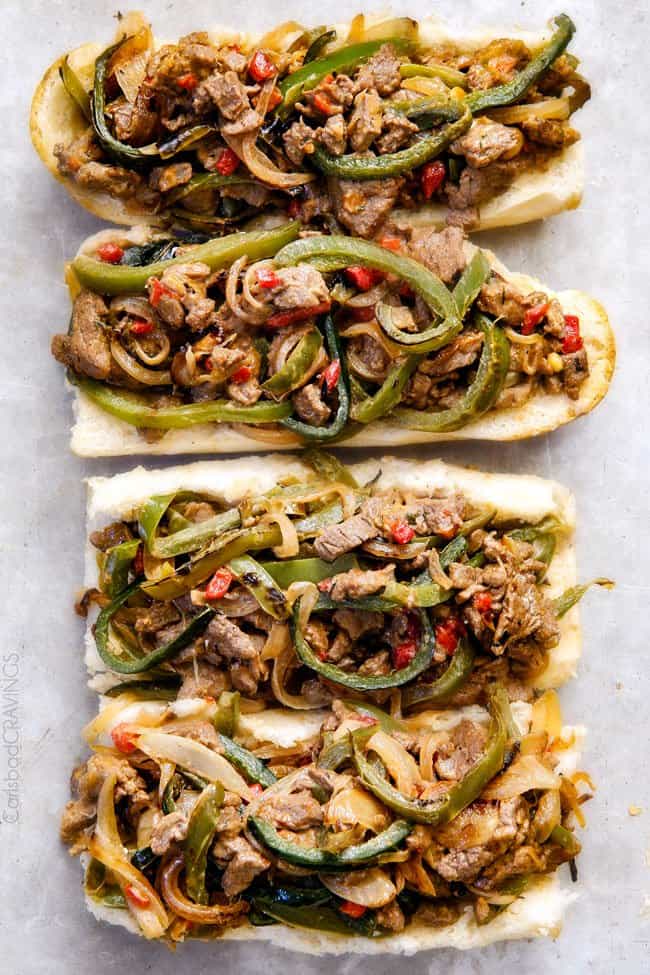 Step 7 – More Cheese: Next, one of the most important parts, the crowning of our filling with more cheeeeese! I used Sargento® Provolone because its zestier than a younger Provolone, melts amazingly well and is 100% real cheese! Sargento Pepper Jack would also be delicious, or maybe a combo, either way you can't go wrong with Sargento because all their Sargento® Sliced Cheese are always 100% real, natural cheese whereas Pasteurized Process Cheese Food, (sometimes known as American singles), is only required to contain 51% real cheese. And I like real cheese.
Step 8 – Bake: Finally, bake your Philly Cheese Steaks for 5 minutes or so for the cheese to become ooey gooey melty swoon worthy and the buns to crisp up with the seasoned mayonnaise.
Step 9 – EAT! And dig into a melty, meaty, cheesy dreamy Philly Cheese Steak heaven. The taste of true love.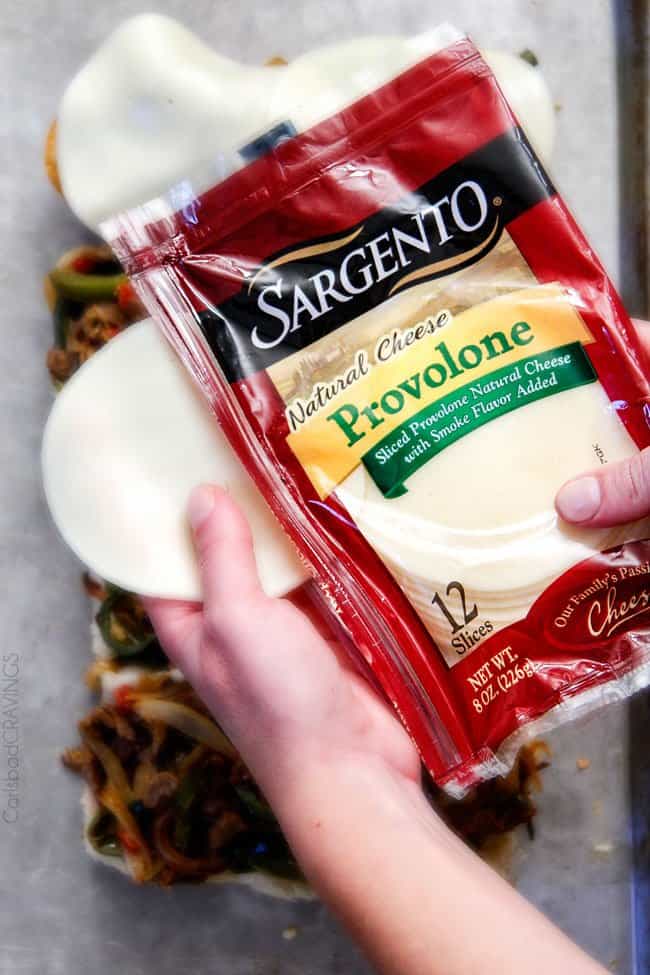 What to serve with this Philly Cheesesteak Recipe
Philly Cheesesteak sandwiches are often served with Fries, onion rings or potato chips and a green salad and/or pasta salad. And because this is the Best Philly Cheesesteak recipe, it deserves the very best sides! Here are some of my favorites:
Million Dollar Macaroni and Cheese
Baked Beans with Brown Sugar and Bacon
Slow Cooker Hawaiian Baked Beans
Italian Tortellini Salad
Perfect Fruit Salad
Creamy Grape Salad
Kicked Up Classy Creamy Potato Salad
Slow Cooker Creamed Corn
Greek Pasta Salad with Sun-Dried Tomato Feta Pesto
Wedge Salad with Blue Cheese Ranch
Tips for making this Cheesesteak Recipe
Marinate the steak: Ribeye steak should be marinated for at least 6 hours in order to reap the benefits of the tenderizing properties. For the maximum benefit, however, marinate overnight.
Don't poke holes: In contrast to popular belief, you should NOT poke holes in the steak before marinating. This actually drains out the valuable juices and will result in less juicy steak.
Marinate in the refrigerator. Always marinate steak for a prolonged period of time covered in the refrigerator and not at room temperature to avoid food-born illness. Only remove it from the fridge to the counter 60 minutes before you're ready to grill to help bring it to room temperature so it cooks evenly.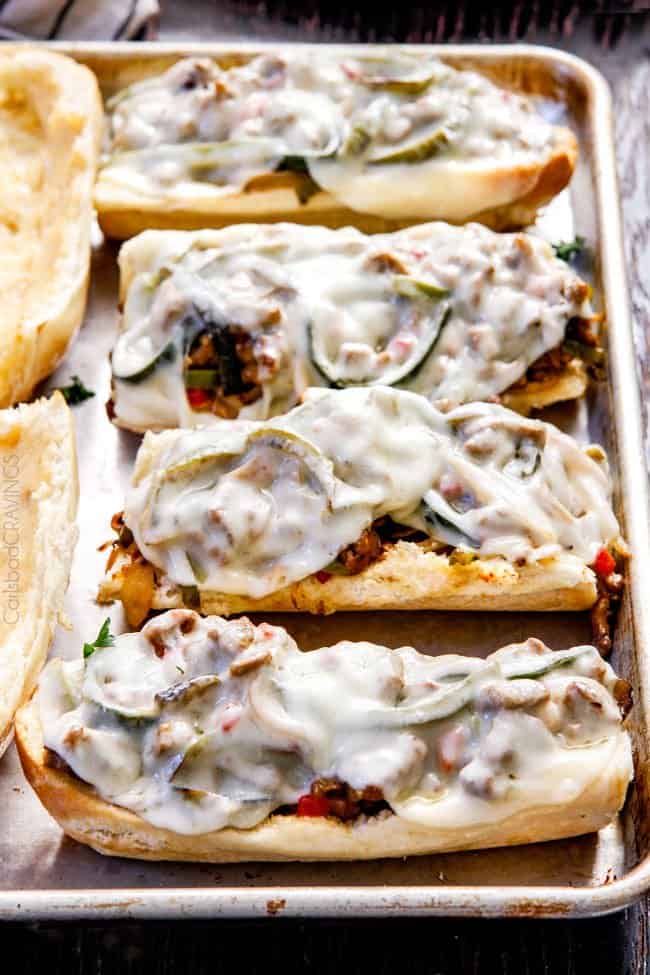 How to store the meat for this Philly Cheese Steak Recipe
You should store your cooked Philly cheesesteak meat in an airtight container in the refrigerator. I like to refrigerate mine with any leftover drippings in the pan for extra moisture and flavor. When stored correctly, cooked beef will keep fresh for up to 5 days in the refrigerator.
Can you freeze Philly Cheese Steak?
Yes, you certainly can! You may freeze both the rolls and the Philly cheesesteak meat so you'll be all ready for Philly cheesesteak sandwiches!
To freeze Philly cheesesteak:
Let meat cool completely.
Transfer to an air-tight container or a heavy-duty freezer bag along with some of the juices (to keep it juicy).
Squeeze out any excess air to prevent freezer burn.
Label and freeze for up to 3 months.
When ready to eat, thaw in the refrigerator overnight.
Reheat in microwave or on stove.
How to reheat Philadelphia Cheesesteak
The plain meat and vegetables can easily be reheated on the stove or in the microwave. Once you assemble the sandwiches, they're best enjoyed right away.
Stove: Heat steak and veggies over medium heat, stirring occasionally until heated through. Assemble sandwiches and bake in oven as directed.
Microwave: Transfer smaller servings of steak and veggies to a microwave-safe dish, cover with a microwave-safe lid or paper towel. Microwave for 30 seconds, stir, then continue to microwave for 15-second intervals, if needed.
Cheesesteak Recipe FAQs
Can I Prep Philly Cheesesteaks in Advance?
YES! You can leave the steak to marinate overnight and slice all the veggies ahead of time. The next day, simply saute the meat and veggies, then assemble the sandwiches.
What sauce goes with a Philly cheesesteak?
Cheez Whiz is the traditional served with Philly Cheesesteak. Cheez Whiz is known for its creamy and tangy flavor, and it complements the flavors of the thinly sliced beef and caramelized onions in the cheesesteak. However, there are other sauce options that can be used as well, depending on personal preference such as: mayonnaise, ketchup, sriracha, aioli, steak sauce, remoulade, ranch and even marinara.
What is the secret to a good Philly cheesesteak?
The secret to a good Philly Cheesesteak lies in a few key elements:
‌
High-quality beef: Using thinly sliced, tender beef, such as ribeye.
‌
Properly cooked onions: Sautéing the onions until they are caramelized and golden brown adds a sweet, aromatic savoriness.
‌
Cheese melting technique: Melting the cheese directly on top of the beef allows it to blend and coat the meat, adding richness and creaminess to each bite.
‌
Toasting the rolls: Opting for a fresh and soft Italian or Amoroso roll, then toasting it so it can hold up to the meat and toppings without becoming soggy is essential for a satisfying texture.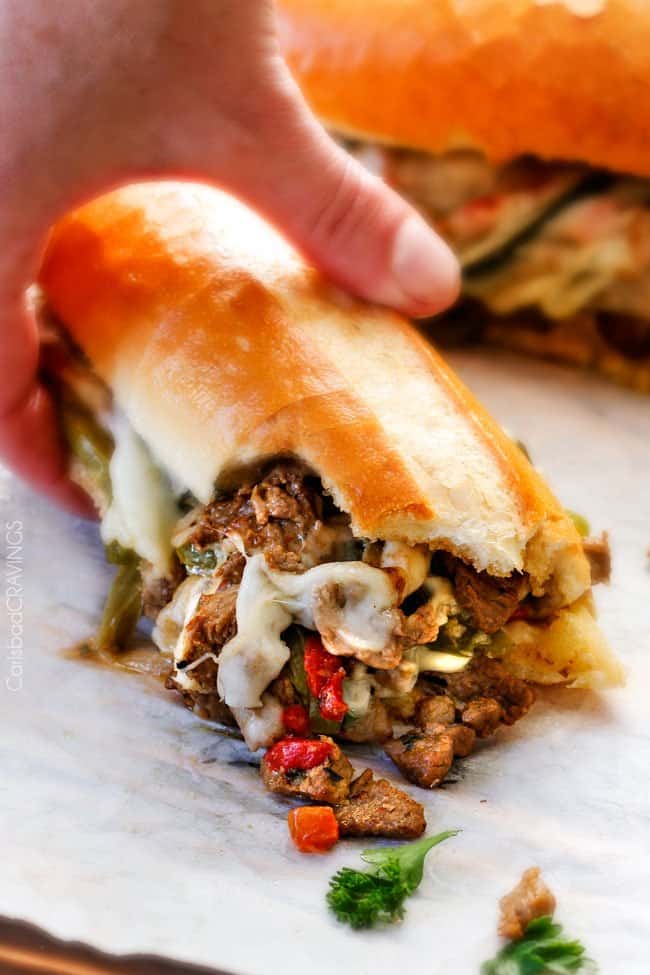 Looking for More Sandwich Recipes?
Want to try this Philly Cheese Steak Recipe?
Pin it to your GAME DAY, MEAT or DINNER Board to SAVE for later!
Find me on Pinterest for more great recipes! I am always pinning :)!
©Carlsbad Cravings by CarlsbadCravings.com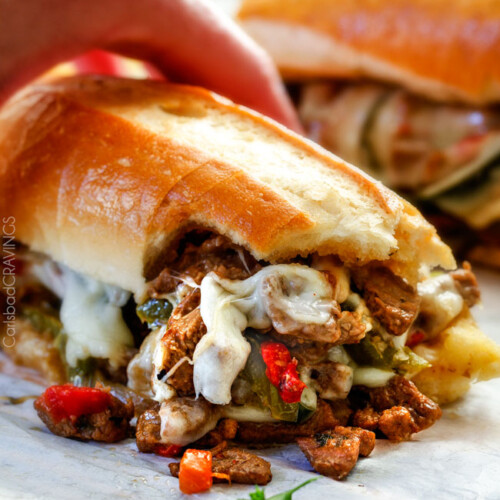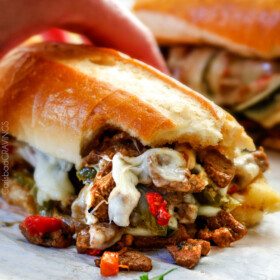 Philly Cheesesteak Recipe
The Best Philly Cheesesteak recipe made right in the comfort of your own home! These Cheesesteaks boasts crazy tender, marinated steak, flavorful crisp tender bell peppers and ooey gooey cheese all sandwich in between a hoagie bun.  The incredible marinated steak and spiced mayo set these Philly Cheesesteaks worlds above other recipes and you won't believe how easy they are.   These Philly Cheesesteak Sandwiches make a fabulous game day food, guest food, or just a fun dinner any night of the week. 
Save This Recipe To Your Recipe Box
You can now create an account on our site and save your favorite recipes all in one place!
Ingredients
1 ½

lbs.

ribeye

(may sub top sirloin or skirt steak), very thinly sliced*

1

large onion, thinly sliced

2

green bell peppers, thinly sliced

1

poblano pepper, thinly sliced

3/4

cup

freshly grated sharp cheddar cheese

(or more to taste)

1/3

cup roughly chopped

jarred cherry (pimento) peppers

(optional)

8

Sargento Provolone Cheese slices

4

soft hoagie rolls
Spiced Mayonnaise
1

tablespoon

Reserved Spiced Mayonnaise (in directions)

1/2

cup

mayonnaise

Hot sauce to taste (optional)
Instructions
Whisk all the Marinade ingredients together in a Ziploc bag. Remove 1 tablespoon Marinade and add to a small bowl with ½ cup mayonnaise to make "Spiced Mayonnaise". Add hot sauce to mayonnaise if desired and store in the refrigerator.

Add steak to Ziploc bag with remaining Marinade. Marinate 6 hours up to overnight. Remove steak from fridge 20-30 minutes before cooking.

Preheat oven to 400 degrees F.

Prepare hoagie rolls by slicing each in half horizontally. Hollow out bottom and top halves of bread, leaving about 1/2-inch-thick shell.

Heat 1 teaspoon olive oil over in a large skillet over medium-high heat until smoking. Pat excess marinade off steak and add to skillet. Cook undisturbed for 1 minute then continue to cook while stirring just until no longer pink, 1-2 minutes, chopping up meat with spatula as you cook. Remove to a paper towel lined plate. (You can also chop on a cutting board.)

Wipe out skillet and heat one tablespoon olive oil over medium high heat. Add peppers and onion and cook 6-8 minutes or until softened. Add steak back to pan along with ¾ cup cheddar, 1 tablespoon Spiced Mayonnaise, pimientos (optional). Stir just until steak is warmed through and cheese begins to melt, about 1 minute. Season with salt and pepper to taste.

Spread each top and bottom half of hoagie roll with Spiced mayonnaise. Evenly divide beef mixture between bottom buns then top each with 2 slices provolone cheese. Bake hoagies open faced for 5 minutes or until cheese is completely melted. Replace top buns and eat immediately.
Notes
*To thinly slice steak, freeze for 45-60 minutes.  After slicing, steak will continue to defrost in marinade.
Did You Make This Recipe?
Tag @CarlsbadCravings and Use #CarlsbadCravngs
Leave a Review, I Always Love Hearing From You!
©Carlsbad Cravings Original